THE PERILS OF LONG-TERM TRAVEL
THE PERILS OF LONG TERM TRAVEL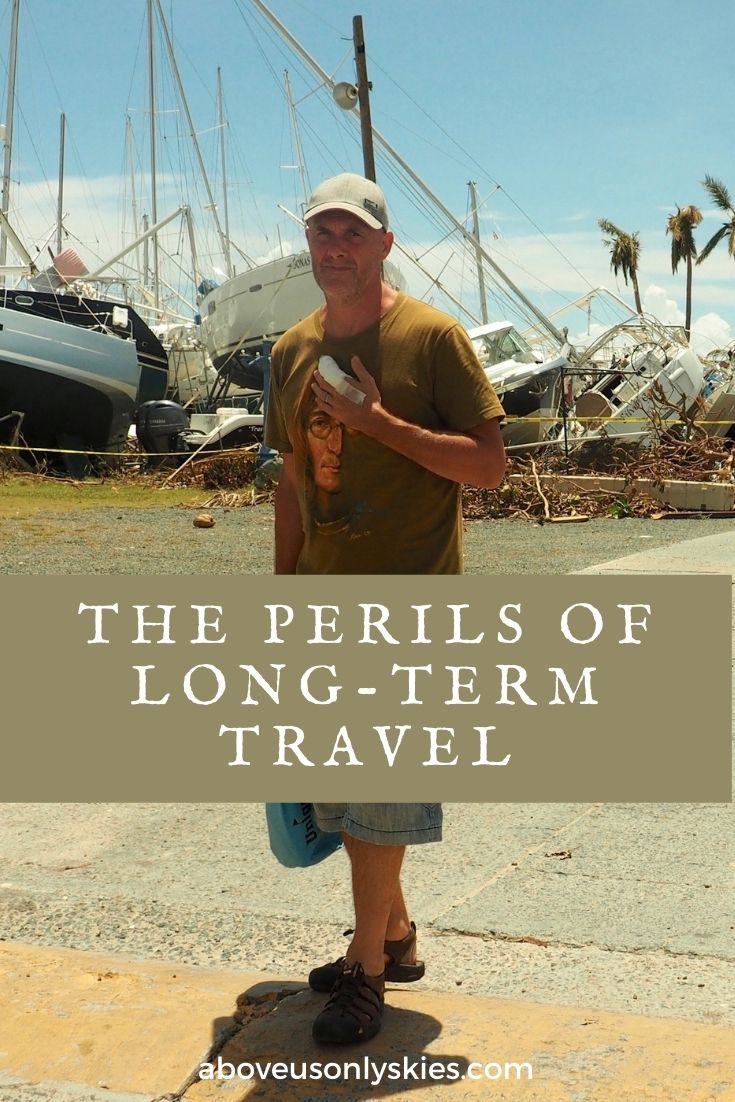 After six years of full-time travel, we like to see ourselves as pretty resilient people. Which is a good thing considering some of the things that Mother Nature has kindly thrown our way. And considering our almost obsessive quest to become the world's most accident-prone travelling couple.
'It must be so great to live the dream', people often say to us. And, yes, we sometimes do feel that way. But, it can also go hand-in-hand with the kind of problems, annoyances and downright head-scratching obstacles that would test the patience of a Saint.
So, after a year trying to stay healthy and fit whilst riding out the pandemic, we began to reflect on some of the more challenging episodes of our travel story over the last few years. 
And, in recalling them, these tawdry tales of mishaps, embarrassments and imagined acts of derring-do serve as a reality check on what it really means to travel long-term on a relatively limited budget.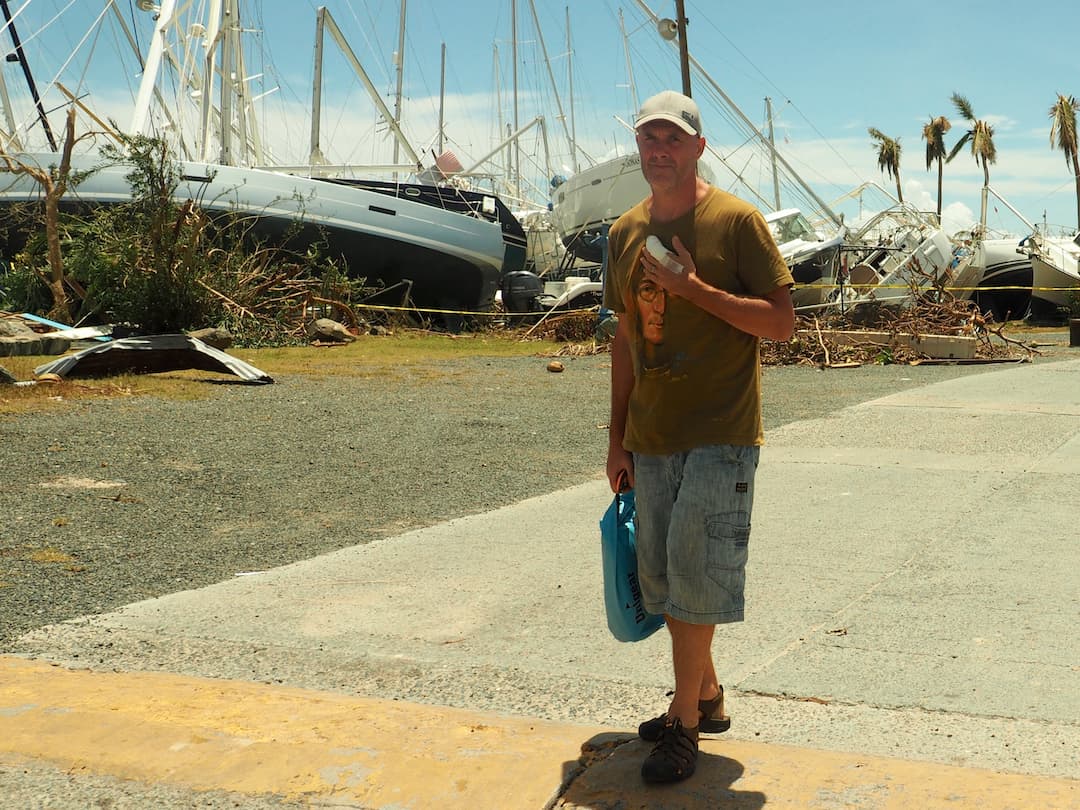 Ian and the fallout from Hurricane Irma, British Virgin Islands
Let's begin with our collection of accidents and ailments. I kid you not, it reads like an admissions list from an Accident & Emergency ward on New Year's Eve.
Take, for example, Nicky's eight-month run of misfortune in southeast Asia.
Beginning with a simple twisted ankle after falling off a kerb in the southern Thai town of Trang, she quickly upgraded to an impressively gashed knee whilst on a hike through a cave in Khao Sok National Park.
It was followed soon after by an obligatory bout of food poisoning, this time in a mountain retreat in Bali. A full three days later, after barely a morsel of solid food had passed her lips, she managed to get hit by a guy on a scooter in Sanur as she crossed the road. Which was bad enough in itself, but she refused to go to a hospital to get her badly bruised arm bandaged up in case she was denied access to our flight to Australia the following day.
A relatively ailment-free period down-under came to an end in Sri Lanka when she picked up an ear infection. However, our arrival in Sumatra saw an escalation of her woes, beginning with another gashed knee after falling over stone steps on the island of Pulau Weh.
But the coup de grace was a mere one week away as we searched for orang-utans in the jungle around Bukit Lawang. We were tasked with negotiating a particularly steep downhill section with the aid of hanging tree vines for balance, when…well, you can probably guess the rest. It was the exposed tree roots that eventually broke her fall. And cracked one of her ribs for good measure. Meanwhile, a twig had managed to impale itself inside one of her toenails, almost ripping it off.
Following an uncomfortable night sleeping in a jungle camp, we eventually made it to the nearest hospital. After a six-hour minibus ride.
The good news was that the cracked rib healed without much further trouble. The bad news, however, was that Ian managed to tread on Nicky's bad toe whilst climbing off a rented motorbike in Pai, northern Thailand. Another trip to the hospital resulted in said toenail being removed for good.
You'll no doubt be thinking, 'No-one deserves that kind of bad luck'. And you'd be right.
But, alas, that doesn't account for the second bout of food poisoning, this time in Bagan, Myanmar. Or the back injury sustained following a fall on the multi-day trek from Kalaw to Inle Lake. Or the hornet sting in Kratie, Cambodia.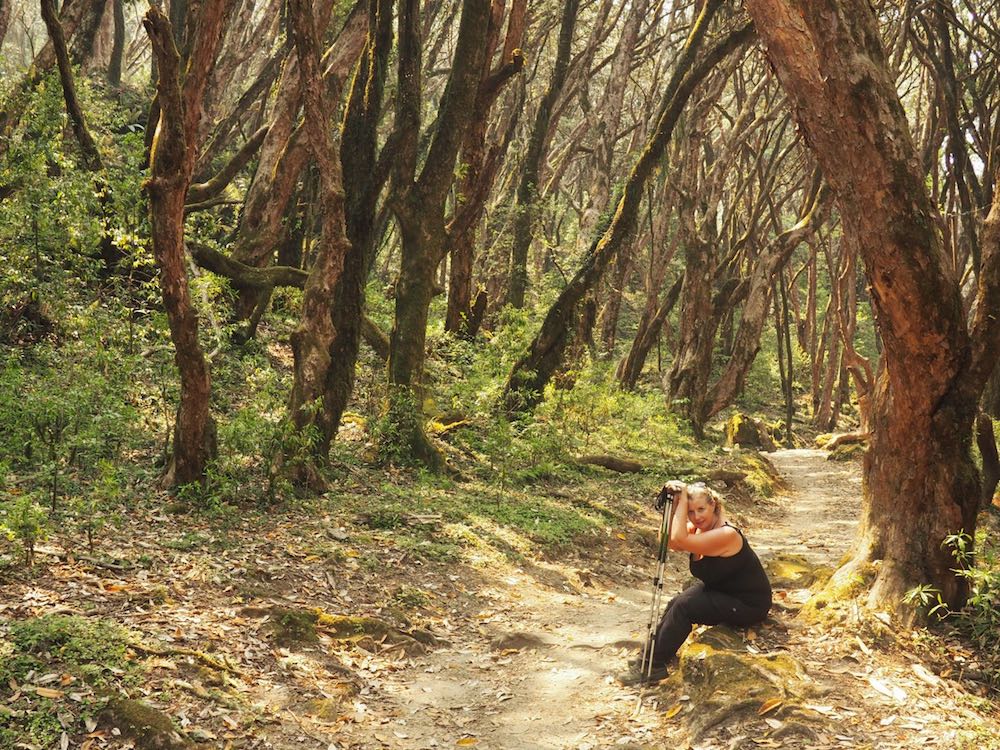 Nicky wondering when the next mishap is due
Mind you, that's not to say that Ian has been trouble-free, either.
A spider bite on the lower right leg in Cambodia was followed by a sweat-inducing hour-or-so while a doctor (who just happened to be in the jungle bar we were sitting in) tended to the wound, not knowing if it was poisonous. And the scar left behind suggests the offender was a full card-carrying member of the big, hairy spiders union.
Then there was the burst eardrum following a diving trip in The Philippines. The blood in his mask as he resurfaced from the dive gave the game away. And he's now permanently troubled by tinnitus and impaired hearing as a result.
And, of course, there was the involuntary forward roll down the side of a volcano on the island of Flores, Indonesia. This time it was a bush that finally broke the fall.
Meanwhile, the onset of sciatica (twice) in Washington State was no laughing matter, either. And then to cap it all, the partial severing of his index finger during the onslaught of Hurricane Irma in the British Virgin Islands, brought the potential dangers of travel very much into focus.
Bruised and battered after the volcano tumble
The unpredictability of Mother Nature
Indeed, that September day in 2017 is one that will remain etched on our memories forever. Following an unusually calm morning, the Category 5 hurricane slowly made its way towards the island of Tortola in the British Virgin Islands.
We'd already spent four glorious months housesitting there in a large villa overlooking Sir Francis Drake Channel. We knew it was on its way as we'd tracked its path across the Atlantic over the previous week. And we thought we'd prepared for the worst it could throw at us. We soon discovered that the worst it could throw at us was several degrees higher than what we'd even remotely imagined.
Things took a decidedly downwards turn when two large wooden doors blew open into the lounge we were sheltering in. Ian tried for twenty minutes-or-so to close and hold the doors shut as 225 miles-per-hour gusts of wind barrelled around outside. But then the doors violently blew open once more before slamming shut again, trapping his lower left hand between them.
For sixteen hours the hurricane wrought its destruction on the island. Sixteen long hours, hidden in a tiny closet holding on to a door, which was the only thing separating us from the destruction and flying debris that was now blowing through the windowless lounge. Long story short, it took us a full seven days to dig ourselves out from the debris, make it to the one available hospital and finally get airlifted by helicopter to the sanctuary of Puerto Rico.
We wrote about it in some detail in our three-part blog post. Suffice to say, the episode has left an indelible mark on our view of the world and life in general. And taught us not to underestimate the sheer power and ferocity of nature at its most volatile.
Something we also witnessed at another housesitting gig in Panama – home to some of the world's most spectacular electrical storms. And, true to form, we managed to attract a direct lightning strike on our house, which took out most of the electrics and left the odd hole in the concrete drive outside.
All of which might lead you to think that we have a knack of attracting awful weather on a biblical scale. Well, consider this. After hiring a jeep with a rooftop tent in Santiago, Chile, we drove north for 1000 miles to the Atacama Desert, one of the driest places on Earth.
And, of course, when we got there it was flooded after the worst storms in the area for 70 years.
So instead, we decided to make a dash for it across the Argentinian border. Only we found ourselves having to camp overnight at an altitude of 4500 metres (14,800 feet) in the middle of the desert.
As another electrical storm crashed through.
Yes, it was anxiety-inducing, to say the least. But it did begin to feel as if, even if we couldn't beat Mother Nature, we could at least hang on to her coat-tails and ride out the worst of her temper tantrums.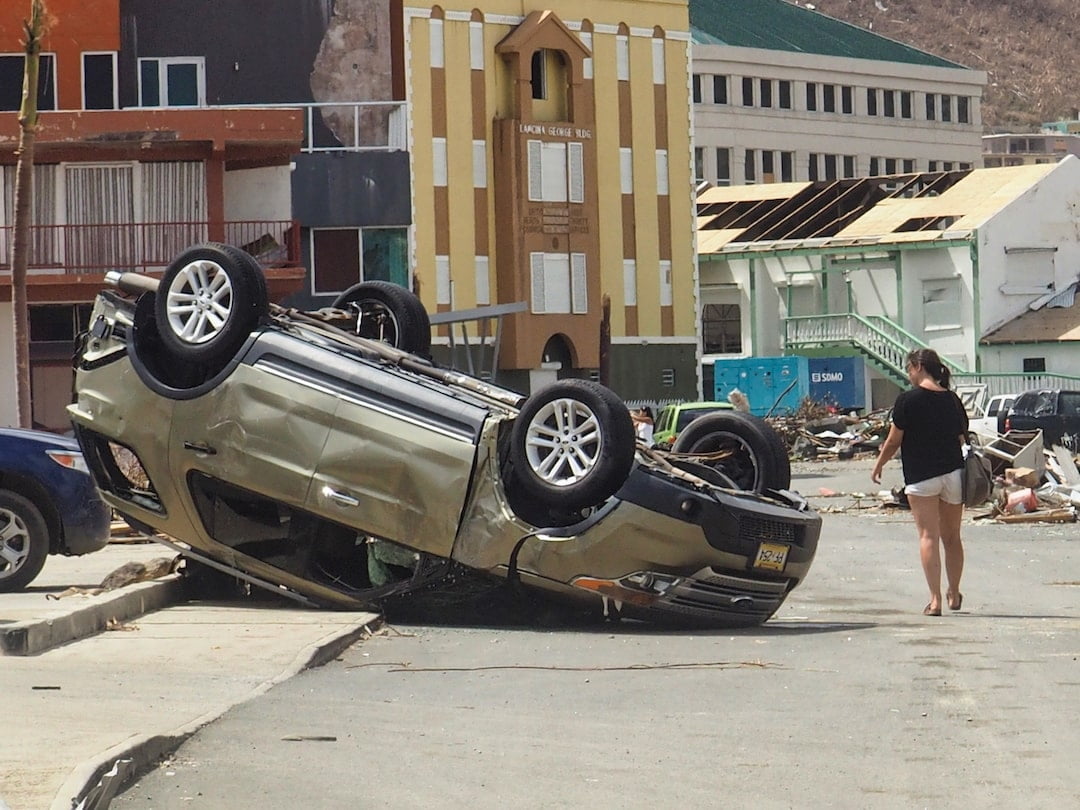 Hurricane Irma leaves its mark on Tortola, British Virgin Islands
Wildlife that fights back
But, in addition to the natural dangers, there have been other moments that have caused our heartbeats to suddenly quicken.
Like the first time we spent the night under canvas in the Australian Outback. In a two-man swag tent. Now, we didn't know much about dingoes before we went to Australia. Other than they're wild dogs that are probably best avoided at night while they're out looking for kangaroos to eat. So the distant howls that accompanied our attempts to sleep were both alarming and comforting at the same time.
Alas, as the howls grew louder it became obvious to us that we were directly in the dingo-to-kangaroo pathway. And, sure enough, after we'd tightly zipped up our tent and put our hands over each other's mouths to prevent any kangaroo-like sounds inadvertently escaping, a pack of what sounded like a half-dozen-or-so dingoes waltzed by.
OK, they weren't actually interested in us. But with Australia's reputation to foreigners as being a place where the wildlife either wants to bite, sting or eat you, we couldn't help but let our anxieties get the better of us.
Australian cows, on the other hand, wouldn't normally be a cause for concern. Except when they decide to die in the middle of the road and at the end of a sharp bend. Which we discovered in Western Australia as we swerved to avoid the blackened and bloated beast whose body had clearly been exposed to the desert sun over the course of several days.
And then there was the chance encounter with the humpback whales while we were snorkelling on Western Australia's Ningaloo Reef. The whole experience lasted less than a minute as a female and her infant approached us to within a few metres and then continued beyond. But, as mother kicked her tail fin to accelerate away, the impact threw Nicky violently backwards in the water. If we'd been any closer it might have been a lot worse. But, in retrospect, the sheer thrill of the moment was all that mattered.
A dingo contemplates another kangaroo hunt
The pursuit of a silent night
One of the chores of long-term travel is the never-ending ritual of looking for the next place to stay. Of course, many backpackers are happy to just turn up at a destination and then look for what's on offer. And we get why that might be attractive – the spontaneity; the opportunity to check out the rooms before committing; the chance to negotiate on price; the avoidance of having to do the research beforehand.
We've done that ourselves occasionally. But we prefer to plan and book ahead wherever possible. With particular attention paid to finding places that are quiet at night, as we cherish our sleep. And, mostly, it's worked well for us. But sometimes, no matter how good our research is, we just can't account for the behaviour of other people.
So, when we booked a guest house with swimming pool in the Thai resort of Prachuap Khiri Khan, we had no idea that the German owner liked to get boozed up during the day and then turn into a crazed drunk at night. The nadir was at two in the morning when we were awoken from our sleep by the sound of shouting and banging outside. Turns out our host was screaming deliriously at no-one in particular whilst throwing pieces of furniture into the swimming pool. Suffice to say, we checked out before breakfast. Which we couldn't have enjoyed anyway as the windows to the breakfast room had all been smashed in.
Then there was the cacao farm in Bocas del Toro, Panama, where we'd booked a treehouse that included a guided tour the following day to see the chocolate-making process. It should have been idyllic. Only the married couple who owned the place had a blazing row for most of the night (which they kindly shared with us) and weren't on speaking terms when it came to our allotted time for the tour.
Our rustic hillside hut overlooking the ocean in Pulau Weh, Sumatra seemed to be one of our better picks, however. Falling asleep to the sound of waves caressing the beach below was a perfect way to end the day. And we had six days to look forward to. Of course, we'd failed to spot the loudspeaker attached to the house behind us and pointing our way. Cue the sound of an adolescent male voice at 5 am with a call-to-prayer of eardrum-splitting volume. Apparently, he wasn't even an official imam. Just a teenager with a home-made sound system and a desire to one day get a job at the local mosque.
And then there was the jungle house in Khao Sok National Park, Thailand. Another gloriously rustic hut with bamboo walls and, this time, the sounds of the jungle to send us into a peaceful sleep. Alas, we were to be joined next door by a young American couple with a monumental lack of self-awareness. The guy's attempt at bellowing out howler monkey noises from the balcony became tiresome after about an hour. But it was his insistence on continuing his ape impressions during the extremely rigorous sex he and his equally loud partner treated us to over the course of several hours that finally caused our patience to snap. A resounding 'Will you shut the @£$% up!' from Ian seemed to do the trick nicely. And, indeed, they both checked out again before dawn.
There are other examples, too. Like the hotel manager in Bali who was quite happy to allow a gang of kids and pre-teens to run amok throughout the night.
But it's not always humans who've shouldered the blame for our sleepless nights. Or even the local dogs. For instance, our overnight stay in a hut overlooking a rice paddy in Flores, Indonesia was accompanied by the sound of hundreds of frogs croaking in unison. And we were joined at our camping spot high up in the Kashmir Valley, India by nomadic shepherds and their large herd of goats. Which spent the night chewing their way through the thick grass and our tent guide ropes while the shepherds chewed the fat over a never-ending campfire.
High up in the Kashmir Valley – the morning after the goats had left
Scams can, of course, occur anywhere in the world. And we were more than prepared to have to fend them off from time to time. Especially in the larger cities.
But, until you've been exposed to them, you're never quite sure how you might respond. Or how persistent the perpetrators can be.
Take our gem salesman in Colombo, Sri Lanka for instance. A relatively well-dressed man approached us on the street and gave us the typical "Welcome to our country" patter. For the next 10 minutes or so he persistently walked alongside us while he tried to convince us to go and see his collection of gemstones – which were apparently on some never-to-be-repeated discount for just that day. Not taking "No" for an answer, he eventually hailed a rickshaw and told the driver to take us to his gem store. At which point, we stopped and told him in no uncertain terms to leave us alone, before walking away. We found out later that this is a typical scam which usually ends up in a quiet alleyway where the rickshaw driver and an accomplice rob the unsuspecting tourists.
A similar thing happened in Delhi, India. Even though we were warned at our hotel not to engage with anyone who randomly strikes up a conversation with us on the street, we found ourselves doing just that within minutes. This time, the scammer convinced us that we needed a free tourist map from an "official" tourist office to negotiate the streets around Old Delhi. And this time we did get into a rickshaw after our man had "negotiated" a good price with the driver.
Of course, it was simply a ruse to get us into an office for a hard sell on tours in and around the city. Our patience having expired, we hastily removed ourselves from that situation, with the help of our rickshaw driver. Who promptly blotted his copybook by dropping us off into the welcoming arms of a bunch of carpet salesmen.
As a result of these and other similar experiences, we've hardened our attitude towards people who seem over-friendly or helpful. At least in the first instance. Which is a sad thing in many ways because there have many people we've met along the way who've shown us nothing but genuine warmth and friendliness.
Plenty of whom were from Sri Lanka and India, we hasten to add.
And, of course, the pandemic
Undoubtedly the biggest impact on our travelling over the past twelve months has been the COVID-19 pandemic. As it has been for pretty much everyone else on the planet.
As much as we'd like to, there's little prospect of a return to long-term travel for the foreseeable future. So we've had to slow things down out of necessity. Especially whilst we've been housesitting during 2020 in France, Spain and Portugal. 
But even then, as we spent our French lockdown beside a river in a converted water mill, Mother Nature once again left her calling card. This time a deluge of rain causing the river to burst its banks and flood the entire area around us.
Sometimes we wonder if we're just jinxed.
MORE FROM ABOVE US ONLY SKIES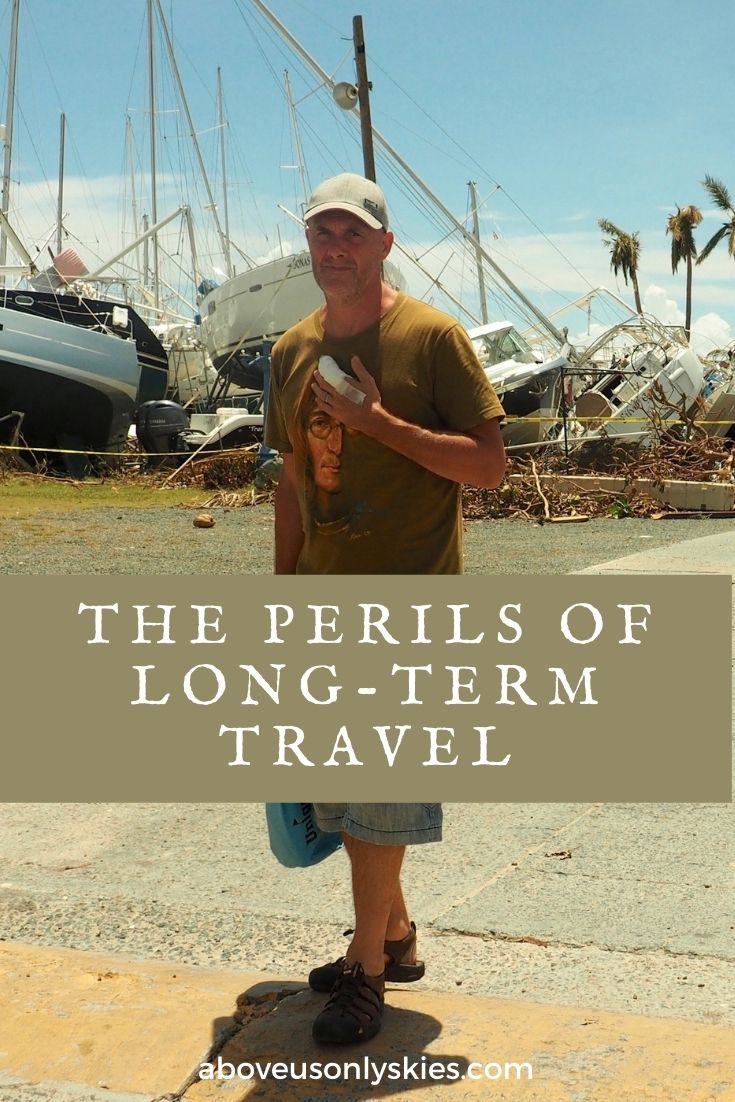 Hi, we're Ian and Nicky, an English couple on a voyage of discovery around the world, and this blog is designed to reflect what we see, think and do. Actually, we'd like to think it also provides information, entertainment and inspiration for other "mature" travellers, too. So please feel free to pour yourself a glass of something suitably chilled and take a look around.