THE FABULOUS PERITO MORENO GLACIER – A COMPLETE GUIDE
Last updated: 14 January 2020
THE FABULOUS PERITO MORENO GLACIER – A COMPLETE GUIDE
Last updated: 14 January 2020
We couldn't help but stare in silence at the huge blue-tinged wall of ice that sat before us as if transported from a frozen alien world.
Soaring 74 metres (558 feet) above the ice-cool waters of Lago Argentino, the glacier's roof stretched back as far as our eyes could see, its needles of frozen water protruding like massed rows of icy warriors readying for battle.
Suddenly, movement to our right at the glacier's cliff edge caused us to break our stare. A huge slab of ice, the size of a small hotel, fell away as if it had been sliced from its wall with an invisible cosmic axe. No sound at first, but then the delayed cacophony of noise that rumbled across the narrow stretch of water standing between us.
The slab crashed vertically into the calm waters of the lake below, breaking up into mini-icebergs and sending waves across the lake towards us.
A celebratory cheer broke out amongst our fellow travellers in recognition of what we'd just witnessed. An iconic event of nature that for once wasn't routed in the negative effects of global warming.
One of only a few glaciers in the world that are advancing rather than retreating, Perito Moreno Glacier in Argentina is a thrilling travel experience. It's also a photographer's paradise. And you don't have to be an intrepid explorer to get there.
If you're travelling to South America you really shouldn't miss it. And to help you plan for it, here's our complete 2020 guide to what is undoubtedly one of the continent's outstanding natural attractions.
* Note that the Argentinian economy is blighted by high inflation and an ever-weakening currency so, although prices have increased dramatically over the past few years, the real cost for international travellers has come down markedly. For example when we visited in March 2019 the exchange rate was 52 Argentinian pesos (ARS) to £1. At the time of writing (September 2019) the rate is 69 ARS to £1. Nevertheless, the local prices we quote in this article are correct for 2019 but they will almost certainly increase during 2020.
Torres de Paine National Park
Torres de Paine National Park
Contents
This page contains affiliate links. To help us maintain our site we work with a number of partners who we've personally used and can recommend to our readers. If you decide to purchase any products through the links on this page, we'll receive a small commission at no extra cost to you.
About Perito Moreno Glacier
Situated 78 kilometres (48 miles) from El Calafate, the glacier is part of Los Glaciares National Park in Southern Patagonia.
A Unesco World Heritage site since 1981, it's part of the world's third-largest ice cap (behind Antarctica and Greenland) and is the world's third-largest reserve of fresh water.
Spanning an incredible 250 square kilometres (97 square miles), it's 30 kilometres (19 miles) long, drops 700 metres (2,300 feet) at its deepest point and stretches 5 kilometres (3.1 miles) wide at its terminus on Lago Argentino.
Suffice to say, it's a beast of a glacier.
Ice pinnacles on the Perito Moreno Glacier
Your Glacier Experience Options
There are three ways of experiencing the glacier:
A) By strapping on crampons and actually walking on it.
B) By exploring the various well-marked and informative trails on a dedicated boardwalk.
C) By taking a boat (or even kayak) trip out on to the lake.
A) Walking on the Glacier
We'd decided beforehand that we'd splash out on, what was for us, a budget-busting ice walk. There are a number of tour operators in El Calafate who offer the same two tours.
The mini-trek involves 90 minutes on the glacier and costs 6,500 ARS (£93 / $116).
The Big Ice tour lasts for five hours-or-so and costs 11,500 ARS (£165 / $205). Because of the perceived physical demands, it's limited to people between the ages of 18 and 50. Although I'd have to say that age is not necessarily the best determiner of physical fitness!
If you have your own transportation to and from the ferry terminal (as we did in our camper van) then a discount of approximately £20 / $25 applies.
We opted for (and can recommend) the mini-trek through Hielo & Aventura, with whom you can book online or through their office in El Calafate.
You should also be aware that there's an additional 700 ARS (£10 / $12.50) entrance fee to Los Glaciares National Park.
One of the advantages of the trekking tour is that you initially take a boat journey from the ferry terminal which passes the glacier en route to the starting point. And that first glimpse of the glacier's wall of ice from our vantage point on the deck is a moment that will forever be etched on our memories.
Back on dry land, we left our daypacks behind at a lodge and began our 20-minute walk through forest and across a rocky beach to the starting point for the trek. It was here that our guide talked us through the history and geological significance of the glacier.
Our mini-trek group is briefed by the guide
Welcome to Los Glaciares National Park
View of the glacier from our briefing point
The fact that we were already so close to the glacier made the trip worthwhile by itself. No matter in what direction we looked, an astonishing landscape of ice, rock and lake greeted us.  Meanwhile, conflicting moods of gloomy dark and vibrant light jostled with each other as the clouds and mist danced their way across the ever-changing sky.
But before the mini-trek could begin there was the small matter of putting on our crampons (ice shoes). Fashionistas beware, they're about as appealing as second-hand clogs. But, once they were strapped on and we ventured out onto the ice we were grateful for them.
Our guide led us up and down the undulating hills of the outer glacier. We passed streams, gullies, crevasses and small caves. Shards of honeycombed glacial ice stretched out above us, their interiors illuminated blue. Indeed, it was almost as if something was glowing inside them, rendering them semi-transparent.
Occasionally we stopped to fill our drinking flasks from the icy glacial water as it dripped into tiny lagoons. And other times we simply stopped to look around us and take in the sublime surroundings.
Nicky being fitted with her crampons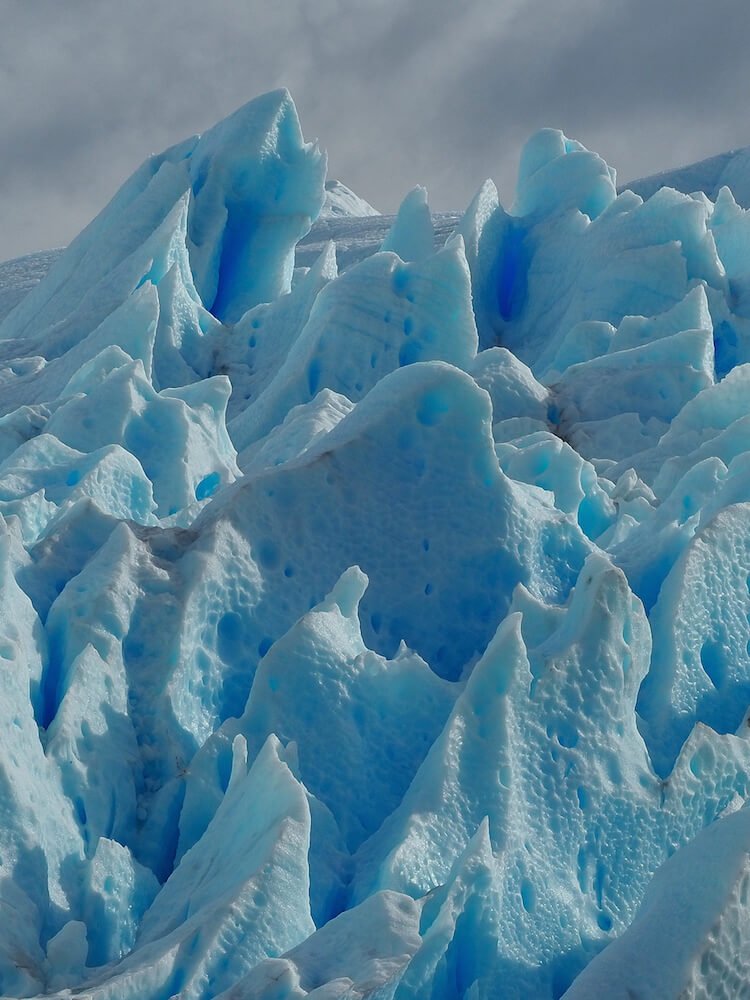 Honeycombed shards of blue ice
The hike itself – although deemed "moderate" in intensity – is a pretty gentle stroll that shouldn't trouble most people. Especially after you've mastered the art of walking in crampons.
And, at the end of the 90-minute walk, our guides prepared glasses of Scotch whisky "on the rocks" for us to taste. With glacial ice of course. A nice gesture, for which I reluctantly held my tongue rather than complain that I would have preferred mine "neat".
And then it was back to base for quite possibly the best picnic-with-a-view we've ever had the pleasure of eating.
The Big Ice trek will take you a lot deeper into the glacier, where you'll see larger caves and a lot less other people. Would we consider doing that next time? You bet!
A photo opportunity impossible to refuse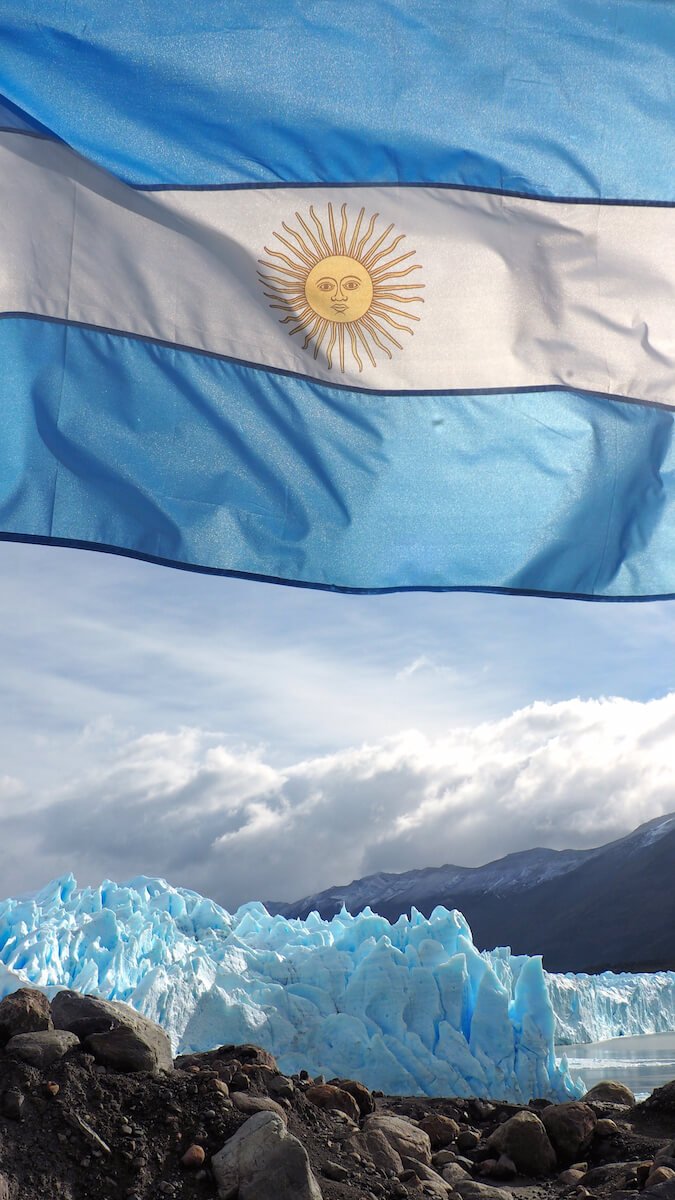 The Argentinian flag is displayed proudly in front of the glacier
Ian takes a rest on the glacier
B) Hiking on the boardwalk
If you do the mini-trek you'll still have time to be dropped off at the nearby boardwalk for completely different views of the glacier. Which is actually a good thing as you'll arrive there mid-afternoon, after which the large numbers of fellow tourists reduces from 5 pm onwards.
The boardwalk branches off in many directions and down multiple levels, so although there are plenty of other people around, it doesn't necessarily feel too crowded.
From the upper levels the view across the top of the glacier is nothing short of epic. And I can only imagine what it must like on a clear, sunny day.
View of the glacier from the lower level balcony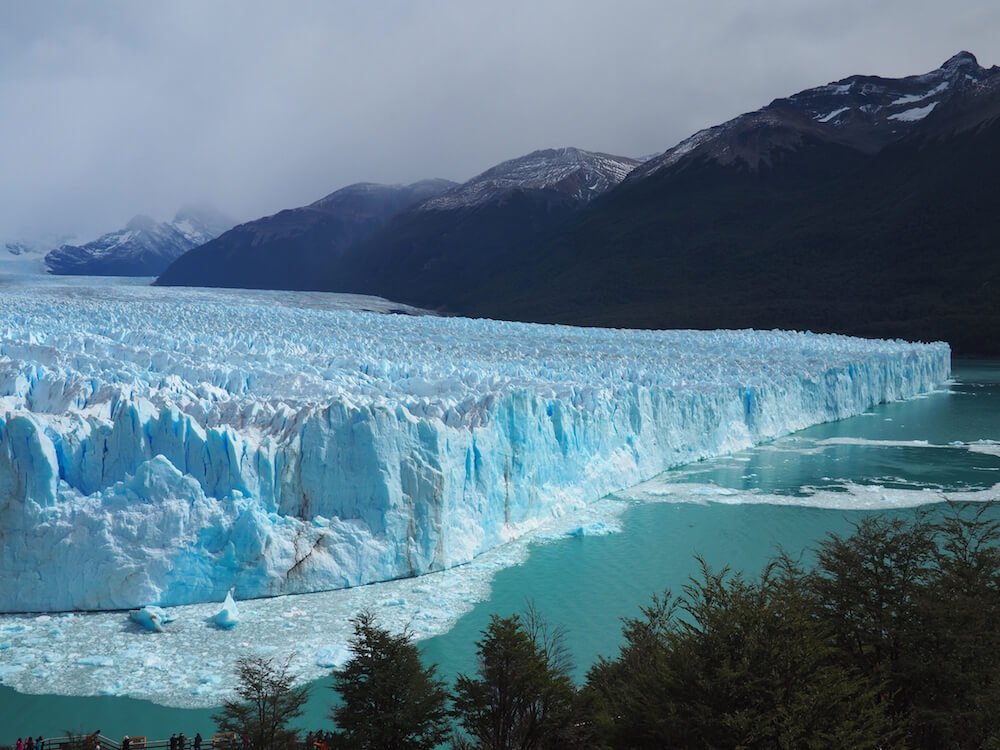 The important thing to remember is not to rush your way around. In fact, you could quite easily spend the best part of a day wandering about looking for different perspectives and then just gazing at the spectacle in front of you. Believe me, you'll find it difficult to tear your eyes away.
And then, if you're lucky enough, you'll witness a "calving" where one or more huge shards of ice will fall away from the wall and drop to the lake below. It's a moment worth waiting for.
If only we'd had the presence of mind to have our camera ready when it happened for us!
Elevated view which shows the extent of the glacier behind the ice wall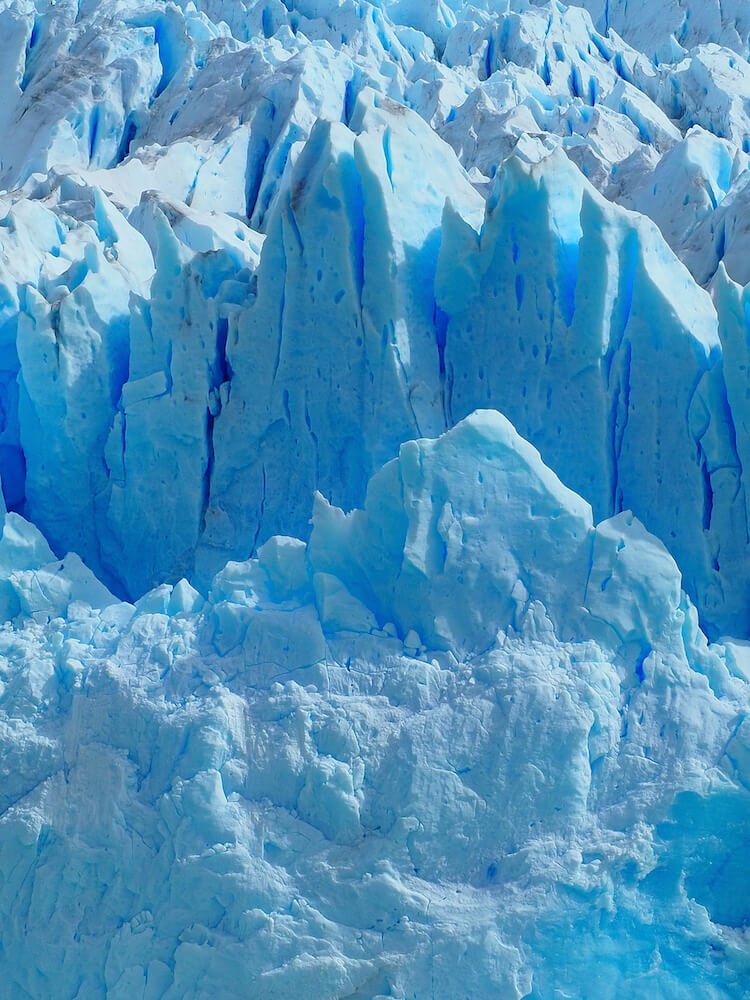 Close up of the blue ice in the glacier wall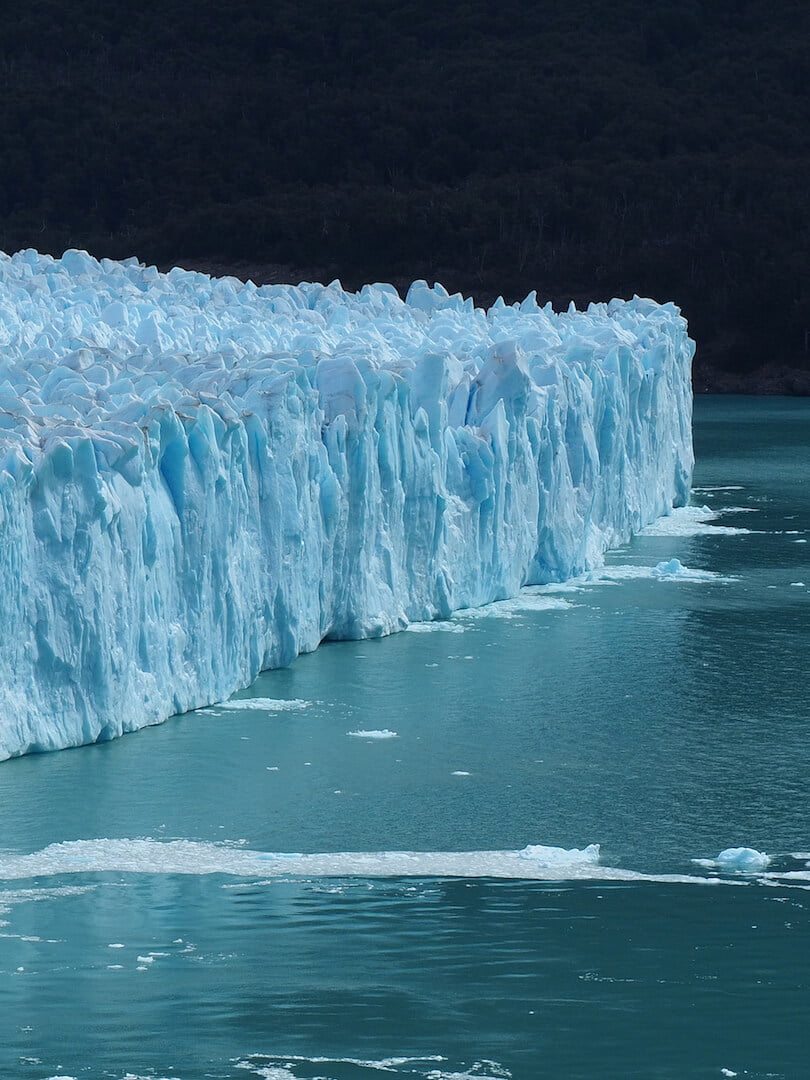 Another view of the glacier as it points into Lago Argentino
And, of course, you can combine the boardwalk with a boat trip that takes you within 100 metres of the base. But far enough away to avoid any shards of ice dropping on to your head, it's still close enough for some spectacular close-up photographs.
Although you can pre-book these with tour operators in El Calafate, you can actually buy tickets on the day at the Navegación kiosk inside the national park.
And if all that sounds just a little too sedentary, you could always take a 90-minute kayak tour for a cool £144 / $180. Which sounds like one for us next time, too!
A tour boat keeps a safe distance from the glacier wall
A tour boat passes close to the glacier wall
Although you see the glacier "calving" on any given day, there are special natural events called "ruptures" that take place at much lengthier intervals – typically every two to four years.
As I mentioned earlier, the Perito Moreno Glacier is advancing and this results in a section of it eventually reaching a stretch of land where Lago Roca meets Lago Argentino. As the ice melts into the lake, an arch is formed which eventually collapses. The resulting icy carnage is one of the world's great natural spectacles and draws crowds of people when it's imminent.
Here's a great National Geographic video that explains the phenomena.
Typically it occurs during March which is at the end of the Patagonian summer. The last one was in March 2018. But unfortunately for tourists, it happened overnight. Prior to that, the March 2016 rupture is featured in many You Tube videos.
Although, once again, the calvings and ruptures are NOT a by-product of global warming but rather the natural cycle of the Perito Moreno Glacier as it advances and melts.
We missed out when we were there in March 2019. So maybe, if you're there in 2020, you'll be lucky.
Your base for visiting the glacier is almost certainly going to be El Calafate. However, it's also possible to camp between the town and the National Park (you can't camp inside the park itself). We wild camped at Lago Roca to give ourselves the best chance of an early start.
A number of shuttle buses run twice per day from El Calafate (between 07:30 and 09:00 in the morning and 13:00 to 14:00 in the afternoon, returning 16:00 to 16:30 and 19:00 to 19:30). Tickets cost 800 Argentinian pesos (ARS) – approximately £11.50 or $14.25 at the time of writing.
In the high season (December to March), you might be advised to buy your tickets the day before. But it's still possible to buy them on the day.
Hitch-hiking is almost a way of life in this part of South America and so plenty of car and camper van drivers are happy to pick people up. Just head west on Ruta 11 as 90% of all passing cars will be going to the glacier. But make sure you've thought about getting back!
Taxis are an expensive option unless you share with two or three other people.
Tours from El Calafate incorporate boat trips and glacier hikes, but come with a much heftier price. They can be booked either directly with your hotel/hostel or by simply walking in to one or more of the tour operators that line the main street.
The most flexible way to get there is by rental car or, as in our case, a camper van. Although these are usually hired as part of a wider road trip around Patagonia.
Whatever your mode of transport you'll need to pay an entrance fee for Los Glaciares National Park of 700 ARS (£10 / $12.50).
As you might imagine, El Calafate is pretty remote.
Unless you're visiting as part of a wider trip around Patagonia you'll probably need to arrive by plane. There are direct flights from Buenos Aires, San Carlos de Bariloche (in Northern Patagonia) and Ushuaia (in the extreme south). They're not cheap but considering that buses from Bariloche and Ushuaia take 24 hours and 15 hours respectively, they're probably a better bet.
From the northern section of Los Glaciares National Park, a bus from El Chalten to El Calafate takes just three hours and costs from 600 ARS (£8.50 / $10.50).
Otherwise, if you've hired a camper van or something similar, El Calafate is perfectly placed between El Chalten in the north and Torres de Paine over the Chilean border to the south.
The town of El Calafate itself is full of hotels, tourist shops, restaurants and tour operators. It's pleasant enough and is good for a night out after a day hiking around the glacier and surrounding areas.
We can't personally recommend any hotels as we camped both in and out of town during our three nights there.
This is Patagonia and so the weather can be changeable at any time of the year. And strong winds are almost a permanent feature.
Undoubtedly the most reliable period is the Patagonian summer between December and March with higher temperatures and potentially sunny skies. Which naturally coincides with the largest number of visitors.
However we've heard that the autumnal colours during April and May contrast beautifully with the ice and are well worth seeing. And, combined with lower visitor numbers, it's a good alternative.
Final thoughts on Perito Moreno Glacier
We can't speak highly enough of Perito Moreno Glacier as a travel destination. For glaciers of this magnitude it's easily the world's most accessible and doesn't require an awful lot of effort to reach it.
Sure, it can get busy, but you really shouldn't let that put you off.
For us, it's one of the most memorable highlights of our four-and-a-half-years of travel. And we'd return in a heartbeat.
Only I might just take my own flask of single malt whisky with me next time!
What did you think? Have you been to the Perito Moreno Glacier? Do you have any recommendations to add? Or perhaps you're thinking of visiting there in the near future? Either way, we'd love to hear from you so please add your comments below.
To help us maintain our site we work with a number of partners who we've personally used and can recommend to our readers. If you decide to purchase any products through the following links, we'll receive a small commission at no extra cost to you. Thank you for your support!
Hi, we're Ian and Nicky, an English couple on a voyage of discovery around the world, and this blog is designed to reflect what we see, think and do. Actually, we'd like to think it also provides information, entertainment and inspiration for other "mature" travellers, too. So please feel free to pour yourself a glass of something suitably chilled and take a look around.