How To Visit The Pipila Monument In Guanajuato
MEXICO
How To Visit El Pipila Guanajuato: A Complete Guide
Guanajuato is probably our favourite place in Mexico. Steeped in mining history and situated in a glorious valley, it's a colourful and vibrant city that's best explored on foot, and appreciated from one of its many viewpoints. Such as the half-day hikes up to the summits of La Bufa and La Sirena, two peaks in the surrounding hillside.
However, the statue of El Pipila is at the top of the list for most tourists. Not least because of its prime position in the middle of a viewing platform overlooking a panoramic view of the city. As such, taking in the view from up there is one of the best things to do in Guanajuato.
Here, we outline your options on how to visit it and what you can expect when you get there.
Table of Contents
Click on the link to go straight there…
HOW TO VISIT EL PIPILA GUANAJUATO
Take the funicular
Catch a bus
Walk
This page contains affiliate links. To help us maintain our site we work with a number of partners who we've personally used and can recommend to our readers. If you decide to purchase any products through the links on this page, we'll receive a small commission at no extra cost to you.
El Pipila was the nickname of one of Guanajuato's most famous sons – Juan Jose de los Reyes Martinez Amaro.
The Mexican War Of Independence had begun in 1810 in the nearby town of Delores. But it would soon spread to Guanajuato, where the Spanish barricaded themselves in at the Alhondiga de Granaditas (a large grain warehouse), along with a sizeable booty of silver. 
Enter our man, El Pipila, carrying a large, flat stone tied to his back (to protect him from musket fire) and brandishing a flaming torch, together with a small supply of tar. His place in history was assured when he marched up to the large wooden door at the warehouse entrance and set it alight. After which, the local insurgents stormed the building and killed everyone inside.
It was the Mexican insurgents' first victory in the war with Spain, which lasted until they finally achieved independence in 1821. The statue was built in his honour in 1953 from pink sandstone and depicts a muscular man carrying a flaming torch high above his head. 
Below, an inscription reads, "There are still other Alhondigas to burn". 
Today, the monument is an iconic landmark in Guanajuato and can be seen from all over the city.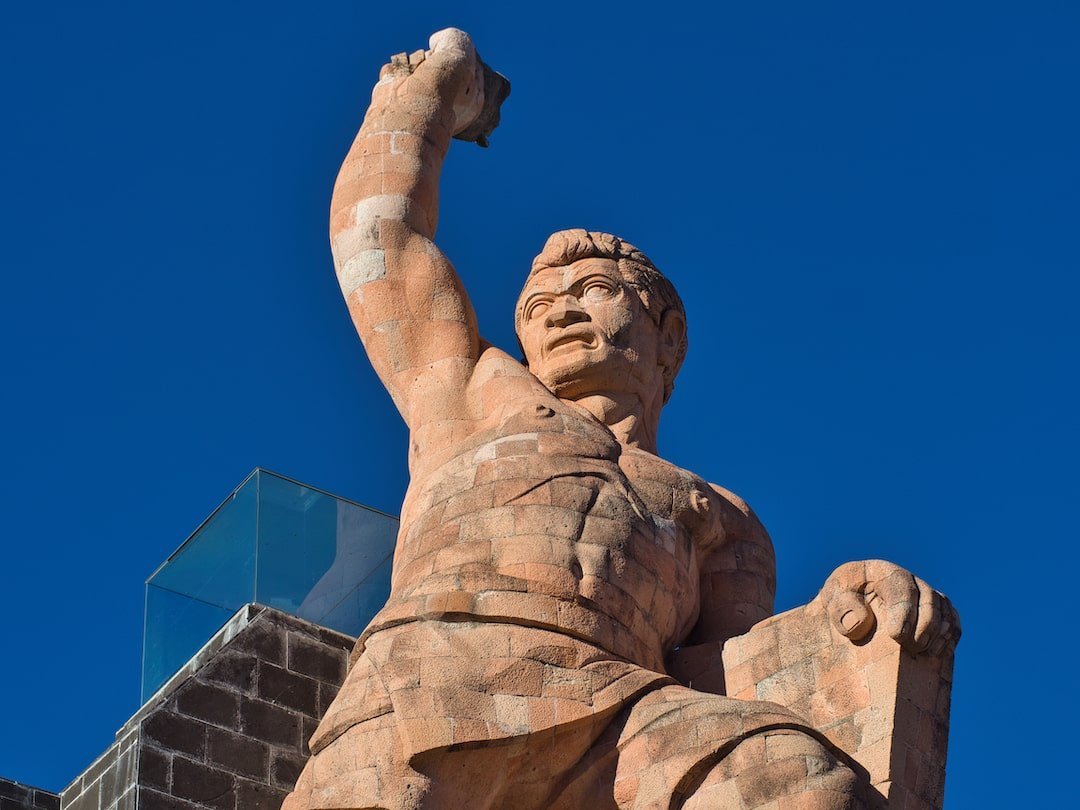 The most popular route is via the Guanajuato funicular, which runs all day and evening from the historic centre.
Accessed from behind the stunning Juarez Theatre, it's a two-car system in which each car runs simultaneously in opposing directions. The 102-metre climb only takes a minute-or-so and stops just below the monument itself. 
You'll get opportunities to take photographs as you ascend up the hillside. But, in all honesty, the best views are from the viewing platform at the top, so don't fret if you can't get near a window.
And, of course, you have the option to walk back down to the centre via the steps rather than taking the return journey via the funicular.
Tickets (as of 1 March 2023) 
35 pesos (£1.50 / $1.90) one-way

70 pesos return.

 
Opening times
Monday to Friday – 08:00 till 21:50

Saturday – 09:00 till 21:50

Sunday – 10:00 till 20:50
View of the funicular from Jardin de la Union
The funicular en route to El Pipila Guanajuato
A cheaper, but much less convenient option is to catch a bus from the Parada de Autobuses, opposite Hidalgo Market on Avenida Benito Juarez.
They appear to run approximately once every hour (although we couldn't get a definitive answer) and cost 7 pesos for the 15-20 minute journey. Look out for the bus headed to "Pipila" (it's usually handwritten on one of the front windows at the side of the bus).
Apart from price, its other advantage is that it stops right outside the Pipila monument.
Interested in housesitting while you travel?
We were able to spend two months housesitting in Guanajuato. If you're interested in doing the same, you might want to consider joining Trusted Housesitters – the world's largest housesitting platform. And you can do so with a special 25% discount off your first year's subscription through our link below.
If you've spent some time in Guanajuato you'll no doubt have had to negotiate your way through the extremely steep and narrow streets at some point. It just goes with the territory.
The various walks up to El Pipila from the centre are a perfect example. Extremely steep in parts and involving plenty of steps, they can be tough going. Especially considering Guanajuato's already lofty elevation of 2,045 metres (6,700 feet).
But they're worth doing if you can manage it. Indeed, we walked one of the following routes at least once every day during our two-month stay in Guanajuato. Mostly because our accommodation was just below the statue's viewing platform!
This is the most scenic and direct of the three routes we've highlighted.
Starting on de Sopena (the main pedestrian-only street running from Jardin de la Union), there's a narrow alleyway called Callejon Del Calvario, which winds its way upwards until it crosses with another alleyway (De Los Dolores). Look out for a set of steps (Callejon Pochote) after the green building on the right (signposted Pipila) and follow them all the way up to the viewing platform.
Along the way you'll pass prettily decorated stone houses, a lower viewing platform and a large Aztec mural.
And, finally, you'll pass underneath the funicular as it enters its upper station.
Just before you arrive at the platform, and in front of the pastel coloured Hotel Balcon del Ciel, there's another viewpoint that's worth stopping off for. In fact, judging by the number (and variety) of posed photographs we witnessed there over our two-month stay, it's a view that must be all over Instagram – or the Chinese equivalent.
.
Santo Cafe is well-known in Guanajuato for its outdoor tables and chairs positioned on a stone bridge that crosses a historic alleyway.  Indeed, you're likely to pass under the bridge at some point during your stay, even if you don't visit the cafe.
Opposite the cafe, the pedestrianised Del Tecolote winds its way steeply upwards (naturally!), until it deteriorates into a loosely-cobbled road. Once it passes under another stone bridge, bear right just afterward and then left onto the Panoramica. After a short walk downhill, you'll arrive at El Pipila, passing views of the valley along the way.
Route 3: From Plaza de los Angeles
In between Jardin de la Union and Hidalgo Market, this plaza is a popular meeting point and provides access to the hugely touristy "Kissing Balcony" on Callejon del Beso.
Follow the wide alleyway to the left of the plaza and then turn right until you reach the steep Callejon Leon de Bronce. This will merge with Zapote as it bears right and then sharply left towards the steps on Subida A San Miguel. These steps lead right up to the viewing platform. 
Be warned, though, that the final section is extremely steep.
You can also pick up this route at Zapote by starting at the road opposite the Black Mamba 61 cocktail bar on Calle de Alonso. 
The starting points for each of these routes are shown on the map at the end of this article.
Once you've arrived at the top, there's a very good chance you won't be alone. After all, it's the number one tourist attraction for domestic visitors to Guanajuato. But if you would like to see it all for yourself, you'll need to get up early and arrive at the platform before 08:30. Especially at weekends, when it's heaving with people during the day.
The statue itself is underwhelming. Something of a sandstone version of the typical brutalist Soviet-era statues we remember from Budapest.
Around it, food stall vendors, tourist guides and variously assorted photo props (including one guy dressed in a Grim Reaper outfit) vie for your business. Families, friends and couples congregate in front of the platform's balustrade for photographs. There's always some music playing. Including the occasional mariachi band. 
And then there are the elaborate marriage proposals. You'll definitely hear them before you see them.
Of course, the real reason you've made it here is for the panoramic view of Guanajuato and its surrounding hillsides. 
And it's quite the view. 
Guanajuato from the viewing platform
In fact, it's a view that was also appreciated by Queen Elizabeth II, who went to Guanajuato during her state visit to Mexico on 1975.
Queen Elizabeth II visits El Pipila
As you gaze out, much of Guanajuato's historic centre is directly below you. Prominent are the white university building and the yellow/red towers of the Basilica Colegiata. Beside them, rows of colonial buildings line the main thoroughfare and Jardin de la Union. Further to the left, the Alhondiga de Granaditas reminds El Pipila of his heroic exploits back in the day. 
In the background and up the hillsides on either side, houses painted with pinks, greens, blues, turquoise, reds and yellows are scattered around, like broken pieces of a jigsaw. Further back, the white cross at the summit of Cerro de la Sirena watches over everything.
To be honest, it's a view that's probably best appreciated after you've spent some time exploring Guanajuato's centre. That way you can rediscover the spots you've explored from this vantage point.
View of Guanajuato's "historico centro"
Wider view of Guanajuato and Cerro de la Sirena
Whilst we'd recommend visiting early morning to avoid the crowds, that's not necessarily when you'll see the view at its best. The sun's position in the sky is on the opposite side of the valley and to your right. Which means that many of the buildings cast shadows.
During mid-to-late afternoon the colourful buildings begin to take on a glow as the sun shines directly on them from behind you. It all reaches a crescendo as the sun begins to disappear behind the hillside, casting a shadow that creeps outwards in front of you. It's at this point that the buildings on the opposite side of the valley positively bask in the soft rays of the sun's "golden hour".
Directly below, the incoming cacophony of trumpets and drums, mixed with barely-in-tune folk singers, signals the start of the mariachi bands playing in Jardin de la Union. Competing with them, groups of roving musicians, dressed in their 16th Century Renaissance-period best, waltz around the alleyways with their acoustic guitars, mandolins and tourist crowds in tow. 
It's all very Guanajuato (we'll cover it in more detail in another article). And it's all happening right below you.
And then, of course, day turns to night. The music and dancing get louder. And the city lights provide another perspective of the view. By this point, the Pipila crowds have largely dispersed. And, if the weather is good, it's a calm and serene place to be. 
However, bear in mind that the last funicular down is at 21:50 (20:50 on Sunday) – otherwise you'll need to walk back.
Final thoughts on El Pipila Guanajuato
Pretty much everyone who visits Guanajuato makes it to the Pipila Monument. And with good reason, as there aren't many places in the world – never mind just Mexico – where there's easy access to such a panoramic view of a city.
We never tired of the view from up there. Even after seeing it every day for two months.
Add in the convenience (not to mention the attraction) of the funicular ride to get you there and there's really no excuse to skip it!
El Pipila Monument
Jardin de la Union
Guanajuato Funicular
Walking route 1 starting point on La Sopena
Walking route 2 starting point on Plaza de los Angeles
Walking route 3 starting point on at Santo Cafe
Buses for Pipila from Parada de Autobuses
FAQs
Is walking up to El Pipila safe?
As a state, Guanajuato has its security problems. Much less so in the city of Guanajuato, itself, however.
We've read some articles that say it's better to get the funicular or a taxi up to El Pipila rather than walk. Especially at night. 
However, our experience of walking was very much a positive one. And we did it enough times over a two-month period.
Like in any other tourist destination, it makes sense to take precautions and not put yourself in unnecessary danger. However, we'd have to say that walking up to El Pipila is not something that's particularly risky. Far from it. But, If you're unsure at night, just play it safe and take the funicular (remembering that the last one down is at 21:50 – or 20:50 on Sundays).
Are there any places to eat up there?
Yes, there's a whole plaza of food stalls selling all the usual street food fayre (tacos, gorditas, quesadillas, enchiladas, grilled corn cobs etc).
They get particularly busy at the weekend, but some of them might not operate during the quieter weekdays.
Is there a fee to get in?
No, it's completely free.
Any other questions?
If there's anything you'd like to ask about El Pipila Guanajuato that we haven't covered here, there are a few ways to get in touch with us.
Firstly, you can simply ask your question in the Comments section below. You can also get in touch using our contact form. Or, if you'd like to join our community on Facebook, you can ask directly there.
Either way, we'll do our best to get straight back to you.
What did you think?  Do you have any recommendations on how to visit El Pipila Guanajuato? Or perhaps you're planning to visit in the near future? Either way, we'd love to hear from you so please add your comments below.
PLAN YOUR TRIP
The following contain affiliate links. If you decide to purchase anything after clicking on any of these links, we may receive a small commission at no extra cost to you. Indeed, as a result, you'll be helping to keep our website ad-free! Thanks for your support.
Book Your Flight
Our go-to website for flights is Skyscanner. We've probably booked probably 90% of our flights worldwide with them over the years and they've never let us down.
Book Your Accommodation
No longer merely a travel rating service, Trip Advisor is now a major resource for booking accommodation, too. And you can view some of the best deals in El Pescadero here.
Get Insured
For travellers who are UK residents, we recommend True Traveller. Amongst other things, they offer both multi-trip and backpacker insurance. Indeed, they're our go-to insurance provider.
For travellers who are non-UK residents, we recommend SafetyWing for both remote health insurance and nomad insurance.
Check your entry requirements
Check all entry requirements for Mexico and purchase any visas online with iVisa.
Book a tour in Guanajuato
Book a guide, tour or other activity in and around Guanajuato with Get Your Guide
We provide all the content on this blog completely free and aim to make your reading experience as smooth as possible. As such, other than our own affiliate links, we'll continue to resist using popup advertisements and other income-generating clutter on our pages.
However, we do put a lot of time and effort into producing content and maintaining the site. So, if you find our work useful and would like to contribute something towards it (via PayPal), you can do so here. Thank you!
Hi, we're Ian and Nicky, an English couple on a voyage of discovery around the world, and this blog is designed to reflect what we see, think and do. Actually, we'd like to think it also provides information, entertainment and inspiration for other "mature" travellers, too. So please feel free to pour yourself a glass of something suitably chilled and take a look around.