PORT SUNLIGHT – ENGLAND'S FINEST MODEL VILLAGE
PORT SUNLIGHT: ENGLAND'S FINEST MODEL VILLAGE
This post is one of a series of articles featuring some of the places I was familiar with whilst growing up in Cheshire, England. Indeed, the recent lockdown and subsequent international travel restrictions have given me the perfect opportunity to revisit some old haunts – and discover some new ones along the way. And, hopefully, if you're visiting this corner of northwest England, you might be inclined to try them out, too!
Port Sunlight Village is the sort of place that could easily be mistaken for a film set hosting a grand historical drama. One in which extravagantly dressed Victorian folk in top hats and laced bonnets are seen nodding to each other as they pass each other by in the back of their horse-drawn carriages. And where children kitted out in sailor suits and white aprons take turns to jump over skipping ropes on the perfectly manicured lawns of their chocolate box homes.
But in reality, Port Sunlight is something entirely different. Far removed from any pretence of being a playground for the well-heeled, it was created specifically to house the workforce for a nearby soap factory. Yes, it's aesthetically gorgeous. But it also has a fascinating history. Which makes it a perfect day trip by local train for any visitors to the nearby cities of Chester and Liverpool.
Contents
This page contains affiliate links. To help us maintain our site we work with a number of partners who we've personally used and can recommend to our readers. If you decide to purchase any products through the links on this page, we'll receive a small commission at no extra cost to you.
William Hesketh Lever (later the first Lord Leverhulme) was a 19th-Century English industrialist with an innovative new soap formula branded as "Sunlight".
After opening a small factory in Warrington, Cheshire in 1886, he was very quickly on the lookout for suitable land that would accommodate a new factory and future expansion. And it needed to have easy access to a navigable river, a mainline railway and the road network. Which is how he ultimately settled on a patch of marshy farmland divided by tidal inlets between the River Mersey and a railway line connecting Birkenhead and Chester.
His vision for the new factory included providing decent, yet picturesque housing for his workforce – a principle he coined as "prosperity-sharing". And a good way to command loyalty and commitment, too. Or as he described it, 'To socialise and Christianise business relations and get back to that close family brotherhood that existed in the good old days of hand labour.'
The good old days, indeed.
And, in a no-way condescending message to his would-be workforce about how this brand of profit-sharing might work, he announced, 'It would not do you much good if you send it down your throats in the form of bottles of whisky, bags of sweets, or fat geese at Christmas. On the other hand, if you leave the money with me, I shall use it to provide for you everything that makes life pleasant – nice houses, comfortable homes, and healthy recreation.'
So in 1888, with the help of 30 architects, he oversaw the creation of a model village in Port Sunlight, named after his company's premier brand.
The design of the individual blocks of houses was inspired by both the Aesthetic Movement ("Art for art's sake") and the Arts and Crafts Movement (which emphasised traditional craftsmanship). And each block of houses was unique. Some were half-timbered, some benefitted from carved woodwork and masonry. Others featured twisted chimneys and leaded windows.
As a result, Port Sunlight became one of the UK's finest garden villages, with over 900 houses of multiple styles set in 130 acres of parkland, together with additional public buildings, monuments and memorials.
Meanwhile, the "Soap King" himself continued to expand his Lever Brothers business until his death in 1925. After which it merged with the Dutch margarine producer, Margarine Unie, to become what is now the huge multinational company, Unilever plc.
Nowadays, it's a designated Conservation Area and the large majority of the buildings are Grade II listed – which means that they have special protection status under British law.
Not surprisingly, it has featured as a backdrop in films such as Chariots Of Fire and TV productions such as Peaky Blinders (Aunt Polly's house was located there in one of the early episodes).
Half-timbered houses on Greendale Road, Port Sunlight​
Half-timbered houses on Greendale Road, Port Sunlight​
The best way to explore the village is on foot, following the Port Sunlight Trail. A self-guided walking map can be purchased from the
Port Sunlight Museum
for £1.50.
It's useful to help you identify the most important buildings and monuments. Although it's just as pleasurable to merely wander around the boulevards and admire the stunning architecture for what it is.
You can also take a 90-minute guided walking tour if you're happy to be part of a group.
At the junction of Church Drive and The Causeway
The Dell & Bridge Cottage
The earliest part of the village was situated around a drained and landscaped tidal channel called "The Dell". On one side was the new factory, with most of the housing on the other, connected by the sandstone "Dell Bridge".
Designed as an ornamental version of an old packhorse bridge, it features the quirky addition of a sundial. And where the tidal creek once flowed beneath, the hollow is now home to the occasional open-air theatre during the summer.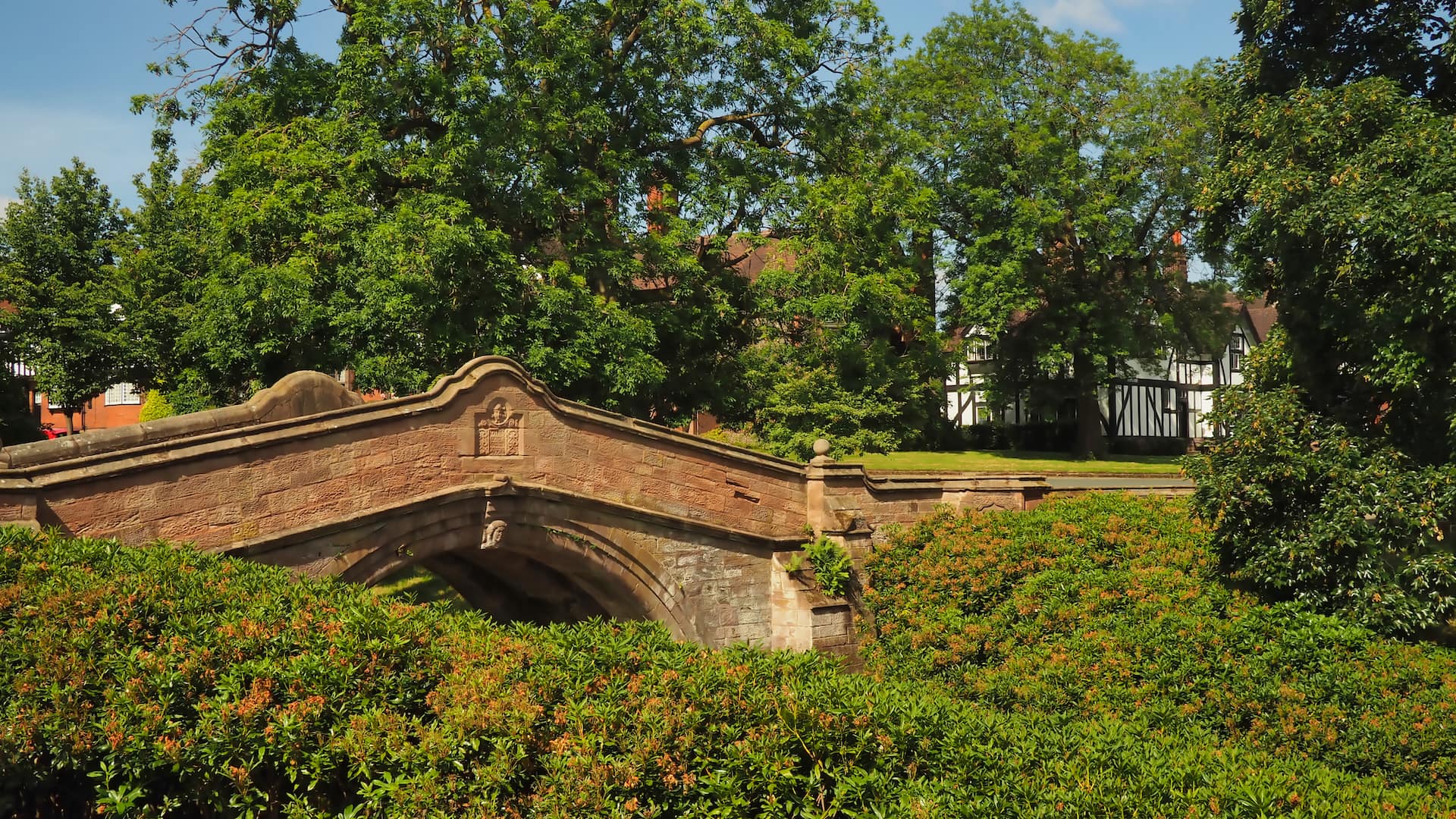 Beyond The Dell is the lovely and uniquely designed "Bridge Cottage", where Lever and his family once lived. Nowadays it houses a vintage shop and is used as a community meeting place for residents and visitors alike. With mountains of tea and cake on offer, naturally.
Indeed, its sumptuous Edwardian wooden interior served as the backdrop for some scenes in the Oscar-winning film, Chariots of Fire. A film that's dear to my own heart following my memorable performance as "Man In Crowd" (translation: "extra") when the grandstand at a local running track doubled for the Paris Olympic Stadium of 1924.
Situated on the corner of Bridge Street and Park Road, the building is sandwiched between some of the most beautiful half-timbered buildings in the entire village. 
Houses on Park Road, adjoining Bridge Cottage
Hulme Hall
, on Bolton Road, has a fascinating history all of its own. Built in 1901, it originally served as a women's dining hall before later converting into an art gallery. During the two World Wars, it was used to house Dutch and Belgian refugees and then to shelter Canadian and US troops.
Famously, it was the venue where Ringo Starr made his official debut for The Beatles on 18 August 1962. So, it can rightfully claim its place in history as the gig where the classic Fab Four first played together.
Today it's used for public and private events, such as weddings and Christmas parties. Although my fondest memory of it was attending a four-day beer festival there some years ago. I'm sure Ringo would have approved. And it's an event, I'm happy to report, that's returning in November 2021.
The Lady Lever Art Gallery
Lady Lever Art Gallery
– one of Europe's finest – is worth a visit to Port Sunlight on its own.
Containing the best of Lever's personal art collection, it's perhaps most famous for the collection of Pre-Raphaelite paintings by Burne-Jones, Millais and Rossetti and other masterpieces from the likes of Lord Leighton and Constable. But he also amassed collections of Wedgewood pottery, Chinese porcelain, 18th-Century furniture and British sculpture.
All of which is a long way from Lever's initial interest in art, which was originally targeted towards Victorian women as advertising for his Sunlight Soap.
The gallery building itself is dedicated to his wife, Elisabeth, who died in 1913, the year it was commissioned.
It's free to get in, although a donation of £5 is appreciated.
From the parking area outside the gallery, a community garden and pathway run between two parallel roads – King George's Drive and Queen Mary's Drive – and leads to Port Sunlight War Memorial. Built in 1921, it was dedicated to the men of Lever Brothers Ltd who died in the First World War.
Indeed, as war broke out, 700 employees from the Port Sunlight factory travelled to Chester to enlist in the 13th Battalion of the Cheshire Regiment. Which made them the country's largest group of Works volunteers in the war effort.
In the centre of the memorial a slab of granite contains the names of over 500 Lever Brothers employees from all over the world, who lost their lives in the First World War. Although most of them either lived in or near the village and worked at Port Sunlight.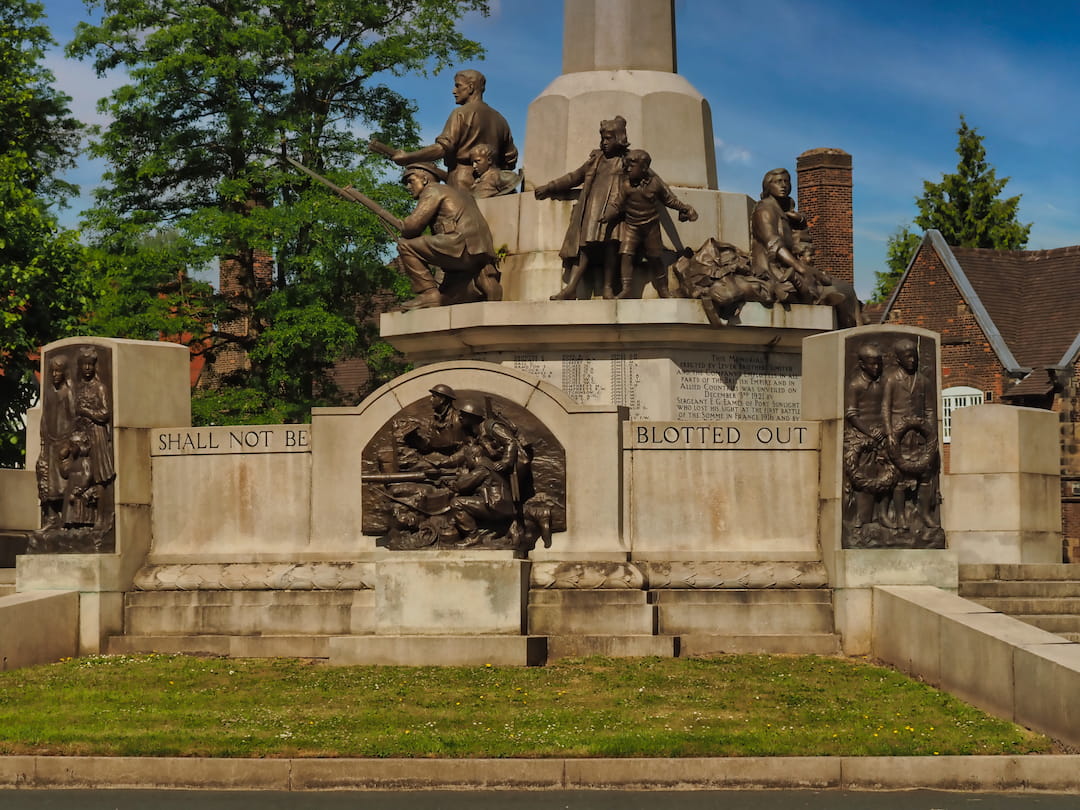 The Hillsborough Memorial Garden
Beyond the War Memorial, and just as poignant, a memorial garden commemorates one of the biggest tragedies in British sporting history. On 15th April 1989, 96 football supporters died at Hillsborough Stadium, Sheffield watching an FA Cup semi-final between Liverpool and Nottingham Forest. All of them Liverpool FC supporters – parents, grandparents and grandchildren. They were crushed when a crowd surge trapped them against perimeter gates. All of which unfolded "live" on TV as the game was being played.
Port Sunlight's memorial garden was the first to be unveiled on Merseyside and becomes all the more touching from its viewpoint looking towards the War Memorial and the Lady Lever Art Gallery in the distance.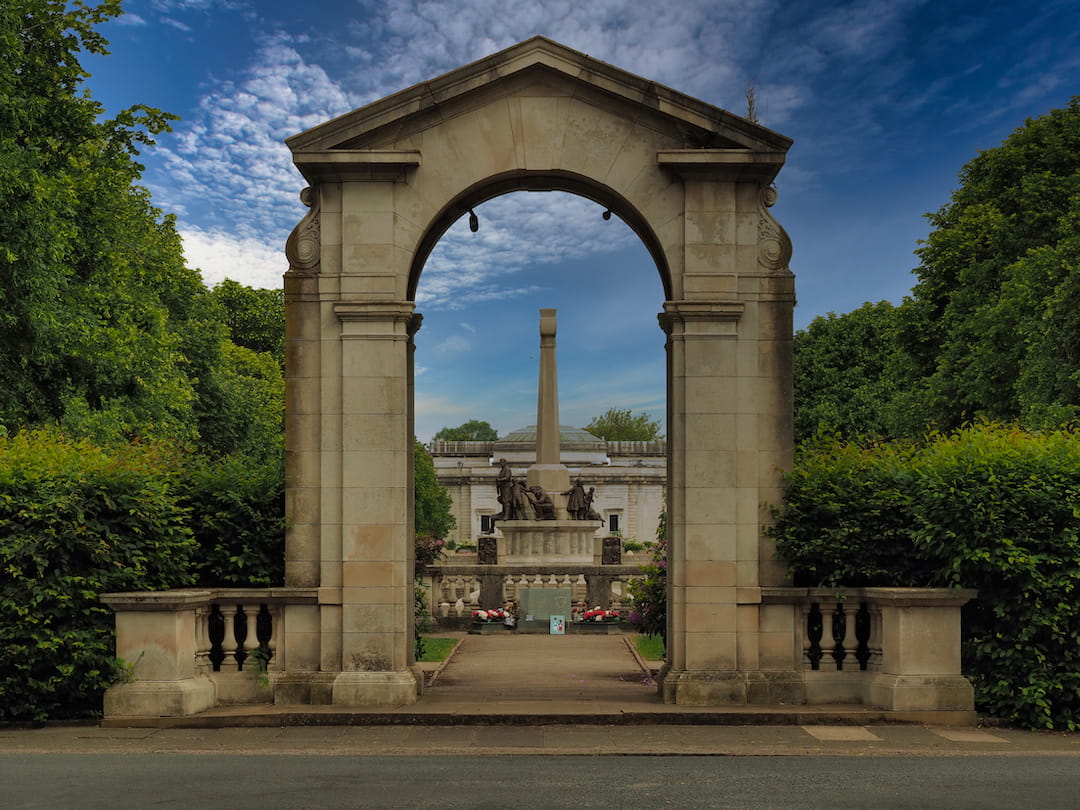 View of the Hillsborough Memorial Garden and the War Memorial beyond
Fittingly, the area was once used within the village as a football ground (known as "The Bolton Road Ground"). It was later re-developed as a plot for allotments for the exclusive use of village children. The idea was to encourage residents to grow fruit and vegetables to supplement their diet.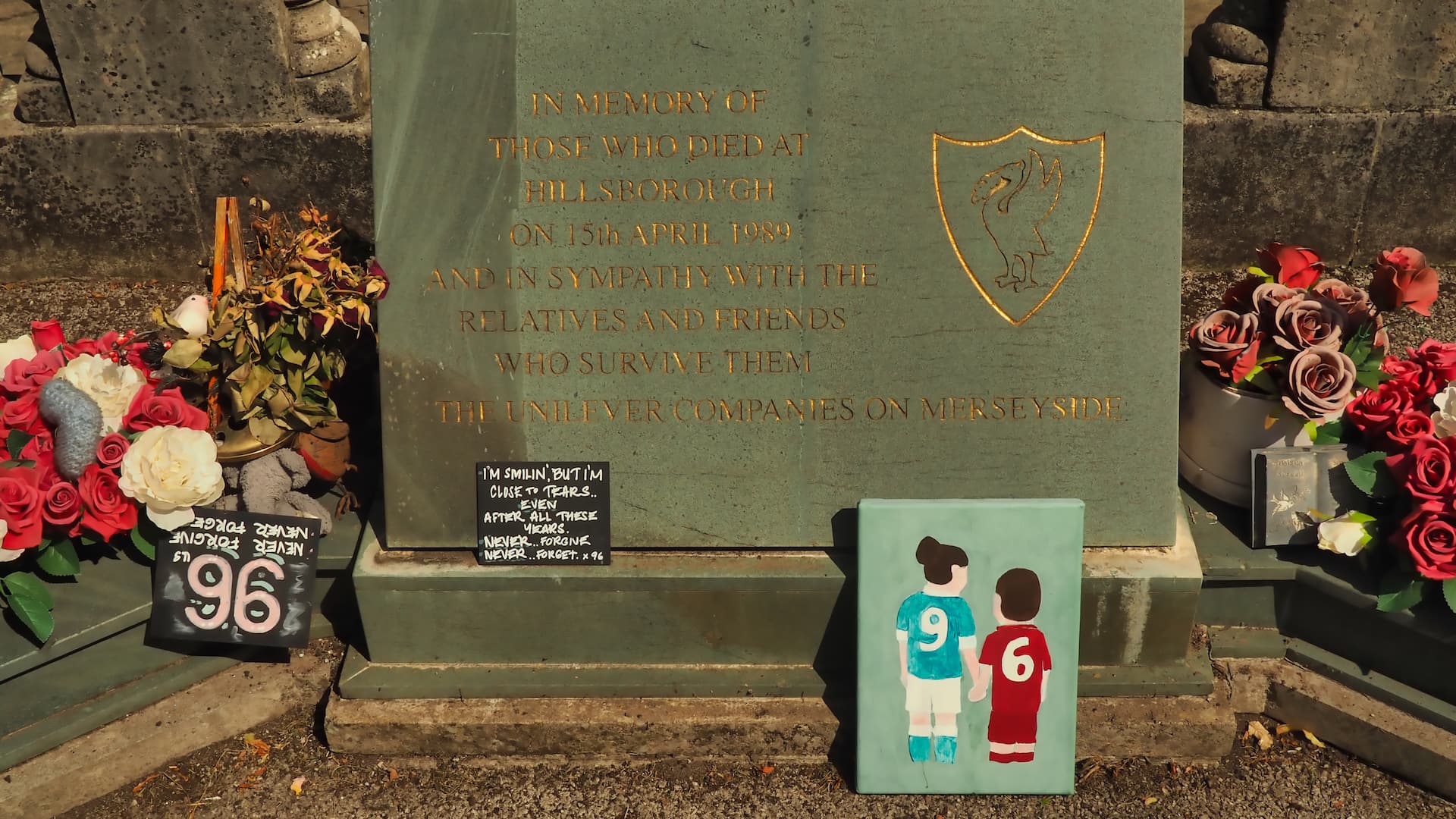 Across the road from the art gallery, and housed in what was once the "Girl's Club" building, Port Sunlight Museum showcases the history and architecture of the village. Including an Edwardian worker's cottage filled with period artefacts and a hands-on "Soap Works" for those with a keen interest in soapy science.
There's an entrance fee (currently £8.50, plus concessions) which provides access to the Museum, the Edwardian Cottage and Soap Works. You can also combine the Museum entrance with the guided walking tour as part of the Port Sunlight Experience.
Apart from slowly wandering around the streets and ogling at the buildings, there are some other options in and around the village, too.
The Bridge Inn is the village pub where you can stop for lunch or an afternoon drink. To be honest, I'm not a huge fan. But then I'm probably guilty of being a bit misty-eyed and harking back to the days when it boasted a more authentic village pub atmosphere rather than the bland corporate feel of today's version. But that's just me.
In fact, if you have a car I'd recommend you skip this pub, head to nearby Thornton Hough (another gorgeous village with Lever's stamp marked all over it) and stop for a bite to eat and a local beer at the 17th-Century, thatch-roofed
Wheatsheaf
pub in Raby.
Back in the village, an analemmatic sundial commemorates HM The Queen's Diamond Jubilee. An anal-what you might ask? Well don't worry – it's a kind of sundial that uses the shadow cast by a person to identify the time of day. And pretty cool it is, too.
Elsewhere, Gladstone Theatre, which was originally a dining hall for Lever Brothers employees, features shows ranging from children's pantomimes to an evening with Johnny Rotten.
How to get to Port Sunlight
By train
From Liverpool (15 minutes) use any of the four underground stations (at Moorfields, Lime Street, Central or James Street). Look for the regular trains to Chester or Ellesmere Port and get off at Port Sunlight station. From Chester (25 minutes) you'll need the reverse route towards Liverpool.
By car
From Liverpool cross the River Mersey through the Queensway Tunnel and head towards Chester on the A41. After the Rock Ferry by-pass (3.5 miles), you'll need to turn right into Port Sunlight village.
From Chester, pick up the M53 towards Wallasey and come off at Junction 5, signposted towards Birkenhead. Then head along the A41 for approximately four miles until you reach Port Sunlight and turn left into the village.
My connections with the village go back to the time spent there as a kid with my two aunts, who both worked at the Unilever factory and lived in nearby New Ferry. I also went to school in the adjoining village of Bebington. And then, when I was old enough (or looked old enough), I discovered the delights of The Bridge Inn.
But I probably hadn't appreciated the history, beauty and calmness of the place until I returned to visit later in life and actually spent some time finding out more of its back story.
So although I might be biased as it's kind of my home turf, I reckon a day out in Port Sunlight encompassing the Lady Lever Art Gallery, the Museum and a self-guided walk around the village is well worth a few hours of anyone's time.
And, although the large majority of the houses are now privately owned, there are still around 300 available to rent for six months or more through the Port Sunlight Village Trust, ranging from one-bedroom apartments to four-bedroom homes. 
So be warned, if you do visit, you might end up staying longer than you thought!
What did you think? Have you been to Port Sunlight? Or maybe you're thinking of visiting the village in the near future? Either way, we'd love to hear from you so please add your comments below.
MORE PICTURESQUE VILLAGES
Hi, we're Ian and Nicky, an English couple on a voyage of discovery around the world, and this blog is designed to reflect what we see, think and do. Actually, we'd like to think it also provides information, entertainment and inspiration for other "mature" travellers, too. So please feel free to pour yourself a glass of something suitably chilled and take a look around.