There's no disputing it. We really are blessed.
Earlier today we woke up to an unbelievable view from the balcony of our latest house sit. In fact, it must be a contender for the most incredible place in the world to enjoy a morning coffee. And it shouldn't look too shabby when we crack open a bottle of white wine later on this afternoon, either.
We're on the island of Tortola in the British Virgin Islands. To be honest, we'd be thrilled to spend just a week here. But we're happy to report that we're staying for a full 21 WEEKS! That's nearly five months house-sitting in a beautiful hillside home, looking after four gentle-natured cats.
As I said. Blessed.
Where are the British Virgin Islands?
A British Territory, it's an archipelago of over 50 small islands and cays. I must admit it's probably the first place I've been to that I couldn't pinpoint on a map. I knew it was in the Caribbean but that was where my knowledge ended. In fact, it's situated east of Puerto Rico and at the northernmost tip of a ridge of famous Caribbean islands stretching southwards towards the South American coast (such as Montserrat, St Lucia and Grenada).
It's generally recognised as being THE premier place in the world for bareboat sailing (that is, yachts and catamarans for charter without a skipper and crew). And it's not difficult to see why. Apart from the sublime scenery, it's also packed with plenty of island-hopping opportunities. Meanwhile, the trade winds that blow through the area make for exhilarating sailing. Not surprisingly then, it attracts the rich and seriously rich. In fact, Richard Branson loved it so much he even bought one of the islands for himself.
How will we spend our time here?
We haven't got it all planned out just yet. But what we do know is that we'll be making the most of this once-in-a-lifetime opportunity.
Of course, we have our four cats to look after. Princess, Lucy, Oscar and Rupert have made us very welcome in their home and we get the impression there'll be a considerable number of man-hours dedicated to cuddling, stroking and generally making a fuss of them. In fact, Princess seems to think that's ALL we're here for!
There's no doubt we'll take the opportunity to work off a few pounds while we're here, too. There's a ridiculously steep hill leading up to the house which I'll be attempting to walk up each day. Better still is the gorgeous 11-metre pool which extends out over the hill and overlooking the Sir Francis Drake Channel below.
Regular readers will know that we love our food. So there's a good chance we'll be taking advantage of the superbly equipped kitchen to experiment with Caribbean flavours such as Jerk, Scotch Bonnet chillies and coconut. Oh, and it helps that there's a plentiful supply of fresh mango, papaya and banana in the house's grounds, too.
This being the Caribbean, rum is also in plentiful supply. We've never really got into it at home but our hosts have already introduced us to some of the wonders available here. We might become fans.
Of course, we'll also be exploring as much of Tortola as we can. The beaches, the restaurants, the National Park. We'll be taking trips to some of the other islands in the area and getting in some diving and snorkelling, too. And we can't spend nearly five months here without at least enjoying some of our time sailing. Not that we're experienced yachtsmen in any way, you understand. But we're game to learn!
Naturally, we'll be blogging like hell about it all and we hope you'll stick around for the ride. It should be fun!
Hang on a minute – what happened to April?
Yep, you're right. It's all been rather quiet on the blog for the past six weeks or so. But we've been really busy. Honest!
Truth is we've been working on a re-design of the blog, which we hope to launch in the next couple of weeks. Lots of hours re-formatting old posts, re-designing pages and generally trying to prepare for the next phase in the development of Above Us Only Skies. We're really excited about it. But we'll be glad to get our lives back!
We finished our house sit in Northern France at the beginning of April and returned to England for a few weeks to see family and friends. And then, en route to BVI we stayed overnight in Bethpage, Long Island, New York with our wonderful hosts, Leigh-Ann and John. As it was just a flying visit we managed to pack in as much as we could before catching the flight from JFK to the US Virgin Islands the following morning. Which meant ticking off a whole host of must-do Long Island foodie activities – beers in Miller's Ale House, pizza at "Phil's", tequila shots on the beach and, of course, a breakfast bagel at the amazing "Bagel Boss".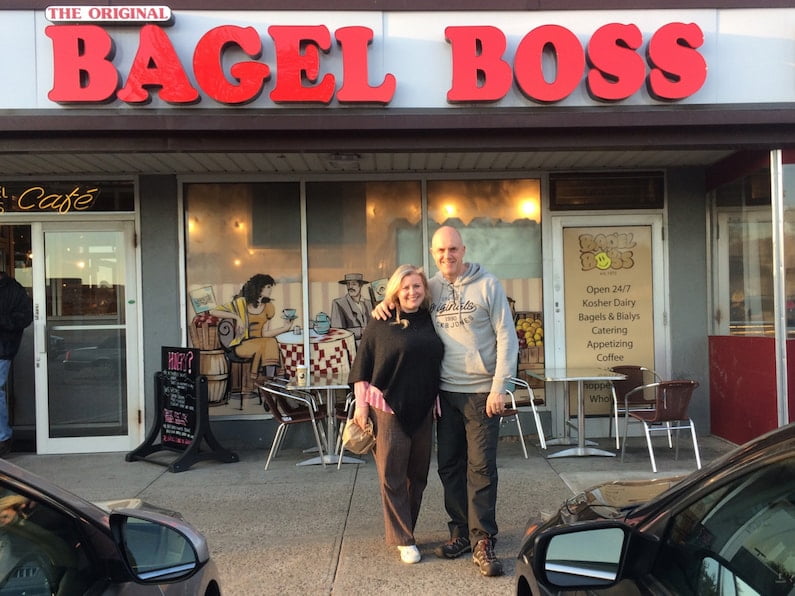 After the flight to St Thomas (US Virgin Islands) we caught the 40-minute ferry to Tortola where we were picked up by our hosts. And it's fair to say they've treated us like royalty during the five days we've spent with them.
Now it's time for us to assume responsibility for their lovely home and their four adorable cats.
Meanwhile, we'll be sleeping soundly tonight with the prospect of waking up tomorrow morning to the smell of freshly brewed coffee and THAT view.
What did you think? Have you been to the British Virgin Islands? If so, any tips you'd like to share? Or maybe you're thinking of visiting sometime soon? Either way, we'd love to hear from you so please add your comments below.
Hi, we're Ian and Nicky, an English couple on a voyage of discovery around the world, and this blog is designed to reflect what we see, think and do. Actually, we'd like to think it also provides information, entertainment and inspiration for other "mature" travellers, too. So please feel free to pour yourself a glass of something suitably chilled and take a look around.
THERE AND BACK AGAIN – A VISIT TO HOBBITON
14 THINGS WE LEARNED ABOUT CAMBODIA
WHY DRIVING IN INDIA IS A BAD IDEA
TREKKING IN THE NEPALESE HIMALAYAS TO KHOPRA DANDA