THE BEAUTY OF RAJASTHAN IN PICTURES
Travelling around Rajasthan in April is not for the faint-hearted. The temperature soars to a consistent 40 degrees plus, which doesn't exactly lend itself to activities such as exploring the region's temples, palaces and forts. Nor does it make travelling on an overcrowded bus or train much fun either.
So, after travelling around South and South East Asia on various modes of public transport we decided to do the honourable thing and rent a car and driver for our 15 days in the "Land of the Maharajahs". Ok, in the eyes of die-hard travellers that might seem a bit of a cop out. But by doing so we were able to see many of the sights in relative comfort. And we could try food and drinks at roadside eateries which we would probably never have found by ourselves.
For instance, these deliciously spicy lentil pakoras we picked up en route to Jodhpur…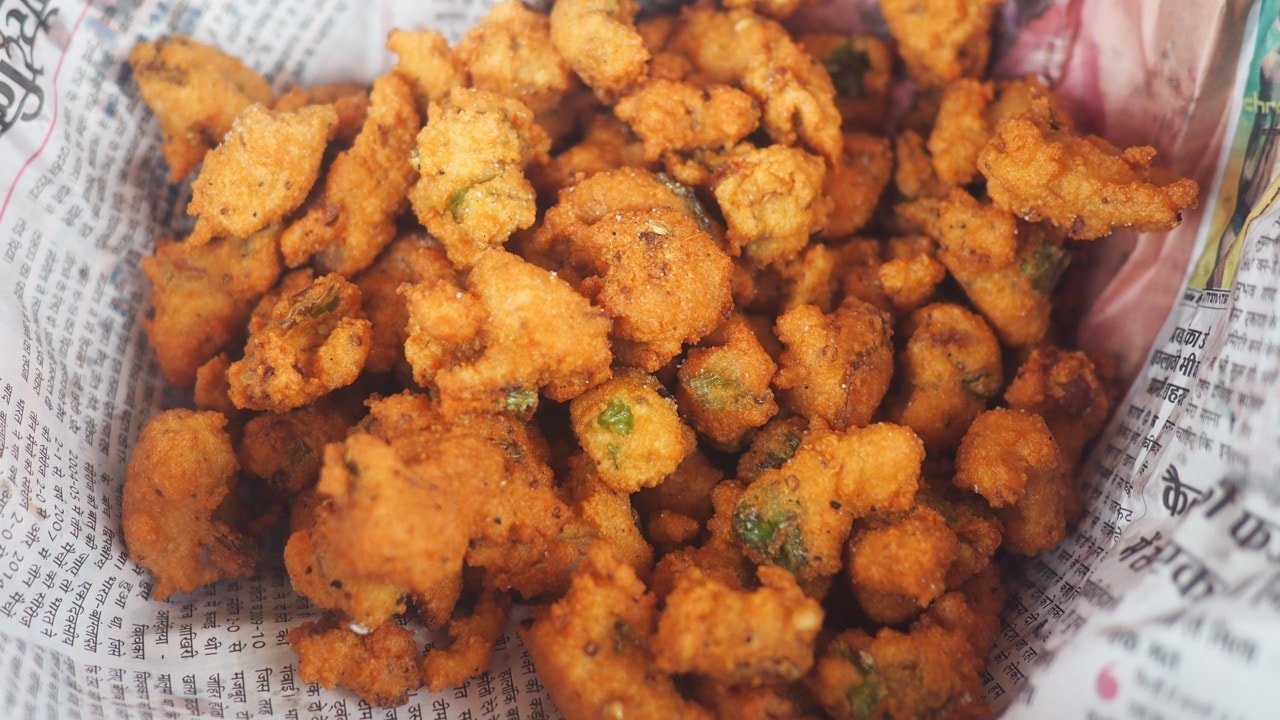 To be honest we actually "sacked" our first driver – or rather the company we booked him through. The problem was he just wanted us to do things that suited him. Ultimately we made the decision to cut our losses after two days, letting go of our deposit. Instead, we re-booked through another company we'd spoken to in Delhi. And that turned out to be the best decision we could have made.
Our new driver, whose name was Bumpy (appropriate, given the state of the some of the roads) was a revelation. Lots of information about where we were visiting and great insights into local food. In fact, some of the best food we had during the trip was had while we were on the road.
15 days (plus two days to visit Agra to see the Taj Mahal, Agra Fort and the "Baby Taj") was about enough. Particularly given the temperatures we experienced. Yes, some of the journeys between cities and sights were long (5-6 hours in some cases). And there wasn't a great deal to see for long periods either. But it's the largest state in India after all so you need to be prepared for it.
The most disappointing aspect was the flagrant overpricing at most of the historic sights we visited. We've come to accept that most Asian countries will charge one price for locals and another for "foreigners". But the Indians seem to have taken the principle a step further by doubling, trebling or even quadrupling entrance fees for foreigners almost overnight – or in most cases from 1 April 2016. And, having to hand in your passport as "security" for hiring an audio guide is just plain ridiculous. Not to mention it being an altogether much bigger personal security risk, too. Needless to say, we refused.
That said, there are some sights we'd urge anyone to see, such as Kumbhalgarh Fort, Udaipur Palace and Ranakpur's incredible Jain Temple. And experiencing the good, the bad and the ugly of Indian street life is something that any traveller to these parts shouldn't miss either.
So, here are 16 of our favourite photographs, showcasing the sights, smells and sounds that encompass the beauty of Rajasthan through our eyes.
Extremely popular with domestic tourists and a UNESCO World Heritage site, the fort is built on a hill just outside Jaipur and we appeared to be the only western tourists around the day we visited. The view of it from the main road is just incredible.
2. Underground tunnels, Amer Fort, Jaipur
There's a large network of underground tunnels beneath the fort which connect to nearby Amber Palace and Jaigarh Fort. Apparently, they were used by soldiers to spring surprise attacks on their enemies during battle.
Although it may look like a lived-in palace, the "Palace of the Winds" is actually a high facade of red and pink sandstone, which was used by women of the royal household to remain unseen while they watched street festivals below.
4. A cow, a sari and a rickshaw
Three images in one which typifies India, not just Rajasthan.
We found Bundi refreshingly quiet and hassle-free compared with other Rajasthani towns. Crumbling old buildings like this one are a feature, as are the Brahmin-blue houses. And, of course, it's got its own palace and fort, too.
Our first glimpse of Bundi was this one from the main road across the emerald lake, with the palace and fort overlooking it. Probably the nicest setting of all the Rajasthani towns we visited.
This vegetarian dish, including a home-made bread roll which weighed more than me, was simply a taste sensation. Give it a try at the Lake View Garden Restaurant if you're in town.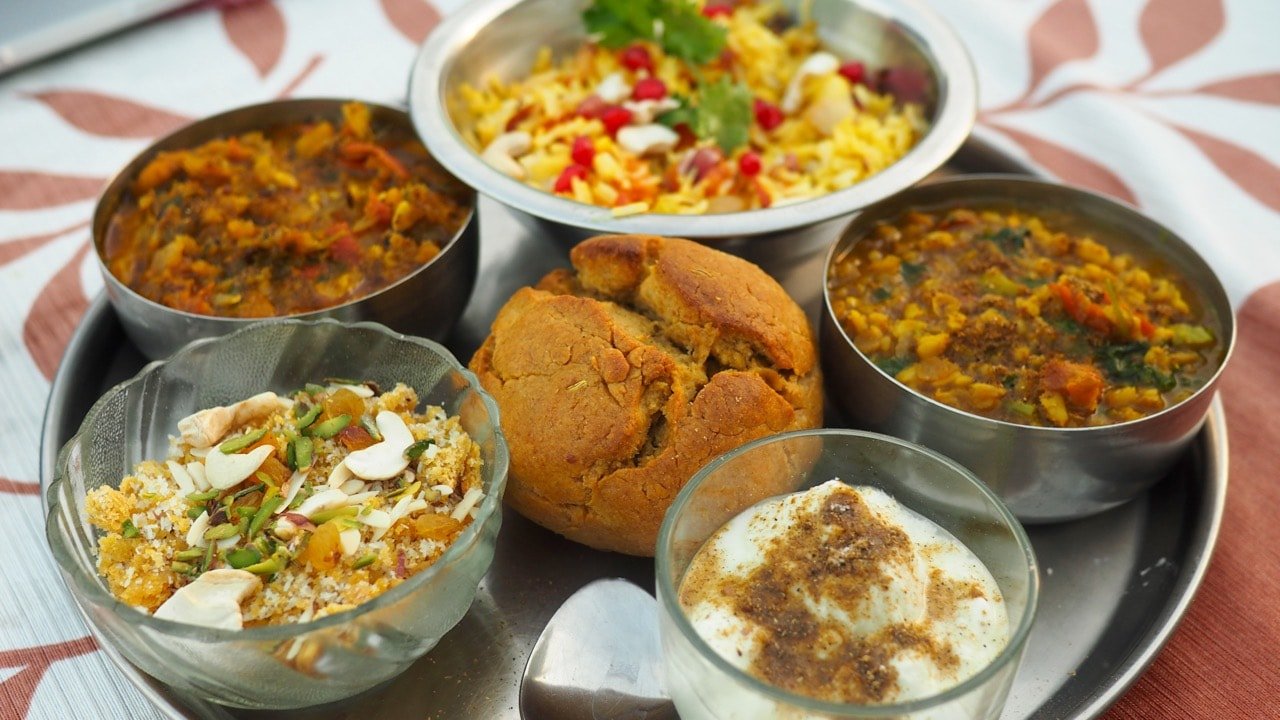 The paradox that it is Rajasthan. Despite the dirt and litter which seems to fill every street, the regular explosions of colour are equally evident.
9. A sacred visitor, Jaisalmer
Cows are sacred throughout India so it's perhaps not such a big deal for one to poke its nose through your front door.
10. Making ends meet, Jaisalmer
Our guest house in Jaisalmer overlooked a nomadic group of families who made and sold wooden puppets to make ends meet. Three of their children asked for their photograph to be taken and then promptly asked for money in return.
11. The Rat Temple, Bikaner
Walking bare-footed through a fairly run-down temple overrun with rats may not be your idea of fun but, believe us this place is fascinating. It'll certainly ease any fears you may have about being near these particular rodents. The reason they're there? It's all down to a goddess who, after she died was reincarnated as a rat, which her followers believe will also happen to them.
For us, this is the benchmark fort that all others in Rajasthan can be measured against. A stunning sandstone complex with a huge wall that stretches for 35 kilometres, said to be the second longest in the world – after the one in China.
Havelis are centuries-old mansions that are dotted around northern Rajasthan towns such as Mandawa, Nawalgarh, and Fatehphur. Many of them are in a poor state of disrepair while others have been renovated as hotels and guest houses.
One of the five most sacred pilgrimage sites for Indian Hindus, Pushkar Lake is surrounded by numerous ghats (stone steps), from where devotees bathe, wash and pray. The town itself is pretty touristy but still attracts free-spirited westerners in search of their hippy roots.
15. Street festival, Jaipur
They certainly like their festivals in India. We were fortunate to catch one in Jaipur during the two days we were there.
Sadhus, or Holy Men of India, can be found throughout the country. But Pushkar has long been a spiritual home for these mystical adventurers who are revered by Hindus as representatives of the gods.
What did you think? Have you witnessed the beauty of Rajasthan? Do you have any recommendations for things to see and do there that you'd like to share? Either way, we'd love to hear from you so please add your comments below.
To help us maintain our site we work with a number of partners who we've personally used and can recommend to our readers. If you decide to purchase any products through the following links, we'll receive a small commission at no extra cost to you. Thank you for your support!
Hi, we're Ian and Nicky, an English couple on a voyage of discovery around the world, and this blog is designed to reflect what we see, think and do. Actually, we'd like to think it also provides information, entertainment and inspiration for other "mature" travellers, too. So please feel free to pour yourself a glass of something suitably chilled and take a look around.