REFLECTIONS ON KOH PHRA THONG
Our two motorcycle taxis dropped us off at the end of a road that looked like it was going to precisely nowhere. "Bang Dem Pier?" I asked my driver with the kind of confused look I normally reserve for when I'm trying to eat with chopsticks. The pier, we'd been told, was where we would catch the daily public ferry to Koh Phra Thong.
The driver pointed over my shoulder to an area that seemed to consist of just a group of guys knocking some nails into a plank of wood and, beyond, a couple of rowing boats nestled in something of a mini-swamp.
"There?" I pointed, my face betraying an unconvinced frown.
The driver nodded, took our 160 baht taxi fare, and the two of them headed back to Khuraburi.
We made our way over to the swampy area, where we saw another larger boat moored just around the bend. So we waited. And waited. Eventually, a man appeared and waded into the murky water, his shorts rolled up to the top of his thighs, and pulled the larger boat as far as he could back to shore. We were then escorted by rowing boat to the ferry. And, after a few minutes of trying to dislodge the now fully laden boat from the mud in the shallow waters, our driver slowly kicked it into gear and we were off cruising downriver through a forest of mangroves.
The forty minute journey finished at Tapa Yoi pier, on the northern tip of Koh Phra Thong, where we were met by Yai from Phra Thong Nature Resort. And, after another 30-minute motorcycle taxi ride with Yai through the interior of this unique island, we finally arrived at our bungalow.
Kho Phra Thong (which means "Golden Buddha Island" in Thai) is one of those few remaining Thai islands that's definitely off the main tourist path. The difficulty of actually getting there might be one of the reasons for that, but the lack of a general tourist infrastructure, including mains electricity, is another.
Back on Boxing Day, 2004, the island took the full brunt of the tsunami that emanated from the earthquake off Indonesia, taking the lives of 94 locals and tourists. It's claimed that the largest of all the tsunami waves to hit Thailand – some 20 metres high – crashed on to Golden Buddha Beach that day, as documented in Kimina Lyall's harrowing personal account, Out of the Blue – Facing the Tsunami.
While there remains some physical evidence of the tsunami – for instance, a washed up boat some metres from the beach, and long-dead uprooted trees some distance inland – this remains an unspoilt gem of an island in the truest sense of the phrase. And, if the stories we've heard are true, you might want to get there quickly if you want to enjoy it as it is.
We'd only decided to come to the island at the last minute, as an alternative to catching a speed boat to the Surin Islands, some 60km offshore. In truth, the weather forecast didn't look that promising and the cost of getting there, together with the fact that our accommodation was to be a tent on the beach, helped us put that particular trip off for another time.
What we weren't anticipating was just how much we would fall in love with Koh Phra Thong.
As an oasis of peace and quiet, it was pretty hard to beat. And with its Golden Buddha Beach, we've found what is, without a doubt, the best beach of our trip so far.
Phra Thong Nature Resort is set back from the beach amidst a forest of casuarina trees. With only four hours of electricity per day (provided via a generator) between 6:30 and 10:30 pm, it was certainly a challenge keeping our power-guzzling laptop, camera, Kindles and mobile phones fully charged. But the charm of the place soon sucked us in and we happily extended our initial three-day stay to six.
I don't think we've ever experienced such total darkness during the night as we did here. Without any air-con or a fan, we merely left our window open to let in what breeze there was, safe in the knowledge that our box-shaped mosquito net was securely tucked in on all sides. So anything that did manage to get into our room would at least be passing through rather than tucking up with us. We went to sleep at night to the sound of cicadas, lizards, and frogs, and awoke the following morning to the sound of singing birds and a screaming cockerel. We tried not to dwell too much on the fact that there were snakes (including King Cobra) in the area, though.
Being such a remote island to get to, this was actually the low season so the resort was pretty much empty. What guests we did meet were an eclectic and interesting bunch. There was Victor from North East China who had been travelling independently for three and half years and had no plans to finish just yet.
There was Andrew from Australia who lived and worked in Bangkok but was on Koh Phra Thong for a few days for some down time – and to pick mushrooms. And there was Arjen from The Netherlands whose Thai wife runs a school training monkeys to collect coconuts. Yes, you heard me right. Apparently, 95% of all coconuts in Thailand are collected by monkeys, which have been specifically trained to do so. So now you know.
While there's a long beach in front of the resort which stretches for about 4km to the south, we spent most of our time on the two beaches to the north, which are accessible through a short peninsula of trees.
The first of the beaches curves around Phra Thong Bay and culminates at a headland known locally as "Hornbill Hill". The sand is a kaleidoscope of colours ranging from rusty red through to gold, grey, and silver – caused by the deposits of tin which used to be mined on the island. As a result, the clear waters of the Andaman Sea turn pink, apricot, blue, and turquoise as they cascade over the sand. And with a natural sandbank between gullies of multi-coloured water, it's an incredibly beautiful place to just sit and watch the tide. And occasionally lie flat in the shallow water to cool off.
Over the other side of Hornbill Hill is another beautiful, but completely different beach – Golden Buddha Beach. It's a simply stunning 11km long stretch of golden sand that dips steeply into the sea while crashing waves bombard the shore.
Incredibly, apart from the large population of sand crabs running to and from the surf, there was absolutely nobody else on either beach while we were there. Even during the peak season, there aren't enough beds in the handful of resorts to cause a crowd. But, with the blue skies and temperatures in the mid-thirties, this was as about as close as we could possibly get to being truly on a deserted tropical beach.
As we stood here in awe at the sheer scale of it all we could only begin to imagine what it must have been like to watch the 20-metre tsunami wave as it tore towards the beach from the horizon. In Kimina Lyall's book, she describes how she climbed Hornbill Hill to escape it and watch helplessly as the destruction unfolded below. We climbed the hill a couple of times ourselves to take in the view of the beach and to visit the "Golden Angel", a small commemorative sculpture that overlooks the beach. A number of Buddhist prayer flags also serve as a reminder of what happened just over ten years ago.
A couple of hundred metres opposite there's another hill called "Monkey Mountain" which now contains a treehouse that serves as a tsunami shelter. We climbed that too in search of the hornbills and crab-eating macaques that reside there. To be honest we seem to have been chasing hornbills all around Thailand like a couple of dedicated bird spotters. Gorgeous looking birds, though.
Evenings were spent in the resort restaurant talking to the other guests, along with Yai and Scottish owner, Karen. Until of course, the generator was switched off and everything descended into complete darkness.
And that was the essence of Koh Phra Thong. We loved the back-to-nature feel of the resort, the grounds teaming with little crabs, lizards, and birds, accompanied by the diverse sounds of the night. We loved the area of the island around Golden Buddha Beach and felt incredibly lucky that we could experience its beauty just for ourselves. And we loved the fact that we saw it before the onset of mass tourism that will surely follow.
We even considered staying for an extra three days or so. But with the monsoon rains approaching, we decided that we'd leave with our memories of this little paradise intact. 
We've heard so much about how difficult it is nowadays to find "untouched" islands to holiday on in Thailand. And untouched islands with fabulous beaches are almost non-existent. While there's some development on Koh Phra Thong it's very low key and, in the low season when we visited, barely noticeable at all.  We'd like to think it will stay that way.
We won't be holding our breath.
What did you think? Have you been to Koh Phra Thong? Or maybe you're planning on visiting the island soon? Either way, we'd love to hear from you so please add your comments below.
To help us maintain our site we work with a number of partners who we've personally used and can recommend to our readers. If you decide to purchase any products through the following links, we'll receive a small commission at no extra cost to you. Thank you for your support!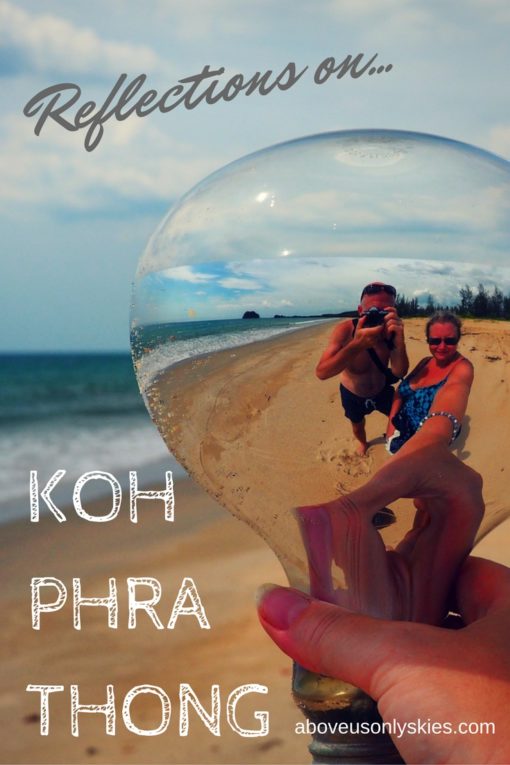 Hi, we're Ian and Nicky, an English couple on a voyage of discovery around the world, and this blog is designed to reflect what we see, think and do. Actually, we'd like to think it also provides information, entertainment and inspiration for other "mature" travellers, too. So please feel free to pour yourself a glass of something suitably chilled and take a look around.