IS THE RIO HURTADO VALLEY CHILE'S BEST KEPT SECRET?
IS THE RIO HURTADO VALLEY CHILE'S BEST KEPT SECRET?
Pristine, cactus-filled desert landscapes surrounded by hillsides decorated with multiple hues of green, red and purple.
Sensational star-filled night skies that are comparable with the clearest on the planet.
And tourists so few in number that a full day of wonderful hiking can be done without coming across another soul.
Northern Chile's Rio Hurtado Valley may not be as well-known to international visitors as its famous neighbours, the Elqui Valley and San Pedro de Atacama. But it offers an opportunity to discover this beautiful part of the country without all the trappings of mass tourism.
We based ourselves at the lovely Hacienda de Los Andes, in the hamlet of Vado Morillos. And here's what you can expect if you do the same…
Contents
This page contains affiliate links. To help us maintain our site we work with a number of partners who we've personally used and can recommend to our readers. If you decide to purchase any products through the links on this page, we'll receive a small commission at no extra cost to you.
As with many of our most memorable experiences, we discovered the Rio Hurtado Valley and this exquisite hacienda almost by chance. Indeed, we'd found ourselves with a spare day en route to the Elqui Valley in our rented four-wheel-drive jeep camper. And it seemed like a good place to break our long journey north from Santiago.
The hacienda is a gorgeous colonial-style lodge set in its own 1200 acres of land and features nine individually styled rooms. Outdoor adventures on offer include horseback riding trips with multilingual guides for up to six days. And there are hiking trails out into the sierras that lead directly from the property.
It even has its own onsite observatory which attracts astrophotographers from around the globe, who take advantage of the unbelievably clear skies to observe and photograph the cosmos.
And the astronomy theme continues with the Planet Trail, a footpath lined with pink peppercorn trees, featuring a scaled representation of the distances from the sun for each of our solar system's planets.
We took advantage of the hacienda's small riverside campsite to park our camper for 14,000 Chilean pesos per night (approximately £16 / $20 at current conversion rates).
With a fire pit for al-fresco cooking, pink peppercorns-on-demand for those extra-special gin and tonics, and an ice-cold flowing river for that late-afternoon bath, the place was perfect.
So perfect, in fact, that we stayed for an extra night.
Especially as the start of the magnificent Sierra Trail led almost directly from it.
Camping on the hacienda grounds
Quite simply one of the best hikes from our entire South America trip. And probably the least known.
There are actually two purpose-built tracks that lead from the hacienda. But we can wholeheartedly recommend the Sierra Trail. Especially when combined with an additional trail that leads up to an old gold mine. And it's a relatively easy day hike that loops back to the hacienda via the observatory. Just watch out for the intensity of the sun.
From the trailhead, the loosely signposted track heads upwards into the desert.
But this is no colourless wasteland. Because of the oxygenation of the exposed minerals on the hillsides, the landscape looks like it's been the subject of a huge painting-by-numbers exercise where someone's run amok with giant pots of green, red and purple. Only to be punctuated by thousands of cacti and shrubs.
And the silence is absolute.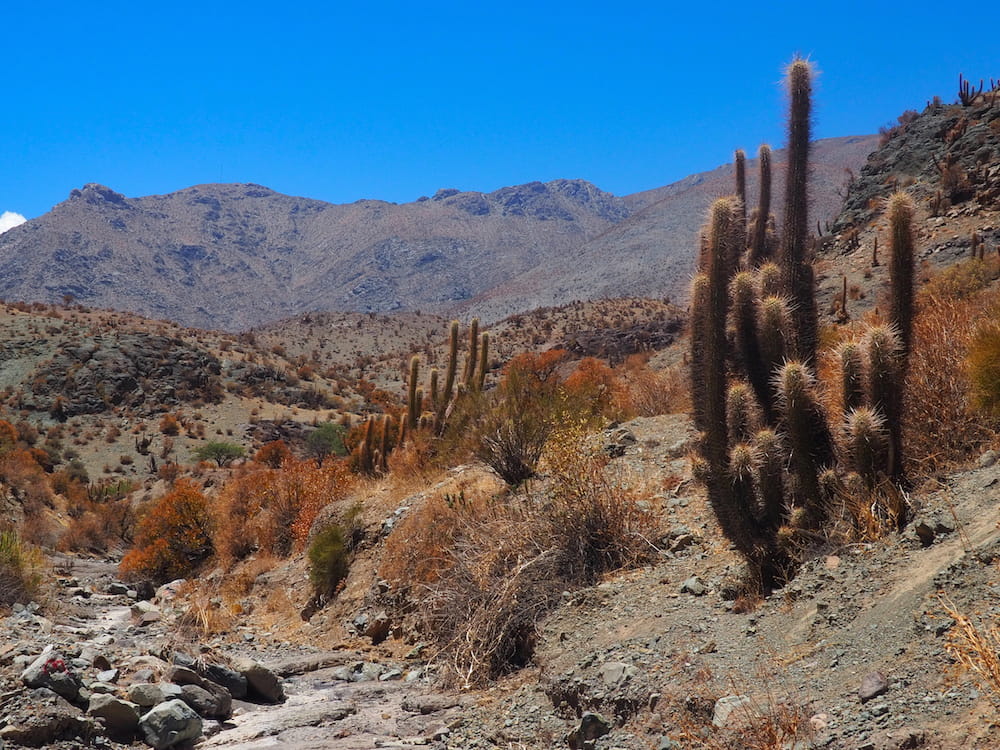 Of course, this being South American desert wilderness, there's the small matter of wild pumas to consider. You're not likely to encounter one. But they're definitely out there. As the sight of several goat carcasses along the route testified to us.
We took the additional trail up to the gold mine, where further stunning multi-coloured panoramas awaited. And then we continued on the loop back towards the hacienda.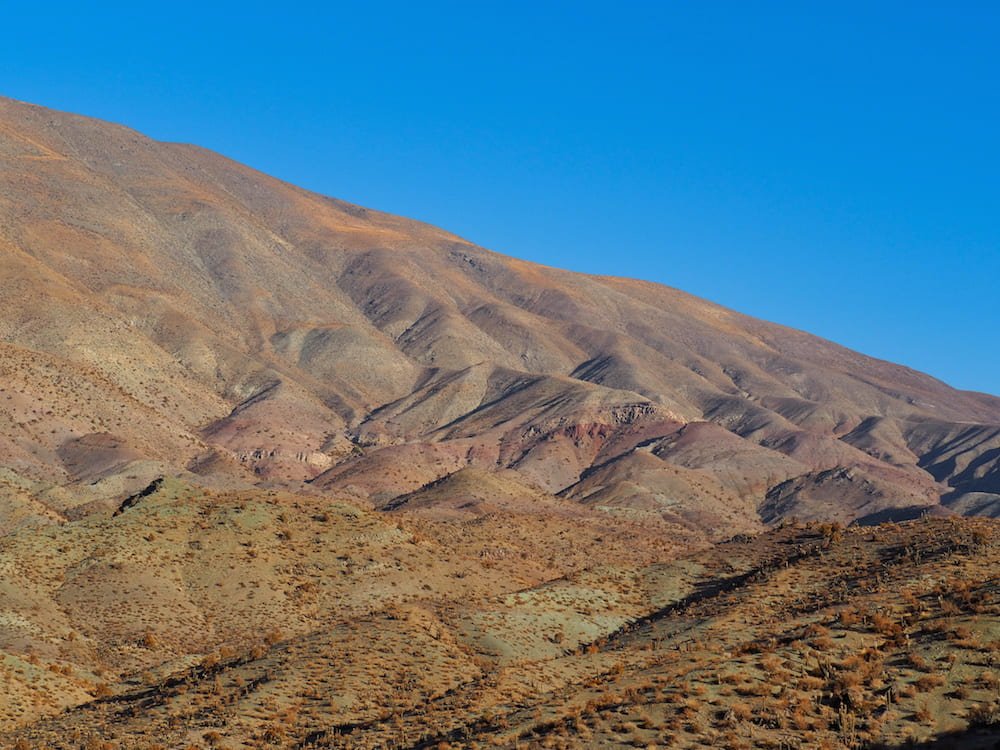 The final stretch provides extensive views of the green vegetation of the Rio Hurtado Valley as it contrasts with the barren mountains on either side.
And, finally, it passes the onsite observatory before returning to the hacienda.
If you time your visit to the hacienda around a new moon, you're in for a real treat.
The skies here are amongst the best in the world for stargazing. Indeed, for us, only Karijini National Park in Western Australia can compare.
We were lucky enough to have a personal stargazing "tour" with English-speaking Pedro at the onsite observatory for 12,000 Chilean pesos each (£14 / $18).
The night sky was so clear that, alongside a crazily detailed Milky Way, we could also easily see the Large and Small Magellanic Clouds – part of another galaxy which orbits the Milky Way – with our naked eyes.
But once Pedro showed us some of the wonders of the universe through one of the state-of-the-art telescopes, we began to behave like excited schoolchildren on our first visit to a planetarium.
We saw star clusters, double stars, red stars, huge gas clouds and all manner of other galactic marvels.
And the fact that we'd gone from wide-eyed desert wanderers to wide-eyed cosmic geeks in the space of just a few hours didn't matter. This was another moment to be just thankful for the opportunity to enjoy such a crowd-free, other-worldly experience.
Our thanks to Pedro for making it such a special hour-and-a-half for us. 
Don't miss it.
The observatory buildings, as seen from the Sierra Trail
Getting to and from the Rio Hurtado Valley
One of the reasons why it's not on the main tourist map like the neighbouring Elqui Valley is because public transportation to and from it is not as straightforward.
While the latter is well serviced from the major seaside resort of La Serena, getting to the Rio Hurtado Valley takes a little more work. But it's definitely doable.
From either Santiago or La Serena you'll first of all need to take a bus to Ovalle. From there, buses will take you to the Hacienda de los Andes. Indeed, the hacienda's website has details of bus routes and times.
However, if like us, you're renting a car or camper van, just follow Ruta 5 north of Santiago before turning off on to Ruta 45 towards Ovalle. After which a right turn shortly follows on to the long and winding road to the Rio Hurtado Valley.
Continuing on from the hacienda to Vicuna in the Elqui Valley will also take you through stunning mountain scenery for a further 43 kilometres. There's no bus route but it's possible to organise a private transfer from Vicuna to the hacienda if you're coming from that direction and don't have a car.
For us, the effort to get there is absolutely worth it. And, having travelled the 4,800 kilometres (3,000 miles) between Punta Arenas in the south of the country and San Pedro de Atacama in the north, we'd suggest that the Rio Hurtado Valley is surely Chile's best-kept secret.
Unless, of course, you know different!
What did you think? Have you been to the Rio Hurtado Valley? Or perhaps you're thinking of visiting there in the near future? Either way, we'd love to hear from you so please add your comments below.
To help us maintain our site we work with a number of partners who we've personally used and can recommend to our readers. If you decide to purchase any products through the following links, we'll receive a small commission at no extra cost to you. Thank you for your support!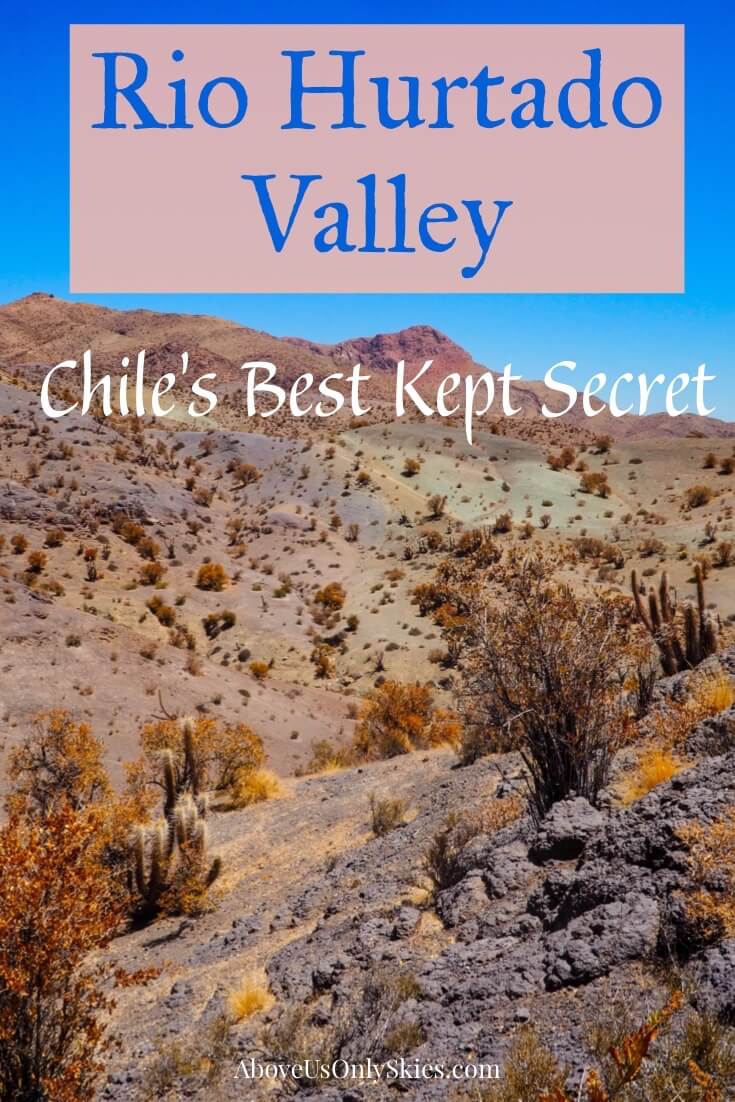 Hi, we're Ian and Nicky, an English couple on a voyage of discovery around the world, and this blog is designed to reflect what we see, think and do. Actually, we'd like to think it also provides information, entertainment and inspiration for other "mature" travellers, too. So please feel free to pour yourself a glass of something suitably chilled and take a look around.