Note: This post was written and prepared for publication during the week leading up to Hurricane Irma's devastation of Tortola in the British Virgin Islands. We didn't manage to publish it then due to our preparations for the storm. And like all businesses on the island, the Roti Man's output was temporarily shut down. 
But, on a once lush green island that's been reduced to a barren wasteland, the green shoots of recovery have begun to emerge. And not only in the forests and jungle that will once again carpet the hillsides. We're thrilled to hear that the Roti Man is back up and running and is open for business. 
So, what else can we do but finally publish our original article? Just a shame he can't deliver to the UK!
When it comes to eating food, we're undoubtedly seated in the keep-it-simple-but-pack-in-bags-of-flavour camp. In fact, we don't really have any pretensions for fine dining at all. We're from the North of England after all.
Now don't get me wrong, that doesn't mean we'd gladly substitute quality for quantity. It's just that we don't have the fine-tuned palettes of your average Daily Telegraph food critic. 
But seeking out and enjoying quality food is a major part of our travelling experience, and our choices tend to be driven by the national, regional or local dishes on offer in each country. That may sound like something of a cliché but we genuinely prefer to eat food that's enjoyed every day by locals rather than what's often served up just for tourists.
So, in this new series of occasional posts, we'll be charting our quest to seek out local purveyors of rustic, flavour-packed food. Just so you don't have to.
And, as we're currently on the island of Tortola in the British Virgin Islands, we thought we'd begin with the legend-in-the-making that is the Roti Man of Tortola.
What's a roti and who's the Roti Man?
Roti is a flat bread that's usually folded over to encase a mixture of curried vegetables, meat or fish. We've already eaten Asian versions of the dish in India and Sri Lanka. But it's also a staple in many of the Caribbean countries, too.
We stumbled across The Roti Man (actual name, Phillip) accidentally during an exchange on Instagram. He mentioned that he was the co-owner of a small catering business on Tortola offering a selection of home-made rotis for delivery. Curiosity piqued, especially on an island where the eating-out choices are decidedly expensive, we asked if we could come along and give his culinary creations a thorough examination. Thankfully, he was only too happy for us to do so. Just one condition, he said, "Be honest and let us know what you really think".
Phillip's a native of Tortola and has been running Naturally Tasty with his Antiguan wife, Ayana, for the past few years. Having developed his dough-stretching prowess from years of tutelage with his mother, he decided that Tortola locals and tourists needed an outlet for authentic rotis at a reasonable price. So, rather than set up a restaurant, he and Ayana decided to offer a delivery service to anywhere on the island. They've surprised themselves as to how successful they've been and it's now got to a point where they're having to temper their marketing until they're in a position to increase their output.
They're based in Sophie's Bay, just east of Tortola's capital, Roadtown. You won't find Sophie's Bay on a map, though. And when you do find it, you won't come across a sign indicating when you've arrived at Naturally Tasty HQ. We ultimately had to rely on a phone call from Ayana so she could direct us in.
As we approached the house we saw a man in a white t-shirt cutting back an overgrown hedgerow. He waved over to us and directed us to a parking space next to a row of scooters, while he continued to cover himself in hedgerow clippings. We assumed he must be the gardener. Turns out this was our first introduction to The Roti Man. Presumably on a break from kneading and rolling out dough.
We talked with them both for a while about their business, and how they source their ingredients. And it was refreshing to hear that they buy their meat and vegetables locally whenever they can – which is quite something on an island where most of the meat is imported frozen from the US and where growing vegetables is the exception to the rule. And the precious spices? Well, Ayana buys them from Antigua.
It was at this point my stomach reminded me that I'd skipped breakfast, so after Ayana had shown us through her immaculately clean kitchen, we perched ourselves at a table on the patio area outside.
First up was the Chicken Roti. It's always a good sign to me when the contents of a pie or pastry are literally trying to burst out at the seams. I was tempted to just pick the beast up and dive straight in. But I decided to err on the side of good manners and went with the knife and fork provided instead.
Which was just as well as it deserved to be treated with respect. The roti bread itself was warm, soft and flaky. Packed with plenty of chicken, potato and onions and bound together in a thick spicy sauce (including allspice, cumin and cayenne), it was by some distance the best example I'd tasted since arriving on the island. It could probably have done with a bit more cayenne pepper for my taste, but then again I do like to push the spice boundary further than most. Ayana told me that I should just ask for more cayenne pepper next time. Noted.
Next was the vegetable version. This time, chickpeas featured heavily. Suffice to say, there's only a certain amount of roti even this hungry reviewer can polish off in one sitting. So we wrapped most of it up and finished it later back at the house.
Incredibly they have another 12 varieties of roti to choose from, ranging from the no-frills veggie through to the Mega Seafood Combo (including lobster, shrimp, conch and whelk). Literally one for every day of the week. And the next.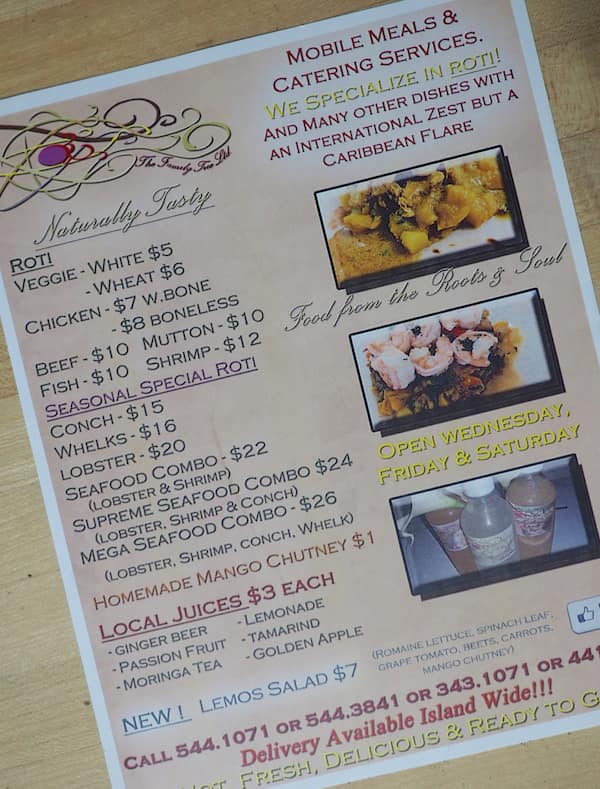 And not just rotis, either
As part of their expansion plans, Ayana explained to us that they're experimenting with a breakfast menu, too. And so out came a small selection of snacks including an egg muffin topped with basil (a little overcooked, to be fair), some buttermilk biscuits (or as we know them, scones) and a delicious bowl of spicy Caribbean Chicken Soup. All washed down with some homemade sweet tamarind juice courtesy of the large tamarind tree dominating the garden.
Suddenly our gorge-fest was interrupted by the appearance of a teenage boy wearing a Naturally Tasty branded shirt, who jumped onto one of the parked scooters with a small white package. "That's Roti Boy," Ayana casually remarked. Which is a strange name to call your son. But it seems quite apt given his role of delivering said parcels of spicy goodness to local homes, businesses and the occasional group of yachtsmen at Road Town's marina.
To be honest, we still don't know what his real name is. Maybe we'll just call him RB for short.
We do try to make a point of supporting local family-run businesses whenever we travel. And we think this one was a great find. It's no wonder that the local community and businesses are taking advantage of the free delivery to many places and inexpensive menu. But, if we were tourists visiting Tortola on a rented yacht (as many people do) we'd jump at the chance to order a selection of Phillip and Ayana's rotis so that we could enjoy them on our deck along with a glass of something suitably chilled.
Find out more on the Naturally Tasty Facebook page.
Disclaimer: For the purpose of writing this article we were provided with complimentary food by Phillip and Ayana. However, all the opinions expressed are genuinely our own.
What did you think? Have you tried roti? Maybe you know a great place to eat them? Either way, we'd love to hear from you so please add your comments below.
MORE ON THE BRITISH VIRGIN ISLANDS
To help us maintain our site we work with a number of partners who we've personally used and can recommend to our readers. If you decide to purchase any products through the following links, we'll receive a small commission at no extra cost to you. Thank you for your support!
Hi, we're Ian and Nicky, an English couple on a voyage of discovery around the world, and this blog is designed to reflect what we see, think and do. Actually, we'd like to think it also provides information, entertainment and inspiration for other "mature" travellers, too. So please feel free to pour yourself a glass of something suitably chilled and take a look around.