There are so many choices for a day of sailing in the British Virgin Islands (BVI) that it can be sometimes difficult to decide where to begin. And, as sailing novices eager to learn, we were glad to leave that choice to some friends of ours who offered to take us out for the day on their 40-foot catamaran.
Their suggestion: "Fancy some snorkelling, followed by lunch on a pirate ship and then a swim through some natural caves?". We thought about it for a millisecond or two before deciding that there probably wasn't a better way to spend a blue sky-filled Sunday.
It's actually a fairly common day trip from BVI's main island of Tortola, leaving the West End ferry port at Soper's Hole and crisscrossing the Sir Francis Drake Channel before arriving at Norman Island. You can reach the island by ferry but most people charter a boat and either sail there themselves or with a captain and crew. Or as in our case, hitch a lift in return for helping out on deck.
There are a number of marinas on Tortola but Soper's Hole has to be in the most spectacular setting. Multi-million dollar boats bob about next to their moorings, overlooked by immaculately designed shops, restaurants and cafes. Meanwhile, the lush green, mountainous backdrop is interspersed with the pastel shaded rooftops of luxury homes.
We'd come to learn about sailing as much as to enjoy a day out. John, our captain and tutor, has been sailing for forty years, all the way back to when he was "back home" in South Wales. For many years, he operated a charter boat business from Tortola but nowadays he likes to sail for fun. Which is also a polite description of what it must be like to teach us how to sail. Thankfully, he's got more patience than we have maritime skills.
Once onboard, we detached ourselves from the mooring and slowly motored away from the marina, inching our way between the super yachts and those of a more modest appearance.
Leaving the delights of Soper's Hole
Heading towards Norman Island
It was then that the steep learning curve began in earnest for us.
First of all, hoisting the mainsail; a task that seems perfectly designed to remove your arm from its shoulder socket. Then it was the turn of the jib – that smaller sail at the front of the boat. Actually, that was quite easy in comparison – just unwind the retaining rope and let it open up.
After a few minutes, we'd turned the corner away from Soper's Hole and into the Sir Francis Drake Channel where we were suddenly hit by a blast of wind. At which point, John switched off the engine and the sails let out a bellow as the wind swirled in and around them.
We'd set sail and were now heading towards Norman Island. Not in a straight line, of course. That would be too easy. John explained that we would have to crisscross back and forth across the channel to take advantage of the wind direction. I kind of got it and indicated as such to John by nodding intently. In all fairness, we seemed to be moving against the wind rather than with it so I actually didn't "get it" at all. But I'm sure that will come with future lessons. Or maybe I should just Google it and read up on the theory.
Anyway, we were now tasked with adjusting the jib sail (or "tacking") each time we turned to sail across the channel in the opposite direction. Further brute force required together with a good dose of dexterity to make sure our hands weren't caught up between the rope, the drum and the winch.
It might not have been pretty but we seemed to be making a positive contribution. Which, ultimately was more satisfying than letting John and his wife, Sandra, do all the work!
Our first destination was the four pinnacles of rock, collectively known as The Indians, which rise from the water just off Norman Island. It's said to be one of the best snorkelling spots in BVI and so getting a mooring space can be a challenge in the high season unless you're there early morning. And even though we were there in the low season, it was still busy.
Situated alongside the larger rocky outcrop of Pelican Island, the reef is quite shallow in places, which means you can get really close to the corals and gorgonian fans that smother the rocks. In fact, too close if you're not careful. We snorkelled around for a good 45 minutes-or-so until we found ourselves in the middle of a swarm of jellyfish. They didn't seem to be in any rush to sting us but we decided at that point we'd return to the boat for a warming rum and ginger beer.
In fact, you don't need to snorkel at all to enjoy the place. Just take in the serene beauty and enjoy a pre-lunch aperitif. And, in our case, watch John performing his legendary belly-flop routine into the sea from the back of the boat. Hilarious!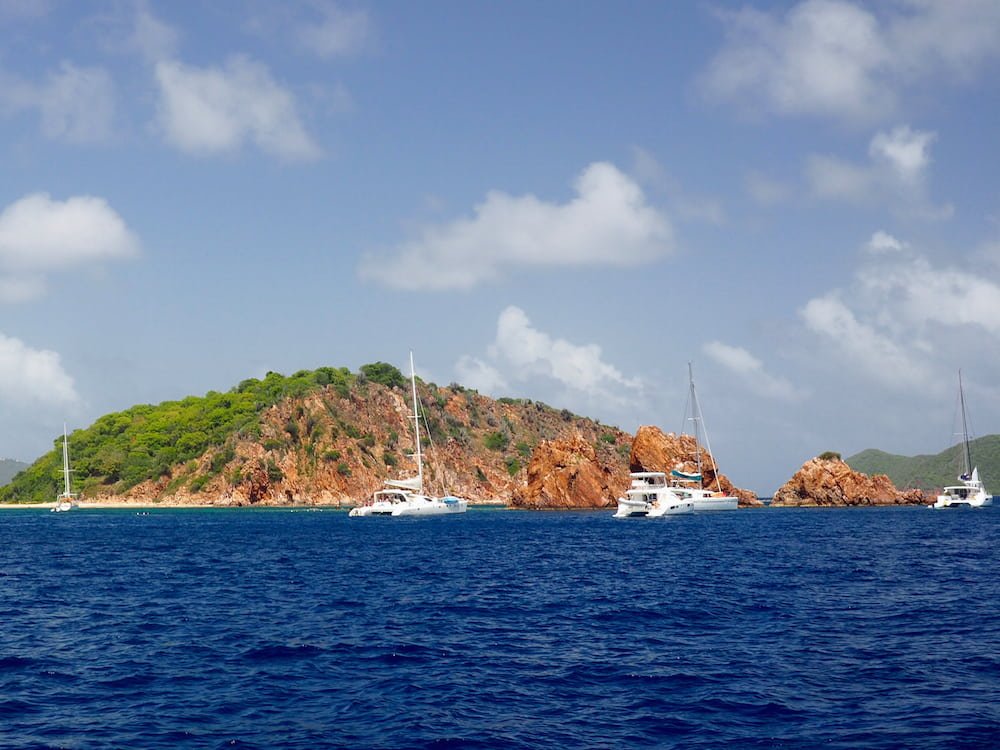 Approaching Pelican Island and The Indians
Willy T is just a short sail away in Bight Bay and is a world-famous pirate ship-cum-floating bar/restaurant with a reputation for hard partying. And, as we approached, there was a group of people who were taking it, in turn, to jump from the top deck into the turquoise sea below.
Its presence here probably has something to do with the claim that Robert Louis Stevenson used Norman Island as his inspiration for Treasure Island. I'm not sure how true that claim is but it's also said that the island has its fair share of buried treasure, too. It's a story that can't be bad for business, I guess.
Anyway, our visit was most definitely of the non-partying variety. Although Nicky took the opportunity to try BVI's signature cocktail, The Painkiller – made with pineapple juice, rum, orange juice, rum, coconut milk, rum and nutmeg. Did I mention it contains rum? Judging by the smile on her face, there's a good chance it might become a DIY staple back at our house sit for the rest of the summer.
For lunch, we tried two of the Caribbean's staple dishes – Chicken Roti and Conch Fritters. In all honesty, they were nicely prepared, but they could have done with a bit more of a flavour kick. Then again, we do like our Caribbean food on the spicy side. They were certainly hearty and welcome after the morning's exertions, though.
Treasure Point & The Caves
Stomachs full, we again set off, this time just around the corner of the bay to Treasure Point. Yes, there's the Robert Louis Stevenson reference again.
The main point of interest here are the caves, one of which stretches back 70 feet (21 metres). You can snorkel your way to the back of the cave, over coral and schools of fish, before emerging into a small "room". Another is like a natural bowl with a rounded rock bottom on which you can stand and take a look around. Two things stood out – the multicoloured veins in the rocks above the waterline and the numerous large spider webs at the cave entrance. After our encounter with big spiders in a cave in Thailand, I kept a particularly watchful eye on those little babies.
There are further coral and fish-spotting opportunities outside of the caves, too so the area is another excellent one for combining swimming with some down time on the boat.
Having completed our mini-tour of "Treasure Island" it was time to make our slow journey back to Soper's Hole. The blue skies were now starting to disappear behind an increasing curtain of clouds. Which was just as well, as it's easy to underestimate the power of the sun when there's a cooling breeze.
This time, our route was a direct one so our new-found deck expertise was no longer required. Nicky took full advantage by taking up a prime horizontal position on the netting at the front of the boat. Dreaming about pain-killing cocktails and buried treasure, no doubt.
There's definitely something to be said for the calming effect of travelling on the power of the wind. I still don't understand the full science behind it, but I can see why people get hooked on this whole sailing thing. And we're really grateful to John and Sandra for offering to take us out and let us experience something that would normally be outside our budget.
In fact, as we returned to the dazzling colours of Soper's Hole, I was eager to find out from John when our second lesson might begin. "Don't worry," he said, "I'll be sailing the arse off you over the summer." Which I assumed meant it would be fairly soon. Can't wait.
In the meantime, this had indeed been a perfect way to spend a day "on the water" in this most idyllic of places. Bring it on again!
Nicky contemplating another Painkiller before we return to land
Related articles
…or visit our British Virgin Islands page.
What did you think? Have you been to BVI or Norman Island? Or are you interested in learning how to sail? Either way, we'd love to hear from you so please add your comments below.
Hi, we're Ian and Nicky, an English couple on a voyage of discovery around the world, and this blog is designed to reflect what we see, think and do. Actually, we'd like to think it also provides information, entertainment and inspiration for other "mature" travellers, too. So please feel free to pour yourself a glass of something suitably chilled and take a look around.
THE BEST BEACHES IN TORTOLA AND HOW TO EXPLORE THEM IN ONE DAY
POSTCARD FROM THE BRITISH VIRGIN ISLANDS
HOW TO TRAVEL LONG TERM AS A COUPLE…WITHOUT KILLING EACH OTHER
THE DAY WE FLEW INTO MILFORD SOUND