THE ARCHAEOLOGICAL WONDERS OF SAN AGUSTÍN, COLOMBIA
THE ARCHAEOLOGICAL WONDERS OF SAN AGUSTIN, COLOMBIA
San Agustín, Colombia doesn't feature on many international travellers' itineraries for South America.
Which is a shame considering it hosts a UNESCO World Heritage site that also happens to be the most important archaeological park in the country. Not to mention the largest group of prehistoric monuments and structures in Latin America.
Maybe it's because getting there involves lengthy bus journeys from just about anywhere. Or that, until recently it was off-limits to tourists because of the ongoing drug-related violence that plagued this mountainous part of the country for years.
But now that it's back on the tourist map, it's once again attracting domestic visitors and a smaller band of international tourists eager to explore San Agustín Archaeological Park and the stunning countryside surrounding it.
San Agustin Archaeological Park
Popayan
Contents
This page contains affiliate links. To help us maintain our site we work with a number of partners who we've personally used and can recommend to our readers. If you decide to purchase any products through the links on this page, we'll receive a small commission at no extra cost to you.
What is San Agustín Archaeological Park?
Home to approximately 300 statues scattered over 50 square kilometres, the park is situated in Huila department in Colombia's remote southwest.
The origins of the statues are still something of a mystery but are thought to have been erected by a northern Andean civilisation who lived in the area between the 1st and 8th Centuries. Depicting human figures, gods, mythical animals and human/animal hybrids, they're often housed inside, or guarding tombs, connected by terraces and pathways.
Although split into three distinct sites (Parque Arqueológico, Alto de los Ídolos and Alto de las Piedras), the entrance fee of 50,000 Colombian pesos (£12 / $15 USD) covers each one of them over a two-day period (as of 2019).
And the best way to get around them all is to explore on foot, horseback and a jeep tour over two days.
Display in Parque Archaeológico, San Agustín Colombia
How to visit Parque Archaeológico on foot
The main site, situated just 2.5 kilometres outside San Agustín, is where you should start.
You can get there from town by simply walking. Alternatively, just catch a bus or taxi.
Your two-day entrance ticket (or passport) can be bought from the ticket office at the main gate, where you can also hire a guide if you wish. We didn't choose to do so but there's no doubt you'd benefit from having one if you'd like to get a full understanding of the site. 
However, a quick visit to the small museum near the main entrance will help to provide some context.
The Park is split into distinct sections, which are all linked via a number of footpaths.
Las Mesitas are a collection of three sites housing statues exactly where they were originally found. Set amongst what appears to be purposefully landscaped mounds and terraces, and with a backdrop of forest and mountains, they can be seen on a comfortable stroll for an hour or so.
Fuente de Lavapatas is effectively the rock bed of a stream that's been chiselled out to create a maze of terraced pools connected by channels, and decorated with images of serpents, humans and lizards.
Accessed from there, via a steep hill, Alto de Lavapatas is the park's oldest site containing tombs, complete with their statuesque guards. And fabulous views.
Best of all, the Bosque de las Estatuas features statues on an interpretive trail through a forest and perhaps comes closest to creating a full-on "Indiana Jones" experience.
You can comfortably see the park in full over the course of four hours. Our suggestion would be that you arrive when the park opens at 8 am and before any tour parties arrive.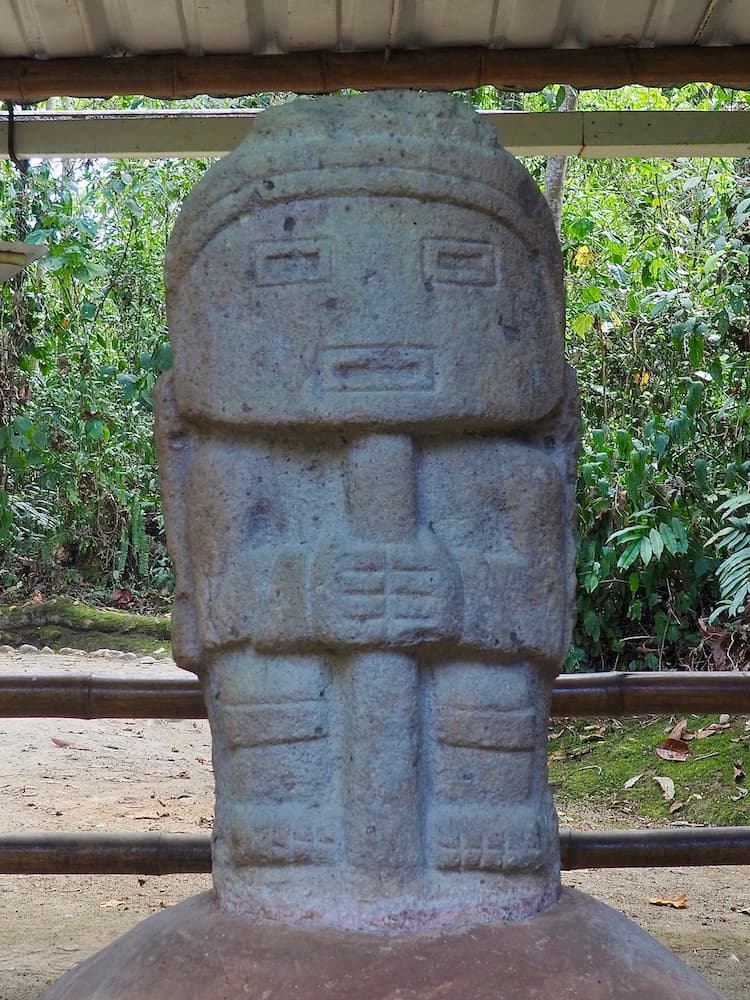 Parque Archaeológico also includes a number of sites in the surrounding hillsides, which are best accessed on horseback.
Your accommodation will generally be able to hire the horse and guide for you. Although they're mostly gathered in one area on the road back to town from the park.
And what you get for your 60,000 COB (£15 / $19 USD) is four hours in the saddle trotting and cantering through sublime countryside to yet more mysterious statues and tombs. To be honest, we were a little concerned about how the horses might have been looked after. But on the evidence we saw, they appeared healthy. And our guide, Duver, treated them gently and respectfully whilst in our company.
Perhaps the most impressive of the four sites to visit is La Chaquira, which features deities carved on to the underside of a huge rock face overlooking an immense gorge. The carvings can be seen from a viewpoint below the rocks accessed via a set of wooden steps. Quite frankly, the setting and the scenery here are worth the price of the horse ride alone.
Other sites to visit are El Tablón, La Pelota and El Purutal.
We found that exploring the park by foot in the morning and the outlying sites on horseback during the afternoon was a perfect combination. And it remains one of the highlights of our visit to Colombia.
Walkway down to the viewpoint for La Chaquira
Duver with our two horses
What to see on a jeep tour
Day Two of your visit to San Agustín should be set aside for a full-day's jeep tour to the other main sites of the area. You can also get to them via a combination of local buses. But from a practical point of view, a good value jeep tour (50,000 COP / £12 / $15 USD) that whisks you along bumpy roads to each of the sites makes better sense.
Again, the tour can be booked via your accommodation. They all tend to visit the same sites but bottlenecks tend to be avoided by following different routes.
These include Alto de los Idolos, which includes the tallest of all the statues at 7 metres (23 feet), and Alto de las Pietras, which features statues that still have their original yellow, red, black and white colouring.
Along the way, the tour stops at a number of points of interest. Including Salto de Bordones, Colombia's tallest single-drop waterfall and El Estrecho, the narrowest point (2.2 metres) of the Río Magdalena, Colombia's longest river.
By the end of it all, you might have just had your fill of megalithic statues. But for an appreciation of the sheer beauty of the countryside in a region that remains relatively new to foreign tourists, it's great value for money.
View from the Salto de Bordones
Statue at Alto de los Idolos
If like us, you're going to spend two full days exploring the sites, ideally you'll need four nights in San Agustín. Including a night either side of your trips.
We stayed in an Airbnb room at Casa Temazcales Tierradentro. Perfectly located half-way between the town and the Park Archaeologico, it was both quiet and comfortable. And Nicky jumped at the opportunity to get stuck into some home cooking in the house's country kitchen.
The kitchen at Casa Temazcales Tierradentro
Sign up for Airbnb here
and get £25 off your first booking
If you want to eat like a local, you can do worse than wander into Restaurant El Fogón in the centre of town. Your arteries might not thank you for it but if you want to try fried and grilled meats Colombian-stye then this is the place for you.
Alternatively, we can heartily recommend Doble-Yo Coffee, a French/Colombian-owned cafe specialising in crêpes. And with craft beer available, too, it became our go-to recovery spot after a day of exploring.
How to get to San Agustín, Colombia
From Bogotá it's a 12-hour bus journey to Pitalito, from where a local bus or taxi will take you into San Agustín.
Alternatively, the journey can be split by getting a bus to Neiva and then connecting with another bus direct to San Agustín. We chose to spend the night in Neiva rather than do it in one day. And there's also the possibility of taking a trip to the nearby Desierto de Tatacoa.
From Popayán, it's a gruelling five-to-six hour bus journey across Parque Nacional Natural Puracé on a road that can, at times, be best described as "unfinished".
The nearest airports are at Neiva and Popayán.
It's not easy to get to. And you might feel that it's not worth the effort if you have a "take it or leave it" approach to archaeological sites.
But San Agustín offers so much more than just its historical significance. Up close, the statues are a fascinating sight. The surrounding countryside is simply magnificent. And to see it all through a combination of walking, horse-riding and a jeep tour makes for a truly unique experience.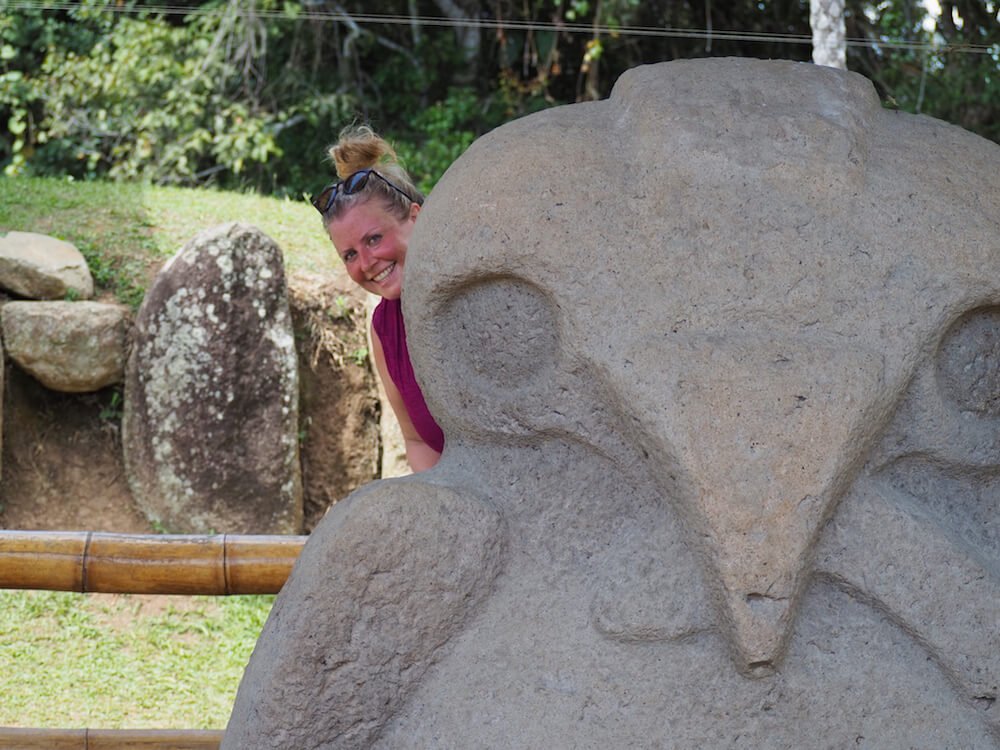 What did you think? Have you been to San Agustín, Colombia? Do you have any recommendations to add? Or perhaps you're thinking of visiting there in the near future? Either way, we'd love to hear from you so please add your comments below.
To help us maintain our site we work with a number of partners who we've personally used and can recommend to our readers. If you decide to purchase any products through the following links, we'll receive a small commission at no extra cost to you. Thank you for your support!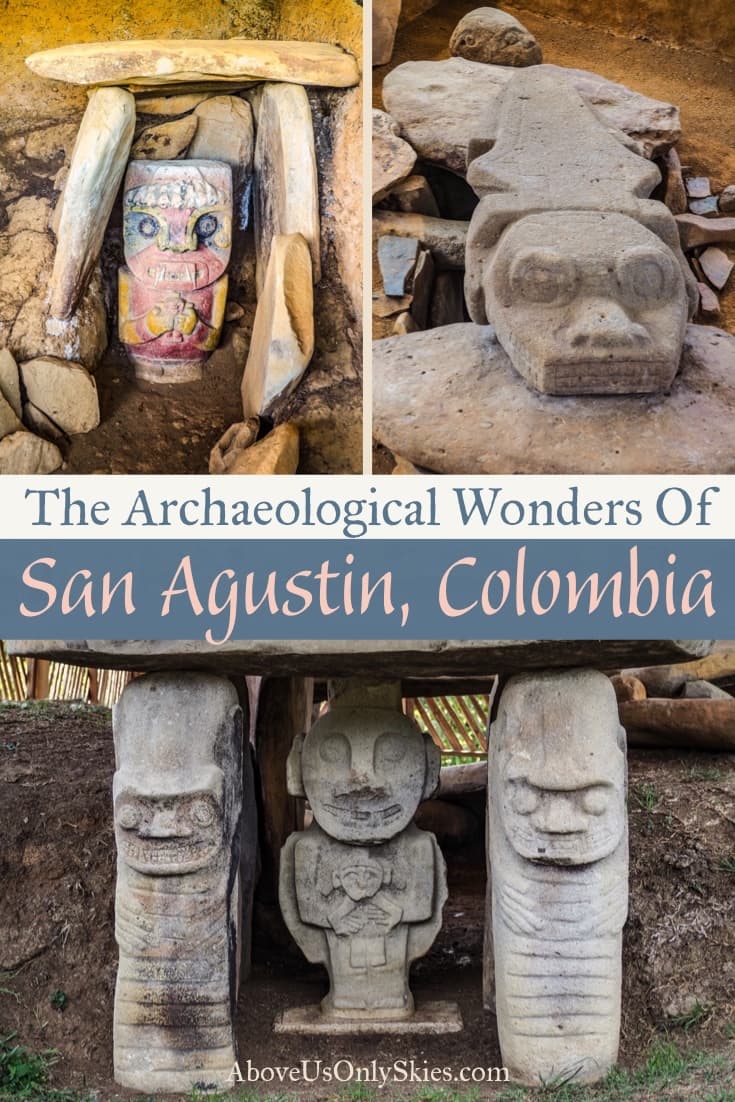 Hi, we're Ian and Nicky, an English couple on a voyage of discovery around the world, and this blog is designed to reflect what we see, think and do. Actually, we'd like to think it also provides information, entertainment and inspiration for other "mature" travellers, too. So please feel free to pour yourself a glass of something suitably chilled and take a look around.