THE SKAGIT VALLEY TULIP FESTIVAL: HOW TO PLAN YOUR VISIT
THE SKAGIT VALLEY TULIP FESTIVAL: HOW TO PLAN YOUR VISIT
The transition from winter to spring in the northwest corner of Washington State is perhaps best symbolised by the annual explosion of colour in the Skagit Valley during March and April.
First it's the daffodils that carpet the fields near La Conner during March. And then the tulips arrive en masse during April to create a kaleidoscope of colours ranging through purples, pinks, reds, yellows and whites.
It's a magnificent sight. Especially when viewed on a clear sunny day with the snowy Cascade Mountains as a backdrop.
Indeed, the Skagit Valley Tulip Festival, which runs every year throughout April, has grown into such a major event that visitors now arrive from all over the world. Which means that it pays to plan a trip there if you want to avoid the crowds.
So, with that in mind, here's everything you need to know to get the most out of your visit.
Anacortes
Skagit Valley Tulip Festival Office
La Conner
Contents
This page contains affiliate links. To help us maintain our site we work with a number of partners who we've personally used and can recommend to our readers. If you decide to purchase any products through the links on this page, we'll receive a small commission at no extra cost to you.
About the Skagit Valley Tulip Festival
Tulips have been grown commercially in the region since the early 1900's. Partly because of the perfect conditions created by the relatively mild, rainy winters.
Not surprisingly the vast, colourful fields, surrounded by quiet countryside lanes, began to attract thousands of visitors who flocked to the area in their cars. Until the 1980s when a couple of enterprising businessmen spotted an opportunity to turn the casual flower-gazing ritual into a full-blown commercial spectacle.
The fields between La Conner and Mount Vernon can still be viewed by the casual driver free of charge. Albeit with the caveat of a $7 parking fee if you want to stop and wander around or take photographs (stopping at the side of the road is a complete no-no).
But the real focus is on the two tulip growing companies, Roozengaarde and Tulip Town, who each have their own display gardens that command an entrance fee.
Of course, the timing of the blooms is fully dependent on the temperamental wishes of Mother Nature. So, having originally just lasted for two days, the festival now runs for the full month of April to allow enough time for all of the blooms to make an appearance.
And the extra time allows for a whole host of events to run alongside it to showcase what else the area has to offer.
Look out for good weather
It might seem an obvious thing to say, but wandering around fields of brightly coloured flowers in April is best done in the comfort of warm sunshine rather than the deluge of a wintry shower.
Not that it's easy to be too choosy if you're having to plan weeks ahead. But if you do have the flexibility it might be worthwhile checking the weather forecast for the forthcoming week and choosing the date(s) of your visit accordingly.
If you enjoy crowds and traffic jams then visiting the festival on a weekend will suit you perfectly. Especially if you want to take advantage of the many festival events that are taking place.
If not, and if your plans allow you to, then you'll undoubtedly want to head there midweek.
Either way, arriving in the early morning will give you a head start before the day trippers arrive. So we'd strongly recommend staying locally for one or two nights, either in La Conner (15 minutes by car) or Anacortes (25-30 minutes).
The Roozengaarde and Tulip Town display gardens open at 09:00 so that would be a good time to arrive if you're planning on visiting them.
Of course, if you're taking photographs (and why wouldn't you?), the morning or late afternoons are best if you want to avoid including people in your shots.
First of all, grab yourself a festival brochure. In it you'll find a map guide, together with details on all the festival events, places to eat and stay etc. There's also an online bloom map, which provides updates on when and where the blooms are expected to show.
Secondly, be prepared for muddy fields. The winter rain will have rendered the fields of the Skagit Valley somewhat saturated. So you might want to resist the temptation to dress up in your Sunday best for that photo shoot in front of a field of tulips.
And thirdly, decide where you're going to park. If you're visiting the display gardens the parking is free. If not, you'll have to pay $7 to leave your car there and walk to the "free" fields. Or the equivalent to any other private parking areas that are dotted around. Don't be tempted to park on the roadside as you'll run the risk of being towed away. And stopping beside a field to take photographs is frowned upon. Not least because of the potential safety issues of cars randomly stopping suddenly in the road.
You can certainly see the two display gardens and wander around some of the other fields in one day. Especially if you've stayed overnight nearby.
However, if you're visiting the Skagit Valley for the first time it would be a shame to miss out on what else the area has to offer. So, for us, a visit to the Skagit Valley Tulip Festival combined with a one-or-two-night stay in either La Conner or Anacortes would be the perfect solution.
If you've downloaded the festival brochure, you'll see there's a full range of activities and events taking place during the festival.
Much of it centres around the agricultural, fishing and brewing prowess in the area. Which, for lovers of food and drink like ourselves, is as good a reason for visiting on its own.
So a visit to at least one of the the area's craft beer breweries is a must. Even better, Skagit Beer Week (28 March – 5 April) culminates in the Skagit Farm To Pint Festival which combines beer and gourmet food pairings from each one of the breweries.
Alternatively, if wine is your tipple of choice, the Anacortes Spring Wine Festival (11 April) is another great way to to welcome in the new season.
And, while you're in Anacortes, take a drive out to Deception Pass State Park for some sublime costal walks and marine life spotting.
Meanwhile, La Conner is a lovely historic town to stroll around and has a number of fine eateries.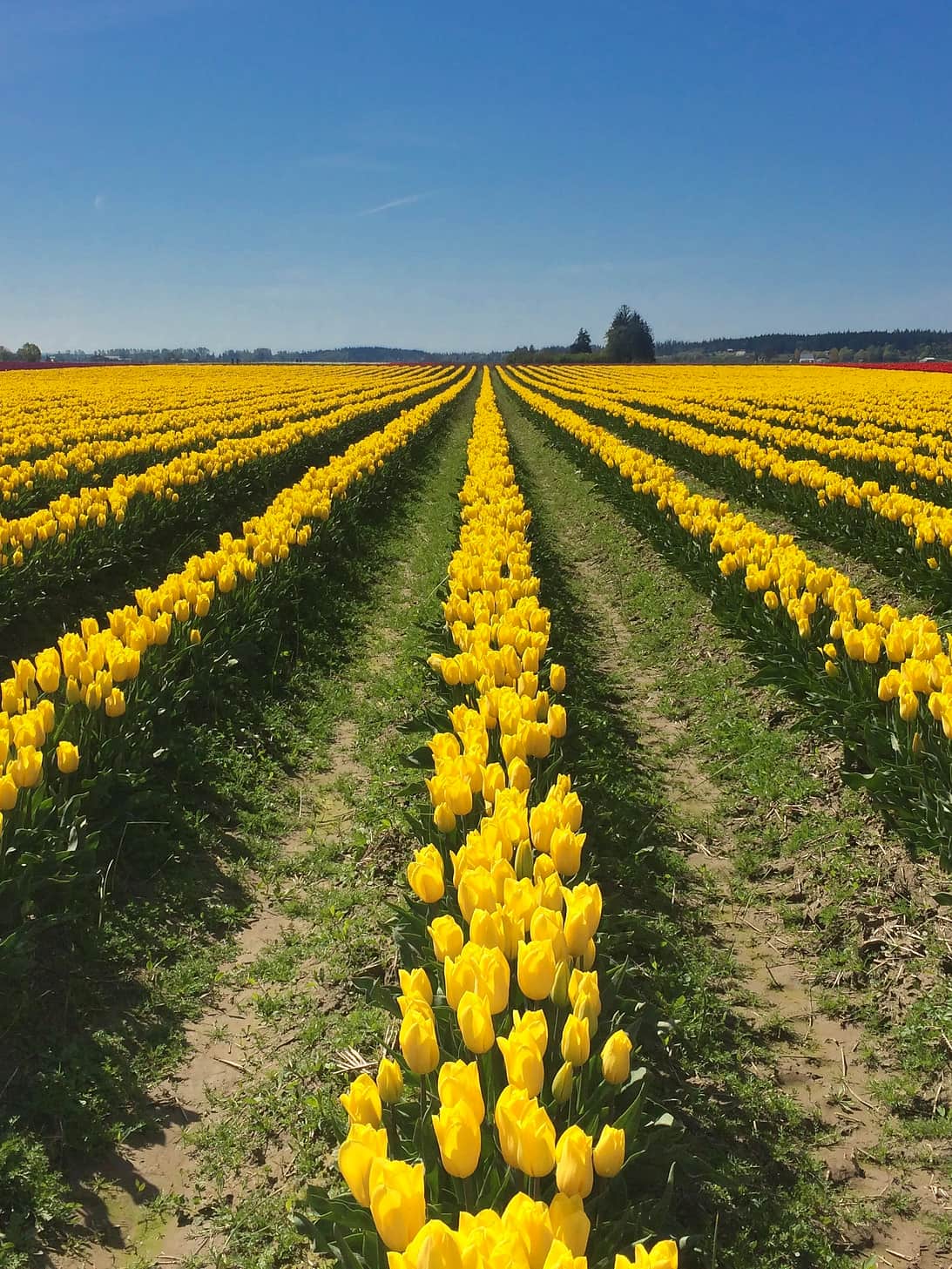 Take a dip into our archives
Useful links and information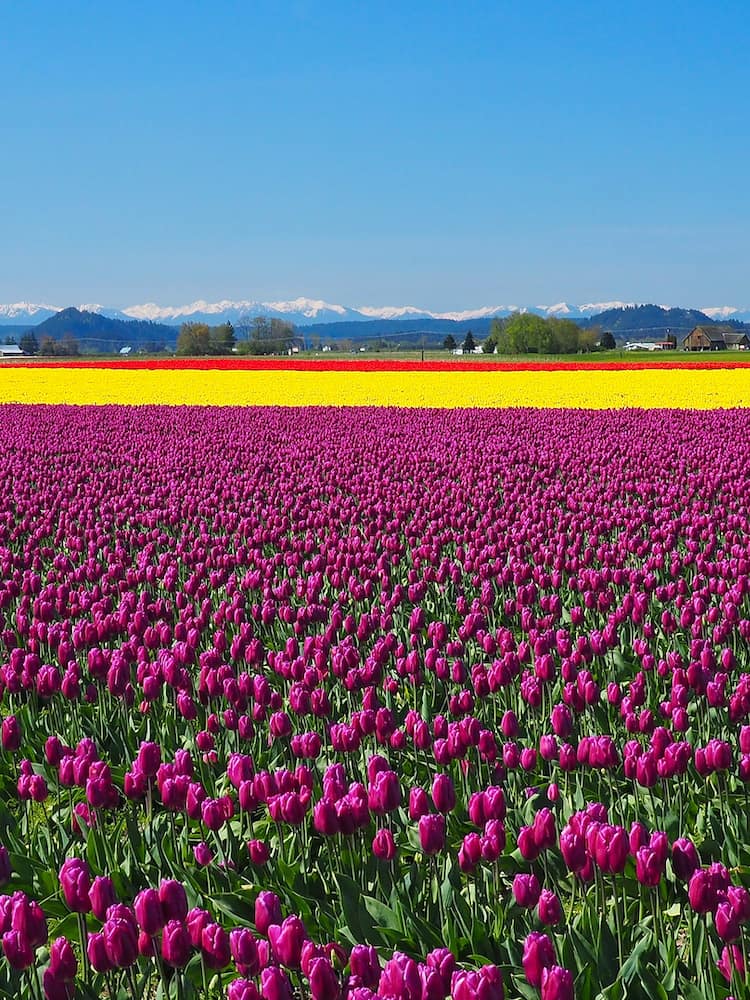 What did you think? Have you been to the Skagit Valley Tulip Festival?  Or perhaps you're thinking of visiting there in the near future? Either way, we'd love to hear from you so please add your comments below.
To help us maintain our site we work with a number of partners who we've personally used and can recommend to our readers. If you decide to purchase any products through the following links, we'll receive a small commission at no extra cost to you. Thank you for your support!
Hi, we're Ian and Nicky, an English couple on a voyage of discovery around the world, and this blog is designed to reflect what we see, think and do. Actually, we'd like to think it also provides information, entertainment and inspiration for other "mature" travellers, too. So please feel free to pour yourself a glass of something suitably chilled and take a look around.