Well, here we are just one week into our two-month jaunt in a campervan around New Zealand, on a journey that will take us from the sub-tropical tip of the North Island all the way down to the Antarctic-lite coast of the South Island. It's sure to be an epic journey filled with alpine peaks, jaw-dropping coastal scenery, annoying European tourists, Sauvignon Blanc and the occasional sighting of a hobbit.
And what a welcome we've had from the Kiwis. Although it's still summer here they've treated us to the sort of weather normally associated with a typical, dodgy British autumn. Yep, it's been pissing down in the sort of wet, windy and frankly miserable way we thought we'd left well behind in Blighty nearly twelve months ago. But we're not ones to complain. Oh no. With our classic British stiff upper lip set to auto-pilot, we've committed ourselves to exploring this green and pleasant land with the kind of gusto the most intrepid of explorers thrive on.
But my god has it rained.
This trip is going to be a major budget buster for us compared to South-East Asia. It'll be two months of home cooking on a two-gas burner camping stove instead of eating out. But that's ok – in fact, Nicky's been squealing like an excited school kid at the prospect of getting her hands dirty in the kitchen again – or in this case the back of our van. Actually, I'm looking forward to knocking up the occasional Chilli-con-Carne and lamb curry, too.
The van we're driving is actually a converted Toyota Estima – a Spaceship to be precise – with the rear seats taken out to fit in a fridge, portable cooker, storage spaces and a double bed. The back also extends out a further metre or so to allow more space for sleeping and to provide further room in the middle at night. So, instead of having to drive a fully sized camper van or motor home we're effectively driving a vehicle that handles like a car but has all the facilities of a camper van. Quite ingenious really. Cheapskates that we are.
After landing in Auckland, we picked up our Spaceship and immediately headed for the supermarket so we could stock up on the essentials. You know…..cheese, wine, black bin bags….that sort of thing. And then we hit the road north to our first destination, which promised to be an end-of-the-road-to-nowhere campsite sat on the edge of a beach with just the surf to keep us company. But as you've probably already guessed we hadn't figured on the howling wind and rain. No matter how many fancy conversions our Spaceship had been through it still didn't manage to prevent us from getting a soaking as we tried in vain to cook and then eat our meticulously cooked dinner under the protection of a side awning, which was about as effective as a paper bag in a washing machine.
But as you've probably already guessed we hadn't figured on the howling wind and rain. No matter how many fancy conversions our Spaceship had been through it still didn't manage to prevent us from getting a soaking as we tried in vain to cook and then eat our meticulously cooked dinner under the protection of a side awning, which was about as effective as a paper bag in a washing machine.
The deluge continued for the next two days and nights, which meant we had to cut short our intended exploration of the extreme north of the North Island – imaginatively called "Northland" – with its rugged landscape of gravel roads, rocky bays and windswept, undeveloped beaches. With hindsight, we should have just gone for it but a hefty $3000 excess on our motor insurance cover loomed large on our minds.
There's no doubting the beauty of the place, though. Shakespear Regional Park, just north of Auckland, was a gorgeous area of rolling green hills overlooking the clear blue sea, while the Tukupapa coastline was like the Mediterranean Riviera but without the hordes of people.
Things got even more dramatic as we made our way south and east of Auckland to the Coromandel Peninsula. As we drove along the coast towards Coromandel Town, the road twisted and turned its way between beautiful Pohutukawa trees and pebble, black sand beaches. Beyond Coromandel Town, things got really interesting as the road rose up along the cliff edge while the lush green and mountainous countryside gazed down upon crashing white waves. 
And then, after endless miles of twisting gravel road, through the sort of scenery normally sprinkled with hobbit-like characters jumping over wooden gates and old men in strange looking pointy hats complaining about some distant mountain-dwelling demagogue, we reached our destination. Which was pretty much the end of the road, to be fair.
Port Jackson is about as remote as it gets and our DOC (Department of Conservation) campsite was pretty basic  – the "long-drop" toilet being a particular highlight. But to be honest what's not to like when we're cooking chilli pasta on a portable gas stove overlooking a pristine beach with ice cold beers and wine in the fridge, all under the watchful eye of the local seagull.
The next morning we got up early and headed off for the Coromandel Coastal Walk from Port Fletcher. Not for the faint-hearted, it was nevertheless a gorgeous hike through fantastically green farmland, virgin rainforest and cliff-top pathways overlooking beautifully turquoise coves. Quite honestly it took our breath away. The scenery reminded us of the Highlands of Scotland, North Wales, and the English Lake District – but just on a more spectacular scale.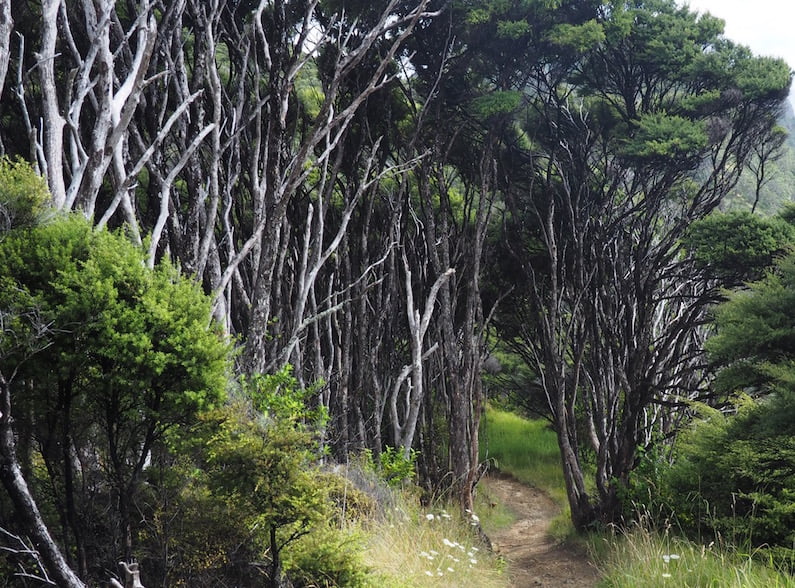 We would haver stayed here longer too but the weather was still proving troublesome, so we moved further down the Coromandel coast in the hope of some blue skies and beach time. New Chums Beach was a lovely expanse of white sand with rainforest-clad cliffs as a backdrop – but a sky filled with ominously black clouds and an afternoon of distinctly English drizzle meant that we didn't hang around for too long.
And then, the following day, as if someone residing up in the sky had been having a laugh with us for several days but had now turned his/her attention to something else far more interesting, the sun made a belated and very welcome appearance. We'd been warned about the lack of ozone in the atmosphere in this part of the world and that we'd need to be prepared to apply liberal amounts of Ambre Solaire. And so, like a couple of panic shoppers, we'd stocked up with enough Factor 30 to keep us going for a full circumnavigation of the sun. Time to pop open the lid at last.
We celebrated in style early morning by making our way down the coastal path at Hahei to Cathedral Cove – the beach featured in The Lion, The Witch, and the Wardrobe films. And, in line with everything else we'd seen in New Zealand to date, the journey there was sublimely gorgeous. Pathways leading down through beautiful green bush, looking out over cliffs towards off-shore islands, lashed by gentle white waves and dotted around a huge blue sea.
We spent just an hour or so at the beach as the change in weather seemed to bring out just about everybody in the immediate vicinity. But that didn't matter. Over the past week we'd had more than a glimpse of what this country has to offer – and with another seven or so weeks to go the weather was surely going to get much kinder to us. This wasn't England after all.
We would now be heading towards central North Island and the volcanic sites around Rotorua. But first, Nicky's bucket list – which had one particular item written in bold capital letters, underlined and completed with two exclamation marks – was about to be decimated.
The Hobbiton Movie Set was a mere two hours away…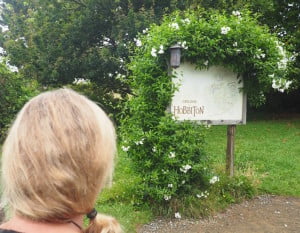 What did you think? Have you been to any of the places we covered? And I bet you got decent weather too, didn't you? Or maybe you're planning your own New Zealand North Island adventure. Either way, we'd love to hear from you so please add your comments below. Thanks!
Visit our New Zealand page for further posts on the country and information on where we stayed.