AFTERMATH – STAYING STRONG IN THE FALLOUT FROM HURRICANE IRMA
AFTERMATH – STAYING STRONG IN THE FALLOUT FROM HURRICANE IRMA
In Part One of this article, I described how we managed to survive the largest Atlantic hurricane in history during our house sitting assignment on Tortola, British Virgin Islands. After sixteen hours of the most frightening, exhausting and emotional experience of our lives, we finally emerged from the house as dawn was breaking, to be met by a scene of desolation. 
We were glad to be alive, but in some ways, our problems were only just beginning.
Contents
This page contains affiliate links. To help us maintain our site we work with a number of partners who we've personally used and can recommend to our readers. If you decide to purchase any products through the links on this page, we'll receive a small commission at no extra cost to you.
Day 1 – Assessing the damage
A gentle breeze was all that was left of the Category 5 hurricane that had left its indelible mark both on our ourselves and the island. It quietly whistled its way through the open spaces of the house as we looked around to assess the damage.
Windows had smashed or been blown out of their frames. External doors had been ripped from their hinges. And heavy furniture had been tossed around like toys. The walls of each room were also covered with the remains of vegetation that had blasted against them.
The house itself was structurally fine, including the concrete roof – something we could be thankful for. Otherwise, we would have been completely exposed to the worst that Irma could throw at us.
But outside was a different matter.
The elevated position of the house had given us panoramic views across the heavily forested hills of Tortola and across the Sir Francis Drake Channel to the US Virgin Islands. Views that had been dominated by the sparkling blue of the sea and the lush green of the forests.
Not anymore.
Where there had been thick vegetation there were now just bare tree trunks, their branches reduced to the occasional outstretched finger of wood as if gasping for breath. The dominant colours on display had changed from blue and green to blue and brown. It was an apocalyptic image that encapsulated the destructive force of Irma.
During the morning our neighbour, Barrie, whose house had been badly damaged, arrived ostensibly to brief us on what he saw as our priorities. He'd lived with his wife, Arabella, on the island for 12 years and, although had not experienced a hurricane of this magnitude, he had a good idea of what the government response would be and what some of the likely outcomes were. And the picture he painted was an alarming one.
He said the government would probably take four or five days to get its act together and restore some form of communications. Help was not likely to arrive before then so we had to look out for ourselves in the meantime. Law and order was likely to become an issue, with looting a real problem. And, as we were in quite an isolated position we were prime targets. Power supplies would be down for weeks so we needed to conserve as much diesel as we could to fuel the generator for the house. We would combine our food and water resources and run the fridges and freezers on limited generator power to keep everything from going off.
And, as we had no immediate way of getting off the hill, my partly-severed finger would need to be patched together with superglue to stop infection. If I needed any more incentive to get off the hill and to a hospital in record time, that was it! The dressing that Nicky had applied to it during the height of Irma hadn't been sterilised, nor had the wound been cleaned, so getting proper medical attention was becoming our number one priority. The dressing may have been blood-soaked, but at least there was no more potential infection getting in from the moist, humid air. And the superglue was definitely staying in the drawer!
The hospital was a 30-minute drive away in good driving conditions. The steep, windy road down to the coast from our elevated plot was a difficult one to negotiate at the best of times. But now it was impassable as trees, cacti, telegraph poles and boulders blocked its path.
Barrie didn't wait to get started with his chainsaw. I couldn't help for obvious reasons so I assisted Nicky and Lauren with clearing the debris from the kitchen and our bedroom so that we at least had some manageable living space.
After the previous tortuous, sleepless night it was exhausting, both mentally and physically. Barrie managed to cut through to the first bend in the road – merely a quarter of the way down before he had to call it a day.
So, before dark, Barrie and Arabella came around with the contents of their food cupboard, we switched our generator on for few hours, took it in turn to shower and then shared a meal of pasta and some chilli-con-carne I'd made a couple of days earlier. We even managed the odd bottle of wine between us. We figured we deserved it.
Day 2 – Digging our way out
The next morning, Barrie was up early and ready to tackle the next section of road with his chainsaw. Only this time Nicky was adamant she wasn't prepared to let another day go by without me receiving proper medical attention – even though at this point we didn't even know if the island's only hospital would be open. So, our one-man road recovery team became two, while Lauren and I continued to clean up the kitchen.
Undoubtedly one of the most exhilarating sights of this whole saga was that of Nicky returning to the house some hours later with her arms raised in a triumphant salute. The wide grin on her face confirmed what I'd hoped – they'd made it far enough down the hill that Barrie's truck would now be able to negotiate around any remaining debris. And, someone had told them that Peebles Hospital was open, too.
Within half-an-hour, we were on our way. We reached the coast road and turned in the direction of the capital, Road Town. The road was in a bad state with large cracks and holes, together with lots of debris that had slipped down from the surrounding hills. We reached the residential area of Sea Cow's Bay and were astonished by the amount of destruction to houses, power lines and vehicles. Roofs had gone, walls had collapsed and people were trying to begin the impossible task of cleaning up.
We were surprised by the amount of traffic, too. It seemed like there were whole families crammed into cars, some of whom appeared to be merely sight-seeing as they slowed down to take photographs, apparently oblivious to traffic behind them who had a pressing need to keep going.
And then as Barrie had predicted, we saw the looters. Cars were double-parked outside a supermarket which seemed to be wrapped in a mangled bow of steel. Men and women rushed in and out with packed shopping trolleys. Some didn't even bother with that as they merely headed straight to the drinks aisle and emerged with boxes of cheap beer and spirits. Then a truck arrived with a gang of mask-wearing youths in the back. Needless to say, we didn't hang around. It was the first time we'd felt a real sense of menace.
We continued through the rubble and the destruction until we reached the hospital. As we expected the scene was chaotic. There seemed to be hundreds of people milling around both inside and outside the building. Our first point of call was the triage nurse to have the dressing replaced. It was the first time my finger had been exposed to fresh air since the time it had been smashed between those doors. And it hurt like crazy.
I needed to see a doctor but there was no guarantee that was going to happen. We were told by three nurses that, because more than 12 hours had now expired since the injury (it was actually 48 hours), they would not stitch it and the wound would have to heal by itself. Each time, the nurse unwrapped my dressing to take a look at the finger. And each time, my resistance to the excruciating pain took a nosedive.
Thanks to Nicky's persistence, and her insistence on not taking "No" for an answer, we finally (after six hours) managed to see a doctor, who agreed to apply the stitches. It was one more extended period of pain to endure, but it had to be done. I'll be eternally grateful to the wonderful Dr Stoutt, who was working voluntarily through the crisis to help people like me – many with much worse injuries. We also overheard other medical staff who'd been working non-stop at the hospital since before the hurricane and hadn't even been home to see their families or inspect the damage.
Unfortunately, there was a FOUR HOUR waiting list for prescriptive drugs and Barrie was anxious to get back before dark because of the challenge of driving up our hill. I'd have to rely on just our small supply of paracetamol tablets and antibiotics.
Back at the house, we were met by Gareth, a neighbour from further down the hill, whose family had had to move out of their severely damaged home. He'd cycled up to us to check we were ok and pass on a message that he'd managed to speak to our house owners back in the US and they'd put the word out on social media that we were safe. He also told us about the wider devastation to BVI and the scale of the media coverage from all over the world. And he told us about another storm – Hurricane Jose – which was on its way towards us.
Day 3 – Hurricane Jose approaches
The following morning began as another calm, clear day. But, feeling particularly vulnerable to another storm, we needed to find out more about what threats Hurricane Jose would present to us.
Apart from what we'd heard from Gareth and an official at the hospital, we'd had no information about it, or when communications or power would be restored. There was no internet and no phone signal. In fact, everything Barrie had told us about the government response appeared to be coming true.
Apart from the odd reconnaissance aeroplane, we'd seen no activity in the air or at sea. So, the sudden sight of a group of small boats speeding across the Sir Francis Drake Channel was a welcome break to the complete silence we'd experienced before. We've no idea who they were or where they were going, but to us, it was a small but important step in the right direction.
The silence was broken further by the sound of a voice on a megaphone. It was coming from a van that was passing below us on the coast road. Already starved of information, we struggled to hear what the voice was saying over the rumbling of our generator.
I decided that the only option was to race down the hill on foot and somehow catch up with the van – which I did. The guy on the megaphone was warning about the approach of Hurricane Jose later that evening and urging residents to take shelter by 6 pm. I flagged down the van and asked the crew if Jose was going to be a direct hit, just like Irma. They said they didn't know but that it was going to be a Category 4 hurricane (sustained winds up to 157 mph) and that there would be a lot of rain.
I also spoke to some locals whose homes had been partly destroyed and who were terrified that the storm might follow the same route as Irma. I asked if they were OK. They said they were but that they needed to board up all their open windows and patch up their roofs as best they could. Just when everyone thought they could focus their attention on restoring their homes and trying to re-establish some sense of a normal life, another potential disaster was already looming.
Returning back up the hill, I gave the bad news to Nicky, Barrie and Lauren. Our house was still wide open from the impact of Irma so we'd have to board up as many windows and doors as possible. We decided that the best place for us to sit out the storm would be our bedroom. Although one of the windows had blown out during Irma and the floor had been temporarily flooded, it had still suffered less damage than other rooms in the house.
Again, Nicky had to help with all the heavy work by retrieving plywood and planks from a store below the house. Meanwhile, Barrie resized the wood, erected the barricades and replaced unbroken windows back into their frames. And all this before he'd even started on his own home (which, because of the damage to his actual house, was temporarily another neighbour's house just down the hill from us).
This time, learning from what we experienced during Irma, we were prepared for the worst.
As the darkness of the evening drew in we switched off the generator, retired to our bedroom – and waited.
We had no idea when Jose would actually hit. All we could do was try and get some rest and be prepared to evacuate to the shower room (which we'd identified as being the safest place) when needed. We couldn't sleep because of the anxiety running through our veins. The eerie howling noise of the breeze outside played tricks on our minds, taunting us with imagined increases in velocity.
But Jose never materialised. As dawn again broke, we were both tired and mystified. Was the hurricane still on its way? Should we stay put or try and find out if we were still in danger?
Two voices shouting towards us from below gave us the answer. They belonged to two representatives from the firm Lauren worked for, who'd been looking for her to evacuate her from the island. Jose had suddenly turned north before it had hit us and was no longer a threat, they said. And, to Lauren's relief, she was being airlifted off the island.
Our "hurricane family" was about to lose one of its members, but we were equally relieved for Lauren. With hindsight, our outcome from Irma may well have been completely different had she not been there with us. And I owe her a debt of gratitude for having the presence of mind to find the first aid kit to dress my injured hand during the worst of the hurricane.
But it was now four full days since Irma first hit and we hadn't been in touch with any of our family and friends. We knew they'd be worried sick, especially if the media were showing such scenes of destruction.
With my finger wound already infected, and the very real potential for septicemia setting in, we needed to find a way to get off the island soon. But without access to internet or a phone signal, there was no way we could even attempt it. So we wandered down the hill to try and find someone to speak to who might give us some more information. Along the way, another of our neighbours mentioned that someone had access to a single wifi signal at Nanny Cay, a resort marina and boatyard, and a 15-minute drive away. The only problem was that access was strictly for residents, business owners and staff.
It was a long shot but one that we couldn't afford to pass up. Barrie had been right all along. We couldn't rely on anyone but us to remove ourselves from this situation. So we returned back up the hill, updated Barrie on what we'd learned and picked up Nicky's iPad, the solitary piece of communication equipment that was still working.
And, as we drove down the hill once more, we had no idea just how much the chain of events would turn back and forth over the next 48 hours.
Continued in Part Three – how we finally made contact with the outside world and our frantic search for a way to evacuate the island…
MORE ON THE BRITISH VIRGIN ISLANDS
To help us maintain our site we work with a number of partners who we've personally used and can recommend to our readers. If you decide to purchase any products through the following links, we'll receive a small commission at no extra cost to you. Thank you for your support!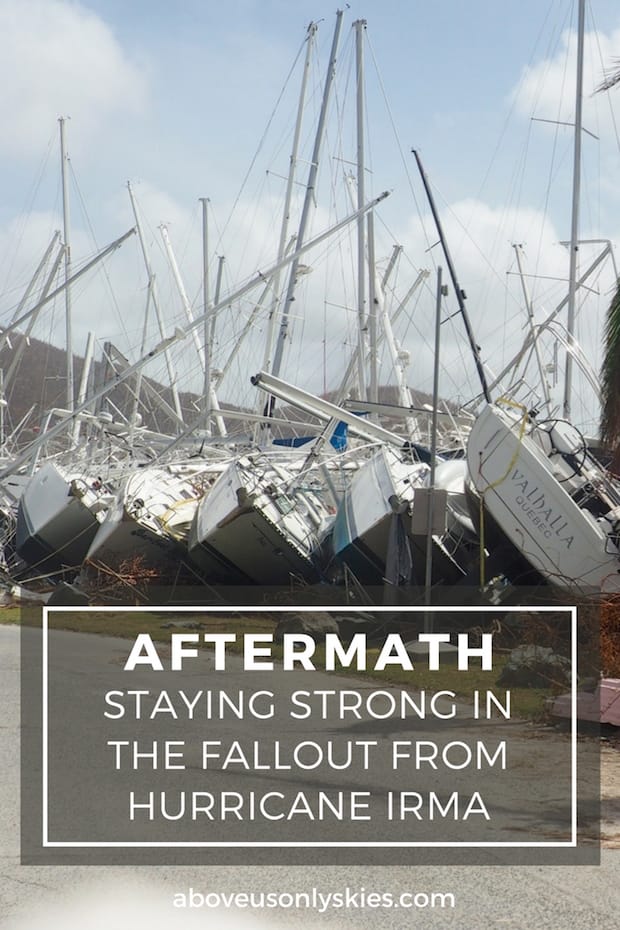 Hi, we're Ian and Nicky, an English couple on a voyage of discovery around the world, and this blog is designed to reflect what we see, think and do. Actually, we'd like to think it also provides information, entertainment and inspiration for other "mature" travellers, too. So please feel free to pour yourself a glass of something suitably chilled and take a look around.