A WANDER THROUGH THE EERILY QUIET STREETS OF LISBON
A WANDER THROUGH THE EERILY QUIET STREETS OF LISBON
Continuing our series of articles on Spain, Portugal and France as we explore Western Europe under the cloak of the ongoing COVID-19 pandemic. Along the way, we're travelling in our own car and mostly using housesitting for our accommodation. Our focus is on exploring places where we can safely socially distance, and where wearing a face mask is an accepted norm.
Over the past decade, the streets of Lisbon have become magnets for the sort of mass tourism that's arguably plagued other European hotspots such as Barcelona, Rome and Venice. And it's not hard to see why.
Beautiful Renaissance architecture mixes with crumbling Old Town atmosphere.  The sun shines on more days than in any other European city. Cheap airfares from within Europe and across the Atlantic make it one of the most easily accessible capital cities. And its Atlantic-facing port has established it as a new favourite for cruise ship itineraries.
But then came COVID-19.
Almost overnight, its cobblestone streets and mosaic-paved plazas fell silent. Like the rest of Europe, Portugal went into months-long lockdown. Which, for a country where tourism accounts for 19% of its GDP, was financially disastrous.
But, with a relatively low case and death rate (especially when compared to neighbouring Spain), the country is now eager to kickstart its tourism industry by declaring itself a "safe destination".  However, the lack of visitors from the US and Asia, and quarantine restrictions imposed by the UK (which, at the time of writing, have now been lifted), has resulted in just a trickle of tourists so far.
And so, it was within this context that we took a break from our nearby housesitting assignment to visit Lisbon at the end of July 2020. What we found was a city as beautiful and easily walkable as we'd read about. But whose streets were almost devoid of international tourists.
Which, for this mask-wearing couple of middle-aged travel junkies, was a godsend.
This page contains affiliate links. To help us maintain our site we work with a number of partners who we've personally used and can recommend to our readers. If you decide to purchase any products through the links on this page, we'll receive a small commission at no extra cost to you.
We arrive at Lisbon's 19th-Century Rossio station courtesy of the morning train from Sintra. It's situated in the city's busiest area, the Baixa, which was reconstructed following the catastrophic earthquake and tsunami of 1755. As a result, so many of the buildings reflect the architecture of that period and the following century.  The station building itself is a beautiful piece of art in its own right, with its two horseshoe-shaped entrances taking centre stage.
The plazas and streets surrounding it would normally be heaving with people and traffic at this time of the day. Office workers, shoppers, tourists, taxi drivers. But, as we cross the road to begin our wandering, it feels like we've arrived at the break of dawn, before most people have even surfaced from their beds, rather than mid-morning.
Rossio station and its two horseshoe-shaped entrances
Our face-masks already in place, we begin our search for a mid-morning carbohydrate boost to help fuel our leg muscles for the day ahead. So we head to Rua Augusta, the Baixa's main thoroughfare to the waterfront Praça do Comércio. It's a completely paved street full of cafes, shops and restaurants housed within gorgeous neoclassical buildings. And it's usually crammed with people.
But not today.
The pavement cafe tables are almost empty. Many shops remain closed. And the few people that have ventured out keep a healthy distance from each other simply because of the space afforded to them.
As we turn into the street we spot the looming presence of Arco de Rua Augusta in the distance. Erected in 1873, it commemorates the city's recovery from the earthquake. 
But, before we reach it we're distracted by the enticing photograph outside Casa Portuguesa do Pastel de Bacalhau. In front of a small group of intimidating-looking sheep, a split-in-two and breadcrumbed pasty spills out silky molten cheese. Turns out the Pastéis de Bacalhau (salted cod fish cake) is something of a speciality in these parts. And these ones come with a dollop of sheep's cheese inside, too.
Naturally, as suckers for any kind of local food, we're enticed inside and willingly part with 5 euros for one (turning down the offer of upgrading to the full "Portugal Experience" for 12 euros – to include a glass of port). And we're immediately underwhelmed by the eating experience. A classic case of marketing, reputation and over-pricing over substance.
Nevertheless, hunger pangs at least partially satiated, we continue on our way.
The paved Rua Augusta with its cafés and shops
The home of Pastel de Bacalhau
Rua Augusta finally comes to a close as the Arco separates it from the huge open space that is Praça do Comércio. In some ways it's Lisbon's own Ground Zero as the space was originally occupied for hundreds of years by the Royal Palace before it was razed to ground by the 1755 earthquake. Indeed, locals still refer to it as Terreiro da Paço, or "Palace Square".
Our first intuition is to turn around and gaze back at the impressive arch in all its renaissance finery. Indeed, as a symbol of the city's recovery from the earthquake, it's a triumphant statement, complete with stone sculptures depicting mythological figures along with Portuguese legends such as Vasco de Gama.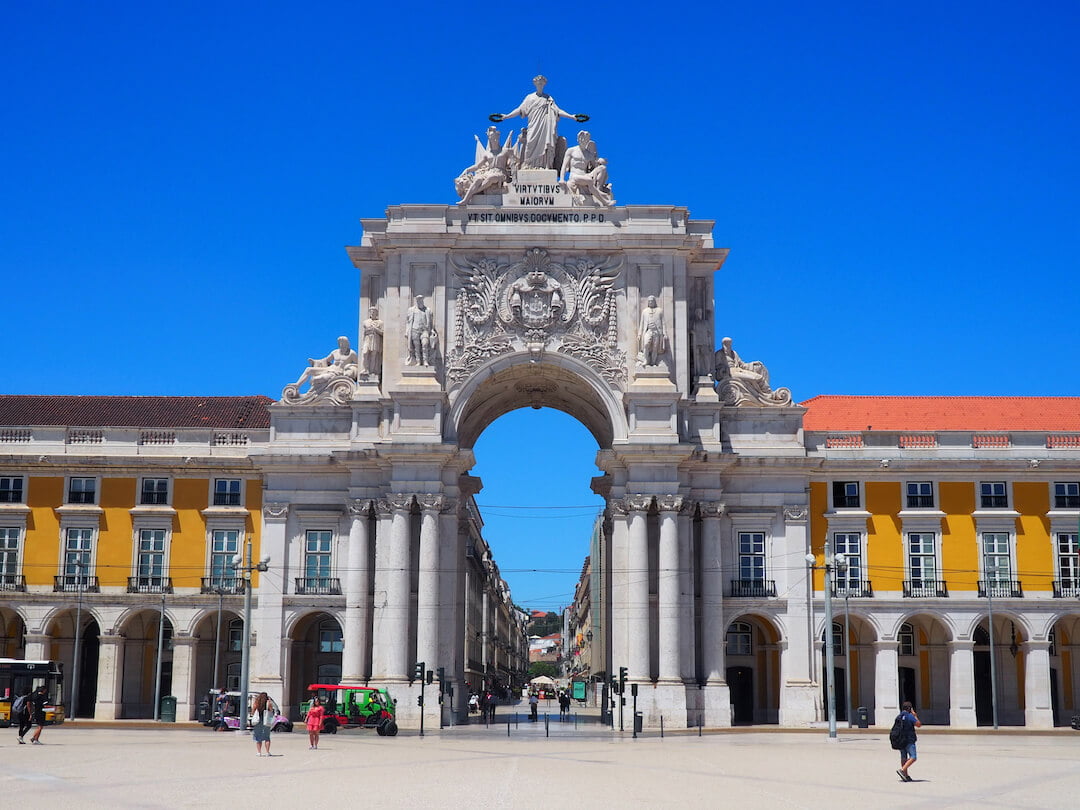 The magnificent Arco de Rua Augusta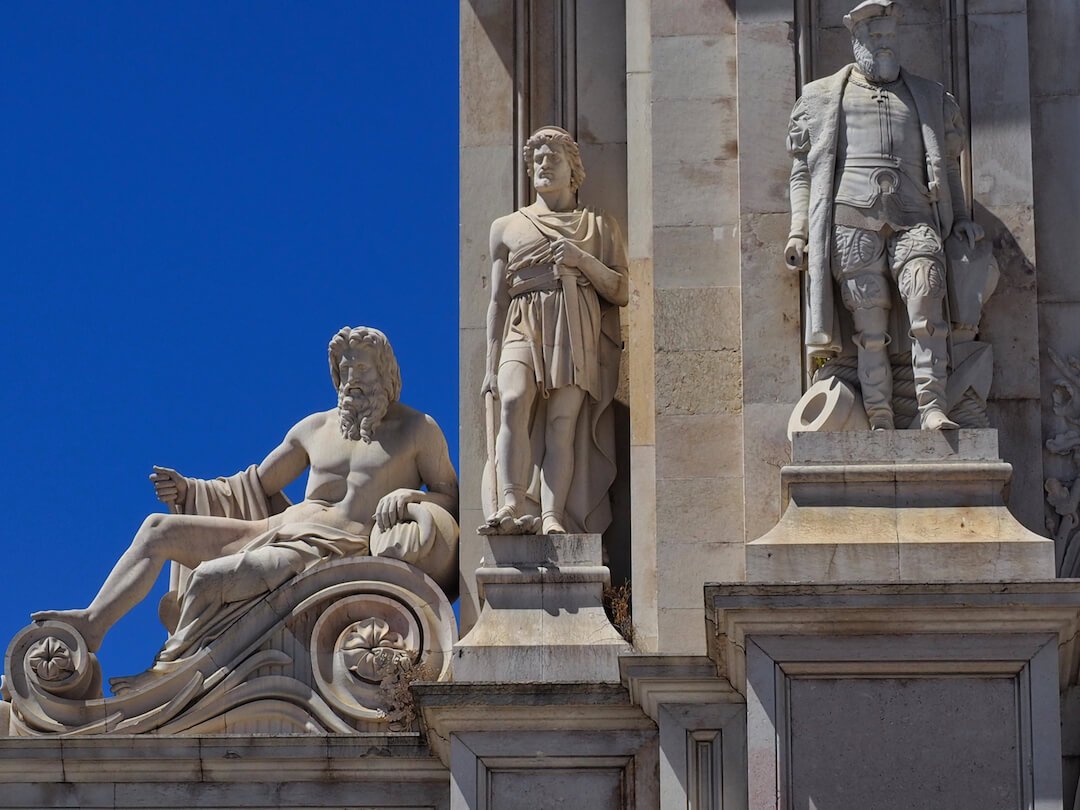 Surrounding the square in both directions, ground-floor stone archways lined with restaurants and cafes stand beneath grand yellow façades and red rooftops. And, in the centre, a bronze statue of King Jose I mounted on his horse gazes out across the Tagus River.
Once again, it's a hugely popular area of Lisbon that's eerily silent, except for the occasional ring from a passing tram and the clinking of glasses as a waiter optimistically lays out his restaurant tables.
An almost deserted Praça do Comércio
An almost deserted Praça do Comércio
​We decide it's time to escape the grandeur of the Baixa and explore the cobbled Old Town charms of the Alfama district. Built on one of Lisbon's seven hillsides, it's where the streets narrow, the food prices drop and the building façades are decorated with lines of washing rather than heroic statues.
The touristy way of seeing it is to catch Tram Number 28 from downtown and let your driver take you on a journey through the steep, winding streets. Then get off at the top and slowly work your way back down. Which we agree, in 34 degrees (centigrade) heat, is good enough for us.
So we wander back underneath the Arch and jump on the next tram. The journey uphill is as atmospheric and charming as we'd imagined. At one point the street becomes so narrow that pedestrians have to squeeze against the buildings to keep out of the way.
Indeed, our excitement gets the better of us and we forget to get off at the highest point. We're now hurtling back downhill to the tram terminus back in Lisbon's city centre. No matter, we jump off and then back on to the next tram heading back up the hill.
This time we manage to remember to get off at the stop for the Castelo de São Jorge, which looks out over the rooftops of Lisbon like a protective blanket.
A tram approaches through one of Alfama's narrow streets
The Number 28 tram services much of Alfama
As we approach the castle, the sound of a busking guitar breaks the silence. Deferring to our ears to lead us the way, we find ourselves at a lookout with a panoramic view of Alfama below us. A hotchpotch of red-roofed buildings cascade down the hillside. And, in the distance, the San Francisco Bridge-inspired Ponte 25 de April stretches out over the Tagus.
It's an iconic scene. And we have it all to ourselves. Save for the guy with the guitar who is deservedly rewarded by us for his rendition of John Lennon's Imagine.
As we make our way further down the hillside we realise that Alfama doubles as Lisbon's viewpoint central. And believe us, it's difficult to tire of seeing this beautiful city from so many different vantage points.
The view from the castle lookout
Another Alfama viewpoint to cherish
Our wander down through the empty narrow streets is halted occasionally by the screech of a tram as it gingerly turns around a dogleg in the road with hardly enough room to spare.
Many of the buildings are decorated with ornate Azulejo tiles, remnants from the city's Moorish heritage. But none are as evocative and descriptive as the tiled mural of Alfama at Miradouro de Santa Luzia. A scene befitting any palatial bathroom, never mind just an exterior wall.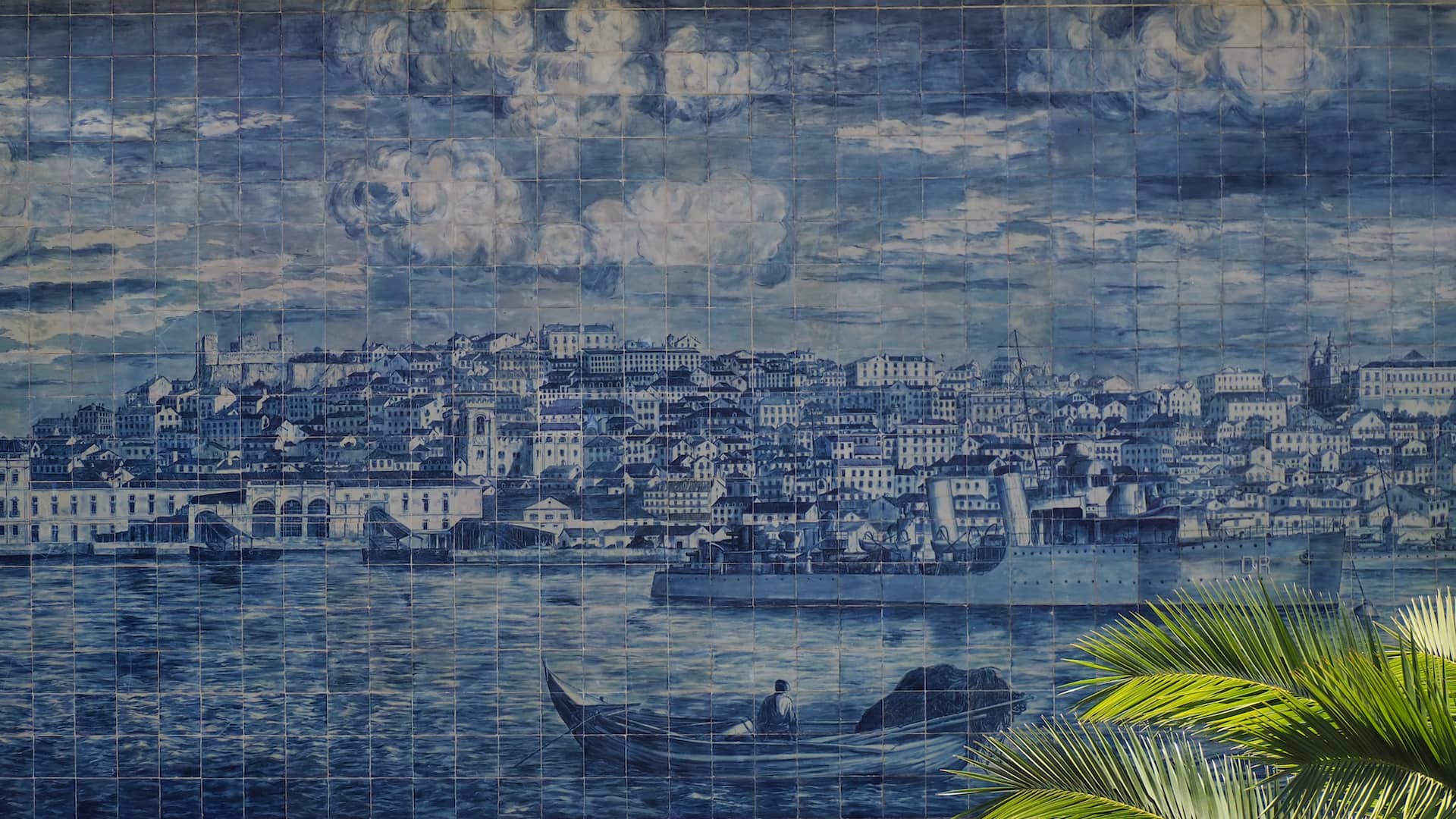 A mural of Alfama consisting entirely of Azulejo tiles
A mural of Alfama consisting entirely of Azulejo tiles
We eventually arrive back at the Baixa's square grid of streets ready for a further carbohydrate top-up. This time we're looking for another Lisbon delicacy, the bifana.
It's a sandwich roll filled with pork that's been cooked slowly in white wine, garlic and paprika. Locals eat it at tiny eateries ordered through serving hatches right on the street, along with a cold beer to wash it down. Which sounds like heaven to us. So we head to one of the best, As Bifanas do Afonso on Rua Madelena. And, unlike the earlier codfish-cheese-pasty travesty, it doesn't disappoint.
A very welcome bifana for lunch
Hunger satiated we traverse the streets of Baixa until we reach the imposing Elevador de Santa Justa. Built by a prodigy of Gustave Eiffel, it's a somewhat eccentric standalone lift (or elevator) that seems to sprout from the surrounding buildings like an ironclad giant beanstalk.
Ostensibly it transports Lisboetas from Baixa to the hillside area of Bairro Alto, with its plethora of shops and nightlife. But nowadays, most passengers are tourists. Naturally, we can't resist the temptation. Especially as there would normally be queues of tourists waiting to experience the seconds-long ride. But at over 5 euros for a return ticket, it's as anti-climatic as you might expect.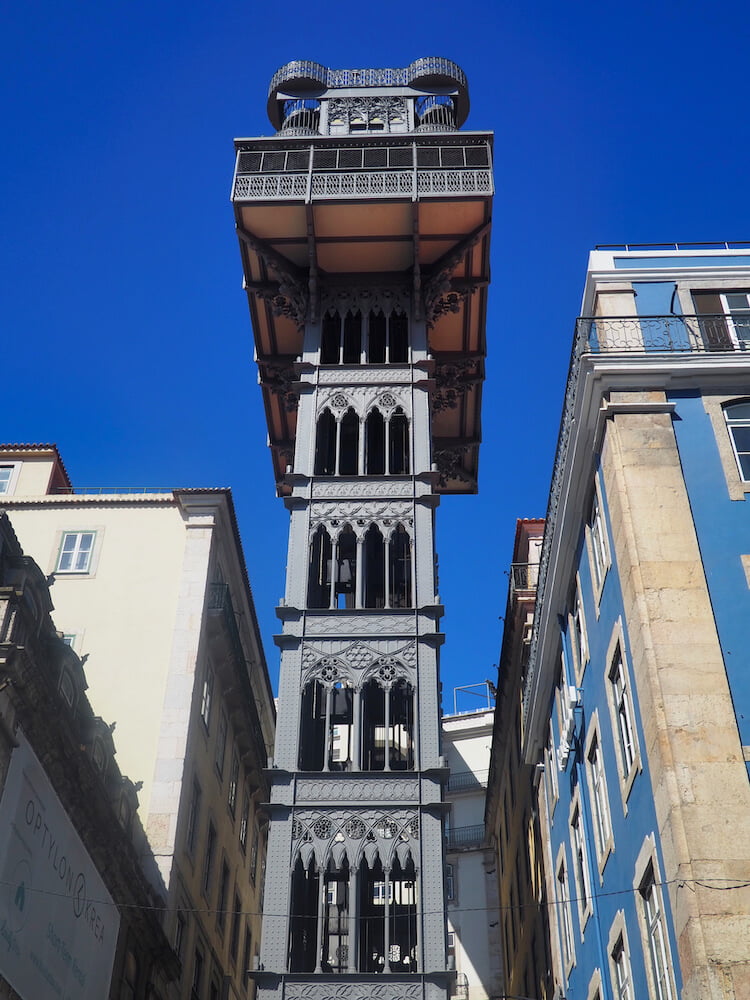 The imposing Elevador de Santa Justa
Unsurprisingly, the streets of Bairro Alto are as quiet as we experienced in Alfama. Many restaurants remain closed and those that are now open for lunchtime traffic are barely populated. It doesn't have quite the same gritty appeal as Alfama. Needless to say, as one of the main nightspots of Lisbon, we're not seeing it at its best.
However, all is not lost. Although we're no longer hungry we convince ourselves to try the ice cream at Arcádia Casa do Chocolate, a chocolatier of renown on Rua da Misericórdia.
Best. Ice cream. Ever. Not even close.​
A deserted street in Bairro Alto
A building decorated with Azulejo tiles
Continuing downhill, we eventually arrive back at the riverfront, where we catch another tram westward, beyond the Ponte 25 do April bridge, towards the leafy suburb of Belém.
Confusingly pronounced ber-layng, it was from here that Vasco de Gama set sail for India in 1497. Indeed, the explorer is buried in the church that's attached to the UNESCO World Heritage-listed Mosteiros dos Jerónimos.
So we jump off the tram at the terminus and head on foot towards the monastery before we cross the adjacent gardens to the riverfront.
The Mosteiros dos Jerónimos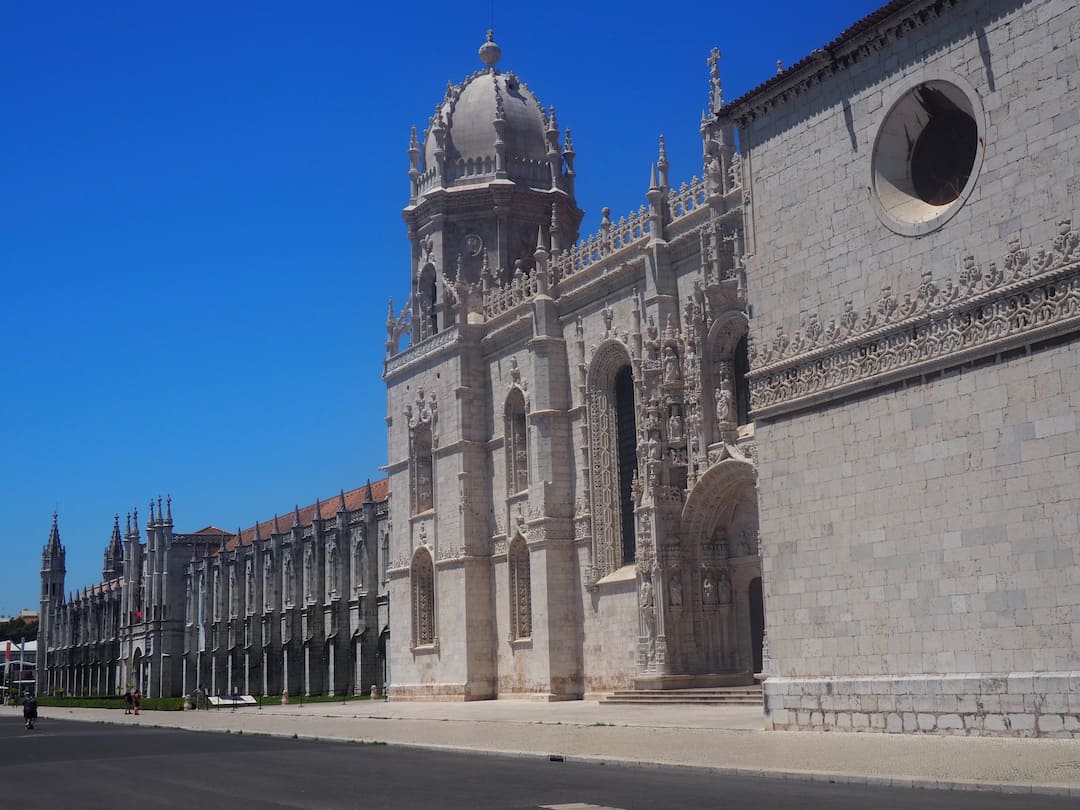 The Mosteiros dos Jerónimos
Padrão dos Descobrimentos
The first sight to hit us is the 54-metre-high monolithic slab of concrete called Padrão de Descobrimentos (Monument to the Discoveries). Built beside the Tagus River in 1960 to commemorate the 500th anniversary of the death of Henry the Navigator, it looms large on Belém's skyline.
Most notably, a line of statues featuring Portuguese luminaries such as Henry, Vasco de Gama and King Alfonso V appear to be squashed together on some sort of latter-day escalator. It's certainly original if nothing else.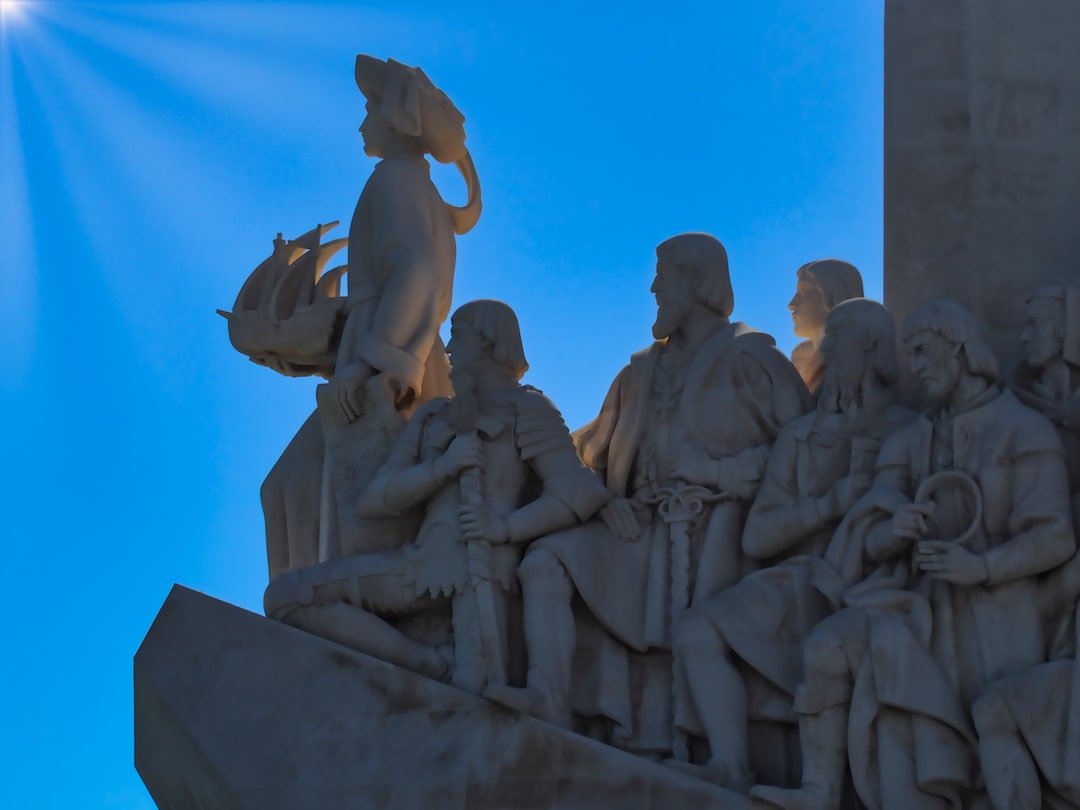 The celebratory Padrão de Descobrimentos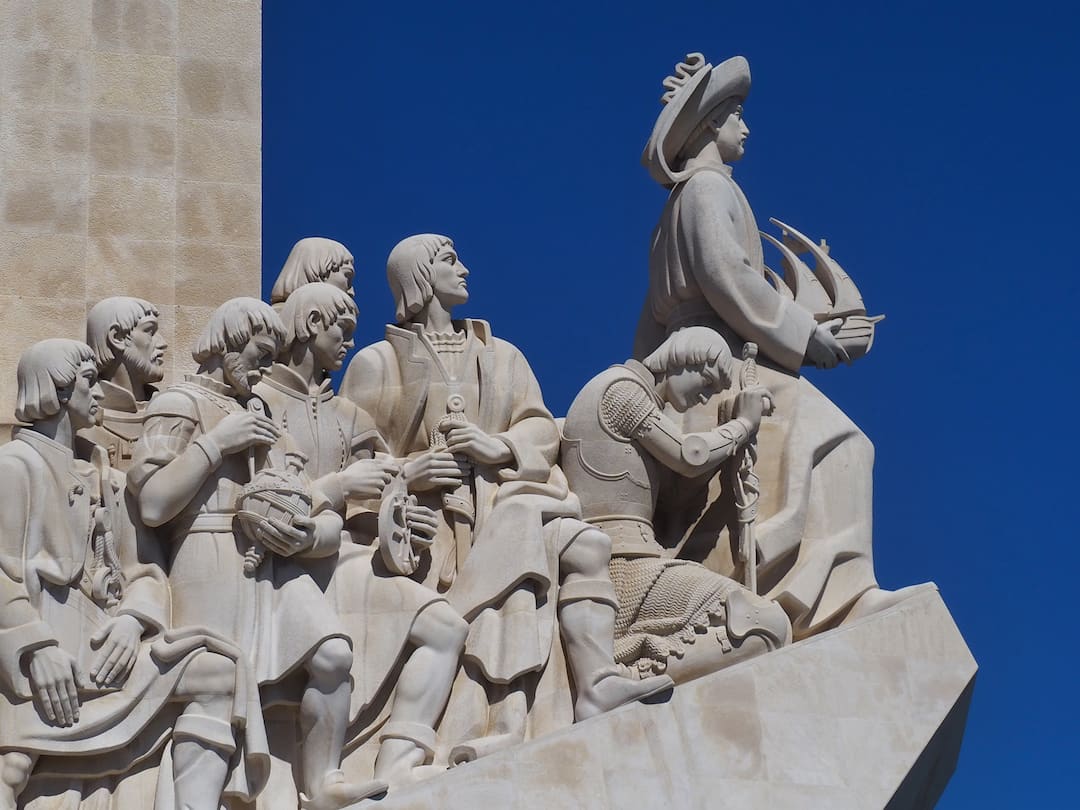 The celebratory Padrão de Descobrimentos
We decline the opportunity to spend another 6 euros each to take a lift to the top of the monument and, instead, wander along the promenade towards the Torre de Belém (Tower of Belém).
Jutting out into the Tagus River, it was built in 1520 as a fortress and remains an iconic symbol of Portugal's expansion during that period. And mightily impressive it is, too.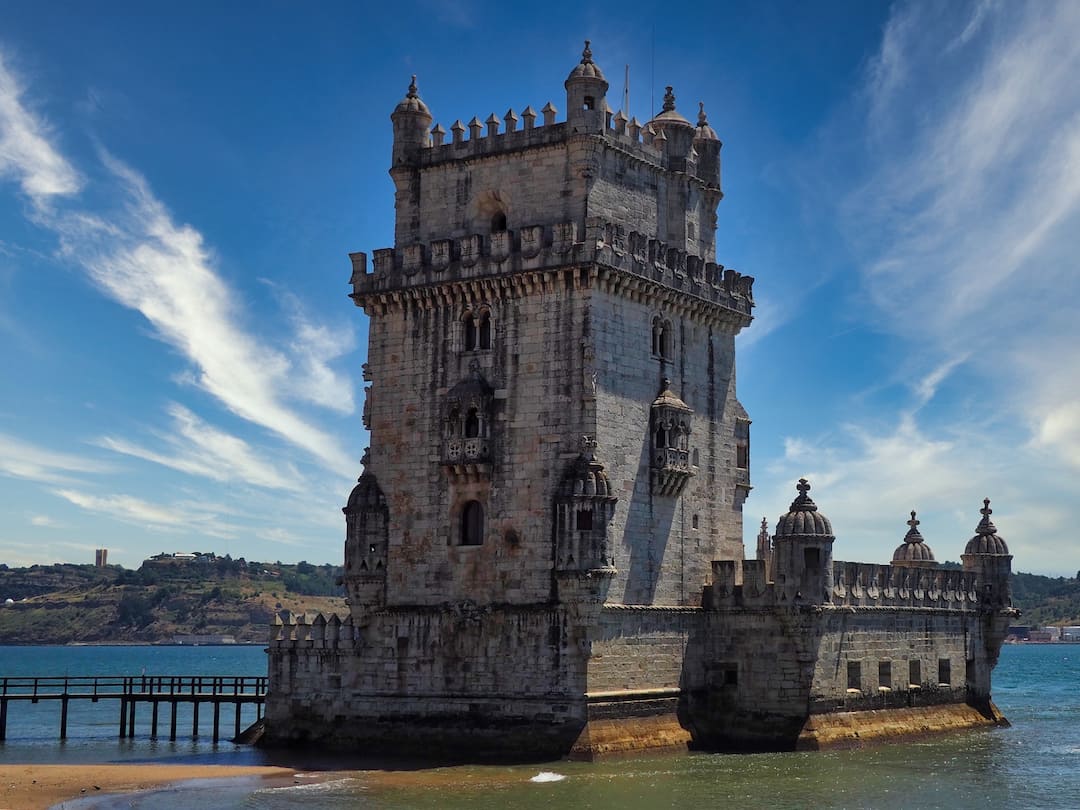 The iconic Torre de Belém
However, all this exploring on foot over cobbles and concrete has taken its toll on our weary feet. So we decide to finish the day off with one final Lisbon food staple. Sure, you can buy a pastel del nata (a Portuguese egg custard pastry) anywhere in Portugal. But, when in Belém, it would be sacrilege not to try one from Pastéis de Belém, where they've been making them since 1837.
As a well-established tourist attraction, the bakery normally sees queues of people lining the street. And, even on this crowd-free day, we find ourselves waiting in line. Needless to say, when confronted with the choice of a single pastry or a box of six we go for the latter. We figure we deserve them.
And yes, they're as good as you'd expect them to be after 180 years-or-so of trying.
A small queue forms outside Pastéis de Belém
…and this is what the fuss is all about
From Belém, it's a simple case of catching a bus, which takes us back to Baixa, from where there's a short walk to Rossio station.
As we head back through the horseshoe-shaped entrance we wonder what the "new normal" will be for Lisbon once the pandemic is over and tourism is able to flourish in the city once more. Part of us hopes that there's a re-balance of sorts and that the city doesn't just return to its upward trajectory of over-tourism. A sentiment we also heard from the owner of a haberdashery store we visited in Alfama.
Only time will tell. In the meantime, we'll cherish our opportunity to have experienced the streets of Lisbon without the need to jostle with thousands of other people.
And yes, even if it did mean having to wear a face mask.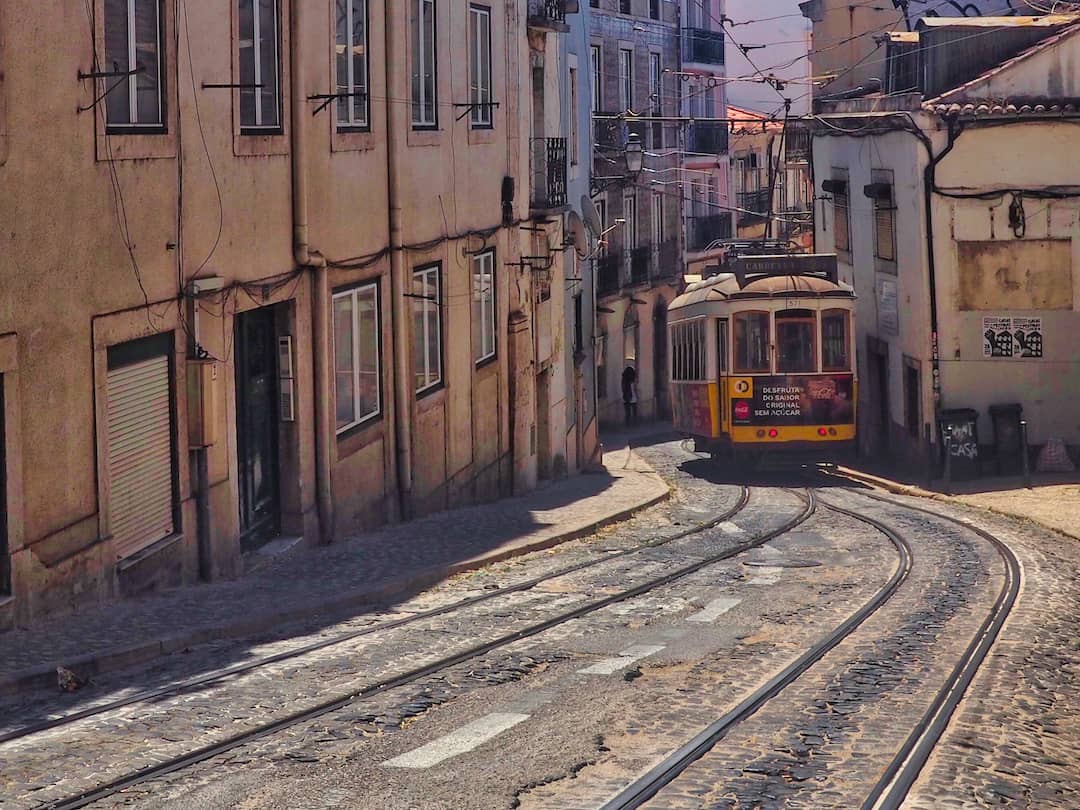 What did you think? Have you been to Lisbon? If so, what was your experience? Or perhaps you're thinking of visiting there soon? Either way, we'd love to hear from you so please add your comments below.
To help us maintain our site we work with a number of partners who we've personally used and can recommend to our readers. If you decide to purchase any products through the following links, we'll receive a small commission at no extra cost to you. Thank you for your support!
Travel insurance
with World Nomads
Hi, we're Ian and Nicky, an English couple on a voyage of discovery around the world, and this blog is designed to reflect what we see, think and do. Actually, we'd like to think it also provides information, entertainment and inspiration for other "mature" travellers, too. So please feel free to pour yourself a glass of something suitably chilled and take a look around.