THE SUBLIME COLOURS OF PANGONG TSO LAKE
They call Ladakh "the land of mountain passes" – both on foot and by road. And with some roads exceeding altitudes of 5000 metres, it's a physical challenge just travelling in the relevant comfort of a car.
The low air pressure and lack of oxygen in the atmosphere at these altitudes create potentially severe problems for any tourist who hasn't properly acclimatised. Headaches, dizziness and shortness of breath are some of the more common symptoms. However, it's possible to develop a condition called "acute mountain sickness" which is potentially fatal.
It's against this background that making the trip from Ladakh's capital, Leh, across the world's third highest mountain road (Chang La) to the extraordinary Pangong Tso Lake, is one that shouldn't be taken lightly. But after spending five days acclimatising in Leh (altitude 3500 metres) – and even though I was still experiencing some slight difficulty in breathing – I felt I was ready to make the 280km return journey on what would turn out to be possibly the roughest road I've ever travelled on.
In the back of a taxi.
There are actually a few options on how to make the journey. The most exciting would appear to be by motorbike. And good luck to anyone who has the guts to do so. I chose to join in with a group of four other Indian tourists in a shared seven-seater taxi. This is actually a common form of transport to the most rural areas of Ladakh. The prices are fixed by a regional taxi union and the costs are then divided amongst the number of travellers. In fact, you often don't know how many people you'll be sharing with or how much it will cost you until you're picked up on the morning of the journey.
The first 45 minutes or so were fairly straightforward. If you can class driving through desert landscapes dotted with ancient hilltop monasteries and palaces, and surrounded by the craggy peaks of the Himalayas as straightforward.
But very soon after, we began to climb and the road started to take on a – should we say – unfinished look. Before long we were driving along the side of a mountain on a pot-holed track that had literally been covered in snow for the best part of six months. Meanwhile, labourers were busy breaking rocks at the side of the road so that quick-fire repairs could be made in anticipation of heavier tourist traffic as the season progressed. Heavy-duty work at sea level, nevermind at 4000+ metres above.
A glimpse out of the car window to my left revealed just how far we'd climbed in such a short space of time. Down in the valley, set between incredibly barren yet beautiful mountains, was a green oasis of crop fields. And, in the background rose the snow-capped peaks that were a permanent feature of our stay in Ladakh.
The road continued to zig-zag it's way along the mountainside and across the valley, as we relentlessly climbed towards the summit of the Chang La pass. The ride was becoming increasingly uncomfortable, too as our driver tried to negotiate the sometimes appalling road conditions. 
Meanwhile, the landscape was becoming even more barren and the only splash of green vegetation was visibly shrinking with every turn of the road. Stopping to take photographs was out of the question so I had to make do with snapping through the car window – which isn't easy when the car is jumping around so much that you're in danger of your head smashing against the roof – which mine did on at least three occasions.
The relentless drive to the summit of Chang La wasn't without its rewards
Reaching the Chang La summit
When we finally made it to the summit, the landscape had changed once again. Although it was still very barren there was now a substantial amount of snow – hardly surprising as we were at the distinctly chilly altitude of 5400 metres (17,688 feet). Of course, the oxygen levels here were even lower than down in Leh, which became very apparent as soon as our driver parked the car and I got out to take some photos.
The thinness of the air and the lack of oxygen made just standing around a distinctly uncomfortable experience. I could only manage short gasps of breath, which I found quite difficult to maintain as it seemed so unnatural. And, combined with the coldness of the air, this was quite simply an experience I wasn't too keen to extend.
Nevertheless, I did manage to get some shots which perhaps give a sense of how desolate and remote this mountain road actually is.
Looking back from the summit of Chang La
Back on the road again we now entered a section of the pass which we were warned was particularly prone to avalanches. And this was brought into stark perspective as we passed the skeletal remains of at least three vehicles which had literally been swept off the road and down into the valley below. If we needed any reminder as to how susceptible we were to the random nature of natural disaster this was it.
Once we were through the "avalanche-zone" the road descended into a wide expanse of sand and the occasional splash of frozen ice. A bizarre combination you'd think, but as a 'high-altitude desert" it's one that's common throughout the year in these parts.
One of the hazards of travelling in India's northern-most state is having to obtain an "inner-line permit" and producing it, along with your passport, at the regular roadside checkpoints. Because of the border security issues with both Pakistan and China, the Indians are keen to keep a tight reign on who is travelling within the area at any one time. But in true Indian red-taped, form-filling style, this can lead to delays – as we experienced while we waited for a troupe of bikers in front of us to get their authorisation to continue.
Still, it allowed those who needed it the opportunity to enjoy one of India's favourite male pastimes – emptying one's bladder against the nearest wall.
Forms filled, passports checked and bladders relieved, the small convoy of bikes and jeeps continued on their way on what was to be the most scenic part of the whole journey.
The mountains at the side of the valley now took on a variety of pastel colours – of greens, reds, purples and grey, topped occasionally with brilliant white.
Pastel shades on a huge scale
Arrival at Pangong Tso Lake
It was almost as if the pale, colourless landscape was gearing up for the climactic entrance of the fabled lake that was only a matter of a few kilometres away.
Indeed, our first glimpse of Pangong Tso from our elevated position was a deep blue pocket of water that almost looked like it had been superimposed on to the multicoloured pastel shapes of rock and sand.
When we reached the lakeshore some 20 minutes or so later, it became clear why this has become one of the must-see attractions of Northern India. The lake itself was a mixture of turquoise and deep blue, which contrasted with the pastel colours of the mountains surrounding it.
Breathtaking.
Pangong Tso Lake in all its multi-coloured glory
Domestic tourists have started to visit here in larger numbers since the final scene from Bollywood film "The Three Idiots" was shot here a few years ago. As a result, most head straight for the spit of sand known as The Shooting Point to get their commemorative selfie or family portrait against the stunning backdrop.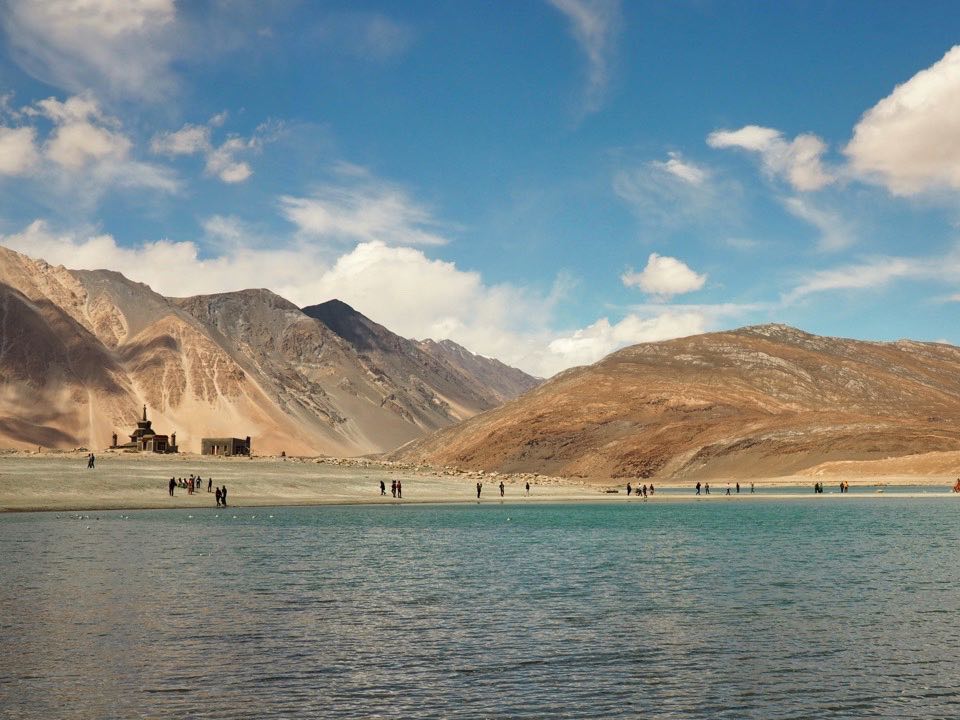 Selfies and family portraits are the prizes at The Shooting Point
Instead, I headed east along the lakeshore, towards the border of China (or Tibet, if you prefer) within which two-thirds of the lake actually lies. Unfortunately, I only had an hour or so to explore before our car was set to return to Leh (we'd lost two hours at the beginning of the journey trying to find the guest house of two of our co-travellers).
To be honest, walking too far in the oxygen-starved air was not an option for me anyway. But it did give me a sense of how remote this gorgeous place is as I wandered around just taking in the raw beauty of my surroundings and shooting photographs without another soul in near-sight.
All-too-quickly it was time for us to make the four-hour journey back to Leh. Naively, I agreed to swap my middle seat with one of our party for a back seat which made for a bone-shattering experience I'm not looking forward to experiencing anytime soon.
Overall, we spent nine hours on the road, which makes for a challenging day-trip (the journey there was longer due to the increase in altitude and stops at checkpoints). There are options to stay overnight in tents around the lake, but I'd heard these can be expensive and extremely cold. 
Without any improvement in the road conditions (which seems unlikely in such a harsh landscape) I can't imagine the place is going to get overrun with tourism anytime soon. But there's already a sizeable lake-side restaurant/cafe complex, which doesn't sit too well in the sublime setting.
But if you like your road-trips raw, exhilarating and blessed with the kind of mountain and lake scenery you're unlikely to see anywhere else, then this is one journey you really shouldn't miss if you're visiting Ladakh.
Related articles
…or visit our India page.
What did you think? Have you been to Pangong Tso Lake? What was your experience there? Or even just getting there? We'd love to hear from you, either way so please add your comments below. 
To help us maintain our site we work with a number of partners who we've personally used and can recommend to our readers. If you decide to purchase any products through the following links, we'll receive a small commission at no extra cost to you. Thank you for your support!
Hi, we're Ian and Nicky, an English couple on a voyage of discovery around the world, and this blog is designed to reflect what we see, think and do. Actually, we'd like to think it also provides information, entertainment and inspiration for other "mature" travellers, too. So please feel free to pour yourself a glass of something suitably chilled and take a look around.