I've always had a soft spot for elephants. Rather than the lions and tigers, they were always the highlight of any trips to Chester Zoo when I was a child. Far from being just big lumbering beasts, I saw them as graceful, gentle creatures, and I remember standing there transfixed by how they used their mighty trunks to eat, drink, wash and work.
So, when we landed in Sri Lanka, one of the must-do activities was to visit Minneriya National Park for an annual phenomenon known as "The Gathering", during which up to 200 wild elephants come together to feed and drink at an ancient reservoir in the middle of the park.
In years gone by this number would have been a lot higher, but as in other places of the world, elephant numbers have dwindled as a result of ivory poaching and a reduction in their natural habitat.
We took a jeep tour of the park, and to be fair were under no illusions that we would just be a select few who were lucky enough to get a close and personal encounter with the elephants. In truth, we saw more jeeps than elephants in the park – despite the hefty entrance fee – which does kind of reduce the experience to something more akin to a theme park.
Our jeep made its way along the battered and potholed dirt track through the jungle for around 30 minutes until the landscape changed to the green and blue of grassland and lake. No elephants in sight at this point, but after a further 20 minutes of searching we came across a group of 15 drinking next to the lake – though there were already a dozen or so other jeep parties who'd beaten us to it and were parked up in the best viewing positions.
Conservationists have already expressed their concern about the numbers of jeeps that are allowed into the park.  We witnessed some jeep drivers getting far too close to the pachyderms, probably at the behest of their customers, to get that "shot".  Our jeep driver at times infuriatingly moved further away but explained it was so that he wasn't blocking the elephant's path to the watering hole. Fair play!  Increasingly there are calls for all jeep drivers to have training from conservationists on how to behave around the elephants to avoid antagonising, or unduly upsetting them.  After all, let's not forget that elephants kill 50 people each year in Sri Lanka, and behaviour which encourages them to charge down vehicles isn't going to improve that number.  Jeep driver training can't come quickly enough if we are to enjoy this sight for many more decades.
It was just an honour to watch the small herd, old and young, drinking, eating and playing in their natural surroundings. One old lady, who seemed to have something of a dodgy rear left leg, was on her own nearest to our jeep and decided that she was far too clean. So, with some nifty trunk action, she proceeded to cover herself with dirt – which Nicky managed to capture on camera with some nifty work of her own.
We moved on to other sites around the reservoir and saw two more small herds, both around 20-strong. As in most family gatherings, there was at least one infant who'd turned pretty stroppy and stormed off into the bush – followed by its scolding mother who trumpeted away as if admonishing a spoilt child. Suffice to say they both re-appeared after about ten minutes, and I'm sure there was a sheepish look on the face of junior. A bollocking of elephant-sized proportions, no doubt.
Further on we saw two young bull elephants messing around like a couple of teenagers – chasing, wrestling and generally annoying the hell out of each other. And this spilled over into the lake, where things got considerably wetter.  Bull elephants are expected to leave the herd once they reach their teenage years (9-17) and in some instances this is forced on them by the matriarch, or big boss lady elephant, to avoid interbreeding.  As a result, they live somewhat nomadic lives, or wander around in packs with other young bulls, looking for willing females to mate with.  Watching these two young bulls we wondered if this was what was happening as they were being scrutinised very closely by a discerning lady elephant!
We didn't actually get to see "The (much-touted) Gathering". More like mini-gatherings in different parts of the park, along with a whole host of wading birds. But it was the kind of moments described above that really made the difference for us. Even though there were plenty of camera-toting tourists (including us), ferried around in an army of jeeps, the elephants seemed to be able to just get on with their lives as normal. Or as close to normal they can get with hundreds of prying eyes and camera lenses in close proximity.
Outside of the park we also got a sense of how close rural communities and elephants compete for the same space. While staying in Sigiriya, a few miles west of Minneriya, we heard what sounded like gunfire during the night. Our guest house owner explained to us the following morning that the noise was, in fact, firecrackers set off by locals trying to persuade roaming elephants to leave the streets of the village and return to the jungle!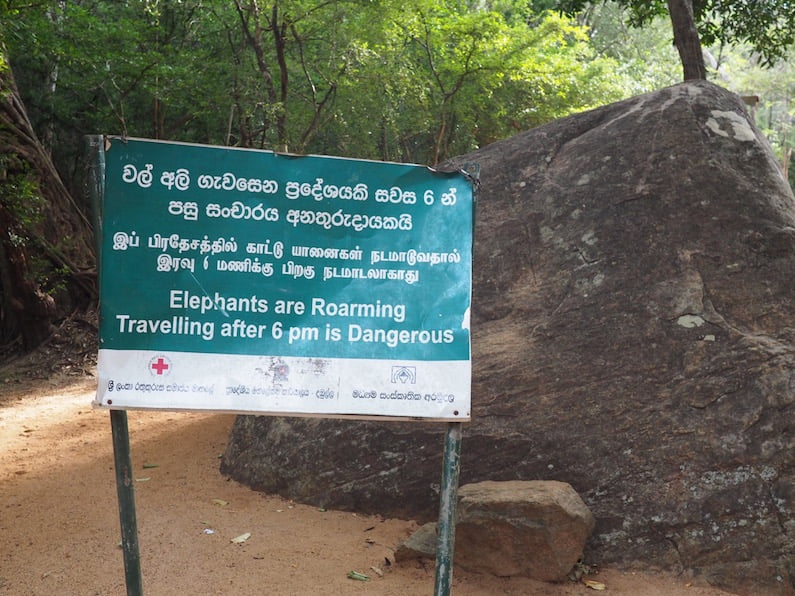 In fact, our tuk-tuk driver, having picked us up just before sunset from a Sigiriya viewpoint, was on constant lookout for "roaming" elephants as he cautiously made his way back to our guest house.
Unfortunately, our other encounter with Sri Lankan elephants was not so special.
We hadn't actually planned on seeing Kandy's annual Esala Perahera festival, but one of us had somehow managed to leave our passports and other travel documents in a Kandy guest house, which we only found out about when we were a four-hour bus ride away in Anuradhapura. So, as we had to return to Kandy a few days later to pick them up we decided to stay the night and go and see the festival for ourselves.
Steeped in tradition that goes back centuries, this is one of the most spectacular religious ceremonies in Asia, lasting ten whole days. Legend has it that back in the 5th Century BC when Lord Buddha was cremated, one of his followers had the foresight to steal one of his teeth from the burning pyre.  This tooth was then smuggled by a princess into Sri Lanka, where the King showed how pleased and proud he was to have it in his possession and paraded it through the city with great pomp and ceremony.  The coveted canine normally resides in a casket in the Temple of the Tooth Relic in Kandy, and it is from this place that the yearly procession begins.
In its heyday, it featured hundreds of elephants as part of the procession, but nowadays there are just 50 involved. We guessed beforehand that the elephants would probably not be in the best condition, but we decided to see it first hand before passing on any comment.
Let me say first of all that we're not about to pass judgement on a sacred ceremony which has played a part in a proudly religious nation's traditions for hundreds of years. And we only saw about an hour's worth of the three and half hour ceremony as yours truly was running a fever, most likely picked up from a spot of sunstroke the day before. But the sight of elderly-looking elephants in chains, marching in tandem with whip crackers, fire throwers and choruses of drums, left us feeling slightly sick to the stomach.
The image that sticks with me the most from my roadside seated position, is the huge leg of an elephant passing by with a chain wrapped around it and a number of further chains dangling from its neck. I watched as the elephant's eye peered around from within the small gap in the bejewelled cape that covered it and wondered what it must have been thinking. Hard to tell I suppose but we couldn't help feeling that its thoughts weren't anywhere near as positive or joyful as those of the elephants we'd seen days earlier at Minneriya.
Yes, the festival was colourful and spectacular. And, judging by the crowds that were crammed along the streets, still incredibly popular with locals and tourists alike. But it just wasn't for us. In fact, we would have still left early even if I hadn't been suffering from a fever.
A case of animal cruelty or merely tradition taking priority over animal welfare? Again, as casual observers, I don't think we're best placed to judge. We don't know how well they're treated outside of the festival and what, if any, welfare measures are in place to minimise any suffering. But, we left with the sense that we'd seen the plight of elephants in Sri Lanka from two opposite ends of the scale.
Related articles
…or visit our Sri Lanka page.
What did you think? Have you been to Minneriya? Or perhaps you've witnessed Esala Perahera yourself? Either way, we'd love to hear from you so please add your comments below.