TARABUCO MARKET – IN SEARCH OF THE AUTHENTIC BOLIVIA
TARABUCO MARKET – IN SEARCH OF THE AUTHENTIC BOLIVIA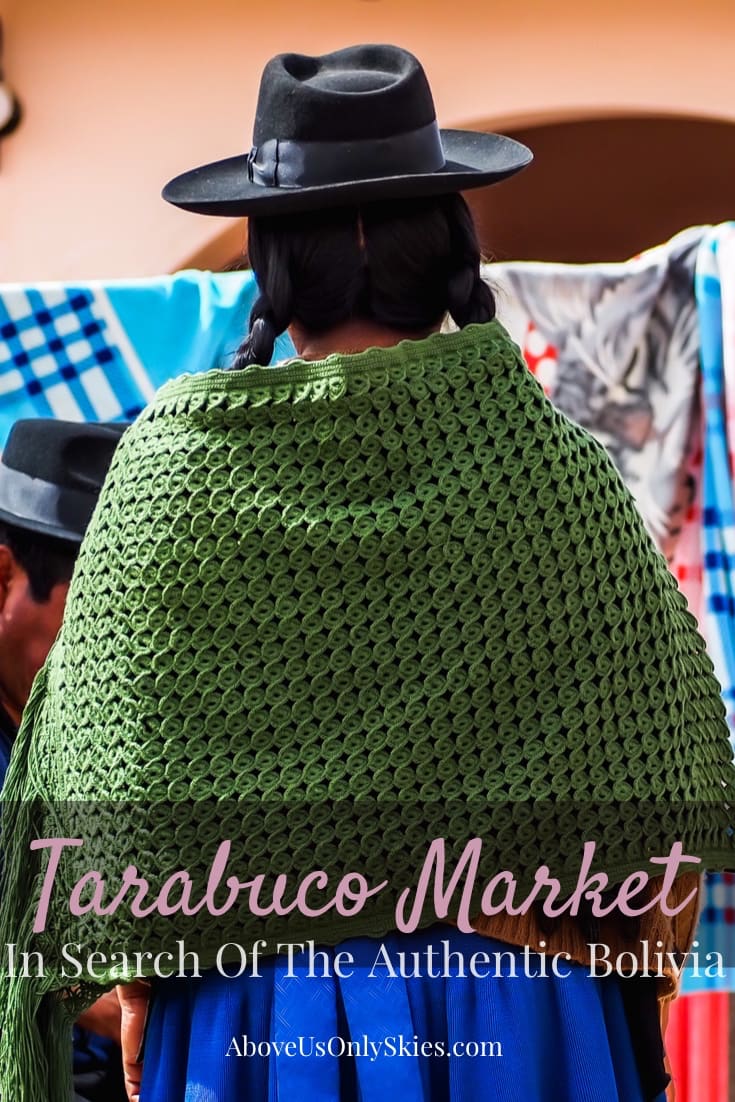 Part of the joy of visiting Bolivia is to come into contact with the numerous indigenous cultures that exist in this astonishing land-locked country.
Indeed, following a change to Bolivia's constitution in 2009, there are now 36 recognised ethnic groups representing over half of the country's population. And more than two-thirds of the population are either 100% ethnic or mestizo, meaning mixed with European descendants.
Whether you're exploring the countryside or wandering around major cities such as Sucre or La Paz, you'll see plenty of people from Aymara, Quechua or other indigenous groups wearing traditional dress while going about their daily lives.
But perhaps the best way to immerse yourself in authentic Bolivian culture is to take a trip to Tarabuco, a lovely hillside town 65 kilometres southeast of Sucre. And, specifically, to the Sunday market where the local Yampara people have held a weekly textile market for centuries.
Here's what you'll find if you decide to go.
Contents
This page contains affiliate links. To help us maintain our site we work with a number of partners who we've personally used and can recommend to our readers. If you decide to purchase any products through the links on this page, we'll receive a small commission at no extra cost to you.
At an elevation of nearly 3,000 metres (9,900 feet), Tarabuco is a rural market town that's both remote and unique.
For six days of the week, its mains square is a relatively quiet place overlooked by the gruesome statue of a Quechan fighter holding aloft a bullhorn in one hand while looking down at a freshly ripped heart from a Spanish conquistador in the other. Subtle it isn't but it serves as a symbol of the fierce independent spirit of the indigenous community.
The town's fame comes from both the Sunday market and the annual Festival of Pujllay, which takes place over the third weekend in March.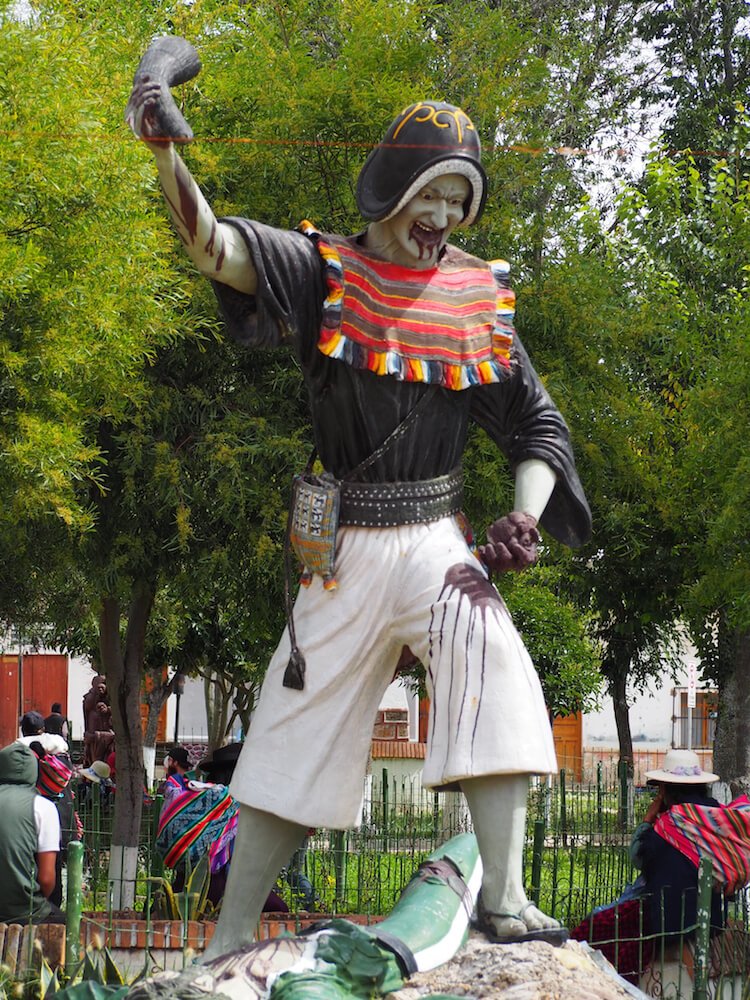 Statue of a Quechuan fighter in Tarabuco's main square
Every Sunday, the town transforms itself into a large, open-air market attracting hundreds of local people from the surrounding hillsides who come to sell their hand-made goods such as aguayos (shawls), hats and tapestries. Some of which will have taken months to produce.
And, as word has spread over the years, it's also become a popular day trip for tourists from nearby Sucre.
The main attraction for visitors is the authenticity of the whole affair and the chance to mingle and interact with people wearing their traditional Yampara clothes. Indeed, a leisurely wander through the streets of the market is like stepping into a way of life that hasn't changed for generations.
To be fair, much of the goods on offer are now factory-produced cheaper versions from Peru, which many Bolivians themselves prefer to use. Perhaps not surprising as the hand-made versions can cost up to six times the amount. So, although bartering is an acceptable part of the buying process, just be aware of the amount of effort put into producing that intricately designed hand-woven garment before trying to haggle your way to a bargain!
Although it's ostensibly a textile market, it also doubles as a food market. And once again, it's fascinating to watch how the locals interact with the fruit, vegetable and meat sellers.
There's also plenty of food to eat from make-shift street-side stalls and in an open-air food court. Expect plenty of traditional dishes such as chicharrón (deep-fried pork) and mondongo (a fatty pork dish served with potatoes and corn).
A word of warning. Don't leave it too late to arrive. Between 9 and 10am would be a good time, and be aware that the whole thing starts to close down around 2 pm.  There aren't any ATMs in town and don't expect stall holders to accept credit cards. So bring cash in small denominations.
And, once you've finished strolling around (perhaps allow a couple of hours or so) just grab a space on one of the benches in the main square and indulge in a spot of people-watching before heading back to Sucre.
Despite being Catholic (a religion imposed on them by the Spanish conquistadors), the Yampara people also believe in Pachamama (the Mother Earth god), as they've done for centuries. And this apparent contradiction is also apparent in Sunday Mass where the local Quechua language is spoken rather than Bolivian Spanish.
They're traditionally a weaving community with a proud heritage, which manifests itself in their wearing of outrageously colourful traditional clothing.
For example, men usually feature huge ponchos (or capes) that almost touch the floor. Women wear multi-coloured socks, pleated skirts and (as elsewhere in Bolivia) aguayos (woven wraps that are tied over the shoulder and used to carry everything from washing up to food and children).
Pride of place, however, goes to their headwear. Hats of all shapes and sizes are worn, each one with its own cultural significance. Some are extravagant. Others are simple. Some are worn to show whether a woman is single (and possibly "available") or married. Others are specific to the community.
They're fascinating to observe. And, having watched a local lady studiously trying on a range of hats at a street-side stall certainly impressed on me how important it is to have the right look.
The Sunday market is most definitely the major event of the week. But, once a year during March, they gather for Mass before spending the weekend celebrating the Festival of Pujllay through music and dance. And by drinking copious amounts of chicha (an alcoholic and non-alcoholic corn-based drink).
As you might expect, they're particularly wary of foreign tourists poking cameras and phones in their faces. Especially without asking. So, if you want to take photographs we'd suggest either ask first or use a zoom lens and take the shots discreetly from a reasonable distance.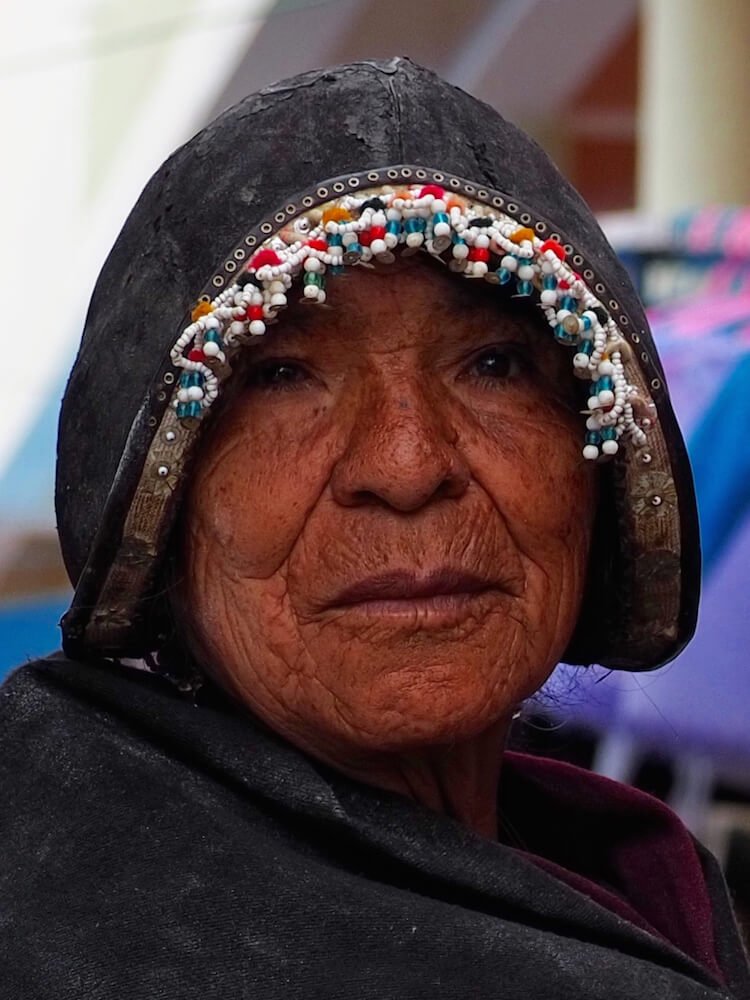 Unless you've got a car or camper van you're most likely to be visiting Tarabuco on a day trip from Sucre.
There are effectively four ways of getting there. But, for the full Bolivian experience we'd recommend catching the local trufi (minivan).
Leaving Sucre's Parada de Tarabuco at regular intervals (but only when they're full), the journey takes between 90 minutes and two hours. To be honest, the actual journey time depends on the aggressiveness of your driver rather than any potential traffic issues. So a steely nerve is a pre-requisite.
But you'll want to be on your way by 8 am if you want to make the most of the market. In 2019 the fare was 10 bolivianos (£1.15 / $1.45) each way.
Alternatively you can go on an organised tour. You'll see plenty of signs for them in Sucre and at your hostel/hotel.
Taxis are a relatively inexpensive and convenient option if there are three or more of you. And, for the more adventurous, you can visit Tarabuco as part of a multi-day hike. Details from the backpacker hub that is Condor Trekking.
Final thoughts on Tarabuco
Tarabuco and its market are now firmly ensconced on Bolivia's Gringo Trail. But it's not yet at the point where its overrun with tourists. Sure, there are some obvious stalls and goods for sale purely targeted at foreign tourists. But for the most part, it retains an authenticity that's hard to ignore.
And even if you don't buy yourself a colourful aguayo or an extravagant hat for those chilly nights back home, you'll find it difficult not to get swept away by the sheer atmosphere of the place.
What did you think? Have you been to Tarabuco? Do you have any recommendations to add? Either way, we'd love to hear from you so please add your comments below.
To help us maintain our site we work with a number of partners who we've personally used and can recommend to our readers. If you decide to purchase any products through the following links, we'll receive a small commission at no extra cost to you. Thank you for your support!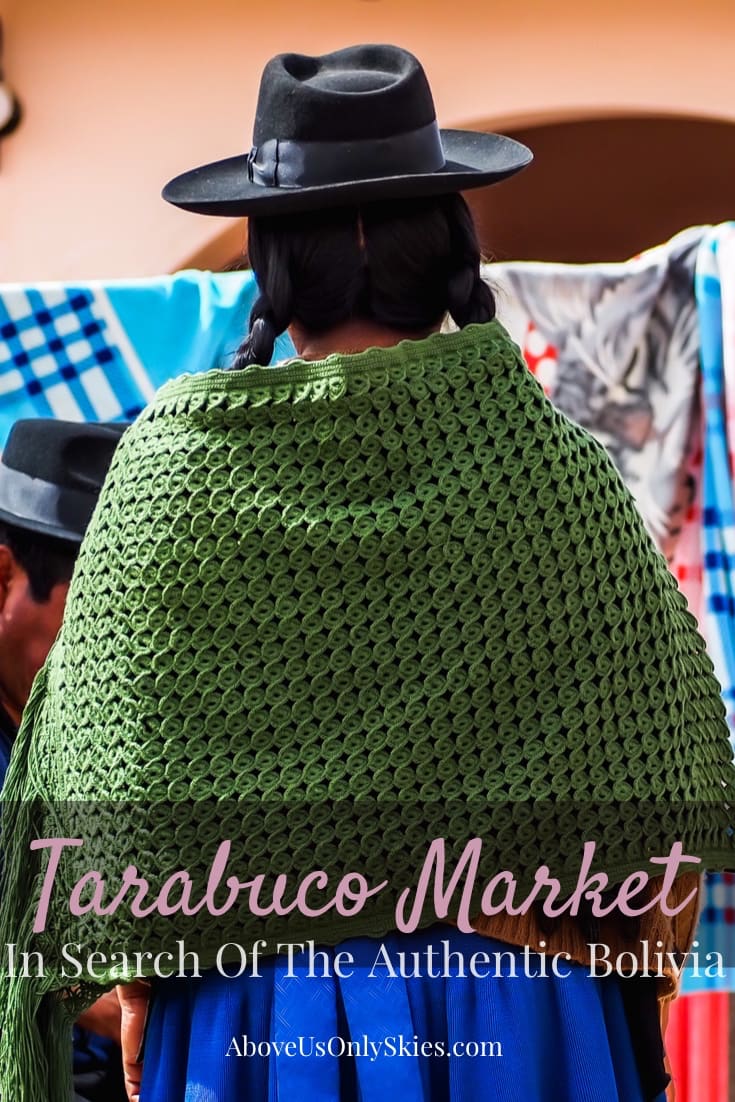 Hi, we're Ian and Nicky, an English couple on a voyage of discovery around the world, and this blog is designed to reflect what we see, think and do. Actually, we'd like to think it also provides information, entertainment and inspiration for other "mature" travellers, too. So please feel free to pour yourself a glass of something suitably chilled and take a look around.