THREE NEW ZEALAND WALKS YOU WON'T WANT TO MISS
New Zealand's South Island is quite simply a walker's paradise.
Blessed with miles upon miles of walking tracks through ancient rainforests, alpine mountains and spectacular coastline, it's impossible not to get caught up in the desire to seek out the next incredible experience.
Although some tracks are privately owned, the vast majority are owned and maintained by the government's Department of Conservation (DOC), which also provides cheap camping and hut accommodation along the way.
Many backpackers head for one or more of DOC's famous nine Great Walks, such as the Milford, Routeburn and Heaphy Tracks. These typically take 3-5 days to complete from A to B and cross the sort of pristine wilderness that's only accessible by foot. However, as they are one-way routes, they would have been impractical for us and our camper van. So, instead we opted for as many half and one day walks as we could manage.
Here are three of our favourites New Zealand walks you should definitely not miss on your South Island adventure…
This page contains affiliate links. To help us maintain our site we work with a number of partners who we've personally used and can recommend to our readers. If you decide to purchase any products through the links on this page, we'll receive a small commission at no extra cost to you.
1. Hooker Valley Track, Aoraki/Mount Cook NP
Terrain Alpine mountains, glaciers, lakes, waterfalls
Length 10km return
Time 2h 30m
Difficulty Easy
Probably our favourite one-day walk in New Zealand. And it's definitely one to plan for a sunny day.
The start of the track is situated right next to DOC's White Horse Hill campsite, in the shadow of New Zealand's highest mountain, Mount Cook. So, after an overnight there we set off at around 8 am. This turned out to be a smart move as we pretty much had the track to ourselves.
After a couple of hundred metres, we detoured to our left to take a look at a memorial dedicated to people who'd died trying to climb Mount Cook and its surrounds. These were people who had seemingly died in the pursuit of something they loved doing. And its location, looking out towards Mount Cook, made it all the more poignant.
We continued for a further couple of hundred metres or so and then the landscape suddenly changed as the rushing, grey water of the Mueller River flowed under a gorgeous swing bridge, connecting our track with the Hooker Valley itself.
Crossing the bridge gave us the chance to see Mueller Lake in all its silvery-grey glory.
From there it was a fairly flat path of gravel and boardwalk as the track meandered through the valley, crossing more swing bridges along the way. Meanwhile, we passed glaciers on our left which looked like monumental tooth-fillings and the snowy peak of Mount Cook loomed ahead.
Finally, we arrived at the iceberg-dotted glacier lake, which we had largely to ourselves. This was definitely a positive pay-off for starting out at 8 am. And it would be crowded soon judging by the numbers of people we passed walking there on our way back.
A glacier lake, complete with icebergs!
At the lake, we followed a small track to our left which took us to the lake shore and closer to some of the smaller icebergs. With a bottle of gin and several bottles of tonic water in the back of our van, Nicky couldn't resist plucking a mini-iceberg from the shallows in the hope of dropping it into a glacier-inspired G&T back at the campsite. Predictably all that remained back at camp was a plastic bag and a small pool of water.
Learn from our mistake: Decant some gin into a small water bottle and take it with you in your daypack, along with sufficient tonic water and plastic glasses for the ultimate glacier G&T!!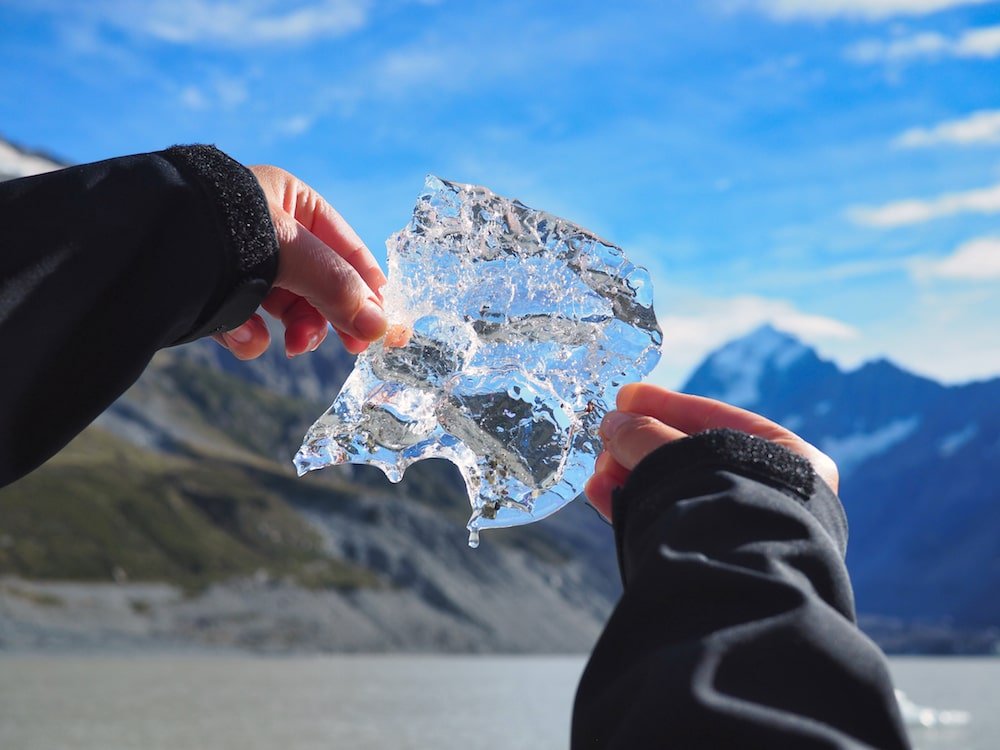 "Think I'm going to need a bigger glass…"
Also, try…
Tasman Glacier View 
Just a few kilometres away, this is a much shorter (2km) but also steeper track to another glacier lake. While the track itself is not as rewarding as Hooker Valley, the view out across the lake and back towards Mount Cook is superb. And the icebergs are much bigger, too. In fact, as an option, you can take a kayak tour out on the lake for a much closer look.
Sealy Tarns
Also accessible directly off the DOC campsite, this one is definitely a lot more challenging. In fact, it climbs sharply, via 2500 steps, to an awesome lookout over the Hooker Valley. Forget it if your knees are a bit delicate as the return journey will have them begging for mercy!
2. 

Wharariki to Pillar Point Lighthouse
Terrain Off-shore limestone arches, sand-dunes, headland cliffs
Length 8km return
Time 2h 30m
Difficulty Moderate
This walk is about as varied as it can get within a space of two to three hours.
Starting at the car park at Wharariki (pronounced Fara-reeki), a 15-minute walk over farmland brought me out on to a simply stunning beach like no other.
Large sand dunes at the entry point eventually gave way to a vast expanse of clean white/grey sand. And just beyond the water's edge were spectacular rock formations, including one with a couple of arches. And, to cap it all, tiny seal pups were playing in a small pool left behind by the receding tide. Just stunning.
Only one problem. Because of its location on the North West tip of the island, it gets literally battered by a gale-force wind that whips up an almost permanent mini sandstorm. Not ideal for a gentle stroll or for dropping a towel down for an hour or so.
Which is just as well I suppose because there's a fantastic walk to be had, leading off eastwards from the rear of the beach.
This was very much sand-dune territory, which meant great foot-surfing down the side of steep, virgin white banks of sand. As a result, the track was pretty difficult to follow at this point and I had to retrace my steps one or two times until I finally spotted the orange marker heading up into the bush beyond a river that flanked the dunes. As I made my way up the track I was able to look back at the beach I'd left behind for one final time.
The track then rose steeply over farmland until, suddenly I was standing pretty much on the edge of huge headland cliffs, with just another strong wind and the sound of crashing waves on the rocks below to keep me company.
The track then continued along the cliff edge, with regular signs asking me not to stray away from the footpath. Sound advice as the gusts of wind were both strong and unpredictable.
I reached Cape Farewell after about an hour. It's an awesome rocky bay flanked by limestone cliffs and iconic arch. And down in the turquoise water below, I could see fur seals playing around.
The spectacular Cape Farewell
Continuing steeply up and down along the cliffs, I walked over more farmland and eventually up to Pillar Point Lighthouse. And just beyond was another sensational view, this time over Farewell Spit, a 25km spit of sand that stretches out at the very tip of the island.
Overall, a sometimes strenuous walk, you need to have your wits about you when the wind gets up. The track is not always obvious and you need to look out for the orange-flagged markers ahead. Again, I wouldn't have liked to have attempted it in bad weather.
Also, try…
Farewell Spit
Drive over to the car park at Farewell Spit and complete the 4km loop walk along both the Golden Bay and ocean beaches. To be honest, the Golden Bay side wasn't much to look at when we were there at low tide. But once we switched over to the ocean-side we were again confronted with an almighty beach. Only this time it was fronted by sand dunes and battered by an even mightier wind than at Wharariki.
The spit is actually 25km in length but only 4km of it is accessible by foot. The remainder is a protected wildlife habitat but can be explored on a pricey 4WD tour.
The perma-windswept Farewell Spit
3. 

Rob Roy Glacier Track, Mount Aspiring NP
Terrain Rainforest, glaciers, huge waterfalls
Length 12km return
Time 4h 00m
Difficulty Moderate
In case you were thinking we're just another couple of fair-weather hikers, we walked this track in pretty miserable drizzly rain. But we were lucky that the clouds were high enough for us to get a good view of the mountains and the glacier.
It was quite a journey from Wanaka along a dusty gravel track until we eventually reached the track car park. From there it was an easy first 20-minute walk alongside the Matukituki River, until we reached a swing bridge.
Once over the bridge the track then steadily climbed up into the Rob Roy Valley through a forest of beech trees, accompanied by the constant thunderous noise of the river as it flowed beneath us.
The track continued upwards for another hour until everything opened out at the lower viewpoint of the glacier.
A further twenty minutes beyond and we arrived at the head of the valley. Rob Roy Glacier seemed to be clinging precariously to the rock face. Meanwhile, 1000-feet waterfalls were either plunging over the cliff edge or cascading down the side of the mountain face.
In fact, we counted 10, maybe 12 different waterfalls in all. Not a bad place to stop for a while and have a picnic lunch.
Unfortunately, the drizzle started to get more persistent so we had to cut short our stay in case the clouds started to close in, making our return trip more difficult. But there were still plenty of people making their way up to the glacier as we were walking back down. Just as we had timed our walk on the Hooker Valley Track to perfection, we also benefitted from making an early-ish start (10 am) on this one too.
It's not that we don't want to meet other people along the way. But there are places that are best experienced when there's just you and the sublime scenery.
The three outstanding walks here certainly qualify for that description. Which is why you should set your alarm early, pack your lunch (including the gin and tonics should you wish) and treat yourself to a feast of New Zealand wonderland.
What did you think? Have you tried any of these three New Zealand walks? Do you have any recommendations of your own you'd like to share? Either way, we'd love to hear from you so please add your comments below.
To help us maintain our site we work with a number of partners who we've personally used and can recommend to our readers. If you decide to purchase any products through the following links, we'll receive a small commission at no extra cost to you. Thank you for your support!
Hi, we're Ian and Nicky, an English couple on a voyage of discovery around the world, and this blog is designed to reflect what we see, think and do. Actually, we'd like to think it also provides information, entertainment and inspiration for other "mature" travellers, too. So please feel free to pour yourself a glass of something suitably chilled and take a look around.