Last updated: 15 September 2018
THE AMAZING TONGARIRO ALPINE CROSSING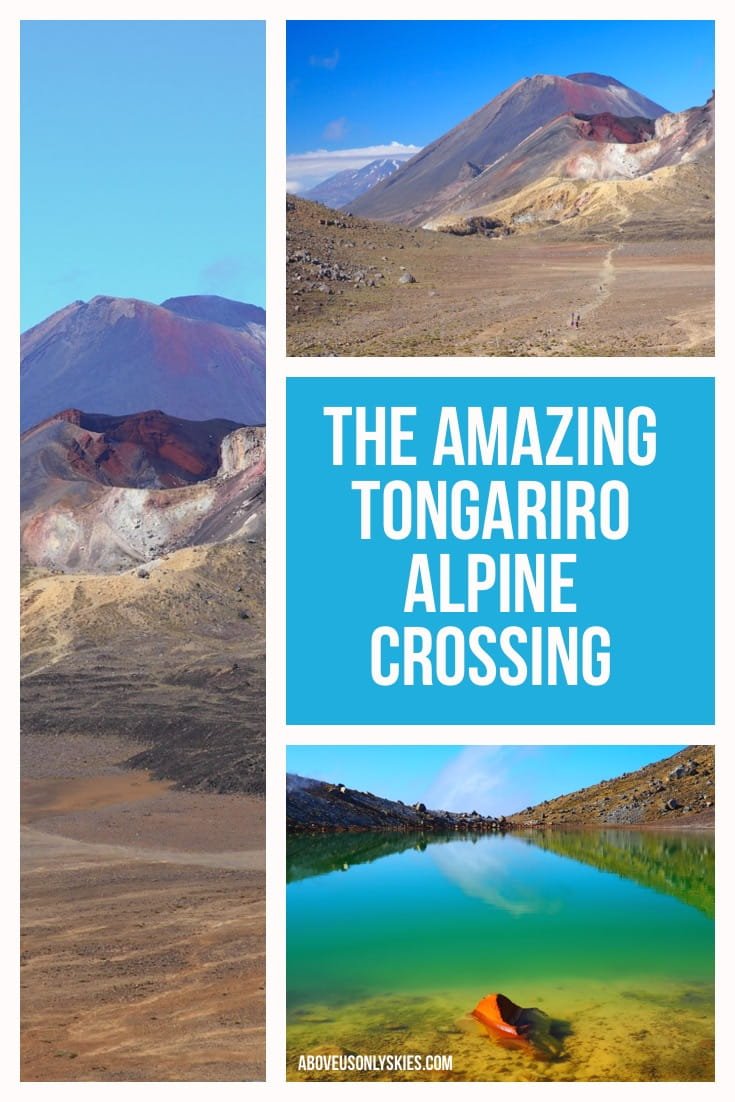 Last updated: 15 September 2018
It began with a 5 am alarm call. The campsite was still pitch black, the only sound coming from the hissing wind as it made its way past our side-awning like a ghostly march.
There wasn't even any time for my normally obligatory pot of fresh coffee before Nicky fired up our camper van and we inched our way out of the site en route to the car park at the start of the Tongariro Alpine Crossing, some 14km away.
The famed hike had been touted as New Zealand's best one-day walk and I was anxious to beat the crowds, who I'd heard would turn up between 7 and 8 am ready for something resembling a conga across the mountain.
Nicky had decided that the challenging 8-hour, 19.7km hike was probably a step too far for her so she'd offered to drop me off at the start and pick me up later on at the finishing point.
So there I was in the car park at 6.30am, suitably kitted out with numerous layers and a borrowed beanie hat, ready and willing to take on whatever the Tongariro Alpine Crossing could throw at me.
What followed was the most exhilarating day of hiking I've ever experienced.
Tongariro Alpine Crossing
Tongariro Alpine Crossing
Contents
This page contains affiliate links. To help us maintain our site we work with a number of partners who we've personally used and can recommend to our readers. If you decide to purchase any products through the links on this page, we'll receive a small commission at no extra cost to you.
The first hour or so was pretty straightforward, as I walked along a well-marked path which gently climbed, surrounded by shrub and the looming mountain peaks on either side. There were just a few people around me, mainly young Europeans who'd probably had the same idea as me about beating the crowds.
Everything was still fairly dark as the sun hadn't yet managed to climb above the mountain peaks. And then I managed to capture the moment when its rays made their first appearance, illuminating the peak of Mount Ngauruhoe with a single shard of light. Which seemed to continue upwards on its 90-degree trajectory like a laser beam.
Quite a sight to behold.
It also signalled the moment when the walking got somewhat more difficult. The steepness of the track increased and a boardwalk beckoned, interspersed with wooden steps between boulders of rock. A portaloo ahead seemed like a reasonable place to stop for a short while before pressing on, but after I witnessed one poor soul emerge from the tardis-like structure with an ashen-faced grimace I decided to pass on it, keep my head down and continue on upwards.
But, just when I thought the going was already getting tough, a sign at the side of the track brought home the reality of what lay ahead.
For the next hour, the going really did get tough. The climb upwards was relentlessly steep, although it was a pretty well-maintained track. Surprisingly it remained quite dark as the light from the sun was still fighting to establish itself inside the moon-like volcanic landscape. But that was all to change as I scaled one final set of steps before it emerged into a bowl of sunshine.
Mount Ngauruhoe to my right was now bathed in sunshine. I suddenly felt like the hike had started in earnest. And indeed the next three hours or so would include some of the most sublime scenery I've ever witnessed.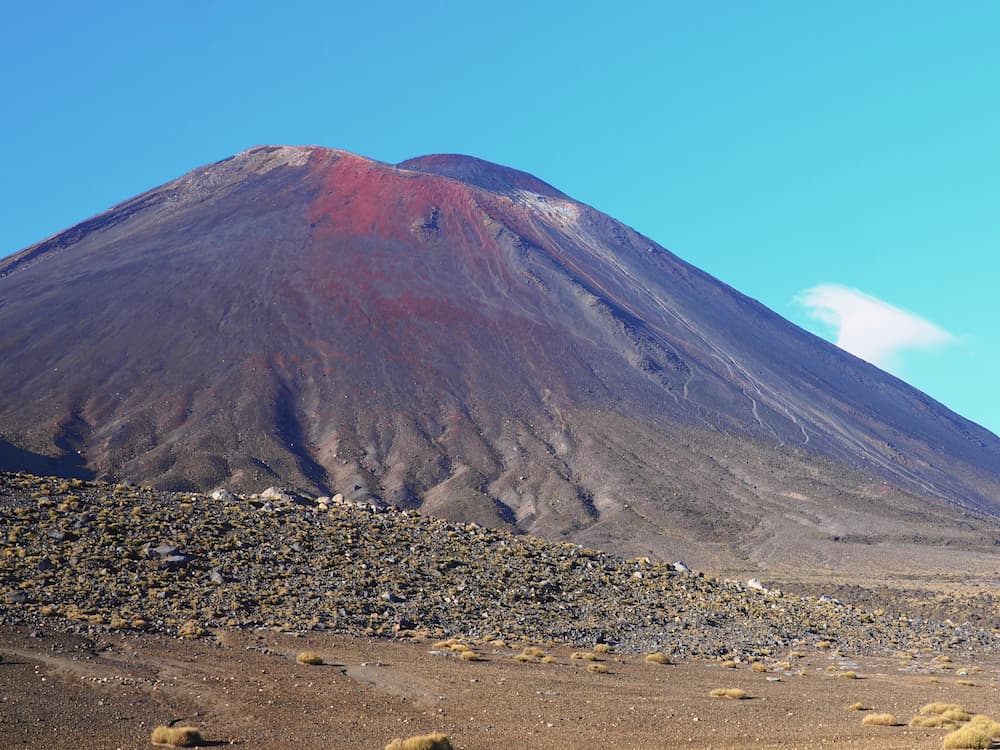 Mount Ngauruhoe now bathed in sunshine
After the frankly appalling weather we'd experienced in our first few days in New Zealand I was feeling slightly pessimistic about how it would pan out on this notoriously wet and windy hike. It was turning out to be quite decent though, so now that the sky was blue and the sun was beaming down I decided to peel off the layers (and beanie hat) to just a tee-shirt and shorts.
Which, of course, signalled the moment when the clouds started rolling in. Only they weren't really clouds. More like rolling mist that seemed to just cruise past like a mountain spirit. Quite surreal.
The final push for the summit involved negotiating a steep shingle slope, where every two steps forward were typically met with one step back down. A head-down, energy-sapping section I was really glad to get over with.
Once at the summit, the panoramic views were just staggering. Though the mist was still rolling around, I could see a vast lava field to my left surrounded by table-top mountains, while below me there were lakes carved into the black volcanic rock. Meanwhile, to my right, a huge chasm called Red Crater was infused with red iron deposits. An other-worldly place, indeed.
If trying to get to the top over the loose shingle was tricky enough, getting down the other side was even worse. It was then I remembered my old Austrian ski instructor's advice from way back in the 80's. Lean into the valley so that your weight is placed on your standing ski. Or in this case, foot. And, bugger me, it worked. So, confidence restored, I was able to practically slalom down to the first of the three emerald lakes. And, when the mist lifted, it was clear they really were emerald.
Not only that but the minerals in the water created a halo of reds and yellows around the perimeter. Meanwhile, fissures of steam were billowing out from the rocks on the lake shore.
This unique and beautiful place was not a place to rush by so I slowly made my way around the perimeter to take photographs from as many angles as I could, while the light played tricks with the colours.
The Tongariro Alpine Crossing
After 30 minutes or so I decided it was time to press on, convinced that I'd just seen the highlight of the hike.
Wrong.
The trail filed off to the left towards a vast, volcanic wonderland punctuated by a single track which disappeared off towards the horizon. I suddenly became aware of what the Alpine Crossing actually meant. The first two and a half hours had been a relentless climb but this was now the true crossing. It was difficult to take it all in, so huge was the panorama.
The actual Alpine Crossing was the easy bit!
As the trail continued to traverse the enormous lava field, the scene behind me unveiled the terrain I'd already crossed in spectacular fashion. Like a kid in a Christmas Grotto, the "wows" in my head kept repeating over and over.
And, bizarrely, as if I was in some sort of Trans-Alpine Marathon, I suddenly decided that the German couple who were closing in behind me weren't going to overtake before I got to the next ridge. So I found myself upping the pace, the surroundings inspiring me to almost Herculean bravery.
When the next ridge did arrive – and with the Germans still labouring in second place behind me – the payoff from four hours of pretty intense hiking was oh so worth it. Behind me was another panorama of spaghetti westerns, Middle Earth and Planet of the Apes all rolled into one.
And in front of me was a large, crystal clear blue lake just begging me to strip down to my trolleys and jump straight in. Unfortunately, the lake was out-of-bounds so I had to contend myself with gazing at it from above.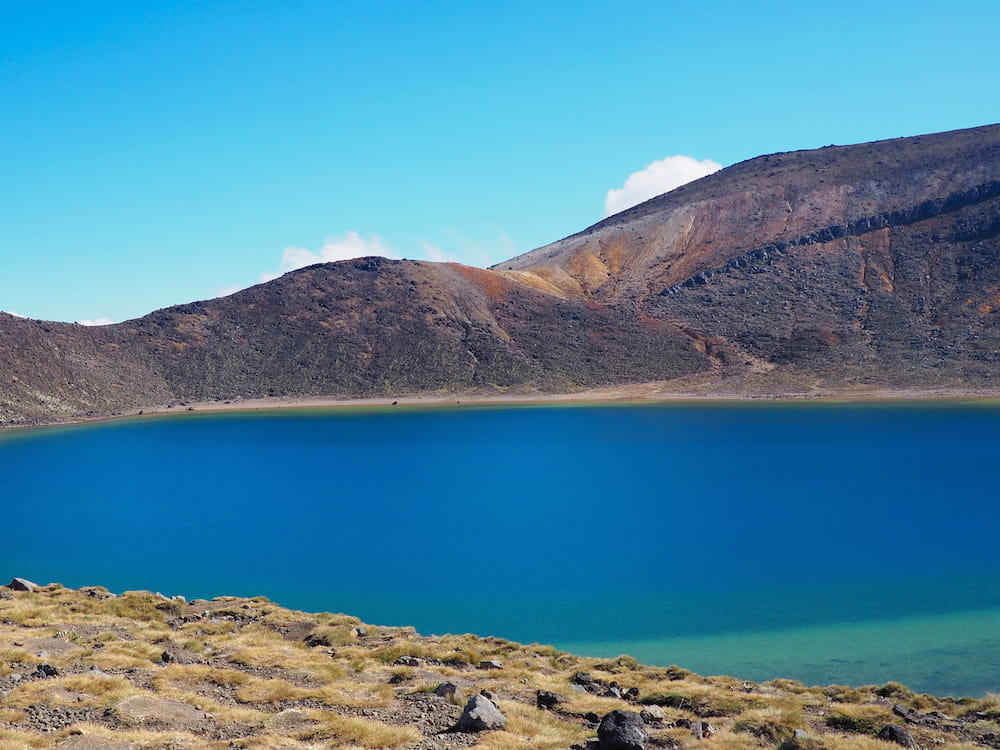 From here it was two and a half hours downhill to the car park, through a landscape that was totally different to what had passed before. Raw, volcanic mountains gave way to mountainside fields of grass and heather. It was almost an anti-climax but on its own, it was still a beguiling place to be wandering around.
As the track descended it entered a final section through thick forest before finally emerging at the less-than-attractive car park, where Nicky was waiting with the camper van.
Time for a cold beer and regaling tales of awesome volcanic landscapes, emerald lakes and imagined competitive heroics.
It had been an unforgettable experience. And I'd been lucky with the weather. Many people are disappointed because when the weather is poor, the crossing is impassable. But in my book, it should be on the To Do List of anyone visiting New Zealand's North Island.
Obviously, you do need to be reasonably fit, but it's not something that's only reserved for serious hikers. The most difficult section is near the summit where you have to negotiate shingle on a steep incline. Which can be a bit scary if you're already fatigued. But if like me, you believe in pushing yourself to go that extra mile in search of something really special, it's absolutely worth it.
Just do it at your own pace and leave the international competitiveness behind in the car park.
For more information on the crossing visit New Zealand's Department of Conservation page.
What did you think? Have you tackled the Tongariro Alpine Crossing? Or maybe you'd like to know more about it? Either way, we'd love to hear from you so please add your comments below.
To help us maintain our site we work with a number of partners who we've personally used and can recommend to our readers. If you decide to purchase any products through the following links, we'll receive a small commission at no extra cost to you. Thank you for your support!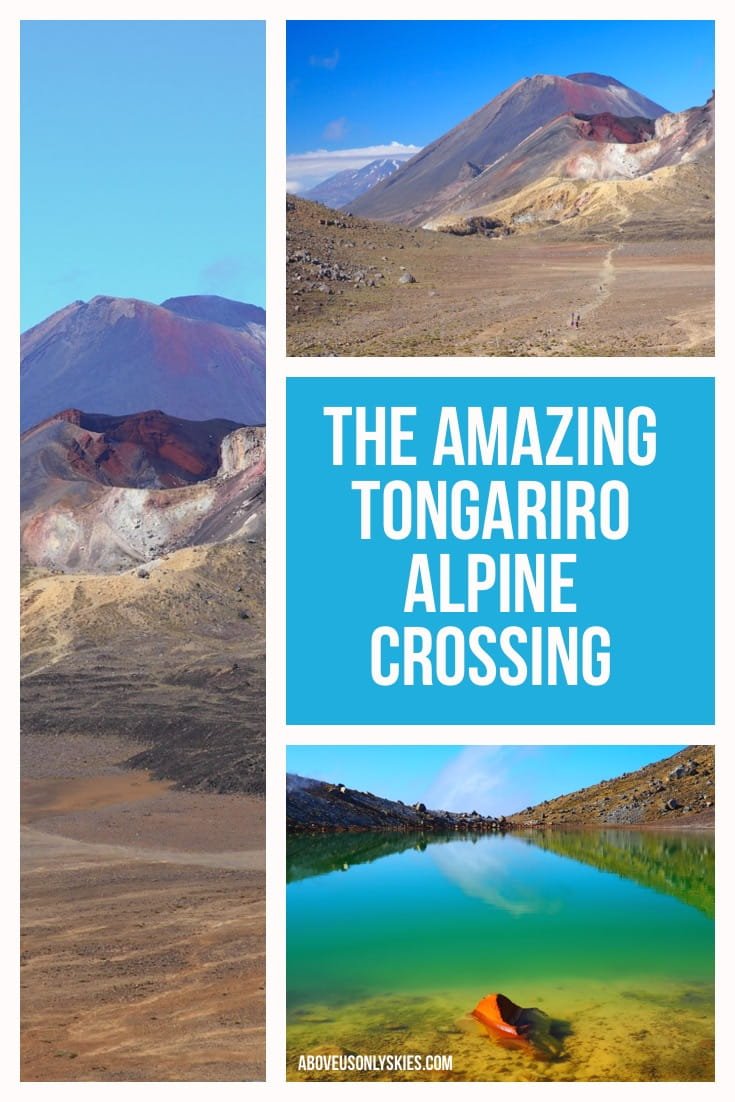 Hi, we're Ian and Nicky, an English couple on a voyage of discovery around the world, and this blog is designed to reflect what we see, think and do. Actually, we'd like to think it also provides information, entertainment and inspiration for other "mature" travellers, too. So please feel free to pour yourself a glass of something suitably chilled and take a look around.