HOW TO EXPLORE TORRES DEL PAINE NATIONAL PARK IN A CAMPER VAN
HOW TO EXPLORE TORRES DEL PAINE NATIONAL PARK IN A CAMPER VAN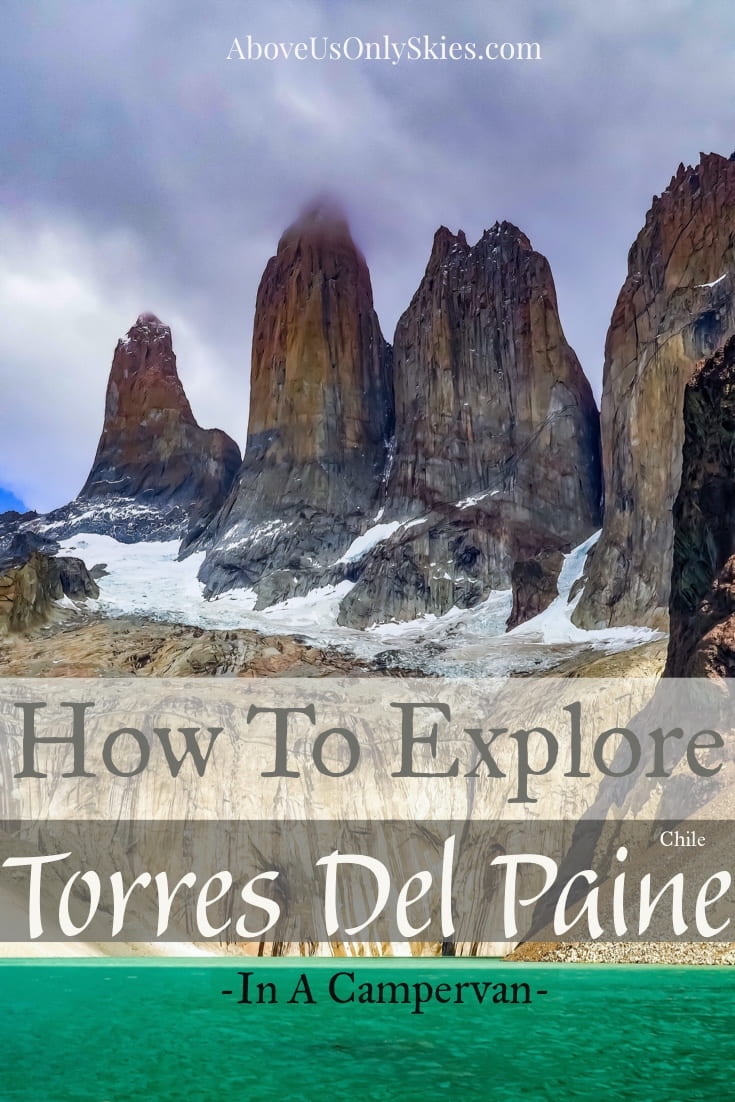 Touted by many as THE signature destination in Southern Patagonia, Torres del Paine National Park is a glorious mixture of piercing mountain peaks, mammoth glaciers and icy lakes of variable hue.
And, as a result, it's home to some of the best multi-day hiking in the world. Such as the revered five-day "W' and nine-day "O' circuits.
It's also home to some of the windiest and downright unpredictable weather on the planet.
So, for many, spending a week-or-so hiking in extreme weather conditions might just be a muddy step too far.
A relatively comfortable alternative is to explore some of the highlights of the park by camper van. Which means choosing shorter half-day and full-day hikes instead.
And that's exactly what we did.
Punta Arenas
Punta Arenas
Puerto Natales
Puerto Natales
National Park Entrance - Serrano
National Park Entrance – Serrano
Lago Grey Car Park & Mirador Ferrier Trail
Lago Grey Car Park & Mirador Ferrier Trail
Hotel Explora & Salto Chico, Lago Pehoé
Hotel Explora & Salto Chico, Lago Pehoé
Mirador Salto Grande
Mirador Salto Grande
Park Entrance - Amarga
Park Entrance – Amarga
Mirador Las Torres trailhead
Laguna Azul car park
Contents
This page contains affiliate links. To help us maintain our site we work with a number of partners who we've personally used and can recommend to our readers. If you decide to purchase any products through the links on this page, we'll receive a small commission at no extra cost to you.
About Torres del Paine National Park
Bordered by Argentina's equally impressive Los Glaciares National Park to the north, Torres del Paine forms part of the Southern Patagonian Ice Field, which is the world's third-largest body of ice.
Dominated by the Cordillera Paine mountain range, by far its most distinguishing features are the three granite Towers of Paine (or Torres del Paine in Spanish).
And, in addition to its geological wonders, the park is also home to a wide range of wildlife. Notably herds of guanacos, along with foxes, pumas and Andean condors.
Its reputation as a bucket list destination for mountaineers and adventurous backpackers alike has driven its number of visitors to over 250,000 per year. Which means that during the peak months of January and February, many of the campsites, refugios and multi-day hikes get fully booked in advance.
Indeed, visitors to the park tend to fall into one of four categories:
1) Backpackers who are there for the multi-day hikes
2) Day trippers arriving by bus or tour bus from Puerto Natales
3) Guided tour parties, including overnight stays in hotels or lodges
4) Camper vans and RVs.
The nearest airport is at Punta Arenas, 320 kilometres (200 miles) to the south and a four-to-five hour road journey away via Puerto Natales. If you're exploring the park by camper van, this is where you'll need to pick it up.
Alternatively, if you're heading to the park from the north, you'll be crossing the border from Argentina at Cerro Castillo as there's no direct road access to the rest of Chile.
Of the three entrances to the park, the most southerly is Serrano, which you can access by following Ruta 9 north of Puerto Natales before forking left on to the Y-290. From there you can drive around the park in a clockwise direction.
The other two entrances – Sarmiento and Laguna Amarga – can be accessed by continuing further north on Ruta 9 before forking left on to the Y-150. And, from there, you'll explore the park in an anti-clockwise direction.
We chose the Serrano entrance for no other reason than we'd been tipped off about an excellent wild camping spot just outside the park. And, after a five-hour drive from Punta Arenas, we wanted somewhere to bed down for the night that was close enough to give us a full day in the park the following day.
Another advantage of arriving via this route is the sublime view of the Cordillera Paine as as it slowly reveals itself across Lago el Toro.
When you arrive at the park entrance you'll need to register in the office and pay the 21,000 Chilean peso (currently £20 / $26 USD) entrance fee (between 1 October and 30 April – otherwise 11,000 pesos). And that's each, not per vehicle.
For camper vans and RVs there are just four free overnight options to consider. Namely, the three entrance car parks (Serrano, Amarga, Sarmiento) and the National Park Administration Centre.
And bear in mind you're not allowed to wild camp anywhere in the park.
View of the Cordillera Paine from the Y-290 road
View of the Cordillera Paine from the Y-290 road
Lago Grey and Mirador Ferrier
Having entered the park via the Serrano entrance, we arrived at the National Park Administration Centre where the Y-290 becomes the Y-150. Rather than continuing on towards Lago Pehoe, we took a left turn on to the gravel road towards Lago Grey. 16 kilometres later, we arrived at a car park close to the Lago Grey Hotel.
From there it's possible to take a short, easy walk through the forest and over a wooden suspension beach to the Mirador Lago Grey for a view of Glacier Grey at the opposite end of the lake.
The best views, however, come to those who climb. So we instead opted for the Mirador Ferrier Trail (accessed from the car park). After a relatively flat 20 minutes-or-so along the lake, the trail suddenly began to climb steeply. And continued to do so for the remaining three kilometres to the summit.
On the way up, an Andean Condor unexpectedly swooped to within a few feet of our heads. So much so that we could easily hear the sound of the air as it hissed around the huge wings.
Meanwhile, Lago Grey and its icebergs slowly came into view until, at the wind-ravaged summit, a full panorama incorporating Grey Glacier to the left, revealed itself.
View of Lago Grey and Grey Glacier from the Mirador Ferrier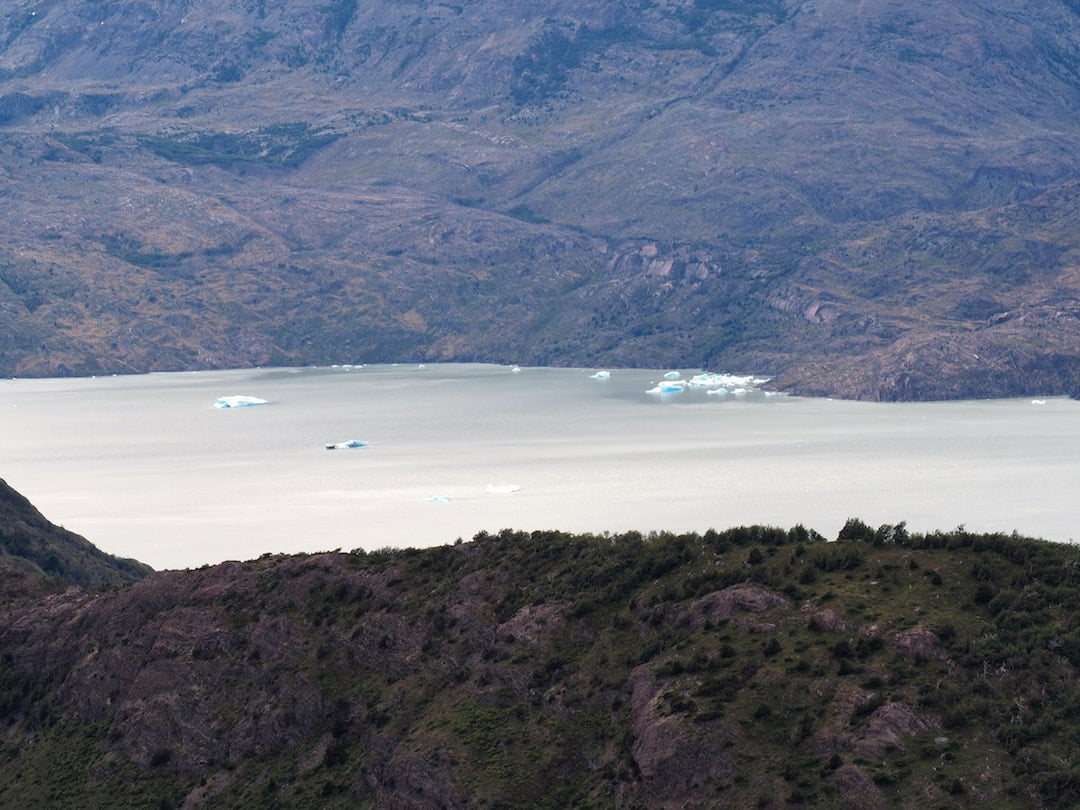 View of Lago Grey from the Mirador Ferrier
Having returned to our camper van after lunch, we retraced our route back to the Administration Centre and then continued on the Y-150 towards Lago Pehoé and the centre of the park.
Our first stop was the car park for Hotel Explora and Salto Chico (Chico Waterfall). An easy boardwalk led us to both, providing fantastic views across the lake to the Cuernos del Paine (or "Paine Horns"), a collection of granite peaks said to resemble…er…horns.
And then it was back on the road as it twisted its way along the shore of Lago Pehoé. In the distance, those imposing horns gradually drew closer as the clouds continued to swirl around their craggy peaks.
On our left, the iconic island setting of Hosteria Pehoé, with its boardwalk connecting it to the mainland, seemed like a good option to stop once again. But we decided to press on towards Salto Grande, the park's grandest waterfall.
Boardwalk beside Lago Pehoé
A turning on our left (Y-158) led us on a gravel road to the car park for Mirador Salto Grande. A popular stopping point for tour buses, the twenty-minute walk to the waterfall through grassy steppe was a gentle one.
The afternoon sky was by now a contrast of dark storm clouds and bright sunshine which played tricks with the light as it danced across the turquoise Lago Pehoé to our left.
View of Lago Pehoé from the Mirador Salto Grande trail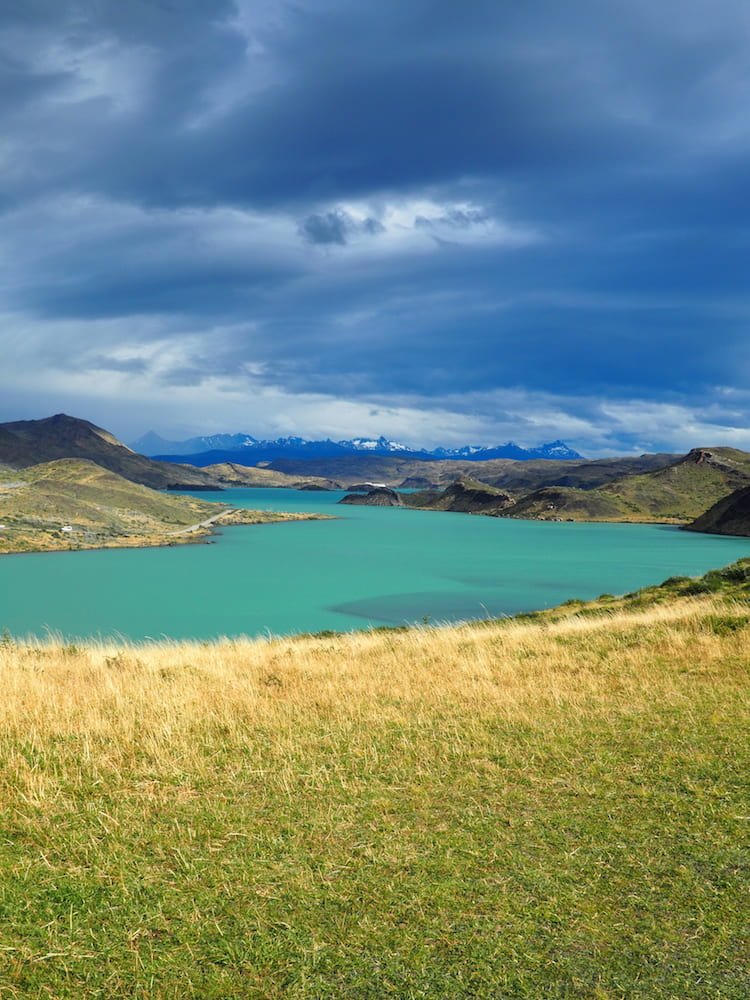 View of Lago Pehoé from the Mirador Salto Grande trail
Further along the footpath we were joined by an inquisitive herd of guanacos, southern Patagonian cousins of the llamas, alpacas and vicuñas typically found further north.
This was one of those moments when we truly felt that Patagonia had found its way to us in all its wild and raw glory.
Guanacos grazing beside the trail
And then the roar of the Salto Grande announced our arrival at its upper viewpoint.
Created by a narrow gorge that connects Lago Norgenskjöld with its lower neighbour, Lago Pehoé, it's a violent display of the power of water. The fall itself isn't that high. But the sheer volume of water that thunders over its edge creates a whitewater cloud that only disappears as the gorge continues down to Lago Pehoé.
Our last stop of the day, we drove from there back to the Y-150 and continued, via Mirador del Norgenskjöld, to our base for the night at the Laguna Amarga park entrance.
Nothing more than an open space for parking beside the road, it nevertheless provided a good place to knock up a satisfying pasta dinner on our one-ring burner. And, of course, to share one or two pisco sours with our camper van neighbours.
Looking down to Lago Pehoé from Mirador Salto Grande
At first light the following morning we took another gravel road to the car park at the entrance to the Mirador Las Torres Trail.
This is THE day hike most people come here to do. Even those who are completing the full "W" and "O" trails include this as a diversion.
Nearly 20 kilometres there and back, it was no picnic. Especially near to the top where there was a lung-busting final hour of scrambling over rocks to negotiate. And, to be honest, the scenery for the most part was underwhelming when compared with what we'd seen the day before.
The payoff, however, was a stunning lake beneath the triple granite Towers of Paine. With enough wind swirling round to potentially blow over a grown man, we hastily took our opportunity for photographs before finding a sheltered spot for lunch.
Of course, there were plenty of other people to keep us company. Which takes a little bit away from the otherwise utter remoteness of this most iconic of all Torres del Paine scenes.
Still, with the weather beginning to deteriorate we soon began to make our way back down. By now there were large groups of hikers on their way up, which made progress slow and somewhat tedious.
But we felt lucky enough to have at least seen the towers in relatively good conditions as the poor souls now passing us were heading into an ever-increasing cloud of heavy rain. Such is the weather lottery in Southern Patagonia.
After a second night at Laguna Amarga we again made an early start the following morning and continued on our clockwise route until we took a left fork in the road, first on to the Y-156 and then the Y-160 to Laguna Azul.
A much less-travelled part of the park, the road swung through vast open spaces, where we passed large herds of grazing guanacos.
At the head of the lake, the crystal clear water showcased reflections of the Cordillera Paine. And this time there were no other people around to disturb the silence.
We'd come to see what we'd heard was one of the best panoramic views of the Towers of Paine. But the early morning cloud had blocked out what view there was. Nevertheless, we spent the rest of the morning walking the trail along the lake shore until the inevitable rain told us it was time for us to return to our camper van.
Laguna Azul with the Towers of Paine obscured by clouds
The afternoon, however, was a different matter. The low cloud lifted and all of a sudden we could appreciate what all the fuss was about.
From our vantage point just above the lake we had a fabulous and unbroken view of the Towers. Indeed, they were made all the more dramatic by the movement of the ever-present storm clouds surrounding them.
And, as luck would have it, the sun decided to pay us a belated visit during the afternoon. Cue the uncorking of red wine, the breaking of bread and cheese, and the application of sun cream for the ultimate picnic-with-a-view.
We could have quite happily stayed in our idyllic setting for the night but, alas, the park ranger was having none of it. So at sunset we made our way back to our parking spot at Laguna Amarga for one final night.
The following morning, we headed out of the park and eastwards towards Cerro Castillo and the Argentinian border.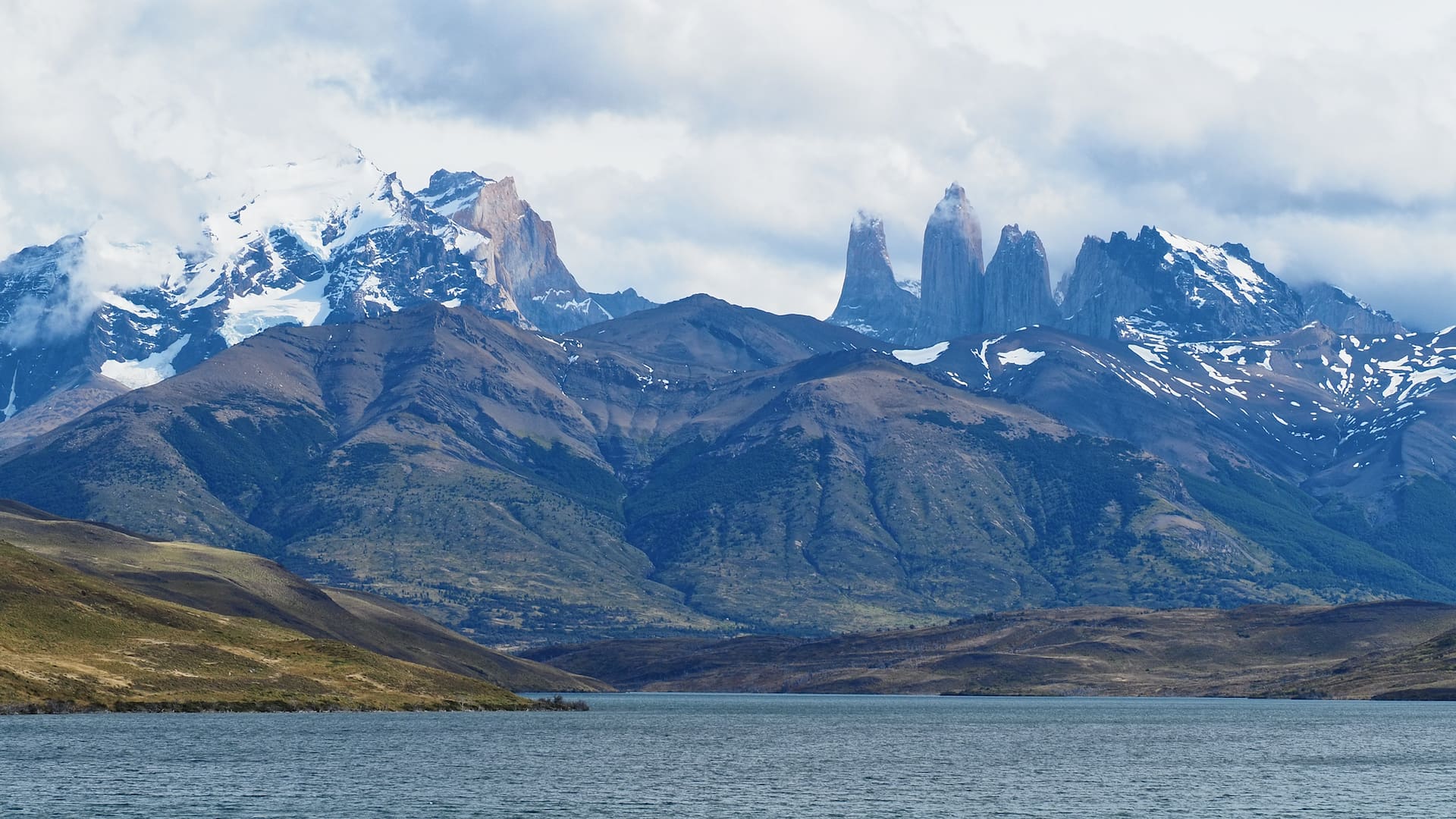 Laguna Azul and the Towers of Paine
The Towers of Paine and Laguna Azul
There are a number of camper van options in southern Patagonia but your choice may well be determined by where you want to start and finish. That's because one-way fees can be pretty hefty and so it pays to do your research well in advance.
For budget travellers like ourselves it basically comes down to three choices.
Wicked South America offer a no-frills service and a range of options. They're the most well known of all the camper van operators but they also come with a reputation for bare-bones service and unreliability. Although we've never used them so we can't say for sure.
Soul Vans is a small Chilean-owned operator who were actually the best option on price alone. Again, we haven't used them so can't give an objective review.
In the end, we went with Condor Campers and we're glad we did. Owned by a couple from the UK who've now settled in Santiago, we found them so easy to deal with and our van seemed capable of handling pretty much everything that was thrown at it. Which was a lot!
We'll be posting a detailed review of our experience with Condor Campers shortly.
There's no doubt that to see the very best of Torres del Paine National Park you'll need to commit to an extended stay of between 10 and 14 days and be prepared for multi-day hikes across Patagonian wilderness in pretty severe conditions. Which, for many people, is a bucket list item without parallel.
But if you neither have the time nor the inclination for that, there's still plenty you can see and do by having the flexibility to travel around in a camper van.
We spent just three nights in the park and were then ready to move on. Largely because the weather forecast was getting worse for the next few days and the pull of Los Glaciares National Park in Argentina was drawing us north (we actually preferred Los Glaciares to Torres del Paine).
That being said, if you're visiting Southern Patagonia you couldn't possibly miss a visit to the region's premier adventure destination. Just don't expect to be there on your own.
The Cordillera Paine, Torres del Paine National Park
What did you think? Have you been to Torres del Paine National Park? Do you have any recommendations to add? Or perhaps you're thinking of visiting there in the near future? Either way, we'd love to hear from you so please add your comments below.
To help us maintain our site we work with a number of partners who we've personally used and can recommend to our readers. If you decide to purchase any products through the following links, we'll receive a small commission at no extra cost to you. Thank you for your support!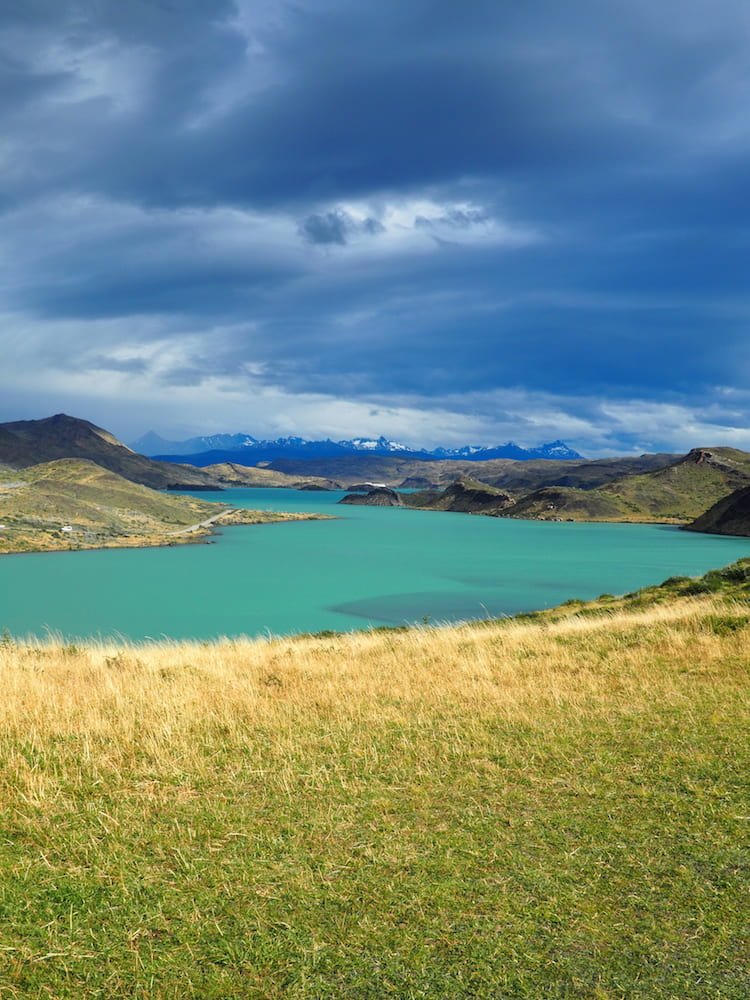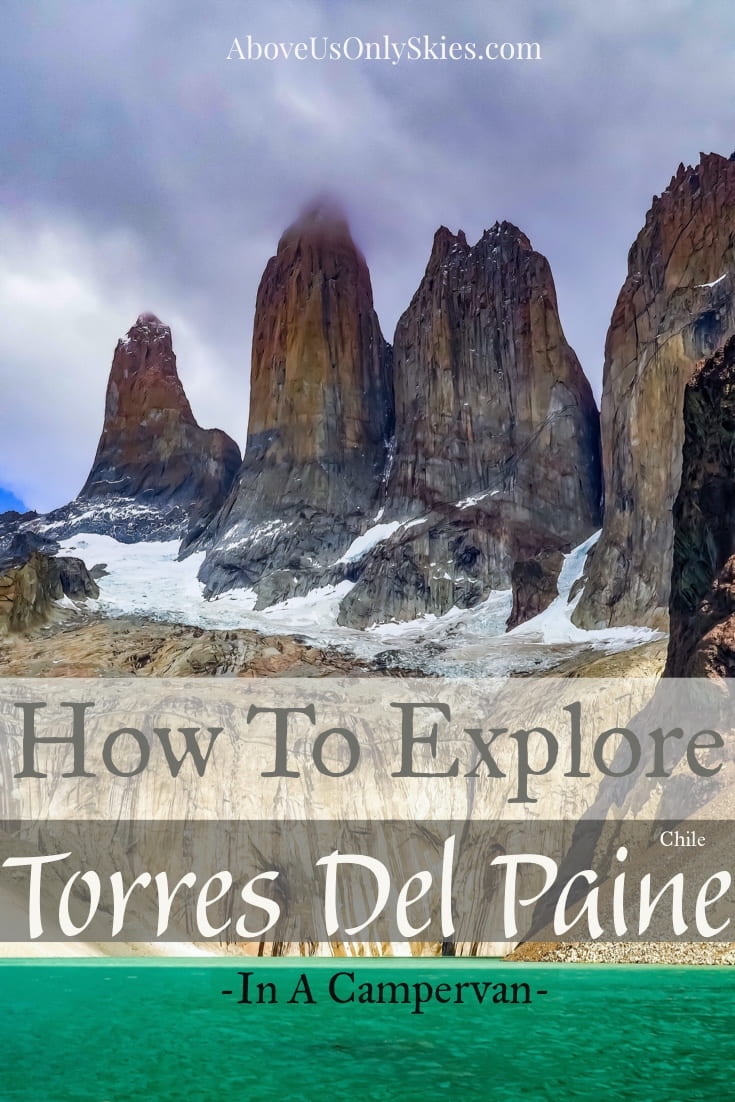 Hi, we're Ian and Nicky, an English couple on a voyage of discovery around the world, and this blog is designed to reflect what we see, think and do. Actually, we'd like to think it also provides information, entertainment and inspiration for other "mature" travellers, too. So please feel free to pour yourself a glass of something suitably chilled and take a look around.