HOW TO TRAVEL AS A COUPLE…WITHOUT KILLING EACH OTHER
HOW TO TRAVEL AS A COUPLE WITHOUT KILLING EACH OTHER
"But seriously, doesn't it get on your nerves being with each other 24 hours a day?"
This is probably the question we get asked the most by people once they discover that we travel full time.  Many women have looked at me in total disbelief and said, "I couldn't do it, I'd kill my other half!" And if I'm totally honest, I have my moments. As no doubt does my ever-patient hubby!
Let's face it, we went from having full-time jobs when we hardly ever saw each other, when weekends were spent cooking, cleaning and seeing friends and family, to travelling full time and being with each other 24/7. Pretty much from one extreme to another.  So, how do we cope? 
We've learned that you need to be able to fall back on your sense of humour when mistakes are made. Like when one of you doesn't check your newly purchased train tickets (me) and you turn up for your overnight train from Thailand to Malaysia….a day late. Or when one of you pulls the tap in your hotel bathroom completely off and floods the whole floor (him).
Stuff goes wrong ALL the time. People will try to rip you off or scam you. Others will be downright rude or refuse to deal with you because you're a woman, a foreigner, don't speak their language (or all of the above). And, if you let it get to you there's a good chance you'll take it out on each other. So we've also learnt to see the funny side of these situations by using our natural ability to laugh at ourselves. And of course, others when they deserve it.
When you're hundreds, sometimes thousands of miles away from your home, family and friends you have to be able to rely on each other for support. You have to intuitively know when the other needs your help, just as you have to know your partner's got your back. Quite honestly, in the beginning, this huge leap of faith was pretty daunting. 
As we all know, nothing tests your relationship more than moments of extreme stress. But particularly in a strange country, where you probably won't know the number for the emergency services, or even if you did there may be a language barrier. In situations such as being hit by a moped in Bali, or falling down a cliff in the remote Sumatran jungle. Or when trying to prevent our campervan rental being blown off the edge of a cliff in the middle of a huge storm. At two o'clock in the morning. 
We very quickly realised that one of us has to remain calm in those situations. Especially as one of us is a walking accident waiting to happen (having visited a hospital in nearly every country we've visited, that award is definitely mine!).
You also quickly work out which situations to avoid putting yourselves in, as it does nothing for marital harmony. Ours is canoeing.  Put us in a two-man canoe and all kinds of horrors will unfold. We become warriors, albeit with oars instead of swords. Propelling ourselves forward with any kind of co-ordination is an impossible task and almost guarantees a head injury to one of us and a near drowning to the other.
Every. Frickin'. Time.
Play to your strengths (and avoid your weaknesses) as a couple whenever you can.
Assign "jobs" / Share the workload
It quickly became apparent when we first started travelling that there are jobs each of us is good at and enjoy doing. If one of you particularly loves getting into the detail of researching the best places to stay, let them do it. Likewise, if one of you hates negotiating with tuk-tuk drivers or bargaining with shopkeepers, then let the other one do it. 
Ian's not very good at confrontation. Me, however – let's just say my death stare has been perfected after many years in management, so I have no qualms in taking on that role. I'm always bad cop!
We also seemed to find a way of sharing the workload by accident. We hadn't planned it that way but rather we just seemed to fall into owning certain tasks as a matter of course. And not always as we might have expected.
For instance, when we hired a car or campervan I did 90% of the driving – mainly because I've got the directional sense of a moth in a light bulb factory. So, in the absence of a sat-nav, Ian became the de facto navigator.  Didn't stop me getting us lost, though…
This is important. I for one relish time on my own. Probably something to do with being the eldest of four kids. This means that I'm more than comfortable to stay put when Ian says he wants to go off for the day and climb a volcano. Let's face it, I'm built for comfort, not a 10-hour uphill trek.
I'll find a hammock and read a book, perhaps wander down to the beach searching for shells or maybe visit a local flower market. These are all things that would bore the pants off Ian, so we make sure we make time for ourselves individually. And it gives you something to talk about, too! 
One of us wanted to do the 19km hike over the lung-busting Tongariro Alpine Crossing in New Zealand. One of us knew that physically it was never going to be possible. To enable the former there were certain sacrifices the latter had to make. Like getting up well before dawn to drive the intrepid adventurer 20km in the dark to the track starting point. And lend him her beanie hat to protect his baldy little head from getting too much sub-zero exposure. This angel then picked him up seven hours later at the other end of the track and had his favourite meal cooked ready and waiting when they got back to the campsite.
No need to make a fuss. Just collect the wifey of the year award, pass "go" and bank the brownie points for later…
Treat yourselves occasionally
Travelling on a modest budget does mean that we've learned to live fairly frugally. By and large, we managed to live reasonably comfortably on £50 per day while we were in Asia. But there's nothing quite so cathartic as the occasional splurge on something that adds super-positive memories for the both of you.
Such as the light aircraft flight over New Zealand's Southern Alps to Milford Sound. Or experiencing swimming in the open water with a whale shark on Western Australia's Ningaloo Reef.
Of course, you don't necessarily need to spend big to treat yourselves. As long as it means something special to you.
Fiordland, South Island, New Zealand
Take plenty of photos together
This didn't dawn on us until a few weeks into our trip when we realised we had plenty of photographs of beaches, jungles, mountains and temples. But very few of ourselves. Certainly very few of us together. So, as we started to look back at where we'd been through our photographs, they seemed fine for our blog posts. But, somehow they didn't capture our memories or help us to remember how we felt about being there.
Cue that 21st Century tourist staple, the selfie. OK, it can look cheesy and there's nothing worse than visiting somewhere only to be confronted by the sight of hoards of tourists, fashioning themselves into hilarious poses while brandishing mobile phones connected to legions of three-foot aluminium sticks. But, as a memory-builder, they're priceless.
Disclaimer: we don't own a selfie stick.
Oh, and if you must ask a stranger to take a snapshot of the two of you, try and make sure they don't insist on making you look like you're taking part in a photo shoot for a casual clothing catalogue. Like the guy at the Taj Mahal did….
Don't underestimate the value of slowing down
Travelling can be tiring. Both mentally and physically. In fact, we found at one stage that we were spending a lot of our time travelling between destinations and then immediately having to figure out our next destination, the logistics of getting there and researching and booking accommodation. And that can be stressful.
In the rush to see everything a destination might have to offer it can be easy to overlook the value of staying put for a while. So when things start getting too crazy, we quickly find somewhere quiet, with good wifi, and hunker down for a few days to recharge. Particularly when there's a tropical beach just begging to be laid upon.
Early on we made a conscious decision to travel slowly. At a pace that gives us an opportunity to explore a destination without putting a strain on our relationship.
And for us, particularly if we've had the day from hell, we find that relaxing over a bottle of wine, a decent-strength gin-and-tonic, or a couple of beers together can work wonders. Not necessarily all at once, or even in that order! But spending that time talking through the frustrations of the day over a glass of something suitably chilled should never be sacrificed.
In fact, some of our best ideas have burst forth after sipping (yeah right!) a glass or two after a crappy day.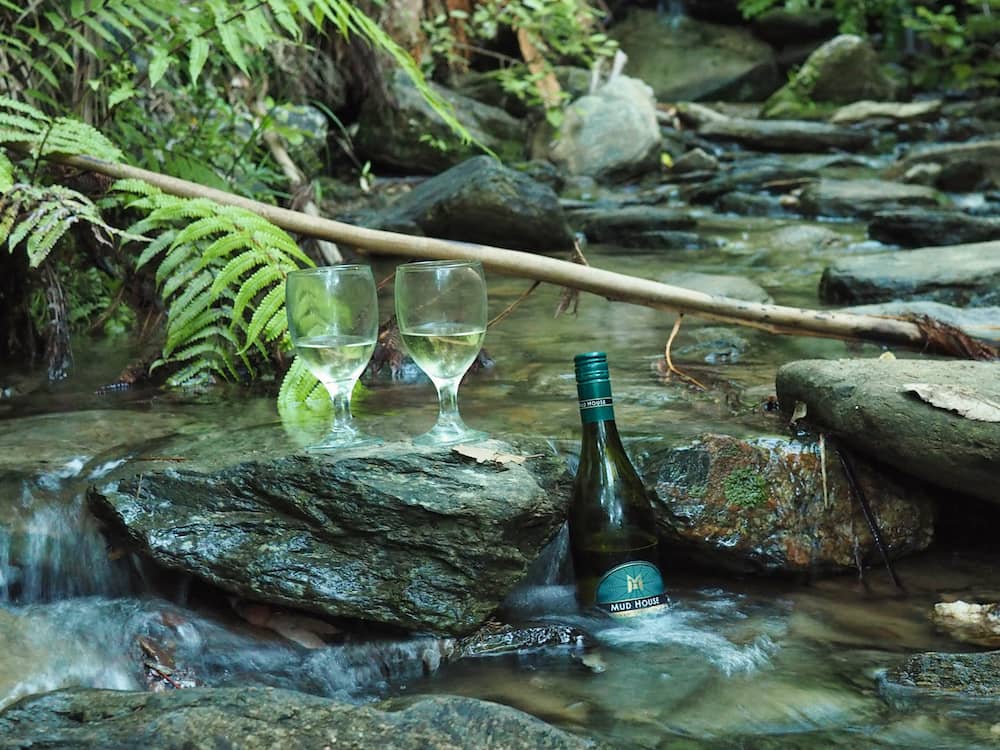 One bottle, two glasses…and plenty of ideas
Keep setbacks in perspective
They're usually blips, and hardly ever insurmountable.
Of course, if something goes wrong it's important not to assign blame. I won't claim that we've managed to avoid this 100%, but we've definitely become better at taking setbacks in our stride.
After all, travel is about adventure, about discovering new places, meeting new people, experiencing different cultures and food.  Things will go wrong. Sometimes repeatedly. And, despite what I've already said, it's inevitable that disagreements will happen.
Ultimately, though it's important to just keep everything in perspective. And to remember how blessed we are that we get to experience all this with our favourite person at our side.
What did you think? Do you travel as a couple? If so, do you have any recommendations to share? Or maybe you're planning on travelling soon? Either way, we'd love to hear from you so please add your comments below. 
Hi, we're Ian and Nicky, an English couple on a voyage of discovery around the world, and this blog is designed to reflect what we see, think and do. Actually, we'd like to think it also provides information, entertainment and inspiration for other "mature" travellers, too. So please feel free to pour yourself a glass of something suitably chilled and take a look around.
WHY YOU SHOULD MAKE LEH YOUR NEXT ADVENTURE HOLIDAY DESTINATION
19 THINGS WE LEARNED ABOUT MYANMAR
HOW WE TOURED SRI LANKA ON A BUDGET