WHAT'S IT LIKE TO TRAVEL AND MIND OTHER PEOPLE'S PETS?
Looking after other people's pets is probably not everyone's idea of fun. Nor is it something that should be taken lightly. It's one thing taking on the responsibility for the welfare of your own pet, but being entrusted with the welfare of somebody else's fur baby is a whole different ball game. And, while breaking the odd wine glass during a four-week house sit is not something the owners are likely to lose too much sleep over, the safety and welfare of their beloved pet(s) certainly are.
So it was with this at the forefront of our minds that we took on four house sitting assignments this autumn to look after five cats and four dogs. We've been fortunate enough to be able to stay in four lovely, contrasting homes in the Dordogne, Charente, Gers and Tarn departments of south-west France. It's enabled us to experience French rural life away from the holiday crowds, shop in local food markets and consume our own body weight in wine, bread and cheese.
But what has really made the experience special has been the genuine joy we've experienced being surrogate guardians to Marjie, Norman, Mum, Sally, Boo, Plum, Nudger, Lucky and Bertie.
We've owned pets before, of course, so we understand the emotional connection that builds over a period of time. What we didn't expect was the kind of affection we felt for our charges so quickly. Maybe we were just lucky enough to find ourselves looking after such adorable animals. Or maybe we made the extra effort to make the connection as part of our house sitting responsibilities? All I can tell you is that the experience has confirmed that house sitting is a viable option for us as part of our travelling.
And it's a great way of making new friends. Both human and animal.
Nicky relaxing with Marjie
So, what's pet sitting like?
It has its challenges, that's for sure.
Pets being pets, they all have their own individual quirks, anxieties, likes and dislikes which you need to adapt to. Some have to be given medication or have specific grooming needs that you need to carry out daily. And, considering some of the back-stories of the pets we looked after, the least we could do was show them the sort of affection and attention that was equal to what they would normally receive from their owners.
Of course, there's the potential problem of whether the pet will miss its owner being around, leaving you with possible behavioural problems for the duration of your assignment. We've certainly experienced a few protest poos in the early days of assignments while the pets are adjusting.
And there's no guarantee that the pet will immediately take to you either. However, by arriving at least a day before the assignment actually started, and making a real fuss of them, we were able to get to know our temporary housemates and give them the opportunity to familiarise themselves (and become at ease) with us. At the same time, it helped to reassure their owners that they'd be leaving their pet(s) in very safe hands. 
You might also think that caring for a pet would restrict you from exploring the area you're staying in. And it's true that you won't have the freedom to do what you want when you want. Particularly if you're looking after dogs. But that kind of defeats the object of wanting to house-sit in the first place.
Ultimately, if you're not comfortable around animals or don't have the patience to attend to their needs and fit in with their routine, then it's not for you. If you're an animal lover on the other hand, then just embrace your pet as part of your temporary family.
As for us, we're both animal lovers but our lifestyle doesn't allow for us to have pets of our own. House sitting enables us to do that on a temporary basis. Which is just perfect. We just try not to think about having to say goodbye at the end of the sit… 
Bertie waiting patiently with Nicky
On the basis that no two dogs are alike, they can potentially be the most challenging pet assignments.
Take Lucky, Plum and Nudger, for example. A family of three contrasting dogs with very different needs, who we looked after for eight days.
Nudger's an elderly Pyrenean Mountain Dog (AKA Great Pyrenees) who is, let's say, not too sprightly on her feet. Plum's an Alsatian-Husky cross with the sort of deep, soulful eyes that would melt a heart of stone. And as for Lucky, a Breton Spaniel. Well, his name tells you everything you need to know.
He turned up on his current owners' doorstep one morning in an awful state, including evidence of being beaten with chains. And, since then he's escaped a near-fatal collision with a car. Although you wouldn't know it judging by his boundless energy and strength. Taking him for a walk on the lead (he couldn't be trusted without it) was an experience in itself. A true free spirit. 
And taking all three out for a walk generally meant me charging ahead with Lucky while Nicky lagged behind trying to cajole Nudger into making at least one step in the right direction.
Two gentle, placid ladies and one madcap male dog. All craving attention and care. How could we possibly refuse?
And then there's Bertie. A gorgeous Lagotto Romagnolo, he was picked up from a rescue shelter by his owners after suffering abuse as a hunting dog (unfortunately all too common in France). As a consequence of that abuse, he now suffers from separation anxiety, meaning that he needs constant attention.
So, during the night he would sleep next to our bed and act as our living alarm clock. He'd follow us around as we prepared breakfast or dinner. And he'd be with us whenever we went out. He'd also tell us when it was time for toilet duty, dinner or "walkies" by simply wandering over to one of us and nudging us on the leg with his nose. Such a cutie.
And the affection he gave us in return was something we'll never forget. In fact, our exploration of the area was enhanced by having Bertie with us – whether taking long walks through the autumnal forests, hiking up through historic bastide towns to hilltop chateaux, or simply sitting in a cafe sipping a half-carafe of rosé wine and eating a plate of assiette gourmande (a "gourmet plate" of mixed meats and cheese). 
He was a bit of a poseur in front of the camera, too.
Bertie, you're a legend!
The legend that is Bertie
Of course, looking after cats is a different proposition as they tend to be a lot more self-sufficient. However, that's not to say that you shouldn't be prepared to be used as a human pillow by your feline housemate or to be the source of strokes and cuddles on demand. As far as a cat is concerned you're there to facilitate their every whim. Be it a belly tickle or feigning delight at being presented with a half-dead pigeon. 
The first pet we looked after was the largely independent Marjie, who lives in an ancient converted presbytery in Dordogne. Our brief was to feed her and let her have the run of the house as and when she liked. But we also made it our responsibility to make a fuss of her as often as we could, and particularly when we were able to enjoy the late-summer weather in the large garden.
Travelling around the beautiful Dordogne was therefore pretty easy as we just needed to make sure we were there to feed her and generally make sure she was OK. And, to be fair, judging by the number of "presents" we received from the garden, it seemed like she was enjoying life while we were there!
Our second cat was Norman, a large ginger tom, who was deposited on his owner's doorstep as a kitten by his feral mother, complete with dislocated hind legs (in fact the mother – affectionately known as "Mum" – still comes around for food). Norman's story and his road to recovery is a heart-warming one. Suffice to say we took to him straight away, even if he was forever knocking on the window to be let in, only to knock again to be let out just 10 minutes later!
And then there was Boo, who shared the house with Lucky, Plum and Nudger. Like Marjie, he basically just came and went as he pleased. But he'd certainly let us know when feeding time was overdue! And there was no doubting who owned the sofa….
Boo making it clear she isn't moving for anybody
So, CAN you travel and mind other people's pets at the same time?
Yes, of course you can.
Clearly, looking after three dogs is likely to be more restrictive to travel than having just one. But, in our case, our hosts kindly invited us to stay for an extra couple of nights so we could explore the area on our own. And we were able to take full advantage by driving into the French Pyrenees for a couple of days.
So how you travel will be dictated in some way by the type and number of pet(s) you're looking after. But it needn't be a hindrance. And, in all honesty, it can also enhance the experience of being in another part of the world. What could be more pleasurable than strolling through a French food market on a Sunday morning with a cute dog leading the way?
For us, after 15 months of being constantly on the move, it's a welcome change to be able to spend some time in a more settled environment. And, at the same time, we're able to explore new places and experience a different way of life.
Only this time we're blessed to be able to do so in the company of our new four-legged, furry companions.
What did you think? Have you looked after pets while travelling? Or perhaps you're thinking of house sitting for the very first time? Either way, we'd love to hear from you so please add your comments below.
To help us maintain our site we work with a number of partners who we've personally used and can recommend to our readers. If you decide to purchase any products through the following links, we'll receive a small commission at no extra cost to you. Thank you for your support!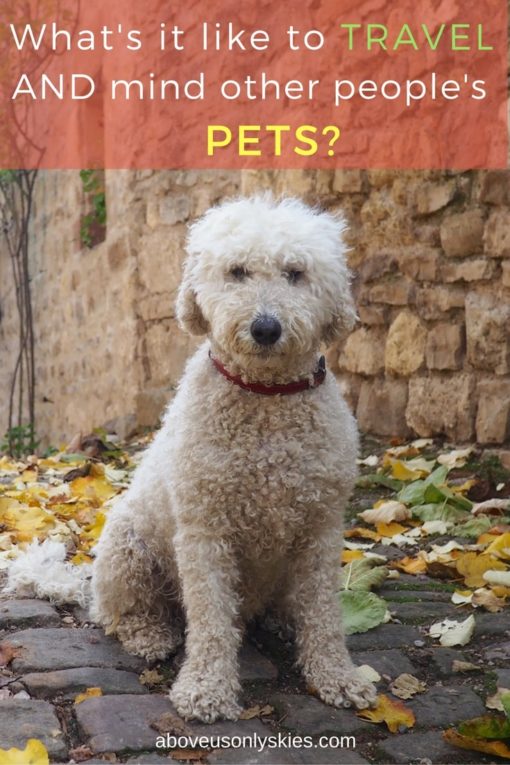 Hi, we're Ian and Nicky, an English couple on a voyage of discovery around the world, and this blog is designed to reflect what we see, think and do. Actually, we'd like to think it also provides information, entertainment and inspiration for other "mature" travellers, too. So please feel free to pour yourself a glass of something suitably chilled and take a look around.