I don't think I could ever tire of watching a turtle as it glides through the water in it's oh-so-graceful and effortless way.
One of nature's most treasured creatures, they're on the wish list of just about every snorkeler around the world. So the prospect of swimming with dozens of green turtles in the shallow, crystal clear waters off Apo Island made this one of the destinations we'd been looking forward to the most.
In fact, as soon as we arrived at our island accommodation we dumped our bags in our room, grabbed our snorkel and masks and rushed into the sea with the anticipation of two kids on Christmas morning.
Firstly, we had to swim between a number of moored boats bringing in day-trippers from Dumaguete on the mainland. And then, as if someone had opened the door to an underwater Magic Kingdom the scene before us was transformed into an orgy of the most sublimely colourful coral we've ever seen. It practically took our breath away (never a good thing when your face is head down in the water).
The sea floor was carpeted with a huge diversity of soft and hard coral, while beautifully coloured reef fish darted around. To describe the scene as something like looking into a huge aquarium is a bit cliched but that's exactly how it appeared.
And then the movement of a large object to our left diverted our attention. It was actually one of those moments where we had to take a double-look as the first glimpse didn't really register. Simply the largest turtle we've ever seen was feeding on some seaweed on the sea floor, before it looked up, raised its two front legs and glided towards us. I'm not sure how good its eyesight was but if it was even just half-decent it would have seen two masked westerners with impossibly wide grins on their faces.
We then spent the next 20 minutes or so swimming alongside, observing and admiring this most graceful of marine animals.
Perhaps my favourite moments though were following it's occasional ascent to the surface and then mirroring it as it raised its head above water to take a gulp of fresh air before descending once again. To swim with, and then see and hear a turtle take its gulp of air above the water-line just a few feet away may not sound like a life-affirming moment but for me, it's right up there with any wildlife experiences I've had before. Just magical.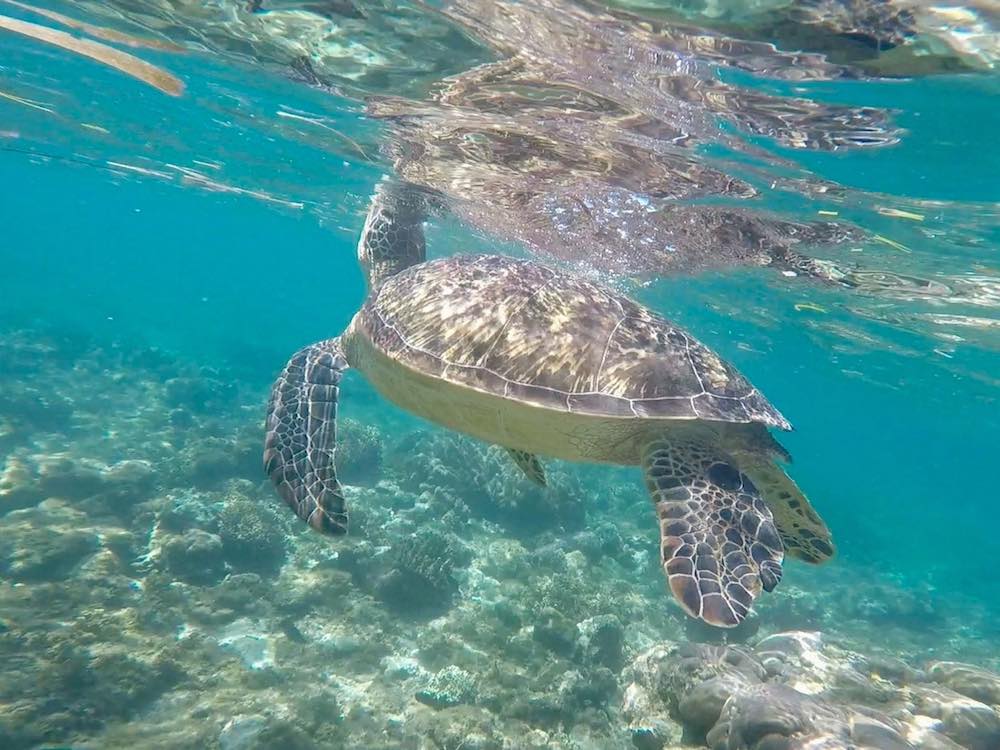 Making a pit stop for some air
And, of course, it wasn't the only turtle we encountered that first day. We swam with at least another five until we decided, after a couple of hours of the most thrilling snorkelling, that we'd better spare ourselves the inevitable sunburn.
We continued to spend time snorkelling with plenty more of them over the next couple of days and also took the opportunity to have a couple of dives off the island, too. Although to be honest, we actually saw more turtles while we were snorkelling.
Apo Island actually serves as a marine sanctuary for green and hawksbill turtles and day-trippers typically pay a 300 pesos fee to have a guide take them around a marked off section close to the beach. Unfortunately, it also seems to serve as a place where one of the world's most endangered creatures come face-to-face with some of the worst excesses of human behaviour.
I decided to take a closer look at what was going on inside the sanctuary by snorkelling over and taking a glimpse from behind the roped-off boundary. Six people, supported by orange life vests, and who quite clearly could not swim judging by the amount of thrashing around they were doing in the water, were gathered around a green turtle as it fed on some seaweed. One of them then dipped his head into the water and carefully placed one of his feet onto the turtle's back. If that wasn't enough, he then placed his other foot on its back before jumping off again, to the squeals of delight from the rest of the group.
I just couldn't fathom what I was seeing. I lifted my head above the water, took off my mask and shouted something along the lines of "What are you doing?". They just laughed. Unfortunately, it doesn't seem like this was an isolated incident as I'd been pre-warned about it by others. And where on earth the guides were I've no idea. But if ignorant tourists are allowed to do pretty much want they want just so long as they pay their way then I do have to wonder about the long-term viability of the "sanctuary".
Getting to the island is pretty easy. It's a short ferry from the port of Dumaguete on Negros Oriental, or an even shorter ferry ride from Malatapay, which is what we did.
If you're travelling to this area of The Philippines and are thinking of taking a day trip, do yourself a favour and stay over for at least one night. And if you're a diver don't miss the opportunity to get out on to the house reef by 8 am when you'll have the whole place pretty much to yourself.
We stayed at the budget-friendly Liberty Lodge & Dive Resort and had two boat dives with them at 1000 pesos (£15/$22) each, including equipment rental – which is fantastic value given the treasures on offer.
With the benefit of hindsight, we would have liked to have stayed for longer than our two nights, but we had accommodation at our next destination, on the nearby island of Siquijor, already booked. We managed to get a direct transfer by speedboat, which was an exhilarating ride in itself, but as we watched the small rocky outcrop of Apo slowly disappear on the horizon behind us, we wondered if our snorkelling and diving in The Philippines – or anywhere else for that matter – had already peaked.
For the chance of sharing some more special moments with green, hawksbill and other species of turtles, we certainly hope not.
What did you think? Have you been to Apo Island? Are there any other places you'd recommend to swim with turtles? Or maybe you'd like to know more about Apo Island? Either way, we'd love to hear from you so please add your comments below.
To help us maintain our site we work with a number of partners who we've personally used and can recommend to our readers. If you decide to purchase any products through the following links, we'll receive a small commission at no extra cost to you. Thank you for your support!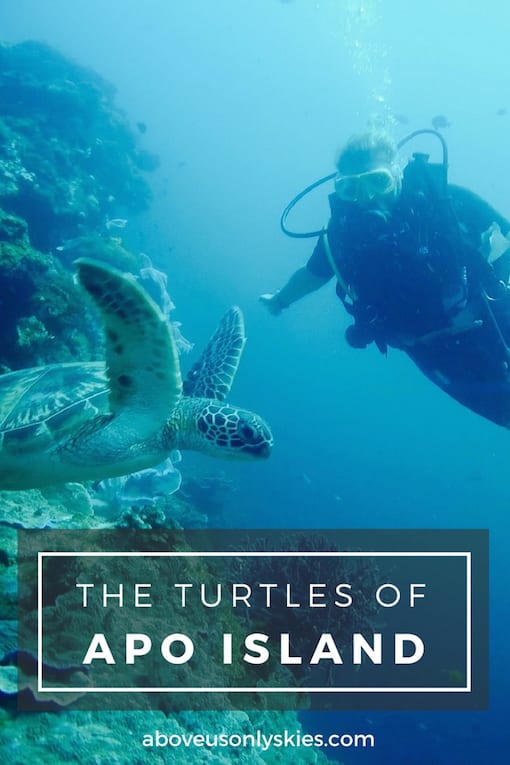 Hi, we're Ian and Nicky, an English couple on a voyage of discovery around the world, and this blog is designed to reflect what we see, think and do. Actually, we'd like to think it also provides information, entertainment and inspiration for other "mature" travellers, too. So please feel free to pour yourself a glass of something suitably chilled and take a look around.