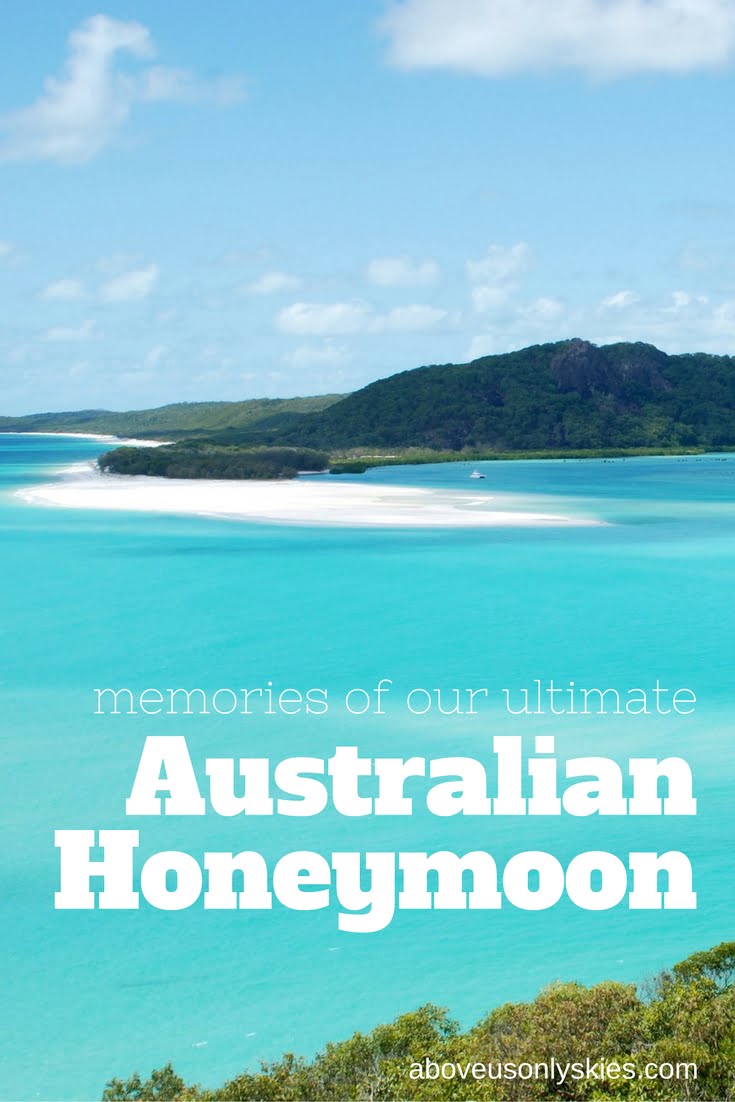 A s a couple of Brits (or "Poms" to use the true Aussie moniker) on honeymoon visiting Australia for the first time we wanted to see the best of what the country had to offer in terms of escapism, wildlife, scenery and food. In the end, we plumped for Queensland and Sydney, combining beach, reef, rainforest, mountains and city life in an unforgettable 25-day trip. Here then is a whistle-stop review of the trip from 2008.
1. Port Douglas
Having spent the best part of 36 hours from the moment we walked into Manchester airport until we arrived at Cairns it was a major relief to finally pick up our Audi convertible (ostentatious I know but it WAS our honeymoon) and head up the Captain Cook Highway towards Port Douglas. Eschewing some of the better-known beachfront hotels we opted for what was then (and still is!) the number one hotel in PortDouglas on Trip Advisor, the lovely Mai Tai Resort. Leaning heavily on Balinese furniture and styling it is situated in the hills between Port Douglas and Mossman. With its outdoor bathroom, you definitely get up close with nature and we found it a great way to relax after such a long journey by air and road.
From there we took trips into Port Douglas, Mossman Gorge and up through the Daintree Rainforest to Cape Tribulation, one of the few places in the world where tropical rainforest meets coral reef.
2. Bloomfield Lodge, Daintree Rainforest
The trip north of Port Douglas to the remote and beautiful Bloomfield Lodge first involved a detour south to drop off the hire car and then to catch a Cessna light aircraft from the Hinterland Aviation Terminal at Cairns. The scenic flight is actually part of the package when you book with Bloomfield Lodge, as there is no other way of getting there. And that's not all – after a fantastic 45-minute flight up the coast, we landed at an "airstrip" which is actually a bit of dirt track in the middle of a field frequented by wallabies. From there we were whisked off in a 4×4 through the rainforest before being transferred to a boat for the final journey along the Bloomfield River to our accommodation.
Our lodge for 4 nights was a stunning "Queenslander" room, complete with four poster bed and large terrace overlooking the bay. As the location is so remote you are a bit of a captive audience and some of the activities on offer are a bit pricey, but there also free things available such as the guided rainforest walk  – and of course you can just go off and explore the area by yourself. We took the Bloomfield River Cruise for a bit of croc spotting – and we weren't disappointed. By the way, these guys don't just stick to the river either as they're also quite partial to a spot of cruising around the bay surrounding the lodge – which of course meant that any ideas we had of late-night 'skinny-dipping' were dead in the water, so to speak.
I had expected the wildlife around the lodge to be fairly bug-intensive but, surprisingly this wasn't the case at all. I was definitely expecting to have to confront my fear of spiders but during our four-day visit, the hairy-legged darlings decided to stay well clear of me. Which was nice of them.
Evenings were spent around the restaurant/bar/pool area, where a courtesy payment arrangement was in place for the drinks. Again, not particularly cheap – I'm not proud to say that our four-day bar bill equated to the annual finance budget of a small island nation. I blame Matt and Laura, a couple of English honeymooners we met there who were clearly a bad influence.
Our overall view of the place was that it was a fantastic, if expensive destination, heightened by the amazing journey to and from Cairns. And for honeymooners, it's remote enough without being completely cut off from other people. In terms of our trip, the rainforest leg was now over and it was time to catch the Cessna back to Cairns and connect to an internal flight onwards to Brisbane.
3. Wilson Island
Ok, so after a few days spent exploring and relaxing in a rainforest environment the obvious next step was to kick back on a spectacular beach somewhere…..
Cue probably our favourite destination of all time – the wonderfully remote and beautiful Wilson Island on the Great Barrier Reef.  True to form, our journey there was a bit special, involving a helicopter flight over the reef followed by a speed boat transfer from Heron Island. What followed were three days of barefoot indulgence, with superb food and drink together with some great company (particularly Gold Coasters, Cam and Ainslie).
You can read about our three-day stay here in our post, Glamping on the Great Barrier Reef.
4. The Whitsundays
The fourth leg of our trip saw us head back up north, via another overnight stop in Brisbane, to the backpacker hub of Airlie Beach, which acts as the gateway to the Whitsunday Islands. We stayed overnight at the Whitsunday Moorings B&B, which included a sumptuous breakfast with a view over the harbour.
And then it was onwards for a six-day cruise/sail around the Whitsunday Islands on our yacht, the Pacific Sunrise. As I did for the rest of the trip, I'd done my research before booking this boat which I reckon paid off in spades. Consisting mainly of couples from different nations, it was far removed from some of the 'party boats' that screamed past us from time to time. It was actually split into two 3-day cruises, one heading north and the other south, which meant that we were joined by a different crew and guests at the half-way stage.
A highlight was viewing the famous silica-sand Whitehaven Beach from Hill Inlet and then spending a couple of hours on the beach itself. Unfortunately my tendency towards self-harm re-surfaced during a simple game of throwing a ball in the shallow water – as I turned to catch the ball I felt a shuddering pain in the back of my leg which felt like I'd been smacked with a baseball bat (I found out later that I'd torn my achilles tendon). Not one to make a fuss (ahem…), I was eventually manhandled by my seafaring chums back onto the boat, which I then had to navigate on one leg for the rest of the trip. Note to self….if you're going to rupture something again at least have the gumption to do it because you've been pushing the boundaries of physical extremes and not because you've managed to make a pig's ear of catching a beach ball…!
Another highlight for me was snorkelling through a large shoal of bump head parrotfish – and they were huge! I'm planning on learning how to scuba dive for our forthcoming round the world trip but, for now, this was the biggest 'wow' moment from snorkelling.
Most of the time the yacht was motor propelled but on a couple of occasions the captain switched off the engine, dropped sail and meandered slowly for a few hours – something I wish had happened more often…but then we had six days, not six weeks to make our way around.
5. Sydney & The Blue Mountains
And so, on to our final leg of the trip – five nights in Sydney, with an overnight stop amidst the Blue Mountains in Katoomba. Accommodation-wise, this was a bit more straightforward – opting for the comfortable but bland Radisson Blu hotel. The weather was a bit dodgy – a balmy 29 degrees on one day was followed by Sydney's coldest October day in 30 years the next. And I suppose I should have expected the worst when we caught the two-hour train to Katoomba – we left Sydney in a reasonable 19 degrees and arrived in Katoomba with snow and temperatures just above freezing – pity I'd turned up for the journey in just tee-shirt and shorts!
Back in Sydney, the highlights for us were:
We took the ferry to Manly and then a bus to Spit Bridge so that we could do the walk in reverse. A not-too-challenging three-hour walk combining bush and beach. And best of all, the ice cold German wheat beer on offer at the Bavarian Bier Cafe on the Wharf.
Sculptures by the Sea
This is essentially an annual open-air sculpture exhibition along the coastal walk between Bondi and Coogee. Some of the exhibits are ingenious and it was a great way to spend an afternoon. Of course, we left our imaginary surfboards behind in the hotel room so that we didn't have to compete with the locals on Bondi beach…
Climbing the Harbour Bridge
Although expensive (which most things were, to be honest) this was just something we didn't want to miss. Luckily the tickets were bought for us as a wedding present! We opted to go for the dusk walk which meant that we ascended when it was still light and descended back as day turned into night. And while we were at the top of the bridge a huge cruise ship passed underneath us as it departed from Darling Harbour. It would have been churlish of us not to respond as a group of Pacific-bound passengers waved furiously at us, gin-and-tonics in hand – so obviously we did – and it felt good!
Just wandering aimlessly around…
Sydney is small enough to just wander around on foot and catch the occasional ferry. We enjoyed trying out the bars and restaurants around Darling Harbour. We paid the Lindt shop a visit and enjoyed the taste sensation that's a Lindt chocolate ice cream while sitting on the harbour front watching hundreds of jellyfish gather for some sort of sub-aqua rave. Simple pleasures.
Reflections
There's no doubt that the trip was well worth the hours/days/weeks of internet research, emails, telephone calls, and constant worries over what we could afford to do. It's when Trip Advisor really came into its own for me, although nowadays I'm just as likely to get my inspiration from travel blogs and Twitter feeds.
If anyone was considering a honeymoon or just an unforgettable trip to the east coast of Australia, I would absolutely recommend the itinerary we took. Sure, we could have made some savings on the overall cost of £10,000 – but to forego the likes of a helicopter flight over the Barrier Reef in favour a ferry boat or to miss out on a luxury private lodge in the middle of pristine rainforest would have been something we might have regretted forever. And our memories of that trip are worth their weight in gold too!
We're definitely planning to return to Australia as part of our round the world trip – let's hope for an improvement in the Aussie dollar/Pound sterling exchange rate, though!
Memories are made of this…
– Waking up in our tent on Wilson Island to the view and sound of waves gently lapping onto the beach just yards away
– Meeting and spending time with some great people, particularly at Bloomfield Lodge, Wilson Island and on board the Pacific Sunrise
– Taking the helicopter flight from Gladstone to Heron Island and the pilot descending close to the water to watch turtles
– Snorkelling with bump head parrotfish in the Whitsundays and with mating turtles just off Wilson Island
– Exploring the trails through the Blue Mountains, the Manly Scenic Walk and the Bondi to Coogee coastal walk
– Climbing the iconic Sydney Harbour Bridge
Best forgotten…
– How Achilles tendons can tear for the most ridiculous of reasons
– Our meal at the historic Doyles seafood restaurant in Sydney (a real disappointment)
– British Airways and their handling of our transfer from Manchester to London at the very beginning of the trip – such a difference to how we were treated by Qantas
– The guy from Australia who thought it was unbelievably funny to break wind at the communal dinner table on Wilson Island
What we'd wished we'd known beforehand…
– That carrying 3kg of excess baggage would cost us an extra £130 with British Airways
– To be prepared for the fact that flight delays, cancellations, lack of communication and 'jobsworth' attitudes from certain staff are all part of the BA experience (probably unfair in general but that was certainly our experience)
– That trying to take an unopened packet of peanuts from the flight through Sydney airport might be considered a hanging offence by border control
Visit our Australia page for further posts on the country and information on where we stayed.