A FOUR DAY ODYSSEY TO THE UYUNI SALT FLATS IN BOLIVIA
A FOUR DAY ODYSSEY TO THE UYUNI SALT FLATS IN BOLIVIA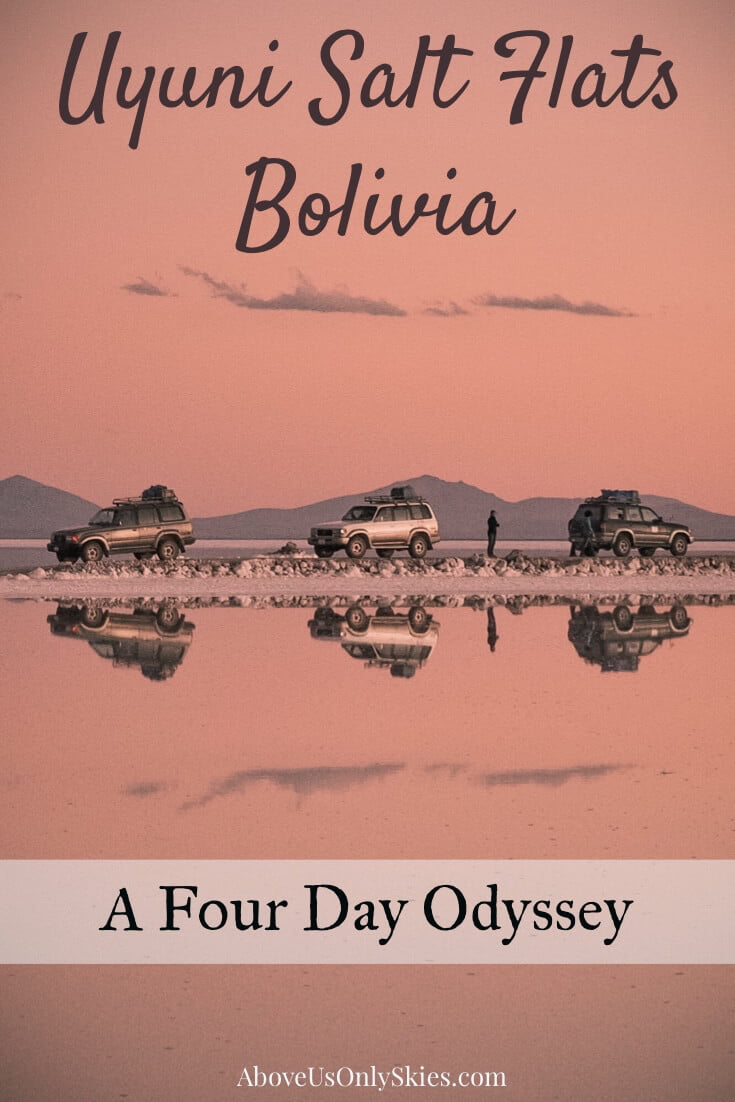 With an overall area of 4,000 square miles, they're the largest salt flats in the world.
And, situated high up in the Bolivia altiplano at up to 5,000 metres (16,400 feet) above sea level, they can literally take your breath away.
But while visiting the Uyuni Salt Flats (or Salar de Uyuni) is an experience that anyone travelling in South America shouldn't miss, the journey getting there is every bit as exhilarating.
As we discovered when we booked an unforgettable four-day, 1000-kilometre (620-mile) jeep tour from the desert town of Tupiza.
It was challenging. It was exhausting. But it may well have been one of the best things we did in our whole South American trip.
Contents
This page contains affiliate links. To help us maintain our site we work with a number of partners who we've personally used and can recommend to our readers. If you decide to purchase any products through the links on this page, we'll receive a small commission at no extra cost to you.
Day 1 – Heading out from Tupiza
Having spent three days exploring Tupiza's cowboy-country charms, our odyssey began with an early-morning start as our driver-cum-guide, Hugo, packed up the jeep with everything we'd need for the next four days.
We were introduced to our cook, Nancy, and our two co-travellers, Jeroen (from Belgium) and Fabian (from Switzerland). Who, aside from some spectacularly awful music choices, turned out to be a perfect fit for our group of high altitude adventurers. Especially as Fabian had a decent grasp of Spanish.
The long route out of Tupiza saw us gradually climb above it, while the red sand and green cactus landscapes of the former were replaced by the extraordinary multiple hues of the altiplano (essentially the Bolivian outback).
If anything, it was a gentle introduction to what we would witness over the next few days. But we still managed to lunch beside bizarrely shaped rock formations, wander through a pasture filled with grazing llamas, and take a look around an abandoned 17th Century mining town at Pueblo Fantasma.
Before bedding down for the night at a hostel in remote Quetena under the watchful gaze of snow-capped Volcan Uturuncu, we were given a prep talk by Hugo on what the following day would bring. After which we cocooned ourselves in our rented sleeping bags and dreamed of flamingo-filled lakes, billowing high-altitude geysers and piping hot thermal springs.
Sweet dreams indeed.
Going off-road in our jeep
Day 2  – Entering Reserva de Fauna Andina Eduardo Avaroa
Lesser known than the famous slat flats to the north, but equally as stunning, the Reserva de Fauna Andina Eduardo Avaroa (or Avaroa National Reserve to you and me) would be our main focus for Day Two.
It's actually Bolivia's most popular national park. And it's not hard to see why. But, although most people who visit do so either en route to or from the Salar de Uyuni, the absolute remoteness and utter uniqueness of the landscape make this a world-class destination in its own right.
Our first morning stop was at Laguna Hedionda to watch pink flamingoes gathering in the shallow water. There are, in fact, three types of pink flamingo to be found in the park, each distinguishable to the untrained eye by the colour of their legs. So you can spot an Andean Flamingo from its yellow legs and a Chilean Flamingo from its bluish legs with red knees. While those of the endangered James's Flamingo are red.
So now you know.
Heading further into the park we travelled closer to the Chilean border as the landscape took on a reddish hue interspersed with shades of green, purple and white.
We imagined how this rugged terrain might serve as a substitute for that on Mars and half-expected to see some sort of remote-controlled Martian rover appear from a hillside before crossing our path.
Indeed, as we drove through the randomly placed rocky outcrops of the Desertio de Dali, it was easy to see how this bizarre landscape would be named after the surrealist artist.
Through to the other side of the desert, the twin lakes of Laguna Blanca (White Lake) and arsenic-laced Laguna Verde (Green Lake) enticed us with their dreamlike setting beneath the mighty shadow of the perfectly conical Volcan Licancabur.
Mineral-flecked mountains in the desert
Rocky outcrops pockmark the landscape
Termas de Polques and Salar de Chalviri
To complete a loop at the south-west extremity of the park, we returned to the Salar de Chalviri. A mixture of salt flat and lake, it too attracts large numbers of flamingoes. But what made this place special for us was the chance to wander close to a herd of vicuñas, which are smaller relatives of llamas and alpacas. Or "sexy llamas", as Hugo labelled them.
Also here, the outdoor hot springs of Termas de Polques were a tempting diversion. Especially considering the freezing temperatures surrounding them. But, to be honest, we were put off jumping in by the number of people who'd turned up for a welcoming hot bath before taking lunch.
However, if we'd opted for a private tour rather than a shared one, we'd have thought about staying nearby so that we could have experienced the pool at night together with a light pollution-free starry sky.
After lunch we continued onward and upward until we reached the geothermal mud-pools of Sol de Mañana ("The Morning Sun"). At over 4,800 metres (15,750 feet) the air was thin and the breeze bitingly cold. And walking amongst the smoking craters filled with bubbling pools of grey, yellow, green and red mud, we could have again been excused for imagining ourselves wandering on some other celestial world.
Undoubtedly, if this was in the UK, the Health & Safety Police would be borderline apoplectic. Especially watching devil-may-care Instagrammers stretching the boundaries of common sense to get their prized money shots. But, this being Bolivia, standing on precariously thin slivers of volcanic rock overlooking molten pools of boiling mud is just another viewing platform.
Incredible. Breathtaking. Probably dangerous.
And yet, despite what we'd already seen thus far, the highlight of the day was still to come.
The approach to Laguna Colorada (or "Red Lagoon") took us through a vast expanse of altiplano where the occasional distant plume of dust betrayed the presence of other jeeps en route to this most breathtaking of all lakes.
Less than a metre deep across its full expanse, it's a glorious combination of red, pink and blue, broken up with islands of white borax.
But the explosion of colours doesn't end there. The lake is bordered by a landscape of green and straw-coloured grasses interspersed with white. And behind, the red mountains and sapphire blue sky combine to make this one of the world's must-visit places for landscape photographers.
And then, of course, there's the wildlife.
We saw all three types of South American pink flamingo. And there were hundreds of them. Apparently, they're attracted by the algae and minerals that create the red colouring of the lake.
Meanwhile, in front of them, small herds of llamas and alpacas wandered amongst us. Although, more often than not, they also had phone-wielding tourists in their faces, too.
We spent a couple of hours at the lake. And deservedly so as it was yet another site on our South American trip that we found hard to leave behind. Indeed, it arguably has more of a "wow" factor than the Salar de Uyuni itself.
But, as there was a two-hour-plus journey ahead of us to Villa Mar, our next overnight resting place, leave we did.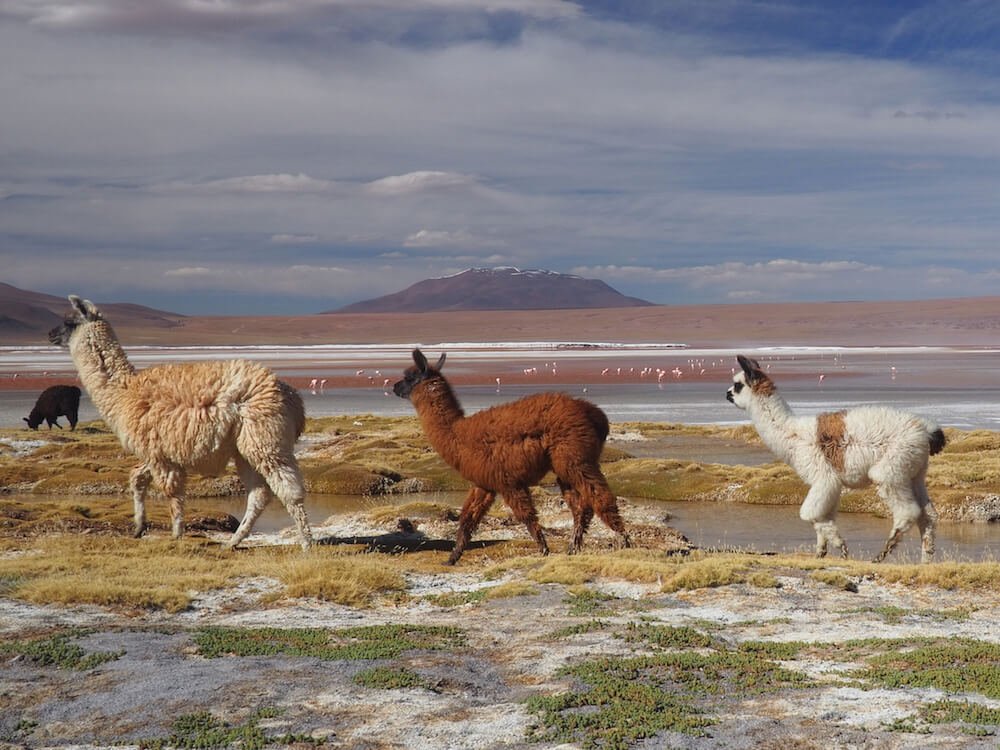 Nicky with a prized flamingo feather
Flamingoes basking in the pink water
More llamas pose for the camera
Day 3 – North to the Salar de Uyuni
Our journey north to the Uyuni Salt Flats would be a long, bumpy ride. But, of course, this being the Bolivian altiplano the scenery was never less than spectacular.
Accompanied by Jeroen's perpetual Abba and A-ha playlists, we slowly wound our way through the Valle de las Rocas, with its unusual eroded rock formations.
The Canon de Anaconda – a deep canyon dissected by a snaking river – turned out to be another Instagram-friendly spot.
And later in the morning we arrived at another lake. Perhaps inevitably, having already gazed upon bodies of white, blue, green and red water, this one would turn out to be different again. And sure enough, Laguna Negra ("Black Lagoon") is a darkish lake in the middle of a rugged landscape of red rock and green shrubs. Although describing it as "black" is a bit of a stretch.
After a picnic lunch in a meadow we continued north during the afternoon, stopping only for the obligatory touristy bar selling over-priced bottles of ice cold beer made with ingredients such as quinoa, cactus and coca leaf.
And, if you're wondering, they tasted as bad as they sound.
Nevertheless, two or three bottles later we finally continued on our way to our third and final hostel at Villa Candelaria. Only this time it was built entirely out of salt. Including our beds and all the furnishings.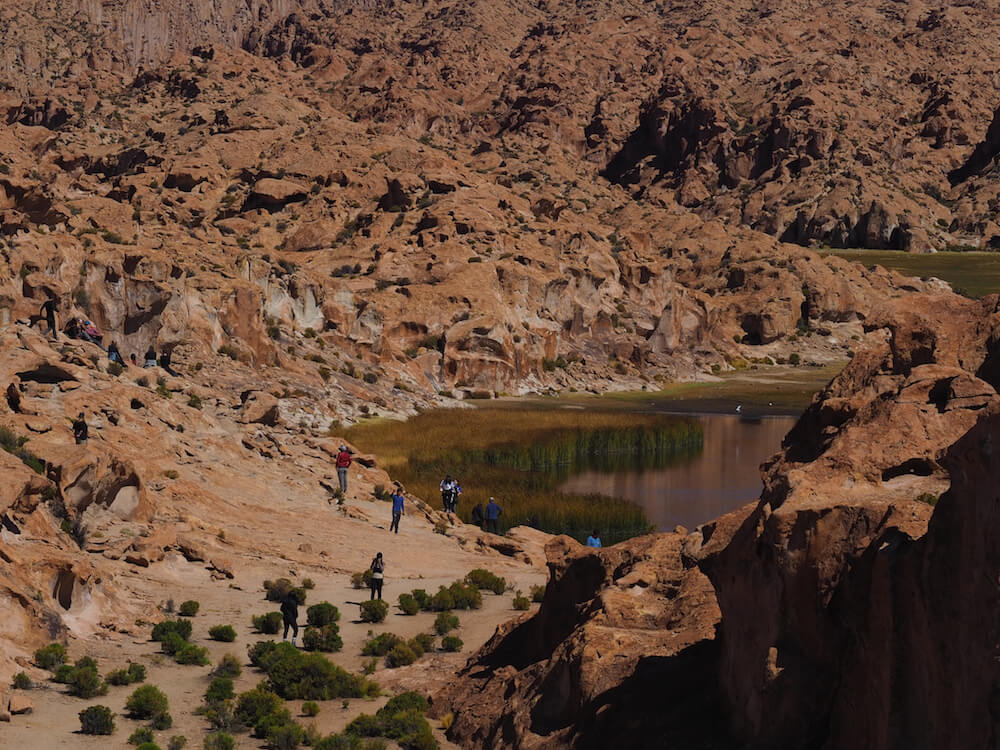 Apart from the large numbers of llamas, alpacas, vicuñas and flamingoes we'd seen, there were other animals in the park we were excited to spot, too.
Although they're around, we didn't see any pumas. But we did see a few Andean foxes. And at Laguna Negra I managed to track a vizcacha (a sort of cross between a rabbit and a chinchilla) before grabbing a photograph of it.
An infant llama at Laguna Colorada
An Andean fox in the Desierto de Dali
A vizcacha at Laguna Negra
Sunset at a flooded Salar de Uyuni
Before retiring to bed ahead of an early start the following morning, the hostel's close proximity to the Salar de Uyuni meant that we could take advantage of a quick sunset trip, too.
And, as we visited in the shoulder period between the wet (November to April) and dry (May to October) seasons, we were lucky enough to witness some of the remaining floodwaters that blanket the salt flats during those winter months. As a result the dry, crusty salt flats are transformed into the world's largest mirror by a thin layer of water. Cue unbelievably beautiful reflections of clouds, distant volcanoes, jeeps and, of course, people.
We managed to spend an hour or so ankle-deep in the bitterly cold water just watching the sun disappear below the horizon. Meanwhile the colours all around played tricks on us and made it seem as if we were stranded in some huge kaleidoscope.
We've never seen anything like it. Truly mesmerising.
Day 4 – The Salt Flats and Uyuni
Watching the sunrise from Isla Incahuasi
And then it was on to the "main event" and the dry Salar de Uyuni in all its glory.
A freezing cold and pitch black 4:30 am start was something of a jolt to the system. But the need to get to Isla Incahuasi (or "Inca House Island") for sunrise was something of an obsession for Hugo.
A cactus-filled rocky outcrop atop a submerged volcano, it attracts legions of jeeps that race across the salt flats before dropping everyone off at the island's base. A short twenty minute hike to the summit later and everyone's eagerly waiting for the sun to appear over the horizon and cast its early-morning blue light over the vast sea of white.
It's yet another perspective of the salt flats that will linger long in the memory.
As will the welcoming breakfast of coffee and homemade cake prepared by the ever-creative Nancy.
View of the sunrise across the salt flats from Isla Incahuasi
Fotos Loco on the Salar de Uyuni
After breakfast Hugo waved us off to go and just wander on the salt flats towards the seemingly infinite horizon. It gave us a sense of the vastness of the place. And the complete silence that comes with it.
Afterwards, he picked us up in the jeep to take us literally miles from anyone else so that we could set about producing our very own fotos loco (or "crazy photos"). Taking advantage of the totally flat and featureless landscape and by combining it with our "natural talent" for creative photography, we joyfully produced our – ahem – hugely impressive works of art. 
As you'll see in Exhibits 1-5 that follow…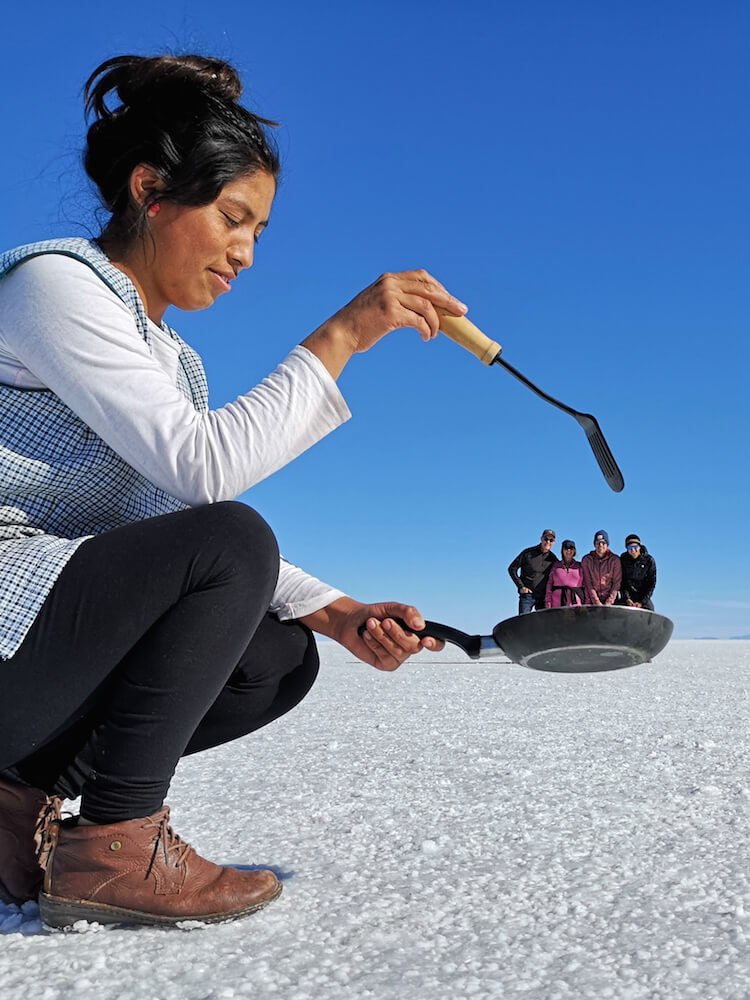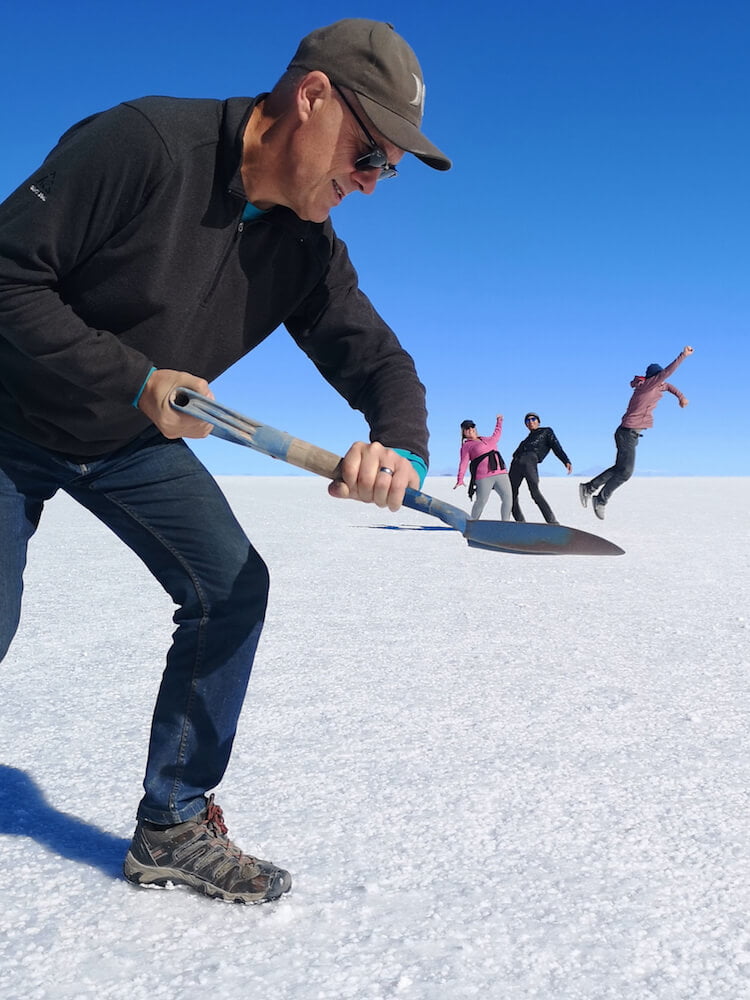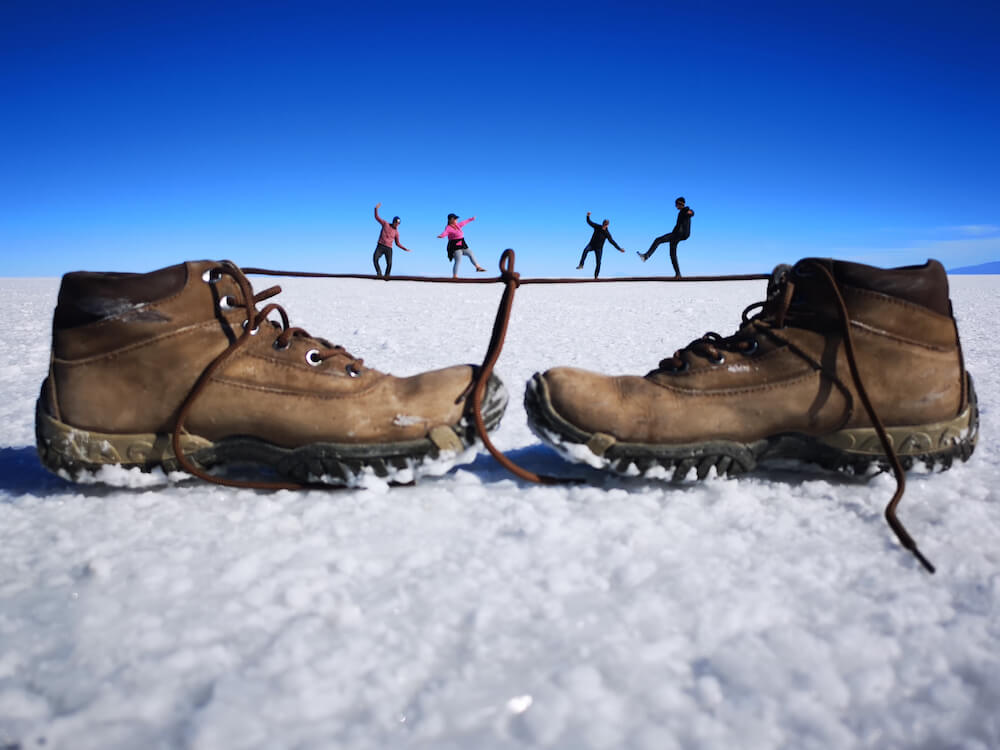 Creativity exhausted, we then continued in the jeep across further miles of dry, salt crust pockmarked with its distinctive polygon shapes.
We also visited a salt museum and small town at the edge of the salar brimming with stalls displaying clothes made from fake alpaca wool and other assorted tourist trappings. In truth, they were something of an anticlimax to what we'd seen beforehand. However, they were but a tiny blemish on what had been a truly remarkable experience.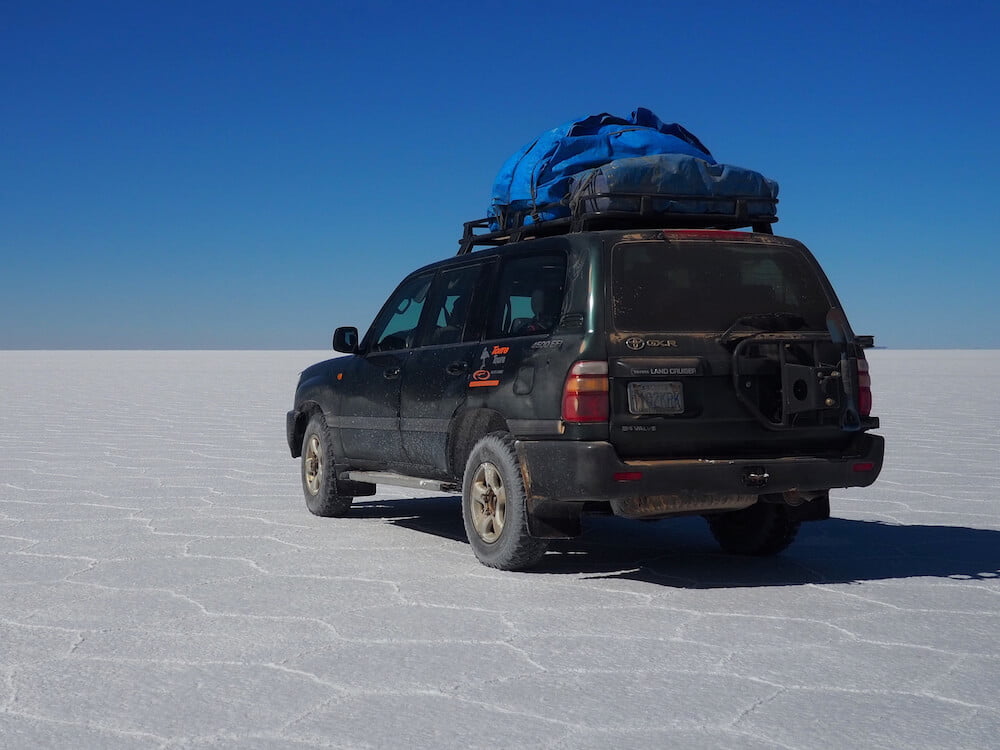 There was one final destination to visit before we finished the tour back in Uyuni.
Just outside of town, the "Train Cemetery" is literally a final resting place for dozens of rusting old locomotives from the early 20th Century. A relic of a bygone era when Uyuni was a transportation hub for trains carrying minerals to ports on the Pacific Ocean, the site is now a surprisingly popular tourist spot.
It was certainly different. It bore absolutely no relation to the natural wonders we'd seen over the past few days. But we didn't have to be train enthusiasts to enjoy it for what it was.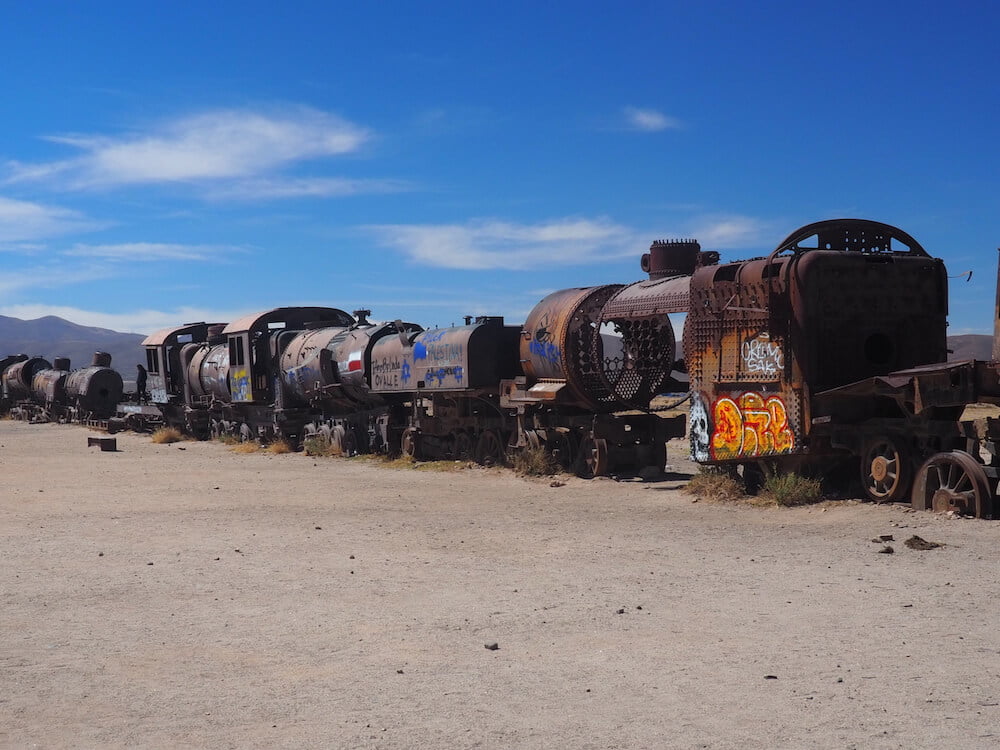 Our tour ended at 1 pm in the centre of soulless Uyuni.
We'd already decided that we wouldn't be spending a night there so we jumped on one of the many buses leaving for historic Potosi, three hours away (ours left at 1:30).
Choosing your tour
Unless you're on a self-drive tour – which all but the most adventurous off-roaders should avoid – you've got three starting points to choose from.
If coming from Chile, then tours can be booked from San Pedro de Atacama, either returning back there or finishing in Uyuni, Bolivia.
Most people tend to book tours out of Uyuni (a dour, dusty and charmless town on the edge of the salt flats). From there, it's possible to take a day or an extended three to four day tour. But you'll most likely be doing so in the company of lots of other jeeps.
Your other choice is to base yourself in Tupiza (to the southeast of the salt flats and close to the Argentinian border). Not only is Tupiza itself worth spending a couple of days in (the area is famous for its cowboy country feel and as the final holdout for Butch Cassidy and The Sundance Kid), but its tour operators are generally recognised as being more reliable than their Uyuni competitors.
There's no need to book before you arrive in town either. Just walk into any of the operators the day before you want to go, talk to them about their tours and book if you're happy.
Our research told us that the two best operators in Tupiza were Tupiza Tours and La Torre Tours. We decided to go with the latter for a three-night / four-day tour in a shared jeep with two other people and weren't disappointed. And at 1200 bolivianos (currently £142 / $174) for all travel, accommodation and food it was a steal. We could have done it as a private tour but the cost would have been more than double that.
One other point. Although most tours follow a similar route, you do have some options which are worthwhile discussing with your tour operator first. Bear in mind that if you're sharing with other people then everyone will need to agree with the final chosen route.
Things you should know about the tour
Don't expect many creature comforts, if at all.
The jeeps, while relatively comfortable, travel across terrain that can be best described as rugged. And, if you're in the back row seats there's little room to stretch out so you'll want to rotate with your co-travellers at regular intervals.
Along with your driver/guide you'll also have a cook along for the ride. But don't expect either of them to speak any English other than some basic phrases. Just another reason why it's so advantageous to have a basic grasp of Spanish while travelling in South America. Unless, of course, you're happy to pay a further 1000 bolivianos (£120 / $145) for an Englsh-speaking guide.
Your accommodation will be very basic, with no heating. You'll be sharing a room with your co-travellers. And night-time temperatures can plummet to well below freezing so make sure you've got plenty of layers to wear. Hiring a sleeping bag from your tour operator makes good sense, too.
During the day the sun can be fierce. And, because of the high altitude, extremely unsafe to the unprotected skin. So a wide-rimmed hat, sunglasses, suncream and plenty of water are a must. Bear in mind, too, that there are no shops en route.
There's also the issue of altitude sickness. Don't even consider the tour without first acclimatising for a few days in Tupiza or Uyuni.
When to go
The salt flats can be visited year-round. But when you go will impact greatly on your experience.
During the wet season (December to April), nearby lakes overflow resulting in flooding across the plains. But the flooding also has the startling effect of turning the salt flats into the world's largest mirror. So many people flock there to witness the incredible reflections of the clouds and mountains.
However, getting there from Tupiza becomes more of a challenge which means missing out on some of the jaw-dropping attractions en route.
During the dry season (May to November) the temperature turns colder as clear skies return, the water disappears and the dry, salt crust is pockmarked with distinctive polygon shapes. It's during these months that the vast white plains of salt act as a backdrop for perspective-defying group photographs.
Based on our experience, the ideal time to catch the best of both worlds would seem to be end of April to early May.
It's fair to say that the multi-day tour we took is not gong to suit everyone. Conditions in the jeep can be cramped. The high altitude, the cold temperatures and the basic accommodation on offer might put a lot of people off, too.
But, for those who are prepared to venture out of their comfort zone to experience something truly unique and life-affirming, we think Bolivia's southwest circuit encompassing Tupiza, the Avaroa National Reserve and the Uyuni Salt Flats is unbeatable.
What did you think? Have you been to the Uyuni Salt Flats in Bolivia? Do you have any recommendations to add? Or perhaps you're thinking of visiting there in the near future? Either way, we'd love to hear from you so please add your comments below.
To help us maintain our site we work with a number of partners who we've personally used and can recommend to our readers. If you decide to purchase any products through the following links, we'll receive a small commission at no extra cost to you. Thank you for your support!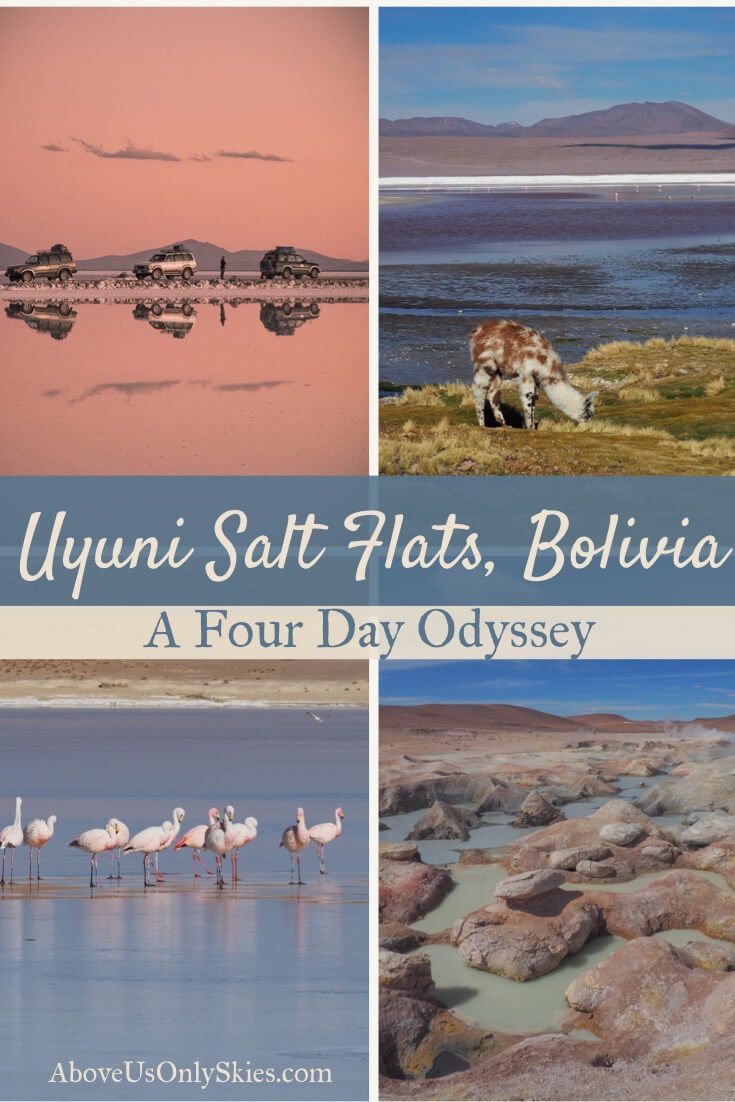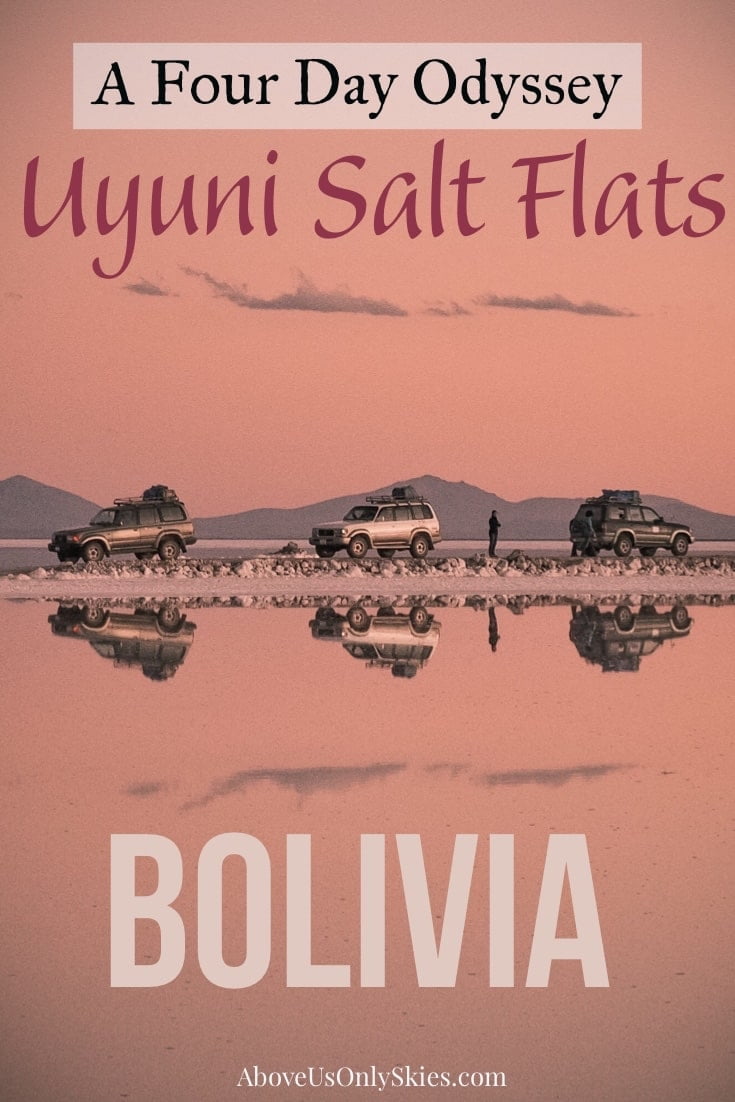 Hi, we're Ian and Nicky, an English couple on a voyage of discovery around the world, and this blog is designed to reflect what we see, think and do. Actually, we'd like to think it also provides information, entertainment and inspiration for other "mature" travellers, too. So please feel free to pour yourself a glass of something suitably chilled and take a look around.