THE WAGAH BORDER CEREMONY: AN INDIAN-PAKISTANI PANTOMIME
THE WAGAH BORDER CEREMONY: AND INDIAN-PAKISTANI PANTOMIME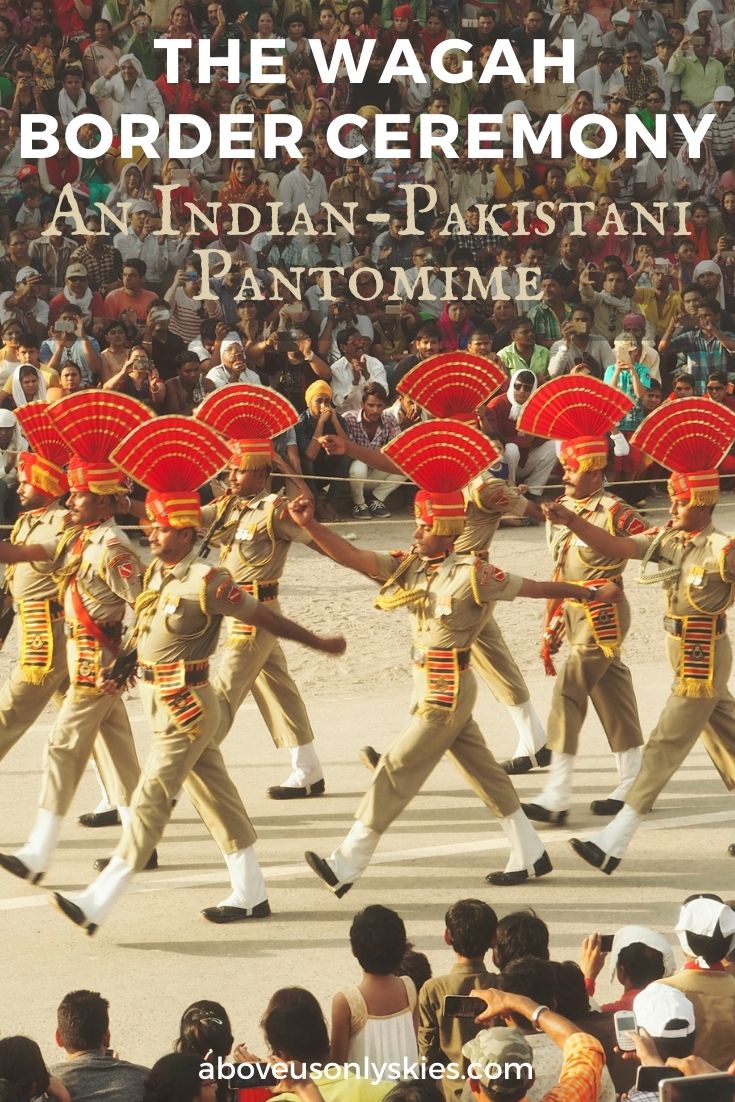 The master of ceremonies, dressed in all-white, bellows into his microphone one more time and punches the air with his left fist. The thousands-strong stadium crowd responds with chants of "Hindustan! Hindustan!!" Meanwhile below us, eight Indian soldiers, resplendent in their khaki uniforms and red ice-cream-wafer headdresses, march towards their Pakistani counterparts at the border gates.
It feels like it should be a confrontational nightmare. After all, these are two nuclear-armed neighbouring nations with a long history of conflicts with one another. But the Wagah-Attari Border Ceremony (to give it its full title), which marks the nightly closing of the India-Pakistan border, is an act of pure theatre that has enthralled spectators for over 60 years.
And, like the longest-running show in town, it shows no signs of letting up just yet as it recommences its daily performances following a 10-month pandemic-fuelled hiatus. Albeit without the spectators for now.
We went to see what all the fuss was about back in 2016, on a typically smoggy June afternoon when the mercury was pushing past 45 degrees centigrade (113 Fahrenheit).
Cue the most surreal ceremony we've ever witnessed.
Location of the Wagah Border Ceremony
Contents
This page contains affiliate links. To help us maintain our site we work with a number of partners who we've personally used and can recommend to our readers. If you decide to purchase any products through the links on this page, we'll receive a small commission at no extra cost to you.
It's a 45-minute taxi ride on a monotonously straight road from the city of Amritsar, in India's Punjab, to Attari. Which happens to be the sister border village to Wagah, 4 km away in Pakistan.
Our taxi driver finally stops on the outskirts of the village and points his index finger towards the road to our right. We can see there's a steady stream of people heading beyond us so we assume that our word-shy guide is suggesting we join them.
Once the passenger door opens, we're immediately transported from the refreshing coolness of the taxi's air conditioning system to the furnace-level breeze of the forty-plus-degree heat outside. The sky is obstructed by a layer of grey smog that hangs like a thermal cloak, squeezing the oppressive heat around us.
Predictably, as soon as the soles of our feet touch the concrete pavement we're approached by a guy with a cooler bag filled with plastic bottles of moderately cold water. We flash our own filled water containers at him and thank him for his offer, which he reluctantly accepts. Of course, we fully expect to see him again when we return.
The walk towards the border gates at Wagah reminds us of the ritualistic journey to a football match back in the UK. Everybody around is heading in the same direction. Groups of people gather together and chat, presumably imagining various outcomes to the ensuing contest. Flags are carried to bolster the "home side" and rile the opposition crowd. And there's a sense of anticipation all around us.
As we approach the border check post, we spot a set of "security instructions" displayed on a large green sign. Requests to take care of valuable items and the proper use of authorised gates seem like mere statements of the obvious. But, given the rivalry between the two countries, we imagine that the instruction, "Don't use any negative slogans on the International Boundary" will inevitably fall on deaf ears.
Likewise, "Don't use any filthy body language while witnessing retreat ceremony" sounds like an invitation to do just that.
More troublingly, "Behave decently with females constable" (sic) feels like something that shouldn't have to be spelt out.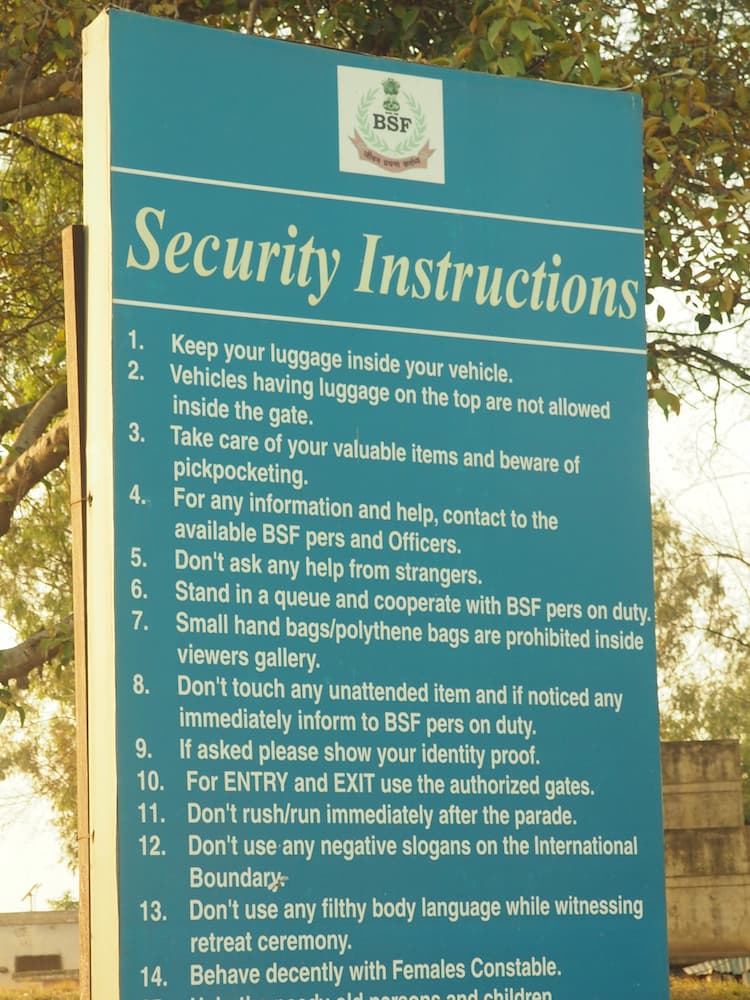 The road that leads through the border gates is surrounded on both sides by viewing galleries, which gives the whole setup a stadium feel.
Security is surprisingly low-key, considering the potential volatility. Domestic tourists are shepherded single-file toward the main viewing area. Whereas, foreign tourists like us, along with "VIP guests", are ushered to a separate entrance leading to the "better seats" at the front. It's a concept we've grown used to while travelling in India – deference toward foreign tourists who're widely granted VIP treatment.
We've arrived just after 3 pm, even though the ceremony doesn't start until after 5. The word is you need to get there early to secure the best seats. And, indeed, we manage to bag a "seat" (aka a concrete step) near the entrance among a small band of western and domestic tourists.
But, with the intense sun beating down through the smog in front of us, we decide it would be better all-round to take our chances later on and spend the next hour or so back downstairs in the relative comfort of the shade.
Nicky awaits the fun and games
We re-emerge at 4:30 and reclaim our seats. The viewing galleries on the Indian side now seem three-quarters full.
Opposite us, the main grandstand is packed with increasingly animated people dressed in all manner of colourful attire. Men decked out in designer polo shirts and jeans. Women and teenage girls sporting traditional saris in red, pink, yellow and green. Whole families with huge smiles on their faces in expectation of the party atmosphere to follow.
To our right, a group of school kids in their light blue shirts/blouses and grey trousers. And, beyond them, a group of Sikh school kids sporting light blue turbans, white shirts/blouses with tartan trims and matching tartan trousers.
To our left, we can see the border gates with the respective national flags – the tricolours of saffron, white and green of India and the dark green of Pakistan. And behind, the image of Pakistan's founding father, Muhammed Ali Jinnah.
In sharp contrast to the raucous crowd on the Indian side, however, the scene over the border is muted. Men and women sit in separate sections and most of the galleries are empty. To us, it feels like the "away crowd" haven't shown up yet. Which they ultimately don't.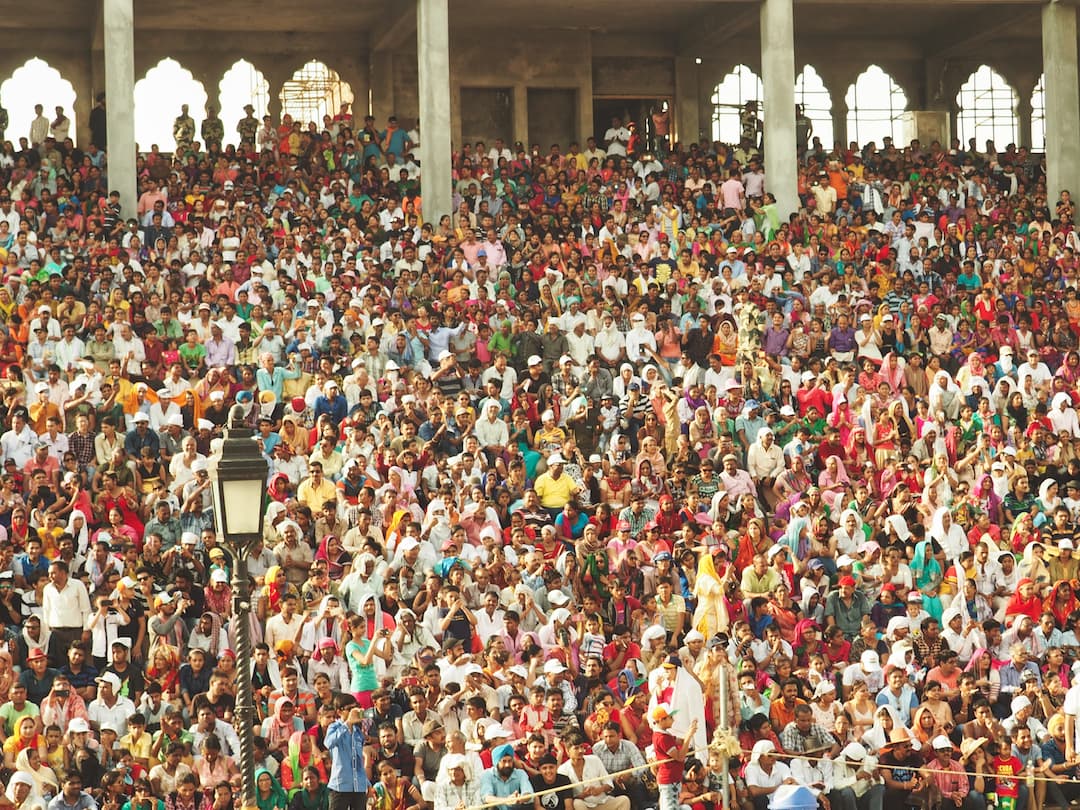 A crowded grandstand opposite our seats
Unabated, the "home crowd" on our side are just getting started. A sign of things to come begins when someone gets to work on a full-scale drum kit directly behind us. Then it's the eardrum-splitting sound of Bangla music coming from a nearby set of speakers. Typically for us, we've managed to pick the noisiest seats in the arena.
Anyone well-versed in Bollywood musicals would instantly recognise the tunes now being rendered at full volume. A fact not lost on a large group of women opposite who jump from their seats and head down to the road for an impromptu party. Meanwhile, seemingly everyone else still seated appear to be clapping, singing and waving their arms in the air. And, just in case there's any danger of it petering out, the DJ behind us cranks up the volume even further.
Then our master of ceremonies – a guy dressed in all white – grabs a microphone and asks everyone to sit back down.
It's time to whip up the crowd into a patriotic frenzy. Which our man does with consummate ease. Of course, we've no idea what he's saying but it's not difficult to get the themes he's pushing. Like a reincarnation of Freddie Mercury at Live Aid, he commands the crowd's attention, screaming slogans at them while punching his fist into the air. And they respond with chants of "Hindustan! Hindustan!" and "Jai Hind!" ("Victory to India!").
We've no sense of whether there's a similar thing developing on the Pakistani side. Although we understand that their response to such jingoism is normally a chant of "Pakistan Zindabad!" ("Victory to Pakistan!").
Just like an India-Pakistan cricket match, then.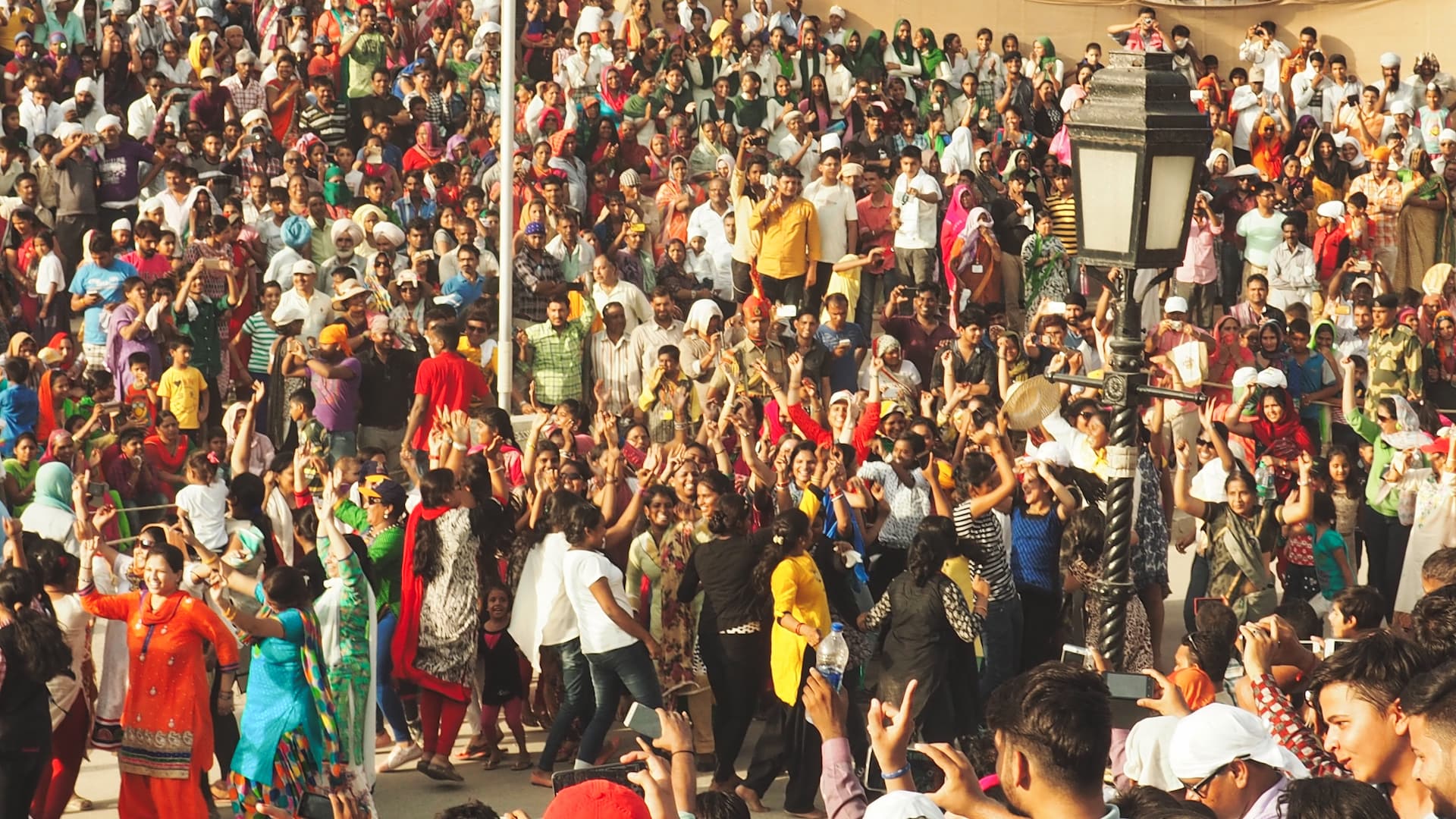 When the ritual closing of a national border becomes an excuse to party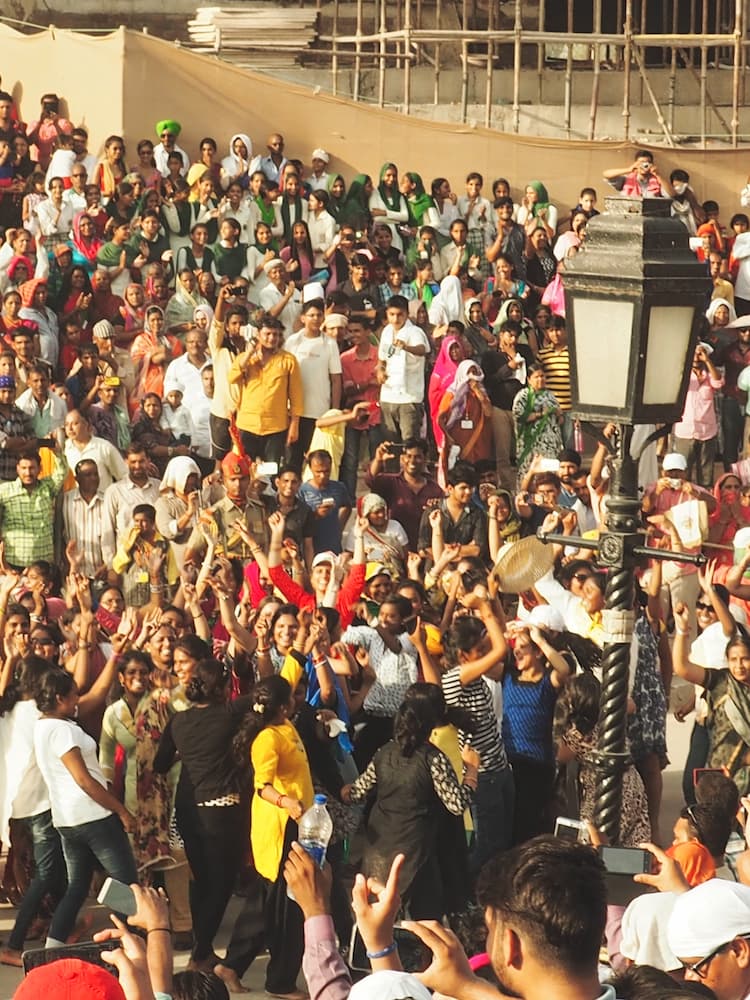 When the ritual closing of a national border becomes an excuse to party
And then, as the sun begins to descend towards the horizon, and the intense heat drops just a little, two Indian soldiers appear to our right. And they look like they're in a hurry.
They're dressed in a khaki uniform, topped with red and gold fantail headgear specially designed for the ceremony. And both are sporting waxed handlebar moustaches. Like a couple of pantomime villains, they twirl their moustaches to a fine point before marching from right to left. As they do so, they tuck their thumbs into their breast pockets before temporarily stopping in front of us.
Then, in a change of gear, they break out into a high-stepping march towards the border gates. It's as if the Monty Python's Ministry of Silly Walks sketch has been redeployed by Bollywood at the Indian-Pakistani border. Naturally, we break out into uncontrollable laughter.
The soldiers continue to the gate where they are met by an almost mirror image from the Pakistani side. Only the Pakistani soldiers are dressed in all-black uniforms and headgear with slashes of red.
"Jai Hind!" reigns down upon us once more. And then both sides retreat.
Up next are eight more soldiers in three rows – three at the front and back, with two in the middle. Two of them in the front row are carrying rifles. And they're on their high-kicking way to the border gate with a renewed ferocity. But this time, the sound of their heels cracking into the ground feels rather unnerving.
Once again the pantomime plays out as the opposing sides face off. The high kicks continue as they stare down at each other. It's almost as if they're in rehearsals for a combined military-style ballet performance in some hidden location further up the border. We'd certainly love to think so.
But any sign of joined-up thinking is immediately vanquished when two female Indian soldiers begin their march. Something that's not replicated on the Pakistani side.
The first two soldiers begin the marching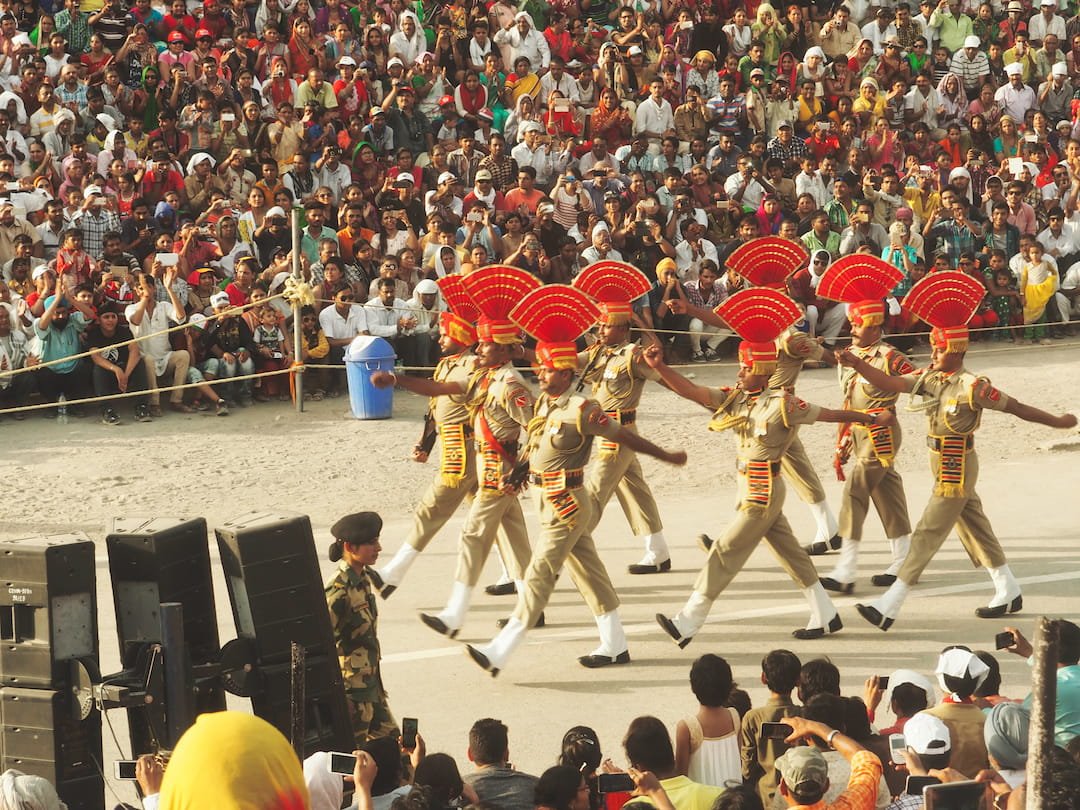 A larger group of eight soldiers follow
Some fine high-stepping showmanship
We've now arrived at the climax, known internationally as The Beating Retreat – a term coined by the British for a particular military ceremony dating back to the 17th Century.
As both flags are ceremoniously lowered, individual soldiers from each side perform mini-duets of choreographed high-kicking, seemingly trying to out-do one another. Indeed, the extent of the athleticism on display wouldn't seem out of place in an Olympic gymnastics floor event. And it makes us wonder why those security instructions don't include the warning, "Please don't try anything performed at the ceremony at home".
With the high-kicking finally over, flags removed and symbolic handshakes completed, both sides retreat and the gates slam shut for another night. The flag is wrapped and taken away by three soldiers who march out of the stadium to the side of us.
And then, all of a sudden, the noise dissipates. And it's all over.
We wait for a few minutes before we're ushered from our seats and back out the way we came in. The walk back along the cordoned-off road towards the waiting taxis gives everyone the opportunity to reflect on what they've just witnessed.
And, if we're honest, we're still not entirely sure.
The Indian flag is removed, folded and taken away for overnight storage
Final thoughts on the Wagah Border Ceremony
We can't decide whether it's meant to be taken seriously or if it has merely become a spectacle for domestic and foreign tourists to enjoy. In truth, despite the bravado, the jingoism and the taunting, the whole event is partly intended to symbolise brotherhood between the two nations. Which can perhaps be best demonstrated by the 2014 suicide bombing on the Pakistani side of the border, when 50 people were killed. Despite that, the ceremony continued THE NEXT DAY as normal.
Of course, unlike the suicide bomber, the COVID-19 pandemic brought the ceremony to a grinding halt for most of 2020. Which has been bad news for the 10,000 cab drivers in Amritsar and the food stall owners near the border. Especially considering what would otherwise be a daily attendance of 10,000 people, increasing up to 30,000 over weekends and public holidays.
But, just as it was back in 2014, the will to return to normality is strong.
However, unlike 2014, it will take a while longer before the cries of "Jai Hind!" and "Pakistan Zindabad" are once again heard jousting with each other from either side of those border gates.
What did you think? Have you been to the Wagah Border Ceremony? Or perhaps you're thinking of visiting in the future? Either way, we'd love to hear from you so please add your comments below.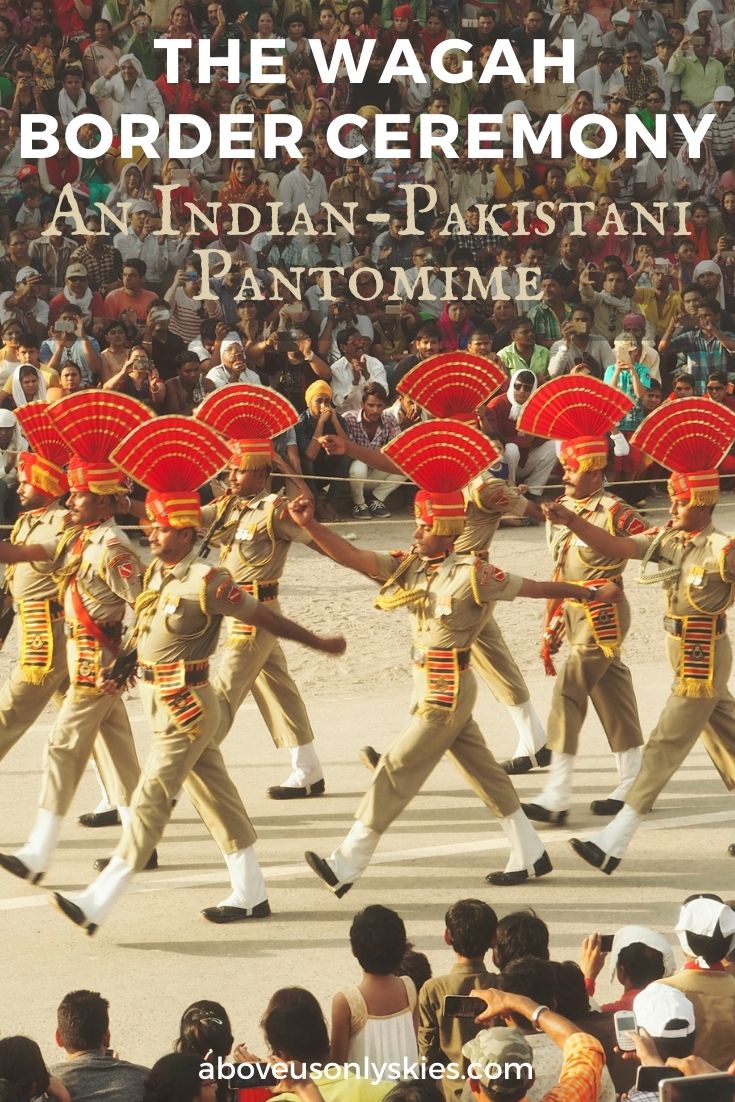 Hi, we're Ian and Nicky, an English couple on a voyage of discovery around the world, and this blog is designed to reflect what we see, think and do. Actually, we'd like to think it also provides information, entertainment and inspiration for other "mature" travellers, too. So please feel free to pour yourself a glass of something suitably chilled and take a look around.