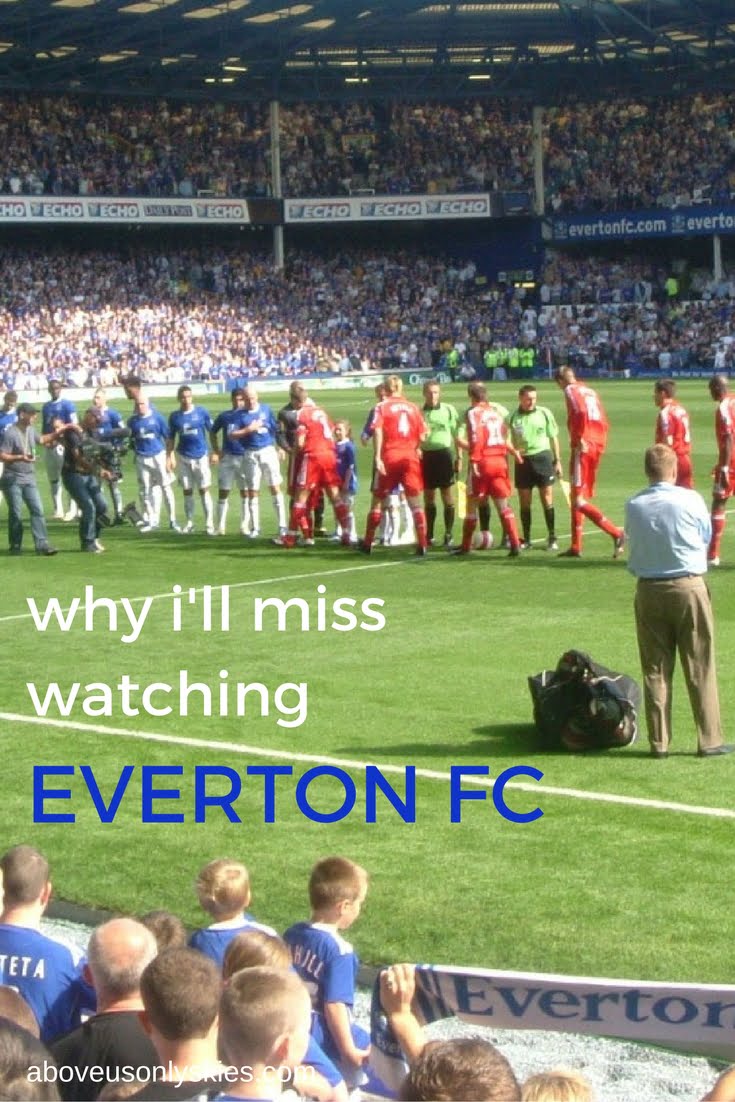 As our Big Trip around the world gets closer by the day the more I realise that I'm going to miss one of my lifetime passions – watching Everton FC at Goodison Park. And here's why…
15 August 1970 and a 2-2 home draw with Arsenal. My first 'live' game at Goodison Park to watch the reigning champions of the Football League (as it was called then) with my dad. I don't remember much about the game but I knew I was hooked from that moment on. That's not surprising really as we'd had 'blue blood' in our veins as a family for most of the 20th century.
My grandad saw perhaps the greatest centre-forward the world has ever seen- one William Ralph 'Dixie' Dean – who scored 60 league goals in 1927/28, and he was present at the 1933 FA Cup Final when we beat Manchester City. So you could say I didn't have a choice really – I've never really understood how football fans can 'choose' a team to support – I'd always thought it was somehow in your genes. Which is why it hurts so much when things go wrong – as they invariably do if you're an Evertonian.
Anyway,  so here I was, as a 10 year old, ready to hero-worship the likes of Alan Ball, Colin Harvey and Joe Royle at what was then known as the 'School of Science' – football played with flair, speed and technical brilliance. And, in a future-defining (and character-building) deal struck with my dad, I received a season ticket in the main stand in return for a reduction in my pocket money. We went to the games as a family back then – my brother and I sat in the main stand with my mum while dad stood opposite in 'The Paddock' with his mate from across the road.
The 70s were, in all honesty, pretty disappointing years for Evertonians – lit up briefly by the team of 1977/78 and the sight of Dave Thomas (socks rolled down to the ankles) on the left wing sending over inch-perfect crosses for Bob Latchford to 'latch' on to, scoring 30 league goals in the process and claiming a 'phenomenal' £10,000 in prize money from the Daily Express as a result – eat your heart out Christian Ronaldo! I was there, standing behind the goal at the Gwladys Street end when Big Bob scored a hat-trick and his 30th goal in a 6-0 win over Chelsea (just as Dixie Dean had done with a final day hat-trick against Arsenal to achieve his 60 league goals in one season 50 years previously).
The 80s, however, were something else altogether. For a period of time in the mid-80s we were the best team in England – and possibly in the whole of Europe. Two league titles, an FA Cup win and a European trophy within the space of 3 years – plus countless spectacular goals. Trips down to Wembley stadium to watch cup finals and charity shield games were a regular occurrence – happy days indeed. But the banning of English teams from all European competitions following the Heysel Stadium disaster in 1985 stripped us of taking the next step to dominate Europe for years to come – which I genuinely believed we would do.
The 90s were best forgotten – only they won't mainly for two reasons. One was the FA Cup win against Manchester United in 1995 – some consolation for our defeat against them 10 years earlier which prevented us from winning 'the treble'. The other was in the last game of the 1993/94 season when we effectively needed to win at home to Wimbledon to avoid being relegated to the second division for the first time in nearly 40 years. I couldn't go to the game as I had a somewhat pressing engagement at Clatterbridge Hospital where my youngest daughter was about to be born.
In fact, Lauren was born at  3:21 pm – at the exact moment when we went 2-0 down!! You could say there was a range of emotions flowing through my body at that time. Obviously, I had a radio at hand to keep in touch with what was going on. And by the time I'd held Lauren in my arms for the first time, we'd brought it back to 2-2. And then, with nine minutes to go – and with my baby daughter still in my arms – Graeme Stuart scored again to make it 3-2 and survival was ours. Cue pandemonium. And it was pretty crazy over at Goodison Park too.
Things improved considerably in the new millennium as relegation dogfights gave way to renewed stability and fighting for places at the top end of the Premier League. Developments in my professional life meant that I was lucky enough to watch a considerable number of games from one of the executive boxes and enjoy trips around Europe to watch us play in the beautiful cities of Nuremberg, Florence and Bergen.
I even got to play on the hallowed turf at Goodison in a four-team mini tournament. Scoring a 25-yard screamer into the top corner at the Gwladys Street end was my dream – tripping over the ball and landing head first into the turf somewhere near the half way line was about as eventful as my "performance " got, however.
Since then, I've held a season ticket in the top balcony section of the main stand with my dad – and it's this that I'll miss most of all. He lives 50 miles from me but his house is en route to the ground.  I'd pick him up around two hours before kick-off so that we could get a parking space mid-way between the ground and our pub-of-choice, The Thomas Frost on County Road. After discussing the likely team selection and dissecting the potential tactics that would hopefully bring us a win, we'd make the ten-minute walk up to the ground.
Once one of the best football grounds in the country, Goodison Park is now showing its age, but it still excites me when the turnstile clicks and I'm once again inside. Two flights of stairs would then have to be negotiated before we 'd encounter the series of escalators to take us up to the top balcony. And then, after taking a right through the first access point towards our seats we would be greeted by the magnificent view of the perfectly manicured lawn that is the Goodison Park pitch.
I guess in some ways it's been a bit of a role reversal in that my dad relies on me taking him to the game rather than the other way around. But, having now turned 80, he's struggling with the walking and the two flights of stairs inside the ground before the escalators arrive. He's been going to Goodison since his first game against Blackpool back in 1948 so it'll be quite a wrench for him to give up now too.
Looking back, my favourite football memory of all time was undoubtedly – like a lot of other Evertonians – the electric atmosphere and unbridled joy of the European Cup Winners Cup semi-final against the mighty Bayern Munich in 1985. At 1-0 down at half-time, we could have been forgiven for thinking that it was a step too far for our emerging team. But I'm convinced that nearly everybody in the ground just knew that we would turn it around. And so it turned out. In a second-half of blistering noise, our twin strikers – Andy Gray and Graeme Sharp – literally battered the Germans into submission until we ran out 3-1 winners. We ultimately went on to the win the final in Rotterdam but it was this night that has lived longest in the memory.
And the nadir? I'd have to say Saturday 31 January 1981 stands out as a landmark day of disaster and pure farce. Nottingham Forest away on a freezing cold winter's day. Ready to travel to the game by train from Liverpool Lime Street with my mates, I managed to lose my train ticket and couldn't get a replacement. 'Luckily' I managed to snag a lift with a bunch of lads who were travelling down in a min-van they'd hired. Only it wasn't hired – it had been stolen. And they didn't have tickets for the match. This was the age of the travelling football hooligan and my fellow passengers were only interested in 'giving it' the opposing fans and smashing up a few fish and chip shops. Which I'm sure they duly did.
Anyway, I found myself inside the ground trying to find where my mates might have been standing (remember this was an age of unreserved standing areas and no mobile phones). Suffice to say I didn't find them so I watched the game (we lost, naturally) and managed to bag a lift home from three lads I used to know at school. They'd travelled down in a truck and said I could go back with them – as long as I didn't mind sitting on the open deck at the back as there wasn't enough room in the cabin.
So, after the game, as I sat huddled on the back of the truck with their three coats wrapped around me (as it was now snowing) I was treated to a front row spectacle of running battles through the streets of Nottingham between our hooligans and theirs. Years later I was reminded of the scene while watching Jeff Goldblum in Jurassic Park when he was on the back of that 4×4 and the T-Rex saw an opportunity for some fast food.
In truth, there have been some brilliant games…and some downright dull ones over the years. After one particularly poor season of relentless bore-fests masquerading as entertainment, I promised myself that I would not be renewing my seat for the following season. And I kept my promise right up to five minutes before the midnight deadline for the 'early bird' season ticket renewals, with its offer of a 20% discount. Suffice to say I relented and I was back in my seat the following season. As the legend that is Alan Ball famously said – "Once Everton has touched you nothing will be the same…"
But now, it's different. The season ticket has gone. I'll still get to a few games with my dad before I go away but then I'll be relying on other sources to feed my passion for The Toffees. Thankfully, due to the worldwide coverage of the English Premier League, it shouldn't be too difficult to find places to watch 'live' games on TV – albeit at some godforsaken times of the day/night. And I'll still get my fix of all things blue by checking in with some of the excellent Everton fan sites such as Toffeeweb and Grand Old Team.
But there's no substitute for actually being there and watching the game in the flesh and in the company of fellow blues. Particularly when one of them is your own flesh and blood.
Oh, and the School of Science I mentioned at the beginning of this post? Well, I do believe it's on its way back…
Come on you blues!