After our stay in Georgetown, we followed a route down through the west of the Malaysian peninsula, taking in the Cameron Highlands, Kuala Lumpur, and Melaka. So, here's a selection of some of our photographs from the journey…
Cameron Highlands
At 1500 meters above sea level, the Cameron Highlands are a cooler alternative to the heat and humidity of the coastal islands and cities. Famous for it's British (or to be exact, Scottish) heritage, the area houses two major tea plantations. We visited this one, the Cameron Highlands Tea Plantation, which was a six-kilometre walk downhill from our homestay. To be honest, the pot of tea we had at their tea room was, to put it mildly, pretty awful. You'd think that as the "brewery tap" of the plantation they'd at least get that basic function right. But no, a lukewarm and stewed pot of tea it was to be. We didn't fancy the long walk back up the hill so we hitched a lift instead – wild adventurers that we are!
And, just to add to the tea leaf theme, this photo is of the larger "Boh" plantation, founded in 1929 and still owned by the Russell family of Scotland. Happily, they did know how to brew the perfect cuppa.
 
The visit to the Boh plantation was actually part of an excellent half day tour of the wider area. This photo was taken from an observation tower on Gunung Brinchang and looks out over the Cameron Highlands. The jungle in the foreground is known as the "Mossy Forest", largely because the tree trunks and branches are covered in moss, caused by the low-lying mist that gathers around the hills most mornings.
Kuala Lumpur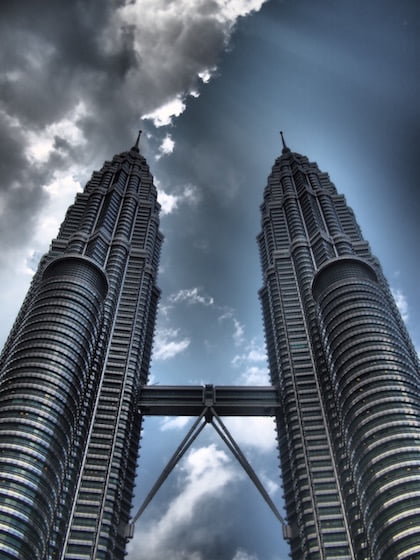 For me, there were two big reasons for visiting Kuala Lumpur. One was to sample the famous street food and the other was to see the Petronas Towers for myself. And they were simply amazing. Photographs really don't do them any justice but here are two different viewpoints – one from late morning and the other early evening.
The food we ate was centred on an area in Bukit Bintang called, somewhat literally, "Food Street". In essence, it was a walking street with dozens of Chinese restaurants and hawker stalls on each side. Great vibe, as long as you don't mind walking through the gauntlet of countless front men thrusting menus at you and trying to shepherd you behind one of their tables. Almost deliberately, we went to the one at the very end. The chicken wings were exceptional!
Melaka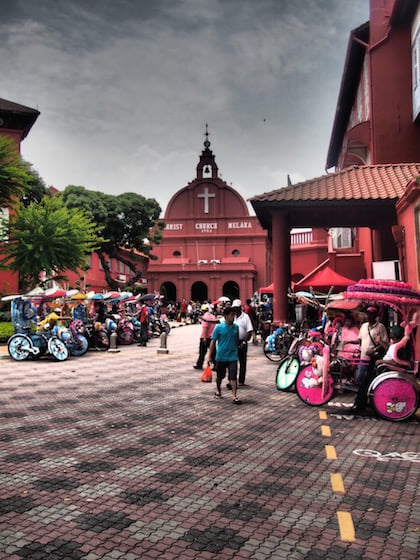 As a UNESCO World Heritage site, Melaka is a beautiful city, with very welcoming people. It does seem to have suffered, though, like a lot of other renowned sites, with the onslaught of mass tourism. So now, the site of the iconic Dutch-built Christ Church of Melaka is the starting point for an incredibly tacky three-wheeler bicycle tour around the city. If you fancy going for the full three-wheeler experience you have the option of choosing the Disney-themed "Frozen" bikes, festooned in pink and armed with accompanying soundtrack. Or you can opt for the bikes with the 80s-inspired soft rock soundtracks, which were marginally worse. Decisions, decisions.
At least there was a beacon of musical good taste at "Ringo Classic & Antiques " – not an obvious name for a bar – but what a pleasant surprise it was. Ringo's a Chinese Malaysian in his late fifties who works his way through half a dozen sets each evening from 7 o'clock, which run into the early hours at the weekends. Plenty of classic rock songs from the 60s and 70s, along with a smattering of country. The Saturday night we were there the place was packed out, even spilling out into the street. And things got pretty raucous towards the end of the night when an old dear got hold of the microphone and started to belt out some classic Chinese and Malay tunes.
On another note, the food we ate in Melaka was by far the best we had in Malaysia – much of it prepared in the traditional "Nyonya" style, a fusion of Chinese and Malay cuisine. And the star dish for me was breakfast at Cafe 1511, where we stayed for three nights. Their "Nyonya Laksa" was not only the most unusual choice of breakfast to date, but it wiped the floor with the "Penang Laksa" served up in Georgetown.
Georgetown
There were coffee bars all over each of the places we visited which invariably offered Malaysian "kopi" as the coffee of choice. And they were perfectly fine, although I prefer my morning coffees a bit stronger. Actually a lot stronger. So, for a change, we had a couple of breakfasts In Georgetown at the excellent Rainforest Cafe – including great coffee and almond croissants straight out of the oven. Their bagels, prepared in a wood-fired oven, were pretty damned good too.
No prizes for guessing what this Georgetown store's fruit of choice is. Suffice to say, with her (improving) banana phobia, Nicky kept herself at a safe distance.
Walking through the air-conditioned corridors of the Eastern & Oriental Hotel was a welcome relief from our energy sapping four-hour walk around Georgetown. It was designed by the same team who were responsible for the famous Raffles Hotel in Singapore and mirrors its opulence. In the gardens outside we glimpsed a huge monitor lizard which danced around one of the perfectly manicured bushes. A bit shy about having his photo taken, though.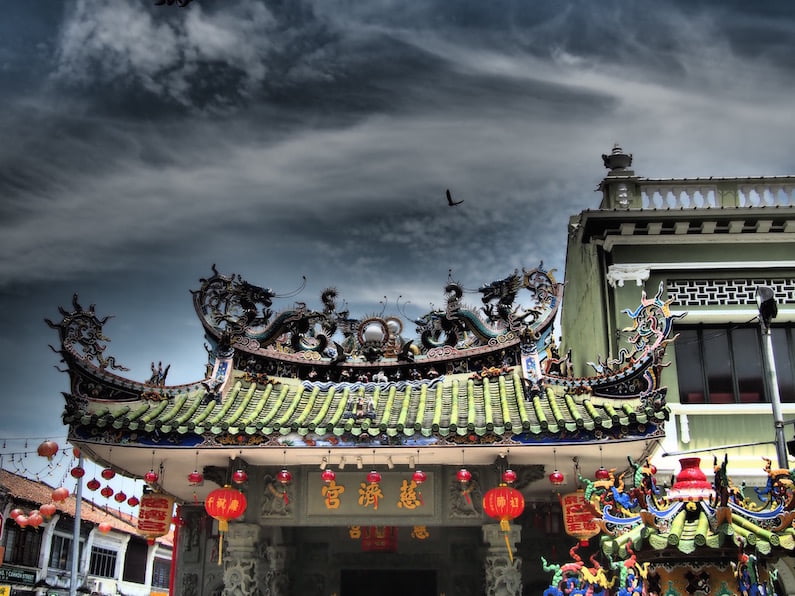 We've already shown plenty of photos of Chinese temples in our Georgetown post, but another one won't hurt – they're beautiful after all. Fascinating to look at and explore, they're sometimes difficult to find as they're often hidden among the shophouses and other buildings.
Trishaws are used everywhere in Georgetown to transport all manner of things – including tourists. The one in this photo looks like it's bitten off more than it can chew, though.
Amid all the World Heritage beauty of Georgetown, there's also the street art that has become almost as famous. We particularly liked this image of a child which manages to perfectly blend in with its surroundings.
In all, we spent 17 days in Malaysia and we're planning to return later in the year to explore the east of the country, including Sabah and Sarawak in Borneo. Our travels around the country so far have taken us to places that are well established on the tourist map, so next time we'd like to find one or two interesting off-the-beaten-track destinations that won't necessarily have a full page entry in the Lonely Planet guide. Do you have any suggestions? If so, please feel free to drop us a line.
What did you think? Have you been to the western part of Malaysia? Or perhaps you're planning on visiting there soon? Either way, we'd love to hear from you so please add your comments below. Thanks!
Visit our Malaysia page for further posts on the country and information on where we stayed.