6 SUBLIME SPOTS FOR WILD CAMPING IN ARGENTINA AND CHILE
6 SUBLIME SPOTS FOR WILD CAMPING IN ARGENTINA AND CHILE
Taking a road trip in a camper van around Chile and Argentina is one of THE great travel experiences.
And one of the things that makes it so special is the opportunity to camp overnight in some of the most sublime spots on the planet.
For free.
Where the only light pollution comes from the flames of your camp fire and the glare of the Milky Way as it stretches across the sky.
Where your nearest neighbour is a considerable journey away.
And where the absolute silence is broken only by the call of a solitary bird or a guanaco.
To whet your appetite, here are six of the best spots we found during our two-month Andes odyssey.
Valley of Seven Colours
Pan de Azucar
Potrerillos Reservoir
Cañon de Río Pinturas
Chañarmuyo Dique
Monjes de la Pacana
Contents
This page contains affiliate links. To help us maintain our site we work with a number of partners who we've personally used and can recommend to our readers. If you decide to purchase any products through the links on this page, we'll receive a small commission at no extra cost to you.
About wild camping in Argentina and Chile
When we talk about our Argentina and Chile trip, we're often asked, "Is wild camping legal"? And the honest answer is, "Yes", but with certain caveats.
The general rule is that you shouldn't camp in urban areas or on private or sacred land. If you think you might be on private land (which isn't always obvious) you should ask permission first. Although that's not always possible either due to the remoteness of many of the locations.
Beaches are a bit of a grey area, especially in Chile.
As a rule of thumb, look for places that are remote and be aware of any signs that might indicate they might be private. Keep a low profile and don't leave any trace of your stay. Especially toilet-related (a particular bug bear of ours!). And don't argue with anyone who might question you, such as a police officer. Just be respectful, plead your innocence and move on.
We recommend that you use the iOverlander website, where you can also download an app. It's a free map-based database of travel-related tips and recommendations for overland travellers such as fuel stations, supermarkets and roadside cafes. Best of all is its huge database of campsites, both free and paid. Updated by travellers on the road, it'll be your entrance ticket to some amazing places to stay.
Suffice to say, we found it indispensable.
Our jeep tackles the Valley Of The Seven Colours in Argentina
Valley Of The Seven Colours, Argentina
Location: Near Barreal, San Juan Province, Argentina
GPS: -31.515908, -69.391358
iOverlander name: Camp at siete colores
The area around the town of Barreal, 220km north of Mendoza, is one of our Argentinian favourites. Surrounded by the towering, snowy peaks of the Andes and the multi-coloured hues of the desert landscape in Leoncito National Park, it's an oasis of colour and an absolutely worthwhile diversion from the legendary Ruta 40 that bypasses it to the east.
But there's a very special place to set up camp for the night just north of the town, off the road (Ruta 149) towards Calingasta.
To get there, look for a rather inconspicuous sign that announces you've arrived at "El Valle de los Siete Colores", where a track pulls off the road and on to what is in effect a dry river bed of gravel and boulders.
It's only suitable for four-wheel drive, high clearance vehicles. And the track isn't always obvious. But, by driving towards the hillsides ahead, you'll arrive at a level area more suited for parking (we found our pitch on a small cracked layer of dried mud).
At which point you will have landed in the middle of a surreal landscape that is nothing short of breathtaking. The hillsides are a riot of colour caused by the oxygenation of minerals in the rock. And the nearby canyon makes for a great late-afternoon wander.
Of course, the light pollution is next-to-nothing, which makes this one of the premier places in Argentina for stargazing.
However, you might want to check the weather forecast before setting up camp as that dry river bed looked like it would be a flash flood waiting to happen during a storm.
El Valle de los Siete Colores
El Valle de los Siete Colores
Pan de Azùcar National Park, Chile
Location: Near Pan de Azúcar National Park, Antofagasta Region, Chile,
GPS: -26.218013, -70.658261
iOverlander name: Wild Love
The long journey north on Ruta 5 from Santiago to San Pedro de Atacama can be a tad monotonous at times. There are exceptions to the rule, of course. Such as the glorious stargazing in the Rio Hurtado Valley and the pisco tastings in neighbouring Elqui Valley.
Well you can certainly add Pan de Azúcar ("Sugar Loaf") National Park to that list. It's where the desert meets the Pacific Ocean in a thrilling mix of white sand beaches, pink mountains and wildlife such as Humboldt penguins, sea lions, cormorants and pelicans.
From the mining town of Chañaral, 500km north of La Serena, the C-120 winds away from Ruta 5 along the coast until it reaches the entrance gates for the park. But a few hundred metres before the gates, a dirt track leads to a series of rocky volcanic outcrops that overlooks the best beach we found in South America.
And in one of those outcrops you'll find a magical camping spot that someone has "landscaped" with rocks and shells, and named it "Wild Love". With a view looking down on to the beach and across to the mountains on either side, it's a fabulous spot to enjoy a late-afternoon BBQ with a few craft beers while you wait for the sun to go down.
We'd planned on staying just one night but couldn't tear ourselves away so we stayed for another.
And didn't see another soul for the duration.
View of the sunset from "Wild Love"
View of the sunset from "Wild Love"
Location: Near Pan de Azúcar National Park, Antofagasta region, Chile,
GPS: -32.951990, -69.203050
iOverlander name: Wild camping at the lake
If you're driving around the Mendoza area for some wine tasting, you might want to consider overnighting at Potrerellis Reservoir, 45km west of the city.
Created by the building of a dam on the Mendoza River, the resulting reservoir now doubles as a leisure lake for kayaking and other waterborne activities.
To be fair, it does get busy at weekends and holidays. And when Argentinians are set on having a good time, not even industrial scale earplugs will save you from a sleepless night. However, during the week it's a much quieter affair.
And there are plenty of choices to park your camper van right at the water's edge. It's also relatively easy to find as it sits beside Ruta 7, which connects Mendoza with the border crossing for Santiago in Chile.
Our overnight stay was interrupted by the mother of all storms. Which, in our rooftop tent was "an experience" we won't forget any time soon.
Storm clouds gather over the reservoir as the sun starts to set
Storm clouds gather over the reservoir as the sun starts to set
Take a dip into our archives
Río Pinturas Canyon, Argentina
Location: Rio Pinturas Canyon, Santa Cruz province, Argentina
GPS: -47.213130, -70.780878
iOverlander name: Inside the Canyon Rio Pinturas
If you find yourself in this remote wilderness, you'll no doubt be on your way to see the prehistoric rock art of Cueva de las Manos. And, if you want to take the tour before the bus groups arrive you'll have to get there when it opens at 9am. Which means that it makes perfect sense to wild camp the night before in this part of the Río Pinturas Canyon, 25km away.
Accessed via a potholed gravel road from Ruta 40, some 90km south of Perito Moreno (not to be confused with the glacier of the same name), it's another of Argentina's incredibly diverse landscapes.
When you descend into the canyon, a dirt road to the left winds along a huge gorge of salt flats and orange-red cliffs. You can drive along the road until you find a suitably level place to stop. The further you go, the worse the road gets. As we no longer had the four-wheel drive jeep for this leg of our trip, we decided to park on a dry section of mud beside the salt flat.
And, once again, the Milky Way put on its extravagant display.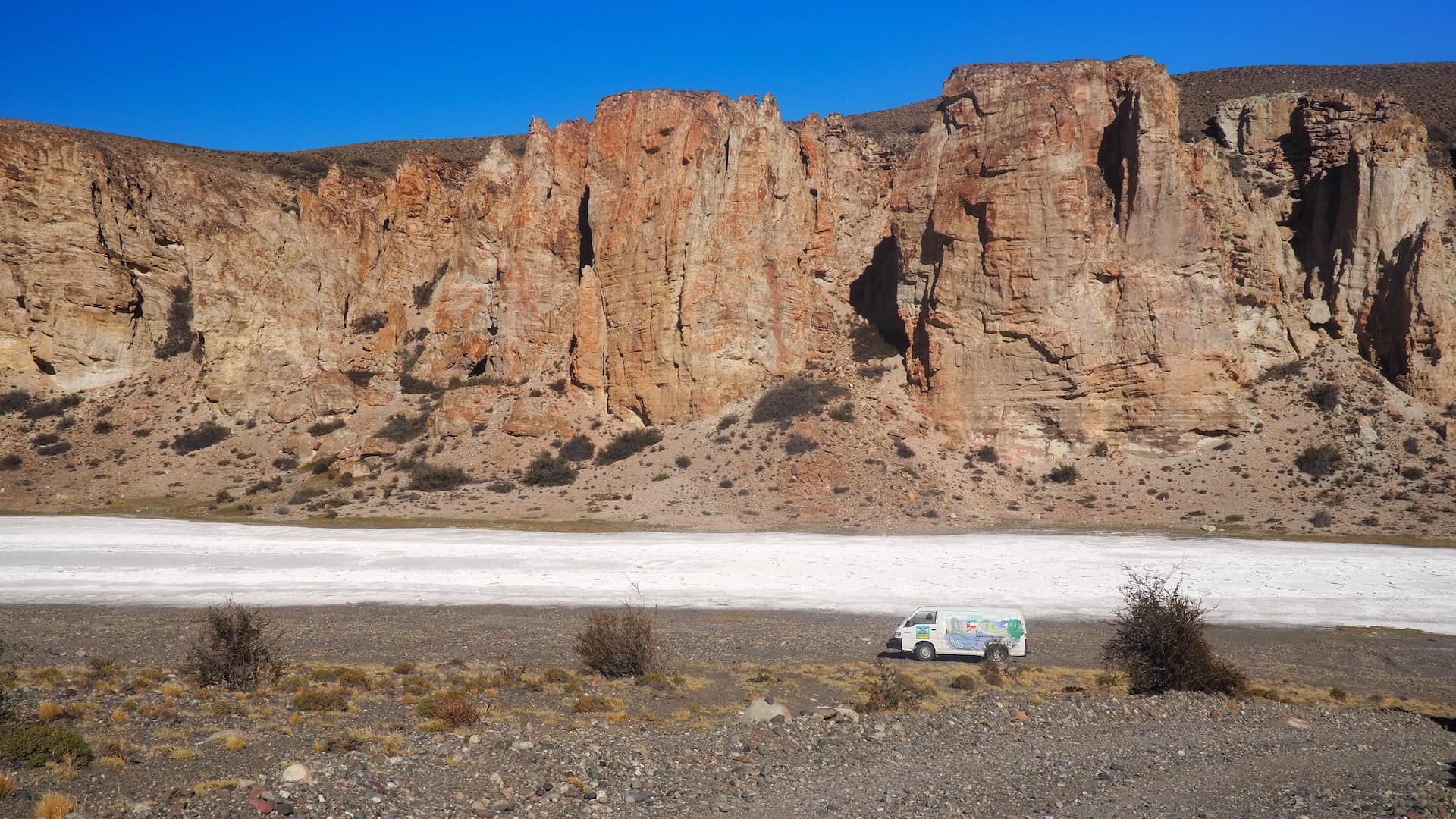 Camping beside the salt flat, Río Pinturas Canyon
Camping beside the salt flat, Río Pinturas Canyon
Chañarmuyo Dique, Argentina
Location: Chañarmuyo Dique, La Rioja province, Argentina
GPS: -28.633630, -67.597614
iOverlander name: Chañarmuyo Dique/Reservoir
Ruta 40, between Salta and San Juan in Argentina's northwest, cuts through some of the country's most spectacular desert landscapes. Framed by majestic mountains and pitted with huge cacti, it begs to be explored on horseback rather than camper van.
Roughly half way between the two cities, Chañarmuyo Dique (Reservoir) provides another beautiful setting for an overnight stay or two. You can camp beside the reservoir itself but we chose to find a space inside the adjacent valley. Where we were joined by enormous cacti that seemed to be pointing their spiky fingers towards the flocks of bright green parrots that flew above us.
Another camp fire, together with a bottle or two of chilled Torrentes from the region's wine hub of Cafayate, and we were as Happy as Larry. Whoever that might be.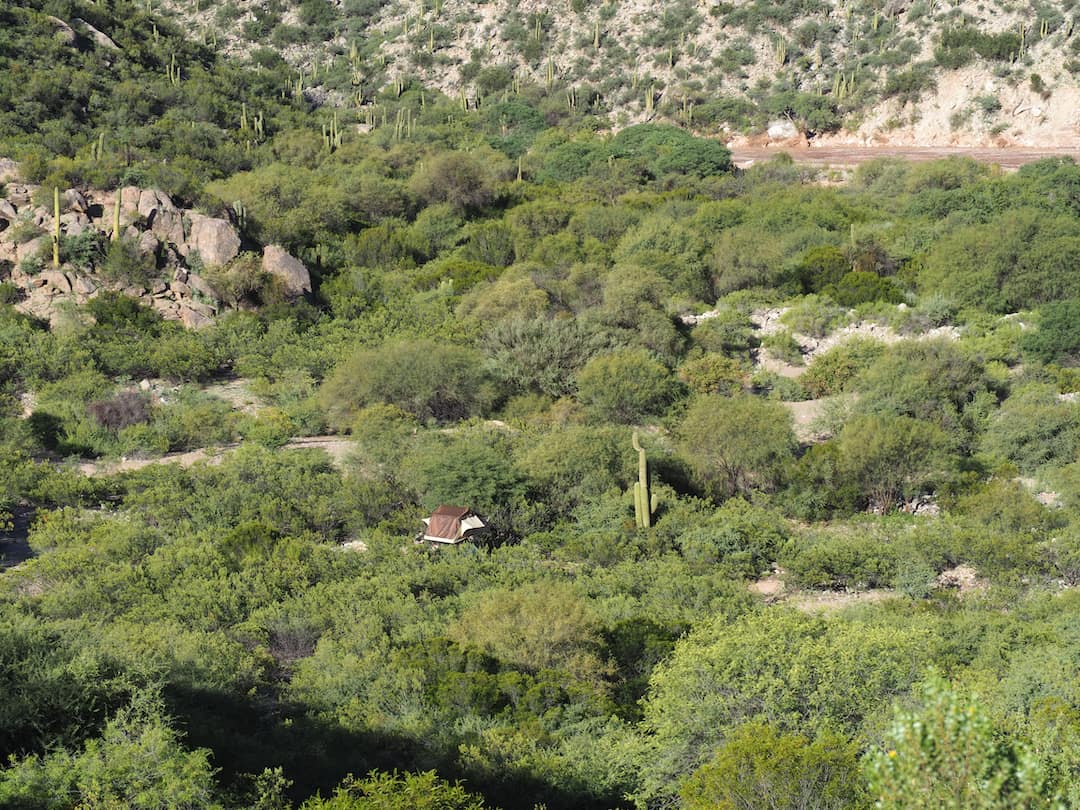 Monjes de la Pacana, Chile
Location: Reserva Nacional Los Flamencos, Northern Chile
GPS: -23.052846, -67.473644
iOverlander name: Rockfingers (Las Monjes)
Ok, we stayed here as we didn't really have a choice. Our Suzuki Jimny jeep rental had struggled to climb the relentless incline from San Pedro de Atacama to the border crossing with Argentina. So much so that the border closing time of 3pm had already passed when we reached this high desert plateau (4500 metres) just short of Laguna Agua Calientes.
But, as we found with many of our unexpected changes to plan, our night here was a memorable one. For both good and bad reasons.
Firstly, the landscape was extraordinary. Resembling a movie set from Star Wars, the barren desert was dotted with peculiarly shaped rocks (known as the Monjes de la Pacana, or "Pacana Monks") which looked like the weather-worn remnants of some long-lost city.
And, beyond, the shimmering blue of the lake and snow-capped volcanoes of the national park. Seriously, it doesn't get remoter, or more beautiful than this. We felt blessed, indeed.
And then the storm arrived. Along with the thunder and lightning.
If you've ever wondered what it's like to weather an electrical storm at an altitude of 4500 metres (14,750 feet) in a rooftop tent on a plateau with just a sprinkling of bizarrely shaped rocks for protection, then let us assure you. It's no picnic.
Nevertheless, for a wild camping experience to remember, it's right up there with the best (and coldest) we've ever had.
To get there, you just need to follow Ruta 27 from San Pedro de Atacama for 100km towards the Argentinian border at Paso de Jama.
Some of the Monjes de la Pacana
View of towards Laguna Agua Calientes from our camp spot
In the big scheme of things, that was just a small sample of what's on offer for wild camping in Argentina and Chile.
Of course, there are plenty of paid campsites, too. And, to be honest, we were in need of a warm shower and flush toilets from time to time!
But there's no doubting that our most memorable camping experiences were in the sort of places that take some extra effort and patience to find. Like the six we've featured here.
So, if you're planning a road trip through the Andes any time soon, do yourself a favour. Download the iOverlander app, bookmark our recommendations and prepare for the unexpected.
Natural shade amongst the Monjes de la Pacana
Natural shade amongst the Monjes de la Pacana
What did you think? Have you tried wildcamping in Argentina or Chile? Do you have any recommendations to add? Or perhaps you're thinking of visiting there in the near future? Either way, we'd love to hear from you so please add your comments below.
MORE ON ARGENTINA AND CHILE
To help us maintain our site we work with a number of partners who we've personally used and can recommend to our readers. If you decide to purchase any products through the following links, we'll receive a small commission at no extra cost to you. Thank you for your support!
Hi, we're Ian and Nicky, an English couple on a voyage of discovery around the world, and this blog is designed to reflect what we see, think and do. Actually, we'd like to think it also provides information, entertainment and inspiration for other "mature" travellers, too. So please feel free to pour yourself a glass of something suitably chilled and take a look around.