15 UNESCO WORLD HERITAGE SITES IN SOUTH AMERICA TO EXPLORE
15 UNESCO WORLD HERITAGE SITES IN SOUTH AMERICA TO EXPLORE
Planning an extended visit to South America is something that requires imagination, an adventurous spirit and plenty of patience. But, with so much to see and do, the most difficult decision might just be where to start.
In our opinion, the UNESCO World Heritage Site list provides the answer. With 72 separate entries to choose from, the continent is an absolute treasure trove of gobsmacking cultural sites and natural wonders.
Seeing all 72 in one visit would certainly take some doing. We managed 17 during our eight months travelling through Colombia, Peru, Bolivia, Argentina and Chile. And they remain some of the absolute highlights of our whole trip.
Each of the 15 featured here, starting in the ice fields of southern Patagonia and ending on the Caribbean coast of northern Colombia, holds a special memory for us.
Make sure you seek them out!
Santa Cruz de Mompox, Colombia
Los Glaciares National Park, Argentina
Los Glaciares National Park, Argentina
Quebrada de Humahuaca, Argentina
San Agustín National Park, Colombia
Huascarán National Park, Peru
Cueva de las Manos, Argentina
Valparaíso, Chile
Iguaźu / Iguaçu National Parks, Argentina & Brazil
Contents
This page contains affiliate links. To help us maintain our site we work with a number of partners who we've personally used and can recommend to our readers. If you decide to purchase any products through the links on this page, we'll receive a small commission at no extra cost to you.
Los Glaciares National Park, Argentina
UNESCO listing: Los Glaciares National Park
If you like your mountains spectacularly rugged, your glaciers ridiculously large and the colour of your lakes somewhere between turquoise and cobalt blue, then Los Glaciares National Park is quite possibly your idea of heaven on earth.
At 6,000 square kilometres, it's a huge area of mostly untouched wilderness. And long may it stay that way.
But there are touch points for tourists to at least have a glimmer at the park's natural wonders.
For instance, nothing quite prepares you for your first glimpse of the astonishing Perito Moreno Glacier. Located near to El Calafate in the south of the park, it's an ice field colossus which stretches back 30 kilometres and is 700 metres deep at one point.
What makes it so unique is that it's extremely accessible. Indeed, there's an impressive series of boardwalks that run along the hillside opposite the glacier wall. We guarantee you'll be transfixed.
Especially when you witness one of the regular "calvings" of ice from the front wall. We stood there open-mouthed when a shard of ice the size of a house suddenly broke away from the wall and crashed into the lake below.
Nothing to do with climate change, by the way. Just the normal cycle of things as Perito Moreno is one of the few glaciers in the world that's actually ADVANCING rather than retreating.
In addition, there are glacier walks, boat trips and excursions to remoter glaciers further into the South Patagonian Ice Field.
Meanwhile, in the north of the park, the frontier town of El Chaltén serves as the gateway to the twin mountains of Fitz Roy and Cerro Torre. The landscape here is truly spectacular. Towering rock pinnacles, hanging glaciers, lakes and woodland. And with some of the best day hikes in Patagonia, it begs to be explored when the weather is good.
Which it often isn't.
Mount Fitz Roy, Los Glaciares National Park
Cueva de las Manos, Argentina
UNESCO listing: Cueva de las Manos, Río Pinturas
More like a rocky overhang than a true cave, the "Cave Of The Hands" is home to some of the best prehistoric cave art in the world.
Hundreds of human hands – 829 in all – have been stencilled on to the rock by blowing natural paint over them through a tubular piece of bone. All are male. One has six fingers.
There are animals and human figures, too.
It helps that the cave is located amidst the breathtaking scenery of the Rió Pinturas Canyon. And that the simple, hour-long tours in Spanish and English capture the story of how the hunter-gatherer communities responsible for the paintings lived their lives in this area.
Beautiful and utterly fascinating.
It's pretty remote. Indeed, we arrived after an arduous nine-hour drive from El Chaltén to wild camp in the canyon the night before. Otherwise, you can book mini-bus or private tours from the town of Perito Moreno (not to be confused with the glacier of the same name).
Hand imprints at Cueva de las Manos
The churches of Chiloé, Chile
​UNESCO listing: Churches of Chiloé
They're a fiercely independent lot, the Chilotes. Although they live on a series of islands just a short ferry journey from the Chilean port of Puerto Montt, their culture seems to belong to a different country altogether.
For a start, many of the Chilotes still embrace witchcraft and mythological creatures. And the early morning mist that drifts in like clockwork from the Pacific only serves to enhance the islands' mystery.
However, it's the presence of the 70-or-so beautifully constructed wooden churches that most visitors come to see.  Inspired by the Jesuit Missions of the 17th and 18th Centuries, they're mainly located in an area just to the north, south and east of the capital, Castro.
16 of them have been granted UNESCO World Heritage status. And a day or two spent visiting at least four or five is the perfect way to experience them.
Don't miss the shingle-roofed Church of Nercón and the triple blue-towered masterpiece at Tenuán.
The Church of Tenaún, Chiloé Grande
UNESCO listing: Historic quarter of the seaport city of Valparaíso
The grungy, in-your-face half-brother of nearby Santiago, Valparaíso is a jumbled mess of decaying mansions, hilly streets connected by antique funicular railways, and corrugated metal facades that double as blank canvasses for the city's street artists.
But it wasn't always that way. During its 19th Century heyday as the continent's major Pacific port, it was a bustling city and a magnet for European immigrants.  But, following a major earthquake in 1906 and the opening of the Panama Canal, trade moved elsewhere and the city fell into major decline.
However, its recent resurgence has coincided with it being named as Chile's cultural capital, attracting artists and cultural entrepreneurs from all over the country. To the point where it's now firmly established on cruise ship itineraries. Meanwhile, tourists flock in to witness the extraordinary street art, bohemian neighbourhoods and unique buildings.
But it's Valparaíso's "industrial-age heritage associated with the international sea trade of the late 19th and 20th Centuries" that has earned the city its UNESCO recognition.
And, to be honest, we much preferred it as a destination to Santiago.
Part of Valparaiso's Historic Quarter
Iguazú / Iguaçu National Parks, Argentina & Brazil
UNESCO listing: Iguazú National Park / Iguaçu National Park
Don't even think about going to South America without paying a visit to these two national parks on either side of the border between Argentina and Brazil.
Home to the staggering Iguazú Falls (or "Iguaçu Falls" on the Brazilian side), the planet's largest waterfall system, they're firmly on the tourist trail. But, if you can put aside the inevitable crowds they're an experience worth every ounce of effort it takes to get there.
Just don't try and do everything in one day, though. We'd suggest you base yourself in the Argentinian border town of Puerto Iguazú, from where you can spend a full day on the Argentinian side of the falls. Then, the following day, you can take a bus across the border and see them from a totally different perspective on the Brazilian side.
Believe us, gazing upon the full panorama of the falls surrounding La Gargantua del Diablo (or "Devil's Throat") is an experience that will blow you away.
So get it on your Bucket List now!
The "Gargantua del Diablo" at Iguazú (Iguaçu) Falls as seen from the Brazilian side
Quebrada de Humahuaca, Argentina
UNESCO listing: Quebrada de Humahuaca
Although recognised for its 10,000-year history as an Incan trading route, it's the rich colouring of the dramatic desert landscape that attracts visitors to this remote corner of northwest Argentina.
Following the Rió Grande for 155 kilometres, this spectacular valley is home to a wealth of prehistoric settlements set against a backdrop of vibrantly coloured hillsides.
Perhaps its most spectacular point is the Serranía de Hornocal. A high-altitude, mountainous landscape that stretches out like a huge necklace of multi-coloured shark teeth, it's a surreal place to spend an hour or so. After which the altitude starts to take its toll.
Elsewhere, the trail that leads through the Quebrada de las Señoritas showcases a glorious mixture of red, white and grey rock mixed with a liberal sprinkling of huge green cacti.
Best explored by car, you can also get around just fine by public bus.
UNESCO listing: Historic City of Sucre
The beautiful city of Sucre also happens to be the constitutional capital of Bolivia.
Recognised by UNESCO for its well-preserved historic centre, its buildings combine local traditions with the typical colonial architecture of the 16th and 17th Centuries.
We spent ten days in total there as it gave us an opportunity to experience true Bolivian culture in relative comfort. So, from our guest house accommodation in a colonial building overlooking the city we were able to buy our food from the fabulous daily market, and spend our days wandering around the atmospheric streets.
Jumping on a public minibus for the two-hour journey to Tarabuco and its Sunday Market is not to be missed, either. It features a colourfully chaotic weekly gathering of indigenous people from the local hillsides who descend on the town to buy and sell their foodstuffs and handicrafts. And come dressed in some of the most eclectic clothing you'll find anywhere.
Monastery de la Recoleta, Sucre
Sign up for Airbnb here
and get £25 off your first booking
UNESCO listing: Historical Centre of the City of Arequipa
We absolutely loved the historical centre of Arequipa.
Once again there's a heavy Spanish colonial influence on the architecture. But, instead of the typically whitewashed walls, the buildings here are mainly constructed from the white and pink volcanic rock (known as "sillar") of the surrounding area. As a result, they're grand in scale. And especially beautiful in the soft glare of the late-afternoon sun, or when lit up at night.
But there's so much more to the place than just the impressive aesthetics.
For instance, the sumptuous Monasterio Santa Catalina is a 20,000 square metre "city within a city" with its own cobbled streets and incredible history dating back to 1580.
And then there's the food.
Revered as a gourmet destination throughout Peru, you'll want to try at least one of its picanterias. They're restaurants that serve lunch-time feasts of traditional food, washed down with a glass or two of corn-fermented chicha. And they're so good we substituted a two-course lunch for one that stretched to eight.
Best of all, Arequipa is the gateway for trips to the astonishing Colca Canyon. And, after all that food, you'll be glad of the opportunity to spend up to three days or so on one of the best hikes in South America.
UNESCO listing: City of Cuzco
Completing a trio of outstanding cities, Cusco (or "Cuzco") is the original capital of the Inca civilisation. Of which the evidence is everywhere.
And, when combined with the subsequent colonial-era architecture, it makes for a stunning mixture of cultures and design.
You won't be the only tourist in town, however. The city is now one of the major tourist draws in South America. Especially as it also serves as a transport hub for the Sacred Valley and Machu Picchu.
We preferred Arequipa, if we're honest. Mainly because of the tourist trappings that come with Cusco. Such as the massage parlour touts, the overpricing and the cholitas with baby alpacas in tow pushing photographs to passers-by.
That being said, with its history and Incan treasures to explore, you simply can't ignore the city if you're visiting Peru.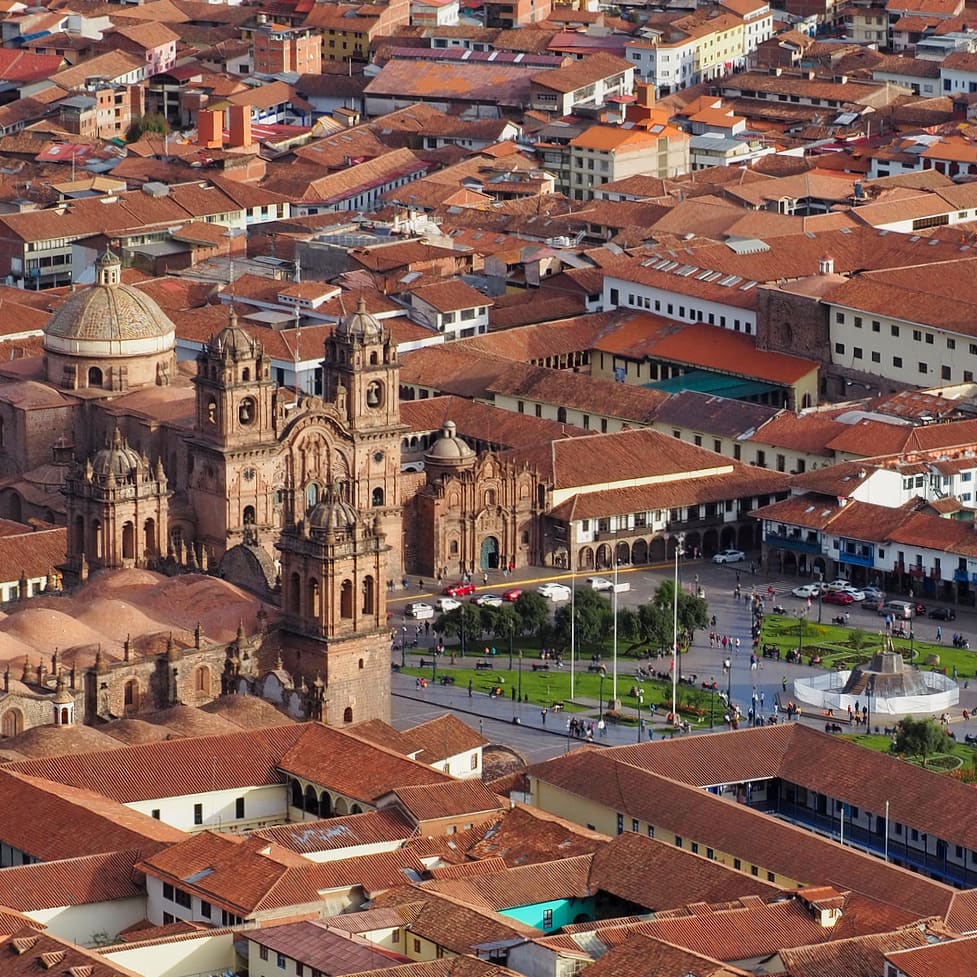 UNESCO listing: Historic Sanctuary of Machu Picchu
Undoubtedly the most famous and most visited of the sites on our list, the Incan citadel at Machu Picchu is already likely to be on your travel bucket list.
But does it meet all the hype that surrounds it?
Absolutely. Affirmatively. Yes.
Yes, the crowds are off-putting. Yes, it's expensive. And yes, it takes some planning and perseverance to do it all independently of a tour company. But, for the exhilarating sense of wonder as you gaze down on the citadel from the vantage point of Machu Picchu Mountain, it's worth every piece of blood, sweat and tears it can take to get there.
We'll admit, we were extremely lucky with the weather. Especially as we climbed Machu Picchu Mountain in brilliant early morning sunshine. But, in this mountainous region, the weather is pretty unpredictable at any time of the year.
The good news is that we've produced a detailed guide on how to plan your visit. So now you've got no excuse. Don't miss it!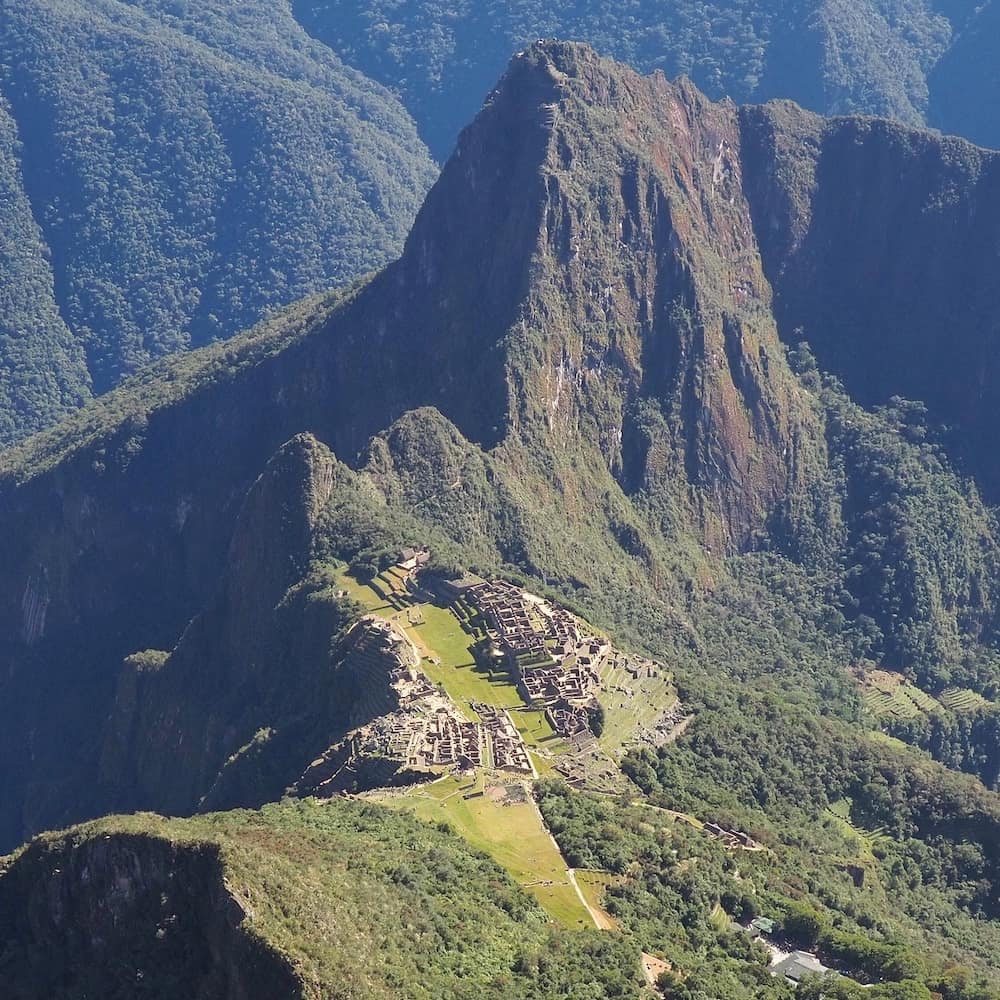 View of the citadel from Machu Picchu Mountain
Huascarán National Park, Peru
UNESCO listing: Huascarán National Park
Peru's answer to Chile and Argentina's Patagonian national parks, Huascarán is home to highest tropical mountain range in the world.
And with no less than 660 tropical glaciers, 330 glacial lakes and enough trails through exceptional high altitude wilderness to keep even the most intrepid hikers happy, it's the adventure capital of Peru.
We managed to complete two day hikes to Laguna 69 and the glorious Laguna Paron. But we'll admit we've unfinished business in the park as the multi-day Santa Cruz and Huayhash circuits beckon.
Fun fact: the snow-covered Mount Artesonraju was the inspiration for the iconic Paramount Pictures logo. And it can be seen in all its glory at Laguna Paron.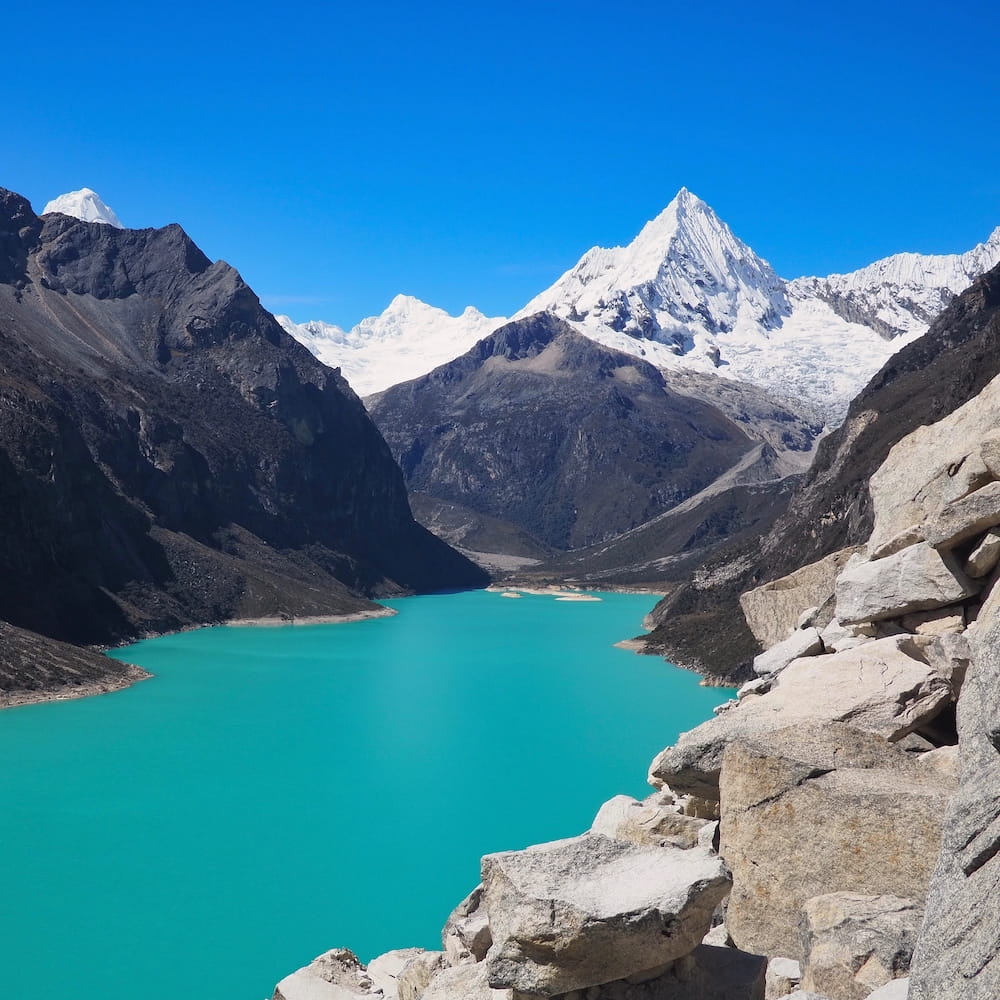 Laguna Paron, Huascarán National Park
San Agustín Archaeological Park, Colombia
UNESCO listing: San Agustín Archaeological Park
Effectively an open air museum displaying works of art from a pre-Colombian civilisation that flourished between 1500 and 2000 years ago. Home to the largest group of prehistoric monuments and structures in Latin America. And set amidst a stunning mountainous backdrop.
It should be one of the major tourist draws in Colombia. But, because of its relative remoteness and the decades-long armed conflict that plagued this area of the country, it's largely untroubled by international tourism.
Which means you should make the effort to add it to your Colombian itinerary without hesitation.
The park and its surroundings can be explored on foot, horseback and by jeep. Or, indeed, all three. There are over 300 statues spread over 50 square kilometres, depicting human figures, gods, mythical animals and human/animal hybrids. And they're fascinating to see at close quarters.
Even if archaeological sites are not your thing, we'd recommend visiting this relatively unknown part of Colombia anyway. Especially if you like the idea of exploring the countryside on horseback.
San Agustín Archaeological Park, Colombia
Coffee cultural landscape of Colombia
UNESCO listing: Coffee Cultural Landscape of Colombia
Coffee growing is big business in many parts of South America, Africa and Asia. But perhaps nowhere has the iconic status of the coffee farms of Colombia.
The area south of Medellín, known as "Zona Cafeteria", brims with small coffee growing businesses whose small plots hug the mountainous hillsides. Meanwhile, the towns and villages of the region are embellished with Spanish colonial buildings decorated in the traditional Antioquian style. Which means the extravagant use of colour.
Not surprisingly, it's one of Colombia's top three tourist areas. And with coffee farm tours to book, gorgeous colonial-era towns to visit and fantastic countryside to explore, you can easily spend a week or more succumbing to its charms.
If we were pressed to recommend one standout place we'd suggest the town of Salamina and the nearby Samaria Valley. A true working town rather than one that's geared to tourism, it ticks all the boxes when to comes to coffee culture, unique food and stunning countryside. But it also comes without the crowds.
And at Alto Bonito, we found ourselves in the company of our gregarious Airbnb host who took us on his own personal tour of the town.
A coffee grower near Pijao, Quindío
Santa Cruz de Mompox, Colombia
UNESCO listing: Historic Centre of Santa Cruz de Mompox
Colombia is proud of its colonial-era towns and the traditional culture that surrounds them. So much so that 17 of them have been designated as Pueblos Patrimonio or "Heritage Towns". Which typically means they're modest in size with colonial-era buildings that are both well-preserved and have significant historical significance.
Santa Cruz de Mompox, in a remote area of Colombia's far north, is one of its prime examples.
Its chequered history is littered with tales of opulence followed by isolation and abject poverty, to periods of extreme violence. But throughout it all, the gorgeous historic centre and, in particular, its stunning churches have remained intact.
As has the traditional manufacture of fine filigree jewellery, a remnant from its colonial past when the town was awash with gold and silver, and even minted coins for the colony.
Over the past decade or so, tourism has begun to take a foothold. And, as road connections improve, that will undoubtedly continue. Indeed, with direct bus connections from Cartagena and Santa Marta on the Caribbean coast (5 hours), it's more accessible than ever.
Which is reason enough to put it on your list of Colombian places to visit. Because, as an example of what a Spanish colonial-era town was originally like, Santa Cruz de Mompox is probably the country's finest.
Church of Santa Barbara, Santa Cruz de Mompox
UNESCO listing: Port, fortresses and group of monuments, Cartagena
And so, we end our whistle stop tour along the length of South America on the continent's northern Caribbean coast.
Unlike, Santa Cruz de Mompox, Cartagena is no hidden Colombian gem. It's a regular cruise ship favourite and attracts both international and domestic tourists in their thousands throughout the year.
But there's no doubting its considerable attractions. UNESCO recognition was achieved largely because of its magnificent fortifications, which are the most extensive in South America. But the sublime architecture of its colonial-era buildings, together with its extensive shopping and nightlife possibilities makes it an essential stop on any Colombian trip.
Most people head for the beguiling Old Town and Latin America's version of Miami Beach at Bocagrande. But the Getsemani district is an appealing bohemian mix of street art, boutique guest houses and small-scale eating places. And Manga is a great and convenient option for a good night's sleep away from the noise.
Basilica Santa Catalina Alejandria, Cartagena
Final thoughts on the UNESCO World Heritage Sites of South America
Having so far visited 17 of the 72 UNESCO-recognised sites in South America (the other two were Lima, Peru and Potosí, Bolivia), we're eager to move on to experience some of the others on the list.
Such as the Valdes Pensinsula in Argentina, the Rapa Nui National Park on Easter Island and, of course, the Galápagos Islands of Ecuador.
Suffice to say, we're advocates of using the list as a starting point to plot a trip in any country or continent.
And we hope we might just have inspired you to visit at least one of those we've featured here.
Perito Moreno Glacier, Los Glaciares National Park
What did you think? Have you visited any of the UNESCO World Heritage Sites in South America? Do you have any recommendations to add? Or perhaps you're thinking of visiting one or more of them in the near future? Either way, we'd love to hear from you so please add your comments below.
To help us maintain our site we work with a number of partners who we've personally used and can recommend to our readers. If you decide to purchase any products through the following links, we'll receive a small commission at no extra cost to you. Thank you for your support!
Hi, we're Ian and Nicky, an English couple on a voyage of discovery around the world, and this blog is designed to reflect what we see, think and do. Actually, we'd like to think it also provides information, entertainment and inspiration for other "mature" travellers, too. So please feel free to pour yourself a glass of something suitably chilled and take a look around.