7 OF THE WORLD'S BEST ROAD TRIPS
7 OF THE WORLD'S BEST ROAD TRIPS
Road trips have held a fascination for motorists and adventurers ever since Bertha Benz took an inaugural jaunt in her husband's groundbreaking Benz Patent Motorwagen back in 1888.
Yes, the route might have been just 100 km in length. And the traffic would never be quite so light ever again. But imagine the thrill of hitting the open road for the first time and flooring the accelerator to a head-spinning top speed of 10 mph. And to see the bemused looks on the faces of pedestrians as you pass them by. 
There aren't any public photographs that exist of the journey. But we'd like to think there's one hidden away in the Benz's family album somewhere. Showing a beaming Bertha behind the wheel, wearing a tee-shirt emblazoned with "My other car's a Merc".
You can actually relive that pioneering trip by completing the Bertha Benz Memorial Route in Baden-Württemberg. We haven't done so as yet. But it feels inevitable that we will. After all, some of our most vivid memories have come from the road trips we've taken around the globe.
Indeed, it's likely that as the world recovers from the COVID-19 pandemic the road trip will grow even more in popularity. We predict that an increasing number of people will choose wide open spaces rather than crowded towns and cities. The sort of places that can only be reached with the freedom and flexibility that a private vehicle can provide. And where the destination is not the holy grail but the journey itself. No matter how challenging that journey is.
And so, while we wait for the opportunity to once again feel the bone-crunching shudder of a Patagonian pothole, we thought we'd take a look at some of our most memorable road trips. Which also happen to be some of the best to be had anywhere on the planet.
And, in doing so, we hope it might just inspire you to plan a trip of your own.
In Bertha's memory, if for nothing else.
Western Australia
Himalayan Highways, India
Carretera Austral, Chile
Ruta 40, Argentina
Southwest Circuit, Bolivia
The world's best road trips – according to us
We caught the bug for road-tripping during our two months in New Zealand. And, looking back, it's not hard to see why.
The country is an outdoor enthusiast's wet dream. The roads are generally in good condition. The traffic – outside of the main cities – is light. There's a fabulous collection of free government-run campsites to choose from. The Visitor Information Centres are first-class. And the scenery is never less than jaw-dropping.
You can choose to plan your route on either the North Island or the South Island. Or, if you have the time, you can do both. Especially given the added bonus of the uber-scenic ferry crossing from Wellington. By doing so you'll cross the Cook Strait before cruising up the magnificent Queen Charlotte Sound to Picton. Strike it lucky with a clear, sunny day and you'll be rewarded with sublime scenery of green pastures that plunge from the hillsides into the icy blue waters of the Sound.
But, if you had to choose between the two, go for the southern option.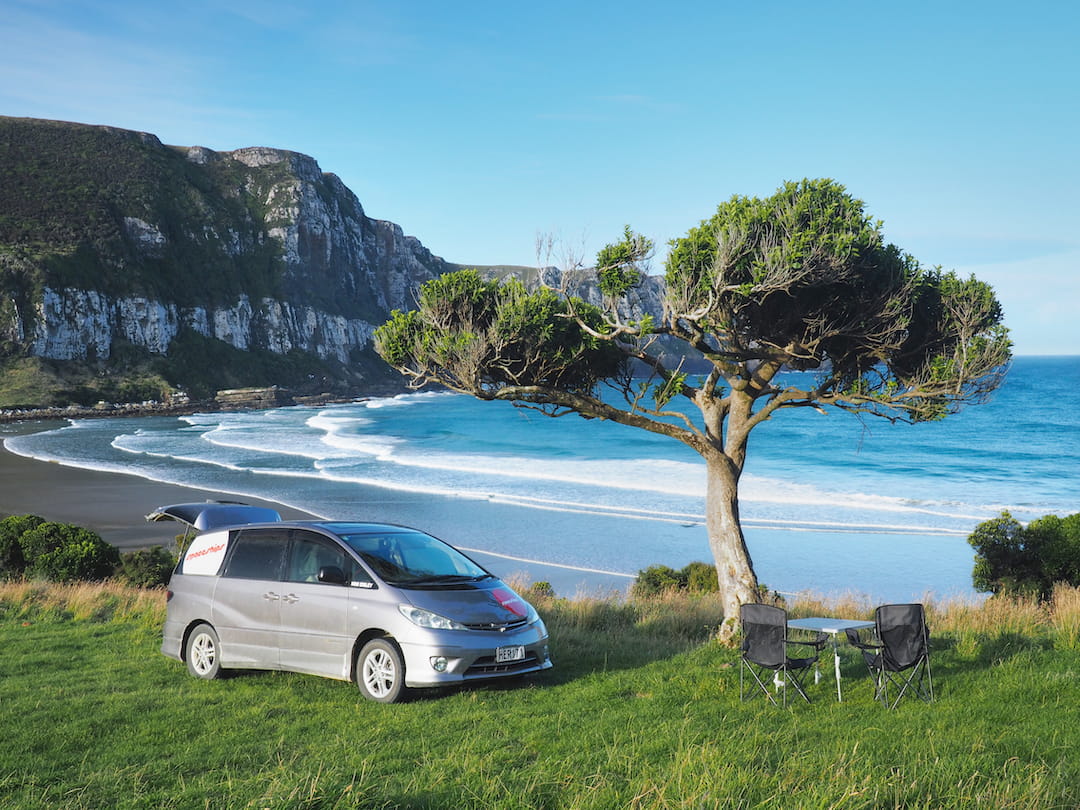 Finding a pitch for the night above Purakaunui Bay, South Island
Once you've embarked at Picton you can choose to circumnavigate the South Island either clockwise or anti-clockwise. We chose the clockwise route as, being British, we like things to be nice and orderly.
We guarantee you'll be blown away whichever way you decide to do it.
From the twisting roads of the Marlborough Sounds all the way along the north coast to the impossibly windy sand dunes at Wharariki Beach.
Then onwards to the vineyards of the Wairau Valley, the whale watching trips at Kaikoura and the fantastic day hikes at Mount Cook National Park.
You'll then continue to the wild southern tip of the island before heading west to the fiords of Doubtful Sound and Milford Sound.
The adventure hubs of Queenstown and Wanaka are a mere short drive inland from there and then it's over to the rain-soaked west coast for the long drive north towards the crazy blowholes of Punakaiki and the deserted beaches of Kahurangi National Park.
After which it's a final cross-country climb through Arthur's Pass National Park to drop off your camper van rental in Christchurch.
It's a whirlwind of a journey that we'd happily do all over again. Although we'd be bettered prepared for the onslaught of those pesky sandflies on the West Coast next time.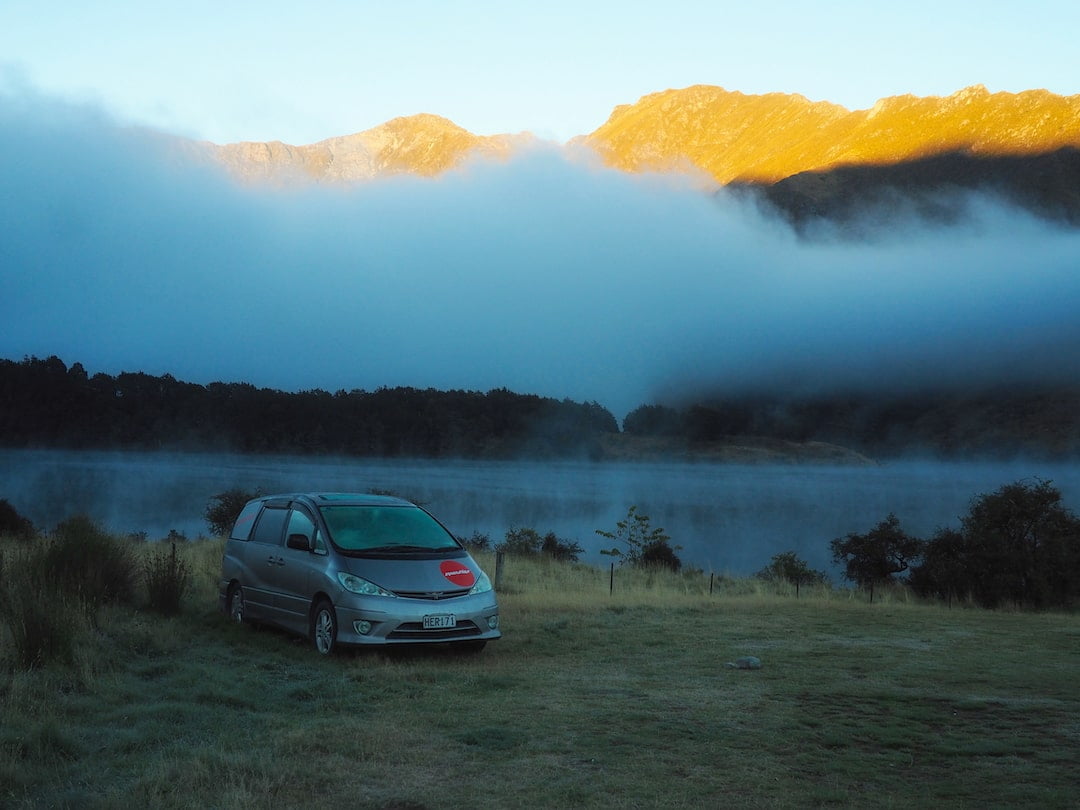 Early morning mist above Moke Lake, near Queenstown
The gravel road to Titirangi, Marlborough Sounds
Western Australian loop from Perth
A road trip through Western Australia is a journey into a world dominated by a relentlessly blue sky, strikingly red rocks and a sprinkling of green bush.
It's a state so vast that a drive from Perth, in the southwest, to Punululu National Park in the far northeast covers 3,000 km and would take nearly a day-and-a-half of continuous motoring to complete.
Not surprisingly, the terrain is rugged and often demanding. Especially when the tarmac ends and the rutted red gravel of the tributary roads takes over.
Of course, the Aussies who holiday here all come prepared with their large 4-wheel-drive super jeeps and oversized RVs. We, on the other hand, hired a medium-sized Hyundai saloon and borrowed a two-berth swag tent from friends in Perth. Which made for some interesting nights sleeping semi-wild in the Outback. On the ground. During the freezing winter nights of the desert.
Anyway, minor discomforts aside, our three-week road trip begins with a two-day drive up the Great Northern Highway from Perth to the magical Karijini National Park. Home to a number of phenomenal gorges with trails aplenty and two large campsites. And there can't be better stargazing anywhere else in Australia.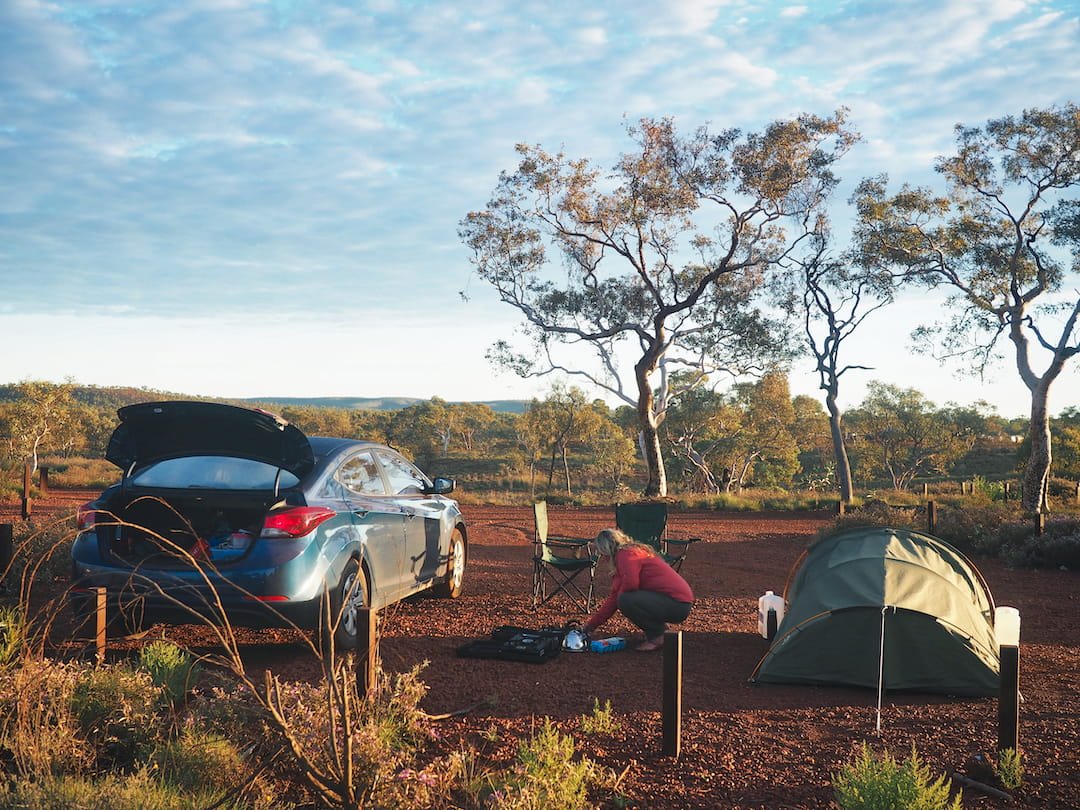 Camping in Karijini National Park
Then it's west to Exmouth – gateway to Cape Range National Park and the magnificent Ningaloo Reef. You can spend your time here exploring the beaches and overnighting in the beach-side campsites. But you won't want to miss the action out on the reef where you can book a tour to swim with whale sharks.
It was on such a tour that we found ourselves in a chance close-up encounter with a female humpback whale and her calf as they were migrating north. And it's still right up there as one of the most singularly thrilling moments of our lives.
The journey back to Perth follows the coastline, with two-to-three day stopovers in the Shark Bay World Heritage Area and Kalbarri National Park.
A word of warning. Don't be tempted to drive from dusk till dawn on these roads as it's when kangaroos come out looking for food. They'll think nothing of skipping at great speed across the road in front of you. And there's an awful lot of them.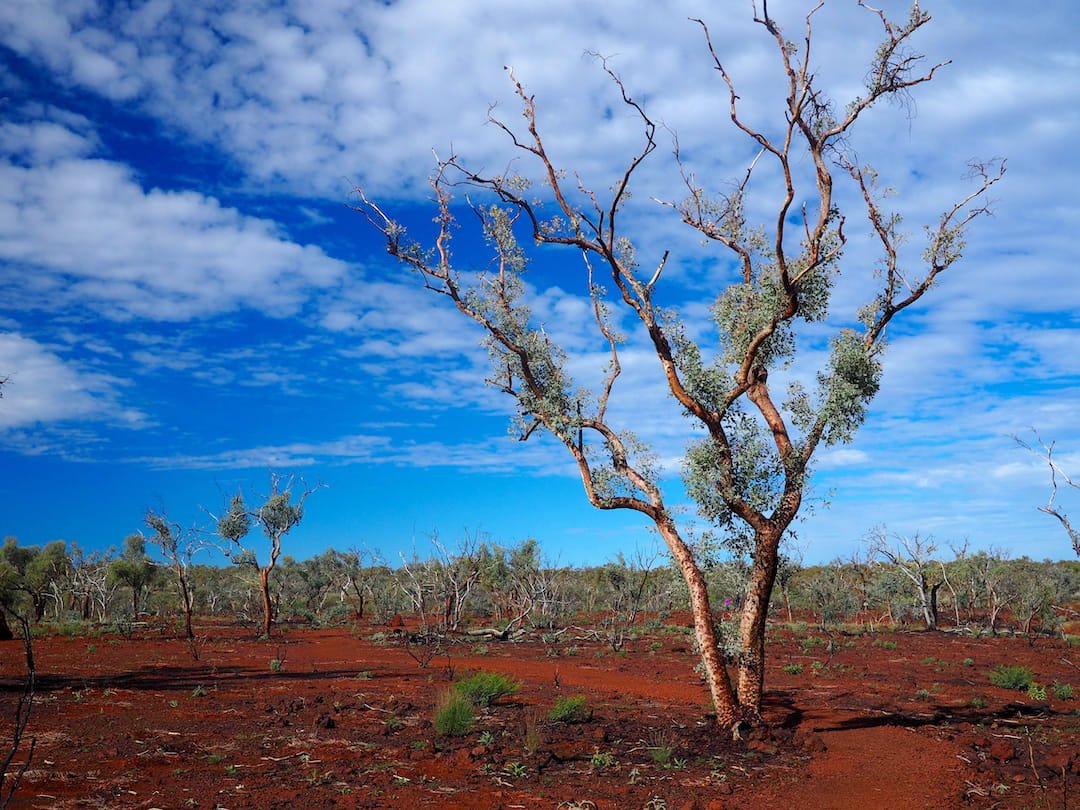 A bloodwood tree near Joffre Gorge, Karijini National Park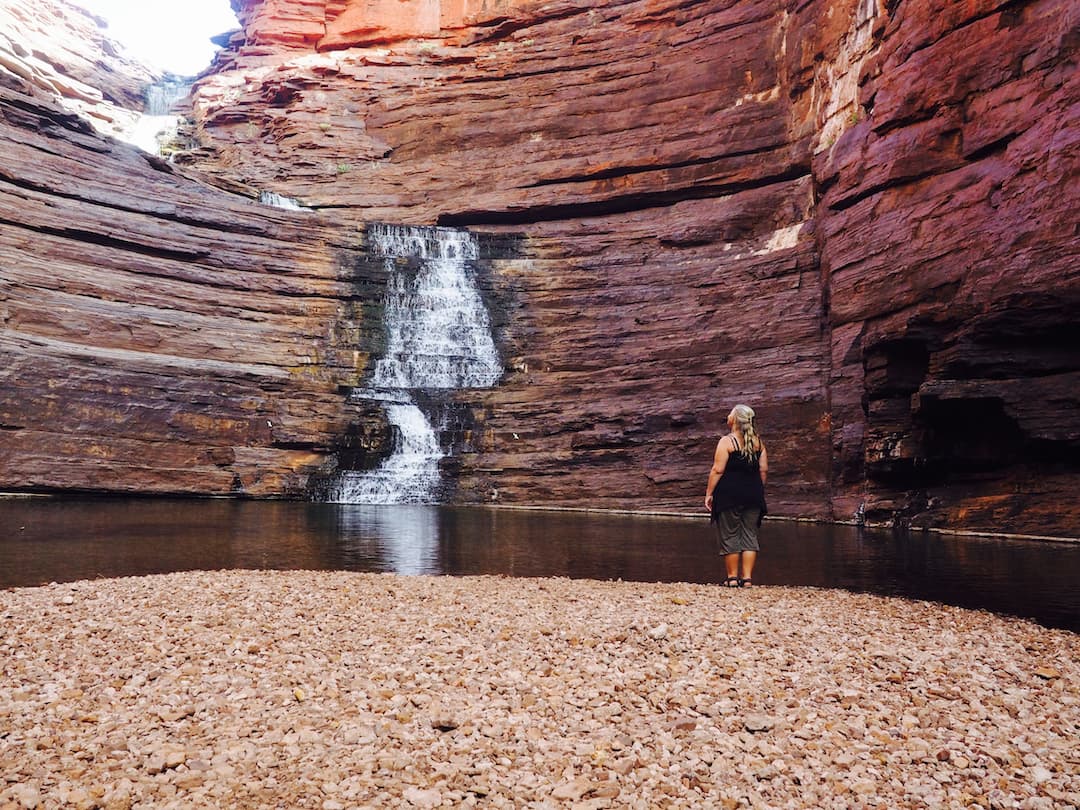 A waterfall at Joffre Gorge
India's Himalayan highway
Now for some serious adventure.
We'll admit, we didn't do the driving ourselves this time. Instead, we hired a driver with knowledge of the high-altitude Himalayan mountain roads to do that for us. And boy, we were glad we did.
The road trip from Srinagar (Kashmir) to Leh (Ladakh) and then Manali (Himachal Pradesh) is a relatively short one – 850 km / 530 miles. But it still takes at least four days because of the number of high altitude mountain passes (we counted eight) and the state of the ice-damaged road. Oh, and the unexpected hazards along the way. Including falling rocks and kamikaze drivers who're quite happy to overtake on a blind bend. On the edge of a cliff. With oncoming traffic.
This despite the slew of traffic-awareness road signs along the way that mix witticisms with rhyming couplets. And a sprinkling of sexism. For instance, alerting front-seat passengers (ie: women) with the warning, "don't gossip, let him drive". And, in case they don't get the message, imploring drivers (ie: men) to "divorce your speed, not your wife".
Believe us, it's a trip you won't forget in a hurry. And you'll want to book in for a full body massage when you finally arrive in Manali.
But don't let that put you off.
From Srinagar, the scenery could almost have been lifted from Switzerland. Alpine peaks and valleys populated with pine trees are everywhere. But that gets left behind when the road zigzags its way up to the first of the mountain passes at Zoji La. At an altitude of over 3500 metres (11,500 feet), it's bleak, barren and cold. But, in truth, it's a mere hillock when compared with the 5328-metre (17,480 feet) pass of Tanglang La on the Leh-Manali section.
The road zigzags its way up to the pass at Zoji La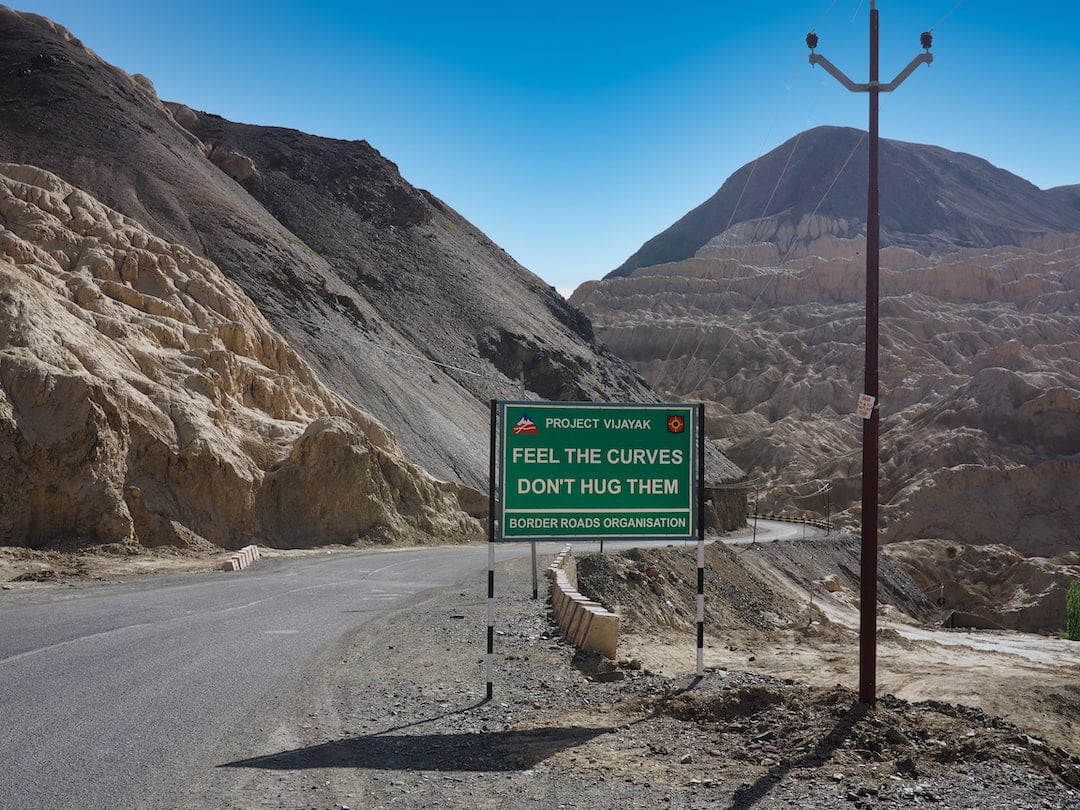 Another in-no-way-sexist pearl of wisdom to keep everyone safe
You might indeed want to stop the car and take a few photos when you're this close to the top of the world. But your lungs will thank you for keeping it short, all the same.
Apart from the stark, dramatic scenery along the route, the major draw is the opportunity to spend a few days in the town of Leh. Set in a high desert valley, it's home to a Tibetan Buddhist community and is surrounded by a plethora of monasteries, stupas, pagodas and tiny villages that haven't changed in generations.
There are lung-busting trails, day and multi-day trips across further eye-watering mountain passes to turquoise lakes and the Nubra Valley. Or you can meditate to your heart's content for days in one of a number of retreats.
When you're ready, you'll be off again on the rollercoaster ride to Manali. And, as you crisscross the mountain passes you'll witness the scenery change once again from barren high desert and jagged peaks to green pine-clad mountains as you begin the final descent in the state of Himachal Pradesh.
Utterly unforgettable.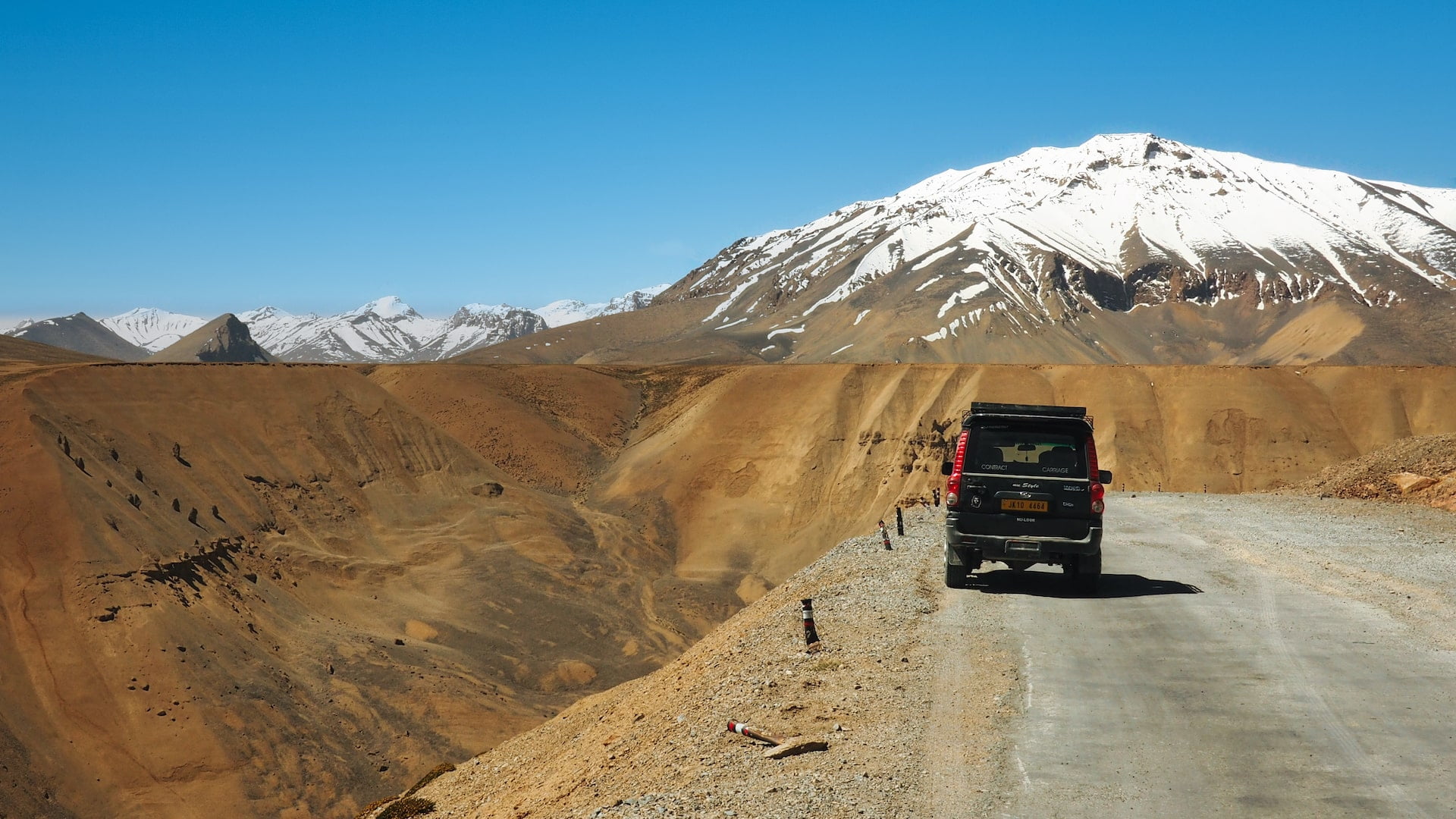 On the Leh-Manali Highway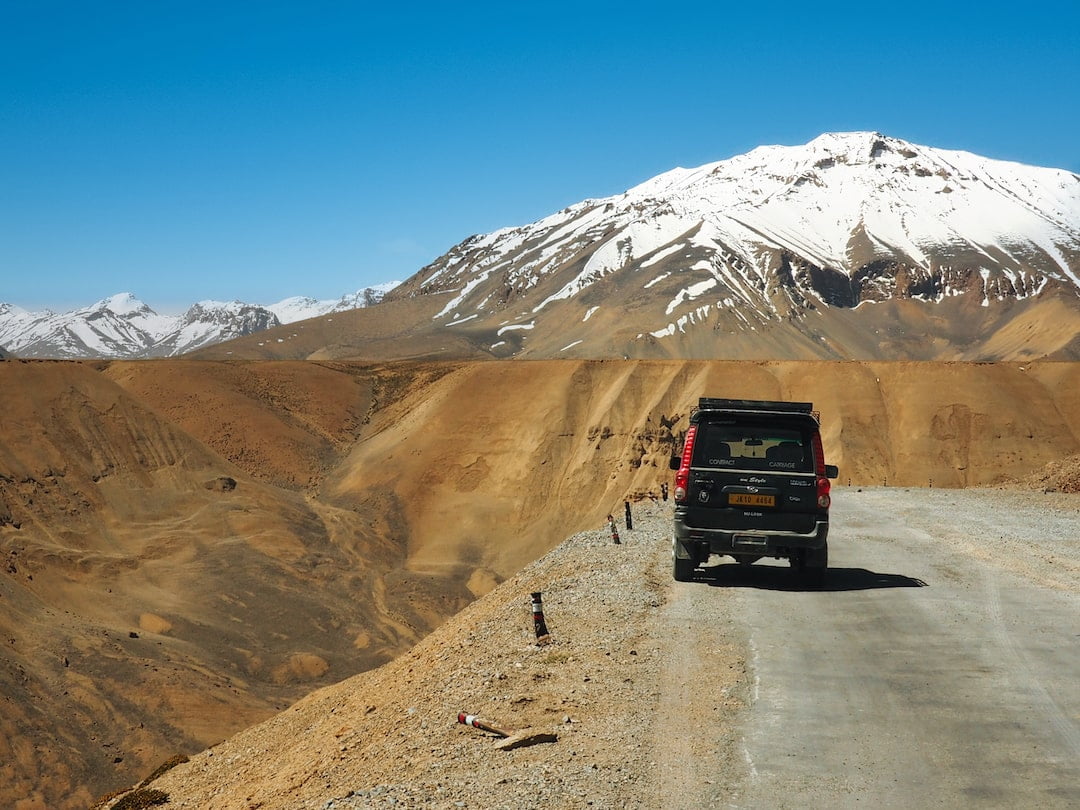 On the Leh-Manali Highway
Northern California loop from San Francisco
Undoubtedly the busiest route from our collection, but it deserves to be on anyone's list of great road trips.
The route from San Francisco follows Highway 1 south to the classic Californian coastline at Big Sur. And then it's inland to explore the national parks of Sequoia, Kings Canyon and Yosemite before heading north to Lake Tahoe.
As you might expect, just about everything is over-sized. The landscape. The sequoia trees. The cost of camping.
It certainly pays to plan in advance as the best campsites book up quickly as soon as they open in the spring. And you'll need to be aware of the best practice protocols for deterring unwanted attention from black bears.
However, there are so many highlights we could share with you. The waterfalls of Yosemite. The road into King's Canyon. The lakeside hike at Lake Tahoe. But we're not ashamed to say that we absolutely fell in love – hook, line and sinker – with those dumb old trees in Sequoia National Park.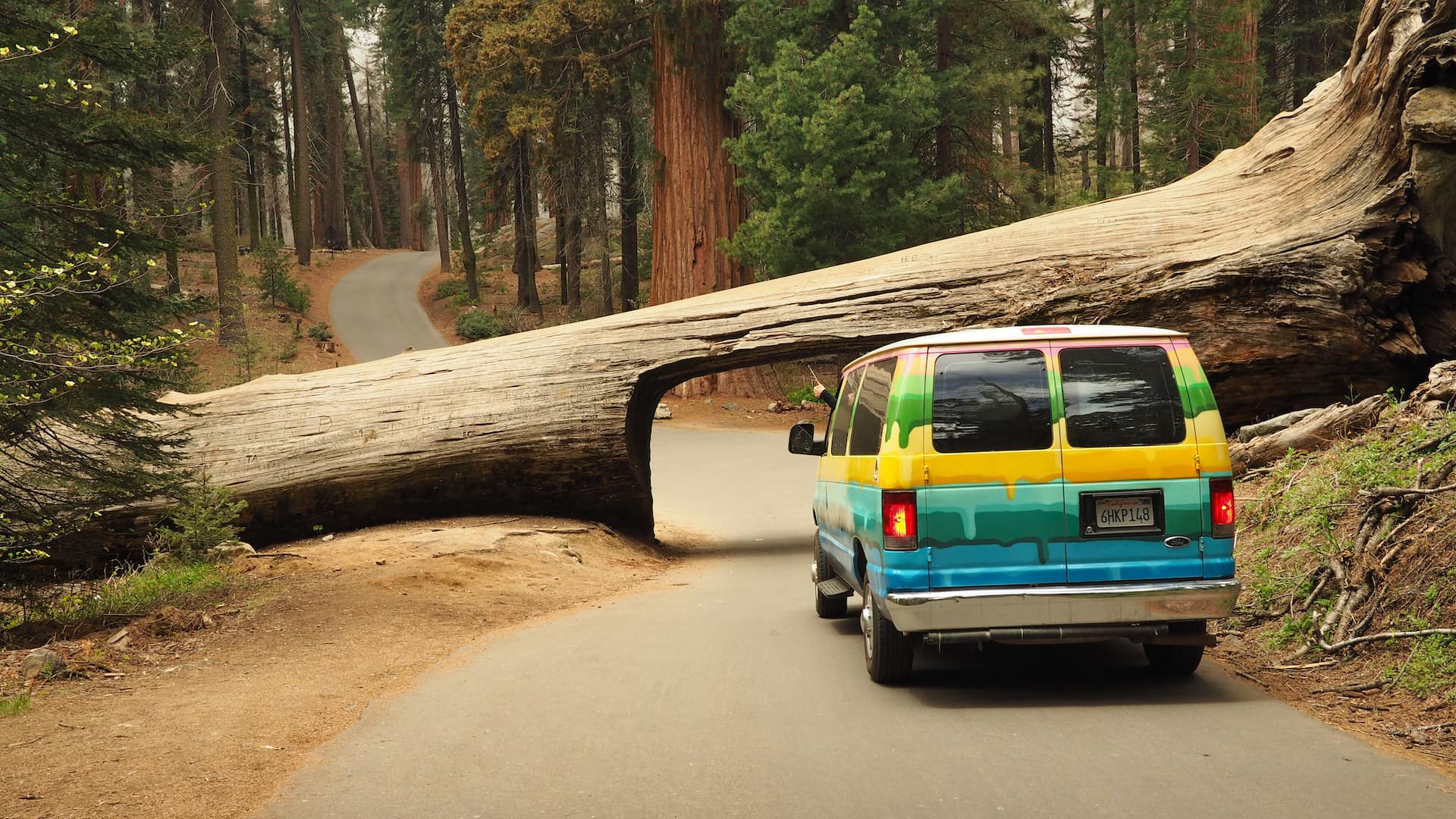 Approaching Tunnel Log, Sequoia National Park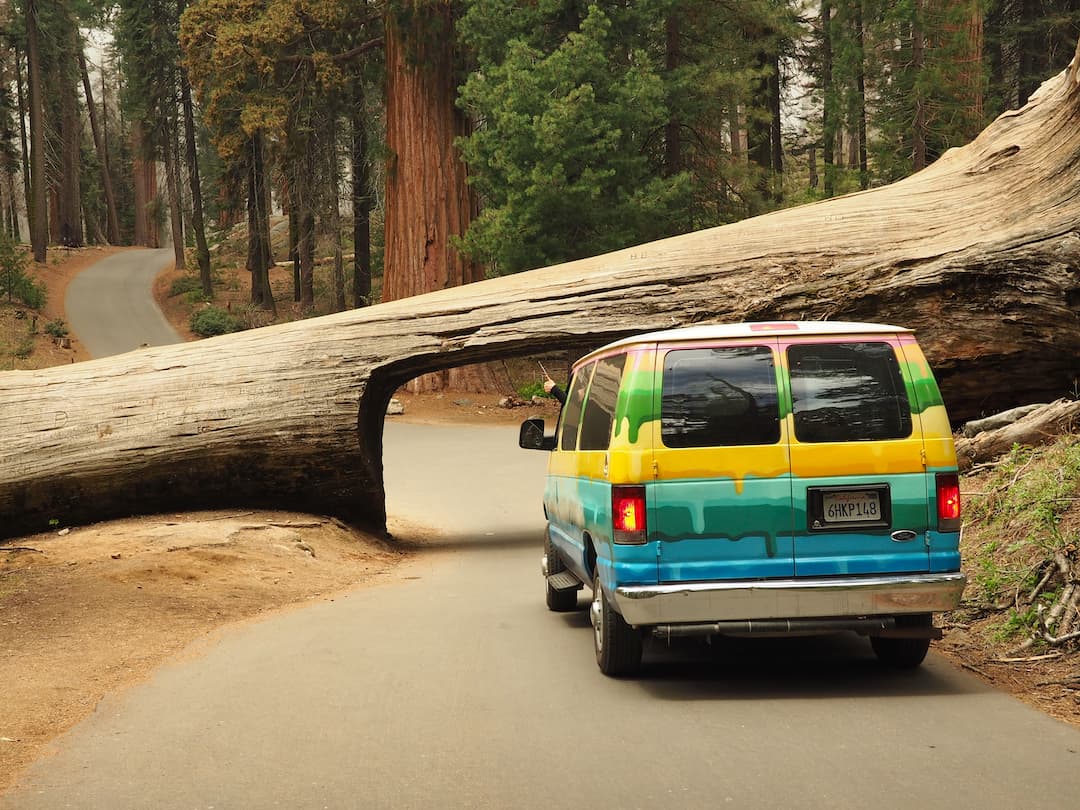 Approaching Tunnel Log, Sequoia National Park
Chile's Carretera Austral
It's not so long ago that Chile's Carretera Austral was simply 1240 kilometres of pot-holed and corrugated gravel that sliced its way through the forests and mountains of Patagonia.
And it still does.
But, nowadays, with an increasing amount of tarmac and the development of a huge system of national parks, the notorious road is being transformed into a main arterial route for southern Chile.
Which is not to say that it isn't still something of an adventure to drive it. From Puerto Montt in the north all the way down to Villa O'Higgins in the south, the road passes through wild and dramatic scenery that includes still-smoking volcanoes, hanging glaciers, moss-filled rainforests, waterfalls and lakes. Adding in the occasional ferry crossing for good measure, too.
And the further south you go, the more the road deteriorates. Or "improves", depending on your point of view.
There are also a number of opportunities for side-trips away from the main route. Such as the two-hour gravel road to the remote coastal village of Puerto Raul Marin Balmaceda. Or the gravel road and ferry to visit the Exploradores and San Rafael Glaciers.
But, for many, it's the sheer exhilaration of having completed the road in its entirety that makes the effort worth it.
We took the south to north route, which meant that we got the worst of the road conditions out of the way first. You don't necessarily need a four-wheel drive to tackle it. We managed to negotiate the worst it could throw at us in our camper van by driving ever-so-slowly in places. But a high clearance 4×4 would definitely make for a more comfortable and faster ride.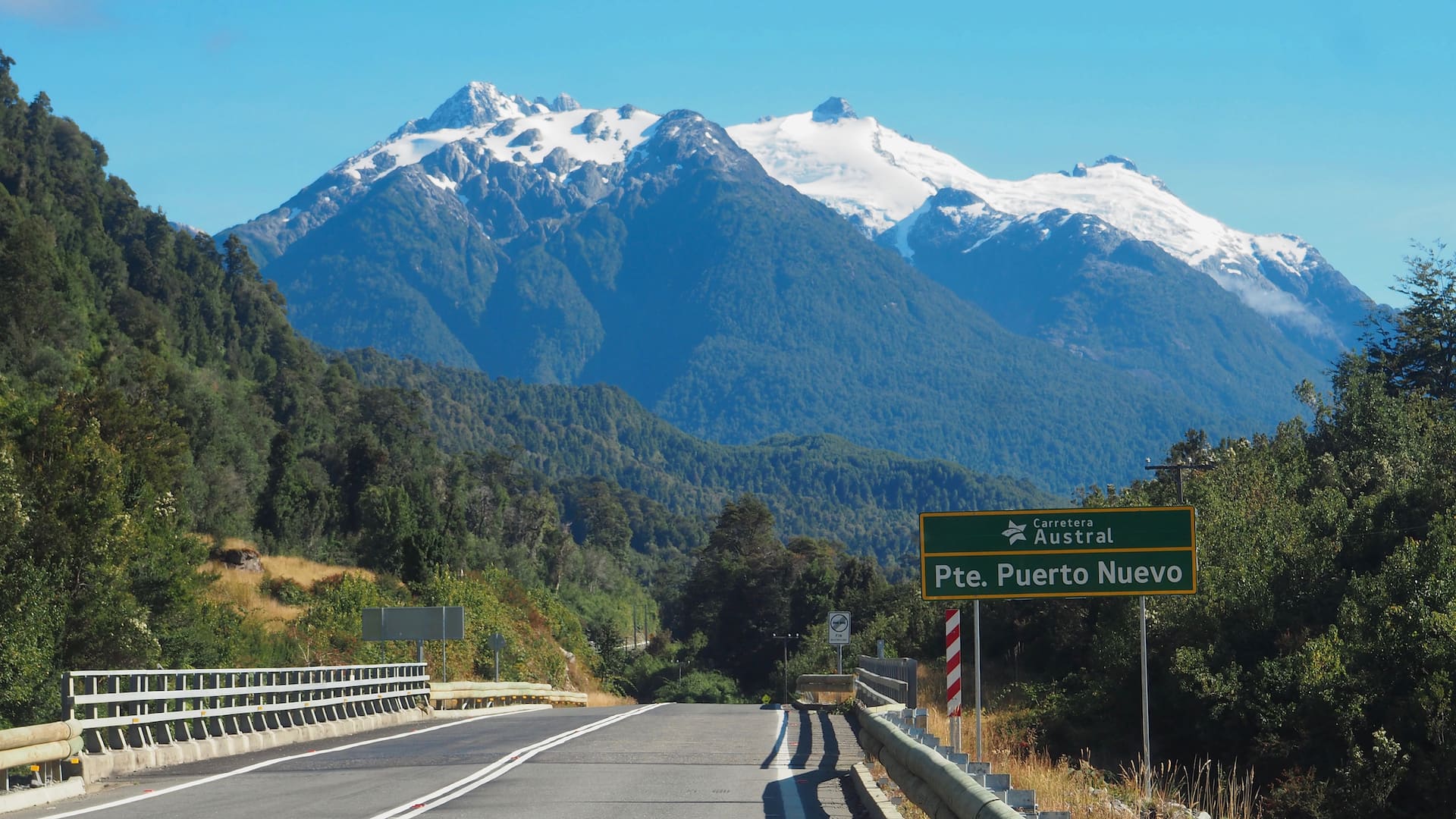 Part of the Carretera Austral
Part of the Carretera Austral
Argentina's big brother to the Carretera Austral, Ruta 40 is THE classic South American road trip.
A whopping 5000 km (3100 miles) in length and with a surface that rocks back-and-forth between tarmac, gravel, sand and mud, it's not for the faint-hearted.
Running from the Bolivian border in the north to Rio Gallegos in the frozen south, it follows the spine of the Andes for most of its length. And, as a result, the scenery is both varied and beyond compare.
To be honest, you don't have to religiously follow Ruta 40 itself to enjoy the journey for what it is. There are other roads that run parallel with it and which offer alternative attractions en route. And, as with the Carretera Austral, there are side trips that shouldn't be ignored.
The far northern section is dominated by red rock deserts, canyons and giant cacti. And, conveniently, in the middle of it all is the wine-producing region around Cafayate. Two or three days spent here working your way through the local vineyards is, of course, totally acceptable. As is sampling the speciality wine-infused ice cream.
The red desert landscape of northwest Argentina
Roadside bodega near Cafayate
And then it's onwards through increasingly dramatic landscapes coloured with oxygenated mineral-rich deposits of green, orange, red and yellow.
You'll eventually arrive at Mendoza, which offers yet more world-class vineyards to explore. That's if you didn't quite manage to satiate your appetite for wine in Cafayate.
Further south, you'll want to spend some time around Bariloche and the gorgeous Lake District. And – a LOT further south – you absolutely MUST take a couple of detours. Firstly to El Chalten and then to El Calafate. They're both charming frontier towns in their own right, with plenty of bars, restaurants and shops to keep you entertained. But they also act as the gateway to some of the best day hikes in South America. And, in El Calafate, you can easily access the incredible Perito Moreno Glacier.
Be aware that Ruta 40, between the southern Lake District and the detour for El Chalten (some 1200 km), turns into a tediously barren steppe. Which can grate after all of the scenic wonders that came before. In fact, the only thing to be concerned about is to make sure you don't forget to fill up with fuel whenever you see a refilling station.
And, if you have the time, take a further detour into the Cañon de Río Pinturas to see the prehistoric hand-stencilled cave art at Cueva de las Manos ("Cave of the Hands").
Bolivia's southwest circuit
Our third South American choice is another road trip where we were happy to let a professional do the driving, given the lay of the land.
Bolivia's southwest circuit is a surreal, high-altitude 1000 km jeep tour through a bizarre landscape of volcanoes, strange rock formations, multi-coloured lakes and geothermal springs. Oh, and the world's largest salt flat.
For much of the four-day tour, our driver went off-road. Mainly because an actual road didn't really exist. And we followed a route that's typically observed by a collection of other tour companies, too. So it wasn't quite the alone-in-the-wilderness experience you might think it would be.
Nevertheless, a visit to see the fabulously pink hues of Laguna Colorada and its resident flamingoes is a memory that will linger.
And it's not every day you get the chance to sleep in a hotel constructed entirely from salt. Or drink coca leaf beer whilst standing around, barefooted in ankle-deep water on a flooded salt flat, waiting for the sun to set. Simple pleasures, indeed.
The big draw is the final day spent on the absolute whiteness of the Salar de Uyuni (Uyuni Salt Flat). Which also happens to transform into the world's largest mirror when it floods during the rainy season. In fact, it's arguably better to visit during the rainy season just to witness this unique phenomenon.
And then it all ends with an hour-or-so of high jinks as creative "team photographs" are choreographed on the perspective-defying flatness of the salar.
A flooded Salar de Uyuni at sunset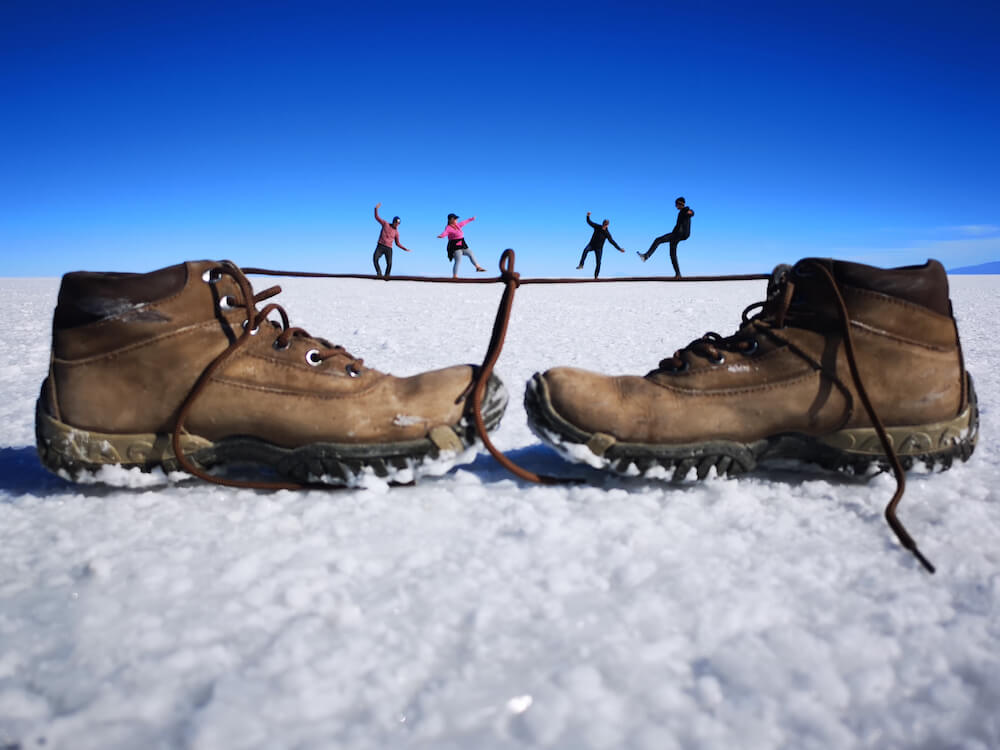 One of our attempts at "creative photography"
Final thoughts

on the world's best road trips
You may have guessed by now that we're rather partial to the occasional road trip. And the general rule of thumb seems to be that the more challenging they are, the more enjoyable (and memorable) they become.
The truth is we've only begun to scratch the surface of what's possible. For instance, there's plenty more of North and South America we'd like to explore by road. We'd love to see a lot more of Western Australia and the Northern Territory. South Africa and Namibia, too. Maybe some of the Middle Eastern and Central Asian countries. And then there's a whole chunk of Europe we've ignored for far too long.
Who knows, we may even get to resurrect the pioneering spirit of Bertha Benz by making a pilgrimage to Baden-Württemberg.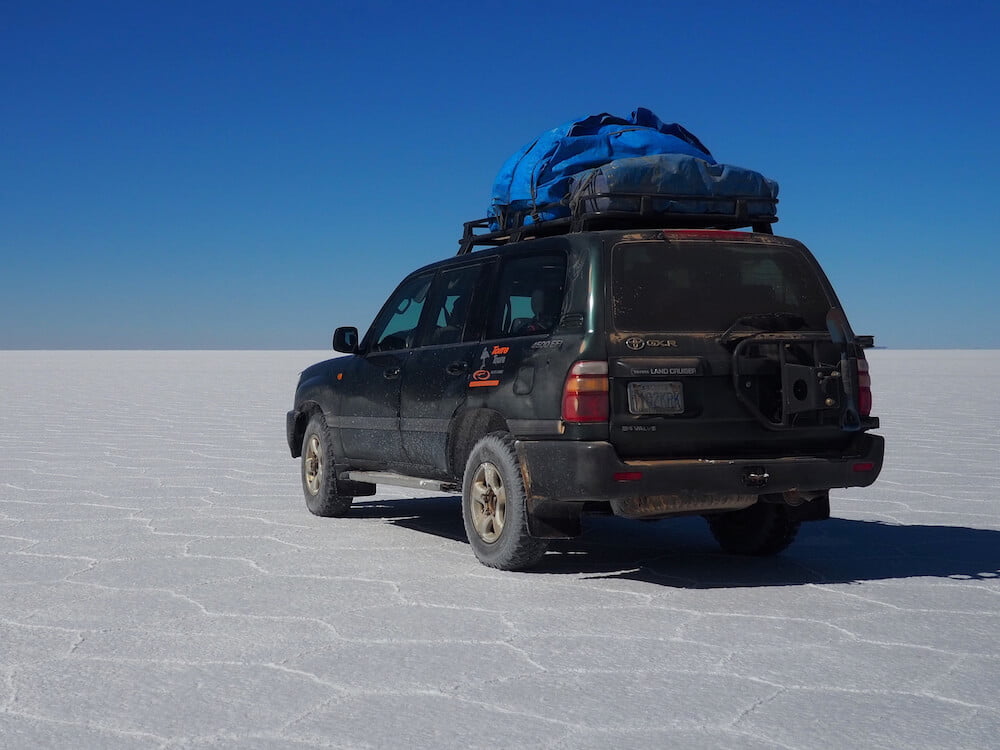 Hi, we're Ian and Nicky, an English couple on a voyage of discovery around the world, and this blog is designed to reflect what we see, think and do. Actually, we'd like to think it also provides information, entertainment and inspiration for other "mature" travellers, too. So please feel free to pour yourself a glass of something suitably chilled and take a look around.