Eating our way through South and South East Asia was not always at the forefront of our minds as we embarked on our Big Trip in 2015. But, in truth, it was never far away from it.
We love spicy food. And we love experimenting with new food. So it was a sure thing that a good proportion of our time in Asia would be spent seeking out places and dishes to eat. We stuck to eating local food  – or food associated with that country – as much as we could. And we tended to look for food that was authentic, which can be difficult when many restauranteurs and cafe owners try to cater for and pacify the limited palate of many tourists.
This was perhaps best summarised in a restaurant on the Indonesian island of Gili Meno, where a German backpacker behind us asked for a chicken curry but "without any spices", to which the waiter replied, "We don't make our curries spicy". And sure enough, there was a blackboard outside listing the food on offer, with a caption at the bottom in bold capital letters  – "NO SPICE!". Our immediate thought was that maybe she should have ordered a pizza instead.
Anyway, we're glad to report that we did persevere and our persistence eventually paid off in spades. Which is why we're excited to share with you thirty plates of Asian food that really were to die for. Enjoy!
1. Rajasthan Thali – Bundi, India
One of the many vegetarian dishes we loved in Rajasthan. I saw this while I was browsing through the menu of a small garden restaurant in Bundi one afternoon. The chef at the one-man operation said he needed four hours notice to prepare it. So I ordered it there and then. It's fair to say it's probably one of the most lovingly crafted plates of food I've ever had the pleasure to feast upon. Even though the home-made bread roll probably weighed more than me. Give it a try at the Lake View Garden Restaurant if you're in town.
2. Duck & Aubergine with Chilli – Boudhanath, Nepal
This is actually a Chinese Szechuan dish we had in a Tibetan restaurant in the middle of the ancient city of Boudhanath, Nepal. Confused? Yes, it was a little oil-heavy but there's no denying the amazing combination of the richness of the duck with the smokiness of the charred aubergine and the searing heat of the chilli sauce. Definitely one to be finished with an antacid tablet.
3. Char Kway Teow – Georgetown, Malaysia
In a town famed for its gastronomy, we sometimes struggled to find dishes that even came close to blowing our minds. There were exceptions, though. And this dish – a filling lunchtime concoction of flat noodles, prawns and scallops – was one of them. The noodles are fried in a cast iron wok over a very high heat so they become slightly charred and smoky. They're normally served with cockles but we found this particular stall that served it with scallops instead.
4. Snapper in Red Curry – Nopparat Thara, Thailand
Right up there with my top three favourite dishes from Asia, this luscious fish curry had everything. Yes, it was seriously hot, but the lemon grass, kaffir limes, galangal and coconut were there in their full, fragrant glory too. So good, in fact, that I ordered a second plateful. No, seriously. The Kru Thara restaurant is well-known in the area as one of the best seafood restaurants in Thailand. So if you're in the Krabi/Ao Nang area we'd recommend you seek it out.
5. Green Mango Salad – Koh Lipe, Thailand
This perfectly combined salad of sweet, sour and nutty crunch was actually a Burmese-Thai fusion dish from the excellent Forever Restaurant. If you've not tasted green mango before, it has a sharp, refreshing taste and nothing like the sweeter yellow-fleshed variety. But it's the perfect antidote to the energy-sapping heat of an April day in Thailand.
6. Amritsari Kulcha – Amritsar, India
Sometimes you just have to accept that many of the best things in life are also the simplest. As in this breakfast nirvana of a dish that I obsessed about in Amritsar.
It's basically a flatbread stuffed with mashed potato, onions and plenty of spices, which is baked in a tandoor oven and served piping hot with chole (chickpea curry) and a tamarind and onion chutney. Oh, and it's also smeared with lashes of butter.
A thing of beauty and an absolute bargain at 30-40 rupees.
7. Babi Guling – Jutiluwih, Bali
Definitely one for the meat eaters. Babi Guling (or suckling pig) is Bali's most famous dish and there's plenty of competition for which restaurant produces the best version. We tried this one across from the UNESCO World Heritage Jutiluwih Rice Terraces and it didn't disappoint. So moist and tender. And the first piece of crackling we'd tasted in ages.
8. Curry Mee – Georgetown, Malaysia
My favourite dish from Malaysia. Particularly as I was able to order it with my cleverly punned, "I'll have some Curry Mee". And after the laughter had subsided I was left with a lovely coconut broth filled with two types of noodles, together with prawns, tofu, vegetables and a spoonful of chilli sambal. Of course, I didn't spill a drop of it down the front of my shirt…
9. Fruit Salad with Tamarind – Banda Aceh, Sumatra
One of those flavour combinations you think shouldn't work but, amazingly, does. We would never have stumbled across this street stall in Banda Aceh without our guide. But we'd told him we wanted to experience the city's street food and it didn't get any better than this. We were taken to this guy with a simple stall and a large wok into which he threw pieces of papaya and a range of seasonal fruits, before mixing it all together in a hot, spicy tamarind sauce. It was sweet, sour, spicy and hot. And it might just have been the best thing we've ever tasted served in a paper bag.
10. Lentil Pakoras – Rajasthan, India
Another street food choice, this time in India's Rajasthan. We were touring the state in the comfort of our guide's car when he asked us if we were hungry. Naturally, we told him we were. So he jumped out and ran over to an impossibly busy stall across the street before returning a few minutes later with two newspaper-wrapped bundles. Our eyes lit up when we unravelled them to find these fantastic bite-sized spicy lentil fritters. Again, proof if we ever needed it, that eating straight from the sports pages of a daily newspaper is one of the simple joys of life.
11. Kua Kling Paksod – Koh Lanta, Thailand
Probably the spiciest piece of food to pass my lips during our whole Asia visit. And another of my top three dishes, it was a mixture of shredded beef, chilli paste, finely sliced lemon grass, kaffir lime leaves, and sprigs of green peppercorns. Quite simply, the explosion of flavours in the mouth from the very first to the very last fork-full was nothing less than a taste sensation. And my god was it hot!!
12. Momos with Chilli Relish – Kathmandu, Nepal
Momos are a Tibetan-influenced dish of ravioli-style dumplings filled with either meat or vegetables (or both), served with a spicy relish. They became a bit of a lunchtime favourite for us, especially when we were hiking up in the Himalayas. Although with the amount of energy needed to complete the hike they ended up being just a starter dish for me!
13. Burmese Curry – Hsipaw, Myanmar
Most people will have experienced a Thai or Indian curry before visiting those countries. Probably not so with Burmese curries, however. And they do represent a whole new challenge altogether.
Most local restaurants will have a display of dishes on offer from mid-morning onwards. You decide on which main dish you'd like – we normally chose the mutton (which is actually goat) – and it's served with up to TEN side dishes. These include such delights as fermented fish, pickled mango, fermented shrimp paste, fried bamboo shoots, fried aubergine, crispy chilli condiments and the ubiquitous steamed rice and vegetable soup. And when it's done properly, the full gamut of flavours, from sweet to sour, savoury and spicy are fantastic.
14. Parathas with Yoghurt & Pickle – Leh, India
A bit of a ritual for me, this. We stayed for nine nights at the high altitude Padma Guest House in Leh and I had this little gem for breakfast every morning. No frills. No pretensions. Just four neatly stacked potato stuffed flatbreads straight out of the pan served with cool natural yoghurt and a tangy lime/chilli pickle.
15. Lal Mass – Jaipur, India
Rajasthan's signature dish, Lal Maas is a spicy, sour lamb curry cooked with plenty of crushed red chilli, giving it its distinctive colour. Not for the faint-hearted. Nor should it be attempted wearing your shiny new white shirt or blouse.
16. Banana Pancake – Ubud, Bali
Ok, indulge me if you will, as I know this isn't a traditional Asian dish. But over the years it has become a backpacker breakfast staple all over South East Asia. And there are definitely times when a bit of comfort food feels just right. By far the best I tried was this one at our guest house in Ubud, infused with pandan leaf and smothered in syrup. Much to Nicky's disgust.
17. Tea Leaf Salad – Mawlamyine, Myanmar
Not your average salad this. A bitter, sour and spicy creation based on fermented or pickled tea leaves. By the time they've added garlic, sesame seeds, peanuts, cabbage, tomatoes and beans and mixed it all together you're confronted by probably the tastiest salad you've had in your life. And there are lots of other varieties too. You can even pick them up from mobile food stalls dedicated to them.
18. Kachori with Chickpea Curry – Delhi, India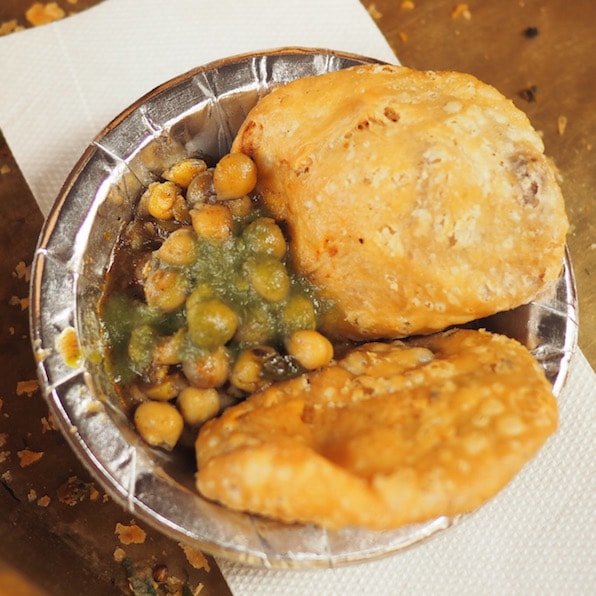 I first came across these spicy, savoury, fried puff pastries while we were touring Rajasthan, But when I found a cracking little stall in Delhi selling them it became obvious where I'd be heading for breakfast in that city. Served with chickpea curry and mint relish in a tin foil bowl, and costing 10 rupees (= next-to-nothing), this was probably the best value meal I had in Asia. Two of those little beauties for breakfast and I was ready for whatever else Delhi could throw at me.
19. Green Peppercorn Crab with Squid – Kep, Cambodia
Kep is famous for its crab and ramshackle seafront restaurants. And neighbouring town Kampot is famous for its green peppercorns. So it's perhaps no surprise that the two flavours combine to produce one of the signature dishes of Southern Cambodia.
20. Gunung Bread with Lentil Curry – Ghandruk, Nepal
Back to basics again and a breakfast staple from our Nepalese trek. Gunung Bread (aka Tibetan bread), is shallow-fried and served hot. Although usually made from wheat, the regional version I had at Ghandruk included millet and corn, served with a delicious lentil curry. A piece of art, too.
21. Seafood and Noodle Soup – Trat, Thailand
We loved this breakfast dish from one of Trat's old quarter cafes. We've no idea what the name of the cafe was but this unpretentious, exquisite, spicy seafood broth was the best thing we ate for breakfast on our entire 15-month trip.
22. Fried Vermicelli with Chicken – Koh Lipe, Thailand
Another Burmese-Thai fusion dish from the incredible Forever Restaurant on Koh Lipe. We ended up eating here whenever we could as the food was not only always deliciously fresh but the portions were huge, too.
23. Daal Bhat – Ghandruk, Nepal
We got to know this dish very well during our nine-day hike in Nepal, particularly as we reached higher into the Himalayas. It's a simple lentil dish with rice, pickle and a range of vegetables that happen to be locally available. And the good news is that refills are normally complimentary, which was pretty welcome after a full day's hard slog.
24. Khmer Chicken Curry – Kep, Cambodia
While it doesn't quite compare with the rich, spicy, herby flavours of Thai cuisine, there's still plenty to enjoy about Cambodian food. Probably our favourite was this thick, creamy Khmer Curry. Along with the Red Tree Ants with Beef and Holy Basil that yours truly ordered after one or two beers.
25. Prawn Moneybags – Phuket Town, Thailand
I defy you not to salivate at the sight of these little parcels of gorgeousness.  They're filled with prawns and vegetables and are just begging to be eaten whole. Crispy, light and spicy. Gorgeous. We picked them up from Phuket Town's Sunday Market.
26. Dal Makhani – Jaipur, India
Another example of what can be created from the humble lentil. This one's made from black lentils, red kidney beans, butter and cream. Mopped up with a freshly made paratha it's a meal in itself. But we didn't let that stop us from ordering it as a side dish. Yep, we most definitely put on weight in India.
27. Deep Fried Red Tilapia with Chilli Sauce – Prachuap Khiri Khan, Thailand
This is a dish that just has to be tasted to be believed. The drill at the roadside Lung Mug-Paa Lord seafood restaurant was to pick your fish or seafood from the open-air stand on the kerb, then choose your preferred style of cooking and sauce. We went for the red tilapia and ordered it deep fried and smothered in chilli sauce. If there's a more deliciously cooked piece of fish out there I've still yet to try it.  Outstanding. Crispy, spicy, fragrant. And that was just the bones.
28. Vegetable Curry Breakfast – Delhi, India
Eating curry in India starts so early in the day that it almost feels like a continuation of the previous night's dinner. While in Delhi we gorged ourselves on our hotel's breakfast buffet, which was universally excellent. This vegetable curry with chappati and various nutty, sweet snack-bites was a particular highlight.
29. Nasi Campur with Chilli Sambal – Sidemen, Bali
Another of Bali's ubiquitous dishes, we found the quality varied, depending on the level of tourists around. By far the best we had was in Sidemen at Bukit Artha Warung & Homestay. The ever-smiling and super-chatty Artha prides himself on his food's authenticity and freshness. Sure, you have to be patient as he and his chef prepare and cook the food from scratch in their tiny kitchen. But the results are well worth it. And he certainly knows how to knock up a wicked chilli sambal.
30. BBQ Stuffed Frog – Siem Reap, Cambodia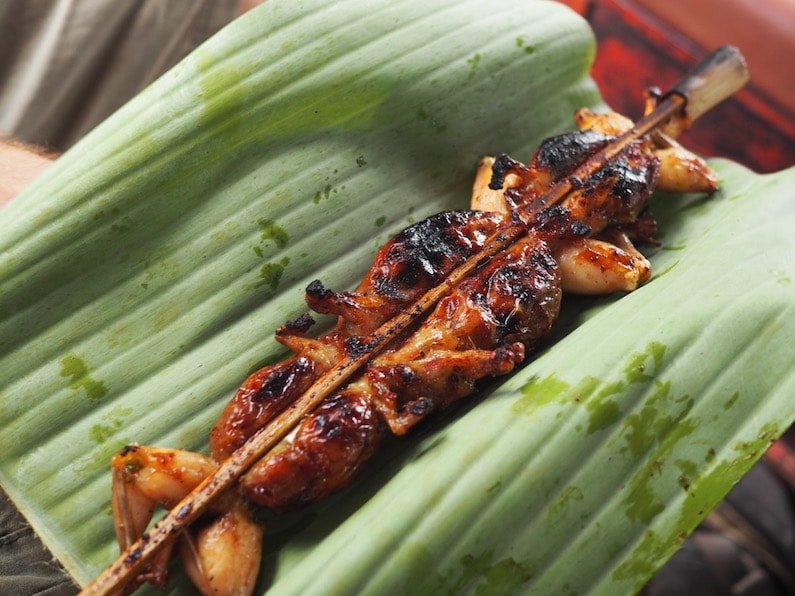 Probably not to everyone's taste (including Nicky's) but I found this surprisingly good. Bought from a mobile street BBQ stall outside Siem Reap, the frogs were stuffed with rice, lemon grass and Khmer spices and served on a stick. And yes they did taste a bit like chicken.
What did you think? Do you have a favourite Asian dish? Or maybe you've tried one of the dishes covered in the post? Either way, we'd love to hear from you so please add your comments below. Thanks!