12 OF THE BEST THINGS TO DO IN MEDELLIN
12 OF THE BEST THINGS TO DO IN MEDELLIN
Despite its troubled past, Medellín is quickly reinventing itself as one of Colombia's must-visit destinations. This despite it not being blessed with obvious attractions such as Cartagena's photogenic, historic centre. But what it lacks in aesthetic charms it makes up for with a desire to change people's perceptions of its past, present and future.
We spent a month there while we were house sitting, looking after three dogs and three cats. Based in gringo-friendly El Poblado, with its many cafés, bars and restaurants, we had plenty of opportunities to see what the rest of the city had to offer a visitor.
So, if you're planning on travelling there, here's our take on 12 of the best things to do in Medellín.
This page contains affiliate links. To help us maintain our site we work with a number of partners who we've personally used and can recommend to our readers. If you decide to purchase any products through the links on this page, we'll receive a small commission at no extra cost to you.
Do the downtown walking tour
We'd recommend that your first point of call is to book yourself on to one of the free walking tours around the city centre.
By doing so you'll learn about how the people of Medellín have had to come to terms with their city's notorious past. And you'll see how the city is transforming itself into one of the most innovative and dynamic cities in Latin America.
Trust me, you won't regret it. And it serves as a good way to orient yourself around the city centre, too.
Real City Tours offer an excellent free (tip-based) tour, which you can book online up to 36 hours in advance. So, if your time in Medellín is short, you might even want to consider booking before you arrive.
You can read about our experience here.
By the way, you'll undoubtedly come across "Pablo Escobar tours" which are a point of some disgust for many Colombians, and especially those from Medellín. Responsible for thousands of murders in Medellín alone, the infamous drug lord killed by police in 1993 is not somebody who needs to be posthumously glamourised. And his death should certainly not be turned into a cash cow for former family and gang members.
If you really want to go and see where he was shot or even visit his grave, then somebody will happily take you for a fee. But, after listening to our walking tour guide, Julio, we're vehemently in the "don't do it" camp.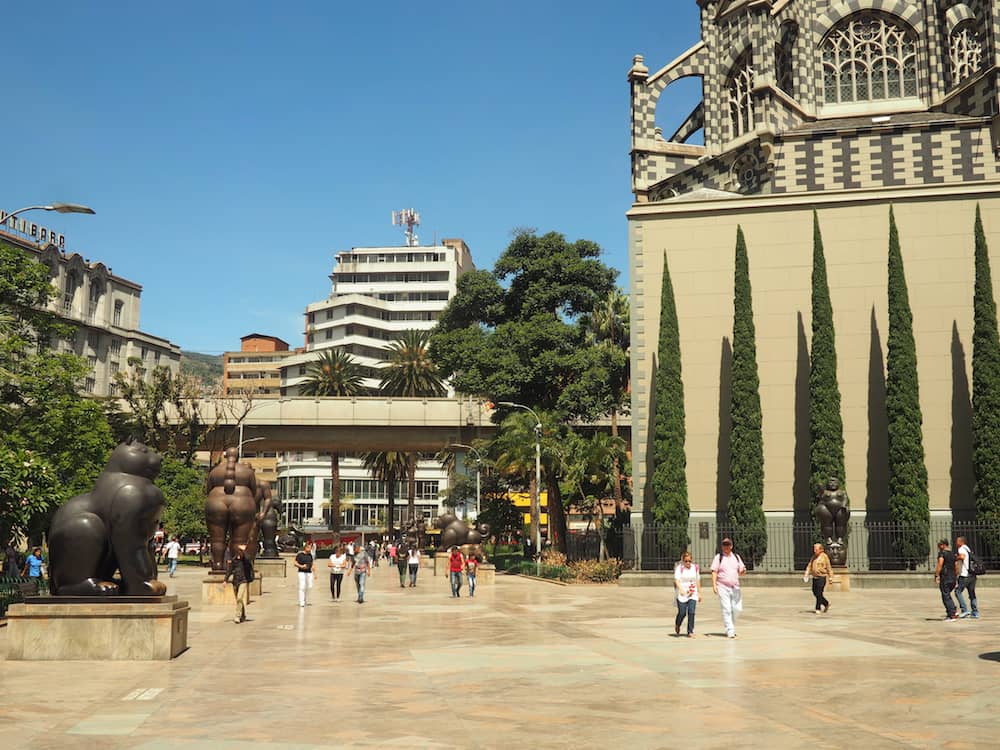 Botero Plaza, centro area, Medellín
Visit Museo Casa de la Memoria
Perhaps in conjunction with the walking tour, don't miss this museum, located a short distance from the city centre. It translates into English as the House of Memory Museum and a visit helps to provide a lot more context to Medellín's – and indeed, Colombia's – decades of conflict.
Through its use of personal stories, audio, video, art and comprehensive documents, it's both upsetting and thought-provoking in equal measures.
What's more, it's free. And, for anybody with even a passing interest in understanding Colombia's past, it's a must-visit.
You can even download an app with an English language audio guide. And this excellent article provides more detail on the museum and how to get there.
Enjoy the sculptures in Botero Plaza
You may have already spent some time in Botero Plaza as part of your walking tour, but it's definitely worth a return visit to take a closer look at Fernando Botero's 23 incredible, exaggerated bronze sculptures. Donated by Botero to the city of Medellín as part of its transformation programme, they're essentially an open-air art gallery.
Also on the plaza, the Museum of Antioquia houses much more of Botero's work. And opposite, the unique Rafael Uribe Uribe Palace of Culture is perhaps the most photographed building in the city.
Botero sculpture in front of the Rafael Uribe Uribe Palace of Culture
To complete your understanding of Medellín's backstory, a visit to this previously notorious barrio is both an education and an inspiration.
Best seen as part of a walking tour, the sprawling neighbourhood still bears the scars from years of indiscriminate violence between drug lords, guerillas and paramilitary groups. Most notorious was the 2002 government operation that involved 1500 military personnel, two helicopters and a tank in an attempt to crush the warring factions.
In recent years, community and activist groups have led the fight to seek justice and promote resistance to the violence. And local artists have helped to transform the area with astonishing murals and street art.
Even if you're not a fan of art, it's hard not to appreciate the raw power of these images. And, for us, our morning there was the highlight of our time in Medellín.
Seriously, just leave any preconceptions behind, book on to a free walking tour, and be prepared to be inspired.
Of course, you can visit on your own but some areas of the neighbourhood are still not safe to do so. And anyway, why wouldn't you want to go with a guide who grew up in the area and can provide you with personal insight into its troubled past and the art on display. We went with (and can recommend) the tip-based Zippy Tour.
And, if you need any more convincing, take a look at a wider selection of Comuna 13's street art in our accompanying article.
Being a football fan from England, going to a match in South America has long been on my bucket list. Especially having watched and admired the colourful and fanatical support of South American teams during many World Cups.
And the experience didn't disappoint!
Even if you don't normally watch football, go and see a game involving Atlético Nacional – the larger of Medellín's two teams – and you might just get hooked. From the moment the match kicks off until the referee blows the whistle for full time, the home support goes completely bonkers. But in a good way.
Continuous singing for a full 90 minutes. A cacophony of drum and trumpet playing most national orchestras would be proud of. And flags the size of small countries.
For the full experience, buy yourself a cheap replica football shirt from any local street seller and rock up at one of the bars beside the stadium before the game. Although, buying a cheap ticket for the "home end" of the stadium is probably best reserved for hardcore fans only.
Atlético Nacional fans getting warmed up before the game starts
Wander around the Botanical Gardens
A much quieter few hours can be spent wandering around the Jardín Botánico. It's a surprising green oasis in the centre of Medellín's sprawling tenements and is home to exhibitions, tropical plants and huge iguanas that roam around the centrepiece lake.
Again, it's free to enter and serves as a welcome break from the chaos of the city.
And those iguanas are pretty cool, too.
There's also Parque Explora next door – an interactive science museum which also includes the largest freshwater aquarium in South America.
One of Jardín Botánico's iguanas
Medellín's high-altitude setting in Antioquia's Aburrá Valley allows for plenty of hiking opportunities in the surrounding mountains.
Again, it's not something that would have been possible, or even thinkable, just a few years ago. And, indeed, the trails themselves are generally poorly marked. But, if the idea of hiking through forests that are filled with waterfalls appeals to you then you're in luck. And then there's the bonus of great views of the metropolis below.
This excellent article provides a list and further details on some of the best hikes available.
However, if clambering up jungle trails just to get a good view of the city is your idea of hell, you can always just take a ride on one or more of Medellín's cable cars.
Part of the city's Metro system, they were introduced during the 2000s in an attempt to connect some of the poorer and isolated neighbourhoods up on the hillsides with the rest of the population below. Which they've successfully done.
But, as a by-product, they've also become a cheap and efficient way for tourists to have an elevated view of the city and see some of the barrios at close quarters. A bit voyeuristic maybe – you literally pass over rooftops where the people of Medellín are going about their daily lives – but fascinating all the same.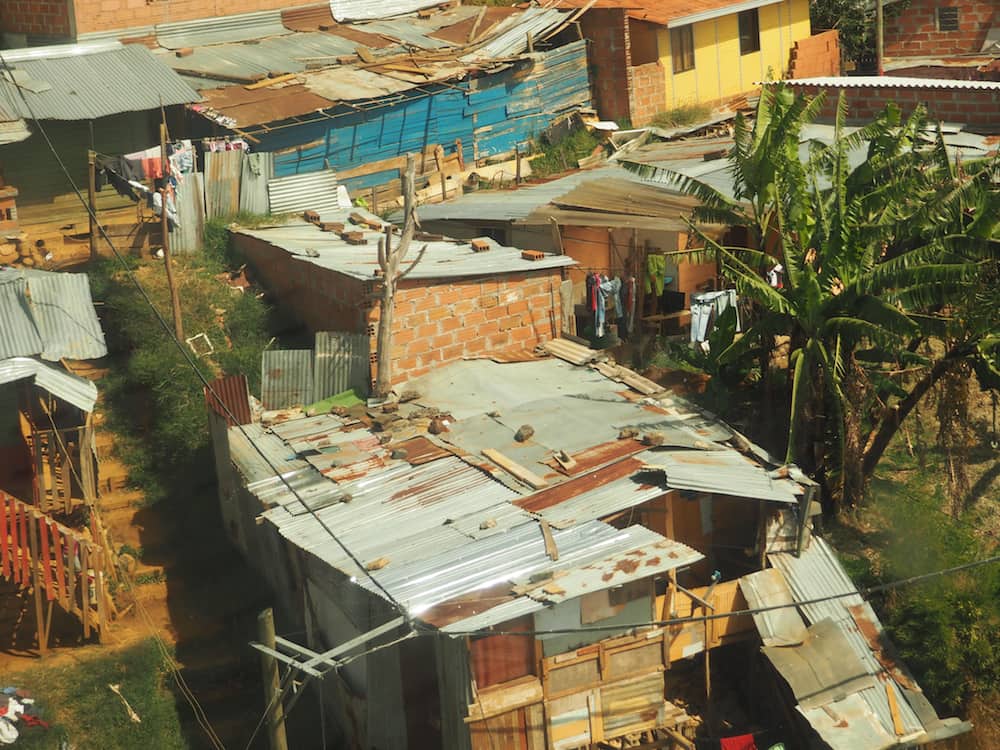 We'd recommend you take the cable car from Acevado metro station up to Santo Domingo and then switch to a second cable car all the way up to Parque Arvi. The views as you pass over the barrios back down to Medellín are incredible. And then, suddenly, you're passing over farmland and eventually thick forest.
What's more, the price of the cable car to Santo Domingo is included in your Metro rail ticket (2500 Colombia pesos). So you can easily travel from one side of the city to the other and up the hillside to Santo Domingo for less than one US dollar. There's an additional charge for the second cable car to Parque Arvi as it's a leisure destination rather than residential.
For more detailed information here's a comprehensive guide to Medellín's metro.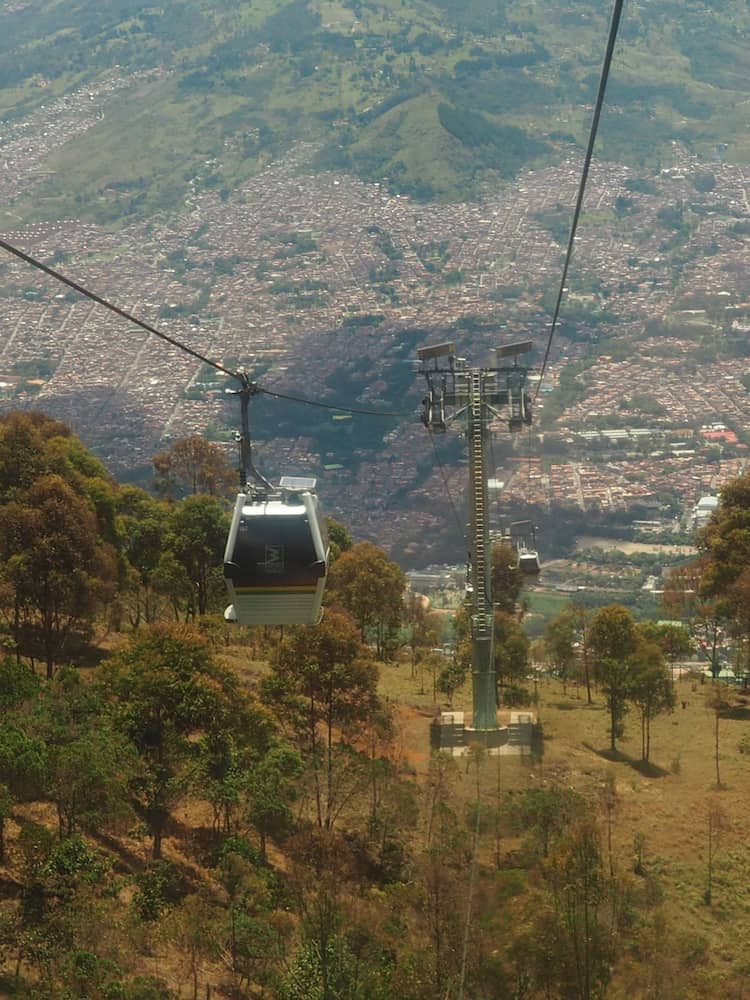 Experiment with the local coffee
Of course, if you want a real taste of Colombia then trying a cup of locally-grown coffee is about as close as you can get. And the area in and around El Poblado is fast becoming the centre of the city's café culture.
Paradoxically, Colombia exports its best quality beans and so those that don't quite make the grade are used for the domestic market, often sold as small, low-caffeine cups of tinto for next-to-nothing. But, with the gentrification of areas such as El Poblado, upmarket coffee shops have sprung up by the dozen over the past few years to cater for the growing number of North American/European expats and tourists.
Our favourite is Pergamino, which also just happens to be the most popular in El Poblado. Leave it too late in the morning and you'll be stuck in a queue to order. But in my opinion, there's no better wake-me-up than a double espresso and an almond/chocolate croissant from their pastries counter.
Try the local street food
Eating street food is one of the travel pleasures we look forward to the most. However, eating Colombian street food is a pleasure that should also come with a health warning. That's because if it isn't smothered in sugar or some sort of syrupy concoction, it's deep-fried instead. And sometimes both.
For example, patacones are mashed plantains which have been flattened and deep-fried. Twice. And buñuelos are deep-fried balls of cheese and dough.
Meanwhile, empanadas are small deep-fried packages stuffed with minced beef and potato/rice, or chicken and/or vegetables. You'll see them everywhere. But by far the best we tried was at Empanadas Envigadenas on Botero Plaza.
For a sweeter tooth, obleas are multiple-layered pizza-sized wafers filled with more artery-clogging goodies such as cheese and caramel sauce. No, really.
Venue of the best empanadas in town
Ian getting to grips with a buñuelo
But my street food of choice has to be the arepas de chócolo – a deliciously sweet yellow corn pancake topped with butter and cheese. Great just by itself but even better when combined with poached eggs and sausage for breakfast!
A breakfast fit for a king – arepas de chocólo, poached egg and sausage
Enjoy the nightlife in El Poblado
If you/re staying in Medellín for a few days, chances are your accommodation will be in El Poblado. After all, it's centrally located, relatively safe at night and has the highest concentration of quality cafés, bars and restaurants in the city.
The nucleus of El Poblado's nightlife is focused in and around Lleras Park, which gets especially busy at weekends. To be honest, you'll be spoiled for choice whether you're going out early evening or late into the night.
One interesting feature is the street art that adorns many of the bars leading off from Lleras Park. Almost like an extension of the larger murals found elsewhere in the city.
Among our favourite bars were the salsa-influenced El Social on Carrera 37 and the Bogotá Beer Company on Carrera 34. In fact, if you enjoy craft beer then the range produced by BBC is as good as any I've tasted in the Americas. And their coconut porter is a belter!
But don't miss the Charlee Hotel's Envy Rooftop Bar (just off Lleras Park) for possibly the best view of Medellín with a beer or cocktail in your hand.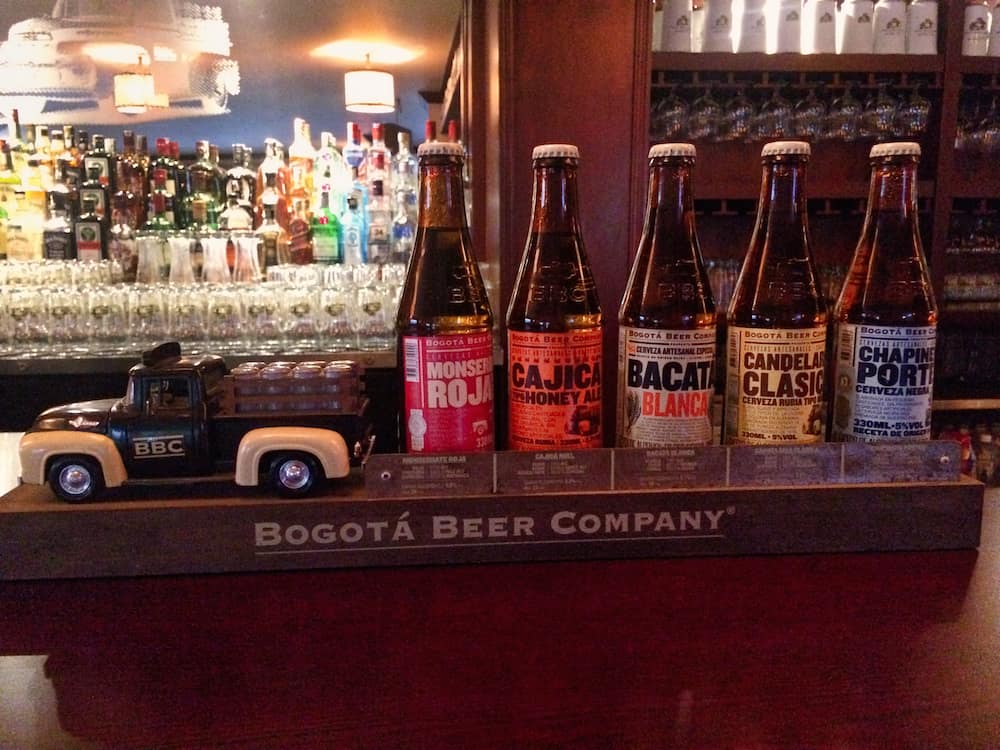 The BBC's bottled beer range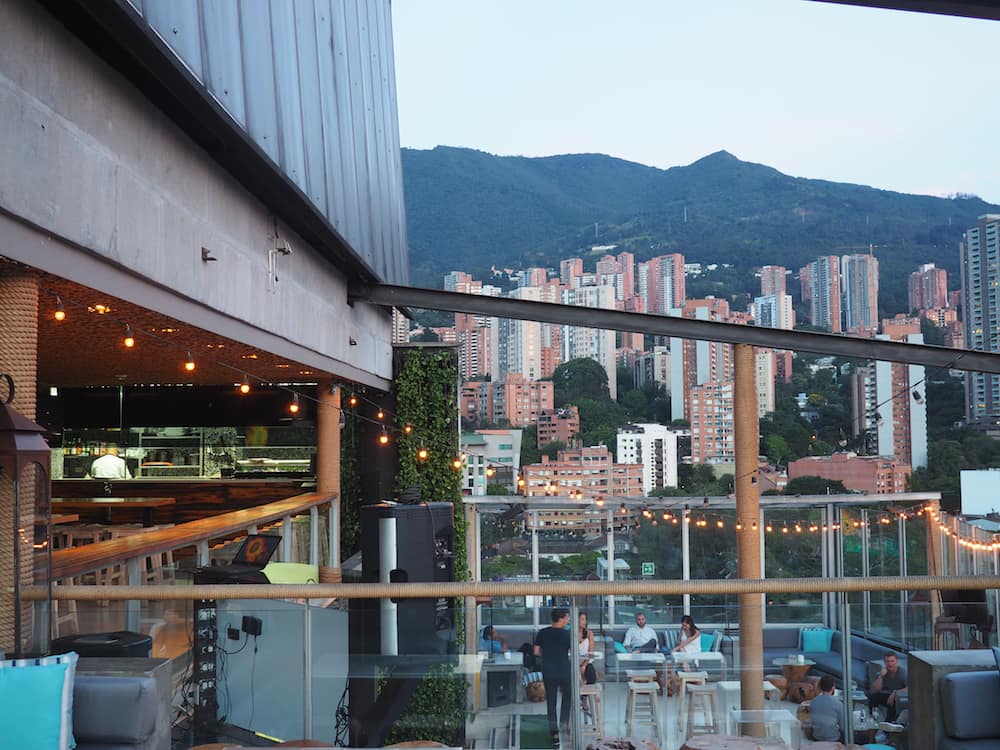 Skyscraper views at the Envy Rooftop Bar
When you're ready for some food, it's perhaps not surprising that the choices are of an international flavour.
Fans of gourmet burgers won't go hungry at the Botanika Lounge, just off Lleras Park. And vegetarians (or anybody else for that matter) should make at least one visit to Cafe Zorba to sample one of their fabulous "red" or "white" thin-crust pizzas. Case in point: the one I had smothered in green chimichurri, mushrooms, mozzarella and rocket. Their garlic bread with hummus isn't too shabby either!
But you can also go one step further and try an ultra-thin pizza with a fresh burrata (a ball of mozzarella with a creamy centre) on top at La Serenissima Venezia on Carrera 40. Seriously decadent but so worth it.
And a shout out to the brand new BaoBar & Sushi Bar owned by a Singaporean/Colombian couple, offering truly authentic Asian food. Including the best steamed buns we've had outside of Malaysia.
Yan and José from BaoBar & Sushi Bar
And let's not forget that staying in Medellín doesn't necessarily mean remaining within the confines of the city. Within striking distance, there are a number of lovely pueblos to visit, either on a day trip or as an overnight stay.
Guatapé is two hours away by bus and can also be reached as part of an organised day trip. But to experience the town's beautifully coloured houses and panoramic views from the top of El Peñon we'd suggest an overnight stop.
Similarly, Jardín is a three to four-hour bus trip through glorious Antioquia countryside. It's another colourful pueblo where cowboys still ride into town on horseback and the pace of life hasn't changed over generations. And where people-watching over a tinto or beer in the town's central plaza might just turn into a full afternoon.
It's a fair question and one that many people will ask themselves before visiting. Especially if they've binge-watched Narcos on Netflix.
The answer is pretty much the stock one for any major city. There are certain areas you wouldn't go to at night. You need to keep an eye out for pickpockets in crowded areas. And you should keep your valuables out of sight while walking around during the day.
Drugs in Medellín are still a problem and sex tourism is on the increase. But unless you go looking for it you're unlikely to encounter any problems related to it.
Indeed, the Colombians use a phrase which translates as Don't give papaya! Which effectively means Don't let yourself get taken advantage of by being careless.
In other words, take sensible precautions as you would do in London, New York or Paris and enjoy Medellín for what it's becoming rather than for what it has been in the past.
What did you think? Have you been to Medellin? Or perhaps you're thinking of visiting there in the near future? Either way, we'd love to hear from you so please add your comments below.
Download our GPS-guided travel app to explore the places featured in this post.
To help us maintain our site we work with a number of partners who we've personally used and can recommend to our readers. If you decide to purchase any products through the following links, we'll receive a small commission at no extra cost to you. Thank you for your support!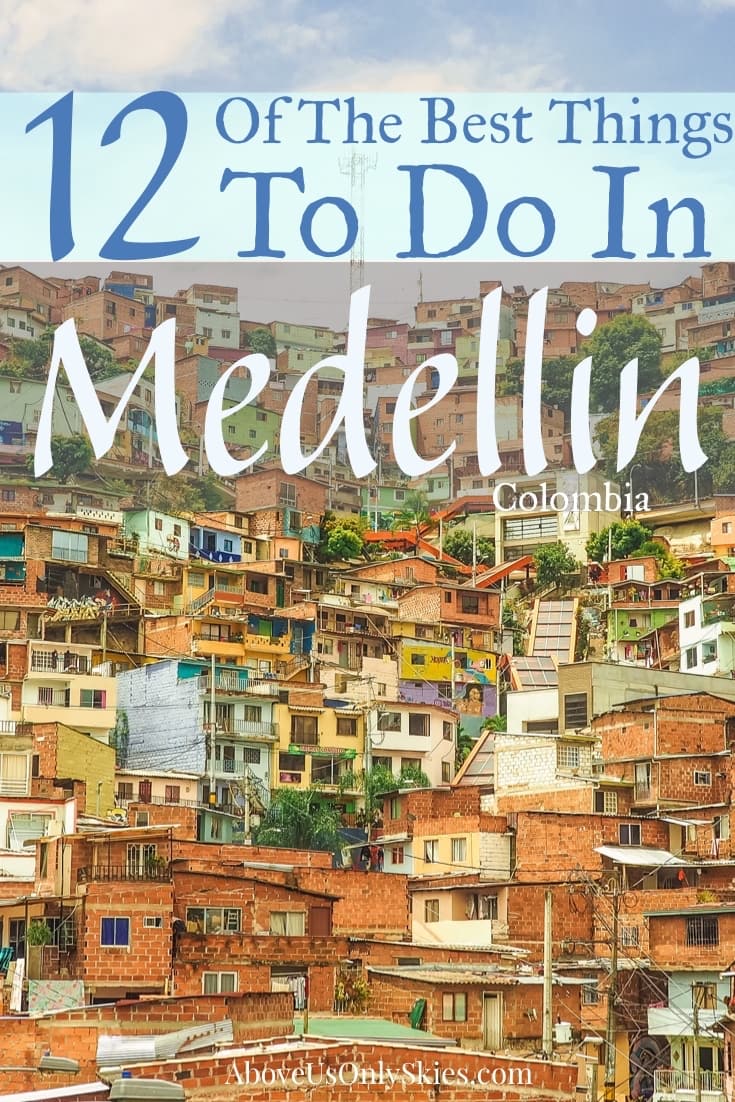 Hi, we're Ian and Nicky, an English couple on a voyage of discovery around the world, and this blog is designed to reflect what we see, think and do. Actually, we'd like to think it also provides information, entertainment and inspiration for other "mature" travellers, too. So please feel free to pour yourself a glass of something suitably chilled and take a look around.