AN ARGENTINA ROAD TRIP FROM HUMAHUACA TO MENDOZA
AN ARGENTINA ROAD TRIP FROM HUMAHUACA TO MENDOZA
Maybe we're biased. But we'd say that an Argentina road trip is right up there with the best drives you'll find anywhere in the world. And, when combined with a road trip around northern Chile, the following itinerary, in Argentina's northwest, is one that's hard to beat.
Our route begins in the red rock deserts of the far north and loosely follows the legendary Ruta 40 all the way down to the country's premier wine-growing region around Mendoza.
Expect high altitudes, stunning scenery and roads that will test your rental car's suspension.
Oh, and the small matter of tasting some of the best wine in South America.
We arrived in the country during our round trip from Santiago, crossing the border from Chile at the high altitude Paso de Jama. One of the advantages of doing it this way is the better availability of camper van and jeep rentals in Chile. Otherwise, you'll need to organise your rental from either Salta or Jujuy.
PARQUE NACIONAL EL LEONCITO
PARQUE NACIONAL EL LEONCITO
Contents
This page contains affiliate links. To help us maintain our site we work with a number of partners who we've personally used and can recommend to our readers. If you decide to purchase any products through the links on this page, we'll receive a small commission at no extra cost to you.
The Quebrada de Humahuaca
Argentina's northernmost region, between Salta and the Bolivia border, is a land of beguiling desert landscapes that appears to have been used as a blank canvas by a mysterious group of celestial artists.
Such are the extraordinary colours that permeate the hillsides and entice domestic and international tourists alike. Especially along the Quebrada de Humahuaca, a UNESCO-listed valley that runs for 155 kilometres north from Salta to the desert town of Humahuaca.
If you've arrived in Argentina via the high-altitude Chilean border at Paso de Jama, you'll descend through an amazing green and red desert littered with huge cactus. After which you'll reach the town of Purmamarca and its surreal Cerro de Los Siete Colores (or "Mountain of Seven Colours"). Easily accessible from the town, it's a good introduction to the region's remarkable natural colours.
Just beyond Purmarmarca, Ruta 9 heads north, linking the region's capital, Salta, with the Bolivian border.
Along the way, at the tiny village of Uquí, the Quebrada de las Señoritas offers a fabulous stroll through a landscape of weather-worn red, white and grey rock pockmarked with huge green cacti.
There are traditional Andean villages to explore, such as Tilcara, Humahuaca and the remote Iruya. And there's the jaw-dropping sight of the Serranía de Hornocal. At 4300 metres altitude, it features a mountainside with a patchwork blanket of reds, pinks, yellows, greens and greys. And the good news is that you can see it by driving right up to the car park viewpoint.
Heading back south along Ruta 9, you'll pass through the regional capitals of Jujuy and Salta before switching to Ruta 68. At El Carril, you have two choices.
You can take a right on to Ruta 33 towards Chicoana, after which the road twists and turns its way through Parque Nacional Los Cardones. Eventually, the road connects with Ruta 40 and the gorgeous adobe town of Cachi. And from there, it's a classic, bone-shaking desert road south to the wine hub of Cafayate.
We'd considered doing this route. But our plans were kiboshed by landslides that had rendered the mountain road through the national park impassable.
So we opted to continue along Ruta 68 through the magnificent Quebrada de Cafayate.
It's a wild canyon landscape of reds and greens that attracts plenty of day-trippers from Salta and Cafayate. Which means that there are tourist-friendly stop-off points to admire some of the bizarre rock formations. Such as Garganta del Diablo ("Devil's Throat") and El Anfiteatro ("The Amphitheatre").
Best of all, the panoramic view at Mirador Tres Cruces ("Three Crosses Viewpoint") is worth lingering over.
Eventually, the road snakes all the way to Cafayate, where we'd strongly suggest you check-in at the municipal campsite and slow down for a couple of days.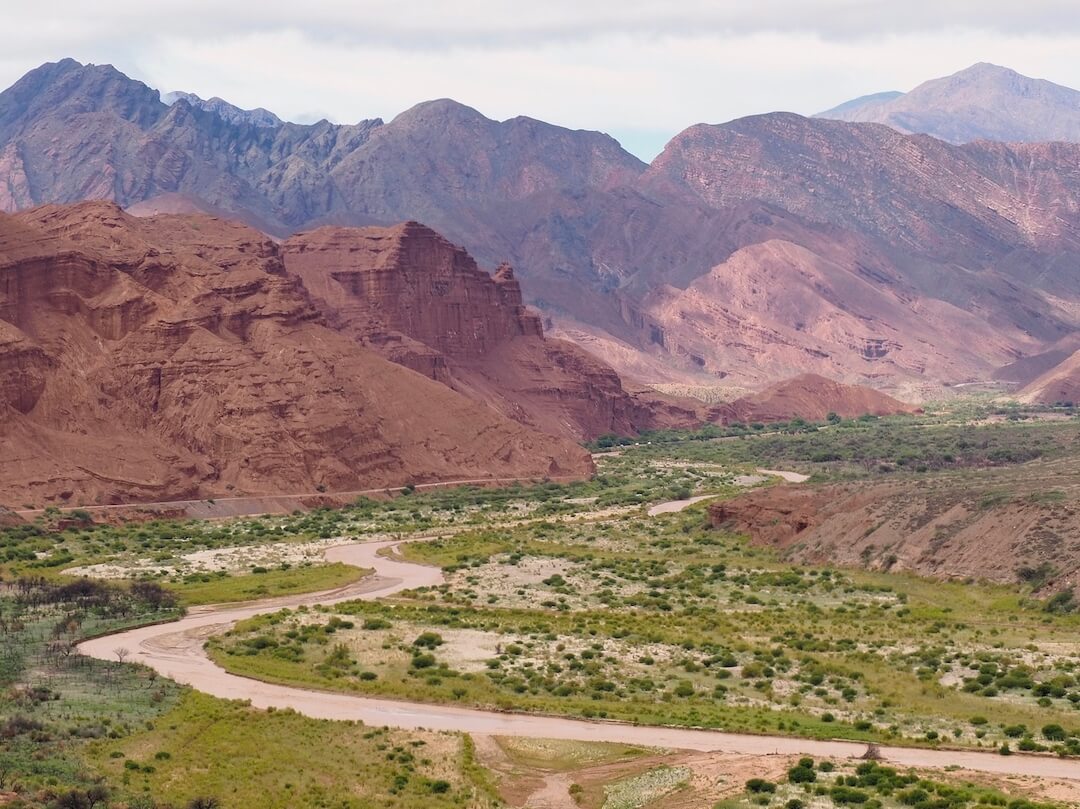 Argentina is justly famed for the red Malbec wines from the vineyards around Mendoza. But the high-altitude wineries around Cafayate are no slouches either when it comes to producing top-notch fermented grape juice. Only this time it's the white Torrontes wines that take centre stage.
In fact, Cafayate is awash with wineries offering enough tastings to keep you more than happy for at least a day or two. Possibly longer if you've got the time.
And don't even think about moving on before you've sampled one of the town's speciality ice creams. Flavoured with Torrontes, of course.
A roadside bodega just outside Cafayate
South of Cafayate, Ruta 40 follows mile after mile of rugged mountain desert interspersed with dusty towns straight out of a long-forgotten Spaghetti Western. You'll be amazed at how beautifully scenic the route is.
260 kilometres from Cafayate, you'll reach Londres, a village named after its English twin city to celebrate the marriage between Mary Tudor (Queen of England) and the Prince of Spain in 1554. Nearby, the Inca ruins at El Shincal are well worth a brief detour. Especially if you climb the Inca steps to the top of the sun temple for an incredible view of the valley. Indeed, after all that desert it comes as quite a shock to see a virtual sea of lush green stretching for miles.
A further 70 kilometres beyond the El Shincal turn off, take another diversion off Ruta 40, this time on to Ruta 60 towards Fiambalá in Western Catamarca. Believe us, you won't regret it.
The phenomenal scenery becomes increasingly arid. At Fiambalá, look out for the signs for Termas de Fiambalá and follow the road for 15 km or so up into the mountains on the opposite side of the valley. 
You'll eventually arrive at a complex that contains a series of thermal springs which cascade down the mountainside via a number of enticing pools. Ranging in temperature from a warm bath-like 28C (82F) to a rash-inducing 51C (124F) they're the perfect antidote to a day of driving through the desert. Especially if you've had the foresight to keep a couple of beers chilled in your cooler.
It's particularly enticing at night when the desert sky reveals its spectacular star show. And you can stay overnight in the car park.
View from the road leading up to the thermal baths
Elsewhere in Fiambalá, it's all about the sand dunes. We drove 15km beyond the town to the base of Duna Magicá, the crowning glory of a series of sand dunes that attract sand boarders during the high season. But there was nobody there when we arrived in the early morning as we clambered over the shifting sands to the summit before gingerly stepping out on to the dune's crest.
Once more, fabulous views of the surrounding valley.
Retracing your route back towards Ruta 40, you'll arrive at Tinogasta, where you should turn right on to Ruta 11. After 70km or so, you'll arrive at Chañarmuyo where there's a reservoir (GPS: -28.633630, -67.597614), separated from a cactus-filled valley by a dam. It's a great place to spend the afternoon and camp overnight before the long drive to Barreal the following day.
From Chañarmuyo, the road reunites you with Ruta 40 once more and it's a six-hour drive before you turn off again at Talacasto. An option along the way might be to visit the canyon and dinosaur fossil-rich twin parks of Talampaya and Ischigualasto.
At Talacasto, head towards Ruta 149 in the direction of Calingasta. The scenery begins to change again from arid desert to the relative lushness of the Calingasta Valley and the snowy peaks of the High Andes beyond.
There are so many places to stop along the valley to take in the staggering views so it's not a route you'll want to rush.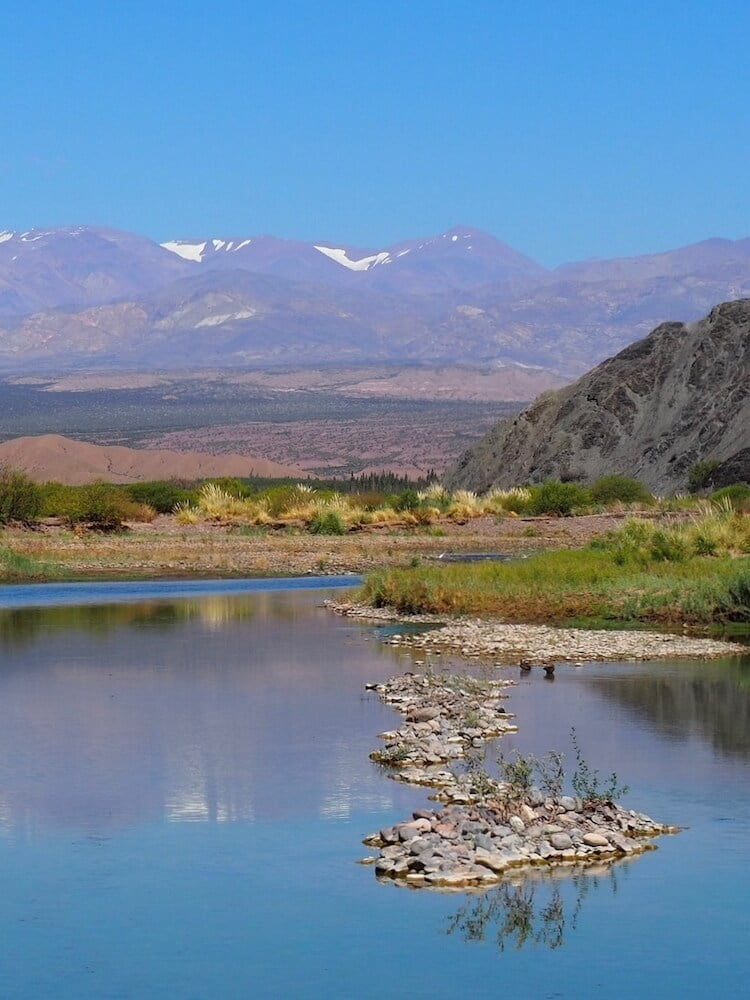 ​If you've rented a four-wheel-drive camper, make sure you don't miss the turnoff for the Valley of Seven Colours. It's nothing more than a dirt track that runs along a dry river bed of gravel and boulders. But it eventually leads into a surreal landscape of multi-coloured hillsides and canyons that are just begging to be explored on foot.
If the weather is good, take the opportunity to find a level area to camp for the night as the non-existent light pollution makes it a prime stargazing site. Just don't chance it if there's a possibility of a storm as that dry river bed looked to have an open invite for any passing flash floods.
As an alternative, there's a municipal campsite in the town of Barreal just further along.
Parque Nacional El Leoncito
Just beyond Barreal, Pampa del Leoncito is a dry lake bed that comes alive during the high season with land-sailing enthusiasts who take advantage of the late-afternoon gales.
But, for a more leisurely approach, just drive on to the lake bed for an ogle at the sheer vastness of the landscape.
Parque Nacional de Leoncito itself sits on the opposite side of Ruta 149 and is another worthwhile crowd-free diversion. Home to two observatories for organised stargazing, it also features an easy and gorgeous two-hour walk through the multi-coloured hills of the park. Although we needed to stay alert as one of the rangers warned us that a puma had recently taken up residence!
Parque Nacional El Leoncito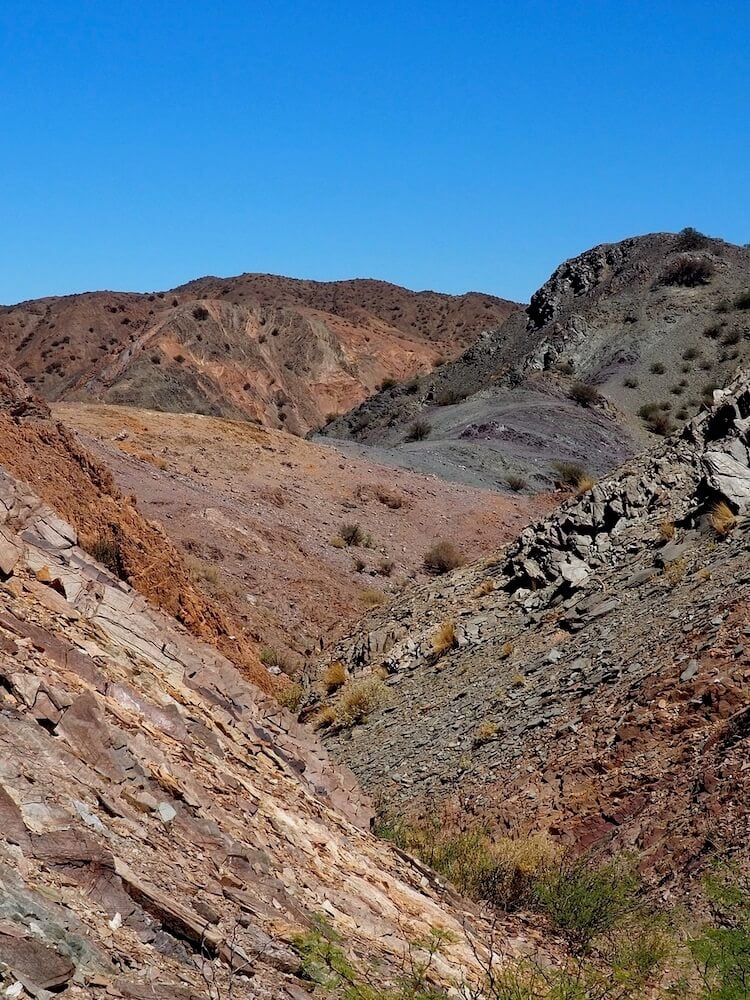 Parque Nacional El Leoncito
Beyond Leoncito the road turns into a washboard dirt track for what seems like an eternity. But the scenery is still nothing short of stunning.
Those heading over to Santiago will switch to Ruta 7 at Uspallata for the awesome drive via Parque Provincial Aconcagua (home to the highest mountain in the Andes).
But, having come this far, it would be criminal to miss out on the food and wine culture of Mendoza, a hundred kilometres or so further south. And, believe us, both are fantastic.
As neither of us was willing to volunteer as designated drivers, we chose to stay in Airbnb accommodation in the city centre and hire a driver to tour some of the wineries. That worked very well for us and is an option we can highly recommend. However, you could easily work your way around the main wine-growing areas of Maipú, Luján de Cuyo and Valle de Uco in your camper van and overnight in campsites such as at the lovely Embalse Potrerillos.
As a final stop on your road trip, we reckon Mendoza is just about perfect.
Unless, of course, all that gourmet food and wine gives you the additional appetite to continue your Argentina road trip further south, all the way down to Ushuaia at the southernmost tip of South America.
Just a mere 3,300 km (2050 miles) away.
A vineyard tour in Mendoza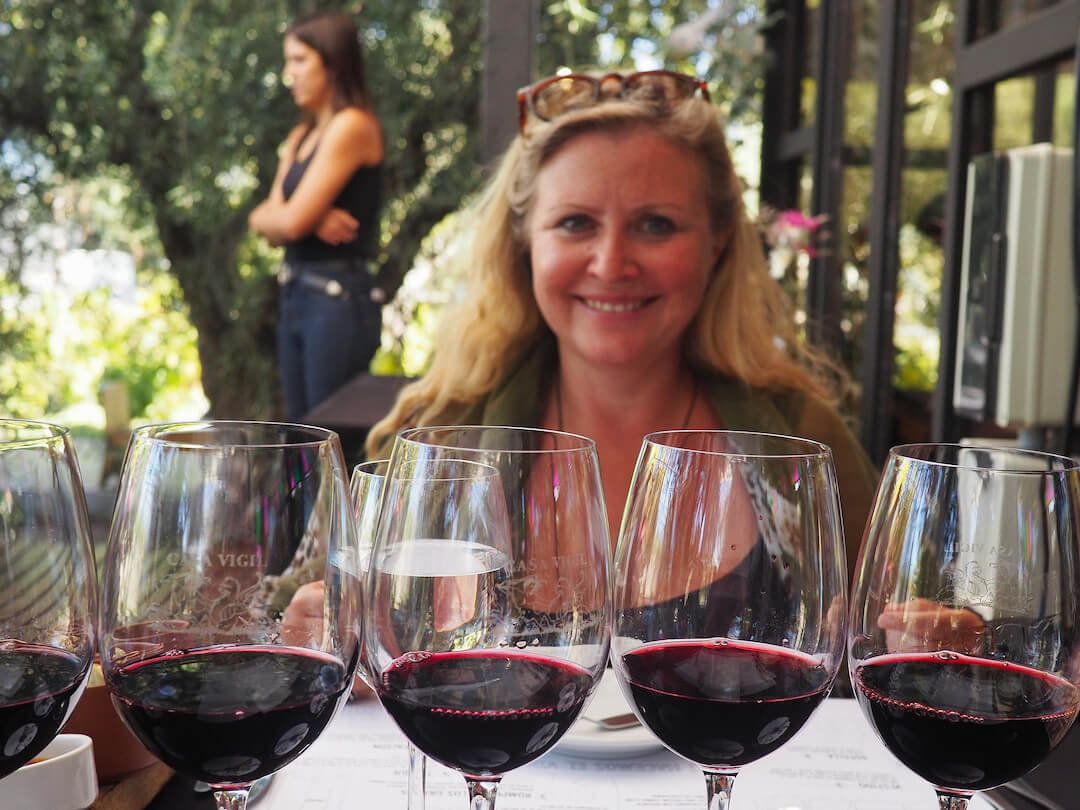 The route we took from Humahuaca to Mendoza is approximately 1500 km (930 miles) long.
For the vast majority of the time, the scenery is quite simply breathtaking. But add in the food and wine cultures of Cafayate and Mendoza, and the traditional Andean towns such as Humahuaca, Tilcara and Cachi, and you'll begin to appreciate just how diverse this journey really is.
What did you think of this Argentina road trip itinerary? Do you have any recommendations of your own for the route? Or perhaps you're thinking of taking a trip there in the near future? Either way, we'd love to hear from you so please add your comments below.
To help us maintain our site we work with a number of partners who we've personally used and can recommend to our readers. If you decide to purchase any products through the following links, we'll receive a small commission at no extra cost to you. Thank you for your support!
Travel insurance
with World Nomads
Hi, we're Ian and Nicky, an English couple on a voyage of discovery around the world, and this blog is designed to reflect what we see, think and do. Actually, we'd like to think it also provides information, entertainment and inspiration for other "mature" travellers, too. So please feel free to pour yourself a glass of something suitably chilled and take a look around.