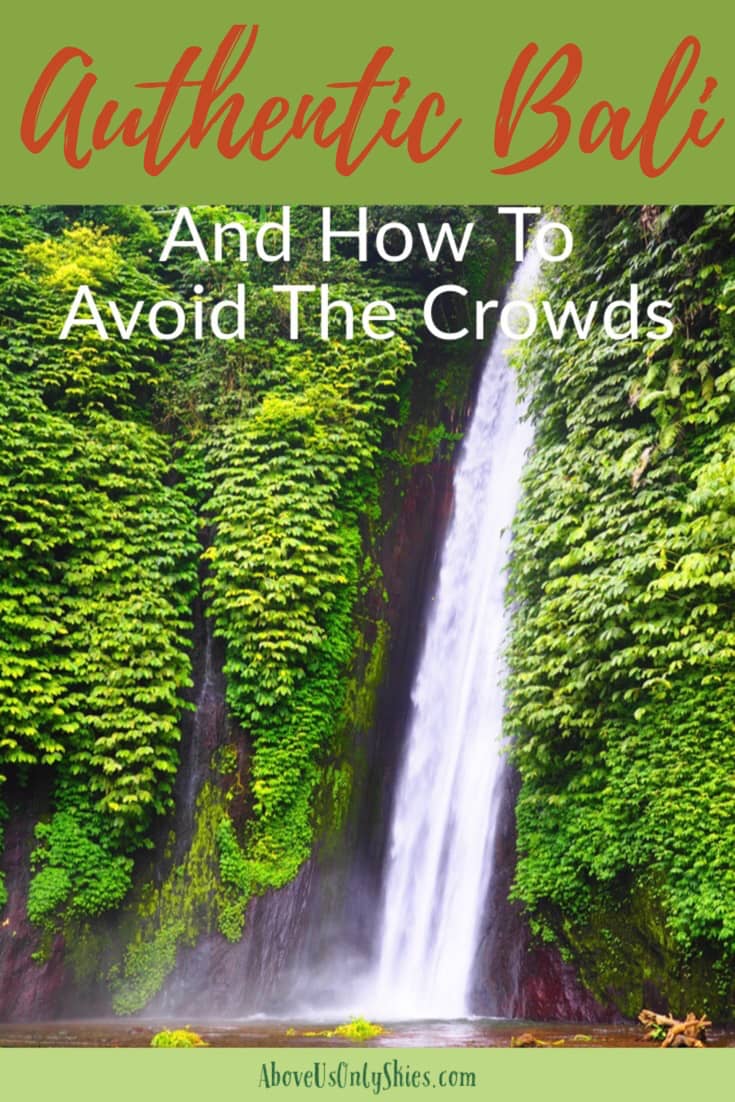 Try to imagine an authentic Bali and you'd be forgiven for conjuring up images of verdant green rice paddy fields, water buffalos, mist-enshrouded jungle-clad hills, Hindu temples and picture-postcard beaches. 
And while those images are real, the reality is that the Island Of The Gods has long since shed its exclusive paradise reputation. There's no doubt that it's still a beautiful island. But the massive increase in tourism over the past decade, together with the incessant building and snarled up roads, has diminished its appeal for many. Especially in the overcrowded south of the island where resorts such as Kuta, Seminyak and Sanur are now contained within one large urban sprawl.
For a more authentic Bali experience, you'll need to explore east and north. But, to do so can be a challenge.
Public transport is pretty much out of the question, mainly because there's none to speak of. That's because everyone, his uncle, and his uncle's dog owns a scooter or a motorbike to get around.
Hiring a car might be an option but be warned that you'll have to contend with mad-cap Balinese drivers, corrupt traffic police and hairy mountain roads.
Our recommendation would be to hire a series of taxis to ferry you around from place to place. Although they can get you from A to B by the most direct route, they also provide you with the opportunity for detours to visit sites before the day-trippers and coach parties arrive.
And, if an authentic Bali means being amongst people going about their normal lives, relatively untouched by mass tourism, then our itinerary is a good place to start. Whether that means wandering amongst workers picking rice in the fields of Ubud, Sidemen, and Jatiluweh or the farmers of chilli, cacao, coconuts, cloves and vanilla around Munduk. 
Your arrival point is almost certain to be Denpasar Airport unless you're arriving by ferry from Java or Lombok. And, having jumped into your first taxi, you'll immediately feel overwhelmed by the amount of traffic and the seeming lack of general rules of the road.
It may be tempting to head eastwards straight out of town, but if you have the time, we'd suggest one night at the Praja Hotel in a residential, non-touristy part of Denpasar. It's an area littered with grand old houses and authentic Balinese restaurants (especially along Jl. Cok Agung Dresna), which can be surprisingly difficult to find elsewhere.
As you wander around the streets you'll undoubtedly stumble upon colourful canang, which are small baskets woven from coconut leaves, generally filled with flowers, a variety of small gifts and a burning stick of incense. As offerings to the Balinese gods, they're almost mini-works of art and can be seen laid out on pavements in front of houses and businesses every day. But if you're not paying attention it can be easy to accidentally tread on them so watch your step!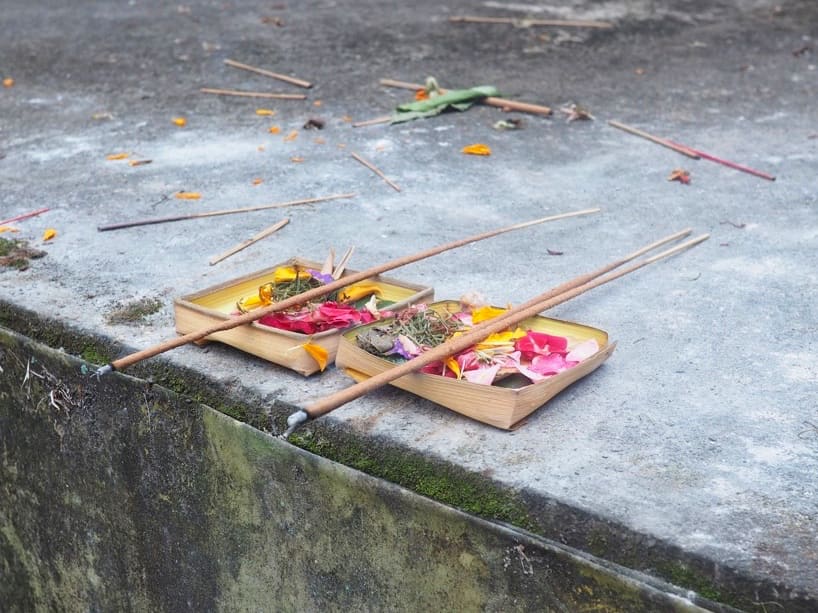 The beautifully created canang of Bali
Ubud has long been a magnet for culture-vultures, yoga enthusiasts and those who prefer a chamomile and lemongrass iced tea to a bottle of Bintang beer. And, as such, it still retains an element of Bali's beating heart with its plethora of Hindu temples to complement its considerable range of boutique shops, cafes and galleries.
Make no mistake, it's no longer off-the-beaten-track and an afternoon stroll along its main drag will typically be accompanied by congested traffic and the constant hustling from taxi operators.
And, particularly since Julia Roberts stamped her endorsement of the place in the film version of Eat, Pray, Love, the town gets overrun by coachloads of day-trippers around lunch-time.
However, you can escape the busy high street by staying at the wonderful Nirwa Homestay, a short walk along a canal and surrounded by a wealth of rice fields. The owner, Made, was born and bred in Ubud, has an extremely dry sense of humour, and can help you to plan your activities during your stay – including an early morning trip to climb Gunung Batur volcano if you have the stamina and requisite calf muscles.  And, if you have one of Bali's ubiquitous banana pancakes during your stay, it should be here at breakfast!
For a more leisurely exploration of the area, just set out on foot along the footpaths that lead from the homestay and lose yourself amongst tropical vistas of coconut trees and rice paddies. Far from the tourist drag, it's a place where locals go about their daily routines, working in the fields and once again preparing their daily devotional gifts to the Hindu gods, which they leave in doorways, on pavements and at the base of their shrines and temples. 
Rice fields surrounding Ubud
From Ubud, book a taxi to Sidemen Valley but ask your driver to detour via Gunung Kawi, one of Bali's oldest and largest ancient temple complexes.
It's a general requirement that visitors to Hindu temples must be properly attired, which means both men and women wearing a sarong. They can usually be borrowed or rented, but after you've been dropped off at the site car park, be prepared to be accosted by local traders keen to sell you one of their 'bargains of the century". To be fair, we found them to be good quality so we bought a couple which we then used for future temple visits.
The route to the site includes a steep descent via 315 stone steps opening out on to superb panoramas of rice fields. The temple complex itself includes a set of impressively huge rock carvings from the 11th century and has been proposed as a UNESCO World Heritage Site.
From Gunung Kawi, it's a 90-minute journey to Sidemen along roads crammed with bikes and lorries. Most of the lorries are ferrying rocks and other building materials from the slopes of Bali's highest mountain and volcano, Gunung Agung to satisfy the huge demand in the south of the island.
But once you cut off from the main Sidemen Road and down through the village to your accommodation you'll find yourself amongst rice fields, jungle and mountains.
The lovely Teras Bali Sidemen Bungalows and Spa is a great place to base yourself, from where you can hike along the valley, across rice fields and amongst the many coffee and cacao plantations. You can even organise a day trip to climb Bali's highest peak, Gunung Agung, although its recent eruption might prevent that from being a viable option for the time being!
Rice terraces in the Sidemen Valley
Field worker, Sidemen Valley
If you're looking for flavoursome Balinese food during your stay, then head to Bukit Artha Warung just along the road from Teras Bali. Although it's a modest place, the ever-smiling and super-chatty Artha prides himself on his food's authenticity and freshness. You'll have to wait for it as he and his chef prepare and cook it from scratch in their tiny kitchen. But the results are well worth it.
And he certainly knows how to knock up a chilli sambal.
En route to the east coast and Amed, spend a morning at Tirta Gangga, site of a former royal palace, which was destroyed by the 1963 eruption of Gunung Agung and completely rebuilt.
You'll find lots of shrines, running water and lily ponds in a tropical garden setting. And, in the surrounding area are some classic Balinese rice terrace walks with views of the imposing Gunung Agung. It's a truly stunning area. 
The gardens at Tirta Gangga
Your journey east culminates at the seaside village of Jemeluk, which is part of a wider area known as Amed. A fairly sleepy resort out of season, once July and August arrive it's generally packed with largely French tourists. The main draw here is the diving and snorkelling, and also that it's one of the ports for fast boats across to the Gili Islands and Lombok. Watching over it all is the awesome Gunung Agung.
The snorkelling, in particular, is exceptional right off the beach, with colourful hard and soft coral, a huge variety of fish and even some underwater statues.
The beaches in Amed are black sand, which is not to everyone's taste. It's probably why it won't ever attract a large proportion of western Europeans (apart from the French, clearly) who prefer the white and golden variety found over in the south of the island. Nevertheless, there's plenty of construction going on (as ever it seems on Bali) so they obviously feel there are plenty of opportunities to make it a major destination.
And because it's east-facing the sunrises can be pretty spectacular.
After relaxing in Jemeluk/Amed you'll need to hire another taxi to take you to the mountain village of Munduk in the north. Unfortunately, after sleepy Jemeluk, the dreaded traffic chaos returns. So much so, in fact, that in our case it took four hours to travel the full 105 kilometres. 
There are budget accommodation options in the village of Munduk, but for a bit more comfort and a fantastic setting overlooking the jungle, Villa Dua Bintang offers beautiful traditional Balinese rooms with floor to ceiling windows. 
During our stay, we were fortunate enough to be invited by the owner, Rico, to a special celebration (or First Oton) for his son's first Balinese birthday (which is actually six months after birth using the Balinese calendar – 12 to 18 months in ours). In essence, it's a rite of passage ceremony intended to remove impurities caused by the birth and the sins of previous lives. And it was a good excuse for us to wear our sarongs again.
After being fed with proper, home-cooked Balinese food (including minced fish mixed with coconut and spices, roasted banana root, coconut and chilli fry, barbequed chicken etc) we sat with the village children to watch a traditional shadow puppet show. And then, after a formal ceremony for Rico's son, a troupe of Balinese musicians belted out some traditional tunes while dancers – all hand gestures and eye movements – worked their exotic way through the frenetic rhythm of the drumbeat.
OK, it's not something that's on offer to everyone who visits this guest house but it's an example of the extreme warmth you'll experience from Balinese people once you get away from the main tourist hubs. And our time there remains one of the highlights of our Bali experience.
Elsewhere around Munduk, it's another beautiful area to explore on foot through forests of coffee, cacao and clove trees, leading to some stunning waterfalls. Along the way, we passed by Balinese families who not only live in the jungle but maintain almost perfectly landscaped and manicured gardens. And we met children whose walk to school through the jungle included side-stepping the top of a waterfall with a 100-foot drop below. No drop off points outside school gates here.
The journey from Munduk to Mount Batukaru twists and turns through the heart of Bali's mountainous interior and offers the opportunity to stop at a couple of outstanding sites.
By setting off early you can time your arrival at Pura Ulun Danu Bratan, probably Bali's most photographed temple.
The reflective smooth waters of the lake it sits upon make it appear to float and the impression adds to its iconic status. But, to see it at its best, you'll want to get there early, ahead of the tourist buses which arrive mid-to-late morning.
Continuing onwards towards the foot of Mount Batukaru, you'll eventually arrive at the UNESCO World Heritage Site-nominated Jatiluwih Rice Terraces. The largest expanse of rice fields on Bali, there was a time when hardly any tourists made the effort to visit them. Nowadays, tour buses arrive from the likes of Seminyak and Kuta to coincide with lunch at one of the string of restaurants that line the village.
And, if you have the time, nearby Batakaru Temple is another of Bali's most sacred sites and well worth a visit.
In fact, we'd urge you to stop for some lunch at Warung Ada di Jatiluwih for its signature Babi Guling – suckling pig served in a variety of ways. It's one of Bali's most popular dishes and a must for meat eaters. And, enjoying it overlooking Jatiluwih's vibrant green landscape is just pure Bali!
Mount Batukaru is Bali's second-highest mountain and an area that seems a million miles away from the island's major tourist hub in the south.
Once again it's a landscape of rice paddies, mountainous jungle and simple village life. And the Bali Mountain Retreat provides a good base for guided jungle, temple and rice field treks, along with more relaxing activities such as traditional Balinese massage.
We booked into their Bale Gade room, which was a converted traditional Balinese Bale (or pavilion) made from teak. The room itself was lovely, if rather open to the elements. So, if bugs in the room are an issue, you might want to consider one of their Teak House rooms instead!
But, if you're looking for an itinerary with a taste of the authentic Bali, then Bali Mountain Retreat and the Mount Batukaru area, in general, are a great place to finish.
From there it's a two-hour drive, back through the eventual traffic congestion in Denpasar, to the airport.
Overall, it's a round trip of some 350 kilometres (217 miles), costing the equivalent of £150 ($210) in taxi fares. As an alternative to renting a car yourself – including rental, insurance, fuel, potential police bribes and probable repair costs –  I'd say that's money well spent. In fact, although I'm a fairly assertive driver, the traffic challenges are such that I doubt we'd have made it to Ubud before being reduced to a couple of nervous wrecks.
On a final note, it took us nearly 15 years to finally get to see Bali after our abandoned journey there following the 2002 bombing in Kuta. And It left us both dazzled and disappointed in equal measures.
In terms of tourism, it suffered badly for years after the bombings so we can't really blame the Balinese for trying to re-establish their island as a major holiday destination. But the quest to attract even more visitors seems to be continuing unabated  – visitor numbers having increased from just 2 million in 2008 to 6 million in 2017.
We only hope that, in doing so, they don't alienate the very people they're trying to attract.
 

Authentic Bali – The itinerary
DAY 1
Arrive at DENPASAR AIRPORT Taxi to DENPASAR Do Eat at a local Balinese restaurant Accommodation Praja Hotel
DAY 2
Taxi from DENPASAR to UBUD Accommodation Nirwa Homestay (recommended)
DAY 3-4
Do Explore Ubud and its surroundings Accommodation Nirwa Homestay
DAY 5
Taxi from UBUD to SIDEMEN Do Visit Gunung Kawi en route Accommodation Teras Bali Sidemen Bungalows
DAY 6-7
Do from Explore the Sidemen Valley on foot (with or without guide) Accommodation Teras Bali Sidemen Bungalows
DAY 8
Taxi from SIDEMEN to JEMELUK/AMED Do Visit Tirta Gangga en route Accommodation Same Same Cafe & Bungalows
DAY 9-10
Do Explore Jemeluk and Amed; snorkel and/or dive off Jemeluk;  Accommodation Same Same Cafe & Bungalows
DAY 11
Taxi from AMED to MUNDUK Accommodation Villa Dua Bintang (recommended)
DAY 12-13
Do Explore the trails and waterfalls surrounding Munduk Accommodation Villa Dua Bintang
DAY 14
Taxi from MUNDUK to MOUNT BATUKARU Do Visit Ulun Danu Bratan and Jatiluwih Rice Terraces en route Accommodation Bali Mountain Retreat
DAY 15-16
Do Explore the Mount Batukaru area Accommodation Bali Mountain Retreat
DAY 17
Taxi from MOUNT BATUKARU to DENPASAR AIRPORT
Related articles
…or visit our Indonesia page.
What did you think? Have you also discovered the authentic Bali? Do you have any recommendations to add to our itinerary? Or perhaps you're thinking of visiting there in the near future? Either way, we'd love to hear from you so please add your comments below.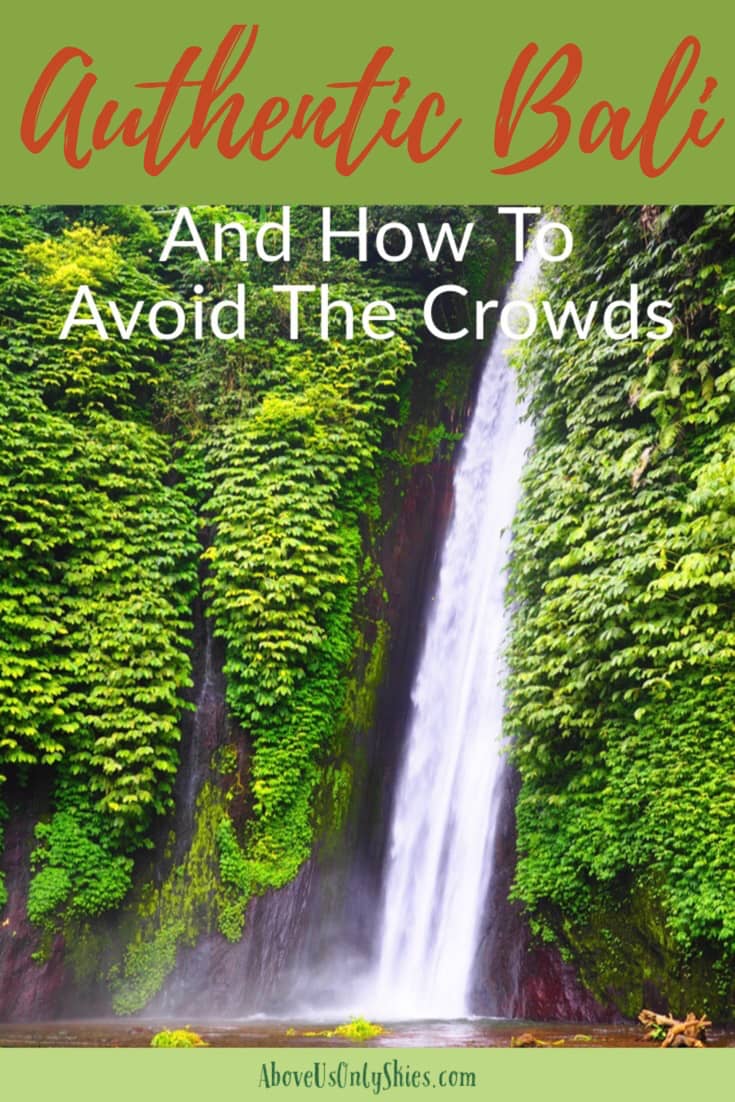 Hi, we're Ian and Nicky, an English couple on a voyage of discovery around the world, and this blog is designed to reflect what we see, think and do. Actually, we'd like to think it also provides information, entertainment and inspiration for other "mature" travellers, too. So please feel free to pour yourself a glass of something suitably chilled and take a look around.
THE ULTIMATE RAJASTHAN ROAD TRIP IN 17 DAYS
ALL ABOARD THE LAST CEMENT TRUCK TO WAE REBO
IS THIS THE WORLD'S BEST ROAD TRIP?
HOW WE TOURED SRI LANKA ON A BUDGET