Having spent the whole of my life under five feet tall, I've always had an affinity with other little people. And hobbits are no exception.  As a self-confessed bookworm, The Hobbit by JRR Tolkien was one of my favourites as a child. And my well-thumbed copy brightened up many a rainy school holiday as I lost myself in the world of adventure, dragons, and magic.
So when Ian mooted the idea of adding New Zealand to our travel itinerary, my first response was "Can we visit The Shire?!" Having secured that promise, I stopped grinning just long enough to book a couple of tickets. So, come the day of the visit I was like a kid on Christmas morning.
Far too excited to sleep, I nudged Ian awake. We watched the sun rise steadily over the Hobbiton-like countryside, having a mere Gandalf stride away on the fields behind.
Legend has it that Peter Jackson's Lord of The Rings' location scouts had found a couple of potential sites for the setting of Hobbiton, but after flying over it this was his first choice. And, having secured the NZ Army to build a road to it there was only going to be one winner! In return, the army guys managed to do a bit of a deal themselves, too. They asked if they could be extras once filming commenced, and was duly cast as Orcs in the battle scenes. Perfect.
So the deal was done and it was here, near Matamata, on the Alexander family's 1250 acre sheep and beef farm, that Hobbiton was immortalised and provided the set for whenever The Shire featured in the six films of the Lord of The Rings saga. The family who owned the land were sworn to secrecy about the site. But as soon as the army moved in and building started on the road, locals began to get suspicious. And a couple of loose-lipped army guys drinking at the local pub one night didn't help.  Inevitably, the world's media descended on what was soon to be transformed into the home of Bilbo Baggins.  Their efforts were scuppered though as a no-fly-zone was immediately introduced by the NZ government!
We didn't have glorious weather that day, but nothing could dampen my spirits. So we boarded our designated green Hobbiton-bound bus, ready to a take us on our own little adventure. 
We were driven through rolling green hills, with babbling streams making it an ideal setting for those perfect holes in the ground. We arrived at the mossy stonewalled lane that led to Hobbiton, and off we went. It's a guided tour, so you can't just wander around as you please. But our guide was funny, informative and obviously loved her job,  I mean, who wouldn't? 
The attention to detail was astounding. We walked around admiring the washing lines, complete with teeny-weeny hobbit clothes, and the chimney pots sticking up out of The Hill, happily smoking away.  The front doors, nestling into the lush green hillside were adorable. And I just couldn't resist poking my head into one or two. Best of all, I didn't even have to stoop to get in.
Hobbiton was made for me it would seem.
Bag End, the ancestral home of The Bagginses was a delight – its round door gleaming, the gardens filled with flowers, bumble bees, and a resident cat.  I just expected Bilbo to stick his head out of the door and bid us a "Good Morning!". In fact, just as he did to Gandalf on the fateful day that began his adventure, over the hill and back again.  And I'm sure I wasn't the only one who was there scanning that green door for the secret mark Gandalf had left for Thorin Oakenshield and his unexpected party of 12 dwarves to discover, on their quest for a burglar.
After we'd taken a million or so shots of front doors, foliage, and hobbit-sized paraphernalia, it was over the bridge, past The Mill and on to the Green Dragon pub, for a much-appreciated mug of ale. Yes, as if this place couldn't get any better, they also have the local Hamilton Brewery supply them with their South Farthing range of ales, together with an apple cider brewed specially for Hobbiton and its appreciative visitors. 
So at 10.30am we were sat in front of a roaring log fire, supping a mug of Oak Barton Ale, envisioning Bilbo recounting tales of elves and the demise of Smaug, blowing smoke rings from the safety of a comfortable armchair.
The tour was over seemingly far too quickly, but we'd had a wondrous few hours in The Shire. Shamefully I had to be coerced onto the bus by our guide – she'd obviously seen people with hobbit envy before.  She smiled indulgently when I asked, "Can't I just live here?"
But we both knew it was time for this would-be Hobbit to embark on her next adventure.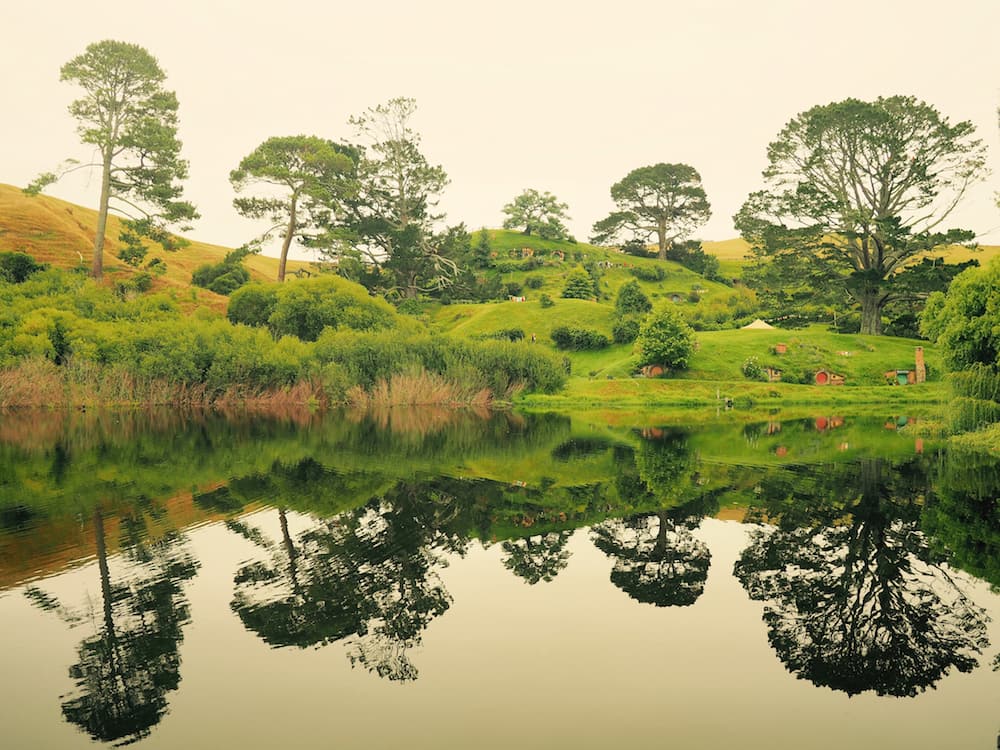 Hobbit houses…without a hobbit in sight
Related articles
…or visit our New Zealand page.
What did you think? Have you been to Hobbiton? Or perhaps you're thinking of visiting there in the near future? Either way, we'd love to hear from you so please add your comments below.
Hi, we're Ian and Nicky, an English couple on a voyage of discovery around the world, and this blog is designed to reflect what we see, think and do. Actually, we'd like to think it also provides information, entertainment and inspiration for other "mature" travellers, too. So please feel free to pour yourself a glass of something suitably chilled and take a look around.
THE DAY WE FLEW INTO MILFORD SOUND
10 SUBLIME BEACHES FOR YOUR BUCKET LIST
REFLECTIONS ON KOH PHRA THONG