8 OF THE BEST IN BARRANCO, LIMA
8 OF THE BEST IN BARRANCO, LIMA
Peru's capital city, Lima, is not a destination renowned for its visitor attractions nor its beauty. Not surprising given its record of earthquakes over the centuries. As a result, it suffers in comparison to South America's other major capital cities such as Santiago, Buenos Aires and Montevideo. And the weather's pretty poor for much of the year, too.
However, when it comes to food culture, there isn't anywhere else on the continent to compare. And, to be honest, it was pretty much our whole reason for spending three days there.
The barrio, or neighbourhood, of Miraflores tends to be the main tourist hub, with its shopping malls, a plethora of restaurants and busy nightlife.
But we stayed in the adjoining barrio of Barranco, a bohemian neighbourhood of old colonial buildings, street art and world-class restaurants. Suffice to say, we can thoroughly recommend it. Especially for the food and drink.
So, if you're off to Lima and not sure where to stay, then look no further. And, to help you make the most of your stay, here are some of our recommendations to get you started.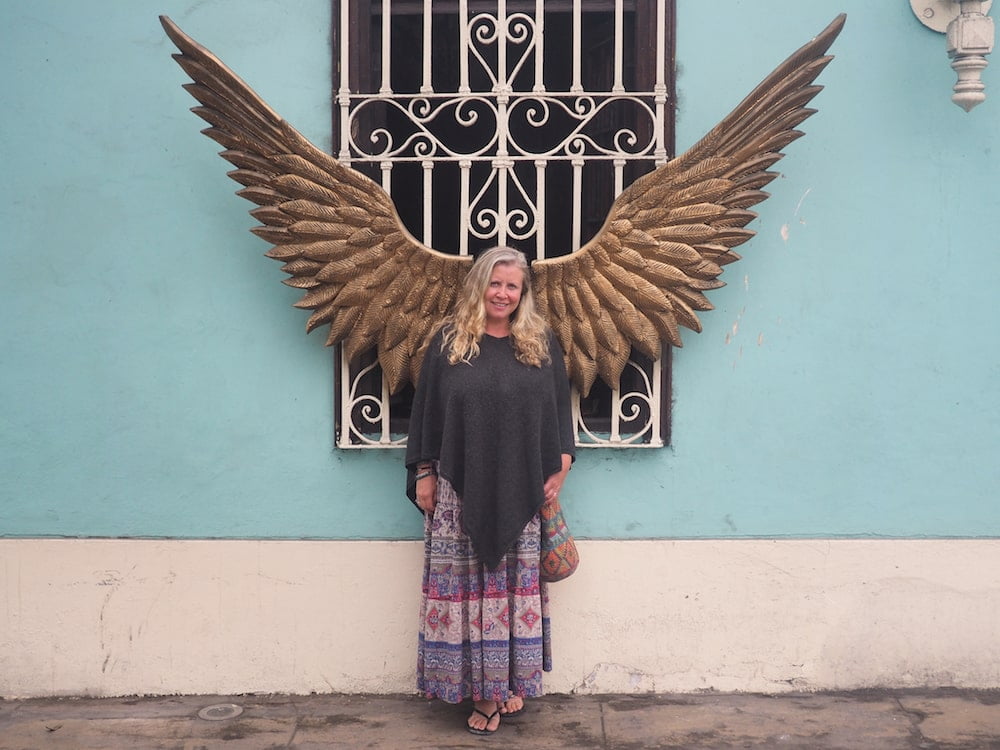 This page contains affiliate links. To help us maintain our site we work with a number of partners who we've personally used and can recommend to our readers. If you decide to purchase any products through the links on this page, we'll receive a small commission at no extra cost to you.
Best for ceviche – Canta Rana
Don't even think about visiting Peru without trying ceviche. We'll admit we got obsessed about it and just couldn't get enough of this classic dish consisting of raw fish cured in lemon or lime juice and served cold with corn kernels, sweet potato, red onion, chilli and garlic.
In Barranco, Canta Rana (or "Singing Frog") produced one of the best we ate in the whole of Peru.
It's a no-frills, noisy and very busy restaurant with an Argentinian football theme. But it's authentically Peruvian when it comes to the food.
You can't book so you might have to queue outside along with everybody else looking for a table. In fact, be prepared for a good 30-minute wait. But, believe me, it's worth it.
We had the mixed ceviche which combined fish with octopus, squid and king prawns.
Out of this world.
Fish and Seafood Ceviche at Canta Rana
No spaces left on the wall inside Canta Rana
Quite simply the best ice cream we had during our 12 months in Central and South America.
Plenty of flavours to choose from. Including South American specialities like platano de la isla (island banana), chirimoya (custard apple) and lucuma (eggfruit).
Although my dark chocolate pitted with cacao pieces was a chocoholic's wet dream in a cornet.
In fact, if you're out for dinner, skip the dessert and head here instead!
Best for coffee – Tostaduria Bisetti
Other than in Colombia, South America had largely been a quality-coffee-free-zone for me. Until, that was, I tried an americano at this Barranco institution.
It's the oldest cafe in town, they roast their own coffee and you can choose from a range of brewing methods such as Chemex, French Press or V60. Although, being a simple lad from the northwest of England, I prefer mine the old-school way via the espresso machine.
You can also find their coffee on offer at other cafes in Barranco, such as the excellent Bodega Verde.
Best for craft beer – Cerveceria Barbarian
With no less than 24 beers on offer, this brewery undoubtedly produces the best beer in Lima.
Split into three distinct areas, the brewpub attracts locals and tourists alike. And, with its multiple TV screens, it's the perfect place to watch South American footie while working your way through the chalkboard beer menu.
My personal favourites were the Chaski Porter and the 174 American IPA. Not so sure about the Pizza Ale, though!
Also worth mentioning is the service. Always a pleasure to drink in a bar where the staff genuinely want to talk to you.
By comparison, we also checked out Barranco Beer Company, another brewpub a couple of blocks away. No atmosphere, slow and surly service, substandard beer. Don't bother.
One of the three distinct seating areas
Best for fast food – The Burrito Bar
OK, so we've just tried to convince you that Barranco is something of a foodie hotspot and now we're recommending a fast-food joint. Don't worry, this place will still satisfy your cravings – and then some.
It's a tiny place with just half-a-dozen-or-so tables so you can expect to wait, especially at weekends. But the food, served in a plastic basket, is impeccable. We haven't been to Mexico yet but the burritos we ate on the two occasions we visited were the best we've ever had.
Inside the incredibly soft tortilla lurked melt-in-the-mouth BBQ beef surrounded by a whole raft of accompaniments and salsa roja. And the hot sauce it came with was liquid dynamite.
You can even wash it all down with a craft beer. Although Nicky can highly recommend their Margarita!
Keeping it simple – The Burrito Bar menu
The Burrito Bar's kitchen 
Best for cocktails – Ayahuasca
In addition to trying ceviche, another Peruvian masterpiece you shouldn't miss is the ubiquitous cocktail, pisco sour.
And if you're going to try one (or several) in Barranco, head to Ayahuasca. Set in a fully restored grand old 19th Century mansion, it's a gorgeous place on its own to start off your night. But, after trying their pisco sampler flight, you'll be ready to put your plans on hold and venture no further than the second-floor patio.
Best for street art – Bajada de Banos Street
Barranco is yet another South American barrio we've visited with a thriving street art scene.
And there's plenty on offer – as this comprehensive blog post shows in detail.
For sheer audacity, the murals alongside and underneath the bridge on Bajada de Banos Street (near the Bridge of Sighs) take some beating.
But that's just our personal taste. You could easily spend a whole morning wandering around the streets to pick your own favourite.
Before heading off to Canta Rana for a lunch-time ceviche, of course.
Best for accommodation – Claudia's Airbnb
To be fair, we haven't tried any of the hotels, guest houses or hostels in Barranco so I guess we can't really claim our recommendation to be the best available.
But, for an Airbnb experience in the truest sense of the word, host Claudia's house in a gated community in the centre of town is perfect.
So, what you get is a bright, spotlessly clean room with a large, comfortable double bed, fast wifi and a host who's super helpful. In fact, on the day we left, Claudia let us leave our bags in her lounge all day before calling a taxi at 6:30 pm to take us to the airport.
And, for us, it's that kind of effortless good service that turns a great stay into a memorable one.
Sign up for Airbnb here
and get £25 off your first booking
Final thoughts on Barranco, Lima
For us, if and when we return to Lima, there's only one neighbourhood we'd choose to stay in.
Barranco feels different to elsewhere in Lima. And that's because it is.
After all, it started life as a 19th Century beach resort for the city's well-heeled society folk. And it shows in its grand old buildings and the artistic flourishes that decorate them.
Most visitors tend to take a day trip to the barrio from neighbouring Miraflores or elsewhere, to wander the streets and perhaps try one of its restaurants. But we reckon it's much better to do that the other way round and use Barranco as your Lima base instead.
And believe me, your stomach will thank you for it.
What did you think? Have you been to Barranco, Lima? Do you have any recommendations to add? Or perhaps you're thinking of visiting there in the near future? Either way, we'd love to hear from you so please add your comments below.

Download our GPS-guided travel app to explore the places featured in this post.
To help us maintain our site we work with a number of partners who we've personally used and can recommend to our readers. If you decide to purchase any products through the following links, we'll receive a small commission at no extra cost to you. Thank you for your support!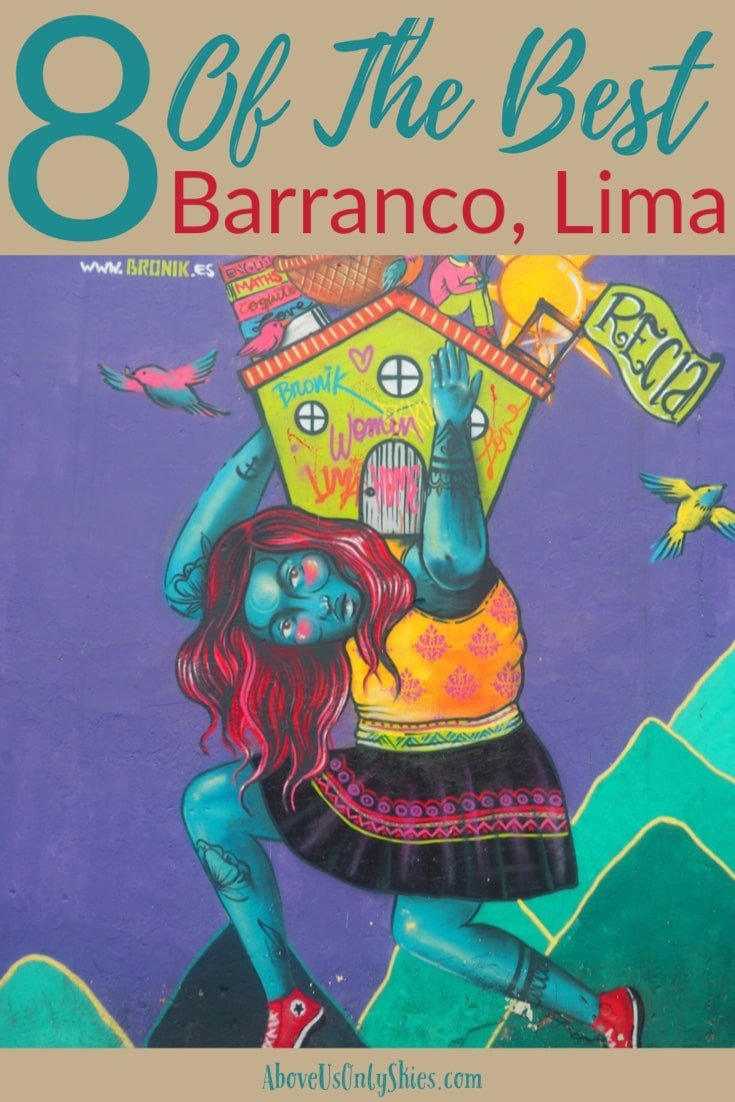 Hi, we're Ian and Nicky, an English couple on a voyage of discovery around the world, and this blog is designed to reflect what we see, think and do. Actually, we'd like to think it also provides information, entertainment and inspiration for other "mature" travellers, too. So please feel free to pour yourself a glass of something suitably chilled and take a look around.