THE BASTIDE TOWNS & BEAUX VILLAGES OF SOUTHWEST FRANCE
THE BASTIDE TOWNS AND BEAUX VILLAGES OF SOUTHWEST FRANCE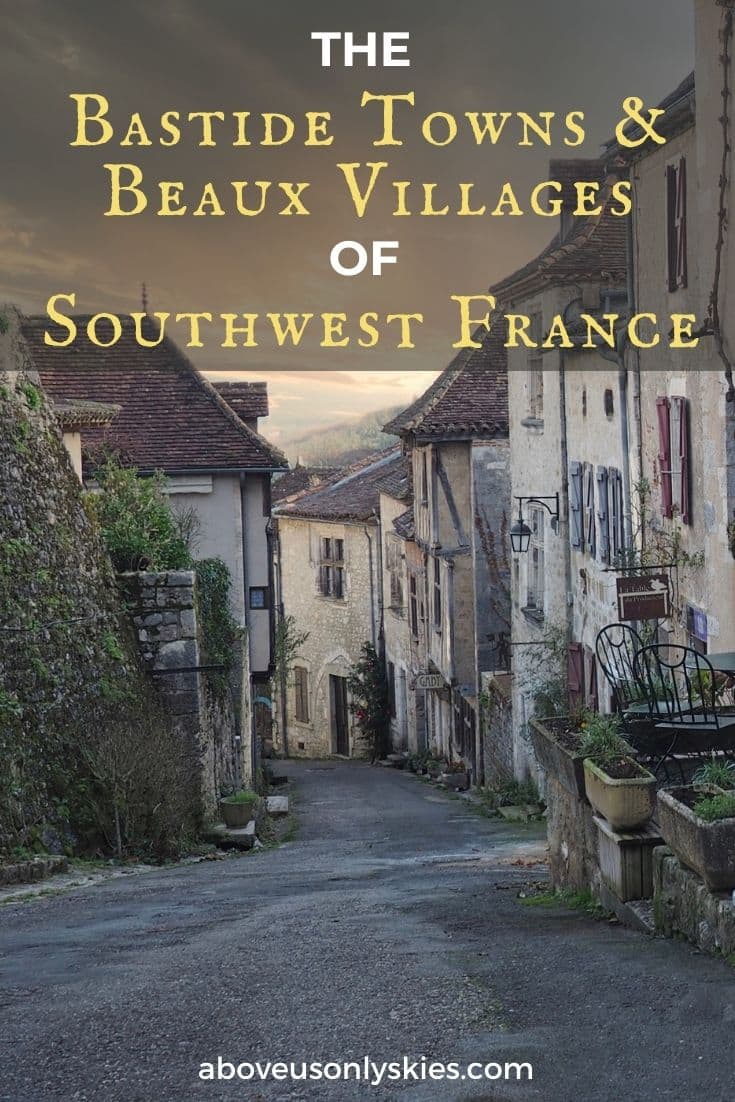 Taking a road trip around southwest France is one of life's great pleasures. Its rural heart boasts endless vistas of rolling hills, vineyards and medieval towns of stunning beauty. And, away from the tourist hotspots of the Dordogne, the roads are all but empty for large parts of the day.
To us, it feels like home. Largely because of the number of housesits we've had the pleasure of enjoying in the region. And, no matter how many times we visit, we're still able to uncover another medieval village that captures our hearts. Indeed, we can think of no other place in the world (with the possible exception of Umbria and Tuscany in Italy) where there are so many wonderful villages and towns to explore.
In this article, we feature 12 of our favourites in a road trip spanning the departments of Tarn, Tarn-et-Garonne, Lot and Dordogne. So buckle up and come with us on a Gallic trip into the past.
Beynac
Brantôme
Bruniquel
Cordes sur Ciel
Issigeac
La Roque-Gageac
Monpazier
Puycelci
Rocamadour
Saint-Cirq-Lapopie
Contents
This page contains affiliate links. To help us maintain our site we work with a number of partners who we've personally used and can recommend to our readers. If you decide to purchase any products through the links on this page, we'll receive a small commission at no extra cost to you.
Bastide towns + Les Plus Beaux Villages de France
For an easy introduction to France's medieval villages you need look no further than the many bastide towns that are dotted all over the country's southwest.
Largely built between the 13th and 15th Centuries, they were originally intended to house the disparate rural population inside "urban" centres to improve commerce and security against attack. Typically, they employed a grid system with a central square that doubled as a marketplace, surrounded by arcades.
And then, as the Hundred Years War raged between France and England over succession to the French throne, many became fortified. And it's this combination of medieval streets, half-timbered buildings and hilltop castles that makes these towns such evocative places to visit.
In addition, Le Plus Beaux Villages de France (The Most Beautiful Villages Of France) is an independent association that celebrates and promotes a large group of rural villages that meet a certain set of quality criteria. Some of these villages are also bastide towns.
Together, they form the backbone of any road trip through France's southwest and provide the basis for our selection here.
We begin our road trip in the department of Tarn-et-Garonne. Just an hour's drive north of Toulouse, Bruniquel boasts not one, but two castles which overlook the mouth of the Gorges de l'Aveyron.
The reason for there being two Chateaux de Bruniquel was apparently the result of a petty family squabble between the viscounts of Bruniquel. Sort of an old-world tale of one-upmanship between father and son. But on a huge scale.
Indeed, the best way to explore Bruniquel is to find a parking space at the bottom of town and then wander up through the steep, cobbled streets of pink stone and red tiles to view the castles and the valleys beyond, before returning via a different route.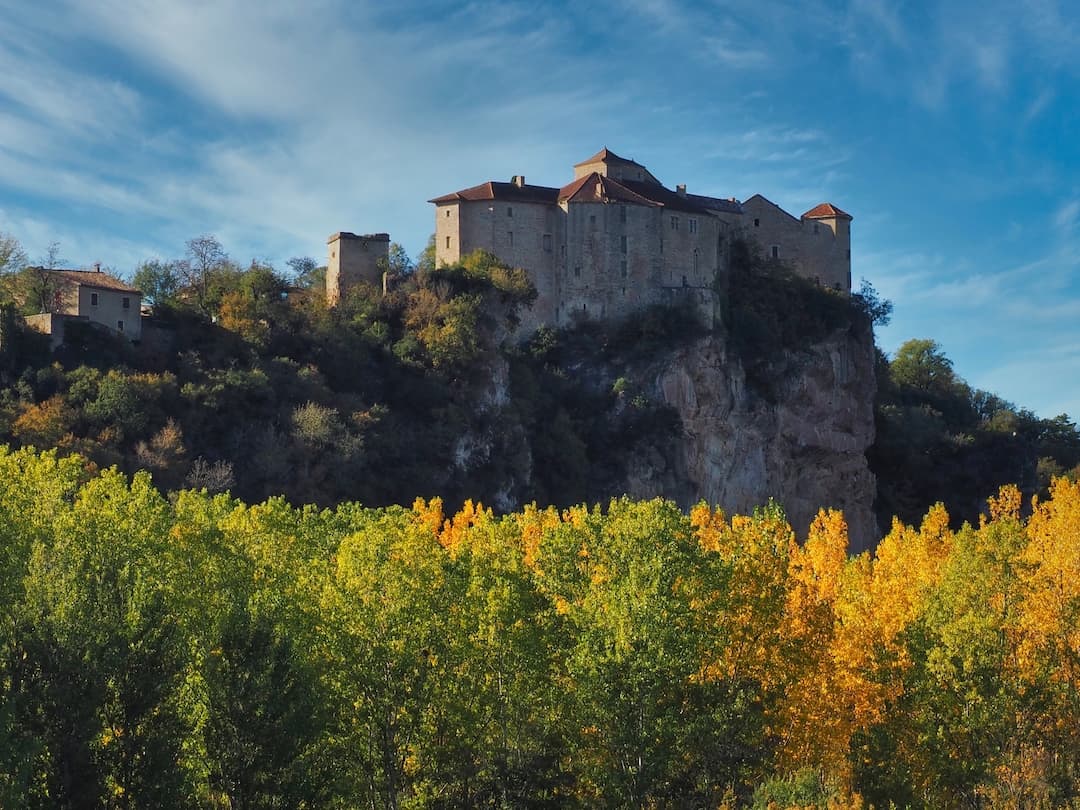 Just 13 km south of Bruniquel, along the picturesque D964 and across the department border to Tarn, Puycelsi swings into view. Inheriting its name from the Roman Podio Celco (or "High Platform") it's a medieval village with spectacular views over the Vère Valley.
Left in an almost abandoned state just 60 years ago, it has since been transformed into one of the Plus Beaux Villages, largely through the purchase and restoration of second homes.
Also known as "the fortress in the woods", which becomes clear when you see the village peering out from the forested hillside as you drive on the road below.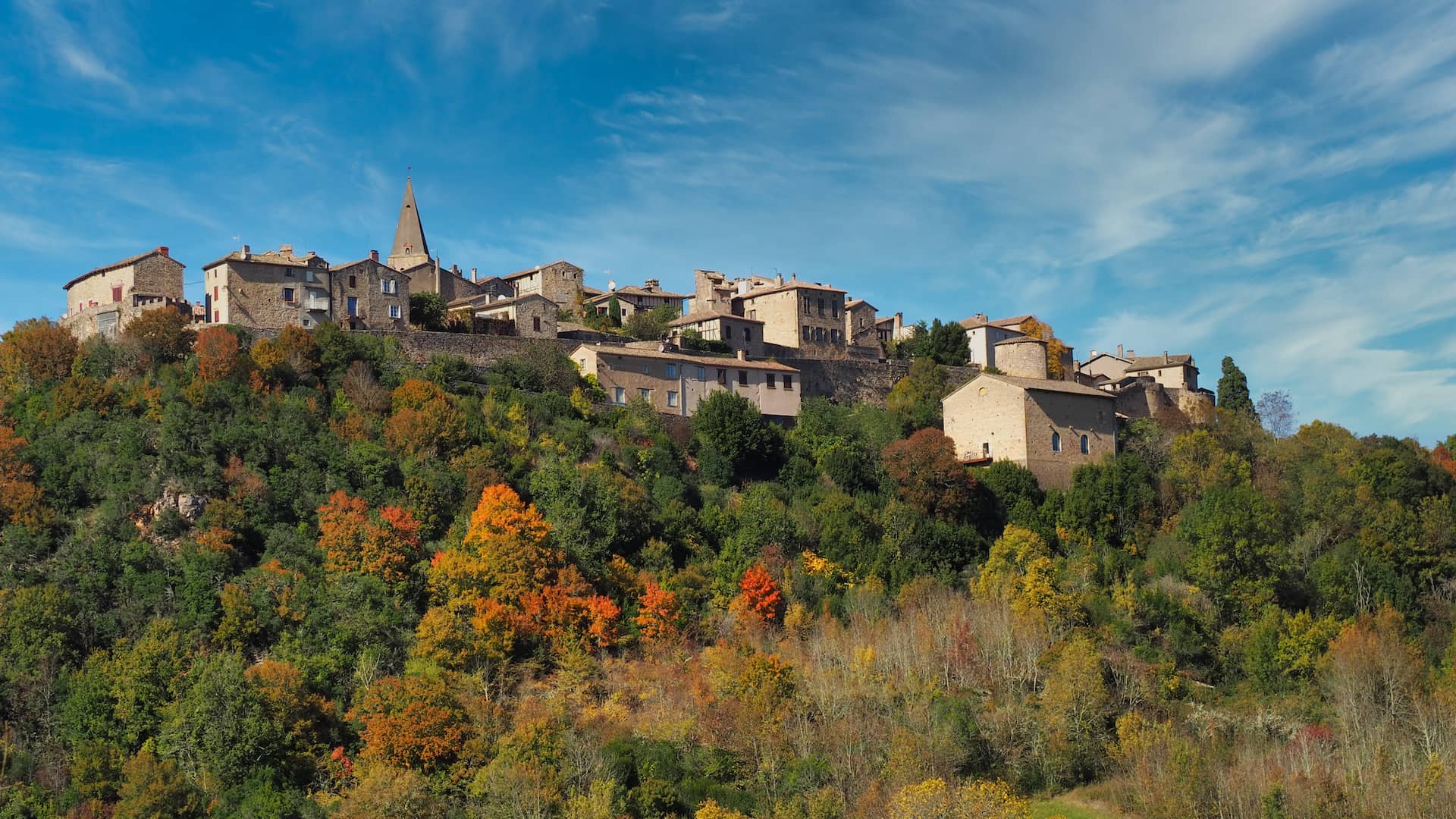 Better still, a further 13 km along the same road brings us to the fabulous Castelnau-de-Montmiral. A bastide built around 1222, just wandering through its maze of narrow streets of half-timbered buildings feels like you've suddenly arrived at the dawn of the Middle Ages.
But the centrepiece is undoubtedly La Place des Arcades ("The Place of the Arcades"), a small town square of sublime beauty. With arched arcades on all four sides and a glorious mix of red brick, white stone and ancient wood, it'll take your breath away. Nowadays, it houses the mairie (town hall), the tourist office, a café, a couple of restaurants and a hotel. Not to mention the original whipping post.
But if there's anywhere better to enjoy a plat de jour with a chilled glass of Gaillac perlé (slightly sparkling wine) then we've yet to find it.
For a closer look, here's a 360-degree tour.
Heading north for 25 km, along the D922, we arrive at another bastide town built around 1222. Translated as "Cordes in the Sky", it reflects the town's lofty perch above the clouds which regularly fill the valley below during the spring and autumn.
Indeed, the long climb up through the cobbled streets is a steep one. And, along the way, there's a full range of gothic buildings made from local sandstone to admire, such as the Grand Falconer's House and the Grand Huntsman's House.
In addition to its architectural highlights, the town also became a magnet for French artists – poets, writers, painters and sculptors – including the revered Albert Camus. And so today, there are regular art exhibitions to add to the dedicated Museum of Modern & Contemporary Art.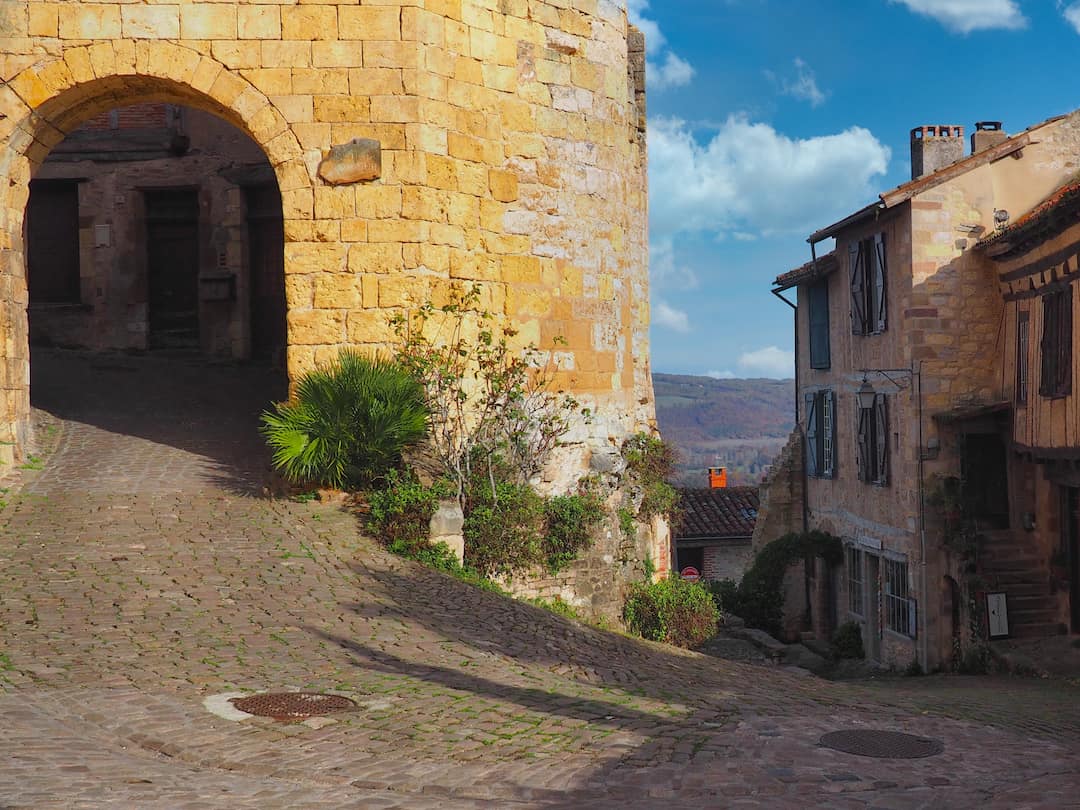 Continuing north for a further 26 km, and into the department of Lot, the imposing castle at Najac stands impressively above the village, with a full 360-degree view over the valley below.
The village stretches out as a row of medieval buildings along a hilltop ridge. Almost as if it marks the route towards the castle at the opposite end of the ridge. 
And, as you've no doubt gathered by now, there's an inevitable steep walk before you arrive at its gates. But it's so worth the effort, if not just for the panoramic view from the top.
45 km beyond Najac, Saint-Cirq-Lapopie is another Plus Beau Village, which sits precariously at the edge of a sheer cliff that plunges down to the Lot River
Its photogenic setting, as well as being named "Favourite Village of the French" in a 2012 TV programme, means that it's well established on the tourist trail. So the village is set up for the onslaught of people during the peak summer months. Indeed, many of the medieval houses on the main street have now been transformed into studios for potters and artists.​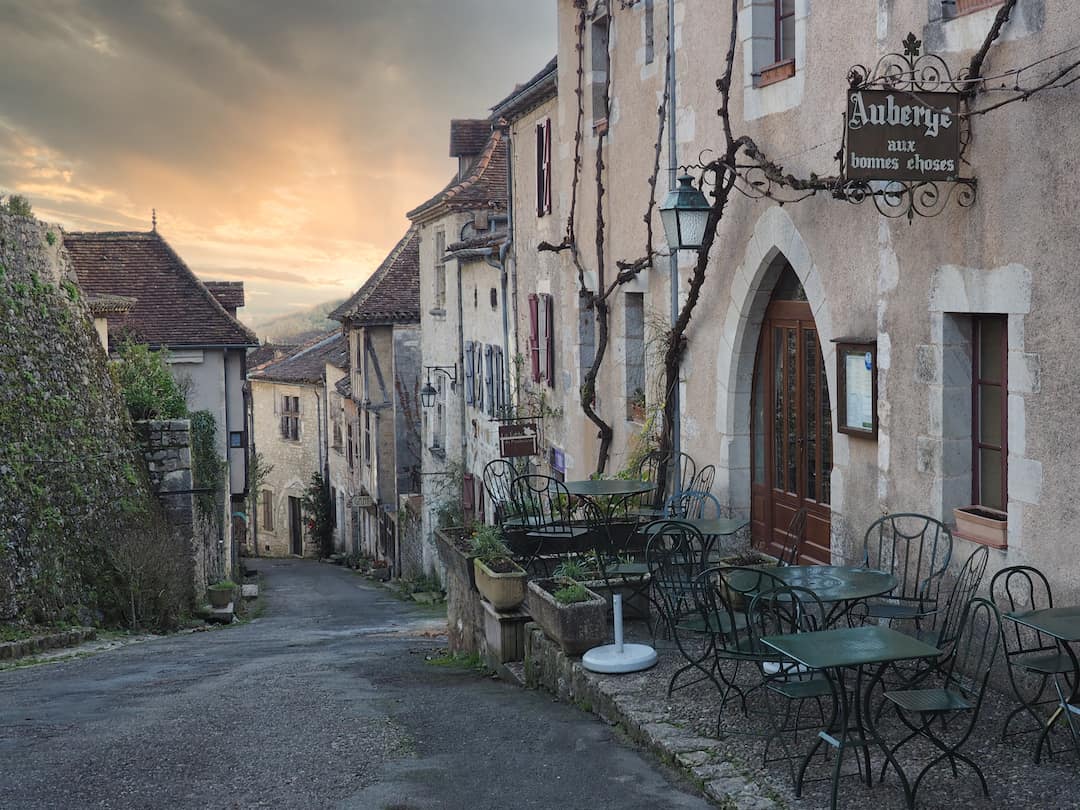 Continuing north, perhaps the most famous of all in our selection, Rocamadour is another cliff-hugging spectacle which almost defies description.
It has attracted tourists since the Middle Ages, largely due to the supposed miraculous powers of the Black Madonna (housed in the Chapel of Notre Dame), which has drawn pilgrims ever since.
As a result, the medieval town (known as La Cité) has plenty of tourist trappings. But it's nevertheless a gorgeous place to just wander around.
Split into three levels, in keeping with the three orders of society, it begins with the lower village where the lay workers would live. From there, the 216 steps of the Great Staircase ascend the cliff-face to a middle section containing a number of large religious buildings (including Notre Dame). And, at the top of the cliff, a chateau once used by knights looks out over the Alzou Valley. Unsurprisingly, it's from here that the best views are to be had.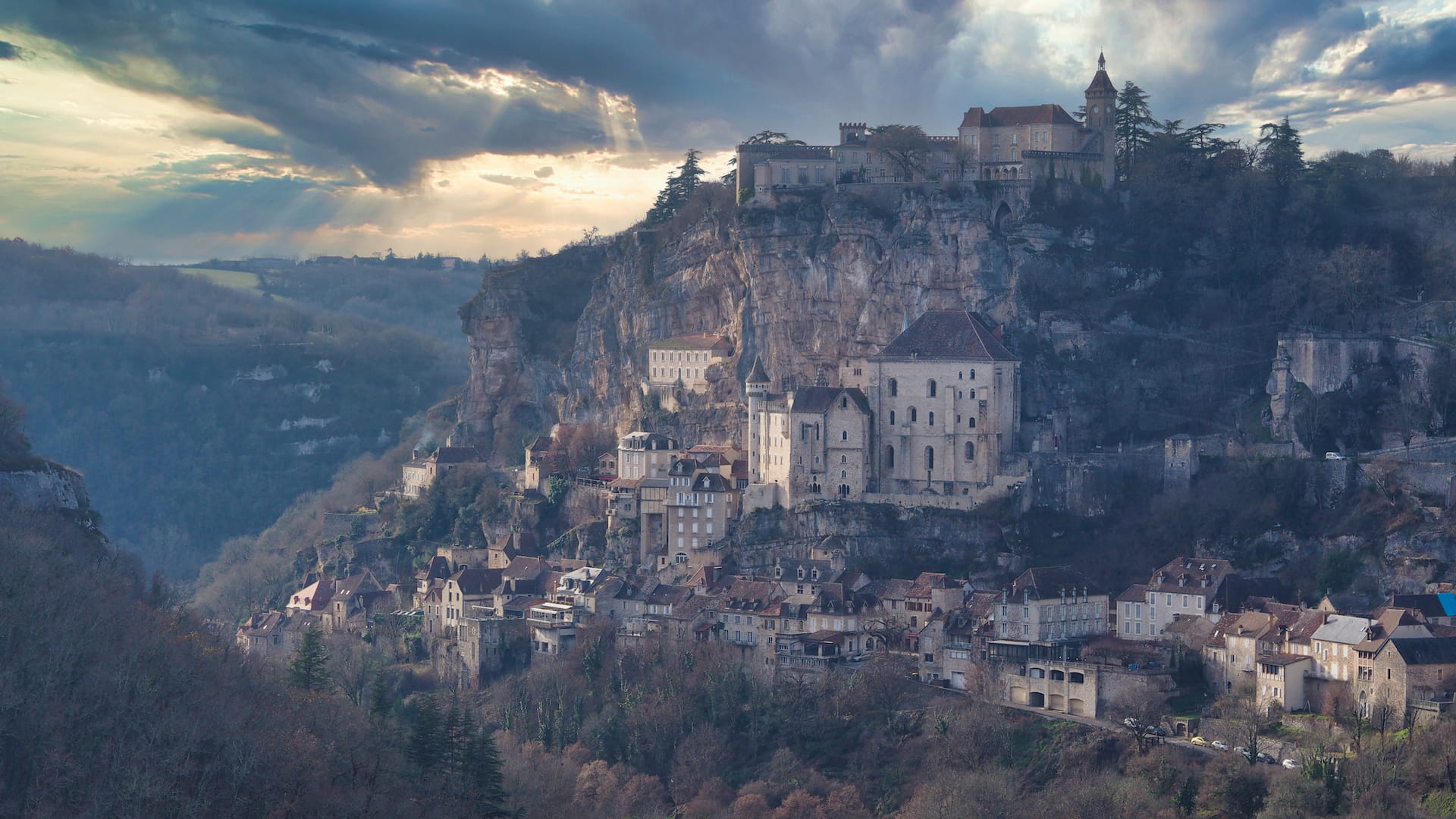 Heading east for 50 km, we leave Lot for the department of Dordogne and follow the picturesque D703 as it winds its way beside the Dordogne River. Eventually, we arrive at the fairytale setting of La Roque-Gageac.
However, a quiet riverside village this ain't. During the summer months, it gets crowded with people eager to cool down with an artisan ice cream and a kayak trip along the river for some chateaux-spotting. And, to be honest, we can't complain because we've done exactly that. In fact, this stretch of the river is so supremely beautiful that we'd suggest you don't miss out on at least a couple of hours "on the water".
The main features of the village itself are the circular-towered Manoir de la Tarde and the gorgeous Chateau de la Malartrie, which peers out from its sub-tropical setting.
And, behind the village, a set of prehistoric cave dwellings are carved into the cliff-face.
10 minutes further along the D703, the twin villages of Beynac and Cazenac host one of the region's best-preserved castles, which sits on top of another sheer limestone cliff face.
The Château de Beynac is a 900-year-old beauty that stands guard above the village over what was once the border between French and English territory. Indeed, the English-held Château de Castelnau faces it on the opposite side of the valley. And with a little imagination, it's just possible to hear the 14th-Century insults flying on the wind between the two opposing sides.
Or, as immortalised by Monty Python in a dodgy French accent, "Your mother was a hamster and your father smelt of elderberries!"
​
Next, taking a detour southeast of the Dordogne River, we arrive at what most experts agree is the archetypal bastide town.
Lovely Monpazier's perfectly aligned streets criss-cross each other at right angles before leading ultimately to the arcaded Place des Cornières (main square). There's been a weekly market here every Thursday for the past 700 years under the protective wooden-covered market hall. So it would be a bit of a shame if you managed to miss it.
Founded by Edward the First of England in the 13th Century, it forms another part of this forgotten slice of England.
Although you'd be better off whispering that quietly when you're in town.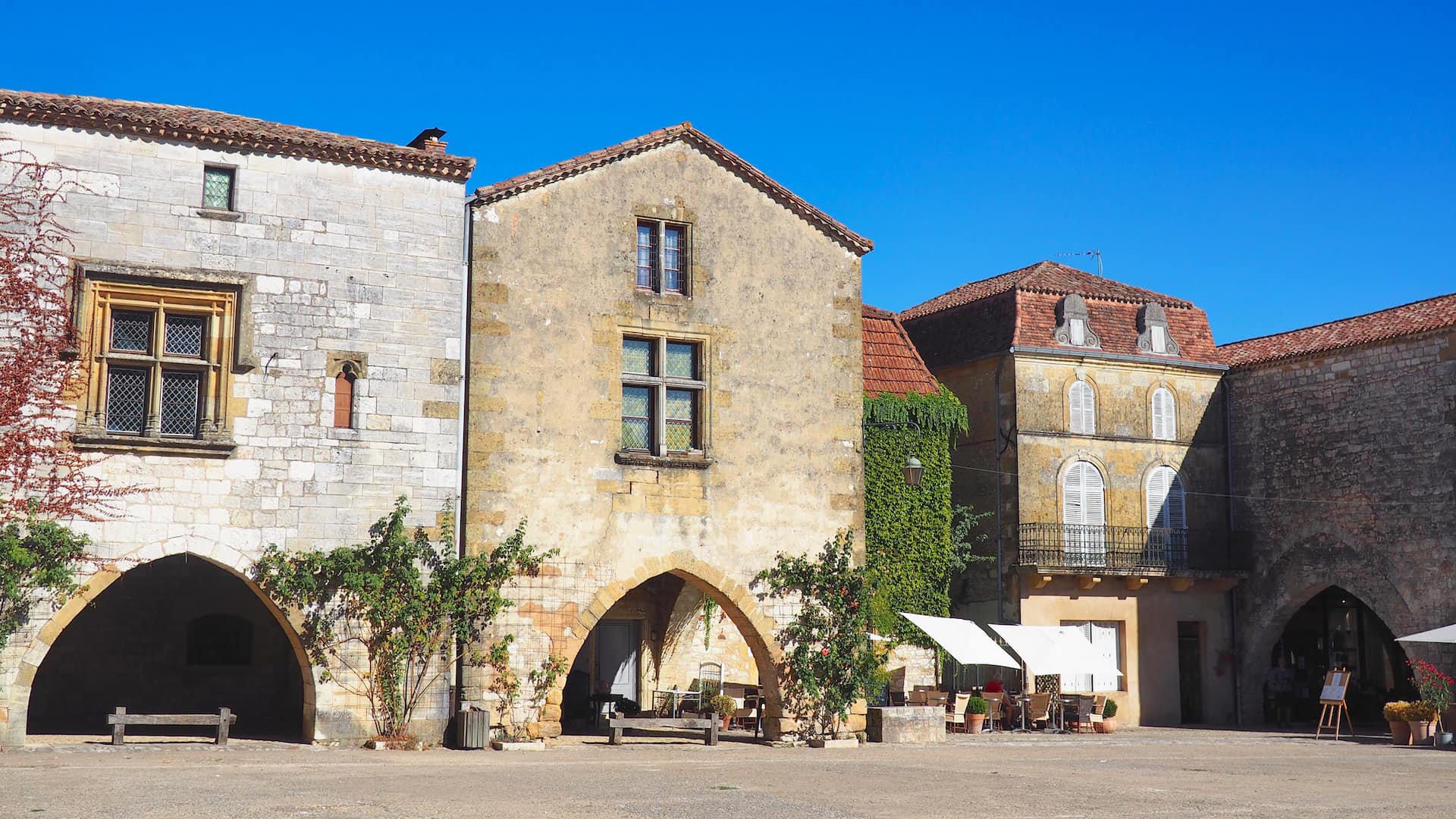 And, assuming you've not completely zoned out to wandering around gorgeously medieval French villages by now, a further 30 km eastwards brings us to the achingly beautiful Issigeac.
By way of a contrast to Monpazier's linear structure, Issigeac is circular in design. And its half-timbered buildings actually reminded us of those we saw in Castelnau de Montmiral.
But the village's crowning glory is its weekly market which, during the summer months, attracts shoppers (and tourists) from all over the region. Seriously, if you only choose one French market to visit, it should probably be this one.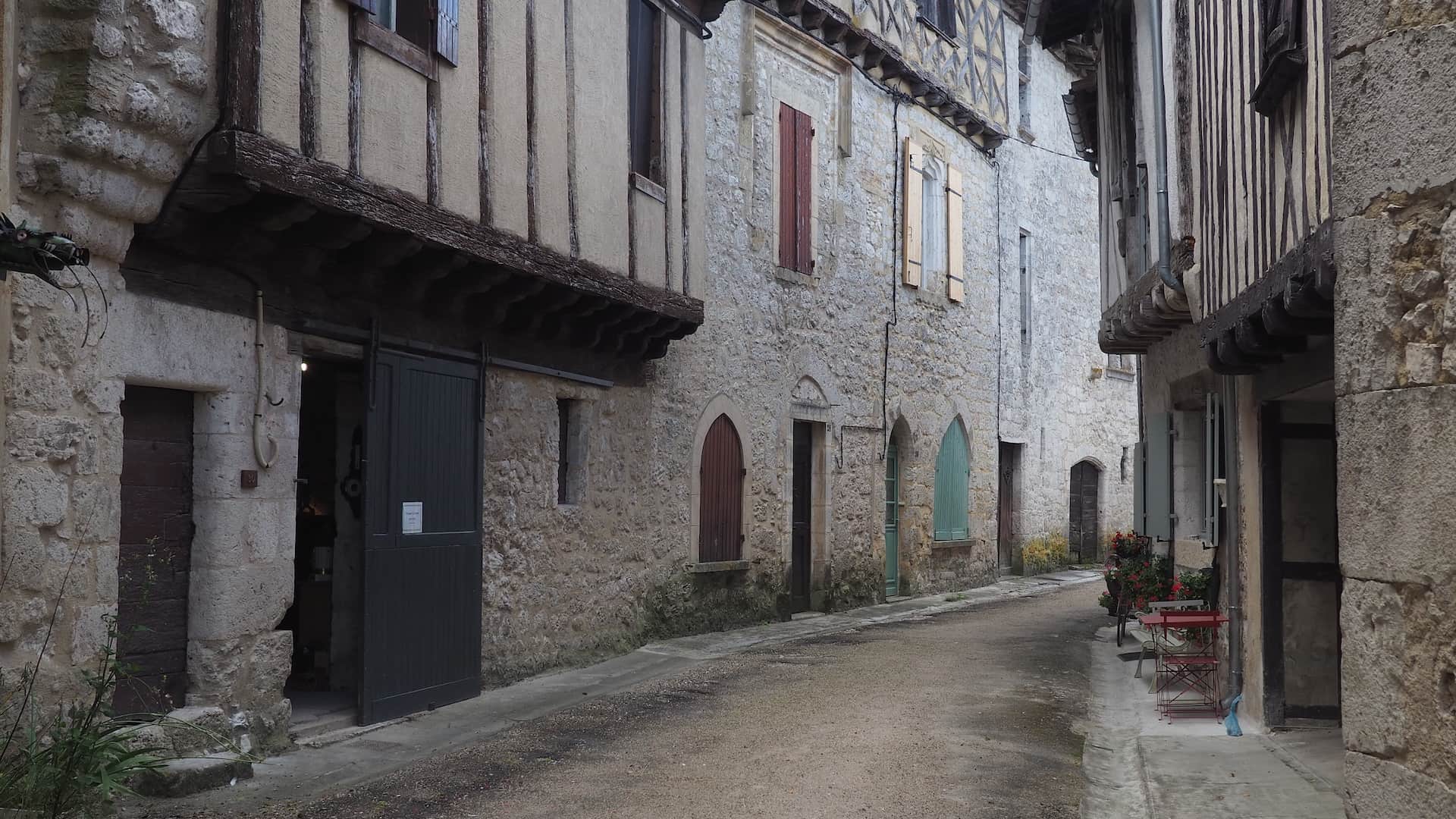 And, finally, we head to the extreme north of the Dordogne to a village dubbed The Venice of Périgord on account of its island setting on the River Dronne.
It's a 90-minute drive from Issigeac to Brantôme. But we've included it on our list as it differs greatly from the medieval towns further south. And, apart from its superb setting on the river, the ancient Brântome Abbey, founded in 769 by Charlemagne, is worth the journey alone.
Sandwiched between the river and the limestone cliffs behind, it was originally home to cave-dwelling Benedictine monks. And you can visit the troglodyte (cave-dwelling) remains of the monastery as part of a guided tour.
We can honestly say that whittling down the bastide towns and Plus Beaux Villages of southwest France to just "12 of the best" was a difficult task. But perhaps that's because we're just biased about the allure of this region. And we haven't even mentioned the vineyards!
Suffice to say, we've plenty of unfinished business to attend to on future visits. In the meantime, we hope that our suggestions in this article at least whet your appetite for your own road trip.
And, if you happen to fall in love with a medieval gem that we've overlooked, then please do let us know!
What did you think? Have you been to any of the bastide towns and Plus Beaux Villages of southwest France that we've featured? Or perhaps you have some recommendations of your own? Either way, we'd love to hear from you so please add your comments below.
To help us maintain our site we work with a number of partners who we've personally used and can recommend to our readers. If you decide to purchase any products through the following links, we'll receive a small commission at no extra cost to you. Thank you for your support!
Travel insurance
with World Nomads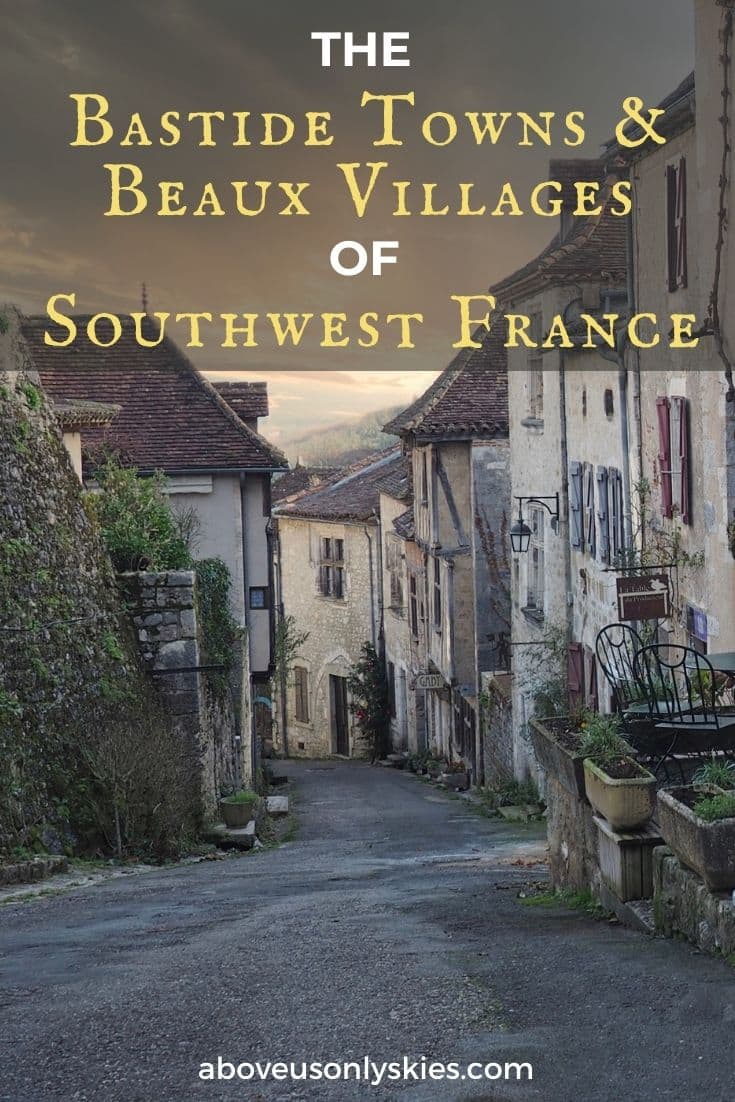 Hi, we're Ian and Nicky, an English couple on a voyage of discovery around the world, and this blog is designed to reflect what we see, think and do. Actually, we'd like to think it also provides information, entertainment and inspiration for other "mature" travellers, too. So please feel free to pour yourself a glass of something suitably chilled and take a look around.