Travel to the British Virgin Islands and there's a good chance you'll be spending at least some of your time sailing and island-hopping. And for good reason as it's revered as one of the best destinations in the world to do just that.
But you'd be missing out if you didn't spend at least some time exploring the islands themselves. In particular, Tortola – BVI's largest and most populous island – has a south coast littered with yachting marinas and quays and a mountainous jungle interior. And, on its northern coast, the best of the island's white sand beaches are just aching to be discovered.
Getting to them does require some effort if you're staying on the south coast, particularly as the quality of some of the roads are questionable. Public transport is a non-starter and taxis will only take you to the most easily accessible – such as Cane Garden Bay. So the only practical choice is to hire a four-wheel drive. But the good news is that you can definitely get to see the best beaches in one day. As long as you don't mind driving up and down seriously steep, winding and pot-holed roads. But that's just part of the fun, right?
So don't worry. In this post, you'll find all you need to enjoy an exhilarating day driving in a loop from the island's capital, Road Town, and taking in the best beaches Tortola can offer. And we've got suggestions for some cracking places to eat along the way, too.
From Road Town, a steep climb joins up with the Ridge Road, which as its name suggests runs along the spine of the mountainous interior of the island. Heading east towards East End you'll eventually arrive at a sharp right-hand bend that leads down to Road Town. Turn left here on to Josiah's Bay Road and continue until you reach the beach car park.
Josiah's Bay is a long stretch of gorgeous white sand, curved around a bay that produces the kind of waves the surfing crowd turn up for in their droves during the peak winter months. Go there during the summer months, though and there's a good chance you'll be the only ones around. Save for the pelicans who keep you entertained as they dive-bomb into the sea to feed. Oh, and the occasional cow that might venture onto the beach from the farmland behind!
In fact, there's very little development here. And we'd like to think it will stay that way. It might just be our favourite beach on the island.
If you're following our route you'll be here just in time for a late breakfast. And Naomi's Grapetree Beach Bar (aka Naomi's Little Secret) would be a great choice – as long as you're not in too much of a hurry. Everything is cooked fresh by the ever-smiling Naomi, who's something of an institution in these parts. Conch fritters, shrimp roti, honey stung chicken….authentic Caribbean food right on the beach!
Alternatively, if you're looking for something a little more upmarket, the excellent Tamarind Club at the top of the road is another good choice.
Head back up the road until you come to a junction, with the Tamarind Club on your right. Turn right onto the Ridge Road, this time heading west. Along the way, the road loops up, down and around the mountain ridges, with some great views of both Road Town on the south coast and various bays on the north coast. The eventual right turn for Brewer's Bay is signposted – you'll need to stay in low gear as the road down is notoriously steep and winding. If you miss the first turn (which is difficult to spot) don't worry as there's another one further along the road.
Brewer's Bay is another beach that's not on the main tourist path. Not surprising given the tortuous road that snakes down into the bay. But for those willing to make the effort there's the reward of another classic Caribbean beach of clean, powdery sand amidst a backdrop of coconut palms and Banyan trees.
Worthy of note here is Tortola's only campground, nestled within the trees right beside the beach. And on an island where the prices for accommodation can be steep, it should be a serious consideration for budget travellers.
The bay is also known for having some of the best snorkelling on the island. Which kind of begs the question "If we've got an empty beach and we're swimming in turquoise water with great snorkelling – why would we want to leave"?
Fair question. But, in truth, we're only just getting started. Once you've had your fill of coral reefs, tropical fish and digging your toes in the powdery sand, it's time to once again start the engine and navigate the impossibly steep hill back up to the Ridge Road.
Taking the exit road at the west end of the bay, you'll climb back up to the Ridge Road and then take a sharp right, signposted for Cane Garden Bay. You'll soon be heading back downwards as the road snakes its way down to the most popular beach on Tortola.
If you're around Tortola when a cruise ship turns up at Road Town, chances are you'll spot a taxi-cum-bus loaded with impeccably dressed sun worshippers on their way to Cane Garden Bay for a few hours. It's the one beach on the island that caters for anything resembling large-scale tourism – including the sailing community who drop anchor in the bay, giving the place a more cosmopolitan feel than the other beaches we've listed here.
And, to be fair, it has a nice, clean white sand beach and is situated in a lovely bay. It also has a good selection of restaurants and bars  – and even its own rum distillery. But, to be honest, it doesn't have the raw Caribbean feel of some of the other beaches we loved so much. But maybe that's just us. It's still worth a visit, but unless you're stopping for lunch or taking advantage of the water sports on offer, we wouldn't suggest you linger too long.
From Cane Garden Bay, continue along the coast road, climbing up again before dropping into another bay. About halfway down there's a dirt track on the right of a hairpin bend where you can park the car and take in the views looking across to Apple Bay and Long Bay. Then continue through Carrot Bay, over another hill and into Apple Bay before parking your car near to the "Bomba Shack".
Although we're not rating this as one of Tortola's best beaches it's still worth a quick stop-off, if only to check out the Bomba Shack – a beachside bar constructed almost entirely of scrap materials and which claims to be responsible for introducing full moon parties to the island. And, judging by the drinks menu, Tortola's first cup of Mushroom Tea.
Continue further along the coast road for about a mile until the road drops down into Long Bay. Parking can be difficult as most of the spaces available are for the use of the Beach Club and other restaurants/bars. Just look for a space on the road.
The best view of Long Bay is actually from the brow of the hill before the road descends into the bay.
As the name suggests it's a long beach (one mile) and is dominated on the east side by the Long Bay Beach Club. Wander along to the west side, however, and you'll find a peaceful, untouched strip of sand with great swimming.
However, our preference would be to spend half an hour or so here and then move on to the neighbouring bay and the gorgeous Smuggler's Cove.
It's fair to say that, without a four wheel drive you simply wouldn't make it to Smuggler's Cove – unless you'd decided to walk. The road from Long Bay is one long stretch of potholes on dirt track – almost as if the locals had wanted to keep it that way to stop the influx of tourists.
But when you finally arrive at the car park, just take off your shoes and wander on down through the trees to the sublime beach. It's the last of our recommended beaches but it's another gem – on a par with our other favourite at Josiah's Bay.
There's just one bar (Nigel's Boom Boom Bar & Grill – basically a simple beach shack with hammocks, simple food and ice cold beers). And quite frankly that's all it needs. Otherwise, it's the perfect white-sand Caribbean beach spilling into a turquoise sea that used to sell postcards by the bucket-load.
Although it's difficult to reach by road it can get a little busier when yachts call in. Which they invariably do as part of their BVI island-hopping schedule. But that's a small price to pay when the natural surroundings are this good. So take your time because you're heading back to Road Town after this.
As you turn back away from the beach car park take a right turn into Belmont Drive, which then climbs up above Smugglers Cove. You're now heading to the far western tip of Tortola. On the way look out for the view down to Belmont Pond, which sits between Long Bay and Smuggler's Cove.
The road then continues over the ridge and down to West End, with views of Sopers Hole Wharf & Marina. If you're ready for a late afternoon snack or drink after the day's travelling then it's worthwhile taking a detour into the marina area where there are plenty of bars, restaurants and shops.
Failing that, you'll then head back towards Road Town along the Sir Francis Drake Highway.
One final tip. If you'd like to stop off for dinner before you arrive in Road Town we can highly recommend Gene's Bar & Grill in Sea Cow's Bay. Guyanese home cooking and a great selection of beers. What's not to like?!
To be fair, that's a pretty full day! Of course, you might just want to cherry pick those beaches that take your fancy. Or you might just want to head straight to Josiah's Bay or Smuggler's Cove, place your towel on the sand and simply wave goodbye to the world for a few hours.
But if you're up for a full-on road-cum-beach safari of Tortola, we reckon our route and choice of beaches is hard to beat.
Just don't underestimate those roads!
What did you think? Have you been to Tortola? Or perhaps you're thinking of visiting there in the near future? Either way, we'd love to hear from you so please add your comments below.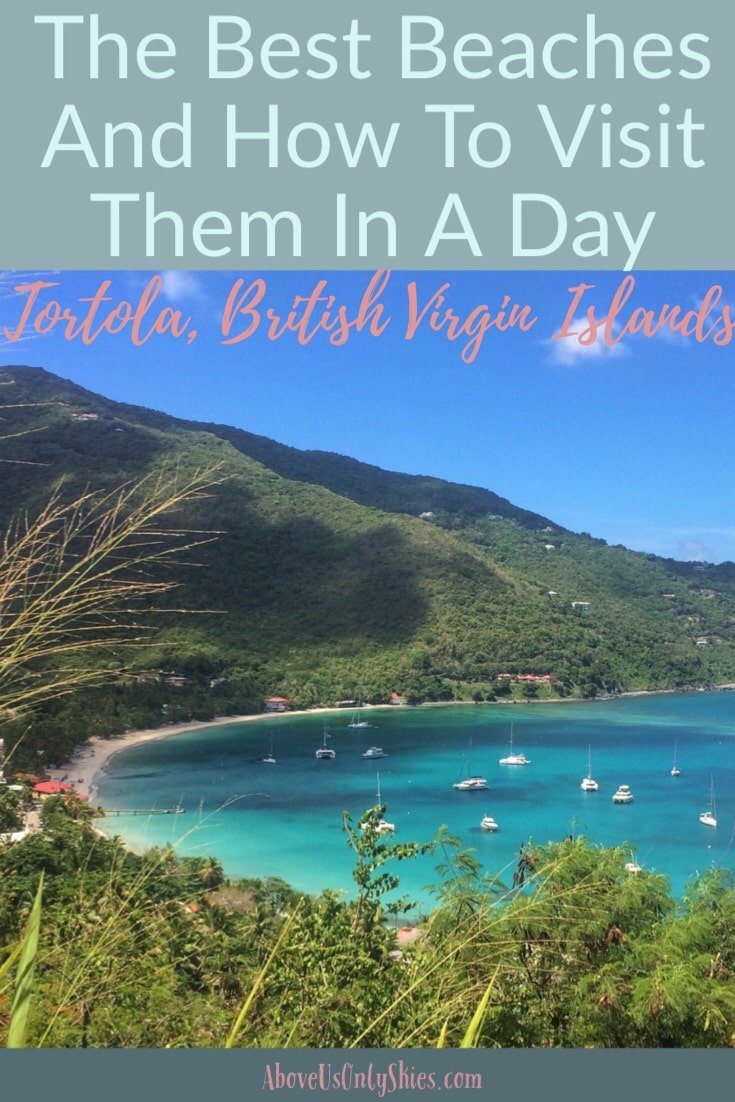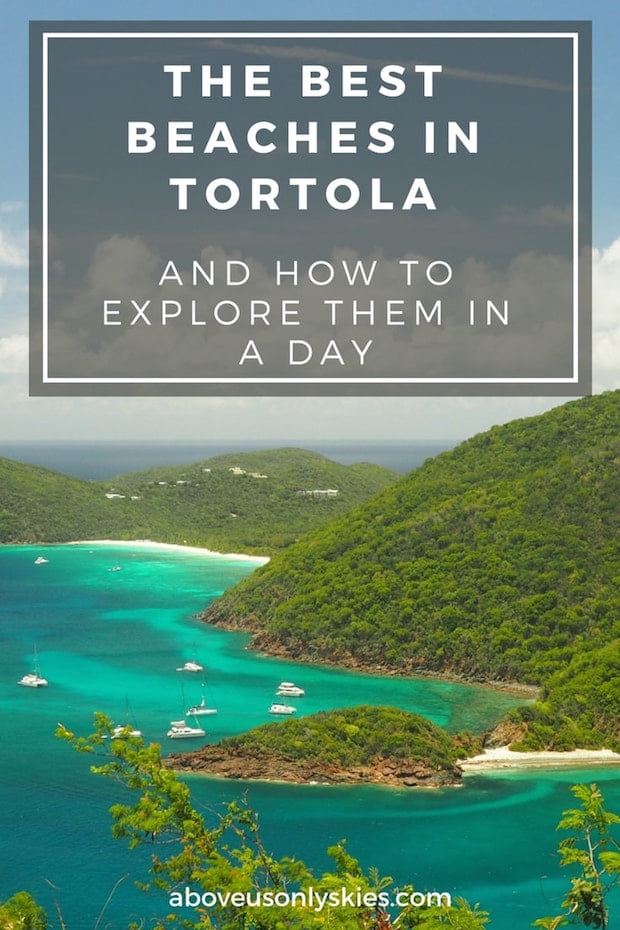 Hi, we're Ian and Nicky, an English couple on a voyage of discovery around the world, and this blog is designed to reflect what we see, think and do. Actually, we'd like to think it also provides information, entertainment and inspiration for other "mature" travellers, too. So please feel free to pour yourself a glass of something suitably chilled and take a look around.
POSTCARD FROM THE BRITISH VIRGIN ISLANDS
10 SUBLIME BEACHES FOR YOUR BUCKET LIST
3 NEW ZEALAND WALKS YOU WON'T WANT TO MISS
HOW TO TRAVEL LONG TERM AS A COUPLE…WITHOUT KILLING EACH OTHER