A HALF-DAY WALKING TOUR OF BRADFORD ON AVON, WILTSHIRE
A HALF-DAY WALKING TOUR OF BRADFORD ON AVON, WILTSHIRE
Often referred to as nothing more than "Bath-in-miniature", Bradford on Avon is a medieval town that's a worthwhile day trip on its own merit.
Although it sits just eight miles away from its more illustrious neighbour, it actually belongs to a different county – Wiltshire rather than Somerset. You won't find any Roman-era baths to explore here. Nor will you find the need to fight your way through gangs of tour parties.
Instead, much like its Wiltshire compatriot, Castle Combe, the town's attractions include its historic stone bridge, textile-manufacturing heritage and beautiful old buildings. Which can all be explored in a leisurely morning or afternoon stroll following our walking guide.
This page contains affiliate links. To help us maintain our site we work with a number of partners who we've personally used and can recommend to our readers. If you decide to purchase any products through the links on this page, we'll receive a small commission at no extra cost to you.
Bradford's name comes from its medieval setting surrounding a ford across the River Avon – hence "Broad-Ford". And its full name distinguishes it from the larger city of Bradford, in Yorkshire.
The town's wealth was established during the 17th Century when water from the River Avon was used to power the manufacture of textiles. As a result, lines of weavers' cottages sprung up on the surrounding hillsides. And then, during the Industrial Revolution of the late-18th Century, up to 30 mills were established alongside the river, powered by both water and steam. 
However, the late-19th Century heralded the emergence of the northern counties of Lancashire and Yorkshire as centres for textile manufacturing. And so Bradford on Avon's mills closed, leaving behind buildings that have since been derelict or converted into restaurants, apartments, and even a pub (the Swan Hotel).
View of Bradford on Avon from St Margaret's Hill
Like most town or city walks, the best place to start is outside the Tourist Information Centre, just off St Margaret's Street. From there, cross over to Bridge Street where a Bradford on Avon institution awaits.
The Bridge Tea Rooms is your quintessential English tea, scone, clotted cream and jam centre of excellence. Situated in a blacksmiths' cottage dating back to 1503, it claims to be England's best tea room. Indeed, with its fine bone china, waitresses in traditional Victorian garb and classical background music, it hits all the right notes for international tourists. Especially as a non-alcoholic finishing point for our town walk.
In which case, continue heading north and cross the Town Bridge.
It's probably the most photographed spot in Bradford on Avon. Although, the best vantage point to the right is now so overgrown with trees that you'll be lucky to get as clear a view as some of the iconic photographs would suggest. 
The stone bridge dates back to the 13th Century and includes nine arches. Although most were rebuilt in the 18th century when the road was widened. Apparently, the original bridge was so narrow that many unwary folks were falling into the river.
The small, domed building at the southern end was once a chapel. But later on, it was used as a "lockup" to hold prisoners before they were brought to trial. Above the dome is a weather vane in the shape of a fish – nicknamed The Bradford Gudgeon. As such, prisoners in the lockup were referred to by locals as being 'below the fish and above the water'.
Town Bridge and its Lockup
The Shambles & town centre
Having crossed over the river, turn into The Shambles, a small pedestrianised shopping street between Market and Silver Streets. Historically this was the site of the medieval meat market. Nowadays, it's home to independent boutique shops, cafés and a Post Office. 
In truth, there's not much to see other than to be aware of its historical significance. Although for lovers of British postboxes (of which Nicky is a confirmed mega-fan), the presence of one with the rare monogram of "King Edward VIII, 1936" is enough to bring out a cold sweat.
Whilst wandering around the streets of the town centre, it's not hard to appreciate the grand stone houses that belonged to well-heeled merchants in the halcyon days of the 19th Century. Indeed, their buttery yellow facades take on an almost golden glow with the onset of the afternoon sun.
For a closer look, across from The Shambles, The Swan Hotel leads into Church Street. Eventually, you'll arrive at an imposing building on the left. With its arched windows and metallic exterior staircase casting shadows against its Bath stonework, Abbey Mill is a gorgeous sight. Originally a 19th Century riverside textile mill, it now houses exclusive retirement homes.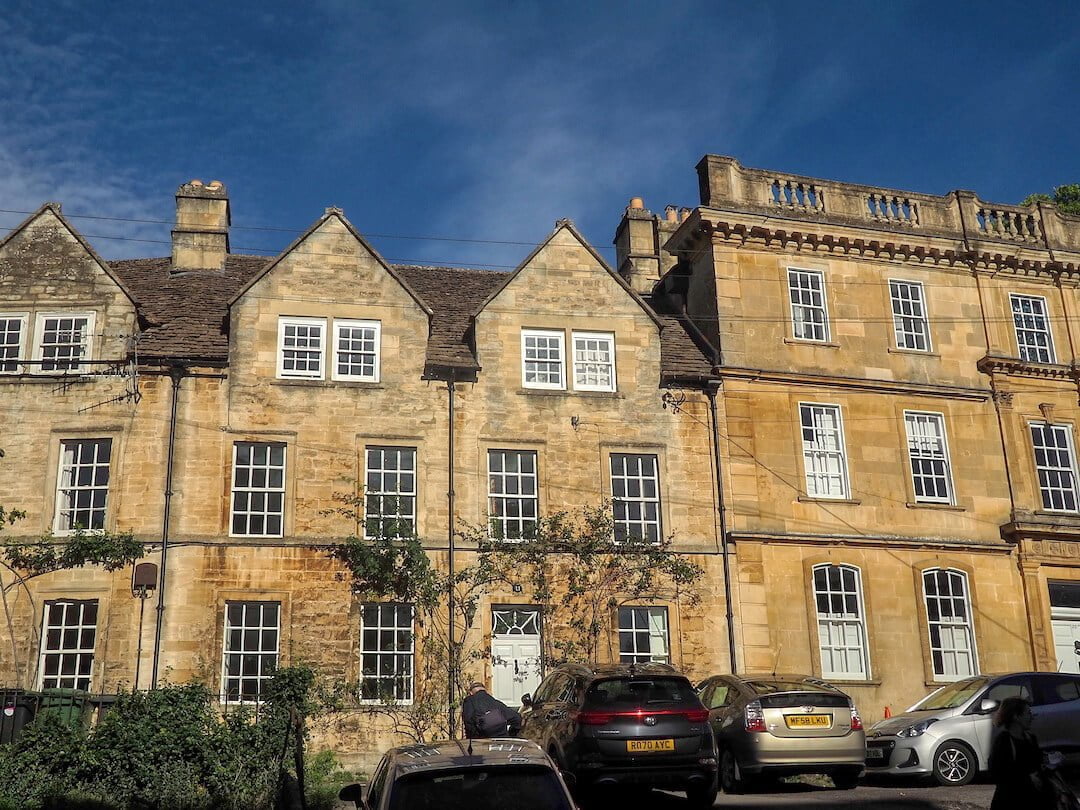 Town houses on Church Street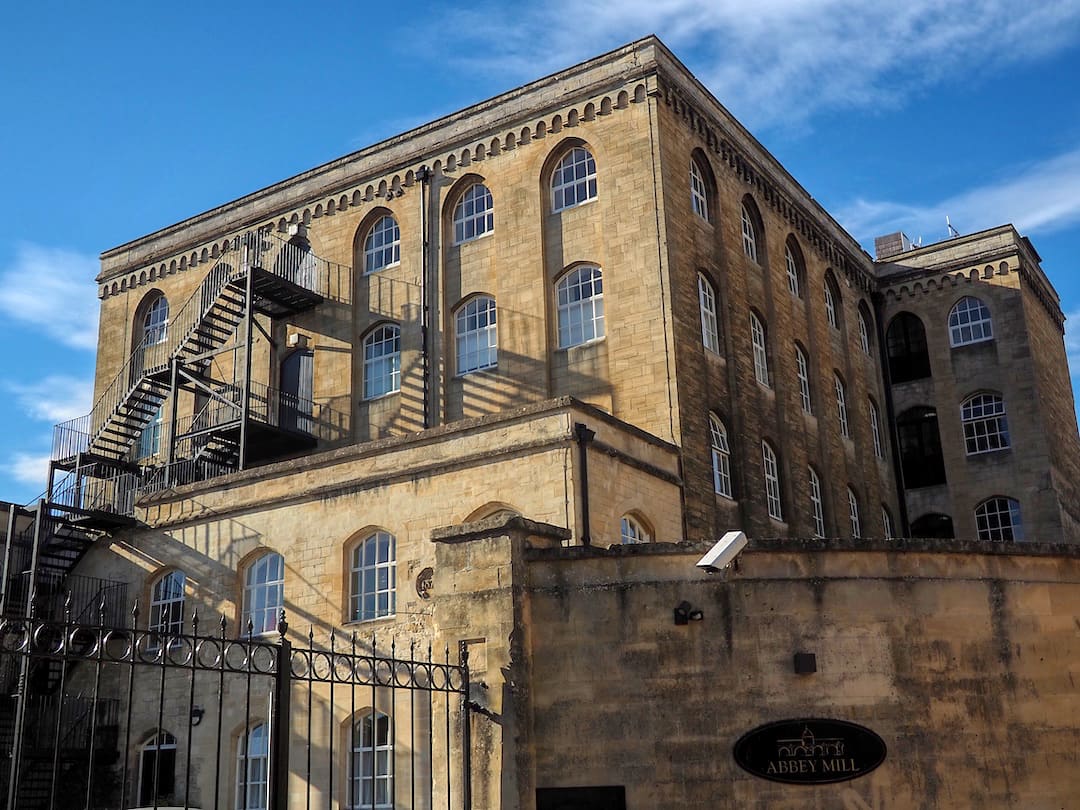 Uphill to Middle Rank & Tory
Then its s steep walk upwards, through narrow passageways to the old weavers' cottages on the hillside. Middle Rank and Tory are a couple of rows of terraces with panoramic views of Bradford on Avon and the countryside beyond. To be honest, their English rose garden splendour took us by surprise. To the point where it almost felt as if we were walking amongst their occupants' private space. 
Which made it all the more surprising to think that the majority of the houses were designated as slums after the Second World War. And which, given that the Queen Mother (Elizabeth, wife of King George VI) spent some time there as a child, became something of a national scandal at the time.
Suffice to say, their restoration successfully completed, the cottages must now represent some of the most desirable housing in the area.
Look out, too, for the small stone sculpture of a frog inside a wall on one of the connecting sets of steps. Quirky, we know, but cute all the same.
Terraced housing on Middle Rank
An opposite view of Middle Rank
At the far end of Tory, the Chapel of St Mary Tory is worth a look. Built in the 15th Century, it served as a hermitage for exhausted pilgrims en route to Glastonbury. The views down to the town below are perhaps the best of all in the area.
The Chapel of St Mary Tory
To the Saxon Church of St Laurence
A further set of steps then return to the lower section of the hillside and Newtown. And here, the humble cottages once again give way to more grandiose buildings.
Below Middle Rank en route to Newtown
But there's a real treat just around the corner for anybody who has even a passing interest in English history. The magnificent Saxon Church of St Laurence is one of the most complete of its kind still in existence. It was built in the early 11th Century, supposedly to house the skeletal remains of Edward the Martyr (step-brother of King Æthelred).
Tall and narrow, with small oval windows and blind arcades, it's a unique place with a fascinating history. Including being used once again as an ossuary (a place that houses human bones) in the 18th Century and as a school in the 19th Century. Indeed the blackening of the nave walls is a relic from the fires that burned in the school's kitchen.
Once inside its relatively bare interior, however, your imagination is allowed to wander as you can almost smell the ancient dust hiding between the cracks of the stonework.
The Saxon Church of St Laurence
Across the River Avon to the Tithe Barn
And while you're in the mood for amazing medieval architecture, your next destination is just as startling.
A pathway along Barton Orchard descends towards the River Avon, before crossing a railway line and into Barton Farm. Originally owned by the Abbess of Shaftesbury (England's richest nunnery), the complex's centrepiece is the 14th Century Tithe Barn, one of the country's largest and perhaps most impressive barns.
Once used by landowners to collect and stores tithes (essentially taxes in the form of agricultural produce), it's a 51-metre long medieval masterpiece with a huge wooden roof of A-shaped trusses. Near to the doorways, the stonework features interlocking circles to ward off witches. And the roof contains over 100 tonnes of stone slate tiles.
Of course, it's completely empty inside. But we guarantee you won't leave without at least a slight straining of the neck muscles after gazing upwards at that incredible ceiling.
Interior of Tithe Barn and its magnificent ceiling
Back into town along the river
Beyond Tithe Barn, you could opt for a stroll along the canal and on to Bradford on Avon Wharf. At which point you could call in for a drink at the canal-side Lock Inn Café, or The Barge Inn. 
But, if you don't have the time, we'd suggest you head back to town on the pathway alongside the River Avon. With great views across the river, up to the terraces of Middle Rank and Tory, and passing beautiful riverside buildings such as the Abbey Mill, it's a great way to finish off your walk.
And, just maybe, you'll have worked up an appetite to try one of those carbohydrate-soaked tea and scone combinations at the Bradford on Avon Tea Rooms!
Final thoughts on Bradford on Avon, Wiltshire
Bradford on Avon is arguably a better place to base yourself for a trip to Bath rather than staying in the city itself. Especially if you prefer its small-town atmosphere. 
We spent a week there housesitting, from where we were also able to visit nearby places of interest such as Cheddar Gorge, Wells, Castle Combe, Lacock and the White Horse of Westbury.
For more detailed information on the town, check out this excellent resource. And here's a useful walking map to help you get around.
What did you think? Have you been to Bradford on Avon in Wiltshire? Or maybe you're thinking of going there in the near future? Either way, we'd love to hear from you so please add your comments below.
Hi, we're Ian and Nicky, an English couple on a voyage of discovery around the world, and this blog is designed to reflect what we see, think and do. Actually, we'd like to think it also provides information, entertainment and inspiration for other "mature" travellers, too. So please feel free to pour yourself a glass of something suitably chilled and take a look around.