EVERYTHING YOU NEED TO KNOW ABOUT DRIVING THE CARRETERA AUSTRAL
EVERYTHING YOU NEED TO KNOW ABOUT DRIVING THE CARRETERA AUSTRAL
​It's 1240 kilometres long, spans ten national parks and features potholes the size of mini-craters.
Driving on Chile's Carretera Austral isn't just any old road trip. It requires nerves of steel, a pioneering spirit and liberal doses of patience.
But if you've ever wondered what it's like to tackle one of the world's most notorious, yet scenically beautiful roads, then Ruta 7 between Puerto Montt and Villa O'Higgins in southern Patagonia, may well be right up your street.
Intrigued?
Well, in this post we'll tell you everything you need to know about driving on this King of Roads. And what you'll see along the way.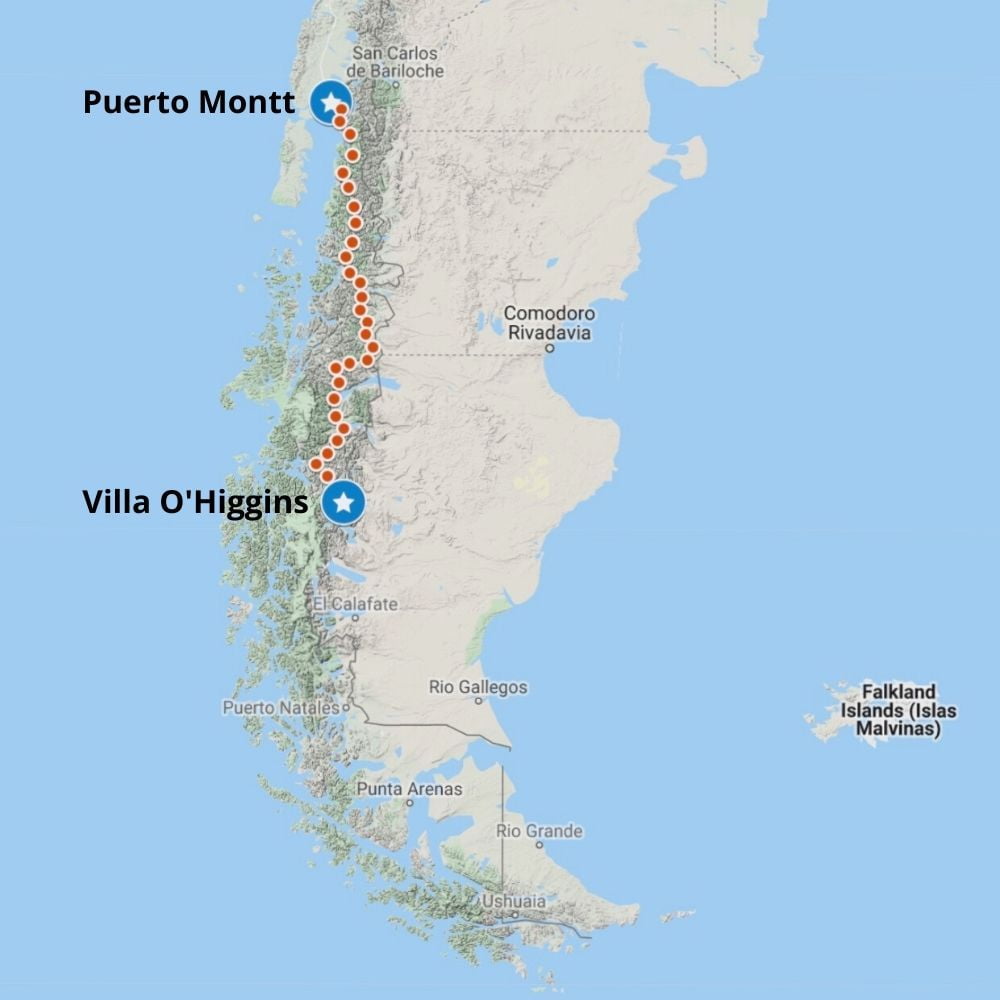 The route of The Carretera Austral
Contents
This page contains affiliate links. To help us maintain our site we work with a number of partners who we've personally used and can recommend to our readers. If you decide to purchase any products through the links on this page, we'll receive a small commission at no extra cost to you.
What is the Carretera Austral?
General Augusto Pinochet was many things to Chile. Mostly a brutal dictator and serial human rights abuser. He certainly isn't remembered as a road builder. But the 20-year project to connect the disparate parts of southern and northern Patagonia with a continuous gravel road was an accomplishment that at least deserves to be recognised.
Completed in 1996, and colloquially known as "Pinochet's Highway", the Carretera Austral has garnered almost legendary status amongst diehard road trip fans.
Not so long ago, the whole 1240 kilometres was one huge stretch of loose gravel. Which, once the notoriously fickle Patagonian weather had got hold of it, became stretches of corrugated washboard and huge potholes.
But, over the past decade or so, large sections of the road have gradually been paved. And a lot of construction is still going on. So much so that a four-wheel drive vehicle is no longer necessary to complete its length.
Indeed, such is the progress that the road is now being marketed as a major part of the new Ruta de los Parques, an epic 2735-kilometre route from Puerto Montt to Cape Horn, connecting a staggering 17 National Parks.
For the purpose of this post, we've split the road into four sections, running north to south. We'll feature the main points of interest along the way. And we'll provide you with lots of tips on how to tackle the journey and suggest some side-trips you might want to make along the way.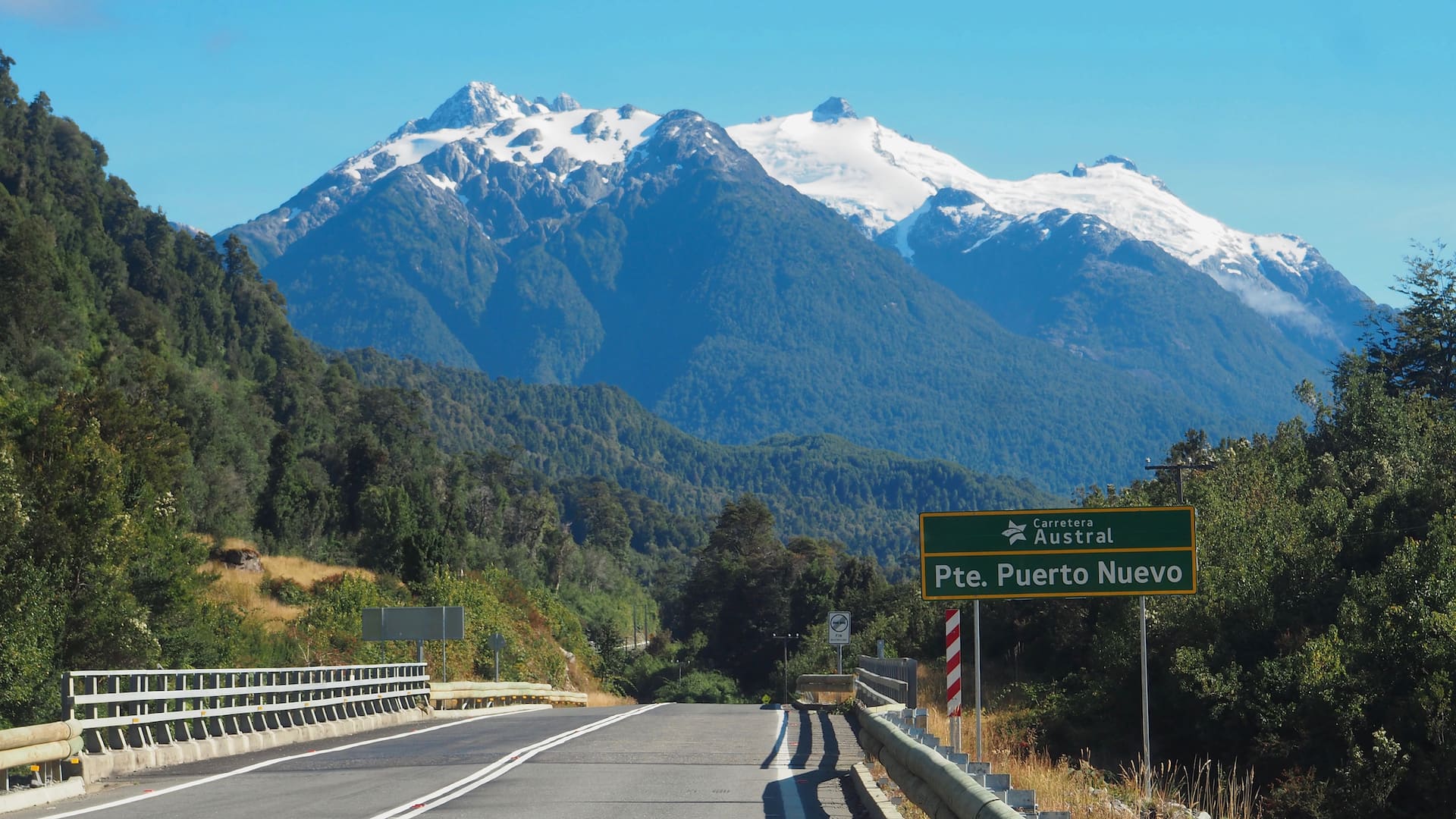 The Carretera Austral, Aysén, Patagonia
The Carretera Austral, Aysén, Patagonia
Camping Cascadas Escondidas, Parque Pumalin
Camping Cascadas Escondidas, Parque Pumalin
Sendero Volcan Chaiten, Parque Pumalin
Sendero Volcan Chaiten, Parque Pumalin
Camping Grande, Parque Pumalin
Camping Grande, Parque Pumalin
Ensanada
If you want to stick rigidly to the Carretera Austral then all you have to do is follow "Ruta 7" on your map. Not forgetting the occasional ferry crossing.
However, if any part of the journey could be described as "uninteresting", the first stretch heading south from ugly Puerto Montt would undoubtedly be it. And, by taking this route, when you reach La Arena, you'll need to catch a ferry to Puelche before heading on down to Hornopirén. Which is fine if you're a completist, or in a hurry and want to get into the real meat of the Carretera Austral within a day.
However, we'd instead recommend heading slightly north out of Puerto Montt (if that's where you're picking up your rental vehicle) to Ensanada and then taking the V-69 road south from there. If you're driving south from the Lakes District or Bariloche in Argentina, you'd be best avoiding Puerto Montt altogether and simply take this alternative route.
Not only will you be treated to awesome views of the perfectly conical Volcán Osorno, but you'll then follow a route that hugs the shore of the Reloncavi Fiord.
And make sure you stop in Cochamo at the head of the fiord to enjoy a pre-Carretera Austral morning workout at what is quite possibly the world's most scenic outdoor gym.
Or, of course, just watch somebody else flex their muscles instead.
View of Volcán Osorno from Puerto Varas
View of Reloncavi Fiord from Cochamo
The V-69 eventually meets Ruta 7 at Puelche and then runs down to Hornopirén where you have no choice but to take a ferry.
For many, this four-hour crossing through the fiord to Leptepu is one of the highlights of the trip. But it doesn't end there. From Leptepu there's a fifteen-minute drive across the peninsula to Fiordo Largo, where a further 45-minute ferry crossing will take you to Caleta Gonzalo and the beginning of the Carretera Austral proper.
For more details on all the ferry crossings see the box below.
Parque Nacional Pumalín & Chaitén
The gravel road leads from Caleta Gonzalo to the port of Chaitén, where daily ferries connect this part of northern Patagonia to southern Patagonia, Chiloé and Puerto Montt to the north.
It's flanked on either side by the glorious rainforest-filled Parque Nacional Pumalín, brainchild of the American philanthropist and founder of The North Face, Douglas Tompkins.
You won't find a better maintained national park anywhere else in South America. Which means that superb camp sites and lodgings blend in seamlessly with the environment and hiking trails are well constructed and marked.
We'd suggest you spend at least two nights in the park, camping in both the northern section (before you reach Chaitén) and the southern section (beyond Chaitén).
Two hiking trails, in particular, are well worth sticking around for.
The Cascadas Escondidas trail is situated just 14 kilometres south of Caleta Gonzales and is accessible directly from its namesake campsite.
It's a two-hour loop track through thick, mossy rainforest filled with ancient trees and home to three waterfalls. If it's wet (which it often is), the trail can be quite hazardous. And it can get quite steep at times. But if the idea of losing yourself in an enchanted forest tickles your fancy then this is for you.
Cascadas de los Escondidas – woodland trail
Cascadas de los Escondidas – upper waterfall
Further along the gravel road (34 kilometres south of Caleta Gonzalo), the Volcán Chaitén trail is quite possible the park's most popular.
Created following the 2008 eruption of the volcano, which caused the park to be closed for two years afterwards, the trail leads through a surreal landscape of thick vegetation, bare tree trunks and lava field up to the base of the summit's still-smoking crater.
It can be tough at times but the views of the park along the way are truly epic. Allow four to five hours to get up and down and spend some time at the summit.
For more details on all the trails and camping options in the park, read this and the official website.
Base of the Volcán Chaitén Trail
View of Parque Nacional Pumalín from the trail
Beside the crater, Volcán Chaitén
Puerto Raul Marin Balmaceda
Puerto Raul Marin Balmaceda
Ventisquero Colgante (Hanging Glacier), Parque Nacional Queulat
Ventisquero Colgante (Hanging Glacier), Parque Nacional Queulat
From Chaitén the road passes through the southern section of Parque Nacional Pumalín and onwards past Lago Yelcho towards La Junta. Much of it has been recently paved and so you may wonder what all the fuss is about. Don't worry, it'll get much worse further south!
The next major destinations on the Carretera Austral itself are Puyuhuapi and Parque Nacional Queulat, 190 kilometres south of Chaitén. But, if you have the time, there are at least a couple of worthwhile detours to consider along the way.
Firstly, the kayaking and white water rafting mecca of Futuleufu is accessible via a left turn at Villa St Lucia. The route is also popular with travellers heading north on the Carretera Austral who then want to cross into Argentina.
Side trip to Puerto Raul Marin Balmaceda
However, for a complete change of pace and scenery, we'd recommend continuing to La Junta and taking a right turn for a two-hour side trip on gravel to the remote Puerto Raul Marin Balmaceda.
Spectacular coastal scenery, virgin rainforest and abundant wildlife only begin to tell the story. The place feels far removed from the rest of the world. And indeed it was as the road connection to the Carretera Austral was only completed in 2009.
Allow at least one night, preferably two, and park your camper van beside Dolphin Beach where you'll be treated to morning and late-afternoon displays from the resident dolphins.
The beach at Puerto Raul Marin Balmaceda
Puyuhuapi & Parque Nacional Queulat
From La Junta it's a further 45 kilometres south to the German-influenced town of Puyuhuapi.
At the time of writing, a substantial part of this section of road was under construction so, for the time being, expect some delays.
Apart from its lovely setting at the head of another fiord, the town also serves as a stopping off point for nearby Parque Nacional Queulat and its centrepiece, the Ventisquero Colgante (aka "The Queulat Hanging Glacier").
While there are other trails available in the park, it's the hanging glacier that everyone comes to see. From the park entrance, a trail (two-to-three hours return) leads to a viewpoint from where the spectacle of two waterfalls leaking over the cliff-edge from the glacier above can be best appreciated.
Read here for more information on the park.
From Puyuhuapi, it's a further 230 kilometres to the Carretera Austral's premier town, Coyhaique.
Again, at the time of writing, there were some major roadworks (10 kilometres in length) just north of Coyhaique which you might want to consider skirting by taking a detour on to the X-150 towards Puerto Aysén and then reconnecting with Ruta 7 nearer Coyhaique (via Ruta 240).
The town itself is useful for re-stocking with supplies and to take advantage of the restaurants and bars before you head off towards the more remote parts of Patagonia once more.
Otherwise, just fill up with fuel and move on straight through.
Coyhaique to Puerto Guadal
Mirador Glacier Exploradores
Mirador Glacier Exploradores
Once you've passed Coyhaique, the scenery begins to change as the vast open spaces of southern Patagonia take centre stage.
For instance, Villa Cerro Castillo sits 90 kilometres (all paved road) south of Coyhaique, and the first thing that strikes you as you descend into the valley on a series of hairpin bends is the sheer scale of the landscape.
The town is named after its namesake's jagged mountain peak, which resembles the turrets of a naturally carved castle high up in the clouds. Indeed, the main reason for stopping here is to hike the challenging Sendero Mirador Laguna Cerro Castillo (14 km / seven-hour round trip).
Cerro Castillo from the north of town
View of Cerro Castillo from the north
Once you pass through town you'll quickly come across further major roadworks. But, there's no need to rush as some of the views back across the valley are well worth stopping for anyway.
And when the gravel arrives, you'll realise that you're now at the very heart of the Carretera Austral.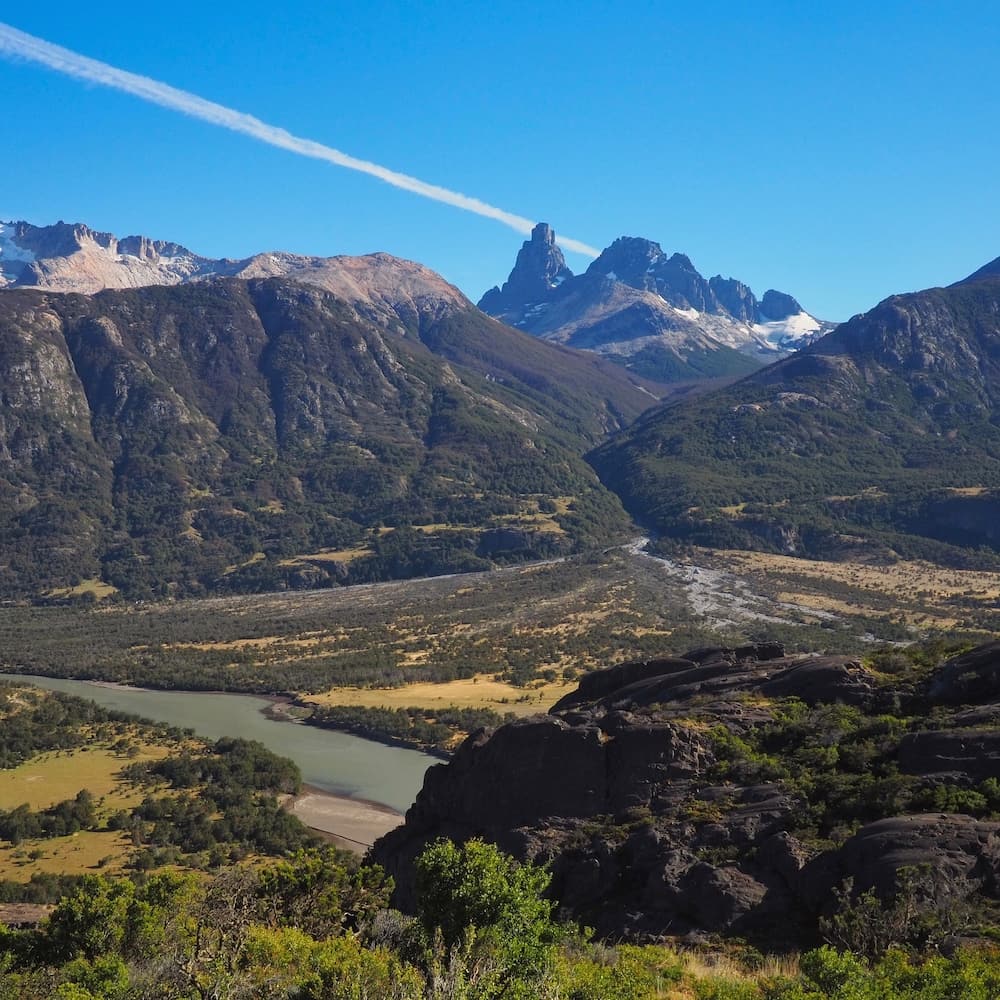 View of Cerro Castillo from the south of town
Mineral-rich lake on the outskirts of Villa Cerro Castillo
Puerto Rio Tranquilo & the Marble Caves
Your next destination is 120 kilometres south of Villa Cerro Castillo at Puerto Rio Tranquilo.
Its situation beside Lago General Carrera alone makes it worthy of spending some time there. But nobody leaves here without taking a short boat trip to see the Marble Caves. And, in particular, "The Cathedral", a cavernous lump of marble displaying the most incredible range of colours reflected by the glacial waters of the lake.
To see the caves at their best you do need to time your arrival carefully. A clear sky helps to accentuate the colours, as does the low light in the early morning. So it pays to be flexible with how long to spend in the town.
In addition there are trips available across the lake to Puerto Sanchez where further, and less-crowded marble caves await.
Side trip to the Exploradores & San Rafael Glaciers
Heading inland from Puerto Rio Tranquilo on the X-728, a gravel road runs all the way to the tiny village of Bahia Exploradores on the coast.
Along the way, a trail leads to a viewpoint overlooking the Glacier Exploradores. And you can even walk on the glacier as part of an organised tour.
From Bahia Exploradores, boat tours run along the fiord for close-up views of the stunning San Rafael Glacier. Although, if you want to see it you'll need to do it soon as it's retreating at an alarming rate. Prices start at around $150 USD.
The road south of Puerto Rio Tranquilo can be tough so it should be treated with respect. But the views out of Lago General Carrera are simply breathtaking.
After 50 kilometres, the Carretera Austral arrives at the Cruce El Maitén, which is a junction for Ruta 265 that leads all the way to the Argentinian border at Chile Chico.
In truth, the vast majority of people who've made it this far leave the Carretera Austral and cross over to Argentina to continue their journey south, where the wonders of Los Glaciares and Torres del Paine National Parks await.
But, IF the weather is decent, we reckon that the 115 km (2h 30m) side trip as far as Chile Chico is a worthwhile detour. That's because the road hugs the southern side of Lago General Carrera and provides views across the lake that just shouldn't be missed. However, if the weather is poor, you might want to skip it as you'll need to factor in that you have to come back the same way.
Whether you decide to take the trip to Chile Chico or not, it's definitely worthwhile spending at least a night in Puerto Guadal, just 9 km from the Carretera Austral, along Ruta 265.
Its waterfront setting is perhaps the best on the whole lake. And at Camping Condor Viajeiro, you can park your car or camper van in a small orchard while enjoying the benefits of a heated kitchen/dining space and brand new bathrooms with hot showers. Believe us, in southern Patagonia, that's very welcome!
View across Lago General Carrera at Puerto Guadal
View from Puerto Guadal across Lago General Carrera
Puerto Guadal to Villa O'Higgins
Confluencia Rio Baker / Rio Neff
Confluencia Rio Baker / Rio Neff
Puerto Yungay (ferry crossing)
Puerto Yungay (ferry crossing)
After heading back to Ruta 7, the Carretera Austral continues south, where at Puerto Bertrand it follows the thundering Río Baker all the way down to the town of Cochrane 45 km away.
The water of Río Baker has probably the most striking colour of any river we've ever seen. A vibrant turquoise interspersed with white where the river crashes over the rocks.
Indeed, rafting tours and fishing trips are just some of the water-based activities available from Puerto Bertrand.
Confluencia Río Baker / Neff
However, one of the most spectacular sights of the area is where the Río Baker and the Río Neff meet (20 km south of Puerto Bertrand). The contrasting colours of the two rivers clash with each other until they join together and crash through the rapids.
From the road, there's a short trail that leads to a viewpoint right next to the confluence. And, just further along the road, a pull-off leads to an elevated view.
If that doesn't satiate your appetite, there's another confluence point where the Río Baker meets the Río Chacabuco some 18 km further on.
Confluence of Rio Baker and Rio Chacabuco
Side trip to Valle Chacabuco
Indeed it's at this point that you have another option for a side trip along the X-83 into the Chacabuco Valley. Part of the newly created Parque Patagonia, this is a remote area that stretches over into Argentina and which has once again benefitted from the philanthropy of Douglas Tompkins.
Your options would either be to spend a few days there and explore the range of day hikes available, or just take a drive for as far as you want before returning to the Carretera Austral.
The road also happens to be an alternative route to cross the border to Argentina.
The largest of the towns in the southern section of the Carretera Austral, Cochrane (like Coyhaique) represents an opportunity to refuel and stock up on essentials. However, for a stopover, it's much more appealing than Coyhaique.
There's easy access to nearby Reserva Nacional Tamango and Lago Cochrane. And you can even book a snorkelling tour in the crystal clear waters of Río Cochrane, said to be one of the most transparent in the world.
The road beyond Cochrane is very much "off-the-beaten-track". Consisting entirely of gravel, it doesn't see anywhere near the amount of traffic that gets as far south as Cruce El Maitén. Not least because, from here, there's only one way down to the end of the road at Villa O'Higgins, 235 km away. Which means, of course, just one way back.
But it's arguably also home to some of the most spectacular scenery of the whole route.
Side trip to Caleta Tortel
Again, if time permits, there's a further side trip worth exploring to the coastal hamlet of Caleta Tortel. Accessed from a gravel road (X-904) about 100 km south of Cochrane, it's a quirky, road-free gem of a town that feels completely removed from anywhere else along the route.
Built entirely from cypress wood harvested from the local forests, the town is a patchwork of hillside stilt-houses, boardwalks and staircases overlooking a series of bays. On a sunny day it's a captivating sight. Especially if you also take in a boat tour to the Jorge Montt and Steffen Glaciers, or to Isla de los Muertos ("Island of the Dead").
Back on Ruta 7, the road continues for a further 20 km until it reaches Puerto Yungay, where a number of free ferries cross the Mitchell Fiord daily to Río Bravo.
After which it's a 100 km final stretch of challenging gravel before finally arriving at Villa O'Higgins.
If you've made it this far you'll become part of a reasonably select band of travellers who can claim to have covered all 1240 miles of the Carretera Austral.
Of course, it would be great if you could just drop off your car or camper van rental in Villa O'Higgins and then move on to the rest of southern Patagonia. Indeed, it's possible to combine a boat journey with a multi-day hike from Villa O'Higgins across to El Chalten in Argentina. But, alas, if you want to continue further south by road, you'll need to double back to Cochrane and then cross into Argentina via Paso Roballos or Chile Chico.
Where are the fuel stations?
Although there are enough fuel stops along the way, the general best advice is to top up your tank at every opportunity. Especially if you want the flexibility to branch off on side trips to the middle of nowhere.
And, as shortages are not uncommon in certain areas, you don't want to be relying on an upcoming fuel station only to find out there's none in stock when you get there.
As of the time of writing, you'll find them in the following locations (running north to south):
Hornopirén
Chaitén
La Junta
Puyuhuapi
Mañihuales
Coyhaique
Puerto Río Tranquilo
Cochrane
Villa O'Higgins
In addition, if you head off on any of the side trips we've featured, or just can't make it to the next location on the Carretera Austral, you'll also find fuels stations at:
Futuleufu
Puerto Cisnes
Puerto Aysén
Puerto Chacabuco
Puerto Guadal
Chile Chico
Of course, if you've recently completed the route and have identified any more, then please do let us know and we'll update the list.
How do I find campsites?
We explored the Carretera Austral in a camper van and combined "wild camping" with the occasional night in a recognised campsite.
And we were so pleased that we discovered the free iOverlander app to identify all of the camping opportunities along the way.
It's easy to use and even tracks your route so that you can make last-minute decisions on where to stop.
However, don't expect to be able to just stop on the side of the Carretera Austral to "wild camp" anywhere. Indeed, it's still something of a legal grey area. And anyway, although it would generally be safe to do so, you'll probably want to camp for the night hidden away from the road. Which is where iOverlander comes in.
Just a cautionary note. We were dismayed at times by the amount of rubbish left behind at certain spots by previous overnighters. Including human waste and used toilet paper. Totally unacceptable and a sorry blight on what is otherwise a brilliant concept. 
Where are the roadwork hotspots?
There's been a lot of progress over recent years in upgrading the Carretera Austral from a gravel road into an asphalted one.
But ongoing multiple roadworks means that certain sections can be closed for periods during the day. Sometimes without much prior notice.
Your best bet is to be aware of what roadworks are ahead of you and timing your route to work around them.
As at the time of writing the major roadworks to be aware of are:
north of La Junta
just south of Puyuhuapi
just north of Coyhaique 
30km and 50km east of Villa Cerro Castillo (direction Puerto Río Tranquilo)
But you can get the most up to date information:
at the tourist information offices in Puerto Montt and Coyhaique
on iOverlander
at this website
What maps should I use?
In addition to the ubiquitous Google Maps, there are a number of other options we'd recommend:
iOverlander – as we've already mentioned, it identifies not only camping spots but grocery stores, fuel stops, viewpoints and tracks your progress in relation to them. You'll need to download the map of Patagonia before you set off so you can read it offline.
maps.me – great as an offline resource (as long as you download the relevant map beforehand). Particularly useful as a route guide on hiking trails
COPEC Rutas de Chile – for those of us who are "old-school" and still enjoy unfolding a huge map on to the car bonnet, these beauties are well worth investing in. You can pick them up at any COPEC fuel station in Chile and cost approximately 4000 CLP each. To cover all of the Carretera Austral you'll need Map Number 6 (Villarica, Llanquihue & Chiloé) and Number 7 (Carretera Austral).
What are the ferry crossing schedules?
FROM NORTH TO SOUTH
Caleta La Arena to Puelche – 07:30, 10:15, 13:15, 16:15, 19:15
30m crossing / reservations not required / Operator: Naviera Paredes
Hornopirén to Leptepu – 10:30
3h 45m crossing / reservations essential (at least 1 day in advance) / 33,900 CLP / Operator: Somarco
Fiordo Largo to Caleta Gonzalo – 15:00
45m crossing / included with Hornopirén to Leptepu ticket
Hornopirén to Caleta Gonzalo (direct) – 09:00
4h / reservations essential / 55000 CLP / Operator: Transportes Austral
Puerto Yungay to Río Bravo – *10:00, 12:00, 15:00, *18:00 (*1 Dec to 31 Mar only)
45m / reservations not required / free / Operator: Barcaza Padre Antonio Ronchi
FROM SOUTH TO NORTH
Río Bravo to Puerto Yungay – *11:00, 13:00, 16:00, *19:00 (*1 Dec to 31 Mar)
Caleta Gonzalo to Hornopirén (direct) – 15:00
Caleta Gonzalo to Fiodo Largo – 13:00
Leptepu to Hornopirén – 14:30
Puelche to Caleta La Arena – 06:45, 09:30, 12:30, 14:00, 17:00, 18:30
Which car or camper van rental should I choose?
You choice of rental company may be heavily influenced by where you plan to start and finish as operators don't always have the same pickup and drop-off points. One-way fees can be nothing short of exhorbitant and so it pays to do your research well in advance.
If you plan to drive the whole length of the Carretera Austral it's unlikely that you'll want to do the return trip as well. So, your journey will probably be part of an extended route from Puerto Montt or Puerto Varas (or even Santiago) in the north, to Punta Arenas in the far south (in which case you'll need to cross into Argentina and then back into Chile).
For budget travellers like ourselves, there are three main choices: 
Wicked South America – you'll see these garishly designed vans everywhere. Perhaps the most well known of all the camper van operators but we've heard reports of a bare-bones service and unreliability. Although we have no first-hand experience ourselves. Lots of pickup and drop-off points.
Soul Vans – a family-run Chilean-owned operator with a small fleet of Mitsubishi vans. You won't find a cheaper option.
Condor Campers – Owned by a UK couple based in Santiago. We booked our camper van through them and were more than satisfied.
As an example, Condor's pickup and drop-off points for the Carretera Austral are Puerto Montt and Punta Arenas. So unless you drive all the way back to Puerto Montt, you'll need to extend your trip to Punta Arenas in the far south.
There are a few operators who offer pickups in Coyhaique, which might be an option if you want to complete just part of route.
When is the best time to go?
We wouldn't suggest driving on this road outside of the main season between mid-November and the end of March.
January and February are the busiest months and represent your best chance of good weather. But the climate down here is an unpredicatble one. And you stand a decent chance of better weather and less people in the shoulder months of December and March.
General tips
Don't drive at night, especially in the southern section where you may also encounter animals
If your vehicle is in need of repairs and you plan to cross into Argentina, try and hold out until you get there – it's so much cheaper than Chile
Plan for a potential breakdown in the middle of nowhere – food, water, sleeping bag, spare tyre, jack, local SIM card
Don't underestimate travelling times – poor road surfaces, unpredictable weather, road closures etc
Learn some basic Spanish phrases at the very least – hardly any English is spoken in much of Patagonia so it also pays to have a phrase book or translation app (such as Google Translate) to hand, too
Take plenty of cash – ATMs are only available in a few towns (Chaitén, Coyhaique, Cochrane) and they're not always reliable (we experienced problems having our Mastercard accepted in a number of ATMS in Chile)
Links & further reading
Book: It may have been published in 2015 but Chile – The Carretera Austral by Hugh Sinclair and Warren Houlbrooke is still an indespensible guide for anyone interested in the history and sights of Ruta 7
Blog post: Patagonia's Most Magnificent Road Trip by Steph Dyson at WorldlyAdventurer – a comprehensive and consistently updated guide.
Website: Discover Patagonia – lots of practical information on the area covered by the Carretera Austral
Website: Rutas de los Parques – great if you want to extend your Carretera Austral journey with the newly developed Ruta de los Parques, incorporating 17 national parks – which you can also view on this map.
For details on many more side trips from the main route, this site (in English) has some good suggestions (especially if you have a four-wheel drive vehicle)
The Carretera Austral at Villa Cerro Castillo
The Carretera Austral at Villa Cerro Castillo
Of course, you don't have to follow the route as we've described from north to south. You can just as easily do it the other way round. Especially if you start in the south later in the season (March) and head north as the southern hemisphere Autumn approaches.
However, it's fair to say that driving the Carretera Austral might not be everyone's cup of tea. Especially if you prefer your bucket list travel items to include guaranteed good weather, ease of access and a degree of luxury.
You'll need a liberal dose of patience and an expectation that things won't exactly go to plan.
But if you've ever hankered about having a travel experience which is centred on the journey rather than the destination, then we reckon the Carretera Austral would be very hard to beat.
What did you think? Have you driven the Carretera Austral? Do you have any recommendations to add? Or perhaps you're thinking of visiting there in the near future? Either way, we'd love to hear from you so please add your comments below.
To help us maintain our site we work with a number of partners who we've personally used and can recommend to our readers. If you decide to purchase any products through the following links, we'll receive a small commission at no extra cost to you. Thank you for your support!
Hi, we're Ian and Nicky, an English couple on a voyage of discovery around the world, and this blog is designed to reflect what we see, think and do. Actually, we'd like to think it also provides information, entertainment and inspiration for other "mature" travellers, too. So please feel free to pour yourself a glass of something suitably chilled and take a look around.