COLOURFUL CARTAGENA – A TRAVEL GUIDE IN PHOTOS
COLOURFUL CARTAGENA – A TRAVEL GUIDE IN PHOTOS
Cartagena's position on Colombia's Caribbean coast has long attracted visitors ever since the Spanish established it as the main northern gateway to South America back in the 16th Century.
Nowadays, of course, visitors have less ambitious motives for spending a few days there. With its UNESCO World Heritage status, sublimely colourful buildings, world-class food and endless nightlife, the city's Old Town is both seductive and exciting. And, along with the tourist-friendly neighbourhoods of Bocagrande (Colombia's version of Miami Beach), Getsemani and Manga, it's where you'll want to base yourself.
Not least because the rest of the city is actually a lot less welcoming.
The good news is you can discard the need for much pre-planning. Part of the pleasure is to just stroll through the historic streets and discover the city all for yourself.
Just remember to apply a healthy layer of suncream, fix a steely resolve to repel the ever-present hawkers and keep your fingers crossed a cruise ship hasn't docked.
However, if you still need convincing, here's our photographic Cartagena travel guide to help you get started.
This page contains affiliate links. To help us maintain our site we work with a number of partners who we've personally used and can recommend to our readers. If you decide to purchase any products through the links on this page, we'll receive a small commission at no extra cost to you.
Originally the main gateway to the walled town, the Clock Tower Monument (as it's also known) was connected to the poorer neighbourhood of Getsemani by a drawbridge.
It remains the best place to establish your bearings while on your walking tour. And, as it also houses a Swiss clock, you should be able to rely on it to give you an accurate time!
Just the other side of the main gate is the Plaza de los Coches, which is dominated by the imposing colonial arches of El Portal de los Dulces.
Nowadays it's a place to buy a piece of Colombian confection. A far cry from a much darker past when it was used as part of the slave trade.
Perhaps Colombia's most celebrated son, Nobel Prize-winning author Gabriel Garcia Marquez had a long-standing association with Cartagena. Not least from when he lived there while working as a journalist for the newspaper, El Journal.
Indeed, many of the characters in his revered books are based on real-life people he talked to and observed from within the city walls.
And since his passing in 2014, after which his ashes were buried beneath his bust in the university building, El Clausto de la Merced, street artists have begun to celebrate his extraordinary life.
Such as this one in Getsemani…
Ábaco Libros y Café (

Abacus Books & Coffee)
And if you wondered what all the fuss was about and wanted to delve into one of Marquez's books, then you could do worse than step into the gorgeous, air-conditioned space of this little coffee shop in the middle of the Old Town.
Believe me, once you've had an hour or so walking around in Cartagena's stifling heat (or through a torrential downpour for that matter), you'll be thankful for the respite.
Basilica Santa Catalina de Alejandria
Dominating the skyline in the Old Town, Cartagena's impressive 16th Century Cathedral is sandwiched between narrow streets near to Bolivar Plaza.
During its construction, it even survived a bombardment from the English explorer/pirate/slave trader, Sir Francis Drake.
Colourful buildings of the Old Town
A stroll through the Old Town's historic streets is like walking through a technicolour warren of outrageously painted buildings and homes.
And, just as in rural pueblos such as Jardin and Guatape, residents and business owners can be seen touching up the occasional facade blemish to ensure they don't fall beneath the high standards set by their neighbours.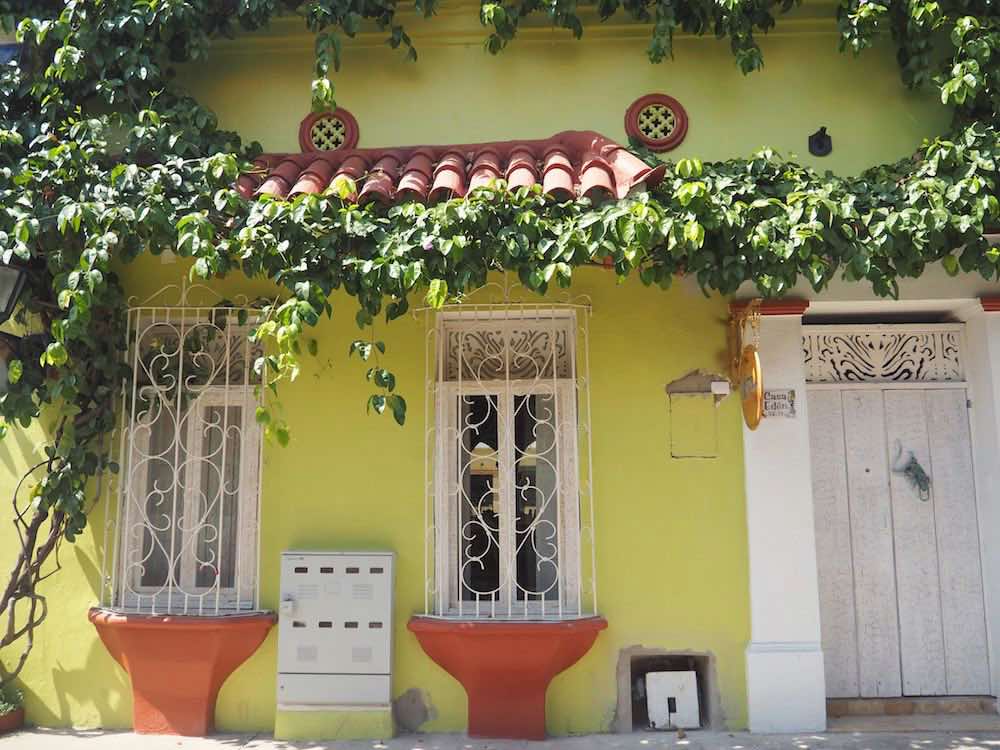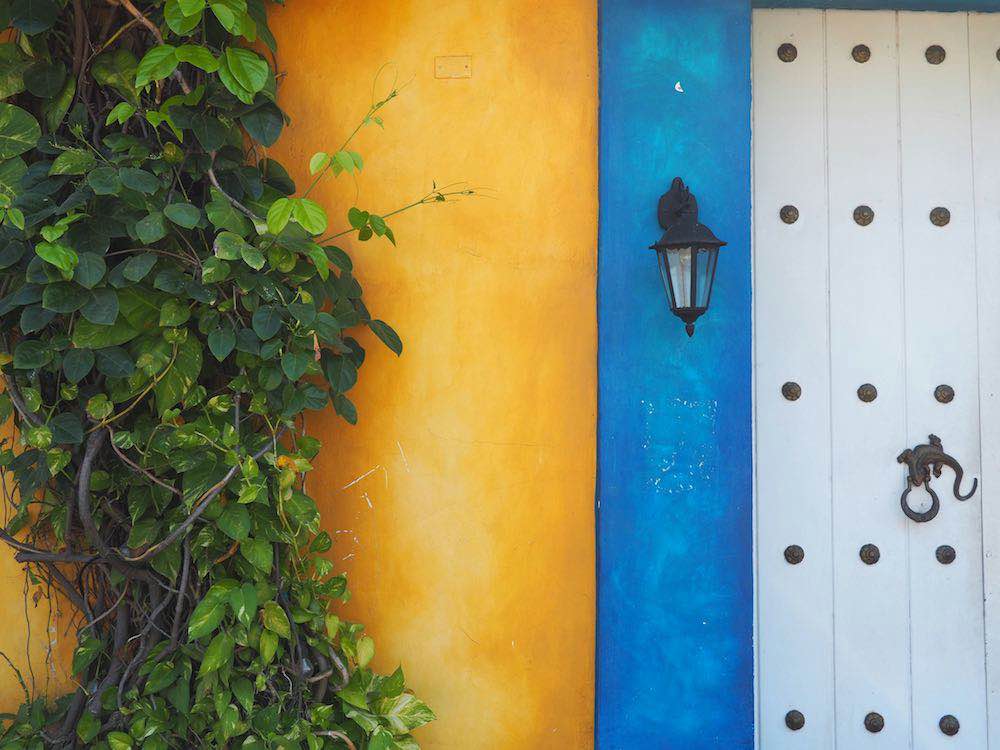 Eduardo Carmona sculptures
There are plenty of sculptures dotted around to keep any art-fan occupied. But perhaps the most intriguing are those by Eduardo Carmona that are made from wrought iron and depict traditional local trades and people going about their daily lives.
They can mainly be found in and around Plaza San Pedro Claver. Such as this one depicting two people playing chess…
Outside of the Old Town, the gritty-yet-colourful neighbourhood of Getsemani is worth spending an afternoon stroll in, too. Not least for its collection of superb street art which can rival those to be found in Bogota and Comuna 13 in Medellin.
Historically, the neighbourhood was home to Cartagena's servants and lower classes – separated from their wealthy neighbours in the Old Town by the Clock Tower and that drawbridge. But, like elsewhere in Colombia, it's enjoying its place in the limelight through its new-found artistic fame.
Our favourite of Cartagena's plazas, San Pedro Claver is not only home to Eduardo Carmona's sculptures but it's also dominated by the church and convent of the same name.
And there's the Museum of Modern Art, too.
Adding to the increasing allure of Getsemani is this salsa club which opened its doors in 2006 and is now generally considered as something of a city institution. Not bad for a once derelict warehouse situated in what was, until very recently, a no-go area.
But with a live salsa band that plays until three in the morning, accompanied by formidable mojitos, it gets packed most nights.
Yet another gorgeous building, this pink masterpiece was constructed by the same architect who created the Clock Tower.
Home to such cultural events as film premieres, literary readings and concerts of classical music, it's fabulous exterior is matched only by its equally ornate interior.
Including a marble staircase shipped from Italy!
And, of course, enveloping the historic centre are Las Murallas –  the city walls.
Built over a period of two hundred years following Drake's destruction of the city in 1568, the section that runs parallel with the sea is now used by locals and tourists alike for a late-afternoon stroll and to watch the sunset.
Preferably with a bottle of one of BBCs (Bogotá Beer Company's) excellent brews in hand.
Which, after a day of energy-sapping wandering around this bakingly hot and quintessentially Colombian city, is just about perfect.
What did you think? Have you been to Cartagena?  Or perhaps you're thinking of visiting there in the near future? Either way, we'd love to hear from you so please add your comments below.
To help us maintain our site we work with a number of partners who we've personally used and can recommend to our readers. If you decide to purchase any products through the following links, we'll receive a small commission at no extra cost to you. Thank you for your support!
Hi, we're Ian and Nicky, an English couple on a voyage of discovery around the world, and this blog is designed to reflect what we see, think and do. Actually, we'd like to think it also provides information, entertainment and inspiration for other "mature" travellers, too. So please feel free to pour yourself a glass of something suitably chilled and take a look around.