6 REASONS TO VISIT THE EXTRAORDINARY CHILOE ISLAND
6 REASONS TO VISIT THE EXTRAORDINARY CHILOE ISLAND
It's the largest island in Chile and the fifth-largest in South America.
It's home to an indigenous population whose beliefs embrace witchcraft and mythological creatures. And who consider themselves Chilotes (as they are known) first and Chileans second.
Unsurprisingly, it's unlike anywhere else in the country. Or the continent for that matter.
So here's our guide to Chiloe Island and six reasons why it should be on anyone's itinerary during a visit to Chile.
This page contains affiliate links. To help us maintain our site we work with a number of partners who we've personally used and can recommend to our readers. If you decide to purchase any products through the links on this page, we'll receive a small commission at no extra cost to you.
Located some 1100 kilometres south of Santiago, Chiloé is an archipelago of lush, green islands. Of which by far the largest is Isla Grande de Chiloé, characterised by the large amounts of rain that batters the western coast and the consistently foggy mornings that only serve to enhance the island's mystical reputation.
Indeed, a large proportion of Chilotes are influenced by deep-rooted beliefs in all manner of pagan mythology. Such as cave-dwelling sorcerers (brujos) and grotesquely deformed human flesh eaters (invunche).
There's evidence of the islanders' traditional seafaring and carpentry culture everywhere you look. From the wooden boatyards to the salmon and shellfish farms, to the amazing Jesuit churches that often incorporate boat-building techniques.
Over the past couple of decades, tourism has slowly taken a foothold, too. As a result, it's no longer a hidden secret. But there are still plenty of places that are remote and wild enough to satiate the appetite of visitors looking for an off-the-beaten track experience.
And we found the local people to be significantly friendlier and welcoming to visitors than their Chilean counterparts on the mainland.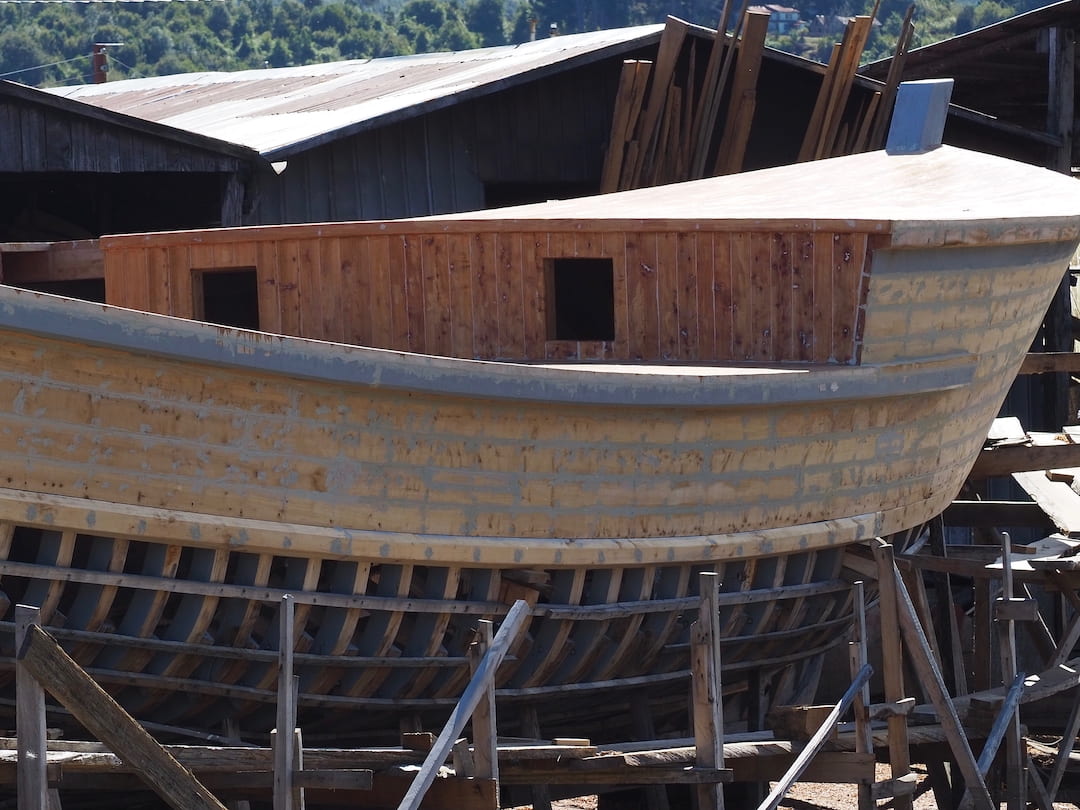 Boat-building on Chiloé Island
1) Discover the iconic wooden Jesuit churches
Perhaps the island's most renowned feature is its collection of colourful and beautifully designed Jesuit churches. Including 16 that have been granted UNESCO World Heritage status because of their historical and cultural significance.
Built from wood, they date from the Jesuit missions of the 17th and 18th Centuries and have been recognised in part because of their "successful infusion of indigenous and European cultures".
And quite a sight they are, too.
Visiting them all would take some time and effort, even though they're mostly located to the immediate north and east of the island capital, Castro.
But managing to see four or five of them would give you a great insight into these unique and iconic structures. And you don't have to be religious to appreciate their beauty.
Our favourites included those at Nercón, with its wooden shingle roof and fabulous interior, and the triple blue-towered masterpiece in Tenaún.
If you've rented a car, you'll find it easier to combine visiting the churches with an extended road trip around the remote eastern coastal villages of the main island and the smaller Isla Quinchao.
As a starting point, visit UNESCO's website for the full list or this Wikipedia page for a map and photographs of each one.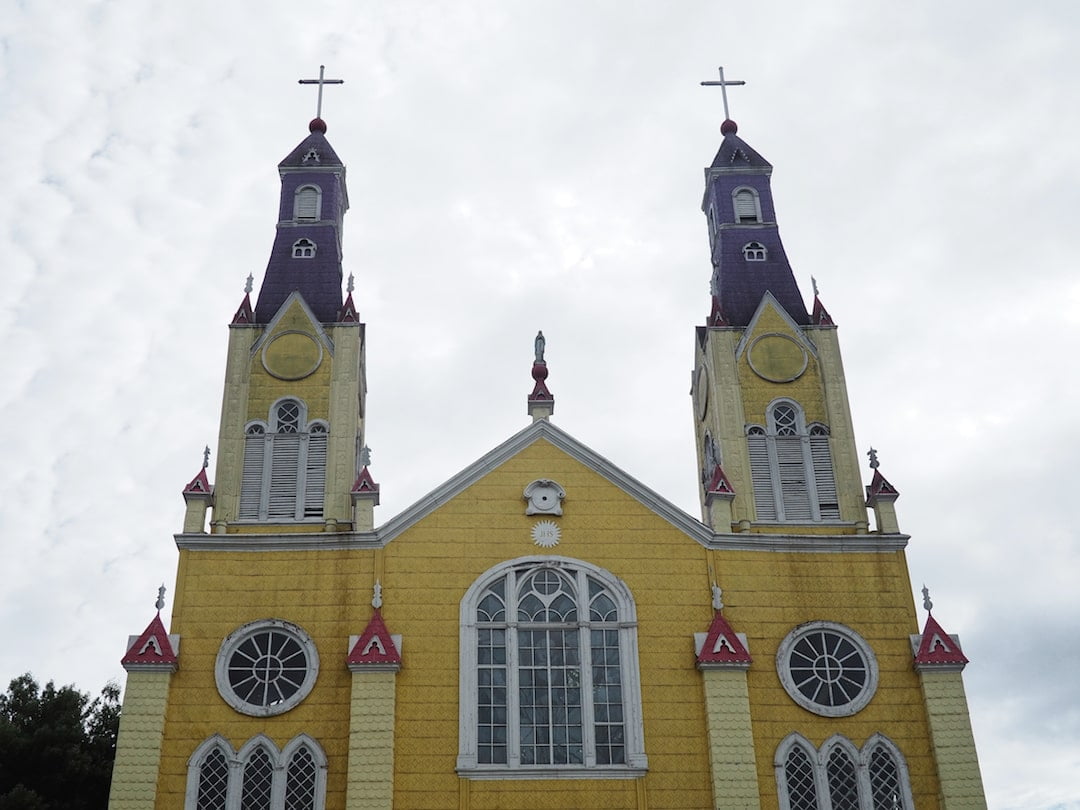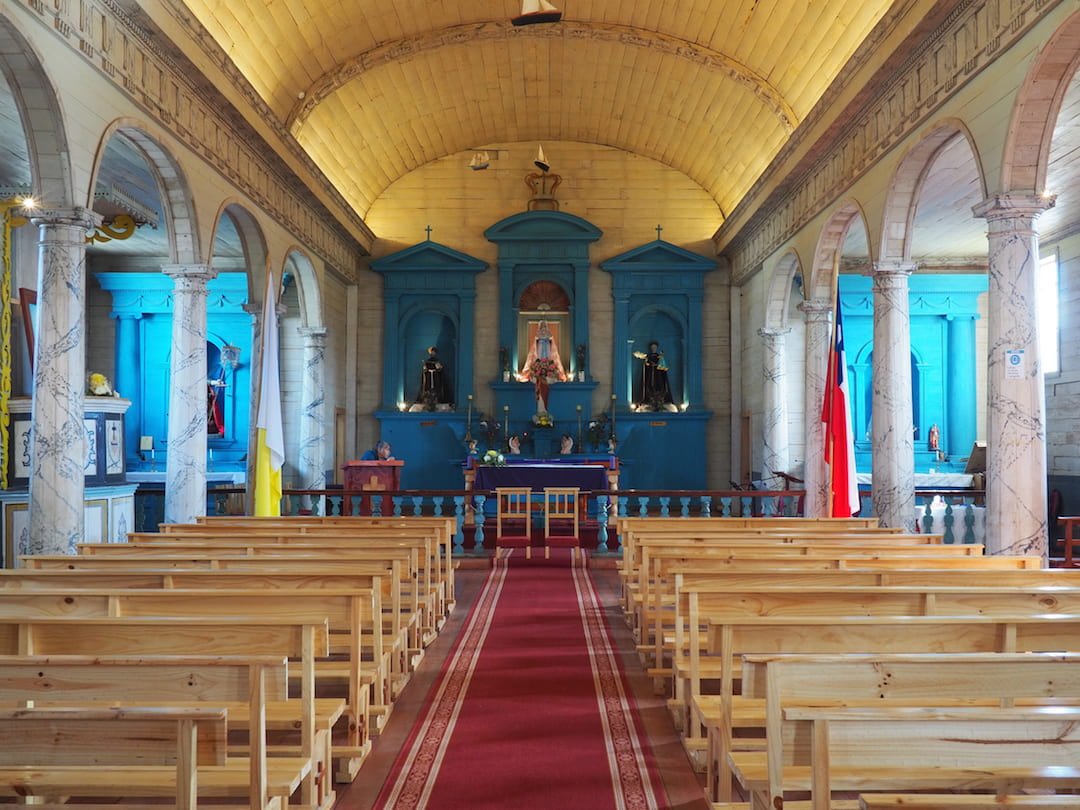 The Church of Nercón interior
2) Check out the unique Chilotan houses
It's not just the churches that are iconic, though.
Castro is home to a whole community of people who live above the beach in wooden houses (palafitos) built on precarious-looking stilts.
During high tide the stilts serve as mooring docks for fishing boats. Best observed from the viewpoint at Puente Gamboa Mirador.
The palafitos of Castro, as seen from the Puente Gamboa Mirador
Elsewhere, there are plenty of wooden shingle houses (tejuales) of such uniqueness that it's impossible to drive past without at least stopping for a few minutes to admire the sheer audacity of their design.
Meanwhile, "moving house" on Chiloe is often taken quite literally. Usually in response to rising tides or coastal erosion, a minga is a community event during which friends and neighbours will help a house owner to lift their home from its wooden foundations and transport it (sometimes across water) to a new location. Using tree trunks as makeshift rollers. And pulled by oxen.
If you're lucky to enough to hear about one during your visit, don't miss it!
Wooden shingle house in San Juan
3) Gorge on traditional Chilotan food
By now, it probably won't come to you as a surprise to learn that Chiloé has some pretty unique cooking styles, too.
Pride of place must surely go to curanto al hoyo, a meat, potato, shellfish and vegetable stew that's traditionally prepared over hot stones in a hole in the ground. It's then covered with leaves, grass and damp sacks and left to simmer for a number of hours.
It's normally served with potato-based pancakes (milcao) or potato dumplings (chapaleles). And typical shellfish include giant barnacles (picorocos). Indeed it's the perfect hearty dish to counter the often miserable weather outside.
In fact, take a visit to a coastal village such as Dalcahue and you'll see the raw ingredients for sale everywhere. Including the ubiquitous sacks of multi-coloured potatoes.
If you do visit Dalcahue, make sure you try the food at La Cocineria Dalcahue, next to the Sunday craft fair. It's a boat-themed canteen that houses eight separate kitchen stalls offering the full range of Chilotan foodie delights. Unpretentious. Inexpensive. And truly authentic.
We ate at the Doña Lula stall and enjoyed a couple of cazuela dishes of lamb and seafood, served with potato bread and a lip-smarting chilli relish.
4) Seek out the Magellanic and Humboldt penguins of Puñihuil
If you're visiting Chiloé between October and March, you should head towards the northwest of the island and sign up for one of the penguin tours at Puñihuil.
You'll be taken by boat to a group of three small offshore islands (Monumento Natural Islotes de Puñihuil) that are home to Magellanic and Humboldt penguins during their breeding season.
I'll be honest. We didn't actually see any as we visited at the very end of the season (last week in March) and it looked as if the penguins had all left for the winter. But, we have it on high authority that they are there if you visit at the right time! And who can resist watching a group of playful penguins at close quarters.
Although the boat journey was an interesting one to say the least as the waves careered between the islets and under us before crashing on to the nearby rocks.
To get there independently you're best off hiring a car and dropping by as you explore the whole of the northwest coastline. Alternatively, tours are available from Ancud.
Monumento Natural Islotes de Puñihui
5) Enjoy the wild landscape of Chepu
Our favourite part of the island is undoubtedly the Parque Nacional de Chiloé. And specifically the northernmost section of the park at Chepu.
It's on the west coast so it bears the brunt of the worst of the weather that barrels in from the Pacific. It's wild. It's uncrowded. And, apart from the odd eco lodge, it's devoid of any commercialisation.
For instance, by following the road that leads through the tiny village to its end point, you'll arrive at a huge expanse of sand dunes that are blocked off from the sea by an almost impenetrable expanse of bush. And beyond that, just offshore, huge waves crash on to a virgin beach of golden sand. It feels like a corner of the world that stands defiant in the face of mass tourism. And long may it continue.
But undoubtedly Chepu's biggest draw is the "sunken forest" of the Chepu River Valley. Created by the 1960 earthquake that sank the original forested land by two metres, it was subsequently filled by the ensuing tsunami waves from the sea, destroying the forest in the process.
One of the best places to appreciate it is at the tiny Fogon El Chilotito campground. (Seriously, if you're camping or travelling in a camper van don't think about staying anywhere else). From the the campsite's viewpoint you'll be treated to a glorious view of the sunken forest and its birdlife below.
View of the sunken forest from Fogon El Chilotito
But the real treat is when you wake up at first light and gaze down upon the mist-shrouded valley. And to witness the changing colours of light as the early morning sun's rays bounce back off the the mist and capture the treetops in silhouette.
It's enough to make you wonder if the tales of mythical creatures and such like are real after all.
Morning mist in the sunken forest
6) Kayak in Chepu's otherworldly sunken forest
And don't leave Chepu without taking a morning kayak trip along the Chepu River.
We hired a couple of kayaks from a small outfit just up the road from the campsite. After which we enjoyed one of the most otherworldly experiences of our whole South America trip.
Starting out on the river at 08:30, our first 30 minutes on the water involved gently kayaking through a surreal blanket of thick mist as it swirled all around us. And, as the current helped us to gently paddle upriver, the mist gradually lifted.
Eerie remnants of dead trees began to appear, killed over the years by the saltwater, yet still standing like a kind of woodland cemetery. The mirror-like stillness of the water created perfect reflections of the bare tree trunks along the river bank. And, all the time, the complete silence was broken only by the occasional flutter of wings on water as a bird would take flight.
And that's just about it. Just you, your kayak and a bunch of birds sharing a blissful environment untroubled by modern life.
Quite simply, a perfect way to end your visit to Chiloé.
Kayaking through mist on the Chepu River
How to get to Chiloé Island
Currently the only way to get to the island is by ferry.
From the north, there's a ferry service from Pargua (62km southwest of Puerto Montt) which connects with Chacao on the island. It's by the far the quickest and most popular route.
Further south there are options from Chaiten, Puerto Raul Marin Balmaceda and Puerto Chacabuco, connecting with Quellon and Castro.
A 2.75-kilometre suspension bridge is currently under construction between Chacao and the mainland, which will make it the longest in South America. After considerable delays and rising costs, it's now scheduled to open in 2023. Quite what the impact will be on the tourism infrastructure and the Chilotes' way of life is anyone's guess. Not surprisingly, the project doesn't lack for controversy.
Once on Chiloé, you can get around by local bus quite adequately but we'd recommend hiring a car or camper van to explore the more remoter areas.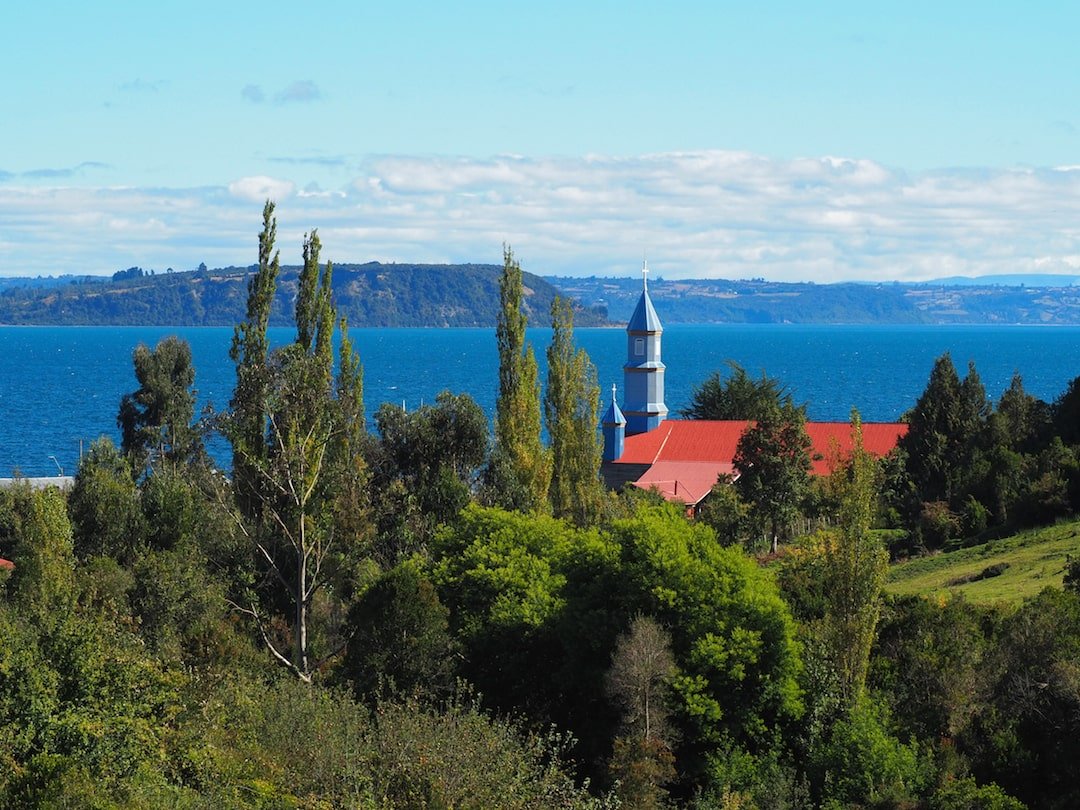 We'd initially not included Chiloé on our Chilean road trip itinerary. From our research, it sounded a little too "safe" and just mildly interesting when compared to some of the other attractions in northern Patagonia.
But other travellers we'd met had consistently told us about how it had been one of their favourite places in Chile. And, we're happy to admit, it turned out to be one of our favourites, too.
Especially as it felt so different to mainland Chile. And that we were treated with nothing but kindness and welcoming smiles from the Chilotes themselves.
Which may be the one thing we cherish about the place the most.
What did you think? What did you think? Have you been to Chiloé Island? Do you have any recommendations to add? Or perhaps you're thinking of visiting there in the near future? Either way, we'd love to hear from you so please add your comments below.
To help us maintain our site we work with a number of partners who we've personally used and can recommend to our readers. If you decide to purchase any products through the following links, we'll receive a small commission at no extra cost to you. Thank you for your support!
Hi, we're Ian and Nicky, an English couple on a voyage of discovery around the world, and this blog is designed to reflect what we see, think and do. Actually, we'd like to think it also provides information, entertainment and inspiration for other "mature" travellers, too. So please feel free to pour yourself a glass of something suitably chilled and take a look around.