6 OF THE BEST DAY HIKES IN CHILE
6 OF THE BEST DAY HIKES IN CHILE
Chile is a country that's rich in variety. Which is not surprising considering its 4,270 km (2,650 miles) length. Indeed, with a topography that ranges from high-altitude desert in the far north to huge ice fields in the far south, there's no shortage of walking possibilities for day hikers.
And here are six of our favourites.
Sierra Trail
San Sebastian Trail
Mirador Los Crateres Trail
Volcan Chaiten Crater Trail
Cascadas Escondidas Trail
Mirador Ferrier Trail
Our favourite day hikes in Chile
Contents
6 Of Best Day Hikes In Chile
This page contains affiliate links. To help us maintain our site we work with a number of partners who we've personally used and can recommend to our readers. If you decide to purchase any products through the links on this page, we'll receive a small commission at no extra cost to you.
Sendero Cascadas Escondidas, Parque Nacional Pumalin
It's often very wet. But Parque Nacional Pumalin, brainchild of the philanthropist and founder of North Face, Douglas Tompkins, is a gorgeous park brimming with rainforests, waterfalls and volcanoes.
And, for a perfect example of what a properly financed and maintained park should look like, you need look no further than this woodland trail, in the far north of the park.
Situated 14 km south of Caleta Gonzalo, the trail is accessed directly from the campsite of the same name. It's a 4 km, two-to-three-hour track that climbs steadily through a forest of ancient trees dripping in moss. Eventually the trail ends at the third and best in a series of three waterfalls.
But what makes the trail so special is the way that the numerous footpaths, staircases and bridges blend in seamlessly with the environment. In fact, the footpaths are sometimes nothing more than a jumbled collection of tree roots. And the staircases' steps and handrails have been lovingly crafted with logs.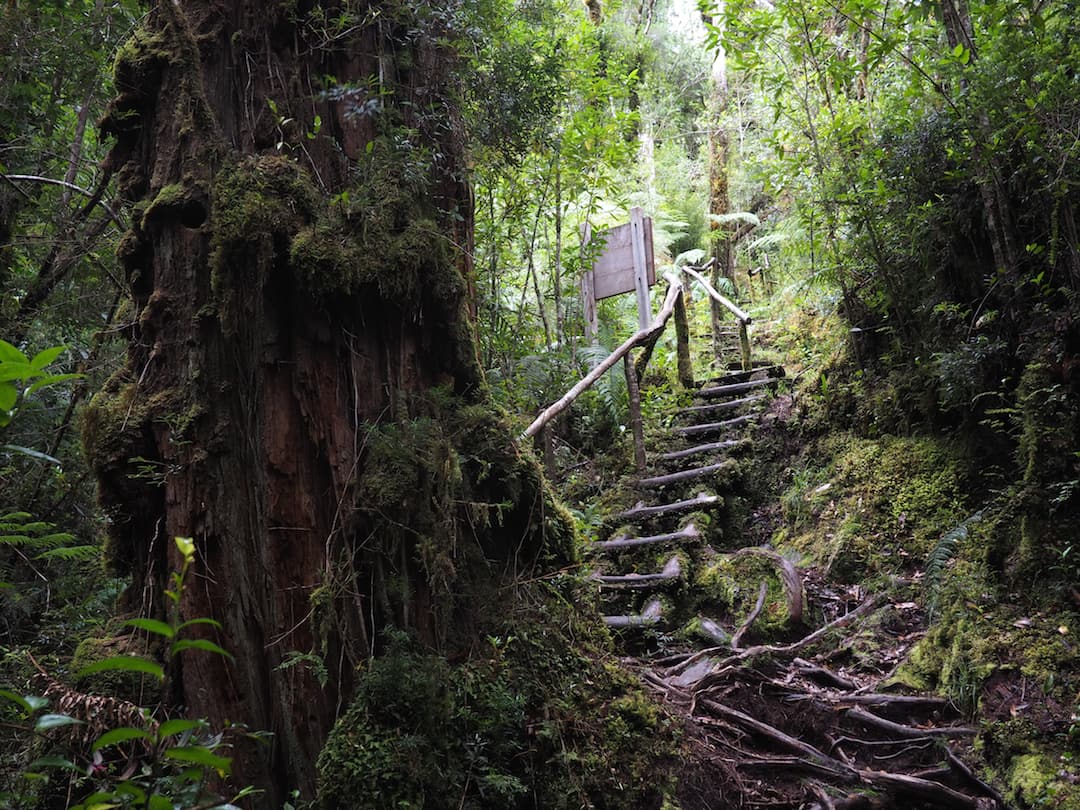 An Alerce tree stands guard in front of a staircase
A large fern leaf on the trail
A bridge crosses the Rio Gonzalo
The vegetation benefits from the moist environment
There's no shortage of things to see along the way. In particular, look out for the giant Alerce trees, which dwarf everything else around them.
And be careful with your footing as the moisture-thick rainforest can cause the sometimes steep sections to be extremely slippery.
But, above all, take your time and just lose yourself in this most enchanted of all forests.
One of the mossy tree-lined footpaths
The third and final waterfall
Sendero Mirador Ferrier, Parque Nacional Torres del Paine
Torres de Paine National Park is rightly famous for its two major multi-day hikes. Namely the "O' and "W" circuits. But there are plenty of day hikes to choose from, too.
One of the best is the Mirador Ferrier Trail, which can be accessed from the car park close to the Lago Grey Hotel.
It's a 6 km (3.7 miles) round-trip. But don't let the short distance fool you. Although it starts with a relatively easy twenty minutes that follows the Pingo River, the trail suddenly starts ascending steeply. Namely 700 metres (2,300 feet) in just over 2 km.
But all those breathless stops along the way are eventually rewarded near the half-way point as the first views of Glacier Grey and its icebergs come into view.
View of Lago Grey and its icebergs  from the trail
View of Glacier Grey from the trail
Although the best views of all are reserved for those who reach the wind-ravaged summit. From there, Glaciers Grey and Pingu can be clearly seen to the left. Meanwhile, the towering, jagged peaks and blue lakes of Torres del Paine National Park stretch out in front. It's an incredible sight. Especially on a clear day.
There's also a decent chance of seeing Andean Condors and even the rare Huemul deer, too.
Extended view of the glacier and lake from Mirador Ferrier's summit
Sendero San Sebastian, Parque Nacional Huerquehue
Huerquehue is one of the less-travelled national parks in the country. Yet it contains one of the most rewarding day hikes around.
Again, it's challenging, with some severely steep sections. But when you're on your way to a summit with a view of nine (that's NINE) volcanoes, then the task becomes so much easier.
In truth, the first 45-minute section through nondescript woodland is pretty dull. But, once the plateau is reached, the landscape changes to one of meadows, monkey puzzle trees and distant snow-capped volcanoes.
A further section gently continues through a lovely woodland of moss-covered trees before the steepest part of the trail dares you to continue. Through a crazy maze of tree trunks, branches and roots, the section is nothing short of lung-busting. And any sense of self-congratulation once you've made it through is quickly tempered by the prospect of negotiating your way back down later on!
Nevertheless, the landscape changes again as you reach the top of the tree line and the park's lakes reveal themselves beneath you.
Meadows, monkey puzzle trees and volcanoes
Ascending through the mossy forest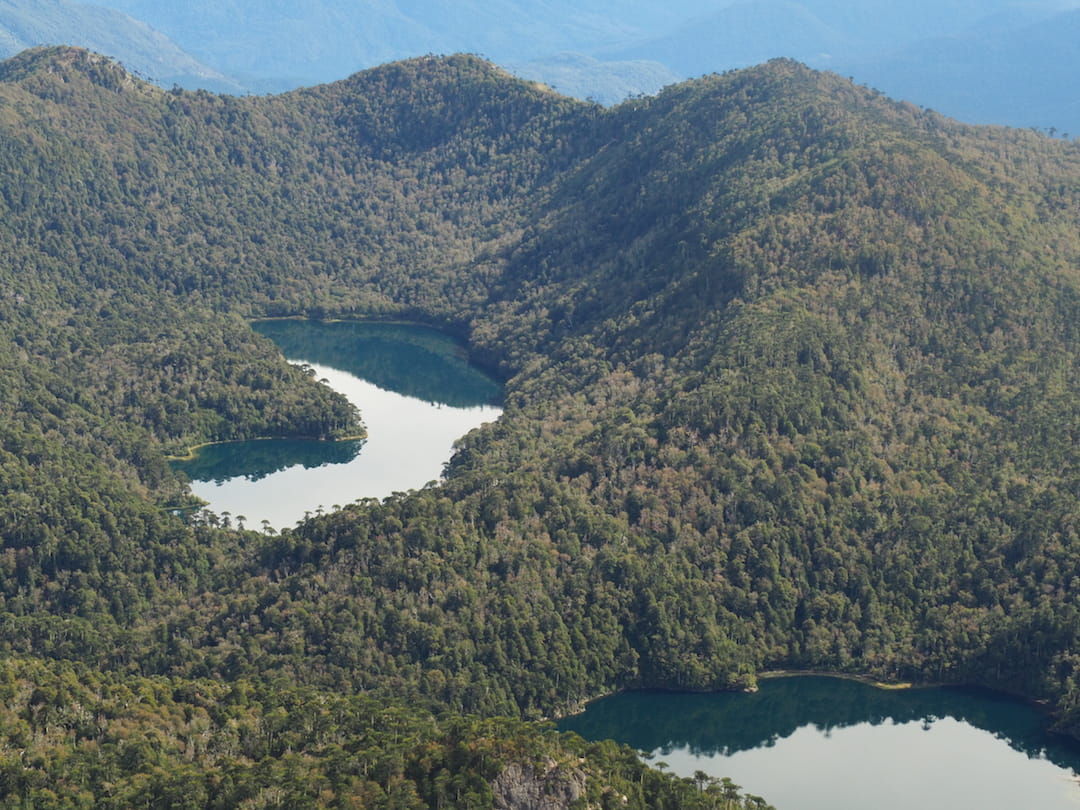 View of twin lakes from near the summit
The final ascent to the summit becomes something of a scramble over rocks, where the actual trail is not always obvious. But once you've arrived you'll want to pick a rock to sit on and gaze at the fantastic 360-degree panorama. As well as counting the nine volcanoes that stretch out from left to right.
One of the views from the summit of the San Sebastian trail
Sendero Mirador Los Crateres, Parque Nacional Villarica
Having had your fill of all those distant volcanoes, it's now time to see a still-smoking one up close. And nearby Villarica National Park has an easy hike that'll give you the opportunity to do just that.
Volcan Villarica is one of Chile's most active volcanoes, having erupted most recently in 2015. And one of the advantages of this hike is that you have different views of it for almost the entirety.
The first part of the trail winds through forest until it reaches a lookout at Mirador Fillkungue. From there you can look back over stupendous views towards Huerquehue and Conguillo National Parks. Not to mention the similarly active Volcan Llaima.
A smoking Volcan Villarica
View across to Huerquehue and Conguillo National Parks
Beyond the mirador, the trail climbs gently along a moonscape of black lava rock intertwined with red-tinged oxidised rock and green foliage. Although the actual trail is difficult to determine at times, the smoking summit of Volcan Villarica provides an easy reference point.
Eventually you'll reach a point where you can go no further. But the views looking back from here, with Lago Villarica to your left, are sensational.
View of Volcan Villarica from the lava field
View of Volcan Villarica from the lava field
Sendero Volcan Chaiten, Parque Nacional Pumalin
Meanwhile, back in Parque Nacional Pumalin, there's another volcano trail that shouldn't be missed.
Volcan Chaiten also experienced a recent eruption, this time is 2008. In fact, the resultant devastation caused the park to be closed for two years. But now a Crater Trail leads to the summit through a surreal landscape of thick vegetation, punctuated by eerily bare tree trunks.
And, once beyond the tree line, it morphs into a lava field until it reaches the base of the summit's still-smoking crater.
Although again it's relatively short (4.5 km round-trip), unlike Volcan Villarica it's a tough climb. But there are plenty of opportunities to take a rest and enjoy the views across the forest and lake-filled park.
Once at the summit, the views across to the smoking crater are both bizarre and beautiful at the same time. Meanwhile on the surrounding mountainsides, thousands of scorched trees bear witness to the devastation of the eruption like bristles on an unshaven giant.
It's possible to spend some time at the summit exploring the edge of the crater base. Especially to the right. However, the trail isn't clearly defined and it can get precariously close to the edge at times.
Suffice to say, this is one of the most popular hikes in the national park so you're unlikely to be alone.
But for the combined experience of climbing a still-active volcano and having the definitive panoramic view of Pumalin National Park, it most certainly warrants making it on to our list of best day hikes in Chile.
Start of the Volcan Chaiten Crater Trail
A bizarrely shaped bare tree trunk on the trail
Devastation near to the summit
Sendero Sierra, Rio Hurtado Valley
Finally, as somebody once famously said, 'And now for something completely different!'
In Chile's southern extremity of the Atacama Desert, the Rio Hurtado Valley is another relatively non-touristy area of stunning scenery that's begging to be discovered.
From Hacienda de los Andes, in the hamlet of Vados Morillos, the trail leads through a fabulous desert landscape. Although this is no ordinary desert.
The hillsides are awash with a spectrum of colour running through greens, reds, purples and greys.  Meanwhile several varieties of cactus and shrubs mark the route through a landscape that looks like it belongs in a Hollywood western with the colour saturation turned up to maximum.
However, the trail isn't always clearly marked so it pays to take your time and soak it all in.
The furthest point is marked by an old gold mine from where the trail loops back on the opposite side of the valley to the hacienda. But not before passing a set of observatory buildings, reflecting the area's reputation as one of the world's best stargazing locations.
Ian climbs a ladder early on in the trail
The multi-coloured desert of the Rio Hurtado Valley
Observatory close to the hacienda
If we had to make a choice, we'd plump for this as our favourite of all the Chile day hikes. Fabulous scenery. A relatively easy walk. And the sense that we'd found ourselves in genuine wilderness with just total silence and the occasional mountain goat to keep us company.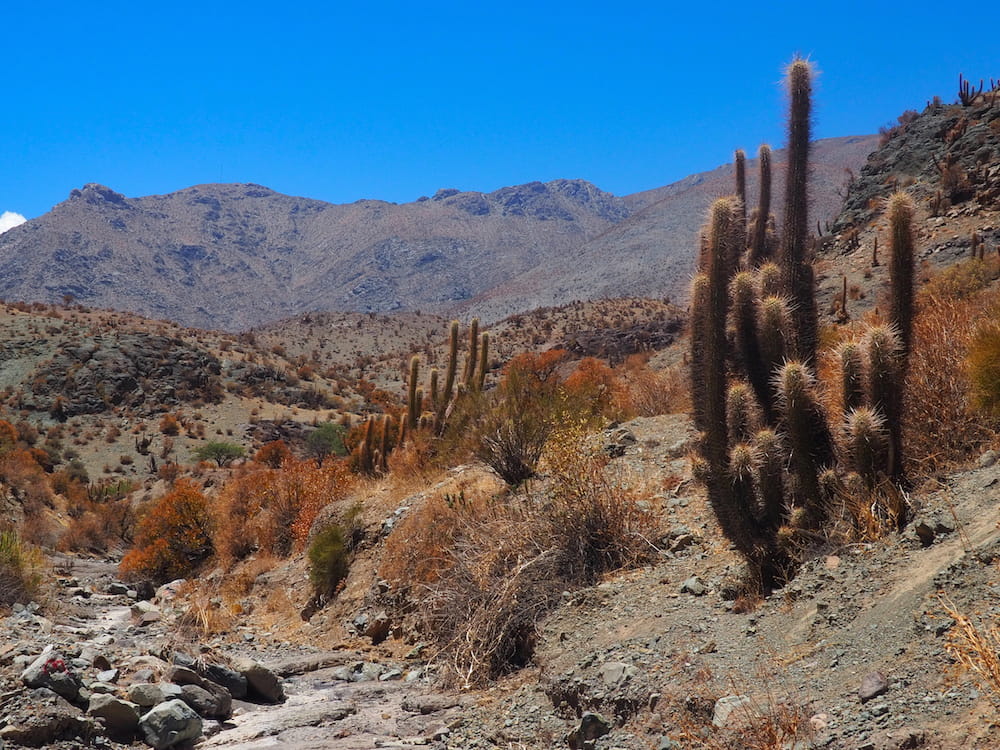 What did you think? Have you tried any of these day hikes in Chile? Do you have any recommendations for day hikes to add? Either way, we'd love to hear from you so please add your comments below.
To help us maintain our site we work with a number of partners who we've personally used and can recommend to our readers. If you decide to purchase any products through the following links, we'll receive a small commission at no extra cost to you. Thank you for your support!
Hi, we're Ian and Nicky, an English couple on a voyage of discovery around the world, and this blog is designed to reflect what we see, think and do. Actually, we'd like to think it also provides information, entertainment and inspiration for other "mature" travellers, too. So please feel free to pour yourself a glass of something suitably chilled and take a look around.