THE DAY WE FLEW FROM WANAKA TO MILFORD SOUND
The snowy, alpine peaks of the Southern Alps departed from view to our left as we reached the coastline and our Cessna light aircraft banked left towards the azure blue bay that lay ahead.
Only it wasn't just a bay at all.  Hidden behind was a 12km long fiord of breathless beauty, flanked on either side by huge rainforest-covered cliffs, spilling 100-metre-plus waterfalls into the gloriously blue water below.
Quite what Captain John Grono would have made of it when he discovered this place 200 years ago and named it after his hometown in Wales, Milford Haven, is anyone's guess. But Milford Sound (as it was later re-named) – and dubbed The Eighth Wonder Of The World by Rudyard Kipling – is undoubtedly one of the most mind-blowing places we've ever seen. And we were lucky enough to see it by flying its length in a five-passenger Cessna aeroplane and from the water-level comfort of a cruise boat.
And yes, before I go any further, the Above Us Only Skies budget did take quite a battering as a result. But it's not every day that you get to celebrate twelve months of continuous travelling so we thought we'd just spoil ourselves with a little R&R in what's rapidly becoming our favourite country to travel in.
OK, it wasn't quite the white-knuckle, jumping-out-of-a-plane-from-18000-feet gig, or the vomit-inducing-bungee-jump-into-oblivion experience that New Zealand is notorious for. No, we thought we'd leave that to the lumberjack-bearded adrenaline junkies who seemed to be lurking on every street corner in Queenstown and Wanaka.
But for this author and his sensibly cautious wife, our scenic flight from Wanaka to Milford Sound in a tiny aeroplane over the glacier-filled Southern Alps and back, was just about as good as it gets. Oh, and of course a two-hour cruise on the fjord itself.
On a rare, clear, sunny day.
With a pod of bottle-nose dolphins to keep us company.
The day started with our briefing at Wanaka HQ. Mountains we'd be flying over, glaciers we'd spot on the way, how we'd approach Milford Sound itself and our route back once we'd had our cruise on the fiord. And then it was time to get on board, strap in and wait for our flight captain to kick things off. A huge grin appeared on Nicky's face. One that would remain there for the rest of the day.
After numerous flights around southeast Asia, and indeed across the Pacific to New Zealand, it was quite a liberating experience to feel the updraft of air on the wings of such a tiny aircraft, as we were propelled above the clear blue of Lake Wanaka towards the icy peaks of Mount Aspiring National Park.
The scenery was already fantastic enough to induce both of us to sway from side to side, not sure which of our own windows to look out of. Gradually the green pastures gave way to part-silted up estuaries of glacial rivers and bare mountainous rock.
Then the glaciers came into view.
I can't begin to describe in words the thrill we had of flying so close to ice-blue glacier and snow-capped mountains, which stretched to an almost endless horizon. It's one thing viewing them from the ground (and they're pretty epic from there) but gliding over pristine fields of high-altitude alpine snow with just the tiny shadow of our Cessna aircraft to betray our presence was something we'll never forget.
Our journey continued until we reached the coast and we turned into Milford Sound itself. Technically it's not a "sound" at all but a "fiord" – like those in Norway and Iceland. Apparently one of our prior compatriots from England incorrectly named it as a "sound" and it's remained as such ever since. Dozy so-and-so.
Anyway, the sudden change of Alpine scenery to that of lush rainforest and tropical blue water was just astonishing.
As we dropped down and flew between the high cliffs of the sound/fiord we could see the cruise boats below and then, about halfway along, we caught our first glimpse of the dolphins as they glided in and out of the water. And then, just before we descended to the tiny airfield at the head of the sound, we flew over the mile-high Mitre Peak and the magical Bowen Falls.
If the day had stopped right there we'd have happily retired to a mountain bar for a craft beer or several. Instead, we stepped off the plane and awaited our transfer shuttle to the pier just five minutes away. But we couldn't decide at this point if we were more excited about the cruise or the actual flight back.
Probably the most spectacular airstrip we've landed on
Just like the flight, the cruise took place in perfect weather. Milford Sound is one of THE top travel destinations in the world and it's not hard to see why. It's obviously fairly touristy but, to be honest, once on the water, the landscape is so vast that it dwarfs any feeling of over-commercialisation and you're left just basking in the majesty of it all.
Now, we've both been known to take some enjoyment from hiking through the jungle to see a nice waterfall. To be fair, it's the sort of activity that most people would get out of bed to do. Milford Sound – along with much of the west coast of New Zealand's South Island – has them in absolute bucket-loads. And we're not talking trickling, two-metre falls, either. These are full-blooded, thunderous cliff-top cascades that drop hundreds of feet, creating rainbows in their wake.
But this being New Zealand, the natural wonders just kept on coming. Milford Sound has its own resident pod of bottlenose dolphins, which tend to make an appearance around the cruise boats roughly once per week. And, right on cue, the locals were out in force showing off their full repertoire of leaping in and out of the water and racing alongside the boat – to the squeals of delight of everyone on board.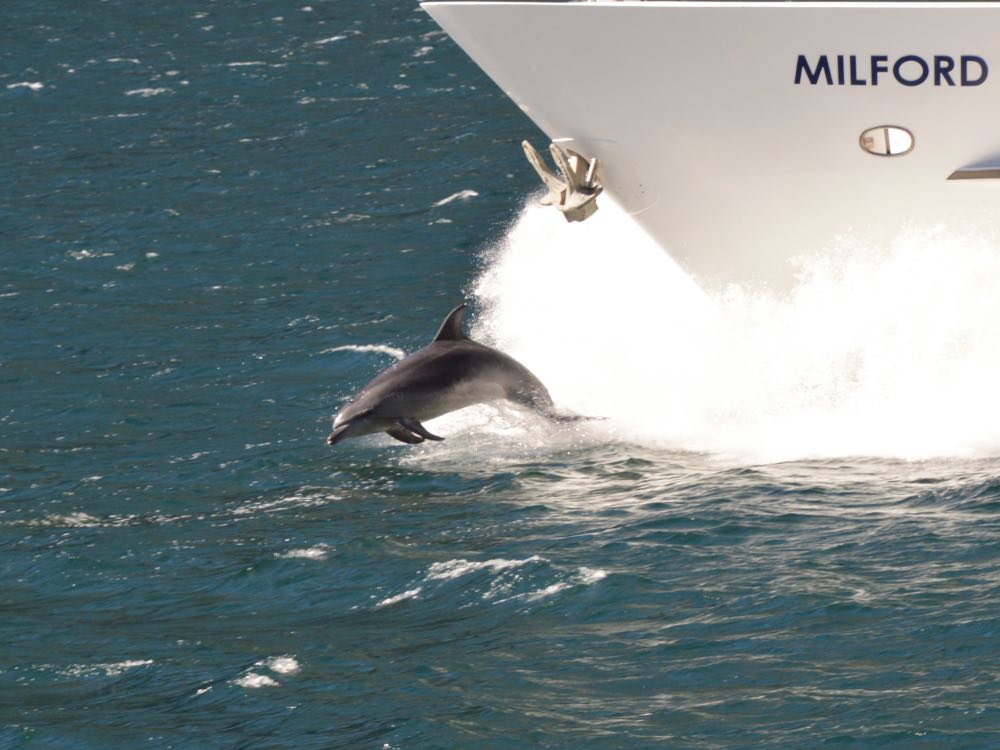 A bottlenose dolphin performs for the crowd
After cruising the 12km length of the Sound for about an hour, we turned back as open sea approached, stopping off to get an obligatory soaking at the magnificent Stirling Falls, before heading back past Bowen Falls and onwards into the port. Looking backwards from the rear of the boat we watched as the dolphins continued to play and the unmistakeable shape of Mitre Peak once more dominated the scene – something that becomes even more obvious when viewed from the shore…
Mitre Peak in Milford Sound
Of course, we still had the return journey by Cessna
to look forward to. This time, our route continued a loop around the Southern Alps towards Lake Wakatipu and Queenstown, before heading over the Richardson Mountains back towards Wanaka. Once again we were treated to jaw-dropping sights of glacial mountains, alpine lakes and ice blue rivers.
Our final descent back over Lake Wanaka was one of those moments when you realise that all good things really do have to come to an end. It had been quite simply one of the best things we'd experienced during our twelve months of travel – and what a great way of celebrating our one-year travelling anniversary.
We flew with Southern Alps Air and managed to get a $100 discount off the usual price of $498 each by booking online through www.bookme.co.nz. It's certainly not cheap and it was way above what we would normally consider being good value for a half day activity.
But as a one-off anniversary present to ourselves and for the memories of a truly spectacular flight, it was worth every New Zealand cent.
What did you think? Have you taken the flight from Wanaka to Milford Sound? If so, what memories do you have? Or maybe you haven't yet been and it's on your bucket list? Either way, we'd love to hear from you so please add your comments below.
To help us maintain our site we work with a number of partners who we've personally used and can recommend to our readers. If you decide to purchase any products through the following links, we'll receive a small commission at no extra cost to you. Thank you for your support!
Hi, we're Ian and Nicky, an English couple on a voyage of discovery around the world, and this blog is designed to reflect what we see, think and do. Actually, we'd like to think it also provides information, entertainment and inspiration for other "mature" travellers, too. So please feel free to pour yourself a glass of something suitably chilled and take a look around.