WHY DRIVING IN INDIA IS A BAD IDEA
Driving in India. Not something for the faint-hearted.
In a land where there are more than 200,000 road deaths EVERY YEAR (according to the World Health Organisation), I've never witnessed such a cavalier attitude to road use.
Take, for instance, our recent road trip through Ladakh, in the mountainous far north of the country. Mercifully we weren't driving ourselves – we'd left that to the drivers of the Leh-Ladakh Taxi Union. And on some of the highest and most inhospitable roads on Earth, you'd think there would be some stringent road rules in place.
But you'd be wrong.
There ARE some rules but it seems they are treated like guidelines rather than actual points of law.
So it was, as we were driven along the scarily narrow, winding and pot-holed roads that hugged the Himalayan mountain passes. There were times when our lives didn't so much flash in front of our eyes as appear to be on a constant video loop.
Like an extended episode from The Wacky Races jeeps, cars, vans, and lorries would all jostle for position. They'd overtake each other, irrespective of whether there was traffic coming in the opposite direction. Or whether there was a blind bend approaching with a sheer drop off of literally thousands of feet. No, that wasn't their focus. Their only focus was how to get from A to B in the quickest time possible.
But, not to worry because every eventuality seems to be covered by India's primary rule of the road – BLOWING YOUR HORN.  And there are signs everywhere encouraging drivers to do just that, whether it's chalked on a rock-face at the side of a road or displayed on the rear of a lorry.  It's the go-to remedy for any situation.
And the louder your horn is the more authority you seem to assume. If you're a mere taxi driver you've got the standard blare that's a common sound all over India. If you're a bus driver you qualify for an upgrade to one of those joke horns that plays a migraine-inducing jingle. But if you're lucky enough to be a lorry driver – especially if you're in one of those pimped-up show pony lorries – you get to be the King of the World. You've not only got a jingle but apparently a whole DJ's deck of nightmarish sounds to choose from. And so, when things get chaotic (as they invariably do), dozens of drivers merrily join together in a cacophony of horn-blowing madness.
Now, consider this. On Indian roads today…
Fifteen people are killed every hour
Twenty children are killed every day
One million people have died during the past decade
Five million people have been seriously injured or disabled during the past decade
Source: SaveLIFE Foundation, 2014
Yet, incredibly, the penalty for reckless driving involving the death of a child was recently lowered to a $780 fine and a one-year prison term.
So, when OUR driver gets pulled aside by two traffic police and receives an instant 200 rupee fine for – wait for it – not wearing the requisite grey or white trousers, it does beggar belief as to who on earth makes these rules up.
Thank heavens then for Ladakh's Border Road Organisation who've taken a rather different approach to alerting drivers to the hazards of high-altitude mountain driving. Their solution is to erect a slew of road signs that mix witticisms with rhyming couplets… and a sprinkling of sexism.
Take, if you will, this example…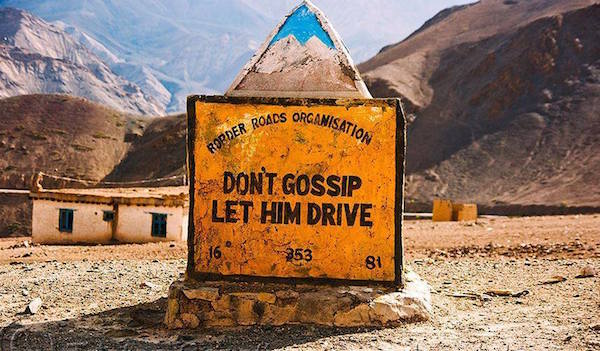 Yes, ladies – that apparently means you. Your male driver needs to focus his attention on all that horn-blowing and trying not to drive into the next ravine without having to listen to your unfounded and salacious stories.
But it's not all directed at you. For instance, "Divorce your speed, not your wife" offers him some sage marital advice at the same time.
And, potential drink drivers are warned that "For safe arriving…" there should be "no liquor in driving". 
You probably get the general tone by now. It all seems light-hearted enough if a little clumsy in its delivery.
However, the gloomy "Drive slow to avoid grave below" serves as a chilling reminder of the dangers on some of the snowy mountain passes we encountered. Pity most drivers completely ignored it – and possibly including the poor souls who were in these vehicles on the Chang La mountain pass between Leh and Pangong Tso.
But it also serves as a reminder that India just doesn't seem to know how to deal with its traffic problem. There will be over 600 million cars on its roads by 2050 if predictions are to be believed – the highest in the world. It's a scary thought when you consider the current appalling state of many of the roads and the multitude of other safety issues.
Draconian laws aren't the answer. Locking people up in India's already overcrowded prisons just isn't going to happen. No, it'll take much more than that. A complete re-education of road safety awareness would be a good start. The formal training of drivers before they're allowed to get behind a steering wheel would be another. Perhaps something more rigorous than merely "driving a car around a field for a while", as the driving test was described to me.
In that respect, maybe Ladakh's Border Road Organisation have stolen a march on the rest of the country. At least their slightly awkward messages resonate like those really cheesy advertising slogans that somehow lurk in the back your mind.
And, I guess, that's the point. But until something radically changes you might want to think twice about getting behind a steering wheel yourself on your next Indian adventure.
What did you think? Have you driven in India or found yourself in a difficult situation on the road? Or perhaps you're planning a road trip there of your own? Either way, we'd love to hear from you so please add your comments below. 
Visit our India page for further posts on the country and information on where we stayed.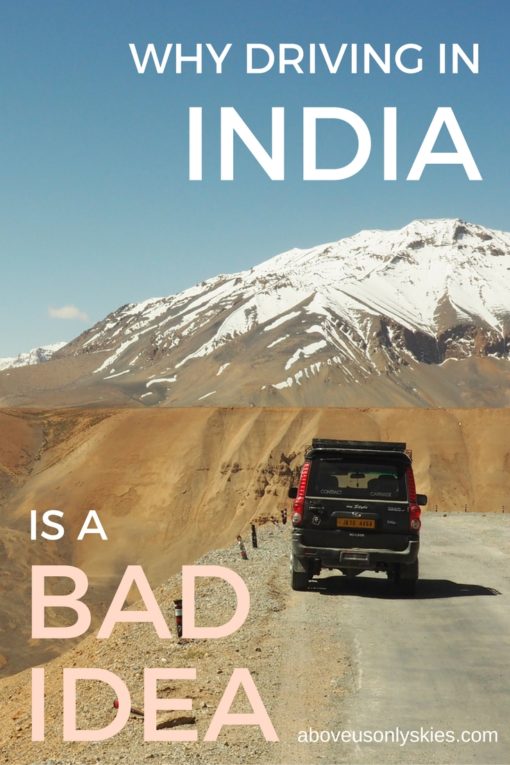 Hi, we're Ian and Nicky, an English couple on a voyage of discovery around the world, and this blog is designed to reflect what we see, think and do. Actually, we'd like to think it also provides information, entertainment and inspiration for other "mature" travellers, too. So please feel free to pour yourself a glass of something suitably chilled and take a look around.
4 THINGS YOU MUST DO IN AMRITSAR
14 THINGS WE LEARNED ABOUT CAMBODIA
A SWAG, A DINGO & THE AUSTRALIAN OUTBACK
CONFRONTING SNAKES, BATS & SPIDERS AT CHEOW LAN LAKE