El Pescadero: A Taste Of Rural Baja California Sur
MEXICO
El Pescadero Mexico: A Taste Of Rural Baja California Sur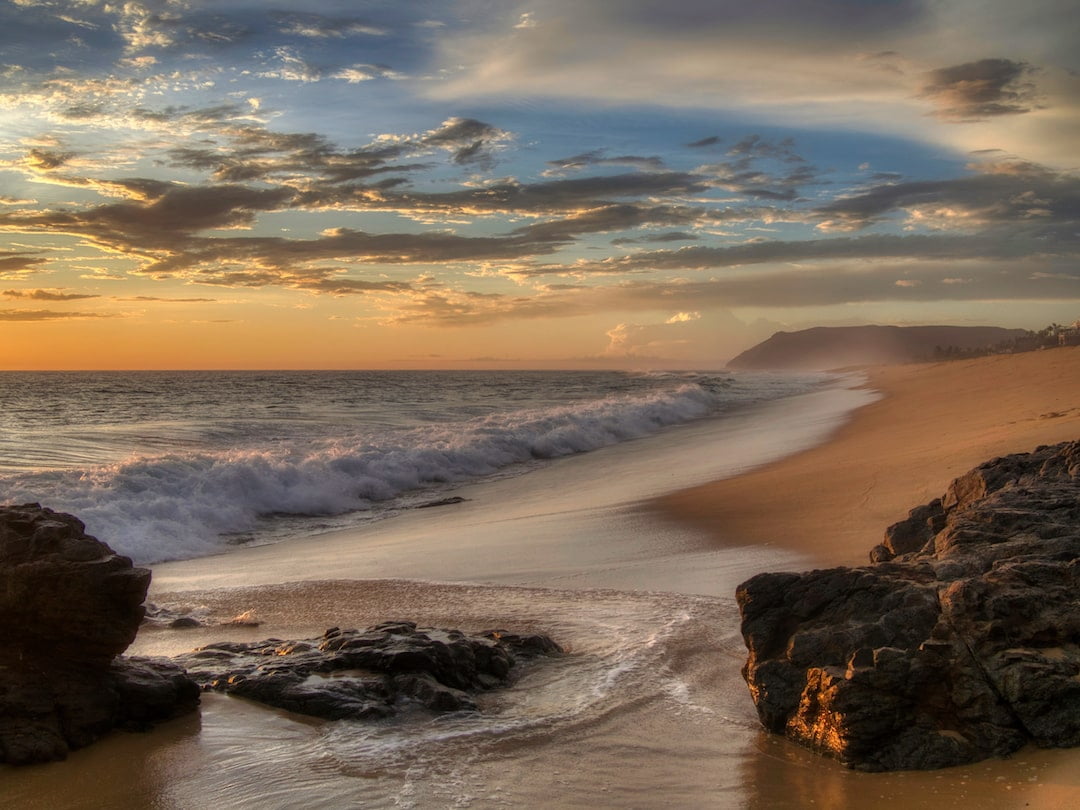 El Pescadero is a small farming community in Baja California Sur, Mexico's desert playground for travellers, road trippers and an ever-increasing population of ex-pats from North America. And, to a lesser degree, Europe.
It's a narrow finger of wild, mountainous desert, pitted with fields of majestic Giant Mexican Cardons (cacti). To the west, the surfing beaches of the Pacific coast attract adventure seekers from across the world. And to the east, famously described by Jacques Cousteau as "the world's aquarium", the Sea of Cortez is a diving and snorkelling paradise.
Perhaps unsurprisingly, the past couple of decades has given rise to considerable development in the area. Especially in the tourist hubs of Cabo San Lucas and La Paz.
Which is why El Pescadero, some 12 kilometres south of Todos Santos, is an attractive alternative for travellers who want a Baja experience that feels a little more authentically Mexican. That's not to say that it isn't also expanding. But, for now, it still manages to retain its rural village feel.
We stayed there for two months during the off-season, between mid-August and mid-October, housesitting in a gorgeous villa that doubles as an Airbnb for the rest of the year. More on that later.
Of course, that time of the year also coincides with hurricane season. And, right on cue, a Category 1 hurricane passed our way within a matter of a couple of weeks. Not quite the Category 5+ mayhem we experienced with Hurricane Irma – but a hurricane nonetheless.
Indeed, many of the restaurants and tourist businesses close down during the low season. Not least because the climate gets oppressively hot and humid, with daytime temperatures regularly up at or near the 40 degrees C (104 F) mark. 
But with so many things to do in El Pescadero throughout the year, there's never a wrong time to visit.
A fierce red cloudy sky during sunset in El Pescadero
This page contains affiliate links. To help us maintain our site we work with a number of partners who we've personally used and can recommend to our readers. If you decide to purchase any products through the links on this page, we'll receive a small commission at no extra cost to you.
Things to in El Pescadero
We'll admit we're quite partial to watching a decent sunset. And we've seen a few stunning ones over the years. But those we witnessed in El Pescadero were quite possibly the most breathtaking we've ever seen. 
Of course, it helps when the sky's blank canvas is stencilled with exquisite cloud formations, capturing the colours of the spectrum as the sun descends towards the horizon. And the silhouetted fingers of a five-metre-high cactus only add to the drama. But we're pretty sure that, even on a cloudless night, you can be guaranteed a light show to remember.
Even better, find yourself a spot on the beach, pour yourself a homemade margarita and let the whole performance simply wash over you while the thunderous Pacific waves crash only metres away. 
Baja right there.
Explore the Pacific beaches
Speaking of beaches, Pescadero has three cracking ones to explore.
To the south, Playa Los Cerritos is the most popular – and also the most commercialised. Especially at the northern tip, where the main surfing action takes place and sun loungers can be rented. Novices can also take surfing lessons here. 
To the north, Playa Las Palmas is a lesser-known gem that can be accessed via a short forest walk. Although it means passing through private property, Mexican law provides for free access to any beach. Unfortunately, the owner of the property decided to test that during our stay so we didn't get to experience it. But we're reliably informed that – if the path is open – it's well worth the effort. Just be wary of the wild horses that also like to call the area "home".
In between, Play San Pedrito is a beautiful expanse of fine, golden sand carved by huge waves that roll in 24/7. We know. We heard them from our bedroom.
Because of the excessive heat during August and September, we made a point of taking early morning or late-afternoon walks from one end of the beach to the other, with barely another soul around and just the mighty waves for company. And we can heartily recommend perching yourself on the sand, sundowner in hand, for a front-row seat to watch the nightly light show. Especially when the sun is at its lowest and the waves take on an almost pink/orange hue.
At the northern tip there are plenty of places for overnight camping, either in a tent or an RV. To be honest, there's some ongoing development along the perimeter of the beach, too. And we can only hope that it doesn't run amok, as it has done in other Mexican beach resorts.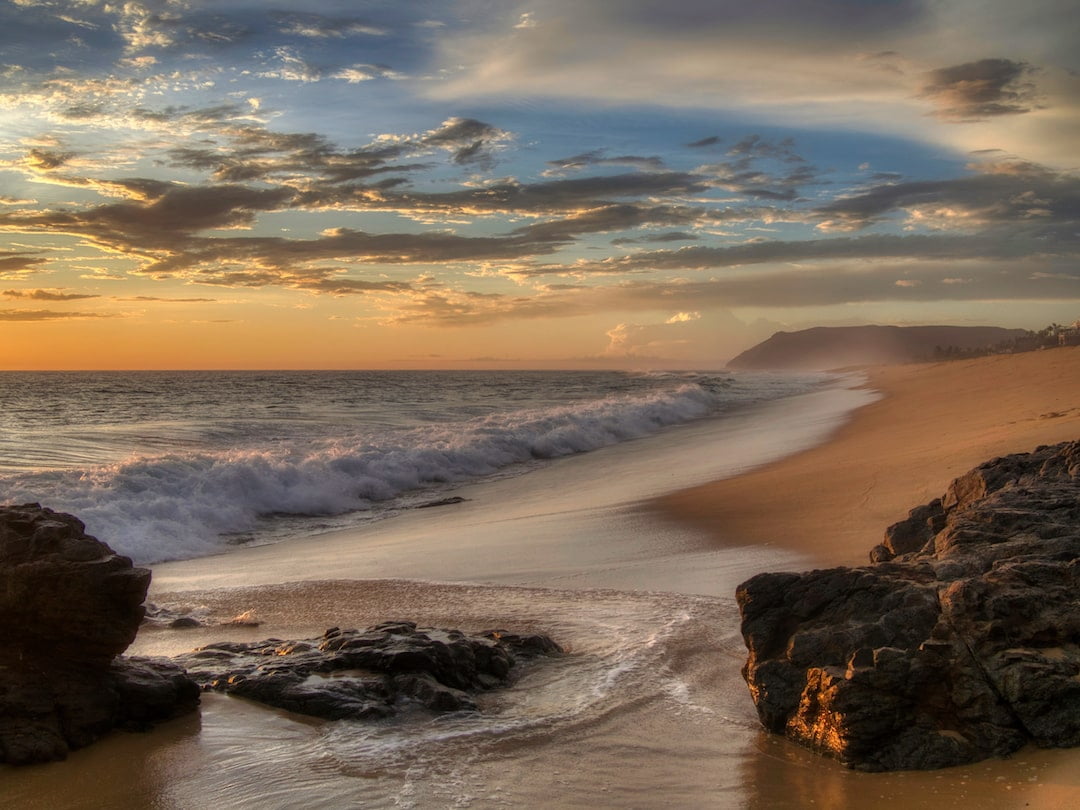 Interested in housesitting while you travel?
We were able to spend two months in El Pescadero housesitting in a holiday villa during the off-season. If you're interested in doing the same, you might want to consider joining Trusted Housesitters – the world's largest housesitting platform. And you can do so with a special 25% discount off your first year's subscription through our link below.
A highlight of our stay was undoubtedly releasing baby turtles from their sanctuary on San Pedrito Beach under the watchful eye of Griselda, a volunteer for El Pescadero's release program. 
Although there are a number of species that use the beach to lay their eggs, we were lucky enough to help release some Olive Ridley Sea Turtle hatchlings. 
Twice per day, Griselda digs below the sand in the fenced-off sanctuary to look for evidence that eggs have hatched. Carefully pulling out the hatchlings to the surface she nurtures them while they get used to the light, keeping them shaded with an umbrella. And then, after some gentle coaxing, one of the hatchlings strikes a move for freedom. Not in any particular direction, mind you. Just a thrashing of limbs, an occasional look around with newly-opened eyes and the inevitable trip head-first back into the sand. 
And then, once she's happy that the troupe of hatchlings is strong enough, Griselda carefully places them in a bucket and takes them to where her son has drawn a line in the sand a few metres from the water's edge. It's here that "helpers" such as ourselves release the turtles for their final dash to the Pacific. 
Of course, only a tiny percentage of the hatchlings will make it to fully mature turtles, such are the hazards of the ocean. But that doesn't take anything away from the sheer joy of witnessing these adorable creatures take their first tentative steps.
You can find out more about the release program on their Facebook page.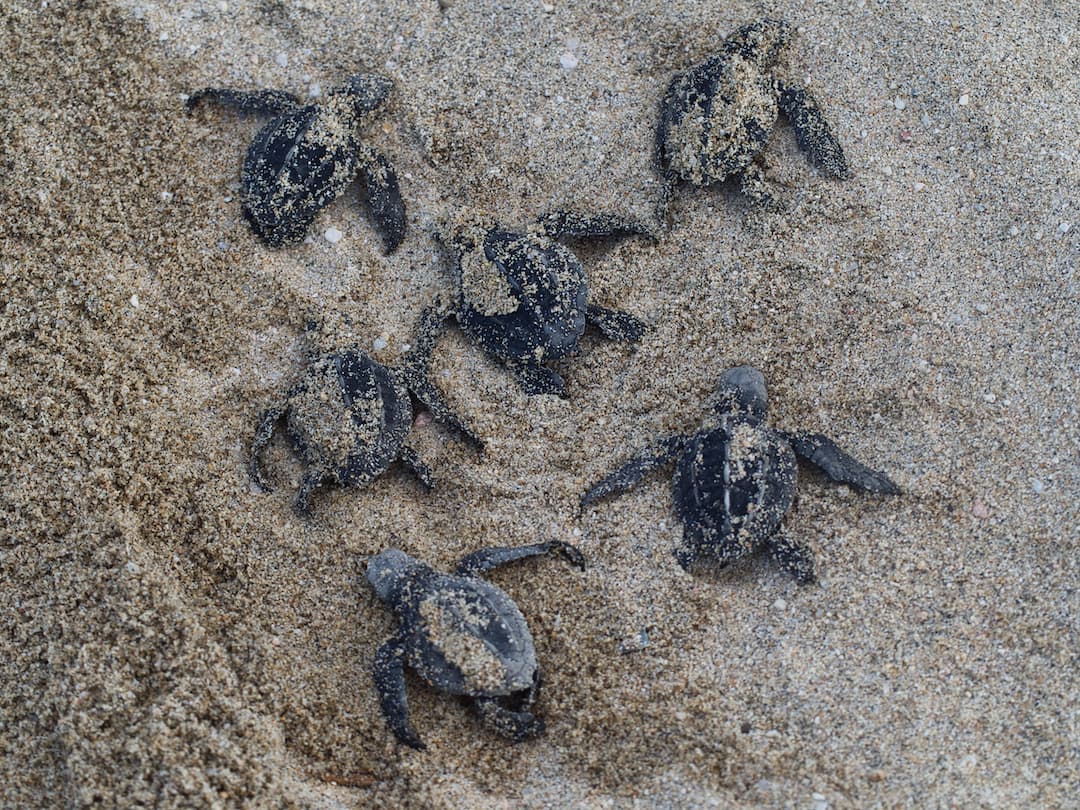 The hatchlings get their first taste of sunlight
A final dash to the ocean
With such a steady supply of surf breaks and big waves along the whole coastline, it's no surprise that El Pescadero is a popular surfing destination. Especially at Playa Los Cerritos, where boards can be rented and lessons are available for novices.
Having long established that our bodies are wholly deficient in the sort of agility required to stand upright on a lump of water-borne fibreglass, we can't vouch for any particular company. But Mario Surf School might be a good place to start.
Try your hand at game fishing
El Pescadero literally translates as "The Fisherman" or "Fishmonger". So it follows that there's a well-established tradition of fishing in the area. Specifically from Punta Lobos, just north of the village. 
The beach there is home to a fishing community and a small colony of well-fed pelicans. The daily catch supplies restaurants in Pescadero and Todos Santos. But you can also buy directly from the fishermen straight out of their boats. In fact, if you time it right (early afternoon) you can watch the fishing boats beach at high speed on the cusp of a wave.
And if you fancy chartering a half or full day's game fishing, you can do so with Ernie at Punta Lobos Fishing Charters.
Fishing boats at Punta Lobos
Visit nearby Todos Santos
El Pescadero's nearest main town is Todos Santos, just 12 km away. One of Mexico's ever-expanding list of pueblo magicos (or "magic towns"), it features a mixture of colonial-era buildings, upmarket restaurants, cafes, art galleries and boutique shopping. 
Beloved by artists, the town certainly has a bohemian feel about it. And, as an antidote to El Pescadero's rustic charms, it's a great place to spend a day just wandering around the historic centre and adjoining streets at the slowest of paces.
Take a day trip to Cabo San Lucas or La Paz
Further afield, the two major tourist destinations of La Paz and Cabo San Lucas are just an hour or so away by car. 
Of the two, Cabo is by far the brashest and commercialised. La Paz offers perhaps the biggest contrast to El Pescadero in that it's situated facing the calm waters of the Sea of Cortez. Which means that instead of surfing and fishing, there's diving, snorkelling and whale watching par excellence on offer.
As we mentioned earlier, we stayed as house sitters in an Airbnb property whilst it was closed during the off-season. Casa Bougainvillea is a spacious four-bedroomed villa surrounded by farmland and cacti, and just a 15-minute walk from Playa San Pedrito. With a stunning roof terrace and beautifully landscaped gardens, it was quite simply an amazing place to spend a couple of months.
Especially as it came fully equipped with a chef's kitchen, which meant that we could split our time between eating out and cooking our own Mexican-influenced dishes. 
There's also a choice of upscale El Pescadero hotels to choose from, both on and near to the beach.
Casa Bougainvillea during "golden hour"
Sunset from the lower terrace
Of course, one of the joys of spending time in Mexico is indulging in fabulous food. And, this being Baja, that means fish and seafood.
In keeping with being part of a farming community, El Pescadero is developing a reputation for its farm-to-table restaurants. For instance, Siempra Viva – just a 5-minute walk along a dirt track from Casa Bougainvillea – is an organic restaurant set on its own farm. Featuring a beautiful and spacious outdoor restaurant area, it's one of the more upmarket places to eat in the area. And the grilled octopus we had was superb.
Also close by, Besos de Mezcal is a restaurant specialising in Japanese food. And, as a brief diversion from eating Mexican fayre, the sushi and the tuna carpaccio were a revelation.
Close to Playa Los Cerritos, locally-owned Barracuda Cantina is something of a Pescadero institution. Especially following its appearance in the Netflix series, The Taco Chronicles. It's a proper sand-between-your-toes post-surfing cantina, complete with driftwood artwork and taco truck kitchen. The shrimp and fish tacos are the main event. But there's a whole host of other seafood delights to keep any fish lover happy. And there's now a sister outlet in Todos Santos, too.
Nearby, Shaka's Cantina is a fun place to go for good food, live music and excellent margaritas. Especially during 2-for-1 happy hour every day between 4 and 6 pm! Authentically Mexican it isn't. But we loved it anyway.
Meanwhile, up on the main through road, the smoked marlin burrito at Cafe La Guerita was a breakfast dish that Ian won't forget in a long time.
Fish tacos at Barracuda Cantina
Tuna carpaccio at Besos de Mezcal
Assuming that you're making the effort to visit Todos Santos as well, it would be slightly churlish not to try some of the eateries there, too. We'll admit we didn't visit the more upscale restaurants. But we did fall in love with a couple of more reasonably priced places that we'd encourage you to seek out.
First of all, the coconut shrimp and crunchy fried avocado tacos at Fish Taco Santo Chilote are a marriage made in heaven. But they're taken to another level when laden with habañero salsa from the salad bar.
However, we'd suggest you don't miss Tiki Santos Bar for some of the tastiest and most colourful Mexican food we've had the pleasure of eating. Things get off to a good start when you're presented with a bowl of homemade tortilla chips accompanied by a mango salsa and a searingly hot charred habañero salsa. 
But we guarantee you'll soon be distracted by the plates of food being delivered to nearby tables. Like the skyscraper of marinated tuna, avocado and onion ceviche balanced on a single crispy tostada. Or the works of art that are the plates of garnished fish tacos. Or even the mammoth bowls of seafood molcajete. All delivered with the kind of excellent service we've come to expect from family-owned Mexican restaurants.
To start…tortilla chips and salsas
Final thoughts on El Pescadero Mexico
It might not quite be the hidden secret that it once was, but El Pescadero is still sufficiently off the mass tourism radar to retain its rural village identity. But that might be set to change given the significant amount of development that's already underway adjacent to both Los Cerritos and San Pedrito beaches. 
In truth, it's probably inevitable that the village will become an increasingly popular destination over the next few years. Especially on the back of escalating visitor numbers to Todos Santos and its relatively close proximity to the airports in La Paz and San Jose del Cabo.
So, if you want to experience an authentic slice of Baja California Sur without the noise pollution and crowds, then you might want to consider putting El Pescadero on your wish list sooner rather than later.
Playa Los Cerritos
Playa Las Palmas
Playa San Pedrito
El Pescadero Turtle Sanctuary
Punta Lobos
Todo Santos
Cabo San Lucas
La Paz
San Jose del Cabo airport
Casa Bougainvillea
Siempra Viva restaurant
Besos de Mezcal
Barracuda Cantina
Shaka's Cantina
Cafe La Guerita
Fish Taco Santo Chilote
Tiki Santos Bar
FAQs
How do I get to El Pescadero?
Unless your driving from the north, the best way to get there is to fly into San Jose del Cabo or La Paz airport.
A tourist bus (operated by Eco Baja Tours) runs between the central bus station in La Paz and Cabo airport, dropping off in Todos Santos. Although if you speak to the driver nicely he might actually drop you off in El Pescadero. You can check the times of the service and book online at their website depending on when your flight is scheduled to arrive. Current prices (2022) to Todos Santos are 195 MXN from La Paz and 390 MXN from Cabo airport.
Taxis from the airport are much more expensive.
Alternatively, buses are available through Aguila – although we can't vouch for them as we haven't used them.
You can also arrive in La Paz via the ferry service from Topolobampo in Sinaloa state.
Of course, you can also rent a car from either airport.
When is the best time to visit?
We stayed during the summer months Mid-August until mid-October, when the temperatures and humidity are high, there's a possibility of a hurricane passing through and many businesses have closed down for the season.
On the plus side, however, there are relatively few tourists, the desert blooms with wildflowers and you'll have the beaches almost to yourself.
The best time for weather and wildlife spotting is December through April. The temperatures have dropped to a comfortable level and there's the chance to spot some of the thousands of migrating gray, humpback and blue whales that pass by.
Any other questions?
If there's anything you'd like to ask about El Pescadero that we haven't covered here, there are a few ways to get in touch with us.
Firstly, you can simply ask your question in the Comments section below. You can also get in touch using our contact form. Or, if you'd like to join our community on Facebook, you can ask directly there.
Either way, we'll do our best to get straight back to you.
What did you think?  Do you have any recommendations on what else to do in El Pescadero Mexico? Or perhaps you're planning to visit in the near future? Either way, we'd love to hear from you so please add your comments below.
PLAN YOUR TRIP
The following contain affiliate links. If you decide to purchase anything after clicking on any of these links, we may receive a small commission at no extra cost to you. Indeed, as a result, you'll be helping to keep our website ad-free! Thanks for your support.
Book Your Flight
Our go-to website for flights is Skyscanner. We've probably booked probably 90% of our flights worldwide with them over the years and they've never let us down.
Book Your Accommodation
No longer merely a travel rating service, Trip Advisor is now a major resource for booking accommodation, too. And you can view some of the best deals in El Pescadero here.
Get Insured
For travellers who are UK residents, we recommend True Traveller. Amongst other things, they offer both multi-trip and backpacker insurance. Indeed, they're our go-to insurance provider.
For travellers who are non-UK residents, we recommend SafetyWing for both remote health insurance and nomad insurance.
Check your entry requirements
Check all entry requirements for Mexico and purchase any visas online with iVisa.
Book a tour in El Pescadero
Book a guide, tour or other activity in and around El Pescadero with Get Your Guide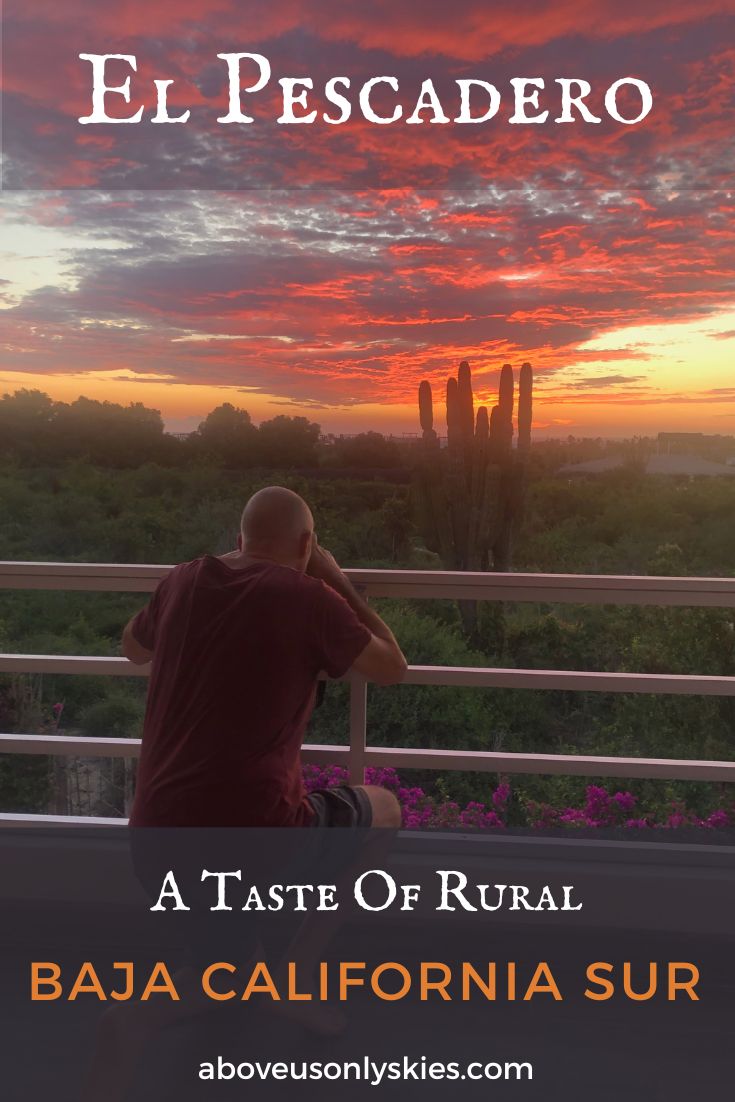 We provide all the content on this blog completely free and aim to make your reading experience as smooth as possible. As such, other than our own affiliate links, we'll continue to resist using popup advertisements and other income-generating clutter on our pages.
However, we do put a lot of time and effort into producing content and maintaining the site. So, if you find our work useful and would like to contribute something towards it (via PayPal), you can do so here. Thank you!
Hi, we're Ian and Nicky, an English couple on a voyage of discovery around the world, and this blog is designed to reflect what we see, think and do. Actually, we'd like to think it also provides information, entertainment and inspiration for other "mature" travellers, too. So please feel free to pour yourself a glass of something suitably chilled and take a look around.