HOW TO PLAN A EUROPEAN ROAD TRIP FOR THE HOPELESS ROMANTIC
HOW TO PLAN A EUROPEAN ROAD TRIP FOR THE HOPELESS ROMANTIC
What makes a romantic European getaway?
A weekend in Paris? Barcelona, maybe? Or how about Prague?
It's quite probable that you wouldn't have suggested a 3000 kilometre (1900-mile) road trip across the heartland of Europe. In fact, the prospect of spending long hours on the road with the same person for that amount of time would drive many people insane.
But I'm here to tell you that it could – and should – be done. In fact, our itinerary will take you to some of the most romantic spots in Europe. And you'll have a whole lot of fun along the way, too.
You'll be driving through vineyards, kayaking along river gorges, crossing snow-capped Alpine mountains and cruising on canals and lakes. You'll be gorging on wonderful food and drinking the best wine, champagne and beer that Europe has to offer. And you'll be staying in some of the most romantic accommodation around.
Indeed, it's a journey that will have hopeless romantics like you itching to put on your best driving gloves and hit the road with the one you love for the best part of two whole weeks.
Ready? Then let's get started…
Contents
This page contains affiliate links. To help us maintain our site we work with a number of partners who we've personally used and can recommend to our readers. If you decide to purchase any products through the links on this page, we'll receive a small commission at no extra cost to you.
Our starting point is in Calais, for no other reason that it's an easy starting point from the UK. You can also pick it up from Paris or anywhere else in the north and east of France.
Once you've escaped Calais it's a fairly leisurely drive along the A26 motorway until you reach the champagne-producing mecca of Reims and its surrounding countryside. In fact, if you fancy a short detour you could stop by and visit the likes of Veuve Clicquot, or continue just south of the city, near Épernay, to pick up a posh bottle of Bollinger. Perfect for a first-night celebration, though rather tough on the wallet.
Alternatively, you can continue south for about an hour until you reach the tiny hamlet of Changy, where you'll find a stunning Maison D'Hotes.
La Loge Vigneronne is the kind of place that you just somehow want to keep to yourself so that you can return to it at a later date just as you found it. It's quirky, very French and has clearly been a labour of love for its owners, Corinne and Jean-Phillipe.
Book "La Chambre Supreme Champagne" suite and enjoy an incredible two-floored converted and half-timbered barn, with a large patio and garden. The attention to detail is unbelievable, combining modern with antique fittings, and including a four-poster bed and a cool retro metal bath! And there's a shared outdoor swimming pool, too.
The owners have their own champagne vineyard, which you can tour in Jean-Phillipe's Landrover (free if you stay three nights or more). And, if you've not yet stocked up on a bottle or two of bubbles, don't worry as there'll be a cold bottle of house pink waiting for you in your fridge.
Make sure you book ahead for the gourmet hamper of local produce and house champagne, which will be personally delivered by the smiling Corinne and Jean-Philippe to your patio as you thank us for plucking this little gem from nowhere to get your romantic road trip off to the best possible start.
Oh, and did I mention that breakfast is another gourmet event, featuring another huge range of homemade and locally produced jams, bread, cheese, pastries, yoghurts etc? The only surprise is that it doesn't come complete with another bottle of their house champagne. Believe me, it might just be the best breakfast you've ever had.
One night here hardly does the place and the surrounding countryside justice. Give it two nights at least.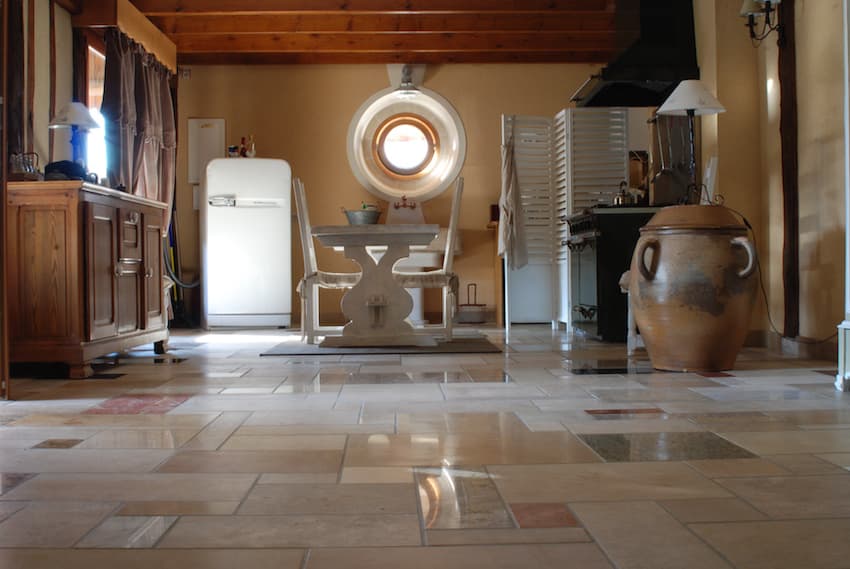 Vallon-Pont-D'Arc, FRANCE
After the delights of Changy, a long motorway journey to the south of France awaits so an early start is recommended. Although the drive through the Champagne countryside before you arrive at the A5 motorway is worth getting up for by itself.
You're heading for the Ardèche department in Rhône-Alps – home to the largest natural gorge in Europe and a fabulously romantic kayak trip along the Ardèche River.
Base yourself at Le Manoir du Raveyron in Vallon-Pont-d'Arc.  Although it doesn't compare with La Loge Vigneronne, it's ideal for a central location in town and for easy access to the river and gorges.  
Don't waste any time on your first morning, though. Pack yourselves a picnic, get down to the river and hire a couple of kayaks (or one to share if you've got a better front seat / back seat oar coordination than we have). You can then meander gently along the Ardèche River, amongst glorious scenery until you arrive at the Pont d'Arc, a stunning natural bridge carved out by the water. It truly is a sight to behold.
Further on, the river changes from being a kayaking nursery slope into something that packs much more of a punch. Don't get me wrong it's not exactly a white-knuckle ride but if you're a kayaking novice prepare to get wet.
Thankfully, there are a number of beaches on the bank of the river for your picnic lunch. Don't forget to pack a bottle of local wine (the aromatic Viognier would be our choice) to provide you with some extra "chutzpah". I'm not sure if you can be "over the limit" in a kayak but after a bottle of Ardèche's finest, you'll soon be cruising down the final stretch of this section of the river with relative ease.
There are other things to do in the area too, such as hiking the trails around the gorges and visiting one of the area's prehistoric caves, such as Aven d'Orgnac.
Spend two or three nights in Vallon-Pont-D'Arc, then get up early and prepare yourself for a long drive across the French and Italian Alps. It's a journey as glorious as it sounds and there are plenty of spots along the way to stop for a picnic lunch. So it shouldn't be rushed.
Not least because after you've completed the border crossing from France to Italy, through the Fréjus Tunnel (13 km / 8 miles), it's only a matter of time before the driving lottery that is the Italian motorway system takes centre stage. Complete with drivers who turn tailgating and flashing their headlights into an art form all of their own.
If you don't fancy doing the 835 km / 518-mile journey to Venice all in one day, you might want to opt for an overnight in Turin or Milan en route. I know, it's a long way but you can't really do the ultimate romantic European road trip without at least spending some time in what's probably the most romantic city in Europe.
Getting into the city by car, on the other hand, involves having the pleasure of being stuck in Europe's largest car park (the Tronchetto). A better alternative would be park opposite the railway station on the mainland at Mestre and then take the train over.
To be honest, emerging from Venice train station to be confronted with the hustle-bustle of the Grand Canal is one of those 'wow' moments where you know what you're going to see, but when you actually do it resonates so much more than you thought possible. A melange of ferries, gondolas and other assorted boats seemingly jostle for supremacy on the choppy waters of the canal. Meanwhile, the air is full of the unmistakable sound of Venetians going about their business. And all mixed together with languages from every part of the globe in this all-year-round tourist destination.
Stay at the Locanda Ca' La Vele, a beautiful and typical Venetian B&B, owned by the very lively Ivan and Max. Our room had a balcony that backed onto a quiet canal, which served as a contrast to the chaos on the Grand Canal.
Straight away let me tell you that I'm not going to recommend that ultimate romantic Venetian cliché  – the private gondola cruise. Of course, please feel free to go for it if you choose but be warned you won't be alone.
Rather I'd recommend a circumnavigation of the Grand Canal on a vaporetto (or "waterbus"). Specifically, the number 2 route covers the length of the Grand Canal with less stopping points than the alternative number 1 route. And, here's a tip – as it empties at the San Marco stop, execute a smart pincer movement to the two front seats and do the route again, this time with the best views of the city.
And find at least some time for must-see sights such as the Palazzo Ducale, a truly magnificent building from where the ruling 'doge' presided over the Venetian Republic for centuries. Get there early to avoid the tour parties, though.
Of course, eating in a Venetian restaurant with the accompanying sound of a string quartet is a romantic vision for many. But that can also be expensive (especially around San Marco).
Our favourite eating experiences in Venice were also the most informal. Cicheti are effectively the Italian version of Spanish tapas and are available in Bacaro bars all over the city. We found the lovely Cantinono Gia' Schiavi in the Dorsoduro area, which doubles as a wine shop. For 1 euro each, we selected a variety of cicheti (the Polpettes – beef and garlic meatballs – were a revelation) and washed them down with several glasses of Prosecco. Which of course meant that we were in the right frame of mind to buy some additional bottles of Prosecco and Limoncello from the shelves behind us!
Approaching Rialto Bridge, Grand Canal
Other than that, just walk everywhere and lose yourself in the myriad streets that criss-cross the city. You'll find that you leave the crowds behind and discover parts of Venice that have never seen the raised umbrella of a tour party guide. Which can't be a bad thing.
Varenna, Lake Como, ITALY
After three nights in Venice, you'll then get the train back to Mestre to pick up your car and re-trace your route along the motorway back to Bergamo. If you have the extra time you might want to stop off at historic Verona and/or Padua, too.
At Bergamo, you'll then head north to sublime Lake Como. The town of Varenna is situated at the centre-point of the lake, within a triumvirate of lovely lakeside towns (the others being Bellagio and Menaggio). Hopeless romantics should book an apartment at Vista D'Oro, which overlooks the lake and has superb views across to the other two villages and beyond.
Varenna has a fantastic setting, sandwiched tightly between the lake and hills behind. Perfect for just wandering around narrow cobbled lanes, stopping off for the obligatory gelato or espresso, admiring the fantastic buildings and mountain scenery…and simply taking in the atmosphere.
You can catch one of the regular ferries that criss-cross the lake and call in at Bellagio and Menaggio. Or keep going to Lenno, where you can admire the fabulous Villa Balbianello, which featured in the James Bond movie, Casino Royale. Not forgetting Villa Carlotta in Tremezzo and the other gorgeous villas alongside the lake.
Of course, you could take the car over on the ferry to the much busier Bellagio and base yourself there. But, although it's small, Varenna has more than enough charm and character without succumbing to the hordes of day visitors that make Bellagio so crowded. And if waking up to breathtaking views are your thing then you definitely need to consider the Vista D'Oro apartment complex.
View towards Bellagio from Vista d'Oro apartments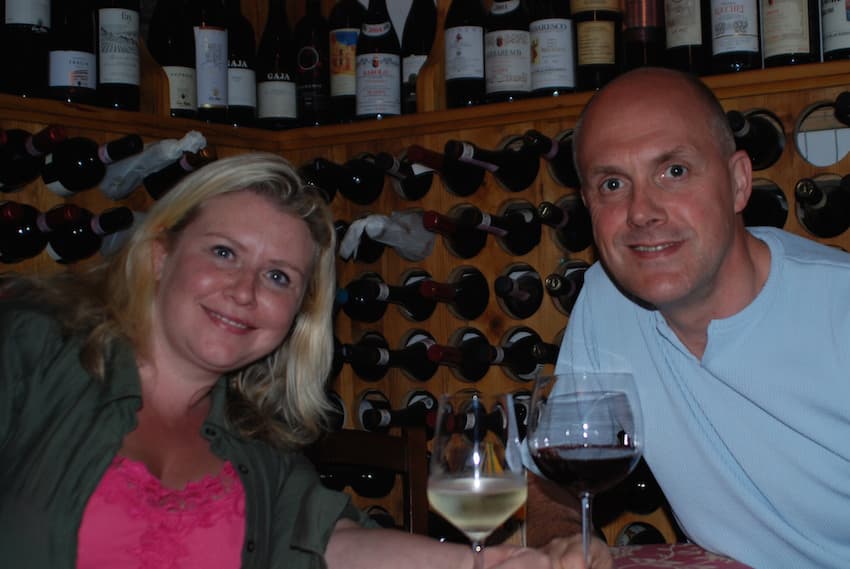 Wine tasting in Bellagio, Lake Como
From Varenna, it's a 970 km / 602-mile journey up through the Italian and Swiss Alps, French Alsace-Lorraine, Germany, Luxemburg and Belgium to our final destination. It's a journey that passes through some of the best mountain and lake scenery in The Alps and shouldn't be attempted in one day.
I'd suggest an overnight stop in either Freiburg (Germany) or Colmar (France) – both of which are gorgeous medieval towns and would justify an extended stay if you have the time.
But the hopeless romantic in you will probably draw you onwards towards "The Venice Of The North", Bruges.
Situated in the very north of the country, it's one of the most perfectly preserved medieval cities in Europe and a UNESCO World Heritage Site. It's famous for its historic buildings which hug the canal, its chocolate shops and of course its beer.
Stay at the wonderful Huyze Hertsberge right beside the canal, where you'll get a spacious room, excellent breakfast and an extremely helpful host in Caroline.
Comparing the two cities of Venice and Bruges is a good barometer of how the cuisines and lifestyles of southern and northern Europeans differ.
For seafood risotto and a glass of Prosecco in Venice, there are moules frites and a glass of Trappist Monk beer in Bruges. For Pasta e Faxioi  (bean soup with noodles) in the south, there is rabbit cooked with prunes and beer in the north. Oh, and whereas the wonders of the Palazzo Ducale might satisfy your cultural curiosity in Venice, the historic Brewery de Halve Mann might prove irresistible in Bruges!
In fact, pick up a copy of "Around Bruges in 80 Beers" to use as your guidebook, and discover what the fuss about Belgian beer is all about. And don't miss the amazing Triple de Garre beer from De Garre in the centre of town – a lovely pub split over two levels. Like a lot of pubs in Bruges, it had its own leather-bound menu of the 100+ beers on offer, but it's their very own house beer (clocking in at an incredible 11% alcohol) that's the star of the show.
And, if you think that supping beer in a historic pub with your loved one sounds like the most unromantic thing you could possibly do, then I urge you to think again!  Especially when you're in such romantic surroundings.
And even more so after you've driven over 3000 km to get there!
The European Road Trip itinerary
DAY 1
Drive from CALAIS to CHANGY (350 km / 218 miles)  Accommodation La Loge Vigneronne (recommended)
DAY 2
Do Vineyard tour and champagne tasting; Gourmet hamper for evening meal  Accommodation La Loge Vigneronne
DAY 3
Drive from CHANGY to VALLON-PONT-D'ARC (620 km / 385 miles)  Accommodation Le Manoir du Raveyron
DAY 4 – 5
Do Kayak along the Ardeche River and under the Pont d'Arc; relax on one of the riverside beaches; take a picnic and walk one of the trails around the gorges; visit one of the area's prehistoric caves, such as Aven d'Orgnac  Accommodation Le Manoir du Raveyron
DAY 6
Drive from VALLON-PONT-D'ARC to VENICE, via Grenoble and the Alps (835 km / 518 miles) OR consider an overnight stop en route in and around Turin/Milan Accommodation Locanda Ca' La Vele (recommended)
DAY 7 – 8
Do Explore Venice, both on foot and via the vaporetti  Accommodation Locanda Ca' La Vele
DAY 9
Drive from VENICE to VARENNA (290 km / 180 miles) OR consider an overnight in Padua and/or Verona en route  Accommodation Vista D'Oro (recommended)
DAY 10-11
Do Explore Varenna, Bellagio and other villages dotted along Lake Como's shores; cruise on the lake ferries and visit the lakeside villas; eat lots of food and drink plenty of wine Accommodation Vista D'Oro
DAY 12
Drive from VARENNA to FREIBURG, Germany (330 km / 205 miles) or COLMAR, France (367 km / 228 miles), via the Swiss Alps Accommodation Your choice in Freiburg or Colmar
DAY 13
Drive from FREIBURG or COLMAR to BRUGES (650 km / 404 miles)  Accommodation Huyze Hertsberge B&B (recommended)
DAY 14-15
Do Explore Bruges by foot; eat lots of food cooked in beer Accommodation Huyze Hertsberge B&B
What did you think? Have you been to any of the places featured? Do you have any recommendations to add to our itinerary? Or perhaps you're thinking of planning a European road trip in the near future? Either way, we'd love to hear from you so please add your comments below.
To help us maintain our site we work with a number of partners who we've personally used and can recommend to our readers. If you decide to purchase any products through the following links, we'll receive a small commission at no extra cost to you. Thank you for your support!
Hi, we're Ian and Nicky, an English couple on a voyage of discovery around the world, and this blog is designed to reflect what we see, think and do. Actually, we'd like to think it also provides information, entertainment and inspiration for other "mature" travellers, too. So please feel free to pour yourself a glass of something suitably chilled and take a look around.