EVORA – THE JEWEL OF PORTUGAL'S ALENTEJO REGION
EVORA – THE JEWEL OF PORTUGAL'S ALENTEJO REGION
Continuing our series of articles on Spain,
Portugal
and
France
as we explore Western Europe under the cloak of the ongoing COVID-19 pandemic. Along the way, we're travelling in our own car and mostly using housesitting for our accommodation. Our focus is on exploring places where we can safely socially distance, and where wearing a face mask is an accepted norm.
While most international visitors to Portugal head for the sun-drenched beaches of the Algarve and the cosmopolitan cities of Lisbon and Porto, the rural interior of the Alentejo region is often overlooked.
It's a land filled with rolling hills, cork trees, olive groves and vines. With a liberal sprinkling of gorgeous fortified towns thrown in for good measure. Especially near the Spanish border where they remain a testament to the resistance of pesky Spanish incursions.
Of those towns, Évora is perhaps the best known and most-visited. A UNESCO World Heritage site since 1986, it represents the best example of a city from Portugal's Golden Age.
Although it can be visited as a day trip from Lisbon, we'd suggest you make time to stay overnight if you can. And here's what you can expect to see and do.
Contents
This page contains affiliate links. To help us maintain our site we work with a number of partners who we've personally used and can recommend to our readers. If you decide to purchase any products through the links on this page, we'll receive a small commission at no extra cost to you.
The city has been around since Roman times, as evidenced by fragments of its original wall and the still-standing columns of the Roman Temple of Diana.
But, after a period of Moorish occupation, its heyday was during Portugal's Golden Age in the 15th Century, when kings would call the place home, giving rise to a plethora of magnificent convents and palaces.
Branching from its historic centre, narrow streets of small whitewashed houses began to emerge in the 17th Century. Along with a newly-constructed wall surrounding the historic centre to fend off the ever-present risk of attack.
Nowadays, its UNESCO-listed status qualifies it as a city-museum and tourists pour in during the summer months to experience its old-world atmosphere, historic sites and traditional Alentejo food.
Our visit, at the end of July 2020, coincided with the ongoing COVID-19 pandemic. As a result, the city was largely tourist-free. Which meant lots of empty streets and open spaces. So, armed with our face masks and a healthy respect for the local social distancing and sanitisation rules, we took the opportunity to experience the city when it was perhaps at its best.
One of the many cobblestoned streets of Evora, Portugal
Capela dos Ossos (The Chapel Of Bones)
If you only get chance to visit one site in Évora, make sure it's this macabre chapel inside São Francisco Church.
Built in the 17th Century and dedicated to the cult of the Souls Of Purgatory, it includes walls and columns containing over 5000 human bones and skulls so meticulously arranged that the whole thing looks like a gruesome work of art rather than a space for prayer and meditation.
Legend has it that the bones are the remains of some 5,000 monks. Or that it was the genius idea of some enterprising monks who had to find a way of dispensing with overflowing corpses in the local graveyards.
Either way, we'll guarantee you'll never be less than transfixed as you gaze at the bizarrely beautiful display. Especially, like us, if you happen to be there on your own.
Although the two clothed skeletons in display cases were perhaps a gruesome step too far.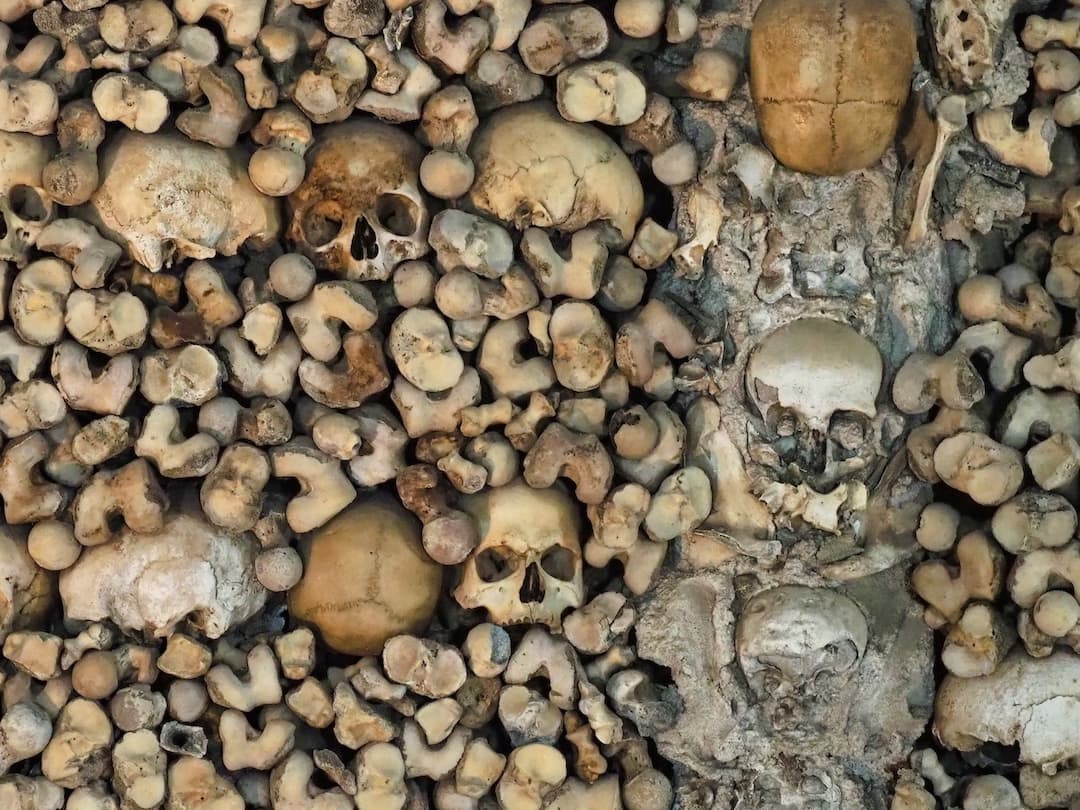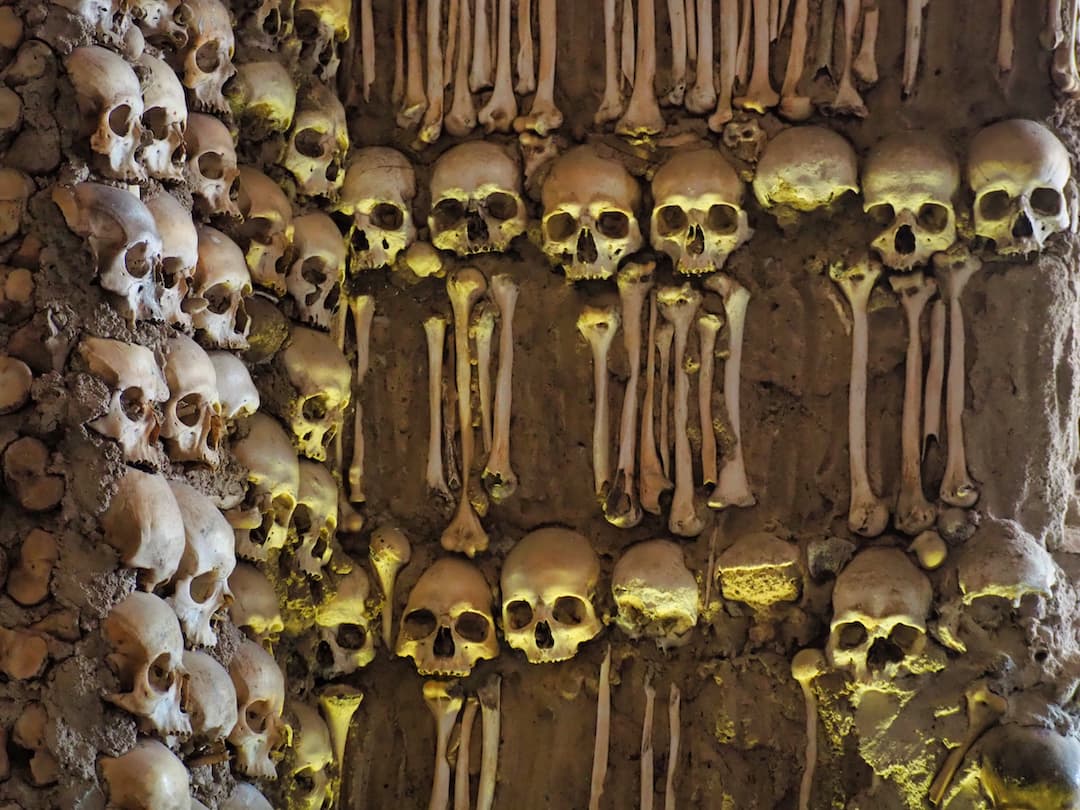 To complete the macabre sense of it all, there's an inscription carved into the marble lintel above the entrance, which reads, "We bones that are here await yours".
Charming.
Se de Evora (The Cathedral)
A more traditional religious monument is the 13th Century granite Cathedral, the largest in Portugal.
For a small entrance fee, it's worth spending some time wandering through the cloisters before taking a closer look at the glorious interior. And afterwards, climb the steep circular stone staircase to the rooftop and its unique double towers – one turreted and the other a blue cone. And there are great views across the city.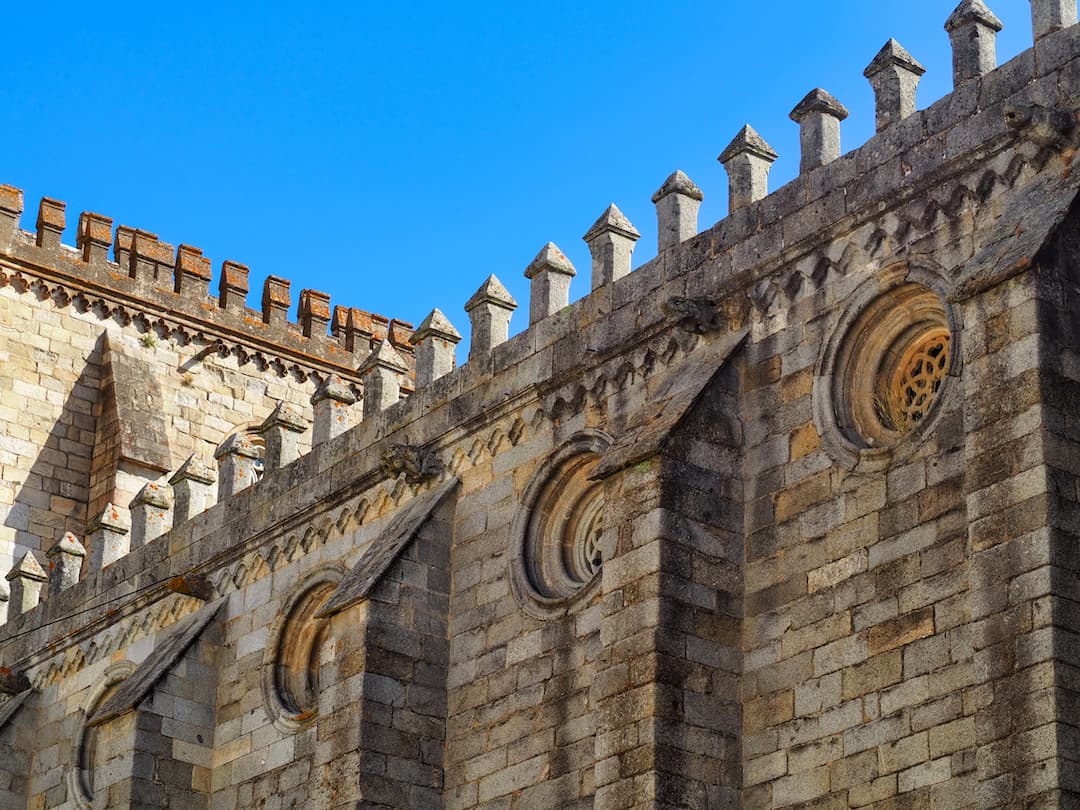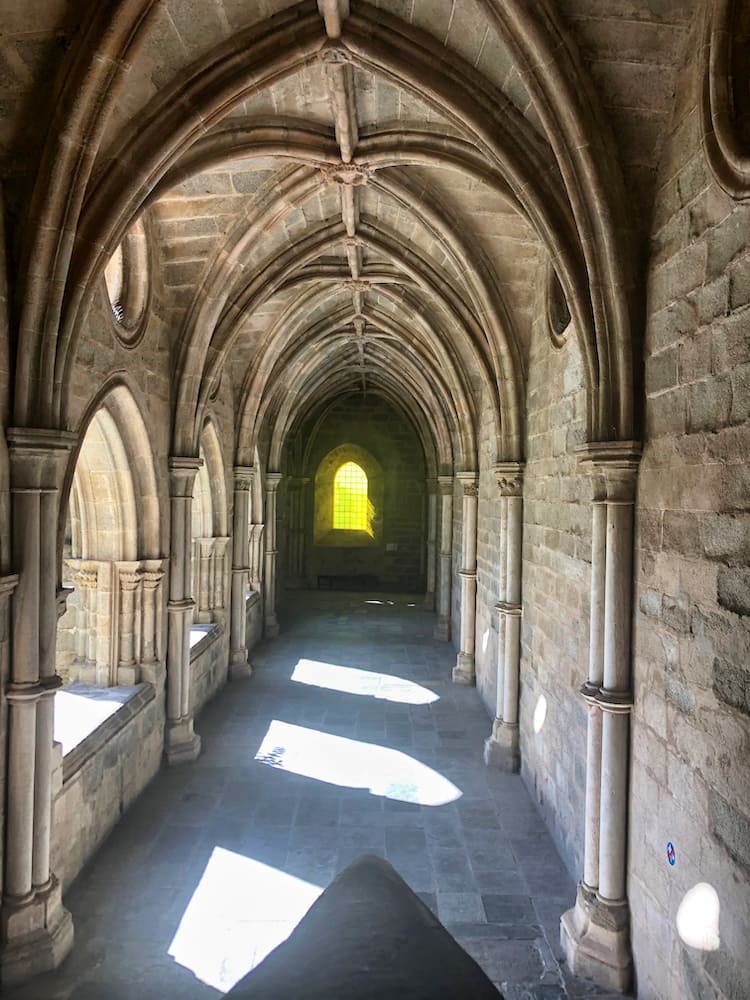 Sharing the same square as the cathedral, the remains of the city's Roman Temple are in surprisingly good condition. Mainly because they were embedded into the walls of a castle in the Middle Ages, where they remained intact until they were rediscovered in the 19th Century.
Considered to be one of the best-preserved Roman remains of the whole Iberian Peninsula, it's an instantly photogenic spot.
Évora's main square may look like the attractive and archetypal hub of a medieval city. But, back in the day when watching public burnings conducted by the Inquisition was considered a satisfying way to spend an hour or two, Praço do Giraldo came into its own.
Named after Fearless Geraldo Geraldes, conqueror of the Moors who controlled Évora until 1167, the square is where most of the city's streets eventually lead.
Lined with beautiful white buildings sporting wrought-iron balconies and Moorish-style arches, it's an obvious place to take a break from the relentless summer heat. Such as pulling up a chair at one of the pavement cafes to enjoy a coffee or white sangria.
Branching off from Praça do Giraldo, the narrow cobblestoned streets are a patchwork of lovely old whitewashed houses. There's no point trying to work out a route to follow. Just wandering from street-to-evocative-street and getting lost for a while is the best way to enjoy them. Especially when trying to conjure up explanations for some of the more outlandish street names. Such as the "Alley Of The Unshaven Man" and the "Street Of The Countess's Tailor".
And for us, without the large numbers of tourists that would normally be in town at this time of the year, the streets were largely empty. Almost eerily so.
Unsurprisingly, in the blistering July heat of our visit, we tried to find our very own "Lane Of The Never-Ending Sangria ". Which, happily, we did.
Aqueducto da Agua da Prata
Another peculiar feature of Évora is the 16th Century aqueduct, which used to channel clean drinking water to Praço do Giraldo and the rest of the city from a river 9 kilometres away. In fact, it still delivers water to feed the square's fountain to this day.
The huge main arches outside of the city are still in good condition. But, as the aqueduct descends into the centre of the city, the arches reduce in size. To the point where houses, shops and cafés have been built within them. Floodlit at night, they're as beautiful and atmospheric as much of the rest of Évora.
And, if you've got the time, you can follow a trail on the aqueduct that stretches for 8 km (5 miles).
Along with the Alentejo region in general, Évora is a culinary destination in its own right. From Portuguese pork preto (black pork) to locally produced cheese, award-winning olive oils and critically acclaimed wines, it's a veritable foodie paradise.
Not least the unique sweets and pastries to be found at the lovely Pao de Rala Bakery. Based on traditional convent recipes, the Alentejan sweet delights on offer will immediately fix any sugar-deficiencies you might be suffering from.
For instance, Queijinho de Céu ("Heaven Cheese") is a gooey almond-marzipan ball with an extra-soft egg yolk cream centre. Encharcarda is a yellow ball of sweet soaked yolks. And Queijarda de Évora is a luscious cheese tart. Or how about Beijos de Freira ("Nun's Kisses"), another stunning combination of eggs, sugar and almonds.
Yes, those nuns clearly knew their way around an egg. 
Naturally, we bought an assorted box of six for our long road trip ahead.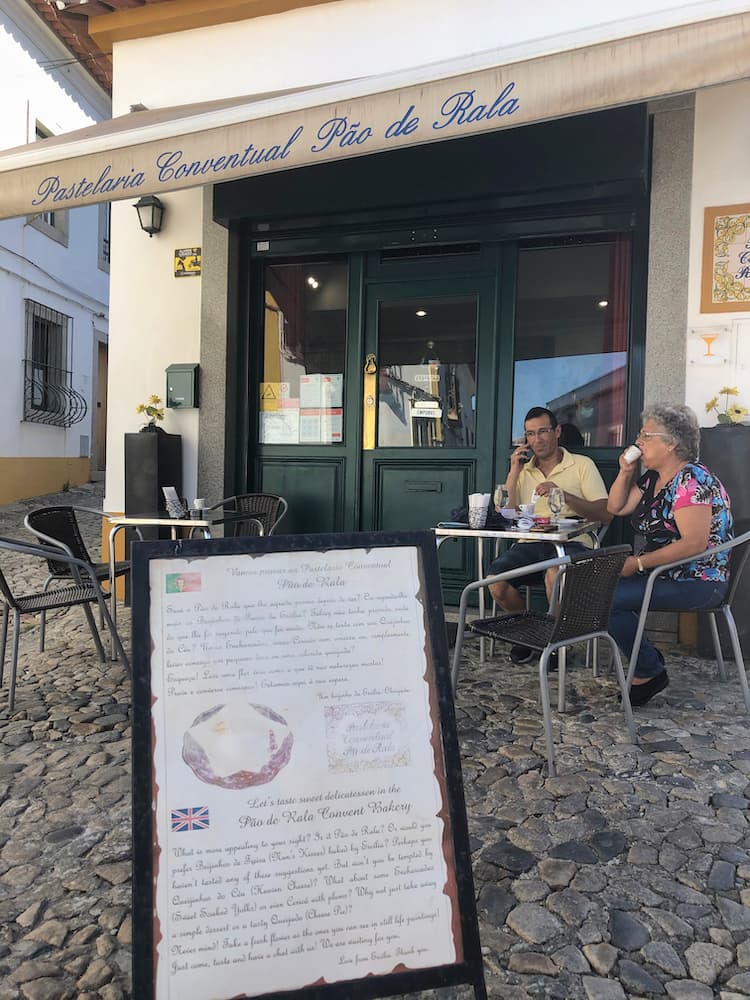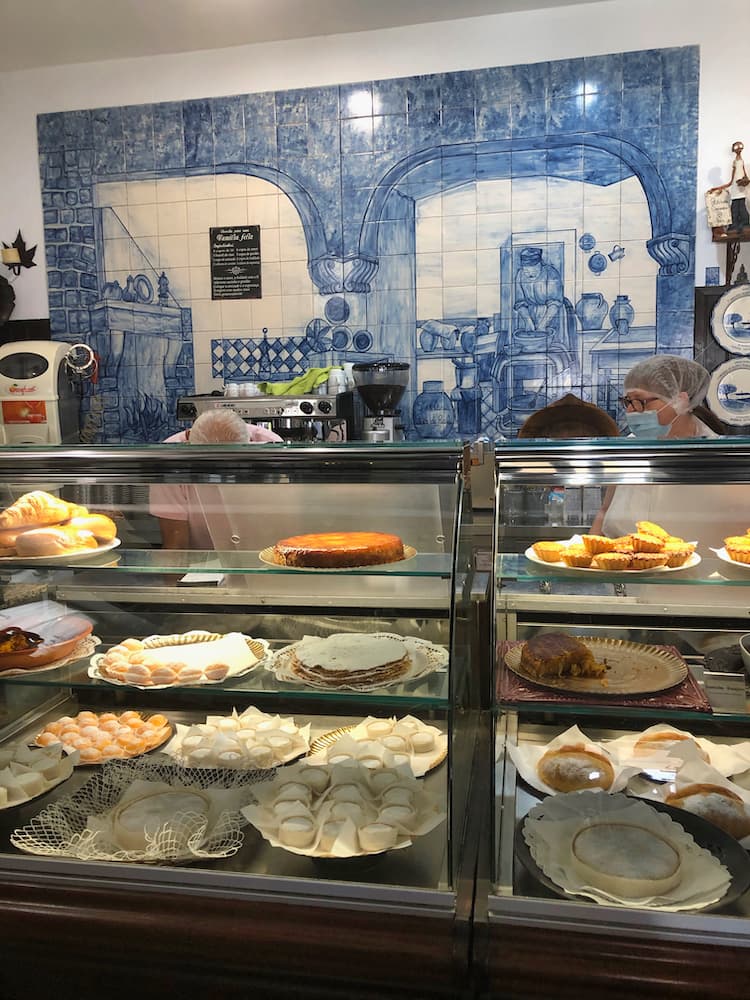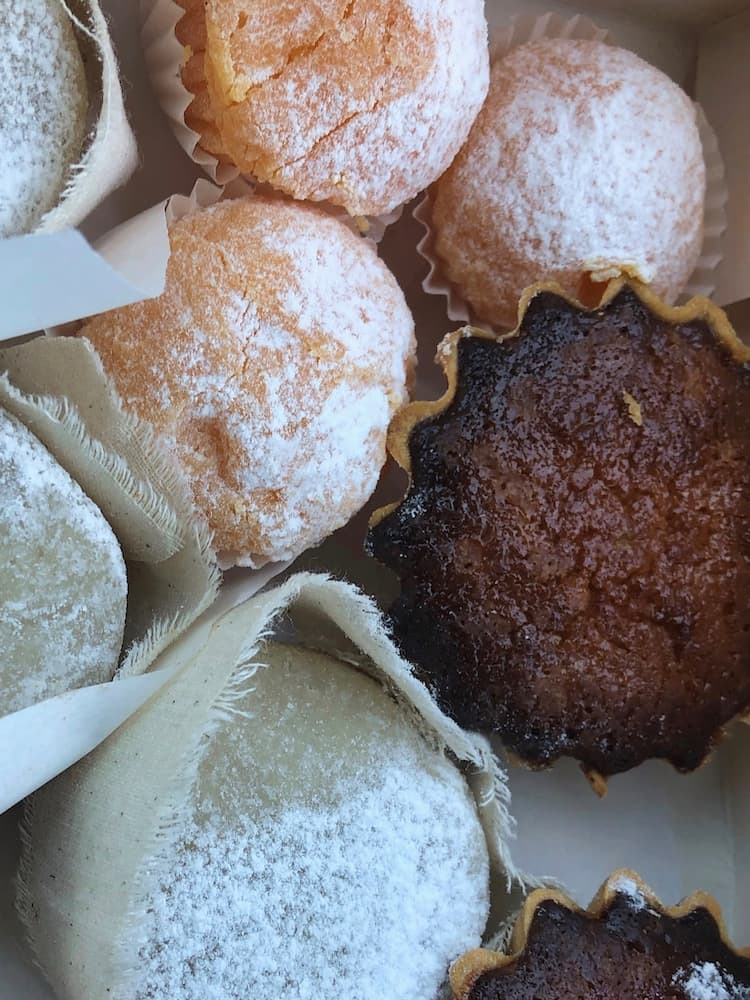 Instead of eating out at one of the restaurants, we decided to take advantage of the rooftop terrace at our accommodation, The Aqueduct Guest House. So, we bought a takeaway dinner of grilled sardines and salad from the Porta D'Aviz restaurant. It's a no-frills, non-touristy place. But for six-and-a-half euros, it was one of the best value plates of food we've had in a long while.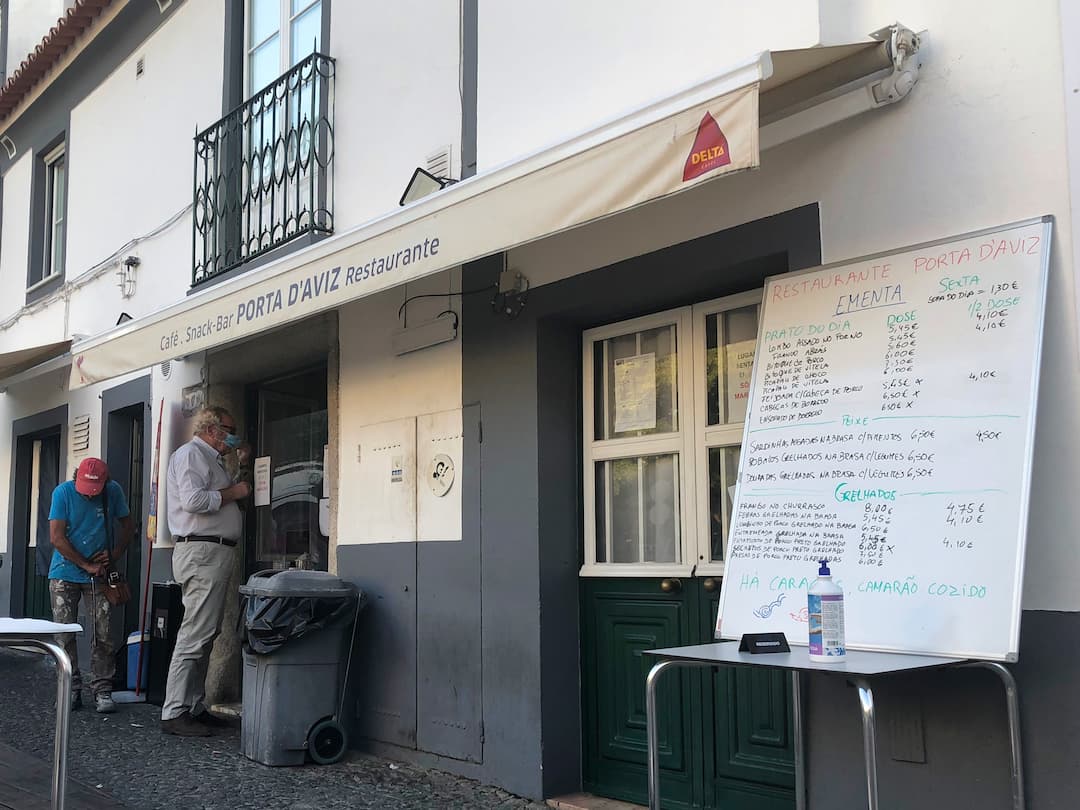 And a final word on The Aqueduct Guest House. Situated inside the city walls in a small square opposite the aqueduct, it's owned by the effervescent Carla. If we ever needed to know how much work is involved in getting a guest house approved for re-opening during a pandemic then Carla's attention to minute detail nails it completely.
Although she has six rooms to let, she's only running on a capacity of two rooms for now so that distancing can be maintained for her guests. The days either side of our overnight stay had been blocked out so that she could thoroughly clean and disinfect our room. There's a disinfectant mat inside the front door, hand sanitisers everywhere and total consideration for privacy. And all for a one night stay in an air-conditioned room costing 35 euros.
Local, dedicated people like Carla deserve our support. So, if you're planning on visiting Évora, you might want to consider giving The Aqueduct a try. You won't be disappointed.
Final thoughts on Evora, Portugal
To be honest, we've covered just a few of Évora's highlights here. If we had the time, we'd certainly have explored more of the culinary treats on offer. Including the wine tours and more of the unique food.
And, if our budget had allowed, we might have also tried In Acqua Veritas, a luxurious recreation of authentic Roman Baths.
Indeed, we plan to return to Alentejo in the near future, and we'll no doubt pay another visit to this most evocative of medieval cities.
Although we'll make sure we go on a week-long sugar fast before we travel.
What did you think? Have you been to Evora, Portugal? Or maybe you're thinking of visiting the city in the near future? Either way, we'd love to hear from you so please add your comments below.
MORE ON UNESCO WORLD HERITAGE SITES
To help us maintain our site we work with a number of partners who we've personally used and can recommend to our readers. If you decide to purchase any products through the following links, we'll receive a small commission at no extra cost to you. Thank you for your support!
Travel insurance
with World Nomads
Hi, we're Ian and Nicky, an English couple on a voyage of discovery around the world, and this blog is designed to reflect what we see, think and do. Actually, we'd like to think it also provides information, entertainment and inspiration for other "mature" travellers, too. So please feel free to pour yourself a glass of something suitably chilled and take a look around.